How to Answer Calls on Smartwatch | Is Not That Difficult as You Think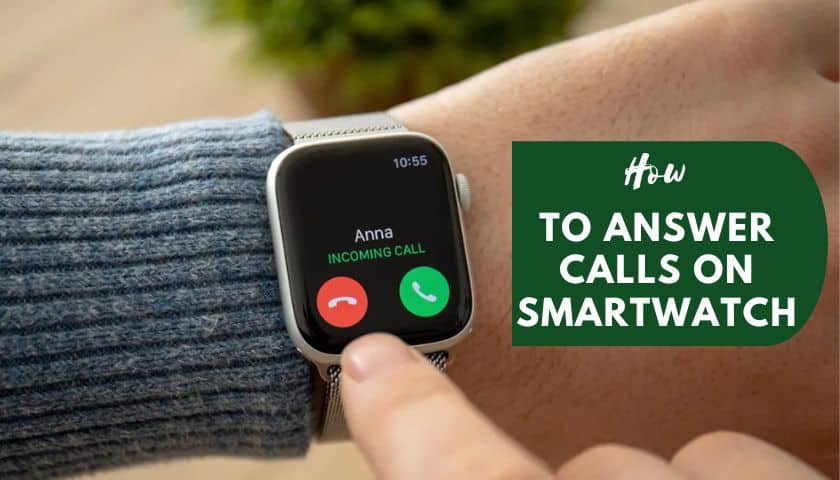 As an Amazon Associate, I earn from qualifying purchases.
Answering calls via smartwatch is one flexible way to improve your communication medium. People nowadays hardly use their cell phones to make calls because most watches have advanced cellular networking systems.
Despite making human life more convenient than before, there are some initial matters which you have to focus on learning how to answer calls on a smartwatch.
No worries if you're incompetent on this affair. It's natural because each watch has been functioned through different apps to make a call.
For example, when you want to make a call to Garmin, you must sign in to the Garmin App first. The same thing also happened when it came to Fitbit watches.
Every device follows special traits from Apple to Samsung Galaxy in making calls or receiving, which need to be concentrated carefully. I took them each, researched them, and added them here so that you can make your own without difficulties.
How to Answer Calls on Smartwatch (Details with Different Brands)
Smartwatch nowadays is an easy medium to communicate with your friends via phone. But one must ensure they have a secure connection with their smartphone via Bluetooth. This is the primary step to making calls in any watch.
Another significant step to connecting a smartwatch to the phone is using a Sim card. If you have a cellular smartwatch, it would have a slot to insert a Sim card.
Unfortunately, there are some other smartwatches found that need sim cards. You can connect with them through Bluetooth using a microphone and speaker.
However, unlike different characteristics, the procedure to make calls in different branded wristwatches is also different.
So, below I add some procedures you have to follow by insisting on some popular models of watches recently.
1. The Process of Making Calls Via Apple Watch
Apple watches are manufactured by following two special norms. A user can call via this device with or without pairing the phone nearby.
So, first, I want to talk over the phone and watch, both of them are in your hands. To make calls with the phone on Apple Watch, you need to.
With iPhone or Other Devices:
Go to the phone App and then tap on contacts
Select the contact number to whom you want to make calls
Then press the phone button
Select FaceTime audio to start a call.
Now, flip the digital crown of the watch. This will help you to adjust the volume during the phone calls.
Tips:
To make a call or reach the number with someone whom you have called recently, tap on the "Recent" options from contacts. Similarly, tap favorites from your iPhone to find the contact number you select as a favorite.
Without iPhone & Other Devices:
Cellular data sometimes fails to make calls when you are off your phone. In that case, you can easily resolve the issue if you previously paired the watch with your iPhone via Wi-Fi.
Wi-Fi connection lets you make calls securely even if the phone is far from the person. But the condition is you must have a secure connection to Wi-Fi to collect the information from your phone. And then, do these simple steps.
Open your phone, and go to the "Settings" option.
Find out the "Wi-Fi calling option" and tap it to turn it on.
Keep both devices on to get a good connection.
Open the phone app on Apple Watch > choose a contact
Again, tap on it > select any contact number> make a call to whom you wish to.
2. The Process to Make Calls on Galaxy Watch
Tap on the watch display and swipe to open "Apps screen."
Next, click on the phone icon.
Afterward, tap on the contacts icon and select the useful contacts you like most.
You can also find the recent numbers from the "recent list." Then flip the applicable contacts or phone number.
Finally, select the "Dial icon" and type the 10-digit number. Lastly, tap the "call icon," and you're done.
Answering calls on Samsung Galaxy watches depends on the model. But the most common way is to tap on the caller's name/ phone number directly. When you reject the calls, they will be further added to the recent call list.
3. The Process to Make Calls on Fitbit Versa
On Fitbit, a user needs to set up the option of on-wrist calls for versa. To activate on-wrist calls, you need to follow the below steps. Unfortunately, on-wrist calls are only available on Android devices. If you're a user of IOS, then this one will not work for you.
Open the Fitbit App, then tap on the profile icon at the top corner.
This one will take you to another pop-up. Here, you get an option of on-wrist.
Tap on it and read all the instructions on display, such as keeping versa watch nearby, connecting it from an "available device," etc.
Then set it up by turning on the "start set up" option.
Now, go to the next page, where you need to set the Bluetooth pairing request.
Pair it with the watch; this will let you make calls and answer them using your smartphone.
Set up the voice assistant and activate it by tapping either "Google Assistant" or "Amazon Alexa" to make it hassle-free.
Now, open your watch App, and turn on the "Do not disturb" option.
Next, tell someone to call you to check your watch is fully set up. And then, check it too by commanding in voice, "Hey! Google Assistant, call max."
Your watch responds to you soon if it sets appropriately and pairs up with your phone.
4. The Process to Make Call with Suunto
Unfortunately, Sunnto isn't able to make direct calls. But there is a shortcut to making calls about pairing your phone with the Suunto Wear App or Wear OS or Google Assistant.
Open the Sunnto Apps and turn on Google Assistant through this App.
Afterward, pair your device with your phone via Bluetooth.
Now, you will be able to receive all the phone notifications and make calls through your phone.
5. The Process to Make Calls with Garmin
Garmin watch requires only some simple steps for making calls-
Pair your device with your Android phone using Bluetooth technology.
Tap and hold the button "B."
Next, select the phone calling options.
Afterward, dial a phone number through the dial pad and select "phone icon."
To call a phone number, choose anyone from the contact list, and select any number.
Make a call using the "FaceTime" audio and adjust the volume by tapping on the "Digital Crown."
6. The Process of Make Calls with Fossil
You should receive a prompt to set up a Fossil watch for making and receiving incoming calls during the initial setup.
If you want to avoid setting the prompts, swipe up the timers to check the notification stream for setup notifications.
This can be done through the phone app from your watch and by launching the prompt for phone setup. After that,
Connect the phone via Bluetooth.
Open the phone App > press the middle button to access the App launcher menu> Select phone.
You can swipe left to acquire phone tile access.
Then, tap on the phone complication and make a call.
Now, do the last check to ensure that you have followed each step properly. Make a call via your phone and see whether your watch can reach it.
7. The Process to Make Call with Tic watch E3
Unlike other smartwatches, TicWatch E3 can also make calls and receive incoming calls via Bluetooth. And you can command your watch to make a call using Google Assistant.
But sometimes, it may need help to provide clear hearing and talk over the watch clearly like others.
However, I analyzed some difficulties which many E3 users insisted on. As I don't want you to struggle with those problems, herein are the steps you must take to avoid voice commanding issues.
Go to the settings from your E3 watch, and set up the Google Assistant options on your phone simultaneously.
Connect the watch and phone by Wi-Fi or cellular data or pairing with Bluetooth.
After finishing Bluetooth pairing, you will find a "play on the voice call option." Check it to make sure that this one works properly.
Pre-install the contact apps and then make a call through your device.
How to Answer Calls on Apple Watch without an iPhone?
An Apple Watch pairing with an iPhone lets you do everything you want from a minimal distance. This is done by the activated cellular connection that comes with these devices.
Some functions are also run very appropriately when the iPhone and Wi-Fi connectivity works strongly in one device.
Yet, if you're not an iPhone user and don't have a Wi-Fi connection of Wi-Fi, what to do then? The good news is the Apple Watch can operate without an I-phone, which could be possible for cellular connection.
There are some general rules for activating cellular connection on your watch when you're away from your iPhone and Wi-Fi.
Go to the phone settings and scroll down to find the cellular options.
Tap on the "cellular" and turn it on
To check the reduced cellular usage, turn on "low data mode" or tap "Data mode." After that, again, choose the "Low Data mode" option.
Note: Low data mode option usually pauses automatic updates and background tasks when a user does not use the I-phone connected with Wi-Fi.
What Can a User Do with Cellular Network?
Since most of Apple Watch come with strong cellular and built-in GPS, they will let you do some necessary activities, including-
Playing music, podcasts, audiobooks
Record and play voice memos,
Making online payments through transit cards and student ID
Enable you to find accurate locations, devices, and items
You can use the watch, world clock, alarms, timer, and stopwatch
Your watch will display your photos from synced photo albums
Making store purchases with Apple Pay at an ease
Let you check the calendar events
Checking and tracking your activities, workout, heart rate, sleeping schedule,
Measuring blood oxygen levels, tracking menstrual cycles,
Keep you relaxed and breathing mindfully
How to Answer Calls on Apple Watch without Cellular?
Answer calling without cellular on Apple Watch can be possible if your device supports Wi-Fi calling instead of cellular. It is now easy to make and receive calls by pairing them with your iPhone through Wi-Fi. Follow these below steps to set up a call on Apple Watch via Wi-Fi.
First, open the iPhone and go to the phone settings. Here, you will be able to see Wi-Fi options there.
Could you tap on the option to turn it on? It will show you how to call another device once you turn on the option.
Now, back to your watch. Turn on the Wi-Fi settings on your wristwatch again. Make sure that both of the devices are paired with each other perpendicularly.
Come back to your phone and check the connectivity lastly. Now, open the Phone app from your wristwatch and choose any contact to make a call.
Select any phone number or FaceTime address that makes calls handier and more flexible.
Note: You can make only emergency calls via Wi-Fi, which might fail to show you the accurate location. To get an accurate location, you must abide by making a call over a cellular connection.
Frequently Asked Questions (FAQs)
How Do I Get My Watch to Answer Calls?
The pop-up will appear on the watch's display when you are ready to answer your call. The phone must be paired with the watch via Bluetooth or the built-in speaker and microphone.
Once that is done, choose an option from the watch. If you want to hold the call, tap the answer on the I-phone. When you choose these options, the caller will hear a repeated sound until you pick up the call.
Why Won't My Smartwatch Let Me Answer Calls?
It happens when you cannot connect the watch to your phone via Bluetooth. If the phone fails to connect with the watch, you may be unable to pick up calls from others. Sometimes it happens when the watch is connected to Wi-Fi remotely.
Continued Wi-Fi connections obstruct the phone from reaching the network properly. That means your phone and watch Bluetooth connection needs to be clear and secure, and close together.
Can All Smartwatches Make Phone Calls?
No, all smartwatches won't be able to make phone calls. Smartwatches that support cellular and LTE/4G connectivity can make incoming calls.
Check the manufacturer's product information if you need a watch to make calls. This will let you realize whether the watch can make calls or not.
Can I leave My Phone at Home and Use My Smartwatch?
Of course, if the watch has Wi-Fi connectivity, you can pair them and use the phone at any distance. But you cannot pick or use the smartwatch for a minimal distance.
To turn on these functions, tap on the Wi-Fi gestures. And then enjoy all the facilities from your phone to watch.
Why Can I Not Answer My Incoming Calls?
It may happen for poor network issues or Wi-Fi enabling problems. Check the Wi-Fi connection and disable it for some time.
As a result, a problem might occur. When someone enables and makes a call altogether, the network may hang, and little messes occur, which pledges the watch to answer calls.
Now you have learned how to answer calls on a smartwatch. The way I described each of the watches might vary by the model. But the procedures are the same.
A user needs to download a phone App to run the voice calls properly, which is also applicable for iOS users.
Furthermore, ensure that your watch has a microphone and speaker for talking and hearing the voice. Always pair the wrist timer to your phone (via Bluetooth or cellular) for better access. Reset the watch if you fail to make calls or connect it to your phone and I-phone.
As an Amazon Associate, I earn from qualifying purchases.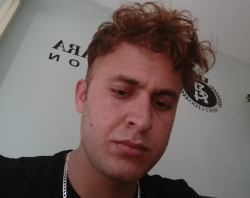 Latest posts by Nick Rolloson
(see all)