How to Fix Broken Rubber Watch Strap | Our Step by Step Guide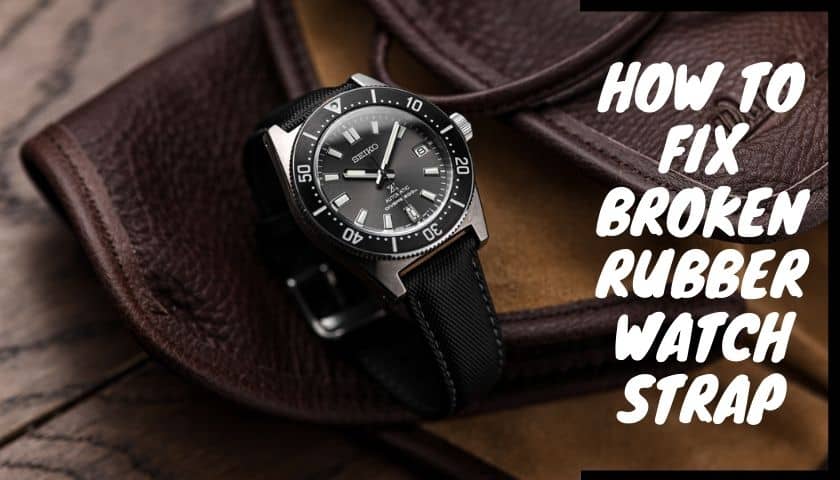 As an Amazon Associate, I earn from qualifying purchases.
Is broken rubber watch strap repair possible? Yes, we have two options to fix this issue. One is rubber watch strap repair, and the second is to strap replacement. Finding a perfect replacement strap for your timepiece is difficult.
Sometimes because of direct sunlight and harmful chemicals, rubber straps can become weak or broken. However, there are two different ways to join your broken watch straps. It cannot be perfect, but close enough.
In this article, we will give you those two ways to repair your rubber strap. We will also talk about leather and silicone timekeepers. You can also repair silicone and leather bands at your home. First of all, we will discuss these three types of bands.
Types of Band
However, there are many types of bands but we will only discuss these three.
1. Rubber
Rubber straps can last for 18 months to two years. However, it depends on your uses and care. Rubber bands get dirty because of daily wear and tear. You have to clean them regularly to remove dust and debris.

You can use mild soapy water and clean your timepiece band regularly. After cleaning, let it dry. You can use anything that can dry it out quickly, like perfume and alcohol. The lifespan of this band is less than other types of bands. But if you regularly care for them, then it can last long.
2. Silicone
The silicone is a soft and smooth material that feels comfortable on the skin. Also, silicone is a non-toxic, eco-friendly, and temperature resistance material. One more benefit of silicone bands is it is available in various types of color options.

The silicone bands are durable but it has low tensile strength. It can be break if you stretch is it too hard. Once the silicone bands are broken it is difficult to repair them. So avoid stretching this band to check durability. However, you can take care of silicone bands by keeping them dry.
3. Leather
It is a durable, long-lasting, and environment-friendly natural material. Leather bands are water-resistance as well.

It is good to remove leather bands while you are swimming or bathing. Keep it away from direct sunlight as it can cause discoloration. You can clean leather bands regularly with a damp cloth or mild soap if needed.

There are three types of leather used for the timepiece band. First is faux leather that is made from plastic and not so durable as other types of leather. However, it doesn't make it by harming animals.

Genuine leather is durable than faux leather and a perfect choice for leather bands. This high-quality leather band is available at an average and affordable price. The third full-grain leather is the strongest and premium quality leather than others.

Leather bands are the perfect choice for everyone. It also offers different designs and colors.
Rubber Watch Strap Repair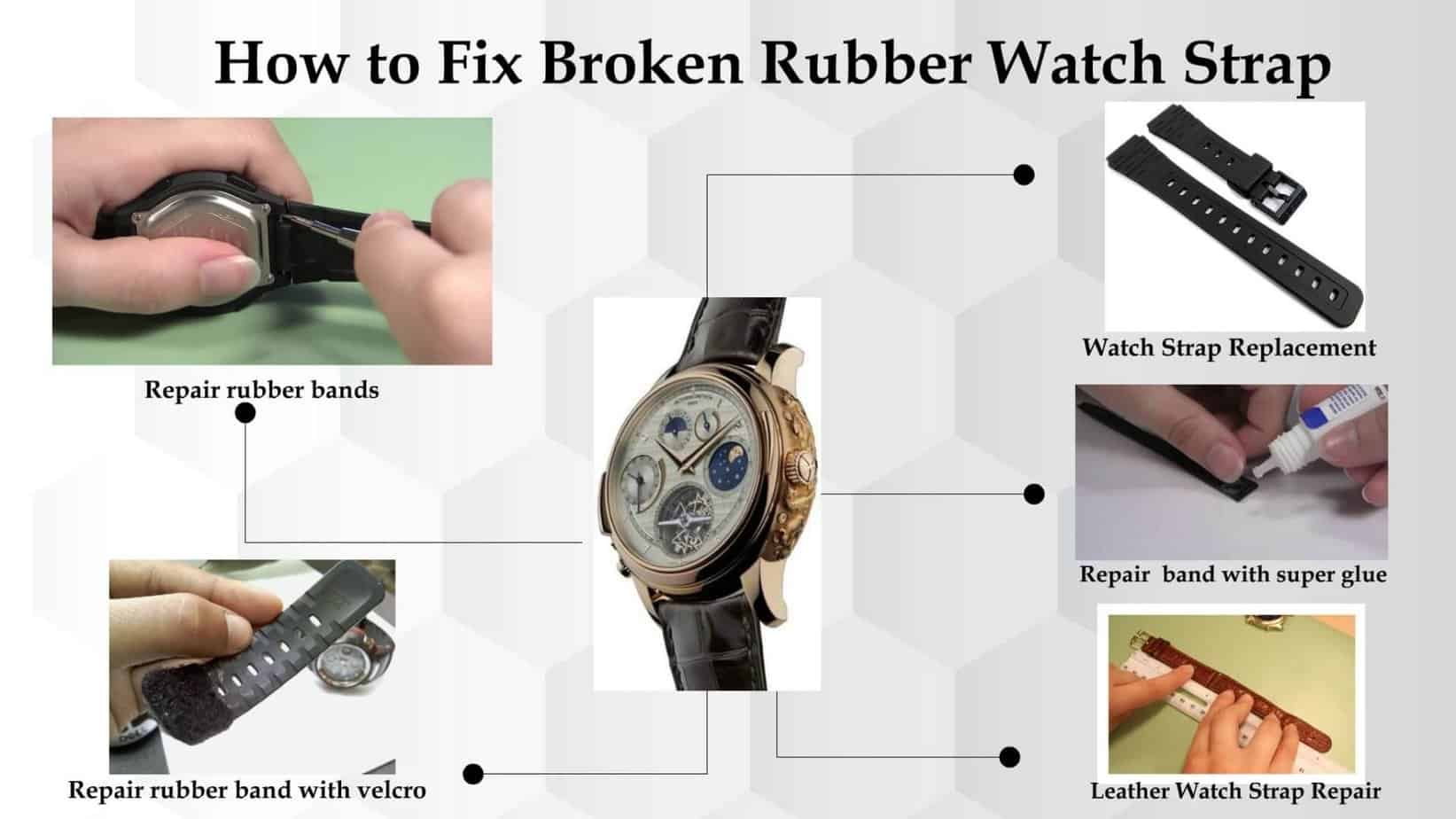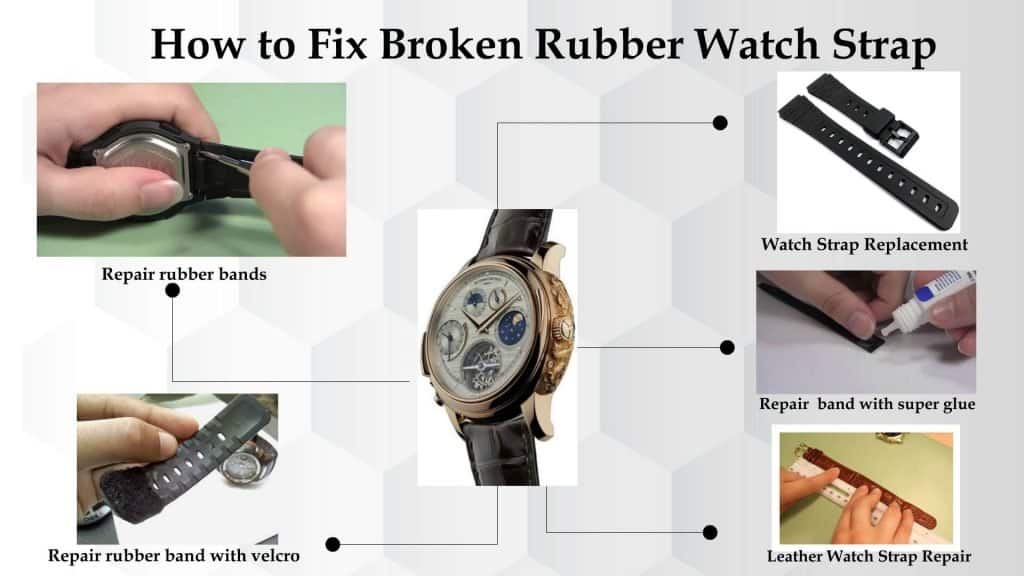 You can repair bands with a few hacks and tricks. There are two different ways to fix broken straps. The first is using Velcro, and the second is using super glue. Let's understand both methods step by step.
Repair rubber bands with Velcro
Tools you will need:
Pidilite favibond tube or any bonding agent
A bit of Velcro
Scissors
A vice that can hold the band for 24 hours
Sandpaper

Step 1: Cut the Velcro according to bands
The first step is to cut the Velcro by using scissors according to the width of your band. So it can perfectly fit on the strap. 

Step 2: Glue the Velcro on the timepiece
After cutting Velcro, clean the part of the timepiece where you want to glue the Velcro. Use a small amount of Pidilite tube or any bonding agent on the Velcro. Then glue the Velcro on the timepiece. But make sure the rough part of Velcro is not facing your skin. 

Step 3: Glue the Velcro on the bands
Now clean the part of the band where you want to glue Velcro. Then glue the Velcro on the band part by using any bonding agent. But make sure this time the fuzzy part of Velcro is facing your skin. 

Step 4: Using Vice
After these three steps, joint both sides of Velcro on the timekeeper and band. Then put them into the vice and leave it at least for 24 hours. Because of this Velcro can perfectly stick on the strap and timepiece.

Step 5: Remove the excess glue
After 24 hours, carefully remove the excess glue by using a cutter. However, you can skip this step because it can damage the band as well. It will not be perfect, but close enough.
Repair the band by using super glue
Tools you will need:
Superglue
Rubbing alcohol
Paper towel
Waxed paper
Sandpaper

Step 1: Cleaning the edges of bands
The first step is to remove dirt and clean oil from the bands. There may be oil and dirt because of naturally occurring oils on our skin. You can clean them by using rubbing alcohol so that the bands can dry perfectly.

Apply to rub alcohol on both edges of the bands by using a paper towel. Then let them dry for a few hours and follow the second step. 

Step 2: Using sand paper
Use sandpaper and make a rough surface on the edges so that bands cannot slide around because of glue. 

Step 3: Use super glue
After some time, apply a small amount of glue at both edges of the bands. You can cover the other parts of your timepiece to avoid stains and fingerprints. Then join both edges of the band and hold it in place for a minute.

After that, place it on the waxed paper and let the glue dry for 24 hours. Then you can remove the extra part from the band. This is an easy and best method for rubber watch strap repair. It will look better than Velcro.

However, this method does not work for some type of bands. If this method does not work for you, then try the Velcro method to repair the watch strap.
Silicone watch strap repair
It is possible to repair silicone bands, but the process is quite risky. You can also try the superglue method to fix silicone straps. However, if these methods do not work, then we have unique steps for this.
Tools you will need:
Small and thin rubber band
A candle
Ice plate
Spring clamp
Blade

Step 1: Joint silicone straps by using rubber band
The first step is to join the silicone band with a small rubber band. Wind this band around the silicone straps so the two pieces can join. But make sure that the color of the band should match your silicone bands. If your straps are light in color, then use a light color band. 

Step 2: Burning the joint using the candle
This step can be risky. Use the spring clamp to hold the straps. It can burn your hands so do not hold it by your hands. Then burn the joints by using the candle until the rubber band fuses with the straps. This process will create some black smoke as well so be careful. 

Step 3: Keep the straps on the ice plate
After burning the joints, keep the bands on an ice plate minimum for five to six hours and let them cool. 

Step 4: Cut the extra part
When both edges joints completely, cut the excess part protruded during fusion with a blade. If you do not find any extra protruded part, then no need to follow this step. There might some dark marks around the band because of fusion.
Leather Watch Strap Repair
Leather watch strap repair is too easy you will just need to put the glue and join the two edges of the band. You can use superglue to repair leather bands.
Tools you will need:
Super glue
A piece of paper

Step 1: Use a piece of paper to protect your desk
Cover your working area or desk by using paper. It will protect your working area from the glue. Then put your timepiece on the paper. But make sure the band should be in the center so you can glue it. 

Step 2: Apply super glue
Now apply super glue on the surface of both edges. A small amount of glue is enough for leather bands. 

Step 3: Joint two edges of band
The third step is to join the two edges of the band and press them. Keep your finger safe from the glue. Press both sides of the straps for a few minutes so they can joint completely.
Read More:
Watch Strap Replacement
You can easily replace the leather, silicone, and rubber straps. With five three simple steps, you can replace watch bands.
Tools you will need:
A replacement strap
A tool to remove the spring bar
Microfiber cloth or other soft pad

Step 1: Set your work space
Use a clean microfiber cloth to cover your workspace. It ensures the safety of your timepiece. Then put the watch face down on the surface. Make sure that microfiber cloth is clean otherwise it can cause scratches on your timepiece. 

Step 2: Removing old bands
Now use the spring bar removing tool and remove both sides of bands. Be careful while using the spring bar tool. Do not press the tool heavily as it can break the spring bar. Remove the spring bar only from one side of the band and then pull the spring bar out. 

Step 3: Install new bands
Insert the spring bar on one side of the new band. Make sure spring bar outs equally from both sides of the band. Then inset both sides of the spring bar into the lug hole one by one. Follow this process for both sides of the bands.
How to Fix Watch Strap Holder
You can easily fix this small repair with the help of duct tape.
Tools you will need:
Duct tape
Scissor

Step 1: Cut the Duct Tape
Cut the duct tape from the strip. Then decide the length and thickness of the band holder and make a thin strip of duct tape. 

Step 2: Measure the size of tape
Wind up the thin strip around the band of buckle side and measure the size. Make sure that the tape is smaller than the buckle. Now cut the exact length of tape by using scissor

Step 3: Make strap holder of duct tape
Now, again wind up the tape around the band and use a small part of duct tape to close the band holder. Now your band holder is completely repaired.
Final Verdict
After reading this article, you do not need to replace your bands. And if it is necessary, you can replace them at home as well. The only thing you have to keep in mind is to keep your hands away from glues. 'Prevention is better than cure so try to keep your band safe.
As an Amazon Associate, I earn from qualifying purchases.