Know How to Remove Screen Protector from Apple Watch without Scratch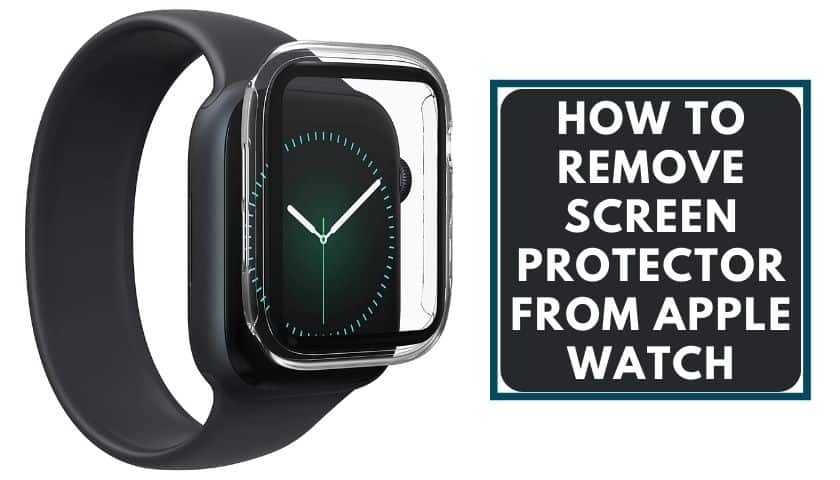 As an Amazon Associate, I earn from qualifying purchases.
The Apple Watch screen protector is the most sensitive part. It saves the watch screen from being cracked, scratched, and damaged. But, if there is a situation, you suddenly need to change the screen protector immediately.
In that case, you must have gathered knowledge on how to remove screen protectors from Apple Watch.
Some basic steps might have been followed when one needs to remove it. One of the common difficulties of doing such work is glue and adhesives. Since watch screen protectors are constructively attached to them, removing them is the first challenge.
Can You Remove the Apple Watch Screen Protector by Yourself?
Using some home-used necessary tools makes it easy for anyone to remove the Apple Watch screen protector on their own. Yes, it might sound surprising, but please don't be because it isn't a very tough task unless you're totally inexperienced in it.
Removing the watch screen protector requires only some common tools such as credit cards, sim card pins, tapes, hair dryers, etc. The market is full of screen protectors, and it is tough to analyze each one.
But one common thing about the maximum protector is high water resistance. In that case, you must be careful enough while using heating elements on it.
Furthermore, nowadays, some watch protectors come with automatic healing capabilities. By this term, the scratches and bubbles which occur during the task time will be erased on their own.
So, this is a bonus point for beginners who are scared of removing screen protectors themselves.
Again, some glass protector manufacturers offer a warranty to replace the protector if it is damaged or destroyed within time. Therefore, you can also change or replace the Apple Watch screen protector by getting help from them.
Meanwhile, another better option is to change the Apple Watch protector through any service provider or nearby Apple Watch showroom.
How to Remove the Screen Protector from the Apple Watch?
The screen protector is an indispensable protection cover since it saves your watch from many complicated issues.
Removing them from the Apple Watch is quite straightforward. You need some specific tools, including-
Sticky Tapes
Credit card
Hair dryer
Duct tape etc.
Here are the steps for removing the screen protector from the Apple Watch with a credit card.
Step 1: Remove the Adhesive
The first and foremost step of removing the screen protectors from the watch is to lose their adhesive. Glue or glass protector adhesive is important to lift due to its stickiness. It holds the protector onto the watch strongly.
However, to remove this, turn on the hair dryer and warm it in low heat. Hold it on the screen protector to melt the glues.
Step 2: Try Up the Corners
Once the glues are removed, take a credit card and slide it underneath each corner of the screen protector. Use an old credit card for the best results. An old gift card, guitar pick, or toothpick could work more efficiently as an alternative.
Step 3: Use the Corner Openings While Removing
Slide off the card or the tool of your choice and enter it into the corner openings. While doing this, try to be more careful about the scratch issues on the protector.
Now, push the card from each side along with the length of the display. Make sure you have detached the remainder of the protectors fully.
Step 4: Do the Work Using Duct Tape Instead Of a Credit Card
If the above process doesn't work, tear off the tape. Roll it around your index finger. Your finger looks sticky as duct tape at that time. Use this on the screen protector beneath the credit card. Press your finger against each corner to do it properly.
Step 5: Clean the Watch Screen Display
After finishing all the steps, remove the old screen protector. It is crucial to clean the watch display before replacing the new protector. Your watch display may still be covered in sticky residue. Take a microfiber cloth or wipe it off using lukewarm water.
Now, cover your Apple Watch with the new protector. It might look as new as before.
How to Remove a Stuck-on Screen Protector from the Apple Watch?
One of the common problems that may arise while you remove the screen protector is that it gets stuck and doesn't come off. It isn't very pleasant since removing a stuck-on protector requires much time and effort. To get rid of this, try out these simple Hacks.
1. Use Nail Polish Remover
This might work if you need help removing the screen from your Apple Watch. Nail polish remover will help to melt the adhesive, just like nail polish. Put a few drops with a cotton bud and gently rub it. The protector may come out of the display on their own if the tricks work for you.
2. Use Duct Tape
Use duct tape instead of nail polish remover if it doesn't work. Turn off your device and place the tape on the corner of the watch. Pull it out by turning upward and towards. Keep continuing to do these steps for some time. It helps you to remove the protector.
3. Hair Dryer
Turn off your device and hold the hair dryer. This time, you need to increase the duration while heating the protector.
Hold it out for 15 seconds unless all the adhesive is off. Refrain from positioning the hair dryer straightforwardly. Move the dryer backward and forward continuously so that the heat will spread equally over the screen.
What to Do If You Won't Remove the Apple Watch Screen Protector (Reasons and Solutions)
Sometimes removing the Apple Watch screen seems difficult. The reason varies depending on the situation.
Don't worry much if you fail to do the job perfectly. Study these reasons which might retain you to finish the job appropriately.
1. Glue Attached to Screen Protector
If the watch screen protector didn't remove or attached to the display so tightly, it might happen for the glue.
Because each of the glass protectors is hardly attached to the display when manufacturing. And this one makes the screen protector too resistant to separate. Here's a solution to this.
Try to Remove It with Tape
Grab a strong tap or hair dryer to attach it to your screen.
Now, gently pull out the tape so that the protector and tape will be removed earlier.
Keep your watch fully turned off while doing these steps.
Remove It with a Hair Dryer
If this system doesn't work for you, move on to the second method. In this method, you need a hair dryer.
Turn on the hair dryer, and keep it heating.
Keep shutting down your device.
Set the dryer to low settings.
Heat the screen protector, and try to keep it at a distance.
After a few hours, all the glue began to melt. Now, removing the screen protector from your Apple Watch is now easy.
Note: Be aware that it won't burn or damage the screen when you're heating over the protector. Wear hand gloves for better safety.
Safety Precautions While Removing the Apple Watch Screen Protector
Sometimes it may seriously damage your watch screen if you must be more careful. Because Apple Watch screens are very sensitive, a person needs to be more careful than other watch displays.
In this situation, it is natural to conflict with what to do to avoid this. Your first step is to know what might harm the watch's accurate display, especially when changing the protector.
Because, at that time, you need to be more conscious of using some particular tools. I gathered some highlighted points below that need to be focused on mostly.
1. Be Aware of Using Solid Tools
When removing screen protectors, one common process is using reliable tools. For example, solid cards, coins, pins, and toothpicks.
Those materials help separate the screen protector from your wrist. But if you use them incorrectly, it may put a scratch or unnecessary marks on the screen.
2. Heat Gently Over the Screen
A hairdryer is a common tool that you use to lose glue. But this sort of tool is responsible for burning your watch display dangerously. Therefore, you must heat gently over the screen.
3. Be Confident About What to Do
Be confident when you're doing the job. You can only remove the protector. Because losing confidence means you may need to leave the job unfinished in the middle.
Does Removing the Apple Watch Screen Protector Damage the Screen?
Removing the Apple Watch screen protector from the watch screen doesn't damage the screen. It only harms your screen if you follow all the rules carefully. But there is some basic knowledge one must have before starting their own work.
Apple Watch screens or displays are made with high-resistance materials. For this reason, they are very protective of their own.
So, removing the only display protective paper from it doesn't pay any serious damage to the screen. But sometimes you may scratch the screen if this is your first time changing or removing watch display protectors.
Furthermore, I want to add that change to the display by taking help from any local service center or Apple-authorized service providers. They will change the protectors carefully without damage.
Recommended post: How To Change Watch Face On Apple Watch From iPhone
Frequently Asked Questions (FAQs)
Can I Remove the Pre-Applied Screen Protector?
It is possible to remove the pre-applied screen protector from any watch. But make sure that the main display of the watch will be protected while applying the new one.
Do You Need a Screen Protector for Apple Watch 7?
It depends on your needs. Some people use screen protectors to prevent sudden scratches or early damage. If you are highly concerned about the full body of the watch, then you should buy a hand case to cover the entire body.
Is It Worth Getting an Apple Watch Screen Protector?
Screen protectors are worth buying due to them giving extra protection against sudden issues. They extend your smartwatch's polished outlook and keep them new like before. They often impact image quality and usability to some extent also.
Why Do People Cover Their Apple Watch with Their Hand?
People often do this to preserve the battery life of the wristwatch. When they cover their Apple Watch with their hand, the display dims. As soon as you raise your hand to check the time, it becomes active again so that you can interact with everything on your watch.
How Fragile Is the Apple Watch Series Screen?
Apple Watch Series screens are made with Ultra's titanium and sapphire glass, which are more durable than any other watch glasses.
This one is also manufactured with WR100 water resistance and IP6X dust resistance. Some apple watches are made with MIL-STD-810H standards also.
When doing this task, be aware of the scratching issues mostly. Otherwise, you may end up with a scratchy, cracked, and damaged screen protector for the rest of the day. A wristwatch screen protector is part and parcel of everything.
So, it is also crucial to learn how to protect the screen from damage similarly, how to remove the screen protector from the Apple Watch.
Another big issue may occur while removing a cracked screen protector. In this situation, wrap the cracked points with duct tape and pull them out using your fingertips. Press it slowly to lose from each corner of the watch.
As an Amazon Associate, I earn from qualifying purchases.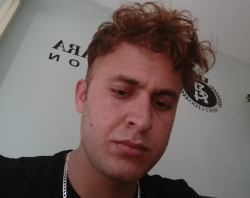 Latest posts by Nick Rolloson
(see all)