Samsung Galaxy Watch Tips and Tricks | The Time to Start Mastering Yourself Is Now!!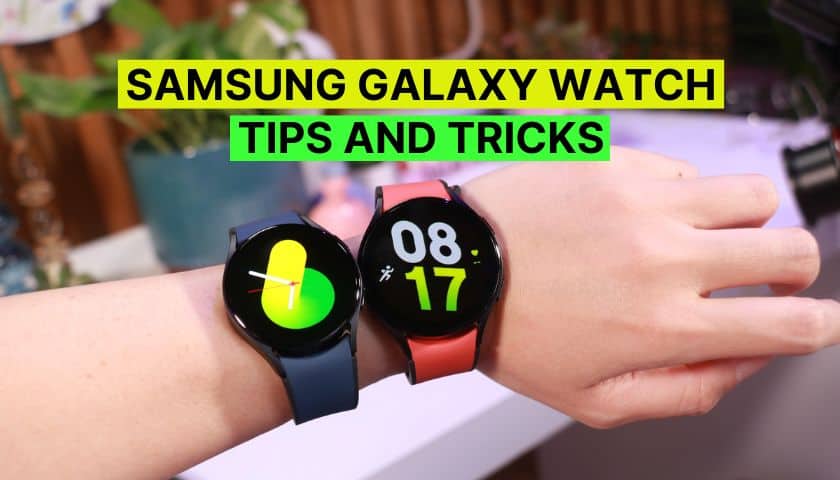 As an Amazon Associate, I earn from qualifying purchases.
Samsung Galaxy Smartwatches have a variety of functionalities to ease your life. It's easy to miss some very cool tricks that perhaps the Galaxy smartwatch can do if you don't take the time to go through the exhaustive list of capabilities.
There is much to unpack, including high-quality hardware (especially that revolving dial), robust software, etc. Moreover, cutting-edge health monitoring features like blood pressure tracking and body composition analysis, and many more.
If you're unaware of the functions, get the most out of your gadget. Learn how to maximize the potential of your Samsung Galaxy Watch Tips and Tricks.
Samsung Galaxy Watch Tips and Tricks | 12 Simple Guidelines
Even if you're already familiar with some of the functions of the Samsung Galaxy wristwatch, there are likely many others that you haven't tried.
There is more to this technology than meets the eye. Its inventory of impressive features is extensive.
You can make the most of your Samsung Galaxy Watch, whether you just bought it or are upgrading from an older model, by following these simple guidelines. OK, let's look at the Samsung Galaxy Watch Tips and Tricks.
1. Adjust The Orientation of Your Watch
Watch faces may be adjustable, but this varies by manufacturer. Most of the stock Samsung watch faces, for instance, are somewhat customizable. These allow you to change the dial's appearance, including the typography and background colors.
It has a companion app for Galaxy Wearable with even more customization choices.
The Galaxy Wearable app and wrist can download and modify your watch face. Follow the steps to get in:
From swapping down to the top, find the Settings option.
Select the Settings option.
In the settings option, you'll find the General Settings list. Hit the option.
Scroll down and find the Orientation option. Click on the option to view bullet toggle switches in which wrist you want quickly.
The watch is set up with the buttons on the right side by default; however, if you find that you are more comfortable using the left side, a simple tap of the left toggle.
Another way to customize your watch is you can now customize your watch face through phones.
Just go to the watch face option. Then you'll find a customized option.
Press it, and various watch faces will appear to select which one you like. Click on the save option, and your watch face is ready.
2. Sleep Monitoring
In order to maintain physical health, a good night's sleep is essential. Tracking your sleep with a smartwatch is the most convenient approach to learning more about your sleeping patterns.
Samsung smartwatches have this capability, but not all do. The Samsung Health app includes a sleep-tracking feature.
Find out how well you're sleeping and learn strategies for improving your sleep.
Together, your watch's accelerometer (BioActive sensor) and Samsung Health's proprietary algorithms can tell you when you're resting quietly.
If you want to utilize the Samsung Galaxy Watch, you'll need to pair it with a suitable smartphone.
Connecting your Galaxy Watch to your mobile device entails:
Install the Galaxy Wearable app on your compatible Android or iOS device, and you're good to go.
Activate Bluetooth.
Launch the Galaxy Wearable app while holding your Samsung Galaxy Watch.
Choose your Galaxy Watch from the list, and then follow the on-screen instructions to complete the pairing process.
Installation Process of Samsung Health App:
Once synced, launch the Samsung Health app on your phone to start activity tracking.
You may monitor your sleeping patterns with the help of the Galaxy Watch and this app.
When setting it up after installation, log in using your Samsung account (if not, create one account.)
3. Shaking The Wrist Mutes Incoming Calls
The Galaxy Watch supports arm motions for answering calls, although this feature is disabled by default.
But before doing anything further, check to see if your smartwatch has cellular connectivity or is paired with your phone via Bluetooth.
The following instructions will help you set up a quick launch so you can begin using it:
Select "Settings" and "Advanced features" to access the customization menu.
Locate the option to "Answer calls and dismiss notifications and calls" under the "Gestures" tab. To activate a gesture, tap it.
This is handy for situations where you don't have access to both hands, such as when you need to turn on a flashlight in the dark.
Once you choose your choice, a little animation will play alongside it to display the gesture's proper use.
4. Generating A Screenshot
Are you aware that your smartwatch allows you to snap screenshots?
You may take a screenshot on your Samsung Galaxy wristwatch by holding down the home button and swiping from the left to the right edge.
If you have taken a screenshot with this motion, you may see an animation of the screenshot disappearing.
The screenshot will be saved to the phone you're using.
Taking screenshots on the Galaxy Watch is slightly different than on the phone.
Rather than saving the picture to your device, where you can find it in your folders or photo app, you can share it online.
If your Galaxy Watch is linked to your Google Account, your photos will automatically be uploaded.
5. Modify Notification
A smartwatch's notification system is a beautiful feature. However, if your watch vibrates every time you get a notice, it can become annoying.
Here, the key is to adjust your settings so that you only get urgent alerts.
You may stop unwanted app alerts by going to:
Settings
Notifications
Manage notifications and uncheck the appropriate boxes.
6. Sync Your Samsung Galaxy Watch with Offline Media
One of the less well-known functions of a Galaxy Watch is the ability to play music without an internet connection.
Local storage is included in your Samsung Galaxy wristwatch as well. Since this feature exists, you can save media files on your watch.
This function allows you to run without your phone and listen to music using your Smartwatch's wireless headphones.
After purchasing Google Play installations, you can add music apps to your smartwatch.
To upload new content to your watch:
Launch the Galaxy Wearable app.
Choose to Add Content by clicking the corresponding button.
Add songs or Copy.
Auto Sync can be activated to automatically sync your watch's data with that of your phone.
7. Build SOS for Emergencies
Your Samsung smartwatch has the ability to send out "SOS" messages in case of an emergency. The default setting does not activate this function.
SOS Requests have been set up through the Galaxy Wearable app. Three quick presses of the home button will take you to the primary menu.
After pressing the home button again, you can add contacts.
By pressing these buttons, your watch will alert the people you've designated as your emergency contacts and connect your location to them.
You can put a timer on it so it won't send out SOS messages by accident.
Note: You've to press the power button Three Times to activate the request.
8. Samsung Wallet
Contactless payment is convenient at any time. These are also point-of-sale terminals found in many eating establishments.
Touchless payments are now possible with Samsung Pay on your Samsung smartwatch. If you want to pay using your watch, touch it to the machine.
Samsung Pay allows users to store a variety of payment options, including credit cards, gift cards, and more. After that is done, making contactless payments is easy.
Using Samsung Pay in a local retailer:
Press and hold the back button on your Galaxy Watch while checking out. The card you've set as your default will automatically be displayed.
Swiping your card to a new slot will allow you to make a change.
Face the screen toward the reader and keep it there until your payment is accepted.
9. Rearranging Widget
You may move Widgets around the same way you move apps around in your drawer. This makes it easier to find what you're looking for.
In this predicament, the Galaxy Wearable app will save the day.
To do so, follow the rules:
Press the Back button on your SAMSUNG Galaxy Watch Active 2 to activate the display.
Afterward, swipe left to see more Widgets.
You can enter editing mode by pressing and holding a Widget.
You can rearrange the list's Widgets, add or remove entries, and delete entire entries.
A new widget can be added by tapping the add new widget button, which can be found by scrolling to the right. Please select the required widget by locating it and tapping on it.
Select the Widget's minus sign at its very top to delete it.
You can rearrange the widgets in the list by clicking and dragging them to their new positions.
Click the browser's Back button when you're finished.
10. Setting Double-Home Button Press Shortcut
A double home button tap will immediately open the app of your choice on your smartwatch. Please set it to use with any watch app you like.
Set up your watch such that pressing Home Button twice will launch your preferred app (Power key). Keep in mind that the button in the upper right corner of the watch serves as the Home key.
Find the Settings menu on your watch.
To access more advanced options, swipe and then press Advanced.
Next, select Keyboard Shortcuts or the Home button.
Some models allow you to skip this step.
Choose the action you wish to be triggered when the key is pressed twice, then press the Double press or Double press the Home key.
You can disable this function by selecting None on some devices.
To activate it, set the Home key's double tap to launch the app of your choice.
Select the function you want to assign to the Home key, then swipe up and select Short press below the Back key.
Then you may choose to either return to the previous screen or view recently used applications.
11. Get Theater and Good Night Mode
Several valuable features are included in Samsung smartwatches. In addition to the Do Not Disturb setting, there are the Good Night and Theater options.
When activated, theater mode mutes all system sounds, including ringtones, alerts, notifications, and timers.
Moreover, it disables the Always-on feature and the "raise wrist to wake" gesture.
To set theater mode:
Head to Settings.
Then tap on Advance Features.
Enable Theater Mode.
Similarly, the Good Night mode will disable all your alarms and help you get a good night's sleep. To enable this, the process is also the same.
Settings.
Advance Features.
Enabling Goodnight mode.
12. Streamline experience with Watch Only mode
To compete in the smartwatch market, manufacturers must force consumers to make a difficult choice between a robust operating system and long battery life.
With the screen on constantly and the pulse rate monitored indefinitely, the battery life of a smartwatch will be cut short in less than a day.
The Galaxy Watch estimates six days and 21 hours of use with 30% battery remaining.
Please keep in mind that once you enter Watch Only mode, you cannot leave it without restarting your device by holding down the home button for a few seconds.
To enable the mode, you have to do:
Open the settings menu by clicking the gear icon.
Select "Battery" from the menu that appears.
There is a "Power Saving" toggle at the top of the screen; to activate it, scroll down and press "Watch Only."
When you push the Home button, you can check the time, and by pressing and holding the button or charging the watch, you can exit Watch Only mode. Pick the "On" button.
An essential digital timepiece with white lettering on a black backdrop will appear. When in Watch Only mode, the watch face is immutable.
Frequently Asked Questions (FAQs)
What cool things can my Samsung watch do?
The Samsung Galaxy Watch is a high-tech wristwatch that can track your activity levels, monitor your health, and run valuable apps like music players and phone dialers.
How do I get the most out of my Galaxy Watch?
There are many features from there you can get the most out of the smartwatch. Some are like customizing the orientation, having google assistant in the watch, customizing watch buttons, etc.
How far can the Galaxy Watch be away from the phone?
Keep your smartwatch within 30 feet of your phone if it isn't linked to Wi-Fi. As long as your phone can access the Internet (through Wi-Fi or cellular data), you can leave it anywhere you like.
Should I turn my Galaxy Watch off at night?
It will help if you don't do that. The watch's battery will die if it is left off for an extended period of time.
Can I shower with the Galaxy Watch?
It is safe to wear the Samsung Galaxy Watch in the rain, in the shower, or while washing the dishes. Just keep an eye on the water pressure.
Final Words
The Galaxy line of smartwatches is dependable, packed to the gills with incredible hardware and software features, and compatible with Android and iOS.
Follow these guidelines to get the most out of your Samsung Galaxy smartwatch. These gadgets are adequate for most regular uses.
With our help, you can weigh the benefits and drawbacks of buying a Galaxy Watch.
If you dig around in the app store, you can unlock a lot of hidden potential in your smartwatch. First, if you own a Samsung Galaxy smartwatch, you must try out the spy-like applications available for it.
As an Amazon Associate, I earn from qualifying purchases.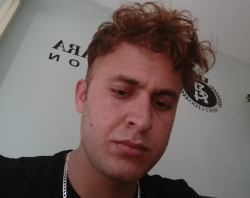 Latest posts by Nick Rolloson
(see all)