Why Does My Samsung Watch Keeps Chiming? [Detailed Instructions]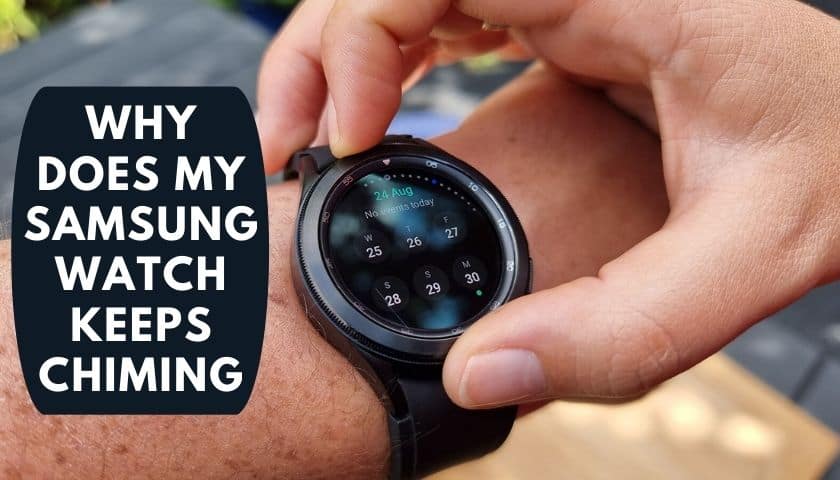 As an Amazon Associate, I earn from qualifying purchases.
Smartwatch notifications are crucial to keep yourself productive and updated. But continuous notification from that featured software is disturbing. It's natural to get frustrated when you're hopeless in finding out the exact reason why your Samsung watch keeps chiming.
Samsung watch chiming and vibration are different from what one might think. Hourly chiming in Samsung watches, a feature used for certain notifications. Once you set this on your watch, this will inform you about the time and abrupt notifications coming from other apps.
But sometimes, this vital feature may ruin your peaceful life through a continuous beeping sound. If you're the one, then relax. Because today you'll meet all the solutions to eliminate such anxiety forever.
Why Does My Samsung Watch Keeps Chiming?
Sometimes you may turn off all the notification buttons from your device, but it still does not stop annoying you through the awful notification sound.
Similar things can also happen on the Samsung watch that randomly chimes or does not stop vibrating. I found some possible reasons for this problem and detailed it below with some initial fixes.
1. App Notifications
The primary reason that makes your smartwatch chime is the App notification. Your watch will remind you of unread notifications after a set time. To get rid of this trouble, follow these reasons.
Go straight to the settings, and tap on Accessibility.
Click on Advanced settings.
Turn the notification reminder off, and it's done.
2. Battery Warning
Another common reason is that your Samsung wristwatch is chiming in for a battery warning. If you mistakenly forgot to charge it last night, it could warn you by disgusting beeping sounds. Therefore, try to charge your device as early as possible.
3. Near Field Communication
If your watch's Wi-Fi is turned on, it may be why the chiming noise continues to beep. A strong Wi-Fi network can trace every public device's access to itself.
In that case, it is natural that you get so many notifications from your watch and the watch chiming or vibrating continually.
To fix such a disturbing situation, turn off your watch's Wi-Fi connection. Also, cut off the connection of VPN or other public Wi-Fi, Hotspot connectivity.
4. Connecting to a Device
You may experience this issue if you connect your wristwatch or pair it with your phone via Bluetooth. Whenever your watch is connected to any other device, all that device's information reloads into the watch.
As a result, your phone gets too many notifications and sends them to your watch. For instance, the entire system of this works as if it is a chain bond. So, when your phone gets hung or disturbed due to getting many notifications, it impacts the watch's sound software.
5. Defective Device
It could repeatedly beep if the watch gets damaged accidentally or becomes too old. The defective device is often cumbersome, and their background apps are always on mode, even if you have yet to use them.
For this reason, your watch started making creepy, intolerable sounds every time. And its only solution is to change the device.
How to Turn on or Off Hourly Chime Sound
You can easily switch the hourly chime sound on or off on Samsung devices. Follow these stereotype processes and see how this annoying frustration becomes closed forever. I love this function of Samsung since it lets me turn off this feature when I don't need it.
Together with this, it also allows me to enjoy alerts when I think it's necessary.
Step 1: Open Settings
First, turn on your watch display. Scrolling to find out the settings option. Once you get it, tap on it.
Step 2: Tap on to "Sound" Mode
The hourly chimes on the wristwatch operate through settings and sound mode. This means you can operate the watch by following three basic norms. To set the chimes in your watch, do the following actions.
If you want to play hourly chime sound, then tap on Settings >Sound mode = System sound:
To create vibration with a specific pattern, tap on Settings>System Sound mode= Vibrate:
To turn your watch, do not play any sound mode; flip to "Settings" mode again. Then tap on System Sound mode=Mute:
Step 3: Tap on Settings Again to Turn Off
To turn off the hourly chime again, tap on watch settings. Go to the system sound mode. Click on it and turn off the hourly chime option from your watch.
Meanwhile, note that if your phone is paired with your wristwatch, you must have turned the hourly chime off from both sides.
Important Tips: Your watch hourly chime may still give you annoying notifications for some issues. That could have happened for not updating the Wearable apps. Update it if the hourly chime gives you a beep sound notification 2-3 hours later.
How Do I Turn Off the Chime on My Samsung Galaxy 4 Watch?
If you are supposed to quit your chime on the Samsung Galaxy Watch 4, follow the steps one by one.
Turning off such a feature is relatively easy. All you need to do is confirm that you have followed the way I described properly.
On your smartwatch, go and open the settings.
After that, tap on the notifications.
From there, you will find wireless emergency alerts. Scroll to the bottom of your watch; another option is "alert preferences."
Now, scrolling again. There you can also see another option of "Alert reminder."
Choose any other option from there or anything whichever you prefer most.
Is Samsung Watch Chiming Sound Disturbing?
It varies from person to person. Some people are very used to the continuous beep-beep sound every hour.
Some people find it odd and become vexatious, especially during examinations. Despite its annoying sound, the hourly chime is a feature that could make you productive. Some important facts are good, and I use them myself.
It allows you to keep track of time without looking at your watch every 5 minutes. It is useful during working or studying, and the sound is loud enough to hear in normal environments.
You could forget about the time, but keep faith in your Samsung watch to notify you when it's time for a break, time to go to the gym, or sleep.
It can convince you to stop losing time. For instance, you may waste time scrolling on Facebook or YouTube. Suddenly, your watch notifies you, "ACK! It better get back to work".
However, although it has some vital advantages, hourly chiming could run you a bit ragged. Continued beep-beep sounds can cause some people to have a sleeping disorder or fall into frightening hallucinations.
In that case, I must advise you to use or set this alarm only in an emergency. After all, why should you bear such a disaster when it would be handled through some initial settings? Skip this feature if possible or limit it to use without any valid reason.
Frequently Asked Questions (FAQs)
Why Is My Samsung Watch Chiming Without Reason?
One of the common reasons that your Samsung watch chimes without reason are the Bluetooth disconnection alerts. It generally happens when your watch goes out of the Bluetooth range. Even though the Bluetooth feature is useful for having so many facilities, it can get annoying sometimes.
What Is an Hourly Chime Watch?
An hourly chime watch is a specially configured setting manufactured by some profound wristwatch developers. In a wider meaning, a Chime is a clock that indicates the half and quarts hours by playing short melodies.
In the Samsung watch, an hourly chime will let you set the notification of receiving sound or vibration at the start of every hour.
Why Is My Samsung Watch Chiming Randomly?
Your Samsung watch starts randomly chiming if you enable the settings of hourly chime features. If this continuously annoys you, disable this feature through "System sounds." Go to the setting menu and open up this. Then, find out the option of hourly chime to turn off.
Why Is My Samsung Making Random Notification Sounds?
Random notification sounds on Samsung usually occur if the Bluetooth connection doesn't work properly.
Sometimes it happens if the watch charge is finished. The watch needs to be recharged. That's why it will continuously alert you for charging. Misbehaving apps or an error in the watch sound software might be a culprit, too, in this regard.
How Many Times Does a Samsung Watch Chime in a Day?
Typically, it does notify you about each hour per day. That means your watch gets a chime 12 times daily to alert you about the time.
However, the Samsung Galaxy watch will notify you about the hour on a time zone basis. It could vary depending on the state or country where you're living. Therefore, check out the time zone to clarify how often the watch gets chimed once you put it on the wrist.
Final Words
Follow the above procedures if you get tired of frequent sound, notifications, and hourly chiming of your watch. In case they don't work, and you are still tense, why does my Samsung watch keep chiming?
Then, it is your device's manual problem. It's better to take help from any expert to query why it doesn't work or stop properly.
Besides this, you can try another trick to solve it by keeping off all the vibrating options from your watch. Then, wait an hour to check whether it still disturbs you with the disgusting alert. Do some research to contrive a solution; I hope it will never happen again.
As an Amazon Associate, I earn from qualifying purchases.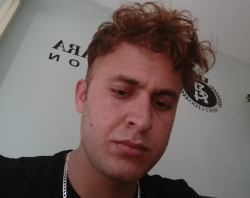 Latest posts by Nick Rolloson
(see all)