How to Wear Watch and Bracelet Together | 4 Tips to Follow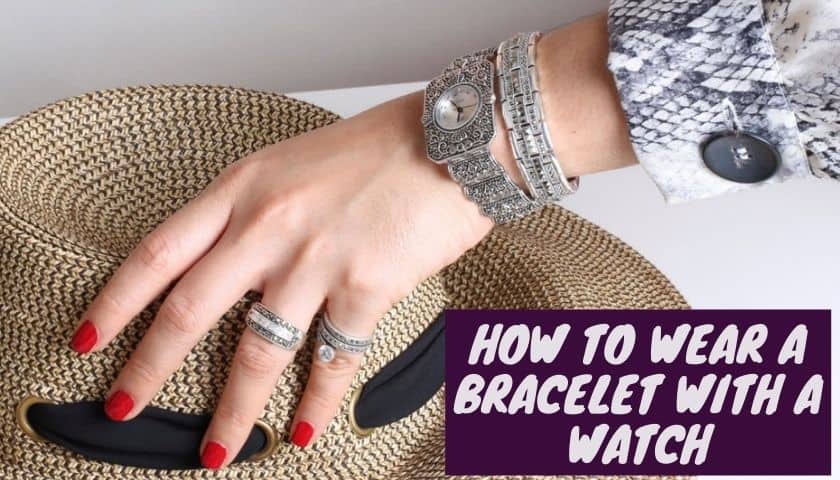 As an Amazon Associate, I earn from qualifying purchases.
Why limit yourself to one watch when you can glam up your look by wearing a bracelet with a wristwatch? Don't know how to wear a Bracelet with a Watch? In this modern time, wristwatches serve as both timekeepers and fashion accessories.
Bracelets are beautiful accessories to wear with trendy timepieces on the same wrist to make a statement. Wearing a bracelet with your watch can enhance your style. We'll go through how to wear wristbands with your wristwatch in a beautiful yet understated manner.
Why Wear a Bracelet with a Watch?
The wristwatch is a kind of portable watch that serves both timekeeping as well as fashionable performance. Both women and men generally choose to wear watches as a status symbol as well as a fashion accessory. A bracelet is also a fashion accessory like a wristwatch. Wearing a bracelet on your wrist provides you one step more style.
So, you can wear a bracelet with your watch at the same time. It will provide you with a more stylish look. But you should consider several things to wear a bracelet with a watch. Read this article on How to Wear a Bracelet with a Watch to fit yourself more.
4 Tips on How to Wear a Bracelet with a Watch
When it comes to wearing watches and bracelets together, you need to focus on a few simple things to make them more eye-catching and stylish. The number of bracelets, the size of the bracelet, and some basic rules of wearing can make your wrist more attractive by practicing. Below is a discussion of what you should consider when wearing bracelets with the watch.
Tips 01: Don't gather more
According to bracelet size, you have to make a decision on how many bracelets you wear with your watch. You should consider a maximum of three bracelets on your wrist with your watch. However, you may discover that, in many circumstances, just one wristband is sufficient to improve your wrist appearance.
Because your watch takes up much space on your wrist, stacking too many wristbands on the same wrist will make it look cluttered. Another thing to remember is that when you cluster so many wristbands, each one doesn't stand out as much. Instead, it will be swallowed up by the mob.
Tips 02: Wear the side that is nearest to your hand
The bracelets will sit better on the part nearest to your hand if you wear them there. This will enable the bracelet to complement rather than compete with your timepiece. Wearing wristbands across each side of the wristwatch will make it appear cramped, and the watch will not stand out as much as it could. Between the bracelet and your watch, it will appear packed.
Tips 03: Allow sufficient room for the bracelets
The mistake that many of us make when it comes to wearing bracelets with a watch is to wear a bracelet that is too close to the watch. It is often seen that the strap of the watch covers the bracelet so that it is not visible to others. Again, in many cases, it prevents the watch from fitting well with the wrist, which in many cases causes annoyance.
So, you should keep some space between the watch and the bracelet when wearing a bracelet with a watch. By doing this, they will both fit better on your wrist and will be better visible.
Tips 04: Wear a smaller bracelet
You should consider thinner and smaller bracelets to wear with a watch. Bracelets that are smaller-sized function considerably better with a watch and bracelet combo. If you wear a relatively large and heavy bracelet, it will take up more space on your wrist. In this way, the bracelet and the watch will not fit well on the same wrist.
So, if you wear a small bracelet, it will take up less space and give you a better fit as well as comfort. Thinner bracelets will serve as a basic, clean accent to your wristwatch rather than taking center stage. A small braided leather wristband is our go-to accessory for timepieces.
Things to Consider While Choosing Bracelet to wear with a watch
To make a bracelet look stylish with a watch, we need to keep an eye on some common things. You should consider design, color, materials as well as the number of bracelets while wearing a wristband with a wristwatch. By focusing on these major factors, you can deflect the impression of these stylish accessories.
The goal is to keep your glow and not to overdo it. You can start utilizing our recommendations and then come up with a plethora of unique combinations on your own. Although there are no hard and fast laws that govern your appearance, here are some short recommendations for achieving a pleasing appearance.
Type of Bracelet
You cannot pick a random bracelet to wear with your watch. To choose a bracelet, you should consider the bracelet type according to the watch that you are wearing. Watch's material as well as the strap has a big impact while you are choosing a bracelet to wear with it.
If you're wearing metal bracelets, make sure it's the same metal as your watch. A heavy metal bracelet, on the other hand, should be avoided as much as possible because it can harm your watch. If you already own a gold watch, the personalized black leather band can be the perfect complement.
If you're seeking a way to wear more than a single bracelet with the timepiece, we've found the perfect solution for you. With big dial wristwatches, a combination of a simplified leather bracelet as well as a leather patterned gold bracelet makes an excellent statement. The black leather enhances your waist nicely when combined with a silver watch with a white dial.
Color of the Bracelet
Color combination or matching has a lot of impact on our style. A great color scheme can make it very easy to wear timepieces and bracelets on the same hand. Random color selection will never enhance your style. So, you should consider the color of the bracelet according to your watch color.
If you have a gold watch, then you should avoid silver metal or color bracelets because gold color never matches with silver. A Black or blue bracelet will match well with a golden color or gold watch. If you're wearing a blue wristwatch, a navy blue and modest bracelet will complement it perfectly. You should never choose a yellow bracelet to wear with a blue watch.
The bracelet can have a variety of styles, from formal to customized, when it refers to elegant colors like blue and black. Colors that are muted and natural-looking go nicely with watches. Colored wristbands, such as green, blue, and red, can be more difficult to match. It all affects the color of the watch you're wearing.
Design of the Bracelet
Everyone enjoys making a fashion statement by focusing on style rather than glory. With the watch bracelet, you can go for a simpler and orderly style. Strong accents of silver and gold can be found embedded in a sheer blue and thin black bands, and these bracelets can be paired with a complementary watch to complete your outfit. You should pick bracelets that aren't overly large. Bracelets with a large diameter will not fit nicely with your watch.
How many bracelets should you wear with the watch?
When wearing a wristband with a watch on the same wrist, one of the most frequent questions is how many bracelets to wear. Since the number varies from person to person, it isn't easy to find a definite answer. While you may prefer to wear one or two bracelets with a watch, one of your friends may not prefer to wear a bracelet with a watch.
So how many bracelets to wear with the watch depends on your own business and your choice. Whenever determining how many bracelets to put next to the wristwatch, the size of the bracelet must always be considered. Avoid creating the impression of a clumsy wrist. The bracelets should not be the focal point of the display. Instead, pair them with your watch to complete the look.
You can stack numerous smaller-sized wristbands beside your clock on the same wrist if the bracelets are thin and simple. There are no guidelines about how many bracelets you should wear. However, make sure that these numerous thin bracelets do not overpower the strength of your watch, which should be the focal point of your wrist.
Final Thought
Watch and bracelet both are the most used fashion accessory. Wearing bracelets with your watch will provide you a more stylish appearance. For decades, women and men have worn wristbands with your wristwatch. But you should consider several things while wearing a wristband with your timepiece.
In this article, we talked about How to wear a Bracelet with a Watch in a fashionable way. These are the most crucial things to remember when wearing bracelets with a watch. If you follow this advice, you'll look stylish and exquisite every day.
As an Amazon Associate, I earn from qualifying purchases.