The 7 Best Smartwatches for Small Wrists | 2022 Ultimate Guide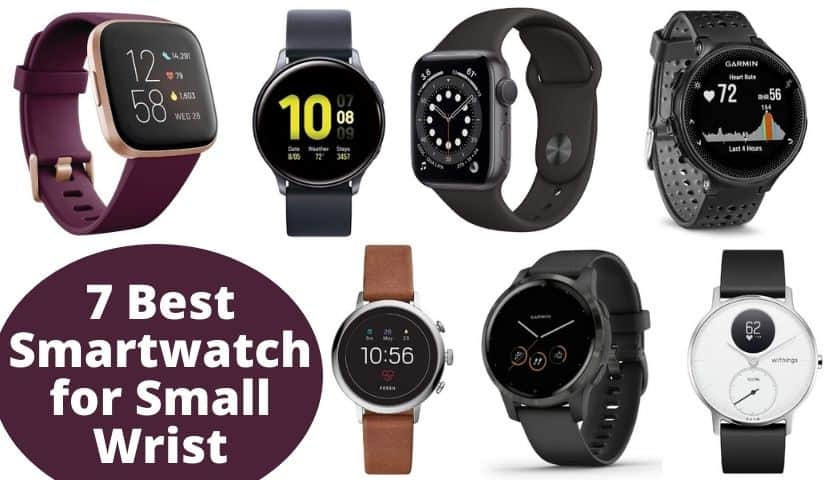 As an Amazon Associate, I earn from qualifying purchases.
The smartwatch marketplace is pretty vast, with various smartwatches you require. However, finding the right model watch for your wrist is still quite challenging.
For the lack of research and watch understanding, many mistakenly buy smartwatches that are either tight or loose on their wrists. If you have faced such an issue before and now want to get the best smartwatch for a small wrist, we have got you covered.
We have several recommendations for smartwatches that will fit fine on small wrists. So, let's not talk further and check out those outstanding pieces of the smartwatch.
7 Best Smartwatch for Small Wrists Review
These watches are chosen especially for being the accurate fits for small wrists. All these smartwatches are well-performing, high-quality materials made, and affordable.
Our top picks: At a glance
Best for Fitness Tracking: Fitbit Versa 2
Best Full-fledged Smartwatch: Samsung Galaxy Watch Active 2
Best for Health Features: Apple Watch Series 6
Best for Heart-rate Monitoring: Garmin Forerunner 235
Best for Battery Life: Withings Steel HR Hybrid Smartwatch
Best for Women: Garmin Vivoactive 4
Best Wear OS Smartwatch: Fossil Women's Gen 4 Venture
7 Best Smartwatch for Small Wrist
$149.95
$199.95
in stock
2 new from $149.95
3 used from $181.90
as of June 3, 2023 10:51 am
$179.95
in stock
2 new from $179.95
1 used from $144.30
as of June 3, 2023 10:51 am
$199.99
$329.99
in stock
10 new from $199.99
3 used from $147.85
as of June 3, 2023 10:51 am
$299.94
in stock
3 new from $299.94
5 used from $129.99
as of June 3, 2023 10:51 am
$322.16
$399.00
in stock
2 used from $298.43
as of June 3, 2023 10:51 am
as of June 3, 2023 10:51 am
as of June 3, 2023 10:51 am
1. Best for Fitness Tracking: Fitbit Versa 2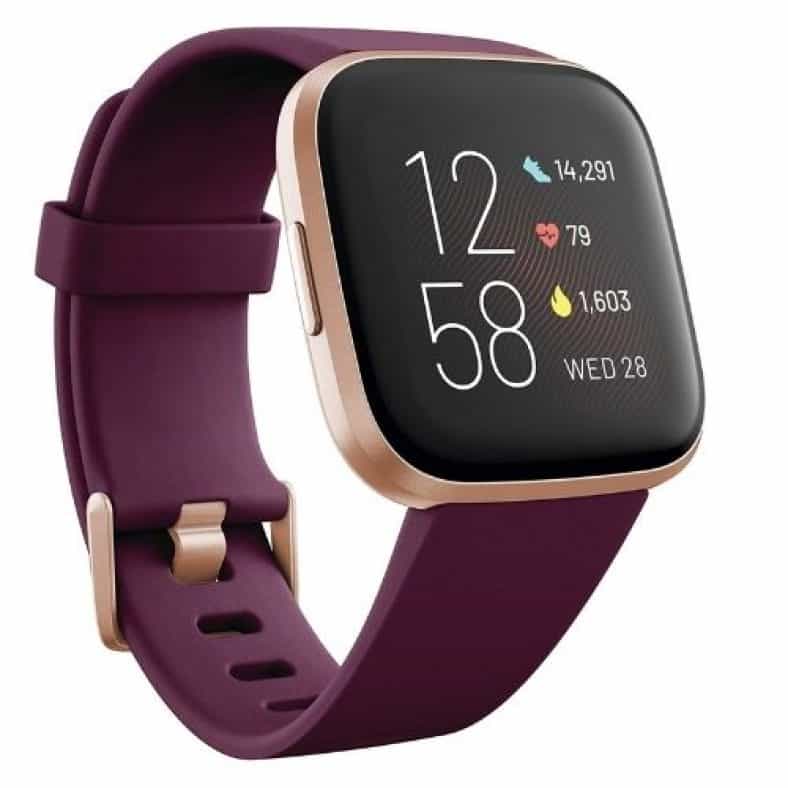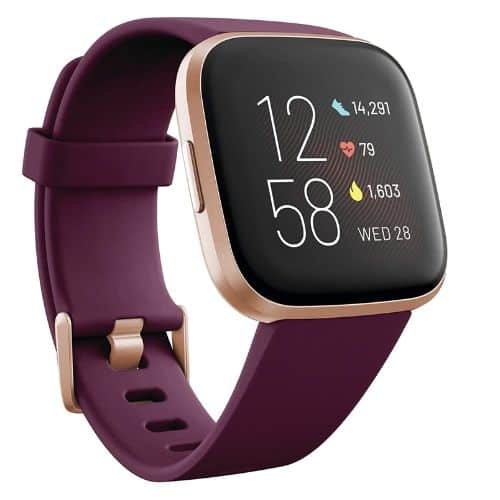 Fitbit Versa 2 is the more pleasant to wear kind of smartwatch that has surpassed the original Versa by giving better performance. It will fit properly on the small wrist and any average or big wrist. The design is not much different from the previous one except that the multiple buttons have turned into one button.
Classy Look
The square shape display with rounded edges gives the watch a classy look. Whoever will wear it will also get classy vibes. The three buttons from the previous model are removed and replaced with one button only in Versa 2, making the watch appear simpler but standard.
However, the watch has not lost its functionality. Also, we found one minor issue; the straps are a little harder to change. While the original Versa contained quick-release pins straps, Versa 2's rubber strap made things tougher.
Built-in Alexa
Alexa is a valuable feature in this model. By ordering Alexa, you can do most of your jobs like controlling your smart home gadgets, setting alarms reminders, getting answers to your questions, news, and so on.
Just talk to Alexa through the speaker and get all your jobs done. There is one "but," in some countries, Amazon Alexa is found. In this case, you can give orders to Alexa by typing.
Quality Sleep Tracker
Whether you are having the right amount of sleep or not, the watch will help you know it. The sleep tracker of this smartwatch uses high-end technology to track your sleep and stress levels.
Whether you are sleeping deep, light, or in REM sleep stages, it will record your sleep quality and provide scores to make you understand if you are sleeping well.
Larger Display
Take a glance at your smartwatch and check the information right away. The bigger screen allows you to read things on display faster and more easily.
The large display lets you check the updates of your heart rate, steps counted, calories burned, time, and day altogether. Generally, big display wristwatches look a little on small wrists, but this particular Fitbit Versa 2 will rather look perfect.
Great Fitness Trackers
The Versa 2 offers the best fitness tracking features. The only lack is the built-in missing GPS; however, GPS tracking can do pretty well using your phone. There are over 20 sports modes that will help you make your body fit sooner.
To inspire you in doing workouts, it has the system of setting targets. If you are not working hard enough to achieve your goal, the smartwatch will remind you to exercise every day. Moreover, it notifies you when you achieve your fitness goal, always updated about your health conditions.
Pros
Long-lasting battery life
Outstanding sleep and fitness trackers
Lightweight and convenient
Fits accurately on small wrists
Built-in Alexa
Cons
Replacing straps is hassling
Why Should You Buy It?
Versa 2 is the improved version of Versa, the small change in the outline is indeed welcoming. If you are looking for a smartwatch with brilliant fitness tracking features, this should satisfy you.
Read Next: Review of the best Fitbit smartwatches
2. Best Full-fledged Smartwatch: Samsung Galaxy Watch Active 2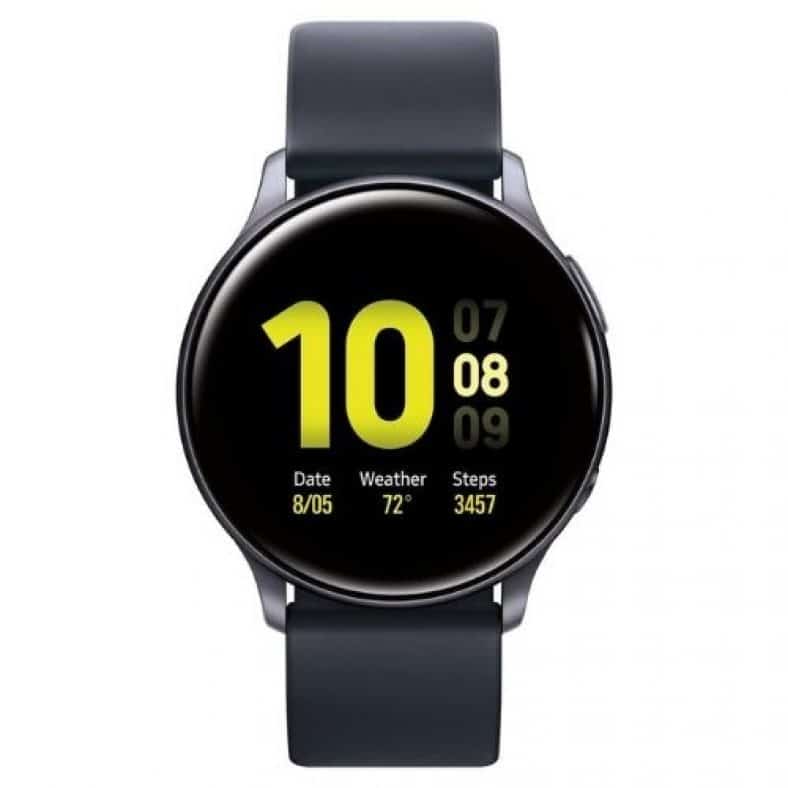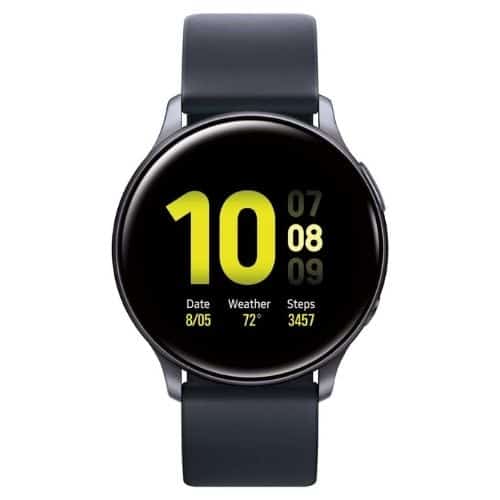 The Samsung Galaxy Watch Active 2 was nothing special at first, but it was given the long-awaited ECG feature after the update. While Galaxy watches 3 with an ECG costs expensive, Galaxy watch Active 2 is available at an affordable rate.
It's an all-around option for people looking for an Android and iOS compatible smartwatch. When it was first launched in 2019, it had some health feature shortages that are now taken care of.
Rotating Bezel
The Galaxy Watch was first released in 2018, which had a rotating bezel that could help you change settings. Samsung users found this addictive since it was satisfying to press the button. Plus, it was the quicker way they could navigate, unlike other smartwatches that make you only depend on the touchscreen.
But this time, things are more satisfying. The only rotating bezel gives you the experience of enjoying both the touch screen and bezel functionalities. Then comes the dial part; unlike physical dials, this specific timepiece allows you to scroll menus by running your fingers around the touch bezel edge.
Feels Perfect
Watch Active 2 feels better to wear than its previous generations. It's one of the best smartwatches for a small wrist coming in 40mm size. It fits fine and looks like a luxurious item for its metal finish.
The synthetic rubber strap feels lighter and soft on the skin. You can also get the leather straps if you feel more convenient wearing leather watches.
Bright Screen
Your watch should have a bright screen. If the display light is not bright enough, you will not use it outside. When the sun shines so bright, your display will give up. But don't worry about the Active 2.
It has one of the brightest AMOLED screens, which allows you to look at it directly under the brightest sun. However, you need to ensure your brightness is always set to maximum.
Advanced Fitness Tracking
We liked the watch a lot for its advanced fitness tracking system. Samsung seems never to compromise this feature. It has up to 39 workout modes. Whichever you try, it will record things fine.
Besides, it will break down your data and show you the information through its watch face or from the Health app. The presentation of fitness data is not as impressive as Fitbit and other competitors, still it's understandable so it won't be a big deal.
Full-fledged Smartwatch
The Galaxy Watch Active 2 can now provide you with an LTE version. It means you can get and send messages calls anytime you like. Also, you can customize the notifications; this way, you will only be notified about the notifications you want. Moreover, it offers you to use third-party apps like Twitter, Whatsapp, Spotify, and more.
Pros
Comfortable to wear 24/7
Comes with trip detection and VO2 max
Easy navigation
Offers LTE option
Modern fitness tracking
Cons
Always-on display kills battery life faster
Why Should You Buy It?
If you need a complete smartwatch with useful fitness trackers, you should buy this. For convenient use, it's quite challenging to find another watch like Active 2. This fits nice over tiny wrists.
Read In-depth review: Samsung Galaxy Watch Active 2 Review
3. Best for Health Features: Apple Watch Series 6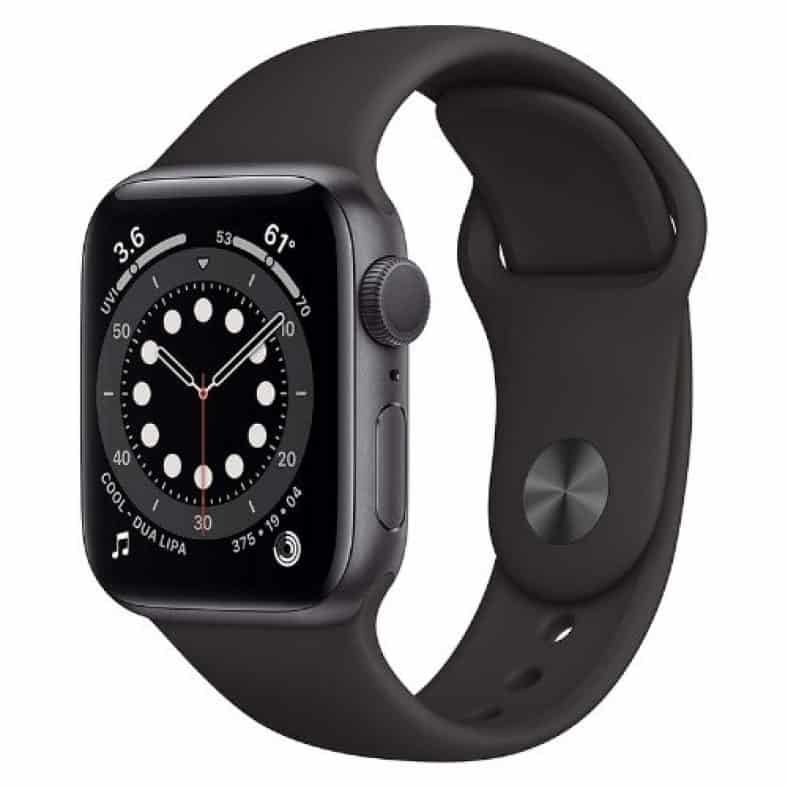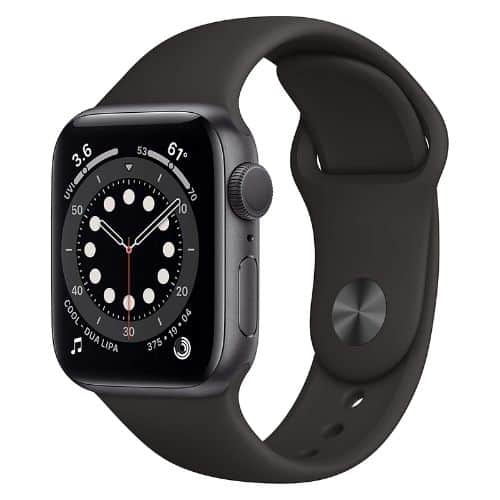 The Apple Watch Series 6 has been a top pick for its excellence in performance, great fitness, health trackers, and unparalleled application choices.
It features necessary health trackers that are on-demand these days for the increased COVID-19 pandemic.
Because the timepiece is able to indicate the amount of blood circulation and oxygen levels, let's know more in detail about the valuable features.
Fits Well
Good news for people with small wrists. The Apple Watch Series 6 will fit well over your tiny wrist. The case sizes are available in 40mm and 44mm. The case is made with three materials, ensuring you get a high-quality product.
The materials used are recycled aluminum, brushed titanium, or stainless steel. The straps come in 9 various sizes, which means you must have an option for your wrist that will fit well.
Distinctive Design
Some may love the design while others may not, but we think the squarish outline with round edges gave the timepiece a distinctive look. However, if you keep the apple series 5 and 6 side by side, it's hard to find differences except for the band and case color.
Indeed there are no big changes in the design, yet it feels lighter on the wrist. The 40mm watch model weighs only 1.07 ounces without its strap. This proves it's really not a heavy timepiece but is durable.
High-end Health Features
The best part about the series 6 is its health features. Blood oxygen level measuring and ECG are pretty rare in most smartwatches. Thanks to Apple, they added these helpful health features in this model. We are impressed to see the blood oxygen level reading is almost accurate. It shows the oxygen level in the percentage.
We can't forget to mention the ECG in the timepiece. You can take the electrocardiogram through the app. It will also tell you what to do, like not moving your arm, taking a rest, or doing some activity for the heart's wellbeing.
Cool Watch faces
Watch faces have the biggest impacts on you and your Apple watches appearance. Apple has launched brand new typographic watch faces. These have a bold design, artist options, and emoji that will show off your coolness.
Smoother Operation
It feels good to use a smartwatch that is operated smoother than ever before. The Apple company made the series 6% faster than the series 5. Meaning you will not experience lag.
Pros
Has blood Oxygen Level measuring app
Always-on display with more brightness
Real-time fitness tracking
20% faster than the previous model
Helpful third-party apps
Cons
The battery has improved only a little
Why Should You Buy It?
The overall performance of the Apple Watch Series 6 is very impressive. We were astonished at the fast operation of the watch. It lets you make phone calls, send texts, listen to songs, control your smart home appliances through Siri, and more. The great thing about the wristwatch is its health features.
Read Next: Apple Watch 6 vs Samsung Galaxy Watch 3
4. Best for Heart-rate Monitoring: Garmin Forerunner 235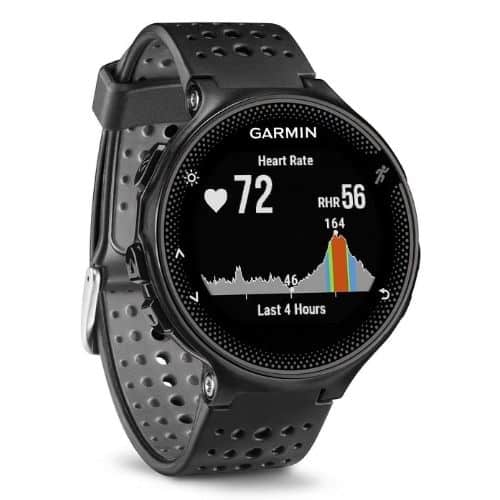 The Garmin Forerunner 235 is a smartwatch that is best for running and small wrists. It's upgraded so that it can record more pace and distance while coaching the user in training smart and improving over time. This isn't the end; it has more useful things to offer you; let's learn about them one by one.
Wrist-based Heart-rate
Wrist-based heart-rate checkers might fail to monitor the heart with 100% accuracy but can measure your heartbeats decently. Garmin forerunner 235 watch has this useful feature and tells you the most accurate heart conditions.
While you are active or inactive, 24/7, it will measure the heartbeats. It's an ideal watch for those who want to become a better runner. If the running exercise gets too heavy on the heart, it will show you the data on the watch screen to warn you. That's when you must take some rest to keep your heart healthy.
Larger Display
There's a huge difference between the previous Garmin forerunner 225 and the 235 visible. The screen size of this model is 44% larger. However, the manufacturers kept the physical size unchanged.
Some may think such a large display timepiece will not look attractive on the small wrists. The truth is it will rather look better since the wristwatch will cover your wrist well. The big display will allow you to check the screen better while catching everyone else's attention.
Smart Notifications
The smartwatch is pretty good at notifying you about things right on time. The only issue is with the battery life. If you turn on smart notifications every time, plus use some other features like tracking fitness, the watch will back you up for only 12 hours. So make sure to charge your watch twice a day.
Convenient
The timepiece comes with a large screen, but surprisingly it does not feel heavy on the wrist. The smart wearable is made lighter because of a runner's convenience.
It's important to move your hands-free while running to run faster. If the watch feels heavy, it will distract the user. For this reason, Garmin made sure to make the display large for better vision but keep the weight light for fast running.
Waterproof
It's made especially for running, but it also allows you to do more activities like cycling, swimming, etc. It can withstand water up to 50 meters meaning you can do swimming exercises and even keep wearing the timepiece when taking a shower under heavy drops of water.
Pros
Great for runners
Smart notifications
Extensive fitness information
Lightweight
Fits well on a small wrist
Cons
Why Should You Buy It?
If you're a runner or you want to keep yourself fit and fine by taking runs every day, this will be a big help. It feels good to wear, record fitness activities well, monitor heart rate, and sleep. All these useful traits make it another excellent option for those who have small wrists.
Related Post: Garmin Forerunner 45 reviews
5. Best for Battery Life: Withings Steel HR Hybrid Smartwatch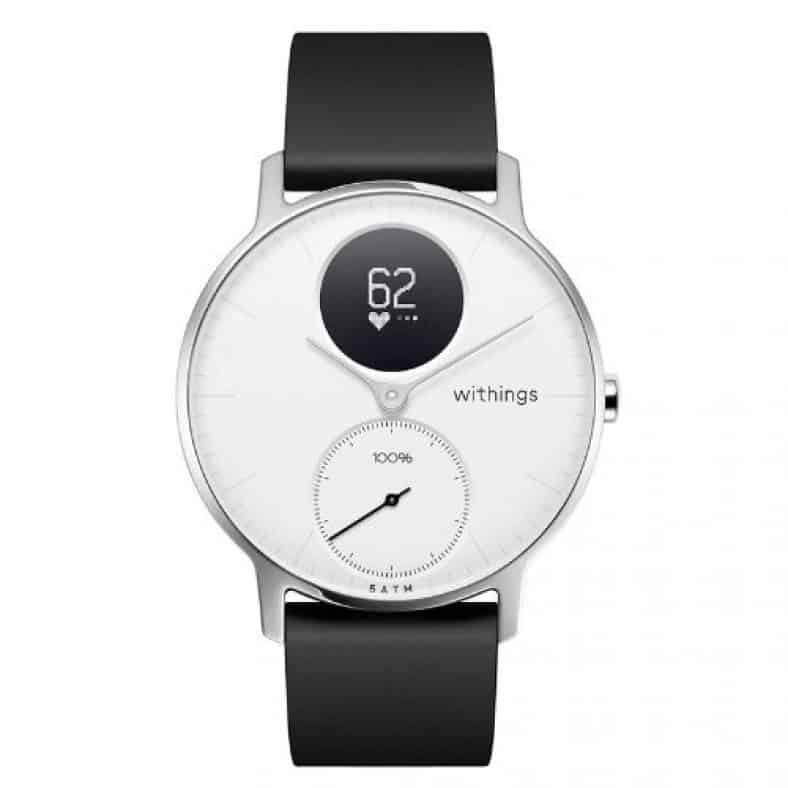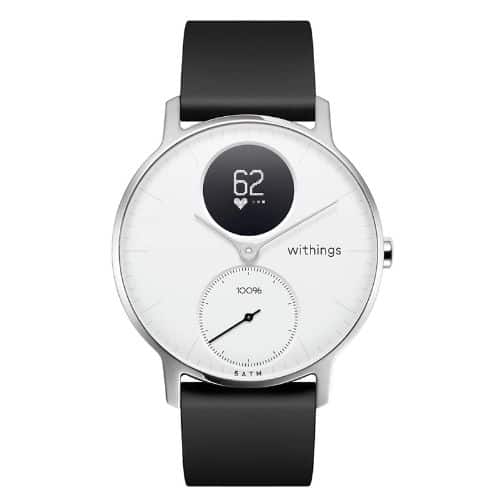 Day by day, people want to wear a watch that can do fitness tracking, but some people actually want something that is not a plastic-made attention-catching device such as the Huawei Band 2 Pro or Fitbit Charge 3.
Fitness trackers are less attractive than a smartwatch with fitness tracking features. So, built-in fitness tracking features smartwatch will be a better option. Withings Steel HR Hybrid Smartwatch is one such timepiece you will love after using.
Classy Appearance
If you don't want your watch to look like a fitness tracker rather than a pure watch, this watch is the right pick for you. It's a smartwatch, yet it looks so casual. This will fit perfectly with your office costume.
There is one button only through which you can use the trackers. It's located on the right side as the crown. The watch's 36mm case might feel too little to some traditional timepiece lovers, but for a small wrist person, this will fit and look correct.
Extended Battery Life
We loved the lengthy battery life of the watch. It lets you use it for more time while making you charge it less. It is claimed to last for 25 days. However, the truth is it backs up in less than 25 days. Since the smart wearable is working 24/7 in tracking your health conditions, the battery continues to drain.
24/7 Heart-rate Monitoring
The watch is capable of monitoring your heart all day and night long. Like a modern smartwatch, it shows you all your health-related data through an app called Health Mate. It's free to download. To use the application, you need to connect with Bluetooth.
Supports Alexa
The watch may not look that smart, but it offers all the smart wearable features, including Alexa. But only the Health Mate user can use it. You only need to say, "Alexa, ask Withings." It will tell you everything about your activities.
Sport Monitoring
The watch can record your workout activities when you activate the mode. Choose any useful sports mode from 30 different modes right from your wrist. A timer will be set. When you are done exercising, check the path map, duration, and distance using the Health Mate application.
Pros
Easy to use
Stylish outline
Essential health and fitness features
Long-lasting battery
Waterproof
Cons
Why Should You Buy It?
Small wrist people can give it a shot, especially if they want a smart wearable that looks formal. It has every necessary fitness and health tracker and can withstand 50 meters of water. Hence, it can be a valuable investment.
6. Best for Women: Garmin Vivoactive 4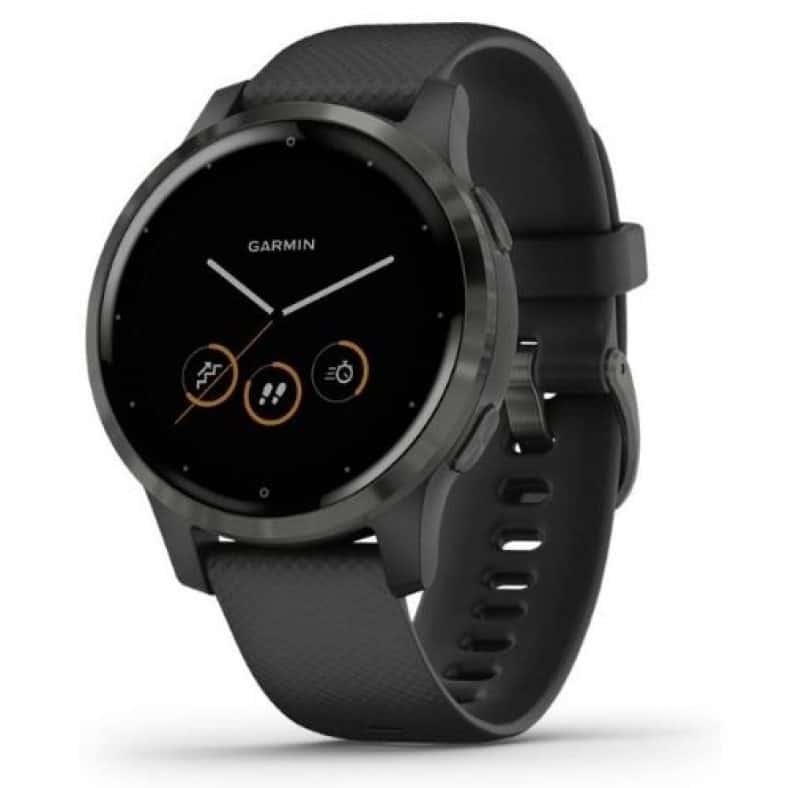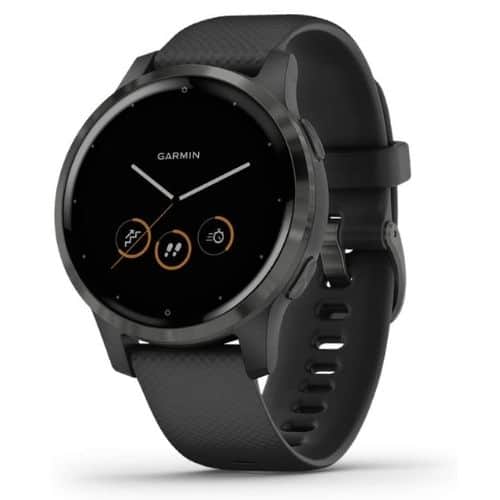 The Garmin Vivoactive 4 is ideal for women who do not like bulky-looking smartwatches but smaller models packed with essential health trackers. It includes all the regular features any Garmin watch offers like tracking fitness, pace, heart rate, etc. It's more compact but smaller.
Smartwatch for Women
It's indisputably a smart wearable for women. The color combination sizes that can fit the wrists that are 4.3 to 6.8 inches make it an accurate wristwatch for small wrist ladies. It's the right pick for an adult who doesn't like wearing watches with a childish appearance.
The outline is not only pretty but practical. First, it will never put you in trouble whether you are wearing it when gardening or other everyday activities. Second, it will cope with your elegant clothes.
Reliable Battery Life
You will not regret relying on the watch since the battery life is pretty impressive. When on smart mode, the battery will back you up for 7 days. However, you can't utilize all the important features like heart-rate monitoring in the background. When using music or GPS mode, the battery servers for 5 hours or less.
Great for Training
This smartwatch will help you train yourself well. With the help of GLONASS and Galileo satellites, the built-in GPS in it can track your positions right. Unlike many smartwatches, Vivoactive 4 offers you more exciting sports modes, including skiing, yoga, golf, strength, and cardio exercises.
The sad part is that it does not have an open-water swim mode but rather a normal one. The GPS accuracy is quite impressive.
Music Playback
Music playback is the new feature in Vivoactive 4. The watch lets you transfer music files directly from your phone to the watch. It even allows you to connect your smart wearable with third-party music apps like Deezer, Spotify, and Amazon Music.
Although a subscription is required, it's more comfortable to just listen through the apps than transferring music files because without the Garmin Express app; you can't transfer songs to your timepiece from the PC or handset.
Contactless Payment
This wristwatch is one of those rare pieces that offer you contactless payment. But the eligibility is not for every country. If your country and bank support the Garmin payment gateway, this feature will ease your life even more. All you have to do is tap on your watch and pay for food, clothes, electronics, etc.
Pros
Fitness tracking features are outstanding
Attractive design
Clear and big screen
Music storage
Long battery life
Cons
Running analysis needs improvement
Why Should You Buy It?
Garmin Vivoactive 4 is attractive looking, and the provided features are heart-winning. A small wrist person can't have such a great deal within a smartwatch than this one. The performance is super, and so we think it's worth having.
Read in-depth review: Garmin Vivoactive 4 Review
7. Best Wear OS Smartwatch: Fossil Women's Gen 4 Venture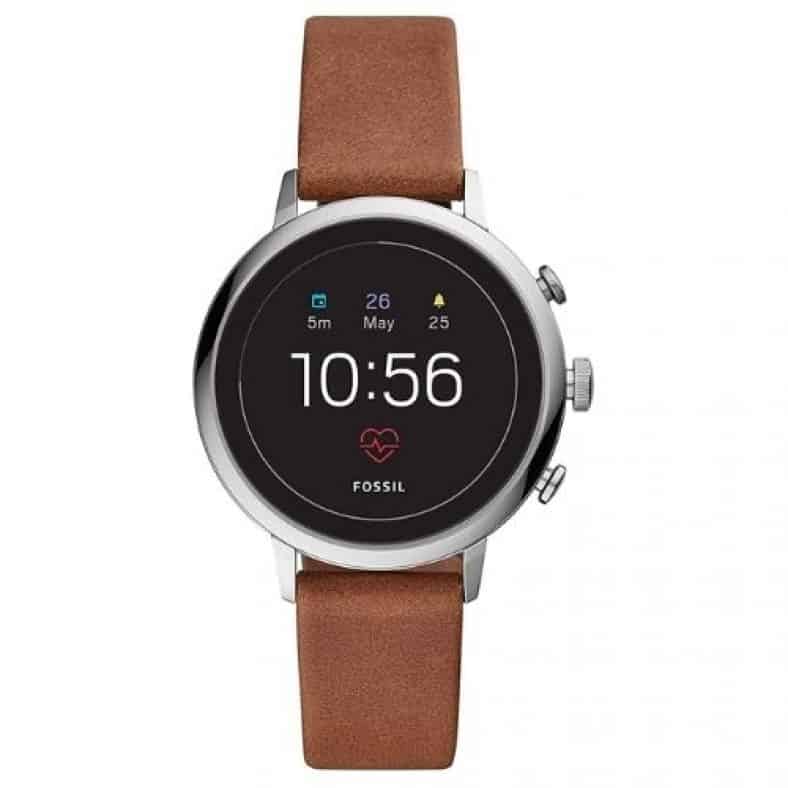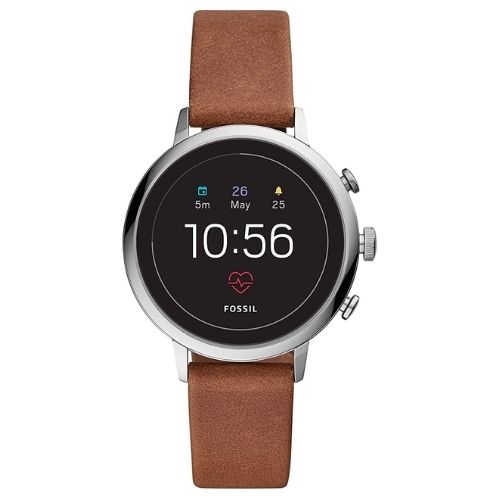 The Fossil Women's Gen 4 Venture comes with several new inclusions like Wear OS, heart-rate monitor, and GPS. It's made especially for women, which means it's built for small wrist people. However, even guys wear and love the brilliant timepiece.
Classic Outline
The design of this watch is truly impressive. It looks like a simple yet classy item. The design goes perfectly with screen dials. It comes with 3 different buttons to ease your navigation. These buttons do the job of controlling most of the tasks, like taking you to settings widgets and taking you back to the home screen.
The rounded shape gives the appearance of a traditional watch and not a tracker, so whoever will check the watch carefully will get surprised to see the cool features in it.
Wear OS Supported
If you are specifically looking for a smart wearable to wear on your small wrist powered by Google, this is what you require. The wristwatch uses OS-powered, meaning you will have all the helpful features that Googles allow. For example, using Google Assistance, Google Map, Google Play Store, and more.
However, there's a minor issue; since it's Wear OS-powered, you can make an incoming or outgoing call, but you need your handset to talk. Since the timepiece has no built-in speaker, it will not allow you to talk directly through the watch.
Fast Charging
One more great fact about the wristwatch is it takes only an hour or a plus to get fully charged. But there is another issue; the battery is not strong enough to back you up the whole day. It may back up for 12 hours or so. However, you will not have a problem charging it twice daily for its fast-charging capability.
Powerful Health Features
This watch is too good with Heart-rate monitoring. It monitors the heart all day and night long. Whether you are busy doing activities like running or performing yoga, or sleeping, resting this timepiece can automatically measure heart rates with great approximate accuracy.
Customizable Dials
Watch faces are things that bring different looks to your watch. So many watch faces, plus you too can customize the dials. It means you can match the watch face with your style. Swiping dials is so easy.
Pros
Great heart-rate tracking
Waterproof
Allows watch face personalizing
Untethered GPS
Eye-catchy design
Cons
Why Should You Buy It?
If you're a woman, this watch is specially made for you. The design, the small dial, useful features, google services are all packed well in this smartwatch.
Related Post: Garmin Vivoactive 4 Review
Buying Guide for the Best Smartwatch for Small Wrist
Of course, our suggested timepieces are all the best options for small wrists. Still, there are some things to consider depending on your budget and requirements. You might like some for the features and some others for fast performance, but you must make sure to keep these factors mentioned below in your mind and never compromise them.
Quality
Never compromise the quality of any product. Both the materials and construction of your smartwatch should be high-grade. However, our suggested watches are all good quality items, yet some are too durable, and some are less. If quality matters the most to you, you must go with the most durable watch among the durables.
Size
Since you have a small wrist, you should choose a smartwatch from the options with short size bands and displays. In our list of smartwatches for small wrists, you will find various size watches; make sure to get the size that suits your wrist the most.
Features
What feature do you want to use the most? The fitness tracking, heart-rate monitoring, smart controlling, or something else? Whatever you care to have the most, search for the timepiece providing you that one feature so good. For example, if you want to use all the Google services, get a smartwatch with Wear OS.
Accuracy
Suppose you're serious about using a smartwatch to track your health and fitness with great accuracy. Some watches give somewhat accuracy; some are very good at providing accurate results. You should choose the second type of watch.
Battery Life
A busy person who can't make enough time to charge his smartwatch often should get a smartwatch with longer battery life. At least get a smartwatch that can back you up for the whole day. But if you like fast charging, you need to get the watch that needs charging often but can charge itself quicker than usual.
Frequently Asked Questions (FAQs)
What Should I Wear With a Thin Wrist?
Many people have thin wrists, and when it's about picking a smartwatch, they suffer a lot. Luckily, we are here to lessen your suffering. These smartwatches, in our suggestions, are the right pick to wear with a thin wrist.
How Do I Know What Size Smartwatch to Get?
To know what size smartwatch you require, first, you have to measure your wrist. If you have a wrist of 14-18cm, pick a smartwatch with 38mm or 40mm diameter. For a wrist above 18cm, you must select a bigger case watch with a 44-46mm diameter.
Do Watches Look Good on Small Wrists?
Yes, watches look good on small wrists as long as the person is wearing the correct size wristwatch.
Closing Remarks
A tiny wrist person must wear the best smartwatch for a small wrist. Because if they go for a medium or large watch, it will not fit properly on the wrist resulting in discomfort. We can assure you of having no issues with the size of our recommended watches if you buy one following the buying guide.
As an Amazon Associate, I earn from qualifying purchases.