Leather vs Metal Watch Band | What are the Differences?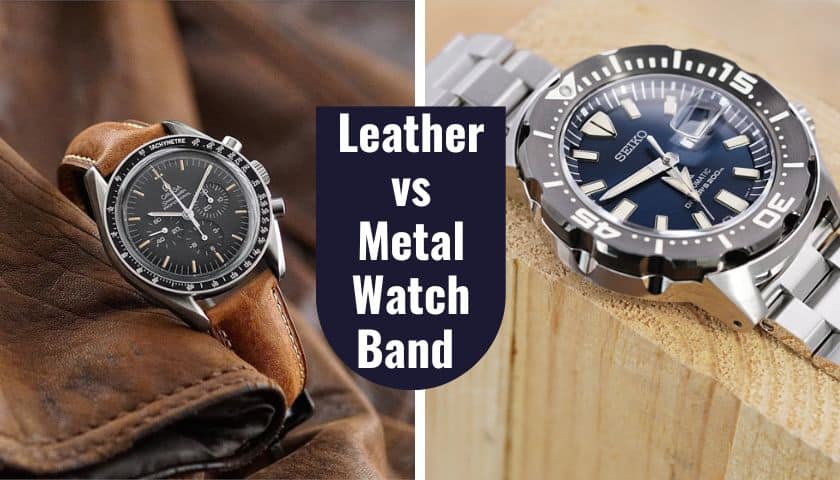 As an Amazon Associate, I earn from qualifying purchases.
What is the difference between leather vs metal watch band? If you're in the market for a new timepiece, it pays to know your wristwear options—especially when they are as different as these traditional opposites.
A leather watch band is soft, supple, and flexible. On the other hand, a metal watch band is hard, stiff, and scratchy. There are also more differences between them. Continue reading.
Leather vs. Metal Watch Band – Key Differences
Before heading to the detailed discussion, go through the below chart.
| | |
| --- | --- |
| Leather Watch Band | Metal Watch Band |
| Lightweight | Heavy |
| Easy to maintain | Hard to maintain |
| Short time lasting | Last for a long time |
| Cheap | Expensive |
1. Material
Leather watch bands are made from the skin or inner bark of animal hides that have been tanned.
Tanned leather is dyed and then treated with various chemicals to create different tones of brown.
Dress leather has a darker color, for example than casual leather. Each manufacturer tames and works the hides differently to give their products an individual look and feel.
Metal watch bands are made from a variety of different metals. The most common are stainless steel, which shimmers and has a mirror-like quality.
Everyday wear is made easier with stainless steel since it can be easily cleaned and does not scratch. You don't have to worry about getting your metal tag twisted or snagged on something. The reason is it's strong enough to withstand the attention of buttons, laces, and sharp fingernails.
Metal watch bands are also crafted with the same amount of care given to other jewelry pieces. The watch band is polished to a high luster and rounded. Also, it has smooth edges on the links to ensure comfort against the skin.
Metal watches are shiny, but leather bands that have been conditioned can be just as attractive.
Stainless steel watch bands are made from the same metal used in kitchen utensils. So, you don't have to worry about bacteria or mildew settling in.
The stainless-steel band is a great choice for people wanting a durable, scratch-resistant band. The only setback is that it's tougher to clean, but gentle soap and dry cloth work wonders.
Leather bands are very easy to clean, which is why they are recommended for dress occasions or events.
2. Comfortability
Although leather and metal watch bands look different, they actually feel the same. Because the leather band covers the watch face. Thus, you don't have to worry about it scratching your watch's crystal or band. Both types of bands are comfortable and soft to the touch.
However, metal bands are easier to fasten because the buckle is sturdy and the fit is more precise.
Metal watch bands need to be polished regularly to keep them looking good. While leather needs conditioning or water repellent to avoid dryness.
Treating leather stretches it out a bit so a replacement watch band may feel different than the one you're used to. Waterproofing your leather band adds an additional layer of protection but also makes it bulky.
3. Purpose
There is no doubt that leather watch bands and metal watch bands serve completely different purposes.
If you prefer a soft and smooth watch band, that's fine. Although leather watch bands are durable, they are not indestructible as some people would have you believe.
When wearing your watch on your left arm with a leather band. Be prepared to get it scratched up. The reason is the leather will be on the left side of the watch face where you can't see it.
Although stainless steel watch bands can be hard to clean, a little tender loving care will bring them back to looking their best.
And remember, keep your watch band away from sharp objects. Avoid wearing your stainless-steel band when working on cars or digging in the garden. This will keep the watch band damage-free.
Even if you're wearing a leather watch band and it gets dirty, wash it with warm soapy water. Then use a soft cloth before it dries out and cracks.
4. Maintenance
There are many luxury timepieces out there, but a few leather watch bands have remained the most sought-after.
Leather is easy to clean and maintain. The watch band will not scratch or damage your watch no matter how often you wear it. It can be customized with a wide variety of colors and styles.
The downside to these long-lasting leather watch bands is that they tend to be on the pricey side. With a metal watch band, you can swap out the links rather easy to adjust the size.
You will have to pay a little more upfront, but you will end up paying less in the long run. Since you will be able to use that watch band with many of your different watches.
5. Storing Option
A leather watch band can be damaged more easily than a metal watch band. When storing your watch, it should always be placed in a box or bag made for storing watches.
Keeping watches in a dry, cool environment is the best way to store them. It is possible for leather to become brittle and cracked because of heat absorption. Humidity can also have the same effect on a leather watch band.
If you have a box that comes with your new watch in it, then keep the box. Do not throw it away. Keep it in a secure location and away from any other types of watches.
While traveling and need to take your timepiece with you, then keep it inside the box.
It is best to avoid storing your watch with other watches because the leather bands can rub up against each other causing discoloration or damage to both straps.
It is not uncommon for someone to purchase a new watch with a metal band. Then switch it out for a leather one after the first time or two it gets wet because the metal one started to rust or discolor.
A metal watch band will last your entire life. So, save money and wear a metal watch instead of a leather one if you don't have the budget for leather.
6. Cleaning
Choosing a leather watch band is a good idea if you can't decide between two different types. They can give you more options and also be cheaper than a metal one. They are fairly easy to maintain.
The only reason a metal band should be used is if you want something that is more durable or fashionable.
One part of a watch that requires very little maintenance is the strap. Leather bands have a tendency to collect dust and dirt since they can be so soft. Moreover, the moisture from your body will eventually wear down the leather.
You need to wipe your watch's strap down with an anti-bacterial cloth or microfiber cloth every once in a while, to keep it looking great.
A metal band should be cleaned with a cloth or a microfiber cleaning pouch periodically. Avoid using steel wool so that you do not scratch the metal band.
Your watch's leather band should be cleaned with a soft cloth or microfiber cloth so that you are not scratching the leather and causing undue wear and tear on it. Avoid using steel wool because it can damage the leather.
7. Price
Leather bands are usually more expensive than metal bands. But you will end up paying less in the long run once you get a leather watch band and then use it with any of your different types of watches.
A nice, high-quality leather watch band that is well-made will last you a lifetime.
So, save up your money and do not go out and buy a high-ticket leather watch band whenever you need to change your timepiece.
If you have a cheap watch that is made of metal, you will eventually need to replace the watch band.
You can opt to get a leather band instead of a metal one and save money in the long run because you will be able to use it with many different types of watches.
Leather bands are very comfortable and easy to maintain. But they can cost a little bit more than standard metal watch bands.
Replace the strap on your timepiece often if you have a cheap or inexpensive watch. A leather band will wear down over time. Also, it will not look great and last you as long as a metal band.
You can get a leather strap for less money than a metal one. But you will end up spending more on more straps if you need to replace them frequently.
If you get a nice high-quality leather watch band, you will end up spending more money on more bands in the future when you have multiple types of watches.
Frequently Asked Questions (FAQs)
Is It Safe to Wear a Leather Band in The Shower?
You should avoid wearing a leather band in the shower. Water will cause it to rot and crack. You need to wipe down your watch's strap regularly. Use some kind of anti-bacterial cleaning solution or microfiber cloth to remove grime, dust, and dirt.
How Often Should I Clean My Leather & Metal Watch Band?
You need to clean your leather watch band every once to keep it looking brand new. If you leave any grime building up in the leather, it will start to look dirty and discolored over time. Use an anti-bacterial cleaning wipe or a microfiber cloth to clean your watch's band.
If My Watch Is Made of Metal and Leather, Should I Store It with or without the Other Watches?
You should avoid storing your metal and leather watch together if you do not want the straps to get damaged over time. The soft leather will rub up against the metal and leave scratches on each material. To avoid scratching your metal watch, you can cover it with a soft cloth.
How Should Leather and Metal Watches Be Stored?
If you have more than one watch that is made of leather and metal, avoid storing them in the same box. They will get scratched over time from rubbing against each other. Use a cloth to cover any metal bands on your timepiece if you do not want them to get scratched.
Final Word
Metal watch bands are generally the most durable, and won't break or wear down like a leather band.
However, they can scratch more easily than a leather band. Leather watchbands are more fashionable and come in different styles than metal bands.
They also feel more luxurious to wear and look better with some outfits. The downside is that they will scratch easier than a metal band as well since they have softer surfaces that can chip with time and use.
Both materials are durable and can take a lot of wear. But if you're looking for something that won't scratch or get worn down as easily, metal is the way to go.
But it's up to you since both have their pros and cons. So, how to choose your watch band?
I think it's best to buy a watch that suits your personality and style first.
As an Amazon Associate, I earn from qualifying purchases.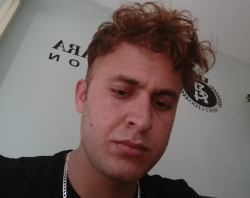 Latest posts by Nick Rolloson
(see all)