What is Watch Lug | Everything You Need to Know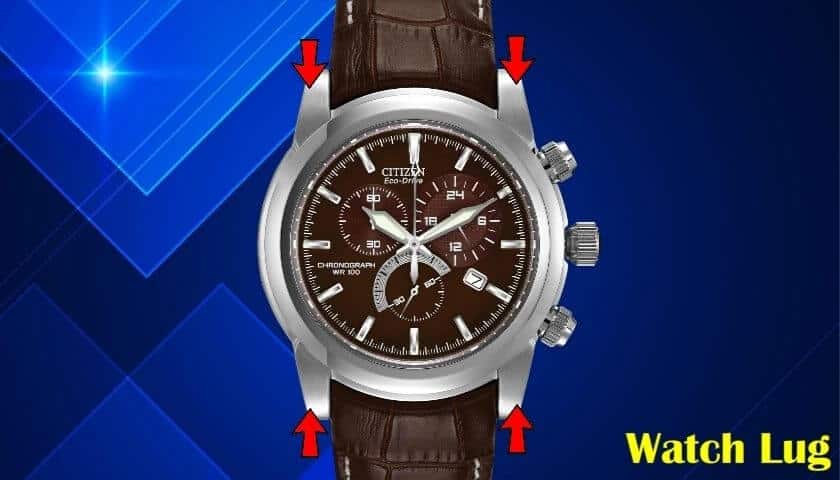 As an Amazon Associate, I earn from qualifying purchases.
Are you confused about Watch lug? Well, you are not alone. Many people do not know much more about watch lug. Watch lugs are projections on the Watch that secure the straps to the Watch.
Why do you need to know about the watch lug? Look, if you are looking to change the straps of your timekeeper, then you have to measure the width of watch lugs. Without measuring lugs, you cannot find perfect sized straps for your timekeeper.
Also, watch lug to lug measurement is necessary for comfortable wear on your hand. Many of us may know about this thing, but they may do not know about watch lugs types. What there are types of lugs as well? Yes, there are seven or more types of lugs.
In this post, we are going to cover all these topics related to watch lug. Here you will find the definition of watch lug, types of watch lugs, how to measure the width, and many more. Do you want to improve your knowledge of watch lugs?
Then read on & learn more…
What is Watch lug?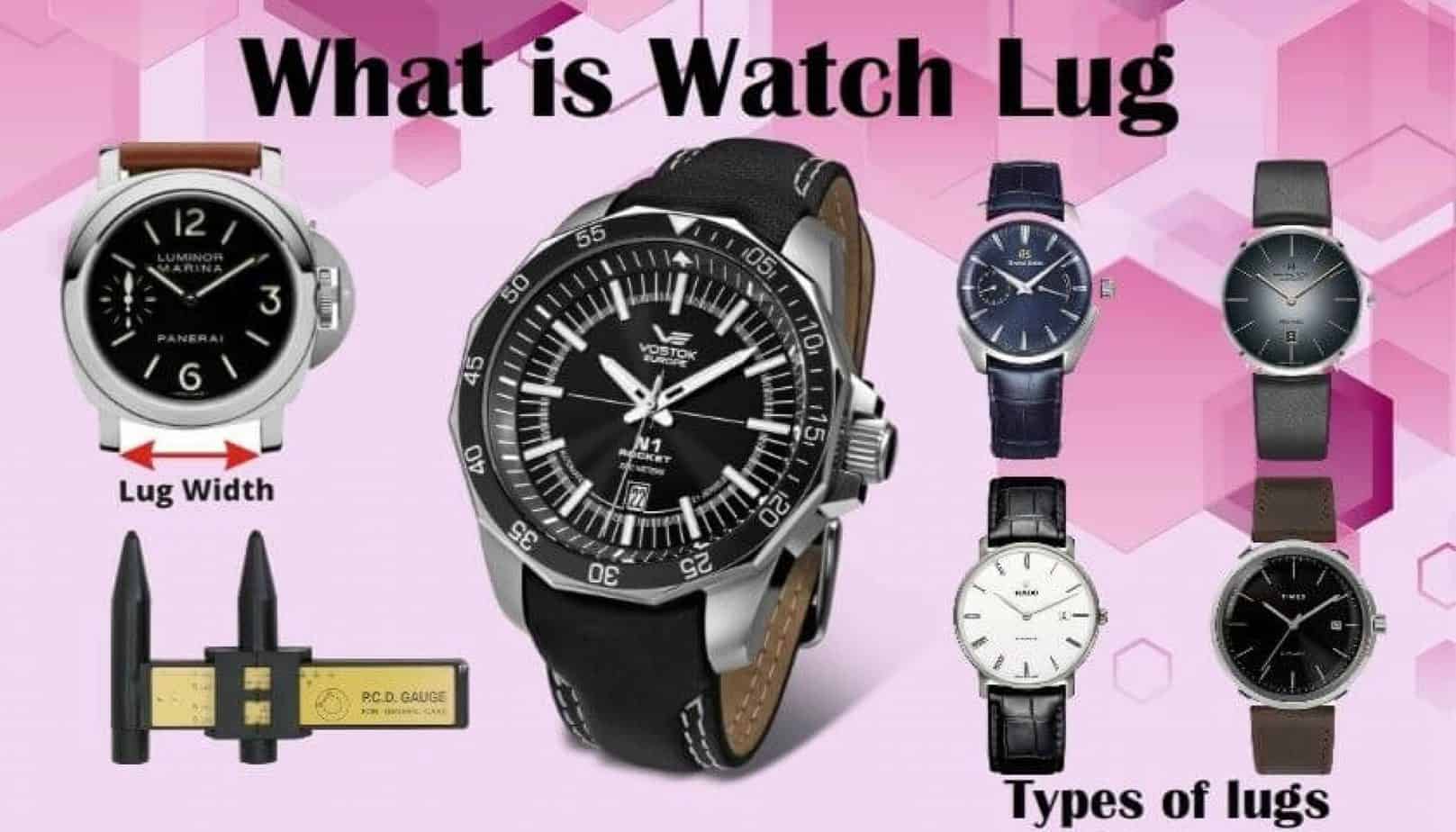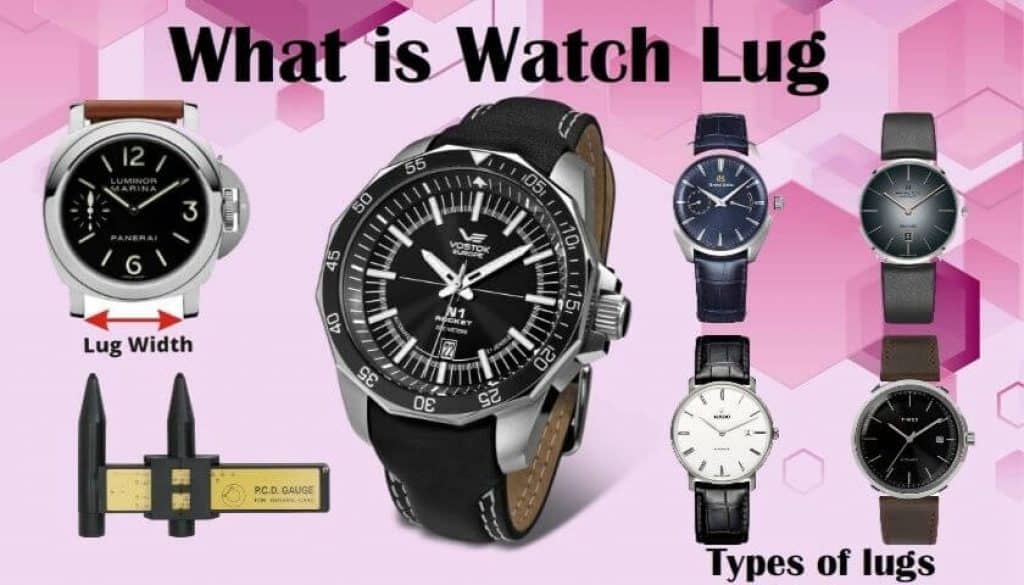 Watch lugs are also known as horns. The watch lugs are used to secure the straps to the timepiece case. You will see lugs on the top and bottom of the case. There are seven or more parts of lugs on the market.
But before we talk about watch lug type, let's see what is lug width and lug to lug measurement.
Read Next: What is the dial on a watch
Watch lug types
As I told, there are seven or more types of lugs. However, we will only cover seven different types of Watch further in this article. Many people do not know about types of lugs. So let's discuss them one by one.
Straight Lugs
The straight lugs are the eldest and simplest type of lugs. This type of watch lugs is used in some traditional watches like tangent and home. You will find straight lugs in some modern timepieces as well.
The straight lugs can be fatter or slimmer according to the model of your timepiece. Mostly straight lugs are found in Daniel wellington watches.
2. Explorer Lugs
The explorer lugs became popular after the launch of Rolex Explorer. Its name was also taken from the Rolex Explorer because explorer lugs were first found in this timepiece. The explorer lugs are straight, but it has a curved or rounded design on edge.
The explorer lugs are wider on the case and slimmer at the bracelet. This makes the explorer lugs different from straight lugs. The Citizen eco-drive timepiece is an example of explorer lugs.
3. Speedy or Bombe Lugs
Speedy lugs look like bulky type lugs because it is too much thicker than other types of lugs. The speedy lugs were named from the famous timepiece Omega Speedmaster. Speedy lugs are also known as bombe lugs.
The Speedmaster was the first timepiece with bombe lugs in the 1960s. This type of lug was also used in the universal Geneve timepiece in the 1950s. You will find bombe lugs in most spot timepieces. The speedy lugs look like explorer lugs. But, the explorer lugs are more straight and geometric than the speedy lugs.
4. Shrouded or Hooded Lugs
Shrouded or hooded lugs are less found in modern timepieces. The hooded lugs are connected with a horizontal bar. This horizontal bar makes the shrouded lugs typical and unique.
Most modern brands are not making this type of lugs. But some manufacturers like Seiko still making hooded lugs in many models of a timepiece. You will find this type of lugs in vintage models like Omega and Patek Philippe. You can check IWC Portofino automatic watch for an example.
5. Crab Claw Lugs
The crab claw lugs are a popular type of lugs in vintage models. You will mostly see this type of lugs in Longines and Vacheron timepieces. As its name suggests, this type of lugs is shaped like crab claws.
The crab claws are bolder and angular than other types. This type of lugs was popular in the 1950s from brands like Longines to Vacheron Constantin. You can check out Longines Wittnauer's revue timepiece for better understandings.
6. Cushion Lugs
Cushion lugs were also a popular type of lugs in vintage dive timepieces. Mostly vintage dive timepieces that have cushion lugs come with a cushion-shaped case. If you want to see an example, then check out the Tissot seastar PR516 dive timepiece. The cushion lugs are not so popular nowadays.
7. Teardrop Lugs
This type of lugs is also found in vintage dive timepieces such as Ulysse Nardin and Patek. It is the last style of lugs on our list. The teardrop lugs come with a teardrop shape.
These unique design lugs are also famous in Rolex and Jaeger-LeCoultre timepieces. The teardrop lugs was the most common design lugs used in old models of a watch. Patek Philippe 1530R is the perfect example of a teardrop lugs timepiece.
The first four types of the lug that we talk about are found in most contemporary timepieces manufactured today. The last three types are mostly found in vintage type models. In total, there are seven types of lugs. This information will help you to get an idea about old and vintage timepieces.
What is Lug Width?
Lug width is a measurement between the two lugs of one side. While you are purchasing straps, it is best to check the measurement of watch lugs. After that, you can choose the perfect size straps for your timepiece.
These measurements are in millimeters. It is necessary to take accurate readings because the default of few millimeters in reading can make your straps lose or even not fitting. In other words, because of inaccurate measurements, you cannot find a perfect size strap for your timekeeper.
How to Measure Lug Width?
But, how to measure lug width? Look we want a perfect measurement without any default of even one millimeter. You cannot use a regular scale for lugs measurement. You should use a vernier caliper to measure the width. Let's check out the steps to measure the lug width.
Steps to measure watch width
Step 1: Use a vernier caliper
The vernier caliper is the best tool for accurate measurement. You should have a vernier caliper. But, you should know how to use a vernier caliper; otherwise it can be difficult for you.
Step 2: Measure the width
Measure the lug width by internal jaws of vernier caliper. Do not use outer jaws because you need to measure the internal size of lugs not outer. Then take the measurement carefully. If you have a digital vernier caliper then it will be easy to take the measurement.
Step 3: Measure your old straps
If you do not have a vernier caliper then you can measure your old straps with regular scales. And if you have leather straps, then it is too easy to measure because most leather straps come with a printed number for lug width.
What is Lug to Lug Measurement?
Many people get confused between lug width and lug to lug measurement. Are you one of them? We are here to clear your confusion. The watch lug to lug height is the distance between one side lugs on the case to the opposite side lug on the case.
There is a difference between lug width and lug to lug difference. The lug width is horizontal (9 to 3) distance between two lugs on one side case. And the lug to lug measurement is vertical (12 to 6) space between north side lug and south side lug.
It is quite complicated to understand these two things. But lug to lug measurement is necessary when you are buying a new watch. With lug to lug height, you should also measure your wrist and case diameter for perfect fitting.
You can measure lug to lug distance and diameter by using a regular scale. To measure wrist size, you can use a measuring tape. It is quite hard to take perfect lug to lug measurement.
But, you can take a measurement that is close enough to perfect size. To get a perfect sized watch, make sure the ratio between lug to lug height and wrist size 0.8 to 0.9 millimeter.
Imagine that your wrist size is 60mm, then the lug to lug height should be 48mm (60 × 0.8) to 54mm (60 × 0.9). After that, you can measure the case diameter. It will help you to find the perfect sized timepiece for you.
What is watch lug pin?
The lug pins are also known as watch band pins. These pins are used to secure the straps to the case and lugs. Usually, lug pins are found in leather or silicone straps. In metal straps, the band pins are used to connect links.
These pins sometimes need to be replaced because of the pressure placed on the pin. If possible, then do not put pressure on the pin to avoid replacement. There are also different parts of lug pins. Some of them are shown below.
Double flange spring bars
The double flange spring bars are the most common spring bars used in timepieces. These bars are made of stainless steel. The spring bar is available in different sizes. You can choose the size according to your watch. These are also popular choices nowadays.
2. Single shoulder spring bars
The single shoulder spring bars are mostly used in leather or silicone straps. It is made of stainless steel. These types of spring bars are available in two different sizes 1.8 and 1.5. This is a simple and old type of spring bars.
3. Curved spring bars
It is surprising, but yes curved spring bars are also available on the market. The curved spring bars are used in the cases with holes. These spring bars are specially designed to fit perfectly in curved timepieces. Also, curved spring bars are easy to remove. You only need to push the holes on the lugs.
Final Verdict
We hope now you are clear about lug width and lug to lug measurement. We have given you a detailed answer to what is watch lug. Many people do not consider lug width while buying replacement straps. Also, it is necessary to measure your wrist size and lug to lug height for perfect fitting. Do not forget the thing while you are buying new timepieces or straps.
As an Amazon Associate, I earn from qualifying purchases.