Best Fitness Tracker with Heart-Rate Monitor in Your Budget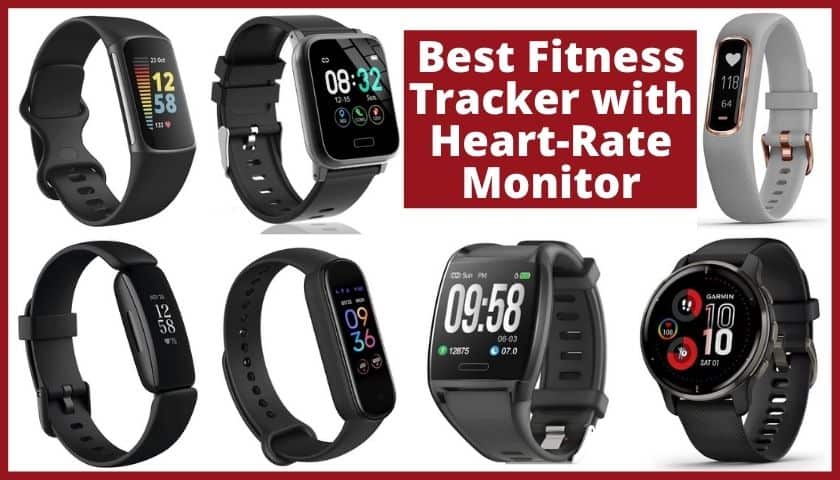 As an Amazon Associate, I earn from qualifying purchases.
The best fitness tracker with a heart rate monitor helps develop healthy habits. It can give you gentle encouragement to try and keep your heart and overall health well-balanced. Take small steps with a fitness tracker to bring big health differences.
Tracking your heart conditions, blood pressure, and sleep level can help you stay up-to-date with information about your current health state. Here, the question arises: which fitness trackers are the best with a heart rate monitor? We have the answer.
We have chosen some leading fitness trackers you wouldn't want to miss having with high-end heart rate sensors. Let's check those out if you are ready.
7 Best Fitness Tracker with Heart Rate Monitor Review 2022
In 2022 people are still considering buying previous but latest fitness tracking models. It's because they include lucrative features, are comfy to wear, and are easier to use. Our selected fitness trackers will prove their worth with outstanding performance. These are the fitness trackers you should have with a heart rate monitor.
Our top picks: At a glance
Best for Easy Navigation: Fitbit Charge 5
Best for Convenience: Fitbit Inspire 2
Best Build: Amazfit Band 5
Best for Well Tracking: Garmin Vivosmart 4
Best Overall: Garmin Venu 2 Plus
Best for Features: HalfSun Fitness Tracker
Best for Fast Charging: L8star Fitness Tracker
7 Best Fitness Tracker with Heart Rate Monitor
$22.09
$25.99
in stock
3 new from $22.09
as of May 20, 2022 7:33 am
$29.88
$39.99
in stock
2 new from $29.88
as of May 20, 2022 7:33 am
$29.90
in stock
as of May 20, 2022 7:33 am
$81.22
$99.95
in stock
52 new from $75.00
as of May 20, 2022 7:33 am
$109.30
$129.99
in stock
11 new from $107.97
1 used from $99.95
as of May 20, 2022 7:33 am
$139.40
$149.95
in stock
45 new from $134.99
as of May 20, 2022 7:33 am
$449.99
in stock
23 new from $449.99
3 used from $409.00
as of May 20, 2022 7:33 am
1. Best for Easy Navigation: Fitbit Charge 5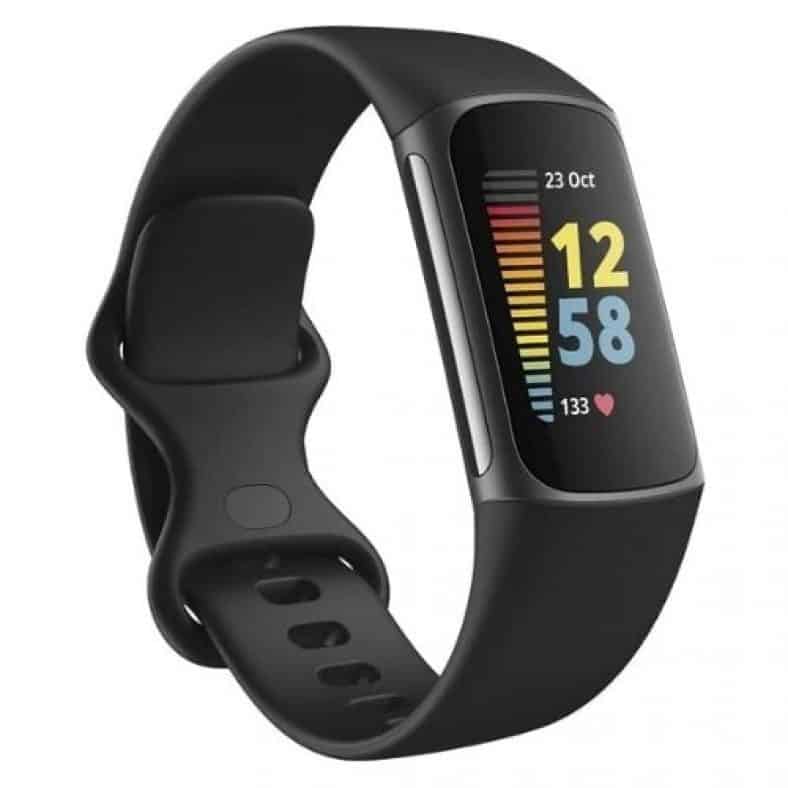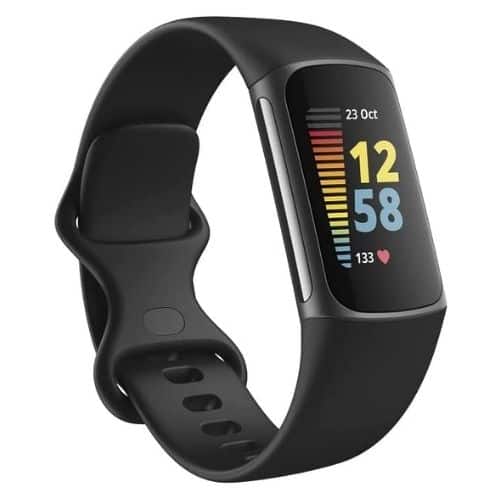 After getting many positive reviews for the Fitbit Charge 4, the Charge 5 has been morphed. They have launched the updated tracker with all features they promised about.
Fitbit users demanded to add ECG and daily readiness score, and so the manufacturer added them to charge 5. It is considered one of the best fitness trackers for having an electrocardiogram app.
Bigger Screen
It's made a little different from the older models. While the previous charge 4 had a monochrome display, it has got a significant facelift, a touch screen color AMOLED screen, and a navigation system like the Luxe slimmer tracker, but bigger. This large enough screen allows you to see things clearer displayed over the tracker's screen.
Easier to See Through
Seeing the screen under the brightest sun is no more an issue if you have it. If its brightness is set to maximum, it will let you look at everything on the screen crystal clear when you are outdoors. It has the always-on option so that you don't have to raise your wrist in order to check the updates.
Navigate Simply
The newly added navigation system eases up using it. It's the first-ever tracker of Fitbit that has no buttons. To navigate, you need to only tap and swipe through the screen. To return to the clock face or previous screen, you can either double on the screen or swipe right.
High-grade Heart-rate Sensor
Even though it's notably smaller than the smartwatches, it offers high-quality heart-rate tracking sensors. It even has a system to alert you when your heart rate is too high or low.
An electrocardiogram application works 24/7 to detect signals of atrial fibrillation. Moreover, it has a SpO2 sensor for monitoring blood oxygen levels, and electrodermal activity sensor for checking stress, and a skin temperature tracker.
Daily Readiness Score
It's a premium feature of Fitbit that you need to get a subscription for. It helps a lot by serving you comprehensive data regarding your health performance and suggests you either rest or work out more depending on the health conditions. It even suggests different meditation and workouts, checking what kind of exercise your body needs.
Pros
The bright screen makes it easier to read
Alerts when heart rate is too high or low
Reliable sleep tracking
Built-in ECG, GPS
Simple navigation
Cons
No playback control option for music
Why Should You Buy It?
Fitbit is a favorite of its users for having essential fitness trackers that collect health data with perfection. It's also easy to wear and operate, feels comfortable when wearing, and the battery life is also significantly better than most other fitness trackers out there.
2. Best for Convenience: Fitbit Inspire 2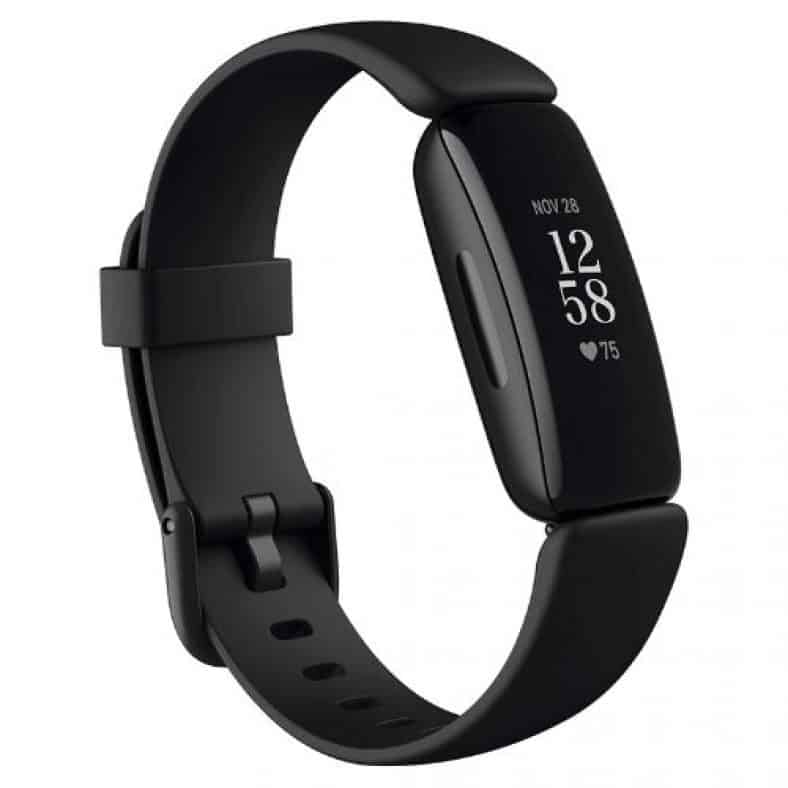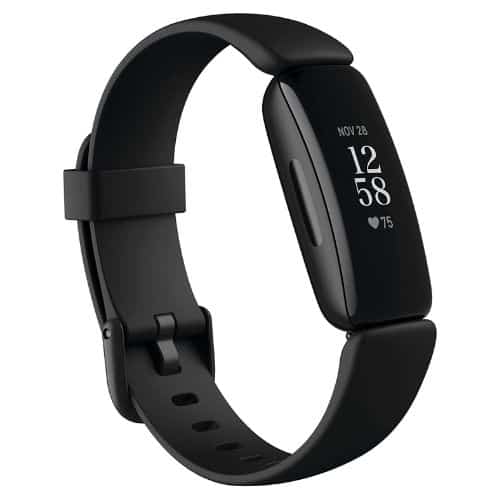 While the original Fitbit Inspire was popular for having a standard heart-rate monitor, it still lacked something. The lack was a missing ticker. But thanks to the manufacturer, they added time plus date to this updated version.
It's now more than just a heart-rate tracker; the new pedometer feature, along with the heart rate monitor, gives extra insights into the potency of your health and workouts generally.
Superb as Training Tool
We love this fitness tracker more because it helps to train your body well. Athletes use it extensively because it can tell the heart rate and how hard you need to work. It will set your goals like how many steps you need to walk and ensure you achieve your health targets.
Stylish
This is a nice pick for people who love the styling. The crisp, bright, and tiny-looking thing will suit you whether you're a teenager or an adult. It offers several cool watch faces that you can change with different outfits.
Feels Convenient
A fitness tracker is mainly worn all day long to get every data with accuracy. Hence, it's necessary to feel light on your wrist and not heavy. Luckily, this 20-gram soft rubbery strap will not only fit properly over the wrists but also will feel super light.
Features Notifications
This Fitbit fitness tracker is no less than a smartwatch because it provides important notifications. Whenever you're getting a call or text, answer them through the apps when exercising. It's a third-party application that allows you to get these notifications, but sadly it fails to give you the control power to your playlist.
Optical Heart-rate Monitor
It contains a powerful heart-rate monitor that works better than the previous models. It can monitor your heart the entire day and provide you with deeper insight into workouts.
Pros
Better heart-rate feature
Easy to operate
Excellent third-party app
Helps pretty well as a training tool
Feels comfortable to wear
Cons
Why Should You Buy It?
We are impressed with its simplicity, great battery life, heart-rate monitoring, and discreet styling. It's a good multi-sport tracker that will push you gently towards more activities for a healthier life. However, the screen is tiny and needs more work, yet we think it's an outstanding option as the best fitness tracker with a heart-rate monitor.
3. Best Build: Amazfit Band 5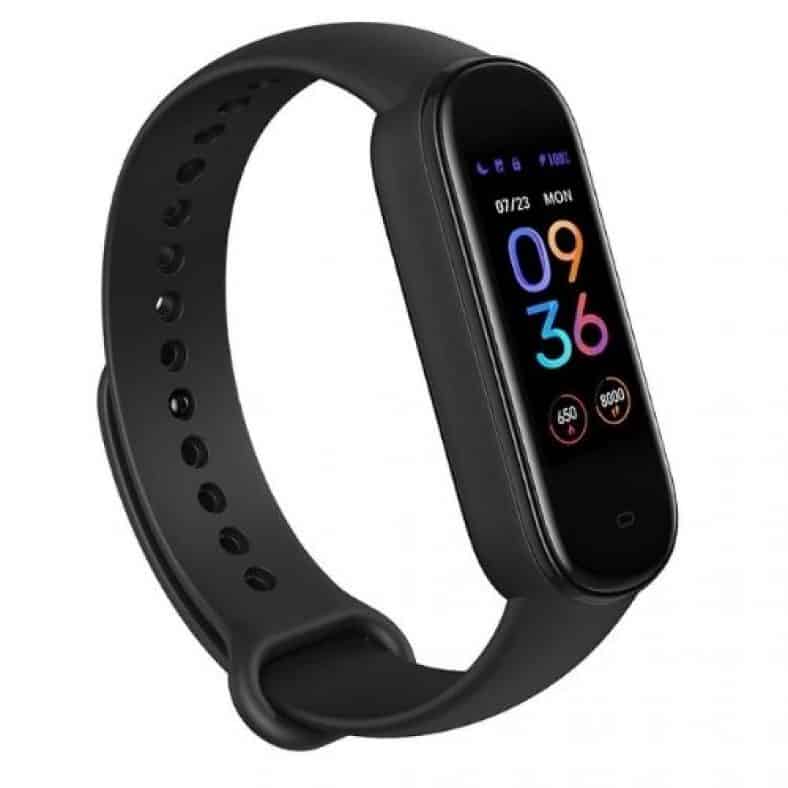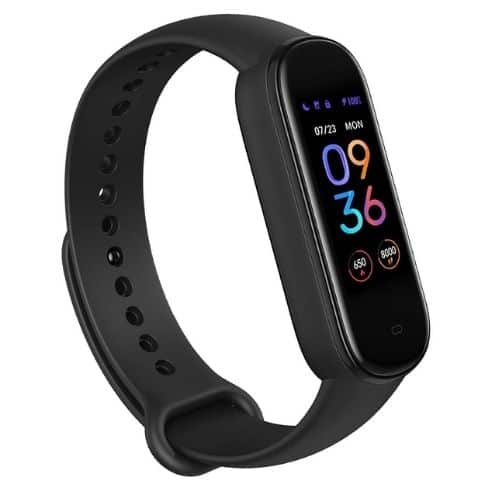 Amazfit Band 5 is a rival to Apple Watch 6, according to some of its users. Because in an affordable price range, it offers many valuable features that Apple watches and smartwatches can offer. It has some similarities with the Xiaomi Mi Band 5, but it works excellently. We will now explain why it's worth buying and wearing.
Attractive Design
The slimline design makes it lighter. If you're not into large, bulky trackers or smartwatches, this is what you are looking for. It seems more in line with that minimalist design. Sadly, there's one issue with the design.
The display seems tinier, so you need to get your wrist close enough to the eyes. Still, this will not cause you much trouble since it's much brighter and the screen looks clear.
Quality Build
Although the display looks small, the quality build makes it worth the try. It's mainly an AMOLED panel with nice and vibrant colors. Everything looks pin-sharp on the screen, including icons and texts for 126 × 294 pixels high resolution. These attributes allow it to provide proper brightness under sunlight.
Long Battery Life
The manufacturer claims it can survive for 15 days after being charged once. It means the battery is two times more powerful than the Fitbit Charge 4. However, according to the users, if you workout with it several times each day, it can last up to 8 days which is pretty impressive. Such long battery life in fitness trackers is rare to find.
Great Optical Sensor
This features a PPG optical sensor of the Huami-proprietary bio tracker. It's pretty good at counting heartbeats with approximate accuracy. It also has alerts like your heart is beating abnormally high.
Smart Sport Partner
Using this fitness for participating in sports activity is the right choice. Because you can operate it with ease and do 11 sports activities while it will record everything, during your working out period. It will continue counting your number of calories burned, heart rates, distance speed, and more.
Pros
Comfortable design
Sleep tracking works great
Provides tracking updates even when exercising
Extended battery life
Constructed well
Cons
Why Should You Buy It?
Amazfit Band 5 has some issues like a smaller display and no GPS, but it can be a useful option with valuable features if you have no struggle with seeing.
4. Best for Well Tracking: Garmin Vivosmart 4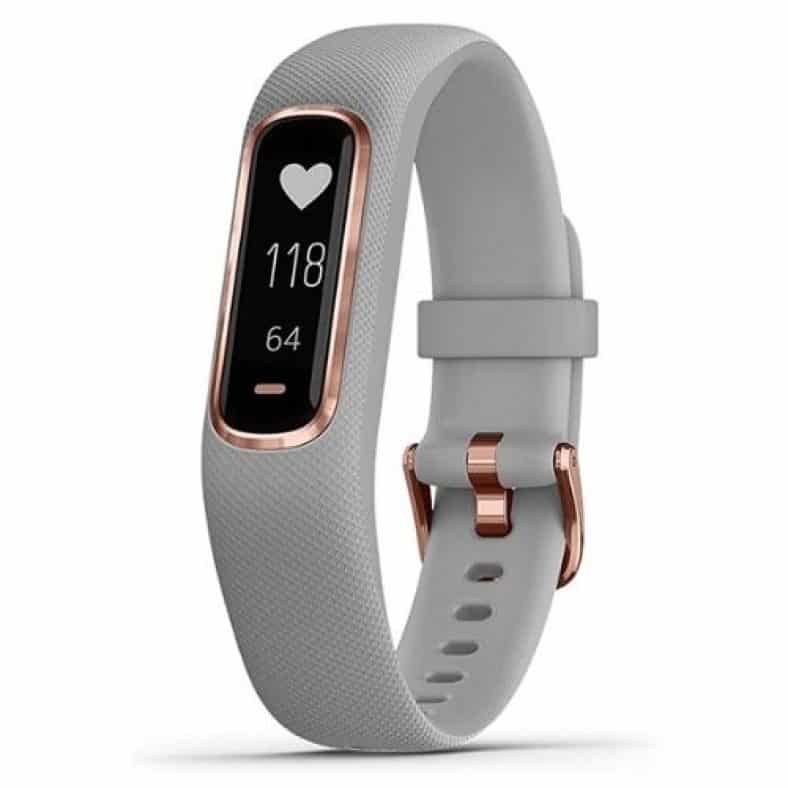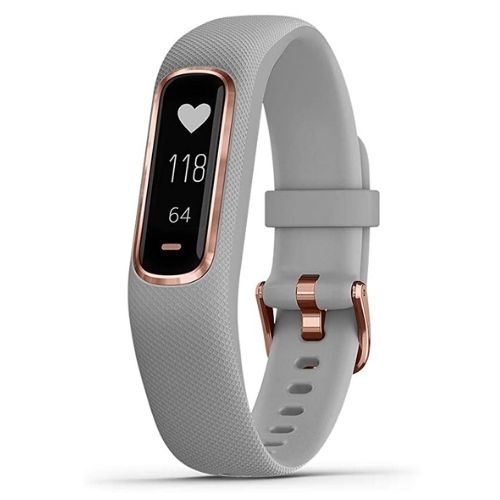 Garmin is famous for creating high-end smartwatches. Garmin smart wearables are great at tracking fitness and analyzing data well. Hence, athletes depend a lot on Garmin fitness trackers. Vivosmart is a significant innovation by Garmin for Vivosport. It offers you a range of health tracking features you require at a reasonable rate.
Super Slim
Slim is the new trend. For this reason, activity trackers these days don't look chunky. They are rather made for the gym. The Garmin Vivosmart 4 can suit people of any age. The metal accents and surrounding aluminum bezel make it appear smart. A gold bezel with berries adds to its appeal. Its slimy outline looks attractive, so both boys and girls will always love wearing it.
Fits Well
A fitness tracker should not either feel too loose or tight. It should fit nice and good on your wrist since you will do various activities wearing it, you must feel comfortable. Unlike most fitness trackers, it has buckles like traditional watches. That buckle's job is to keep the silicone strap in its place.
Waterproof
If you're into swimming, you require a waterproof tracker. When it has water resistance, you can wear it even when taking a shower. It comes with 5ATM waterproofing, which will work excellent at the swimming pool.
Tracks Workouts Better
Although it does not have a built-in GPS, it has something else that can record your exercises pretty well. The Move IQ technology of this tracker detects your body movements and logs up as required. Running or walking can detect if you are putting too much pressure on working out. When it can sense you are doing over-exercise, it sets the time for less but right workouts for your body.
Wrist-based Heart-rate
When a tracker has the system to monitor heart rate using your pulse activity in the wrist, the chances are it will give 100% accurate data. Vivosmart has this useful feature in it. So this will be the right pick for those who want a fitness tracker mainly to monitor their hearts.
Pros
Long-lasting battery
Slim design
Body battery
Swim tracking
Better heart-rate tracking
Cons
Why Should You Buy It?
It's not for serious athletes but for people who want to stay fit like athletes. It's an everyday wearable that will monitor your blood oxygen levels, heart rate, and energy for the whole day.
5. Best Overall: Garmin Venu 2 Plus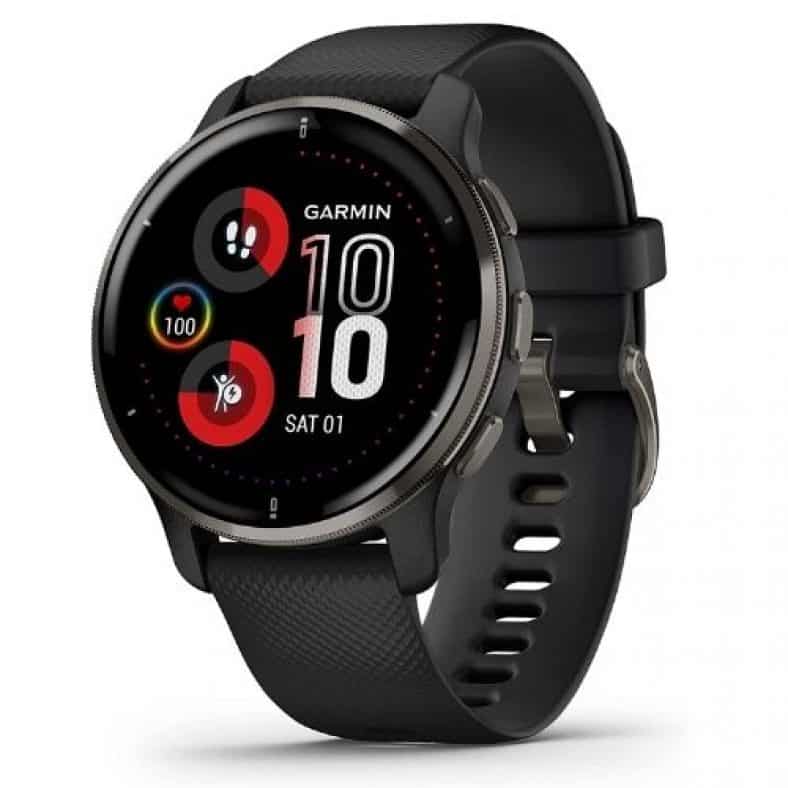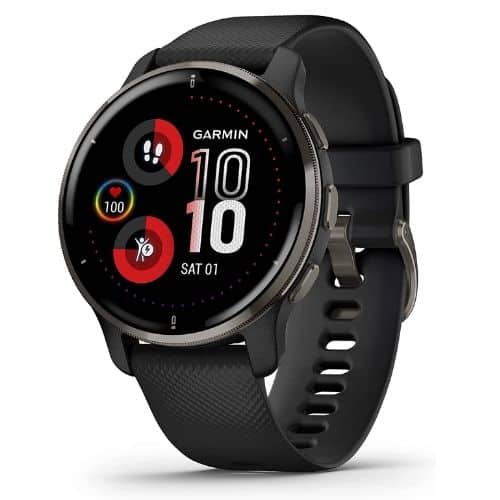 The successor of Garmin Venu 2 is the Garmin Venu 2 Plus, having similar features. The only extra feature is a microphone. This small change has a big impact on its performance.
The older model failed to let its users attend to calls, but this particular smartwatch can. It's primarily not a fitness tracker but a smartwatch with advanced health and training trackers.
Outstanding Heart-rate Monitoring
It's so advanced that it provides diverse health trackers, including heart-rate monitoring, skin temperature measuring, SpO2, sleep cycles, stress, and respiration tracking.
The built-in GPS can track, measure, and give results with accuracy. The optical Heart-rate monitor can respond to changes smoothly and delivers data even during intervals in training.
Good for Skin
It's made using high-quality stainless steel and a soft silicone band. They added silicone straps to ensure you can wear them 24/7 and have no skin infections like itching or swelling.
Workout Animations
We have not seen the most advanced training system like animation guiding to workout before but now in this specific tracker. It includes workout animations to guide you with perfection in doing pilates and yoga. This feature will truly help people become more flexible in training and become stronger.
Saves Battery
As the smartwatch is on always-on mode, using more features will drain the battery life quicker. But the good thing is if it's used in battery saver mode, it will last for 10 days at least. With heavy-duty training and all health conditions tracking, the battery will serve for 24 hours only, but that's pretty normal.
Contactless Payments
A very few fitness trackers come with the contactless payment facility; Garmin Venu 2 Plus is one of them. If your country-based banks are supported, you can buy things like food, clothes, medicines, and more using them. In the United States, a wide range of banks are supported, and so it will be a useful feature for you.
Pros
Allows you to receive calls
Can access your smartphone's voice assistant
Normal use can make last the battery for 10 days
AMOLED display
Workout animation mode
Cons
It comes in one fixed size
Why Should You Buy It?
This will do the job of a fitness tracker and a smartwatch. Its features are impressive, and the overall performance impressed the users and testers. The battery life could be more powerful, but still, it's one of the best deals in the market with an accurate heart-rate monitor.
6. Best for Features: HalfSun Fitness Tracker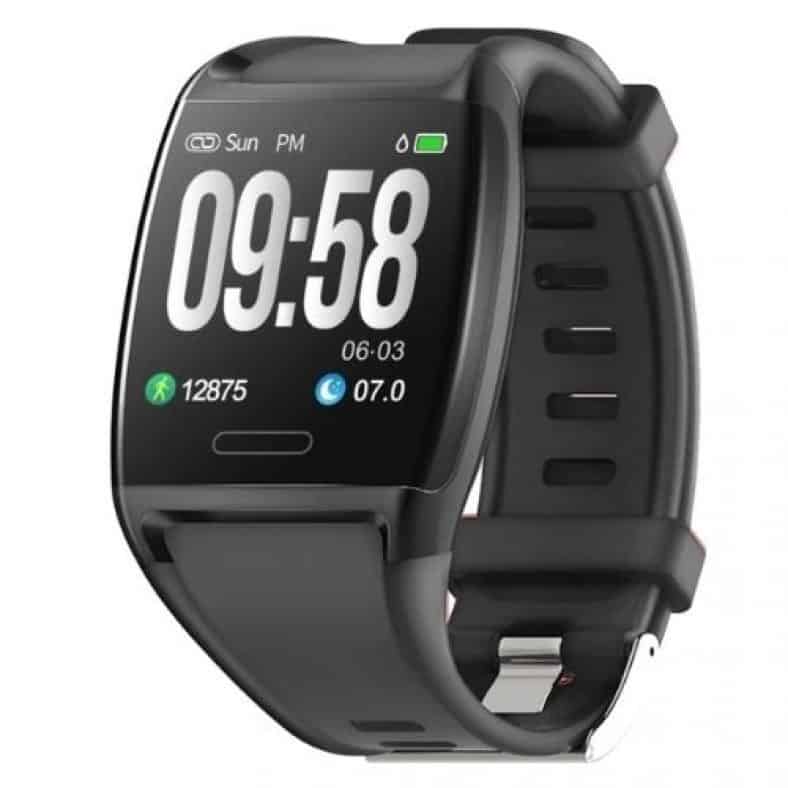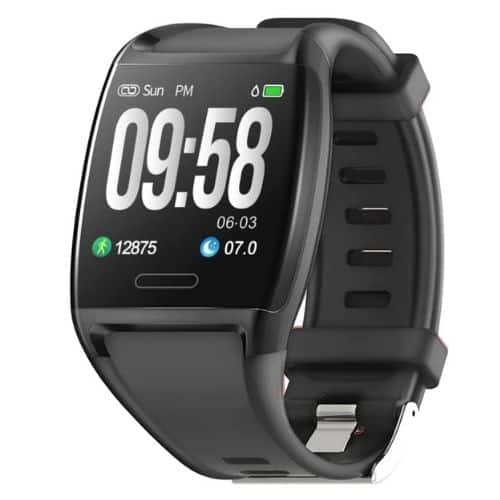 HalfSun fitness tracker might be less popular for not being a famous brand product. It's still better than even some well-branded trackers. This will provide you with all the smart features found in high-end wearables. We picked this up and added it to the recommendation list, especially for its excellency in collecting heart rate data.
It can take heavy-duty orders and serve you throughout the whole day. If you want, you can turn on certain functions and applications. When necessary, you can even turn them off. It's too easy to use; no buttons mean only tapping and swiping.
Get all Notifications
In this era of social media, we mostly get our important calls, messages, and emails through applications operated with the internet. If your tracker is connected to the internet, you will use all essential social media sites.
Those sites are Facebook, Instagram, Twitter, Whatsapp, Line, Snapchat, We chat, and more. The tracker will send you notifications from all these applications and will let you use them, too, whenever you require. Also, you can pick incoming calls and receive incoming texts. The notification alert system is vibrating.
Sedentary Alerts
Fitness trackers are used mostly by office workers and students. They take more pressure from work and less rest which causes their stress level to get higher faster. This high stress can eventually lead to weakness and unwanted diseases if having less sleep.
Hence, they need something in their trackers to remind them of resting. The HalfSun manufacturer added a different kind of sensor that can sense if you are taking overpressures. When it can detect the user taking too many workloads, it warns about the heath. A sedentary alert starts to ring by notifying you to need some good night's sleep soon.
Pregnancy Planning
It's rare to find fitness trackers that can help a woman plan her pregnancy by reminding menstruation periods. We can say it's a special feature since this is not commonly found in every high-quality fitness tracker. It can timely remind a female user about her various physiological states that will help them understand their health better.
24/7 Heart-rate
Tracking your heart rate with this specific fitness tracker is most easy. All you need to do is turn the "Heart Rate Automatically Monitor" option on; the rest will do the tracker. Moreover, it will provide you with a report on your overall heart-rate conditions and blood pressure levels through an application.
Ergonomic Design
The best part of this fitness tracker is it has a big screen that is colorful and clear. The large display will provide your eyes comfort when looking at the tracker. The 1.3-inch screen with IPS HD will give you the experience of seeing through the glass.
Pros
Large clear screen
Tracks different activities the entire time
It's waterproof
Has useful features like sleep, heart-rate monitoring, blood pressure measuring, pregnancy planning, and more
Has various sport modes, weather forecast, and GPS
Cons
Looks more like a smartwatch
Why Should You Buy It?
This fitness tracker offers more useful options than basic features found in other fitness trackers. While most tracking machines can only measure stress, it even alerts you for taking a rest. Females will get the most benefits since it includes features to plan pregnancy.
7. Best for Fast Charging: L8star Fitness Tracker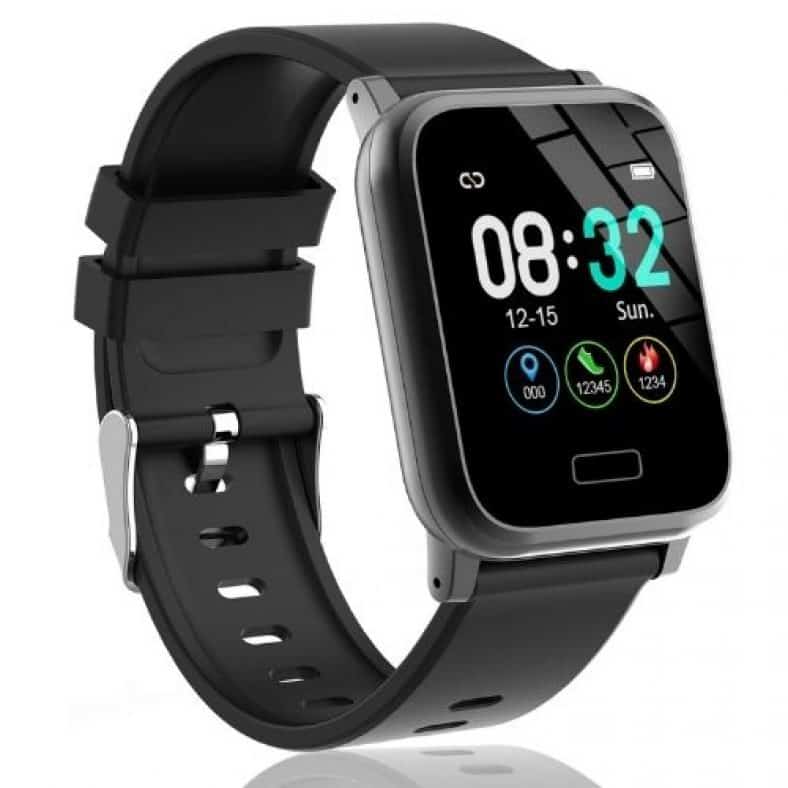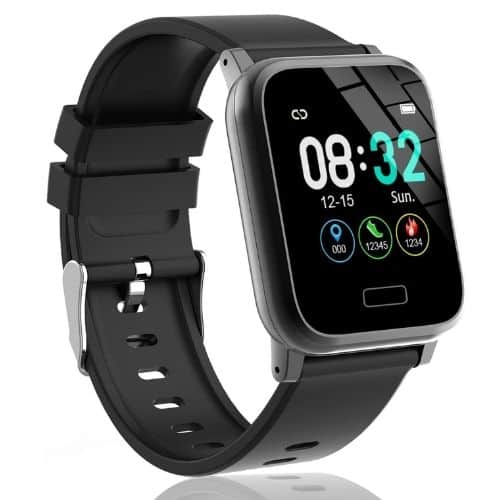 L8star Fitness Tracker is the last suggestion on our list but not the least. If you are looking for the best features at the best rate, this is what you need. It may not look like a total fitness tracker for not having a slim smart display; it can still clean many bold trackers of the market with its high performance. Let's find out what special features it has to offer us.
Continuous Heart Monitoring
Believe it or not but its heart rate monitoring is too good. It never stops checking your heart rates and conditions unless the battery is down. It fails to provide other health data like blood pressure measuring accuracy. Fortunately, heart monitoring is decently accurate.
Remote Camera
This feature is pretty rare in fitness trackers. The manufacturer tried to make it as useful as it could be. The tracker allows you to take selfies by controlling the camera of your handset. Anytime you like, you can capture the moments you want to cherish.
Fast Charging
The exciting fact about the tracker is it can get charged faster. Plus, the battery will not get down easily. The USB charger that comes with it is a 2 pin cable. It's suitable for computers, phone chargers, and power banks.
Takes only 1.5 hours or 2 for charging but will support you for 30 days straight if used less. It means with this tracker; you can, without worrying, go on 3,4 days of journey with a few functions working in the background.
Brighter Display
The L8star display is already bright enough that you can see the screen under the sunlight. Unfortunately, sometimes the sunlight gets too bright; in such a case, if it seems hard to check your tracker's display, please increase its brightness from the settings.
Easy to Read
It has a good large screen for providing ease in reading the display. Unlike the slim display fitness trackers, you will not have to focus much on the screen to see things. With less effort, you can see better.
Pros
Comes with a remote camera
Has large display
Gets charged quicker
Can monitor heart rates continuously
The screen brightness can be adjusted from settings
Cons
Can't properly record blood pressure levels
Why Should You Buy It?
If you want an easy operating fitness tracker installed with a great heart rate monitor, your product is here. The bright, crisp screen with a large display lets you enjoy the view and navigate effortlessly.
Buying Guide for Best Fitness Tracker with Heart-rate Monitor
We know what functions you want in your fitness tracker. Now, all you have to consider are these features mentioned below. Some of the features include personal taste. These are the following.
Display
Advanced trackers show their data on display using numbers, words, and symbols. These are various watch faces. Some trackers share information via an app or a normal LED display.
If you sync the data to a computer or a smartphone, the companion application in the tracker helps you interpret the information and get results analyzing it. Therefore, you must preview the companion applications of the tracker you want to purchase to see if it has what you expect.
Accuracy
Fitness trackers are not unfailing. These small machines parse hours slept, punches thrown, footsteps, stairs climbed, etc. It means there always will be very few lacks inaccuracies. If you wish to get 100% accurate data, it would be best to get a function-specific device.
For example, a heart-rate monitor that only does the heart-rate monitoring usually straps to the chest and sends information to an activity tracker. Such a device will provide more precise data.
Battery Life
Battery life is an essential feature indeed. If you are working almost the whole day and want to keep getting notifications about your health conditions, you need a powerful battery consisting of a fitness tracker. If the battery drains faster, the reason to buy a tracker will fail.
Depending on what kind of tracker you are buying (does it offer complicated features or simple), your battery would need more or less charge. Hence, it's your job to find out if your tracker's battery is strong enough to provide you with services the whole day? If yes, get your hands over it.
Water Resistance
Having water resistance to your tracker is, of course, an important consideration. Whether you encounter water often or not when exercising, it's always better to buy a waterproof fitness tracker. If you're a fit person, you must go swimming or if you don't, then you should sooner.
In such a case, to swim, you need to remove the fitness tracker from your wrist if it lacks water resistance. So, if you truly want to swim with your friends daily and get into more water activities, keep in mind to pick a tracker with this feature.
Style
Over the years, trackers have appeared to be more stylish. There was a time when these little machines were used to look functional, but those days are gone. Manufacturers know people are becoming more fashion-conscious. Hence, they started to create pretty-looking trackers.
The more advanced a tracker is made, the more beautifully it's made. Some even come with various watch faces so that you can wear them 24/7 with the outfit you pick. But that depends on you. If you love being stylish, there are numerous options for you too.
Why Need Heart-rate Monitoring in a Fitness Tracker?
Intelligent training means knowing the condition of your heart during the exercise and other times. Sometimes you need to know how fast your heart is beating so that you can do things to keep it relatively low. It can be for pacing yourself for a lengthy workout or burning fat.
Then again, sometimes you might want to increase your heart rate for various health benefits such as building stamina. For these reasons, you must need a heart-rate monitor. Its true chest straps can more accurately count heartbeats, but wrist-based wearables are also pretty good at that.
The heart rate sensors installed in fitness trackers can shine light into human skin and calculate heart rate by measuring blood flow. The good news is that if you get a more updated and expensive fitness tracker or a smartwatch with health tracking features, those can accurately monitor your heart rates.
You need such a tracker because while you can get heart rate and health updates, you also feel comfortable since they are lighter. They feel more comfortable wearing chest straps and can successfully draw pictures of your heart's conditions on the screen.
How does a Heart Rate Monitor work?
We know that heart-rate monitors in fitness trackers can track your heart rates pretty accurately. But how do they get those accurate data? Should you believe in multiple health tracking machines with a heart rate sensor? Well, you must not believe in any machinery process until you know how it actually works.
The truth is that multiple fitness tracking machines can track heart rates well enough with the help of optical heart rate sensors. These sensors can measure electrical signals sent from the heart. By catching those signals, it's possible to get the right information regarding heart rates.
The signals are transmitted to the data center or wristwatch. Even many models allow you to analyze information via computers. This way, you can interpret your exercise and better understand which workouts you should choose to keep a balanced heat rate.
You can trust fitness trackers with heart rate monitors now that you know how it works. If you have no serious issue with your heart, you don't need 100% accuracy. A tracker with approximate heart rate monitoring is more than enough to help you understand how well your heart is working.
Frequently Asked Questions (FAQs)
Are heart-rate monitors on watches accurate?
According to researchers, the chest straps collect the most accurate heart rate data. However, it doesn't mean that watches with heart-rate monitors are not worth the try. They also provide well-trusting information by getting signals from the pulse on your wrist. So, it means such watches can collect and provide almost the same data as chest straps.
Which fitness tracker has the most accurate heart rate monitor?
Numerous fitness trackers claim to have the most accurate heart rate monitor. But trusting all of them is a foolish thing to do. You must know what sensor or technology they are using to get your heart rates properly. According to us, Garmin Venu 2 Plus monitors heart rate with the most accuracy.
Which Fitbit has the best heart rate monitor?
Fitbit Charge 5 has the best heart rate, monitor. It's the top pick in our list because it can very well monitor heart activities 25/7.
Is a Fitbit better than Garmin?
If both the brand's fitness trackers are compared, Garmin will always win over Fitbit. Because Garmin mostly provides updated technologies while Fitbit mostly pays attention to providing basic functions but better working.
Which Fitbit does EKG?
The older models of Fitbit fitness trackers didn't have the EKG technology, for which they poorly perform in tracking heart rates. Thankfully, with the advancement of technology, Fitbit put more effort into their best creation till now, the Fitbit charge 5 and added EKG to it. This allows the tracker to track the heart rates perfectly.
Is 50 bpm a low heart rate?
The usual resting rate of the heart is between 60 to 100 bpm. A good heart rate that indicates your heart is in great condition has your heart rate between 50 to 59 bpm. But it's considered low heart rate when it's between 40 to 50 bpm.
Closing Remarks
Whether you're a teen or an adult, if you want to stay fit, you need to keep your heart and health perfect. Achieving this goal is only possible by keeping a look at your health states and working out daily.
Hence, you need the best fitness tracker with a heart rate monitor. We believe you will find your suitable health tracker in our recommendations. Decide what features you want in your item and pick the one you wish.
As an Amazon Associate, I earn from qualifying purchases.