8 Best Smartwatch With Oxygen Sensor (2022) | For All Budgets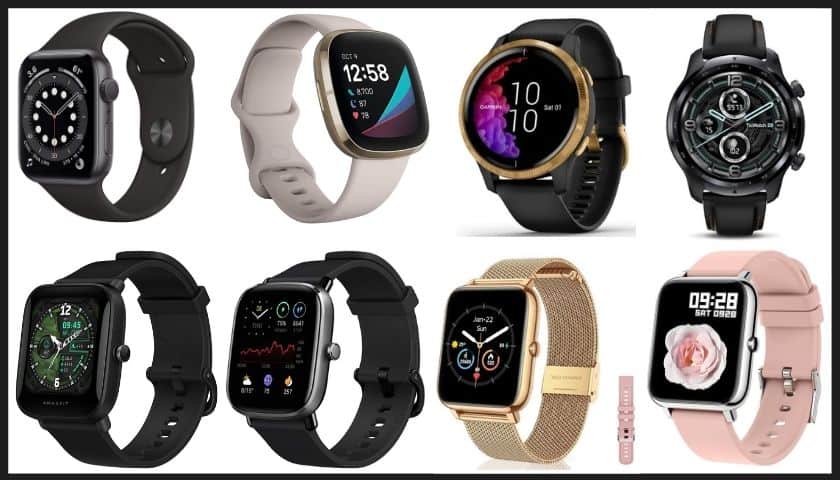 As an Amazon Associate, I earn from qualifying purchases.
Blood pressure measuring, heart rate monitoring, and blood oxygen saturation measuring are the three most important fitness tracking features in a smartwatch. Though most of the watch contains the first two but lacks the blood oxygen saturation feature. Here, we are reviewing the best smartwatches with Oxygen sensors that provide reliable results of blood oxygen measuring tests.
The smartwatch market contains a lot of these watches and we have shortlisted 8 of those and these are the best of the best. This blood oxygen saturation measuring feature is a handy feature while you are on high altitude or doing gym as this time our body needs more oxygen and you can have an idea how much oxygen the body is getting.
8 Best Smartwatch with Oxygen Sensor Reviews
Smartwatches with an oxygen sensor do not just come with an oxygen sensor but it has many exciting features. Let's know about those in detail.
Our top picks: At a glance
Best Smartwatch with Oxygen Sensor
1. Best Overall: New Apple Watch Series 6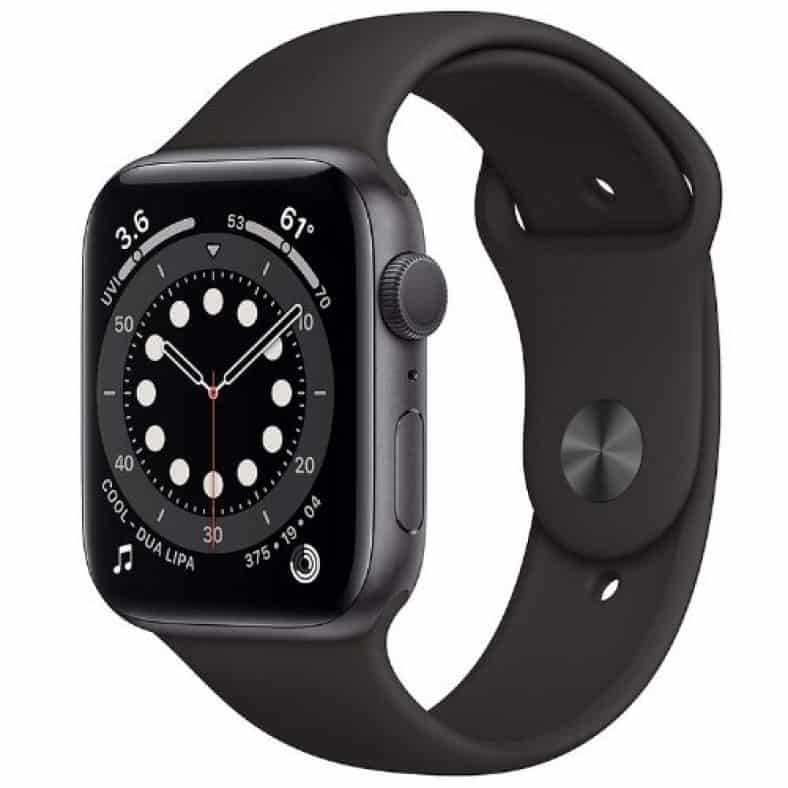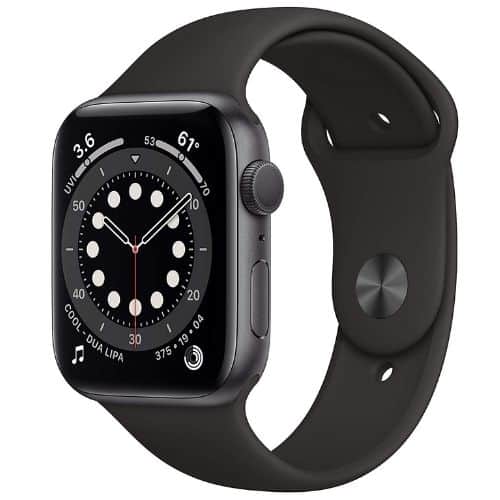 Oxygen sensor
Apple has launched the 6th generation of the Apple watch, and they have added one necessary feature that was not available in any of the previous generations, that feature is called Oxygen sensor. Using this sensor, users can easily measure the blood saturation level without the need for an oximeter. The feature was much anticipated, and many users were looking forward to getting the feature on the Apple watch.
If you are planning to use this watch for medical purposes, I think you should hold your horses a bit as the result the watch provides is not 100% accurate. But the results are not highly offbeat as well. The result you'll get is quite reliable, and there will not be much difference in results that are provided by the watch and the certified medical oximeter.
There is one problem you may face with this watch if you want continuous results. Unfortunately, that is not possible with this watch. Apple Watch 6 is unable to provide continuous oxygen saturation measurement. So if you have respiratory problems and want continuous oxygen measurement, this watch is not for you.
Fitness tracking
Apple Watch 6 is a great fitness tracking device. It comes with several sensors that can measure your heart rate and ECG. You can see your heart rhythm measurement on your wrist on the watch's screen. When you see any casualties on the heart rate, you can contact a doctor at a very early stage.
Design and Durability
The Apple watch is innovative in both design and technology. The design of the watch is one of the most style-looking watches in the market and also one of a kind. In addition, its aluminum body makes the watch quite durable, and for that reason, it is very long-lasting.
Pros
Can measure blood oxygen
Blood oxygen measuring results are pretty accurate
Durable aluminum built
Its ECG app can check heart rhythm
Can take calls, and allows to send text
Cons
2. Best for the Reliability: Fitbit Sense Advanced Smartwatch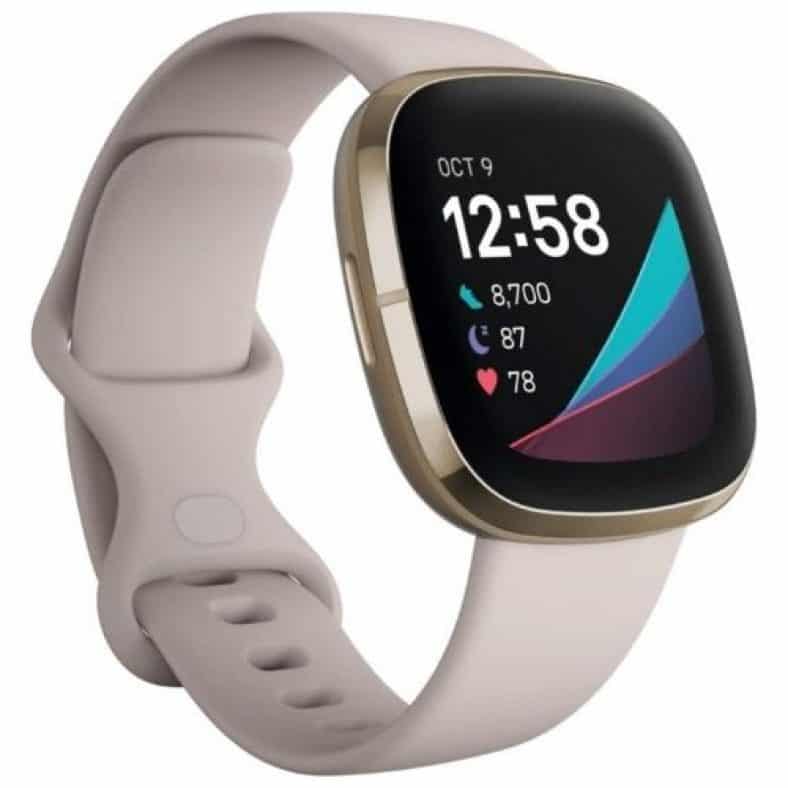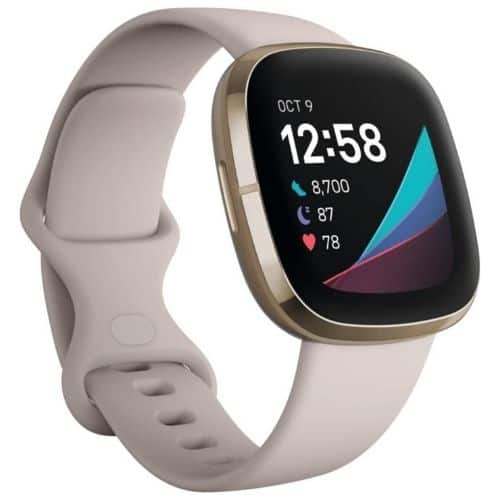 Oxygen sensor
The smartwatch is for those who are suffering from asthma or apnea. This cool-looking watch can measure oxygen levels in your blood while you are sleeping. So you can easily see the percentage of SPO2 in your blood. The watch collects data while you are asleep, and provides the result accordingly on your watch screen.
You have to download a watch face separately on that watch face, you will be able to see the SpO2 level. When you connect your watch with your smartphone, you can easily see a detailed analysis of your blood oxygen level on your smartphone very easily on the Fitbit app.
Oxygen level measuring is one of the features of this smartwatch, and it has just one sensor to measure the blood oxygen level. So the result the watch will provide surely will not be 100% accurate but what it gives is quite reliable and very close to oximeter results. So you'll get a satisfactory result from this watch which is enough to let you know about your blood oxygen level while sleeping.
Fitness tracking
One job that this watch does perfectly is tracking your fitness. It has many features that track wellness, and if it has news of any irregularity, it alerts you immediately. In addition, the rate sensor of this watch works fine and provides very reliable results. Also, you can do ECG using this watch, and even that is very little time. So in the case of fitness tracking, the watch is very reliable and outstanding performing.
Additional features
The Fitbit sense comes with a built-in microphone and speaker. It also has GPS. You can easily attend calls and send texts using the watch without pulling the smartphone from your pocket. The GPS helps a lot while traveling, hiking, or biking somewhere. Overall, this watch is a great performance, and the oximeter of the watch is one of the best in the market right now.
Pros
Shows reliable oxygen level
Can measure ECG
Heart rate alarm
6 days+ battery
Can attend calls
Cons
Only measures oxygen saturation at night
3. Best all-round activity tracker: Garmin Venu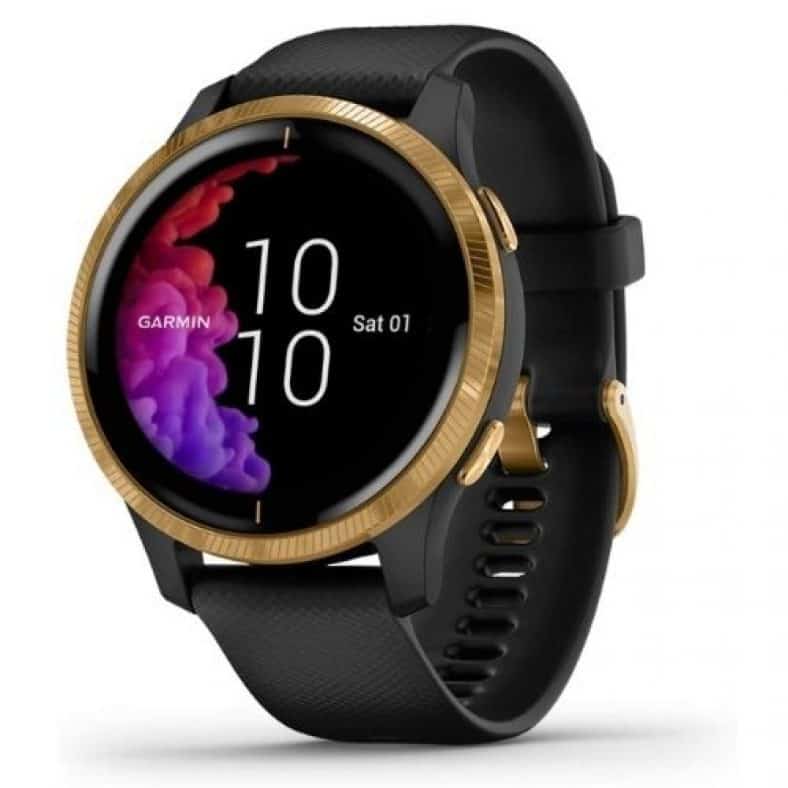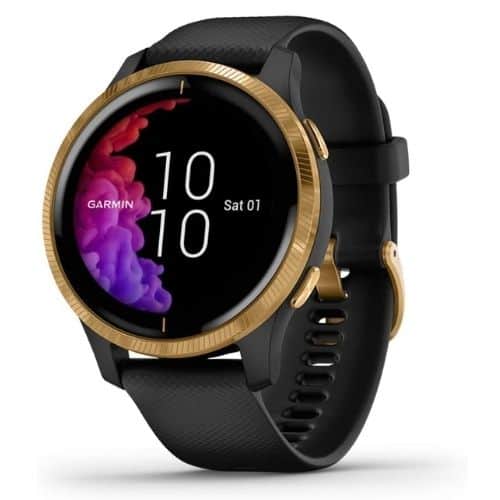 Oxygen Sensor
If you want more to know about your health except for sleep tracking, heart tracking, then this particular beautiful watch is for you. Yes, unlike most other watches, it can even keep track of your respiration and monitor your body's energy.
Body energy monitoring is, of course, a unique option that is rarely found in most other smartwatches. Thanks to the Garmin Venu, it can notify you about how much energy you are stored every day. By noticing it carefully, you can know when you need to eat or sleep to bring back the needed energy to your body.
Health Tracking
Like your well-wisher friend, it can remind you of doing workouts. It's not the end, of course. The wristwatch can show you how well you are working out right on the timepiece screen. Different outdoor and indoor sports like running, yoga, swimming, and so on are included in the watch to help you do them in the right amount.
Additional Features
The timepiece has more to offer you. You will never feel bored when you wear it since you can listen to whatever songs you like when your smartphone is connected with the smartwatch. Also, you can download songs right from your watch. Play the songs you have on Spotify, Amazon, Deezer. You just need the subscription. Get yourself a pair of wireless headphones and enjoy music as long as you want.
Pros
Vibrant AMOLED display
Fashionable design
Various health monitoring
Lets the user download songs through it
Shows fitness tracking results with accuracy
Cons
It doesn't have a waterproof model
4. Best for Accurate Health Tracking: TicWatch Pro 3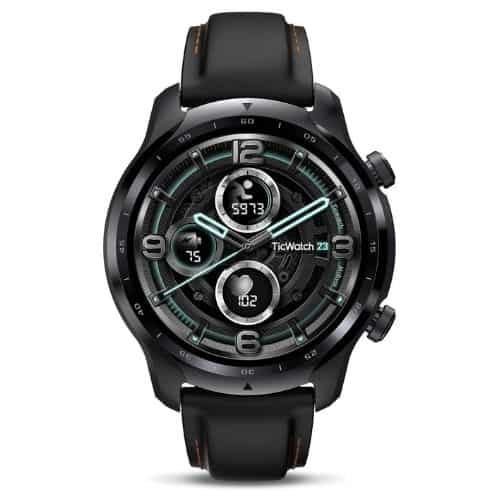 Oxygen Sensor
The TicWatch Pro 3 features an incredible option that is an oxygen sensor. It can, without any interruption, measure your blood saturation level. It means there is no need to get an oximeter. It can measure the blood saturation level greatly; however, using it for a medical purpose is not ideal.
Because it can give an approximate result and not the exact results every time, you can still rely upon it since it can show results that have less difference than the certified oximeter. It will not cause you trouble in providing continuous results. Also, you are assured of getting the measurement of heart rate too.
For healthy daily tracking, the watch would work extremely well. It will help you be careful about the oxygen level in your blood. When you can get the right track of the oxygen level in your blood, you can understand what you should do to keep it on the safe track.
Design and Quality
It comes with a premium design. The high-quality stainless steel bezel and AMOLED screen give the watch a stylish-looking appearance. Moreover, it ensures the timepiece's durability. The dual-layer display of this model lets you read through the screen effortlessly.
Choose any stylish watch faces from the store from thousands of varieties. The whole outline of the watch is cool enough to match with any outfit you wear.
Health Tracking
One of the important features of a smartwatch is fitness tracking. With the help of this feature, you are always notified about how good your health is. This powerful premium timepiece can track your sleep and stress level.
So, you can sleep well and stop worrying and after waking up see for yourself how good your sleep was. Knowing your stress level will help you do things that can reduce the stress in you. Over ten different workout modes are added to help you perform them well and keep knowing about the health progress.
Pros
Prolonged battery life
Unique yet stylish design
Blood saturation level measurement
Durable and waterproof
Helpful various sports modes
Cons
The watch gets damaged if used under a hot shower
5. Best for Instant Blood Oxygen Measuring: Amazfit GTS 2 Mini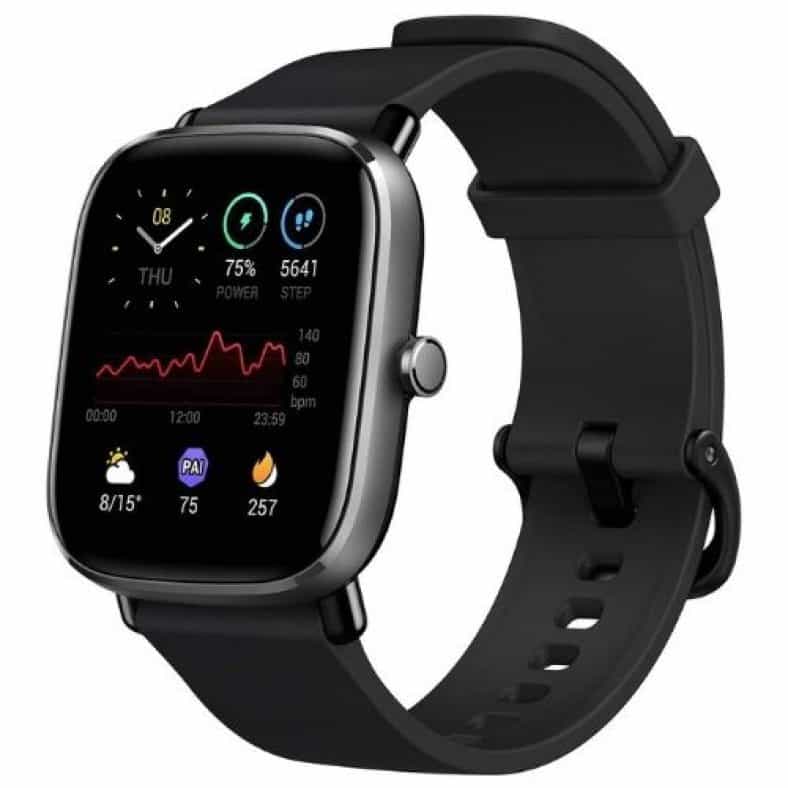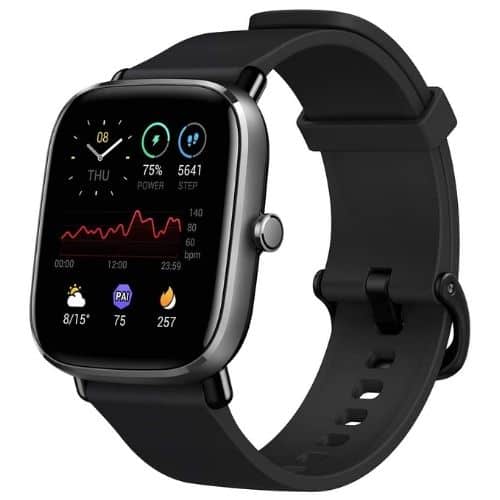 Oxygen sensor
Amazfit GTS 2 Mini Fitness Smart Watch comes with a very reliable oximeter sensor. The sensor allows you to track the oxygen level in your blood. Of course, as the watch is sensor-based and provides data depending on the sensor, the result you'll get will not be 100% accurate. But at this price point, you'll get pretty reliable results.
As you can measure blood oxygen levels instantly after a gym session, you can make your wrist steady and perform this test. After performing the test, the results will show you how well you are performing. If you want, you can even track your blood oxygen level at night while you are sleeping. Then, you can see the data in the morning.
The SpO2 sensor makes this watch more useful than most of his rivals. Furthermore, you can perform this test in a very speedy way, and the result will be nearly exact as a certified oximeter. So, you are getting a better watch at a very reasonable price with an oximeter sensor.
Fitness tracking
The watch can easily monitor your heart rate, and when it sees any irregularity it instantly alerts you so that you can take early precautions, and improve your better health. In addition, it can count your steps. So, you can see on your watch how many steps you have walked and how many calories you have burnt. It is also capable of monitoring your sleep quality. So, floor the watch instruction, and you'll get a sound sleep.
Additional features
It comes with a built-in Alexa. Alexa is a voice assistant, and you can command the watch by voice. So using your voice, you can do all tasks hands-free, like setting the alarm or timer. You can also make or receive calls on this watch. So. It is a feature-rich watch with all types of necessary features on your wrist.
Pros
Instant blood oxygen level measuring
Fashionable look
Can monitor heart rate
Sleep tracking
Stress level measurement
Cons
Results are not very accurate
6. Best for the Battery Life: Amazfit Bip U Pro Smartwatch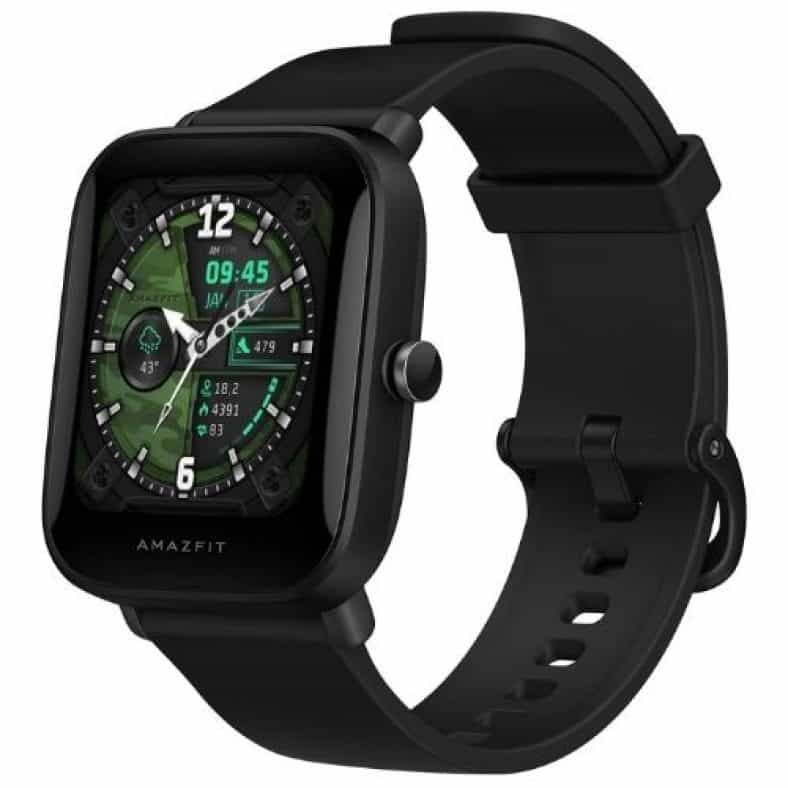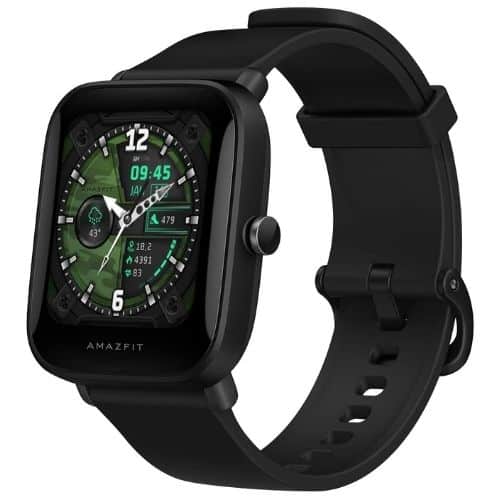 Oxygen sensor
Amazfit Bip U Pro SmartWatch comes with so many exciting features and among those one of the most important features of fitness tracking is the capability of measuring blood oxygen levels. Using some sensors, the watch can blood the amount of oxygen flowing in your blood.
The result this watch provides is not 100% accurate so you should not expect the same result from this watch as you get with an oximeter. But the results are not offbeat, most of the time you'll get close results on both devices. So from tracking blood oxygen levels at any time this smartwatch is a great option.
If you are feeling unwell or under stress, you can instantly perform a blood oxygen level on your watch and get a better understanding of your physical health. This feature is very handy while you are working out in the gym and after gym sessions measuring the blood oxygen saturation gives you a better understanding of your condition.
Fitness tracking
The watch monitors the heart rate 24/7. So, it constantly monitors your heart rate and if the watch sees anything offbeat it will instantly notify you through an alert tone. Also, it is capable of tracking your sleep quality and stress level. In all, the watch got you covered and you can improve your health with the help of this smartwatch.
Additional features
The battery life of the watch is extremely good and you can pass a whole vacation of 5-7 days on a single full charge. So, no more worry about charging the watch daily. The watch is capable of making calls and receiving as well. It also has an in-built GPS for better location accuracy.
Pros
Blood oxygen level measurement
50meters water-resistant
Heart rate and sleep monitoring
Can monitor the stress level
Built-in GPS
Cons
Not so reliable blood oxygen measurement results
7. Best for the Outdoor Enthusiasts: Popglory Smartwatch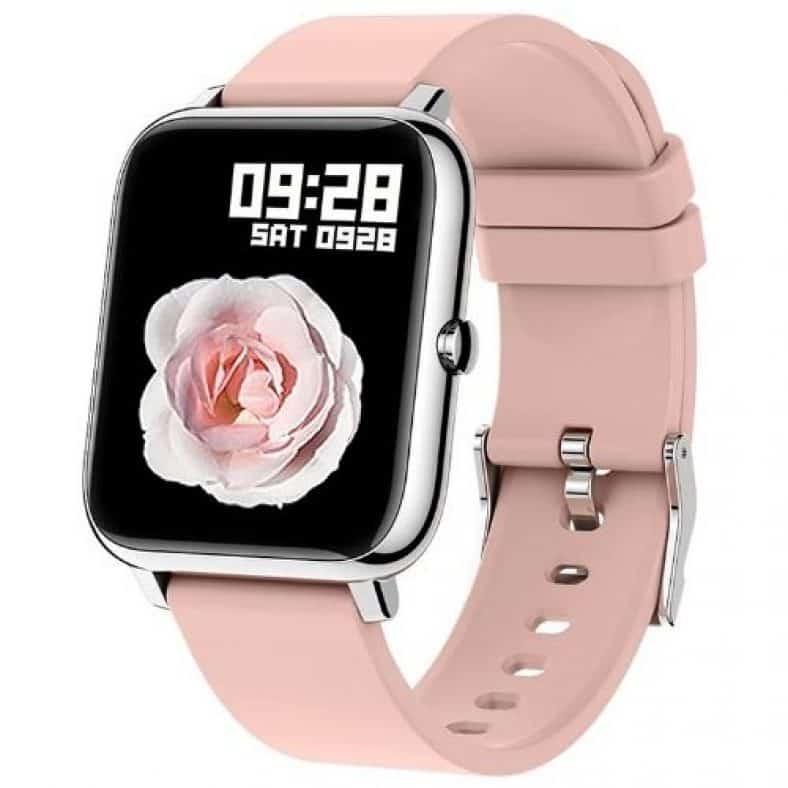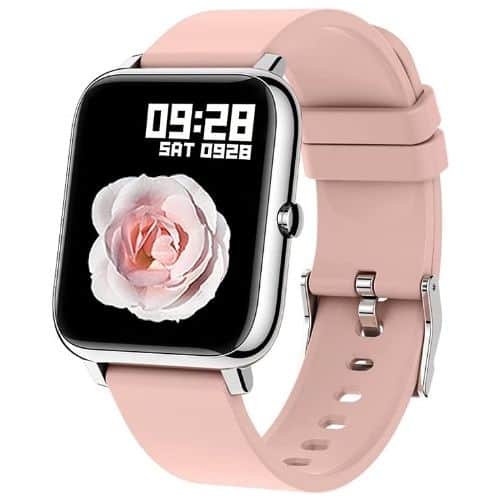 Oxygen sensor
Many modern smartwatches can measure the amount of oxygen flowing through your blood but the sensor they used for measuring the data is not so advanced. But Popglory Smartwatch uses an advanced sensor to collect the data and the result you get is pretty accurate.
After a workout session or while feeling unwell you can instantly perform a blood oxygen measuring check staying where you are. You just have to use the smartwatch that is on your wrist and you'll get the result instantly. Blood oxygen saturation measuring is pretty handy for those who go to the gym daily.
This device is a smartwatch, not a medical device. So you should not compare the device with a medical device as well. As it is not a medical device you may think the result will be too offbeat but that is not the case. Its results are pretty reliable and you can record the data using just a simple mobile app.
Fitness tracking
Blood pressure measuring capability is a very necessary feature in any smart device and this watch uses advanced high-quality sensors to measure blood pressure. You can know your blood pressure instantly using just your smartwatch. It can also monitor your heart rhythm so that it can help you to stay fit and healthy. Sleep quality monitoring is another exciting feature of this watch.
Additional features
The built quality and the design of this watch are very stylish and durable. Even after rough use, the watch will surely serve you long. When it comes to battery life, what the watch offers is pretty amazing. You no longer have to charge the watch daily as the battery life is pretty solid. It will let you know about the weather, remind you about upcoming events, and many more things.
Pros
Advance sensor for blood oxygen saturation
Monitor heart rate
Can measure blood pressure
Touch screen
Long battery life
Cons
8. Best for Affordability: CanMixs Smart Watch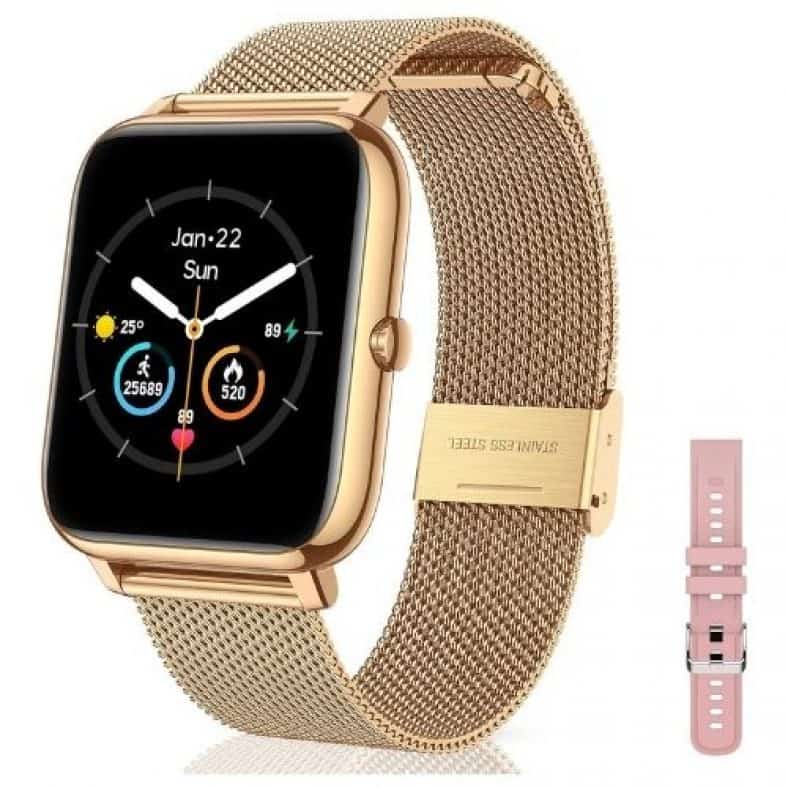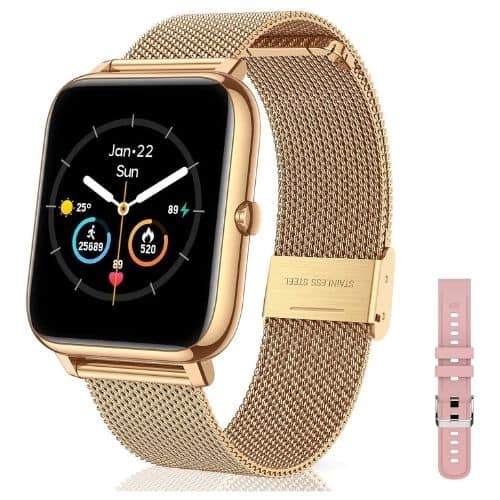 Oxygen Sensor
The exclusively designed CanMixs smartwatch is an accurate wearing for both women and men. Especially people who love staying stylish will feel pretty wearing it. Coming to the point, it contains a fitness tracker through which you can know your blood oxygen level along with the different activities you do.
It shows correct results, and its O2 sensor can properly measure the level of oxygen in your blood. Its simple-to-understand chart display provides you with tracking the blood oxygen level and displays the data well organized on the screen.
Health Tracking
The smartwatch contains an advanced heart rate. With its help monitoring your heart rate within every five minutes is an easy task. It will provide you with this service 24/7. Also, it lets you track the heart rate manually.
If you want to use the Hero band III app, you can get heart rates too. While you are sleeping, it can track how good you are sleeping and give you a chart over it when you wake up.
Additional Features
This amazing timepiece can impress you with its quick actions on additional features like getting notifications on calls and messages, controlling music, a Remote camera, and more. When your smartphone is having some issues, it will help you like your practical partner.
Get all your calls, phone messages, app messages, calendar alerts, email, etc., right over the timepiece screen. Its crystal clear display will give you the experience of easy reading through the display.
Check whether every day and control music with a few clicks. The best part of it is that you don't need to busy your hands for taking a selfie; just open the Hero band III app on it and shake to capture lovely moments.
Pros
Comes with a remote camera
Provides necessary fitness trackers
Gets all the smart notifications
Comes with an eye-catchy outline
Displays easy to read and understand fitness chart on the screen
Cons
You can't record any audio through the watch
Things to Consider While Buying the Best Smartwatch with Oxygen sensor
When choosing a watch with an oxygen sensor several things need to be considered. These things will help you to get much reliable performance and that will eventually help you to lead a healthier life.
Oxygen sensor
Here the oxygen sensor is the first priority so that is a must-have option in the smartwatch. What this option does is calculate the amount of blood flowing through your blood. Several different types of watches are available in the market with different functionalities.
Some watches can measure the blood oxygen saturation only at night and some can measure discontinuously. Also, some watches are capable of measuring blood oxygen instantly. So if you have respiratory system conditions you should go for a watch that is capable of measuring blood oxygen anytime.
Battery life
The battery life of any smart device is crucial, so is it for smartwatches. If you do not want to charge your smartwatch after every 2-3 hours of use, choose a smartwatch that comes with longer battery life.
Fitness tracking
Fitness tracking, heart rate monitoring, and measuring blood pressure is pretty important. You can perform these tests and get a better idea about your health condition. So choose a watch that is capable of doing these things.
What is a Pulse Oximetry?
Pulse oximetry is a non-invasive and rapid way to assess your blood's oxygen saturation level. The word "non-invasive" means no part of your body is harmed in the process of obtaining a sample. Noninvasive simply implies that it does not break your skin. It can identify even slight variations in the amount of oxygen delivered to the limbs which are far away from the heart, such as the legs and arms, very quickly.
The purpose of this technique is to measure how efficiently the heart pumps oxygen throughout the body. Pulse oximeters are primarily utilized in healthcare facilities.
What is the Origin of Pulse Oximetry?
The earliest oxygen saturation meter is thought to date from the 1930s when researchers investigated light transmission through skin and the data it may offer.
During the 1960s and 1970s, people saw pulse oximeter devices evolve into the ones currently used in hospitals and may be purchased to perform those measures at home. Due to its massive size, Hewlett Packard was the first firm to develop an ear oximeter, primarily utilized in clinical sleep laboratories.
How does Pulse Oximetry Works?
Blood oxygen sensors employ light wavelengths to detect your hemoglobin, the oxygen-carrying protein particle in your blood. Depending on how much oxygen it carries, hemoglobin absorbs light of different wavelengths. The numerical measurement represents the proportion of oxygen in the bloodstream.
How does this technology work in Smartwatches?
This technology has been simplified and placed on the bottom side of smartwatches to align with your wrists. The rear of the watch has infrared, green, red, and infrared LEDs that glow through the blood circulation in the wrist. The quantity of reflected light is then measured using photodiodes (electronics that transform light into electrical energy). A sequence of algorithms analyzes data using photodiodes to identify the color of the blood. Oxygen levels are likely to be low if the color of the blood detected is dark.
What are The Necessity and Uses?
Our bodies require oxygen to function; it is sometimes referred to as the "critical gas" since our bodies cannot work correctly without it. Our lungs are critical because they allow us to breathe oxygen, which is subsequently combined into our blood and sent to our cells.
Whenever someone has any type of lung illness, their oxygen saturation levels drop, and doctors utilize Pulse Oximetry to detect whether or not they have a lung problem. Apart from a lung illness, physicians use this test to diagnose asthma, Pneumonia, lung cancer, anemia, heart attack, and other medical disorders that influence blood oxygen levels.
In addition to medical purposes, this testing can be conducted by experienced mountain climbers. A smartwatch with a blood oxygen sensor integrated can tell you how the body is adapting to high altitudes. Helping you to keep track of alterations without having to carry extra weight.
What is The Optimum Oxygen Concentration in Blood?
The method of detecting oxygen saturation level with a pulse oximeter is known as "O2 Sat" in the medical field (SPO2). We will attempt to make the terminology as straightforward as possible. The recommendations below will assist you in determining your oxygen saturation level, including whether or not you should consult a doctor.
Saturation levels between 95 and 100 % are regarded as standard.
A saturation level lower than 95% is regarded as low. Consult a doctor right away if your oxygen saturation level is low.
Acute Pneumonia is the most prevalent indication of Coronavirus infection. Patients with severe Pneumonia had oxygen saturation (SPO2) of less than 90% on room air, referring to the WHO interim Guidance paper on Coronavirus.
What is The Best Reading?
Ensure that adequate blood flows to the hand and finger where the oximeter is worn to achieve an accurate reading. You'll obtain the optimal reading for your blood saturation levels if your hand is warm, relaxed, and placed underneath the level of the heart.
There might be an issue with the sensor if you follow this advice and your pulse oximeter gives you incorrect results. You may well have your oximeter tested for correctness at your medical care provider's office or a medical equipment firm.
Following the purchase of your equipment, it is important that you properly test it. A malfunctioning sensor might give you inconsistent readings, leading you to make healthy choices you don't necessarily need to make. This has the potential to go wrong.
How Accurate are Finger Pulse Oximeters?
A pulse oximeter's oxygen level is practically correct. Typically, oximeters provide you with a 2% higher or lower result than your saturation would be if you used an arterial blood gas. If your pulse oximeter shows 92 % oxygen saturation, it might be anything between 90 and 94 percent.
Give sufficient time (a few seconds) for the pulse oximeter to catch your pulses to acquire a decent reading properly. A pulse oximetry reading's accuracy can be harmed by a number of variables, including:
Your hands may be cold.
You are not relaxed or restless.
You have black, blue, or green nail paint on your nails.
You have fake nails on.
Your oxygen saturation is extremely low, falling below 80%.
You have thick skin.
Pulse oximetry precision can also be influenced by skin color. Pulse oximetry may overlook below-normal oxygen saturations in people with darker skin pigmentation, according to recent research. Inquire with your physician about the reliability of your oximetry results if you've got a darker complexion.
Your oximeter result may be greater than your actual oxygen saturation if you smoke. Smoking increases blood carbon monoxide levels, and an oximeter cannot differentiate between carbon monoxide and oxygen. As a result, the oximeter cannot provide an accurate reading.
Before making any healthcare decisions, routinely check your oximeter readings with your physicians to keep your readings in check and what that information means.
How Accurate are Smartwatch Pulse Oximeter Sensors?
Smartwatches and portable gadgets will play a significant role in the healthcare industry's development, and we've heard of several incidents where smartwatches have saved lives. However, the accuracy of SPO2 Sensors in Smartwatches, which reads SPO2 from the wrist, is not precisely accurate and depends on many variables.
Because smartwatches measure your SPO2 from wrists, factors such as complexion, body fat, blood flow, correct wear, and appropriate bands will impact the results. Furthermore, unlike the VO2 Max test, which is done while you are exerting yourself, the SPO2 measurement must be conducted while you are completely motionless and at rest. Any activity or attempt made prior to or during the test will have a significant impact.
Such technologies should not be used instead of a medical examination. That stated you cannot entrust your life to them. Get medical assistance immediately if you have health issues or are anxious about your well-being.
Types of Smartwatches with SPO2 Sensors
There are two types of blood oxygen sensor smartwatches on the market now. One records SpO2 levels in real-time, while the other only monitors SpO2 levels at night. Each has its distinct characteristics. You can select any one of them depending on your needs.
Smartwatch with real-time SpO2 Monitor
A smartwatch that monitors and records your SpO2 in real-time can enable you to keep track of your wellbeing at all times. Most contemporary SpO2 watches have an app that measures your oxygen content within 30 minutes.
Smartwatches with real-time SpO2 tracking include Samsung Galaxy Watch 3, Active 2, and Apple Watch Series 6.
Smartwatches with nighty SpO2
Night oxygen monitoring does not allow for on-demand SpO2 measurements. On a SpO2 watch face, these smartwatches measure oxygen levels overnight and display the average blood oxygen level. Smartwatches with nighty oxygen, such as the Fitbit Sense and Fitbit Versa series, are less desirable for individuals who seek frequent readings to track their health more readily!
If you want a smartwatch that can test your blood oxygen level (SpO2) at any moment, search for one that has real-time blood oxygen functionality. However, because the measurements are averaged using the nighttime monitoring feature, the result of your blood saturation levels will be more accurate than a real-time reading.
Traditional Pulse Oximeters vs. Smartwatch with SpO2 Sensors
When compared to oximeters, measuring blood saturation correctly using a smartwatch is more challenging. You move a bit, or you are perhaps a little more relaxed than usual; a very faint signal might be received. The wrist is susceptible to blockages and inaccurate readings, unlike the fingers, which have many blood veins at the surface that provide a robust signal.
Another issue that consumers may have about these gadgets is whether or not the FDA has approved them. Although many of the Oximeters finger pulse brands are certified by FDA (such as Medline), the FDA is not authorized for any Smartwatches.
These are some of the top smartwatches and gadgets on the market, including not just blood oxygen sensors but also a range of additional features that may help you in your everyday activities.
Should I Buy a Smartwatch with Oxygen Sensor or not?
This, of course, is contingent on your preferences. If you're seeking a reliable Pulse Oximeter for healthcare use, Medline has a 50-dollar Finger Oximeter that is FDA approved.
If you desire a Smartwatch because of the many functions and entertainment it provides, as well as reliable SPO2 readings (particularly as an overnight measuring device), then go for it.
Furthermore, many customers have reported precise SPO2 readings from the watches (including real-time checks), so it's possible that it could serve you if you wear it firmly enough.
An excellent option would be to get a $20-30 reliable finger pulse oximeter from Amazon and make comparisons with your watch. If they match the majority of the time, your watch is working well for you, and you can now enjoy a pleasant night's sleep while recording your SPO2.
Frequently Asked Question (FAQ)
What are the symptoms of a lack of oxygen?
If you're experiencing symptoms like breathing difficulties, headaches, uneasiness, fast breathing, chest discomfort, disorientation, or elevated blood pressure, you may have low oxygen levels in the bloodstream.
What are the Methods of Measuring blood oxygen level
Two sorts of techniques are commonly utilized to determine blood oxygen saturation levels.
SPO2: Peripheral Oxygen saturation (SPO2) – It's a non-intrusive, indirect method. In this technique, we use a pulse oximeter.
SAO2: Arterial Oxygen Saturation (SaO2) – It's a straightforward yet intrusive method. Doctors utilize a blood test called an "Arterial blood gas study (ABG)" to determine the oxygen level in your blood in this approach.
The SPO2 sensor is used in sophisticated smartwatches, and it aids in determining the degree of oxygenation in your blood.
Can anxiety cause low blood oxygen levels?
When you're stressed, your body tenses up, and you start breathing excessively. A short breath lowers blood oxygen levels, something that the brain perceives as a source of stress. Breathing gets a little quicker and faster at this point. The proportion of oxygen in the air gradually diminishes.
When using a pulse oximeter, which finger should I use?
According to research, the middle finger on your right hand produces the most satisfactory outcomes. Remove any nail paint before using, and prevent using on cold fingers since the readings may not be accurate.
Without an oximeter, how do you monitor your oxygen levels?
For 1 minute, maintain your hand on your chest and assess your breathing rate. Your oxygen level is appropriate if your breathing is below 24 per minute. The oxygen level is low if a patient takes more than 30 breaths per minute.
What is a typical concentration of oxygen during sleep?
A saturation level of above 95% is deemed appropriate. If your blood oxygen level drops below 92 percent, it could indicate that you were having breathing difficulties during sleep. You should seek medical advice in that case as you may have sleep apnea or some other disease such as severe snoring, COPD, or asthma.
Final Words
Smartwatches are working continuously to make our life easier and help to improve our health conditions. Blood oxygen measuring is a newly introduced feature in smartwatches that helps to measure the blood oxygen saturation and lets you know about your health deeply.
Performing this test after a gym session or while at a high altitude will help you to know your condition better. The result you'll get is also very reliable. The list of our best smartwatches with oxygen sensors will help you to perform blood oxygen saturation tests and give you very reliable data.
As an Amazon Associate, I earn from qualifying purchases.