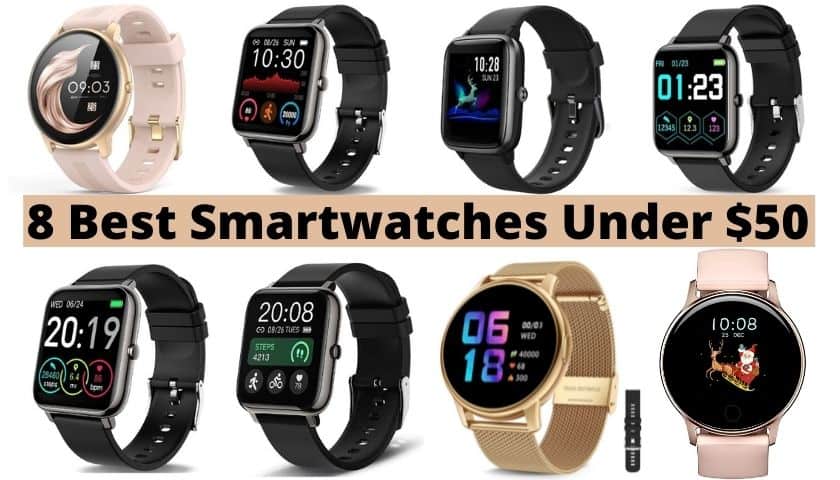 As an Amazon Associate, I earn from qualifying purchases.
A smartwatch can help you in many ways. You can keep the time and date, monitor your activity, health updates, sleeping quality, etc., from this. As it can be connected to your smartphone, you can use the phone from your wrist. But, getting many features in a watch is a little bit costly.
The good news is; few watches won't be worth much money but provide you complete convenience like a high-end smartwatch. And it's pretty hard to find the best timepiece because many non-brands and low-quality smartwatches are on the market.
We researched for a long time to find out the best one for you. After successful research, we are reviewing the eight best smartwatches under $50 below.
8 Best Smartwatches Under $50 Reviews
You don't need to spend much money to buy these watches. Let's see which features and convenience you will get from these watches.
Our top picks: At a glance
Best for the Interface: Popglory Smartwatch
Best Smart Assistant: AGPTEK Smartwatch
Best for the Display: Donerton Smart Watch
Best for Easy Setup: CanMixs Smart Watch
Best for Health Monitoring: HAFURY Android Smart Watch
Best Multi-functional: Rinsmola Smart Watch
Best Budget Friendly: UMIDIGI Smart Watch
Best Elegant Smartwatch: KALINCO Smart Watch
Best Smartwatches Under $50
Last updated on October 2, 2023 12:53 pm
1. Popglory Smartwatch – Best for the Interface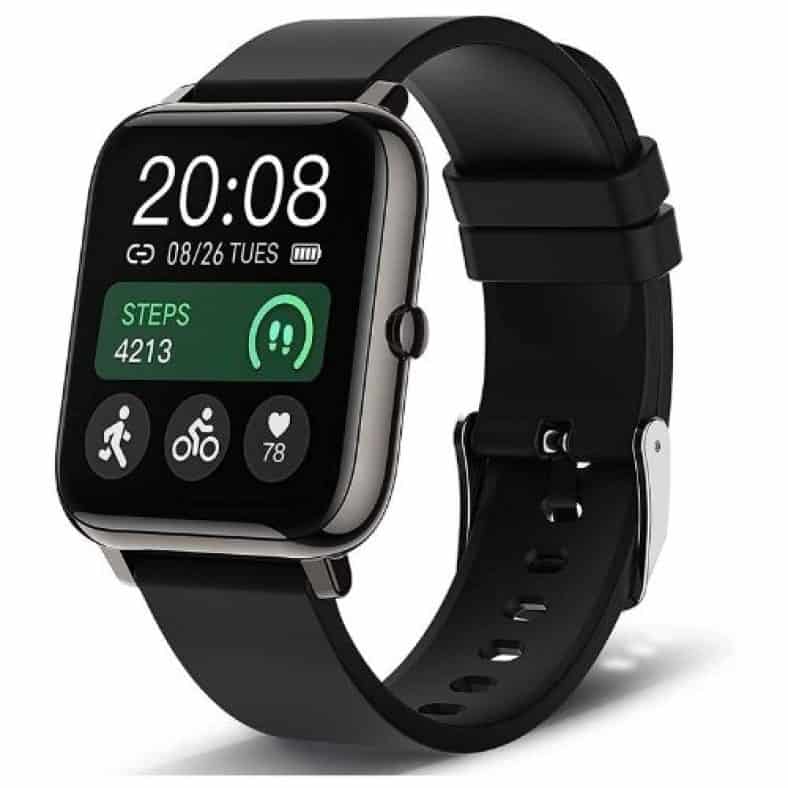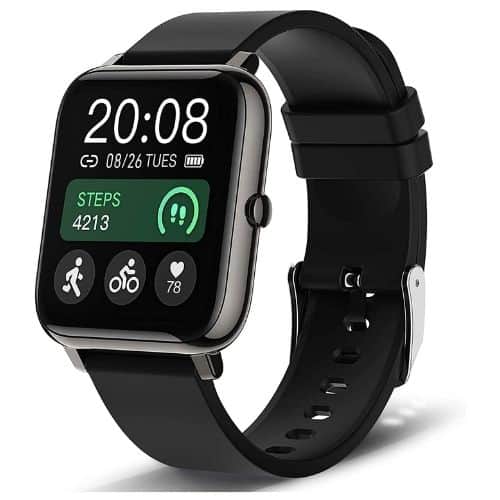 Popglory Smartwatch is one of the popular options in terms of essential watches that provide a great value of tracking including health and fitness. It comes with an elegant design crafted with exclusive features and functionalities; you can't go wrong with this watch.
Design
This watch comes with a traditional smartwatch design, and its design is straightforward but elegant as well. It features a convenient size rectangular case like an apple watch. The case is made of metal and has a sleek finish. Although it has been made of metal, it is lightweight and comfortable to wear.
The strap of this watch has been made of premium quality silicone that is excellently durable and provides a bit extra security to the watch on the wrist. Silicon band is also very comfortable to wear since it provides a smooth touch to the wrist.
Excellent Touch Screen Interface
Popglory watch comes with an excellent watch interface. Its touch screen display is highly functional. The full touch screen provides a more engaging experience, allowing you to quickly access exercise statistics. Its thick bezels have an effect on the overall look. The edge-to-edge display is more fashionable and contemporary than a flat panel. It features more than 100 distinct watch faces, making it one of the most extensive watch face libraries in the world.
Health monitoring
Health monitoring is one of the exclusive features for each and every smartwatch. Fortunately, this wristwatch features a highly functional and precise health tracking system. The watch is able to accurately measure blood pressure, blood oxygenation, and heart rate thanks to its use of modern sensors.
Fitness Tracking
Its excellent fitness tracking functionality makes it one of the perfect personal partners. This smartwatch with seven sports modes tracks your daily activities, covering steps, calories, distance. This watch will do sleep monitoring, Badminton, Football, Basketball. It indicates how much time you spend in deep, light, waking sleep, as well as how much time you spend awake.
Pros
Elegant and lightweight design
Customizable watch interface
Record 7 several sport moods
It Provides highly precise data
Cons
It has no option for strength training
2. AGPTEK Smartwatch – Best Smart Assistant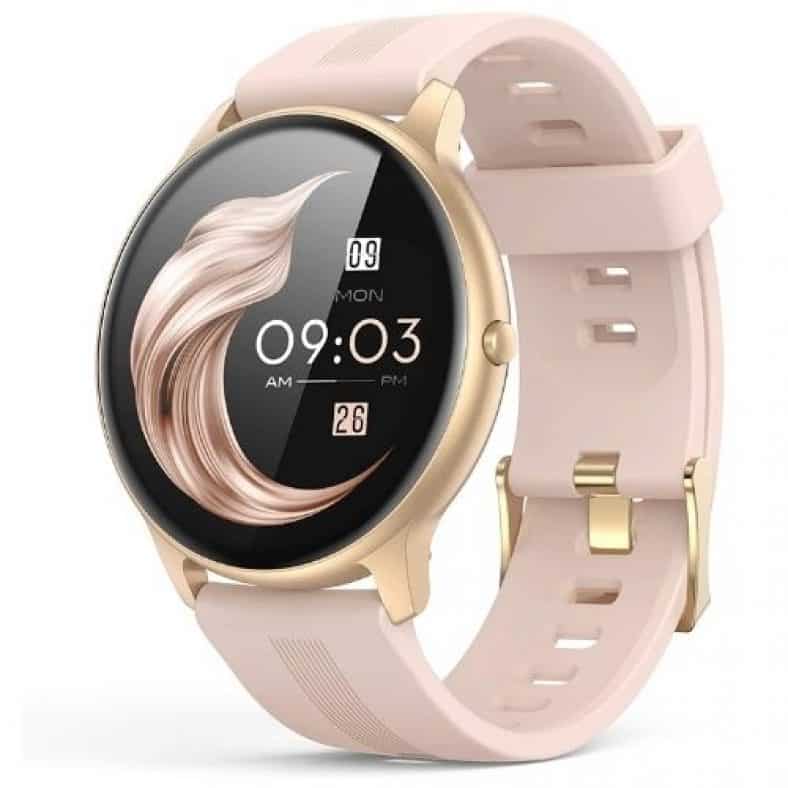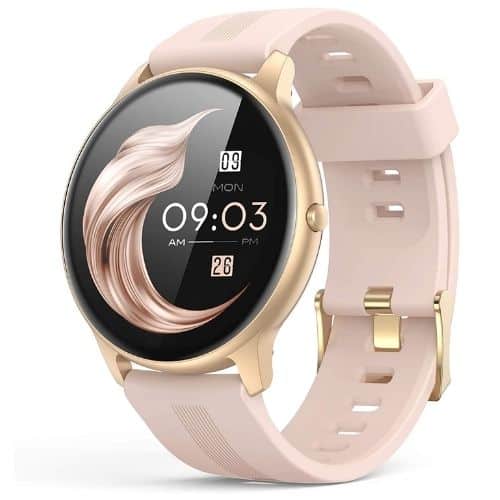 You can't really go wrong with AGPTEK Smartwatch, which has four distinct dial styles and 30 more possibilities through the app. The wristwatch can operate for up to ten days on a two-hour charge.
Aesthetic Design
The design of this watch with a round watch case is really aesthetic to look at. The touch screen is 1.3 inches in size and is composed of aluminum alloy, which is incredibly attractive, lightweight, sturdy, as well as scratch-resistant.
The wristwatch itself has five ready-to-use tablets as well as 30 more in-app controls. You may also change the appearance of the watch face. Its silicone-made strap is highly durable and breathable that will provide extra comfort. With the help of the fast release mechanism, the strap may be replaced quickly and effortlessly.
Personal Smart Assistant
This watch comes with everything that you need for a smartwatch. Activity tracker heart rate, several sport modes as well as sleep monitoring functionalities make this watch a perfect companion for you. Improve your health and well-being by monitoring your heart rate with an advanced Heart Rate sensor. When you use an automated sleep monitoring system, you can keep track of your sleep patterns and get an accurate picture of your overall sleep quality.
Set of Excellent Features
Aside from a health and fitness tracker, this watch features several excellent functionalities. It has an alarm clock, stopwatch, weather report, call rejection, find phone, power-saving mode, and many more functions. Because the watch has IP68 waterproof capability, you may use it when washing your hands or exercising in the rain.
Prolonged Battery Life
Most of the smartwatches in the market offer 2 to 7 days of battery life, but consumers expect much more. Fortunately, this watch offers a long-lasting battery life. According to the manufacturer, this watch provides 8 to 10 days of battery life after a single charge. Charging the watch will take not more than 2 hours.
Pros
It has an aesthetic and elegant design
Provide accurate heart rate monitoring
It helps to maintain a healthy life
Power saving mood save battery life
Cons
Its alarm may not sound loud enough
3. Best for the Display: Donerton Smart Watch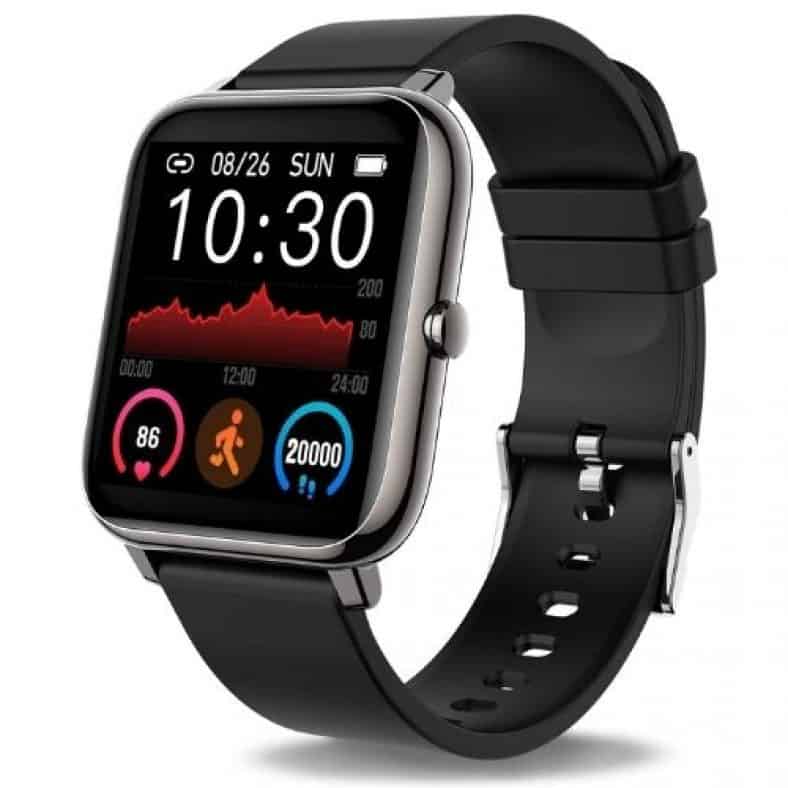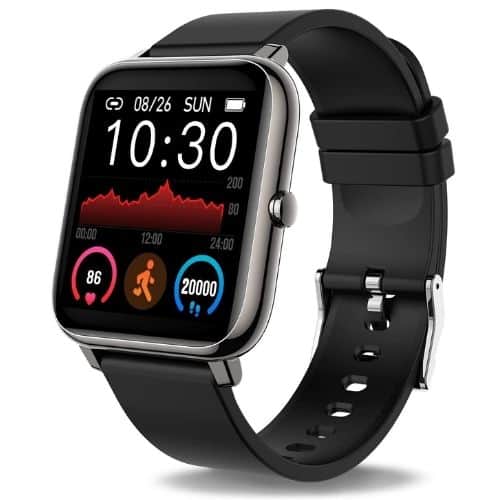 Those seeking a low-cost wristwatch that can correctly monitor their fitness and health can choose the Donerton smartwatch. It has a number of simple and complex functions that make our daily lives a lot easier. At a modest price, it doesn't fall short of offering quality features.
Design and Display
Compared to any other smartwatch in this budget range, this watch has a better design. Crafted with a metal case with a synthetic rubber strap, the watch is excellently durable as well as comfortable. You can change the style of the bracelet simply by replacing a fresh set of 20mm bands.
When wearing this watch, you might mistakenly believe it has a full-edge display. The 1.4-inch screen LCD features broad bezels. Because of the high-pixel density, the panels appear brighter and sharper. It's anti-reflective, so you won't have visibility concerns on sunny days.
Health and Fitness Tracking
In addition to tracking your heartbeat, The Donerton smartwatch has a specific heart rate sensor that records electrical activity in your heart and checks for various disorders. It also monitors light sleep, heavy sleep, as well as waking time to provide a comprehensive sleep cycle analysis. The calorie monitor provides accurate and precise information on calorie consumption.
Activity Tracking
The wristwatch is quite useful for tracking a variety of metrics such as steps taken, calories burned, distance traveled, activity minutes, and more. The calories tracker provides reasonably precise and detailed insights into the calories consumed, but it does not provide information on the calories consumed.
A set of Exclusive Features
This watch has been crafted with a set of excellent and exclusive features. Some of its fabulous features are smart notification, music control, remote control, Sedentary Reminder, and many more. This smartwatch lets you receive all of the messages, calls, as well as notifications directly. The camera allows you to take selfies or images without having to remove your watch from your wrist.
Because of the music control option, I can go without my smartphone and still have a good time. Another wonderful function that helps you maintain healthy by reminding you to get up and go for a stroll or an exercise session is available.
Pros
Lightweight and comfortable design
Highly accurate tracking functionalities
It has 8 several sports moods
Ensure prolonged battery life
Cons
This watch has no built-in GPS
4. Best for Easy Setup: CanMixs Smart Watch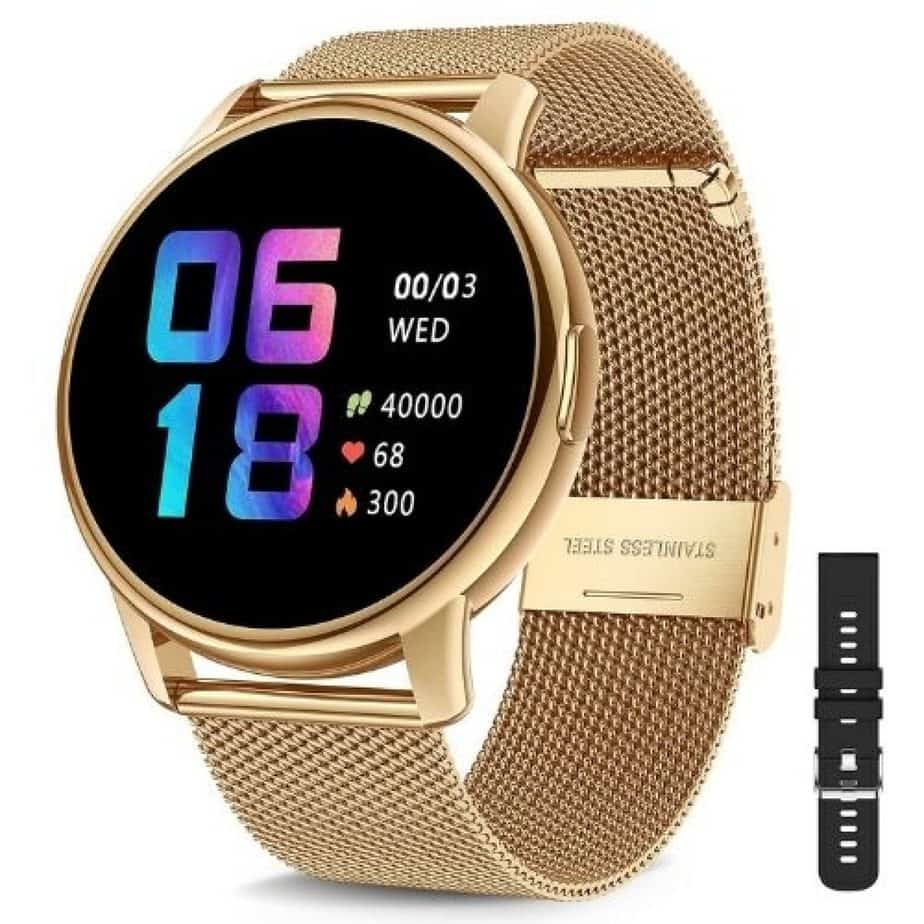 You won't get many features from a low-budget smartwatch. But the CanMixs Smartwatch can fulfill all of your requirements, and it offers you ultimate performance due to its sturdy construction and incredible features.
Design
There is a 1.3-inch screen touch round Display in the CoMics smartwatch. Its resolution is 240-240 px. The case of this watch is made of Zinc Alloy. Silicone-made straps of this watch will allow you to feel softness while touching. You will get a perfect contrast from the colors of its Display.
The crown button of the watch helps to turn on the screen and device. You have to connect the charger to this port. Moreover, there are some plastic-protected sensors to protect the watch from scratches.
Tracking
The CanMixs smartwatch will record your whole day's activity. Also, you can analyze these by pairing the watch to the phone. It also tracks several sports and provides accurate data. This watch will track up to 10 various sports quickly.
It can also track your heart rate, blood pressure, and sleep mode. The sleep monitoring sensor provides data about your sleep quality, awake time, light or deep sleep, etc. Though this device comes with a blood pressure tracking feature, it might not provide an accurate reading.
Additional Features
This watch is waterproof enough. You can use it for up to 1-meter depth. You can use this watch to control the camera of your smartphone. It allows you to capture and record the moments from the wrist; also, it helps to view the notifications and other features easily.
Pros
Various tracking sensors
Compatible with Android and iOS
Easy camera control
Longer battery life
Perfect for men and women
Cons
Blood pressure reading might not accurate
5. Best for Health Monitoring: HAFURY Android Smart Watch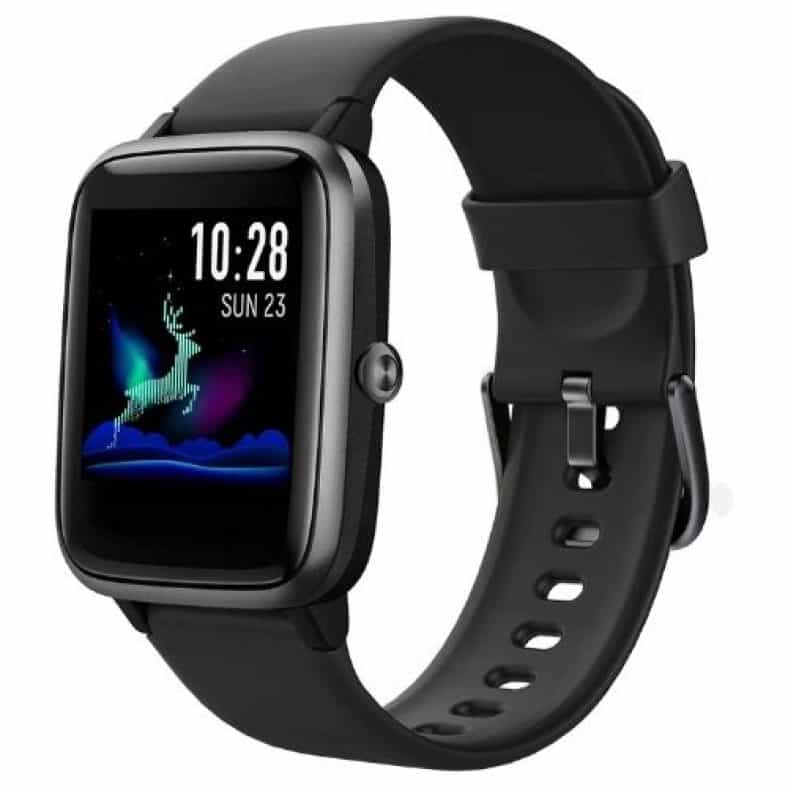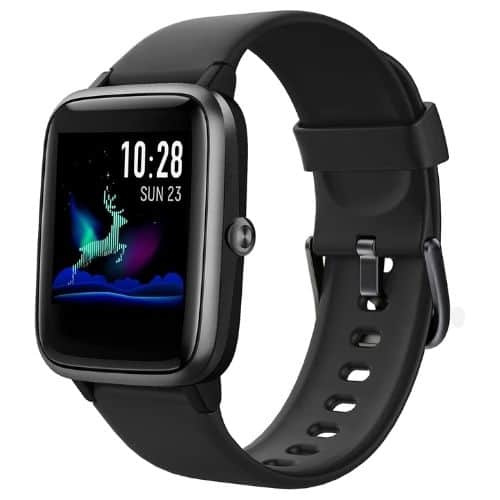 HAFURY Android SmartWatch is a stunning smartwatch that will help you to keep fit. It offers you routine health monitoring and enhancement reference data that you can use to make better decisions.
Fabulous Design
Since design is one of the major aspects of any watch, this watch comes with a fabulous design. With a traditional rectangular watch case, this smartwatch has an elegant appearance. The watch case is compact and lightweight too, so it will provide excellent comfort.
It sports a 1.3 inches touchscreen display that has water-resistant up to 38 degrees. Its strap is made of premium quality silicone rubber that is durable as well as comfortable to wear. Since this strap has more holes to adjust, it will fit well on any wrist.
Health and Fitness Tracking
In addition to collecting information, including the heart rate as well as step count, the wristwatch may also be used to estimate the calorie burn. This device has nine different exercise programs that provide statistics on the daily health analysis as well as suggestions on how to enhance your health.
Finally, the smart device is capable of detecting your quality of sleep and providing feedback on how else you can achieve a good night's sleep right out of the package. A summary of your daily goals, as well as data about your sleep as well as heart rate, may be found on the main page.
Other features
HAFURY Android Smart Watch is one of the functional smartwatches that performs so well. Music controller, Stopwatch, Bluetooth 5.0, timer, Firmware information, and other gestures including lifting the wrist, lay down, and other functions are supported by this large screen smartwatch.
IP68 Waterproof
This watch comes with a handy water resistance capacity; ip68 waterproof. That means it is suitable for water surface activities like swimming, showering, etc. The watch also offers a prolonged battery life; it can be used for up to 10 days. Overall, it is one of the best-performing budget smartwatches in the marketplace.
Pros
Compact and lightweight design
It provides daily health activities
It features IP68 water resistance
24-hour heart rate monitor
Cons
Heart rate accuracy is not very good
6. Best Multi-functional: Rinsmola Smart Watch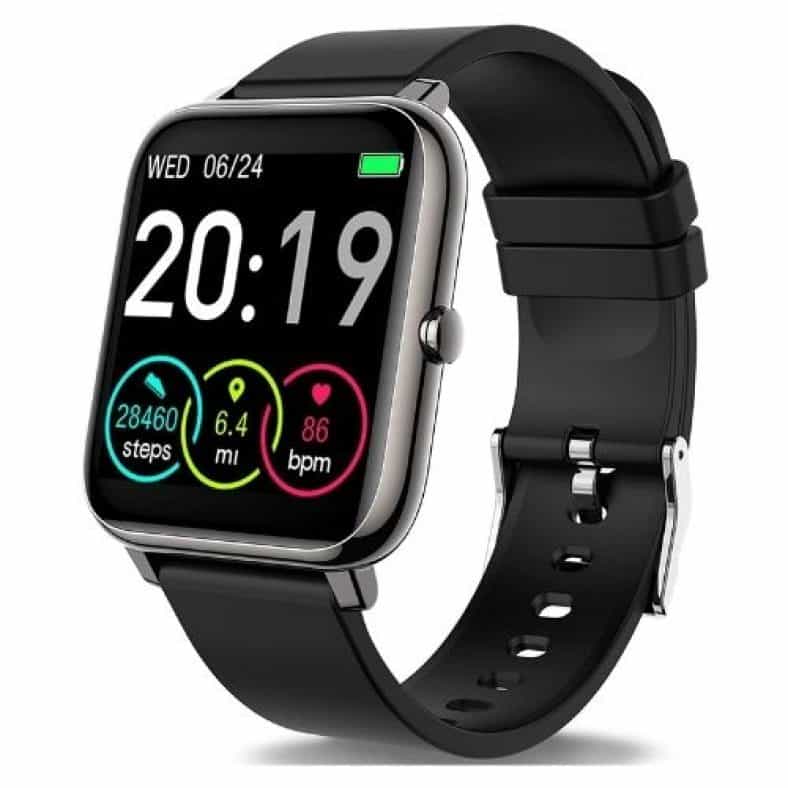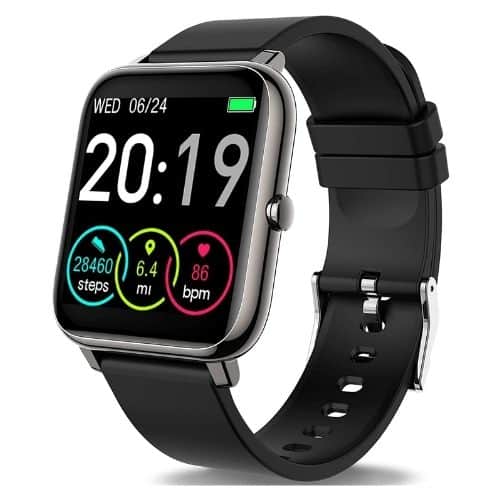 Enjoy your day-to-day activities with Rinsmola Smartwatch, an ideal budget smartwatch option. This smartwatch might be an excellent option for anyone who wants to live a healthier, more active, and more convenient lifestyle.
Elegant Design
This watch Compatible for men and women, this watch has an elegant and sleek design. Crafted with all premium quality materials, it is an excellently durable and long-lasting device. Its continental-size case has been made with excellent metal that is highly sturdy and scratch-proof as well. Since the case is not so big or small, it will fit well on any wrist.
Fabulous Watch Interface
This smartwatch uses a sensitive 1.4inch curved IPS HD touch screen with 240 * 240 resolution. It provides a more engaging experience, allowing you to get workout data more quickly and efficiently. Operational efficiency, vivid HD display, and an attractive user interface can bring a sense of satisfaction.
Multi-Functional Watch
One of the amazing things is that this smartwatch is one of the highly functional budget smartwatches in the market. With its activity tracker, you'll be able to keep track of your daily calorie intake, steps taken, heart rate as well as sleep tracking, as well as 8 sport modes, and shared GPS. You'll also be able to take photos and listen to music while you're on the go.
Compatible with Android and iOS
If you are seeking a budget smartwatch for iPhone, this one is the best way to go. The watch is compatible with both Android as well as iOS operating systems. That means you can pair this smartwatch with Android as well as iPhone. It also provides excellent battery life; up to 7 days of use and up to 30 days in standby mood.
Pros
Features an elegant and sleek design
Lightweight and comfortable to wear
It has 8 Sport mood with shared GPS
Affordable but high performing watch
Cons
Sleep tracker prove only 2 days of data
7. Best Budget Friendly: UMIDIGI Smart Watch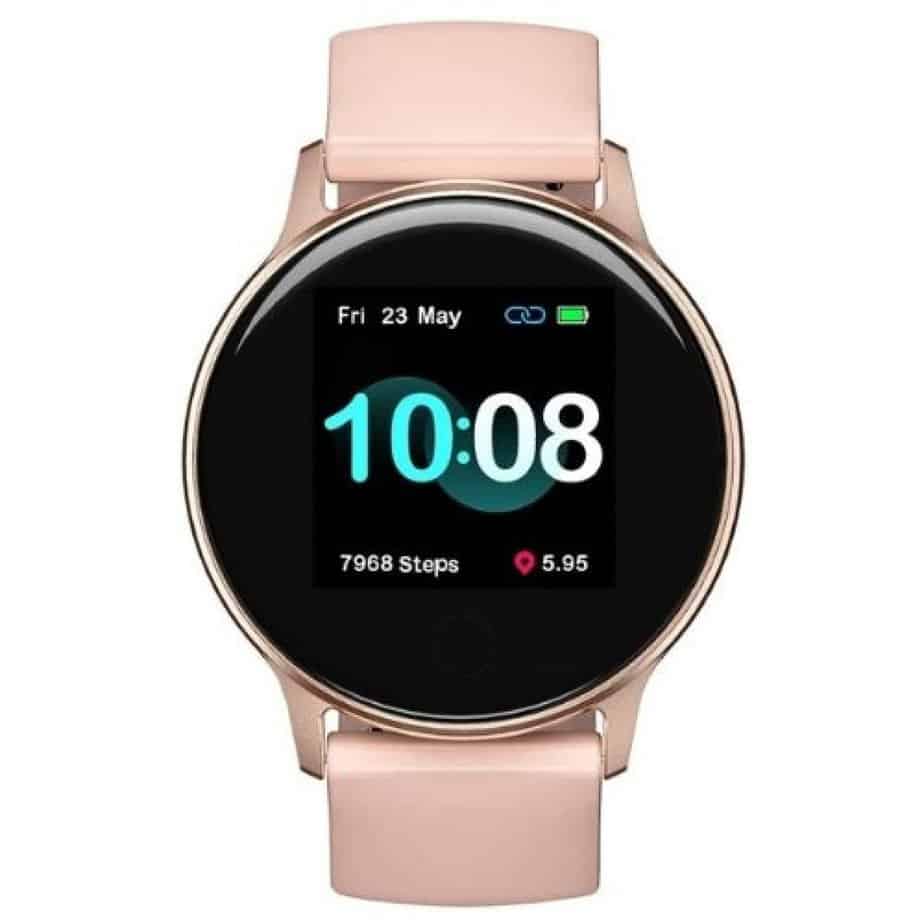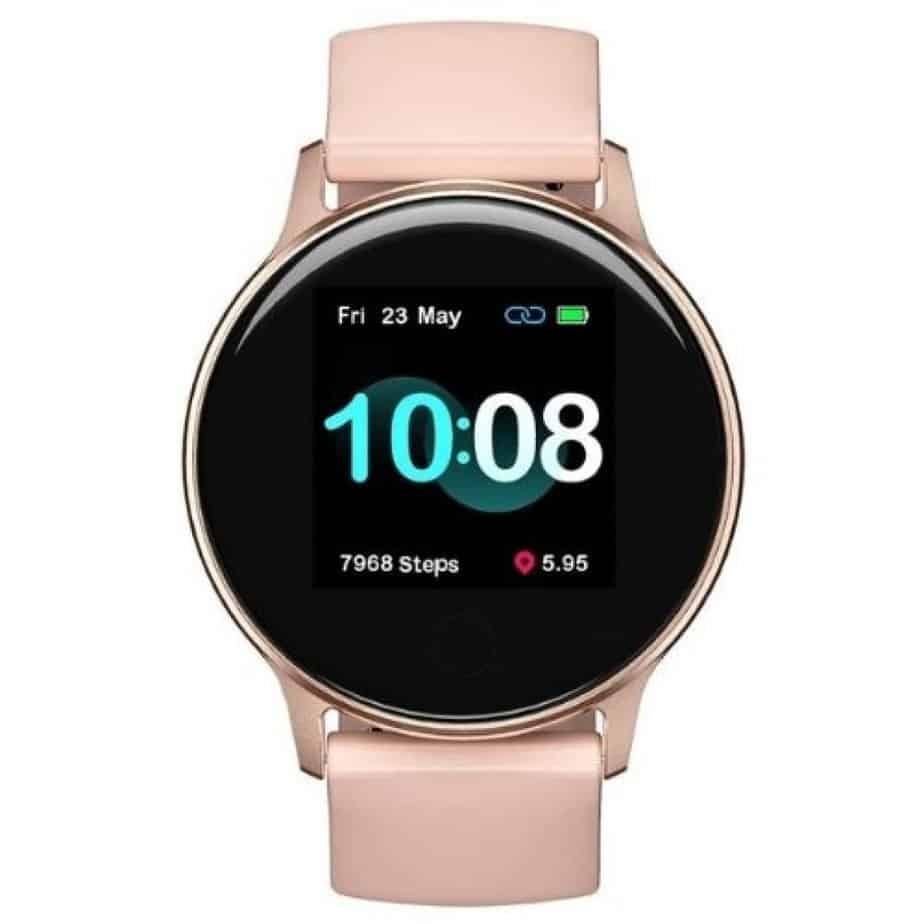 Umidigi is a renowned smartwatch and smartphone manufacturer company. They produce budget-friendly devices, and the Umidigi smartwatch is a great invention of this company. It comes with some ultimate features to provide you with excellent outputs.
Design
The Umidigi never compromise with design. This smartwatch comes with an aluminum alloy-made circular frame. It is very lightweight. And the rear side I made of plastic. They used durable glass protection on the Display.
It comes with 2.5D tempered glass that contains an anti-fingerprint coating. The watch is water-resistant enough. You can even use this under 164 feet of water and rotate the strap if it doesn't fit your wrist. There is a charging panel on the rear side of the watch.
Hardware and Display
The Qualcomm 4100+ processor used in this watch provides high efficiency. This watch works perfectly with entry-level smartphones. Its storage capacity is 64MB. You have to connect this watch with your smartphone using Bluetooth 5.0 LE. A negative side of this watch is it doesn't come with GPS. But this is usual for low-budget watches.
The Display of this watch is not entirely circular. You will see a backlight panel connected to the black bezels. It comes with a 1.3 inches TFT-LCD color display to provide you with enough efficiency to view the screen. You can also adjust the brightness and contrast level easily in this watch.
Tracker
This watch comes with several trackers. You can track your heart rate, sleep quality, and other 14 exercises using this smartwatch. And everything will track automatically. You can also control your phone, such as a music player, from this watch.
Pros
Lightweight construction
Unisex usage
Compatible with lower-spec smartphones
Longer battery life
Water-resistant for up to 164 feet
Cons
8. Best Elegant Smartwatch: KALINCO Smart Watch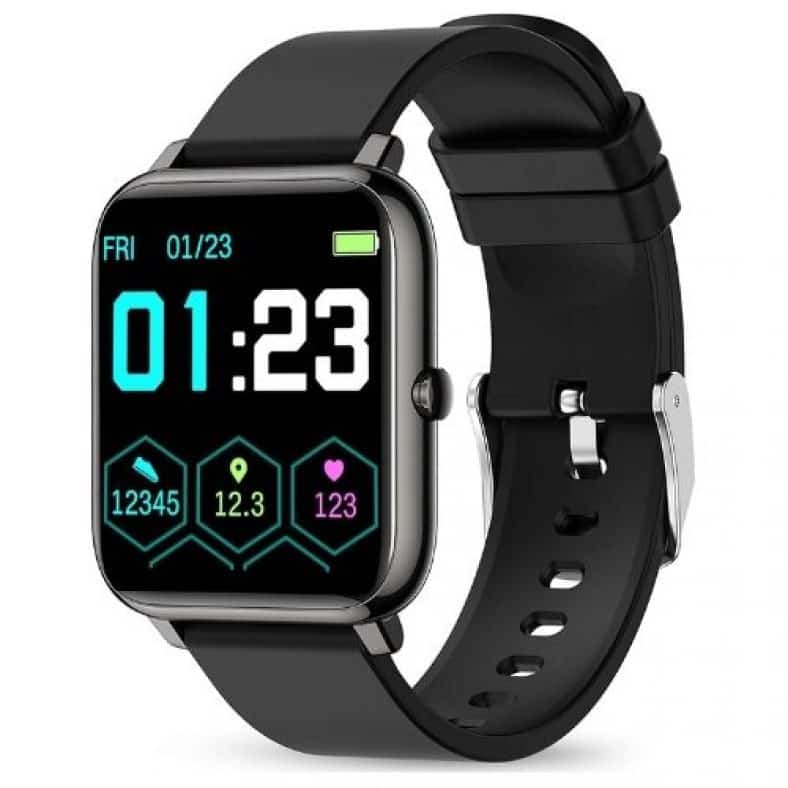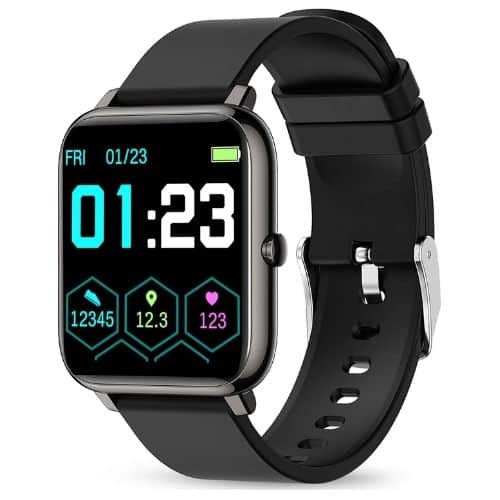 Smartwatches like these are a good option if you are looking for an option for Apple Watches. Elegant and broad display make this watch perfect for any occasion. KALINCO Smartwatch also contains a few basic and distinctive features.
Stunning Design
The Kalinco Smartwatch features a metal body with curved edges, which gives it a sleek and stylish appearance while still being functional. Delivered in a stunning glossy finish in a choice of black, silver, or rose gold. With its quick-release pin, this replaceable strap has a sporty appearance.
In addition to a full Transflective display, the wristwatch also boasts a 1.4 inches full touchscreen display. The screen is sharp, and the bezel is a narrow black line. At the top of the device, there is a 2.5D toughened glass with optically clear clarity.
Health Features
You can check your SpO2 at any time, even if you're not in the gym since the wristwatch offers blood pressure and heart rate monitoring. It also includes blood oxygen saturation monitoring. Tracking your sleeping patterns, from light to profound, is also available in this watch.
It also has other sports monitoring options including jogging and walking, cycling, and skipping. The steps, distance traveled, calories consumed, and time spent exercising are all tracked by each sports function.
Smart Notifications
It offers real-time alerts, including call and messaging notifications that remind you of the latest call, Text messages, and social applications notifications for Facebook, Twitter, WhatsApp, and other applications. Music Control, Timer, Sedentary Reminder, find phone, as well as Weather Display, are among the other features.
HeroBand III app
This is the application for smartwatches and fitness trackers. It includes graphs and statistics for several sensors such as sleep, steps, and workouts. It's a small but functional app, and it's accessible on both the iOS and Android platforms.
Pros
It has a stunning appearance
It tracks all day's activities
It offers great battery life
Includes HeroBand III App
Cons
Blood pressure data is not accurate
What to Consider Before Buying Smartwatch
It can be challenging to buy a smartwatch. There are a few facts to consider before buying such a device. You should check all of those, especially how it looks, its features, hardware, compatibility, etc. If you are planning to buy a smartwatch, then you should spend some time first. Spend this time researching your desired product.
Spending a little bit of time researching smartwatches will help you in many ways to buy the best smartwatch easily. Here you will get some critical facts about buying a smartwatch. And you will be able to buy the best smartwatch following this guide. So, let's start.
Compatibility
The very first fact to consider while buying a smartwatch is to check its compatibility. If it cannot send the collected data to your phone, then you should avoid that watch. For example, Apple watches are providing the best accuracy. But they are not compatible with other phones except the iPhone. That's why; compatibility should be your priority before buying a smartwatch.
Brand
It should be your second fact to consider while purchasing a smartwatch. It would help if you avoided those watches with no name because these watches can stop working or rip off and other issues. That's why; it's better to choose the brand of smartwatches.
Budget
Expense is one of the main facts while buying any product. Budget is an essential part of planning to buy a smartwatch. We won't recommend you to spend much money on buying a smartwatch. But you should fix how much you want to pay for this purpose. If you're going to buy a high-end watch, then you have to spend a lot. Research and find out which smartwatch will save your money but provide the best output.
Features
You need some features in a smartwatch to maintain the activity. Only timekeeping is possible in typical wristwatches. Smartwatches are used to keep some other activities like health monitoring, activity monitoring, controlling the phone, etc. That's why; make a list of your prior desired features while planning to buy a smartwatch.
Design
Design is a must to consider before buying a smartwatch. You should decide which shape of watch you want, rounded or square-shaped. There are many color variations of watches from different manufacturing companies. You should choose one which looks nice on the rake or your wrist.
Battery Life
A smartwatch is a portable device. And the universal truth for every mobile device is its battery life. You won't use a smartwatch at home only. So, battery life is also essential for this. Many smartwatches come with lower battery life. It will die very early, and you won't get complete convenience from it when you are outside. That's why; you should go for those watches which come with longer battery life.
Warranty
Repairing a smartwatch can make you a lot of money. It happens most in non-brand smartwatches. And finding spare parts is also a tricky task. But if your watch comes with a warranty, then you don't need to go under stress to repair it. If you see any problem with your smartwatch, just send it to the retailer or manufacturer. They will send you back the watch after fixing it without costing you any money.
Fitness Tracking
As we mentioned before, a smartwatch is not for timekeeping only. Fitness tracking is one of the main reasons for buying a smartwatch. It helps to know about the steps, burned calories, heart rate monitoring, etc.
Many smartwatches come with built-in GPS. It's a helpful feature, especially for runners and bikers. Though it is tough to get this in low-budget watches, some can use the phone's GPS to track.
We never recommend buying such smartwatches which have no or less activity tracking efficiency. Using a smartwatch, you can quickly know about your steps, distance, calories burned, etc. Also, it provides information about the heart rate, time for staying active or taking rest, sleep quality, wake up time, etc.
So, it would be best if you double-checked the watch you are going to buy comes with a good tracking service.
Do you need a Smartwatch under $50?
Many digital wristwatch companies are competing for your attention; picking one shouldn't be difficult. If you're on a tight budget, anything around $50 should suffice. When it comes to purchasing a smartwatch, there are a number of factors to consider. Some of the reasons for the primary question: do you need a smartwatch under $50? are highlighted below.
You've got a short fund to work with. Despite the price, you prefer the watch.
Smartwatches are a new concept for you.
The Smartwatch is equipped with the same high-end capabilities as its costlier rivals.
You're a fitness fanatic who wants to remain in shape without breaking the bank.
It's a finer smartwatch than those suggested by others.
The Smartwatch is presently available for purchase, despite its high price.
Given that you resonate with one or more of the mentioned reasons, you may require a smartwatch for under $50. Before you purchase one, keep in mind to do your research.
$50 Smartwatch Vs. $100+ Smartwatch
A shift in price point significantly impacts the kind, style, design, and functionality of the Smartwatch you select. However, low cost does not automatically imply low quality. In some instances, the reverse is true. At least in the case of a $50 smartwatch, if you know exactly what you're getting for that money.
To summarize, if you're a novice or a professional athlete just starting on your fitness adventure, we would suggest starting with a less expensive smartwatch. It is critical to conduct a thorough study on these devices before purchasing one. Before making a decision, read user reviews to obtain a better perception of the products.
How Does a Smartwatch Under $50 Work?
Smartwatches are digital wearable devices that track fitness and activity, receive calls, messages, emails, and keep you active and productive throughout the day. Every Smartwatch is distinct from the others. The corporations that manufacture smartwatches vary, as do the designs, screens, operating systems, and other features.
For the Smartwatch to work, you must first make sure that the operating systems are compatible. Apple's Smartwatch, which runs on Apple's WatchOS operating system, will link to an iPhone rather than an Android phone.
Bluetooth technology is used by smartwatches to interact with any Android or iOS smartphone. For smooth communication with your smartphone, several smartwatch companies utilize applications developed by them. Your data is instantly synchronized with your Smartwatch after the Bluetooth is connected properly.
It shows all of your operations in a usable and convenient notification, pop-ups, and alarms, among several other features. As a consequence, it's easier to keep track of a range of activities without having to go through the trouble of pulling out your smartphone every time.
Benefits of Using a Smartwatch Under $50?
A smartwatch is more than simply a wristwatch. It can execute a wide range of tasks that a smartphone may not be able to manage. Most individuals are purchasing trendy smartwatches to suit their demands because of the simplicity, convenience, and hands-free experience that they offer.
It's far more suitable to check notifications on your Smartwatch than to take your phone out from your pocket while driving or riding a bike. Before answering the phone with your Bluetooth headset, it's great to see the incoming caller's name, for example. We'll go over some of the advantages of wearing a smartwatch in the section below:
Exciting and amusing
A smartwatch can assist you in listening to your favorite podcasts and music or watching that hilarious cat meme.
24/7 Activity Monitoring
Even if you're sleeping or training, a smartwatch with round-the-clock active notifications can keep track of your everyday activities.
Good battery life
In addition to providing entertainment and full tracking, smartwatches offer a decent battery life that allows for long-range monitoring.
Notifications and Smart Alerts
You won't have to pull your phone out every time you get a message, get an urgent call, or want to read the latest news.
Stationary Alert
Many smartwatches will encourage you when you sit still for an extended period of time.
Become more efficient
You may safely ignore obnoxious and unnecessary calls or texts without even using your smartphone, allowing you to stay healthy, active, and energetic.
Health Activity
For a healthy mind and body, measure your heartbeat, check regular workout sessions, even record steps, among many other things.
Frequently Asked Questions (FAQ)
Can I send a text from a smartwatch?
It depends on the smartwatch you are using. Some smartwatches come with this feature and some don't. Apple phones don't support text using a smartwatch. In those watches, which support texting, you can use the text app on the watch and view messages. Also, you can reply to the text if your watch supports it.
Can I use my smartwatch without a phone?
Yes, you can use your smartwatch without your phone. You can connect most of the smartwatches with a Wi-Fi network. If your watch supports this feature, you can easily use it without connecting it to your phone via Bluetooth.
Are Smartwatches Harmful to Health?
Using a smartwatch can help you to keep active with your daily activities. But you cannot ignore the negative or harmful sites of this. They emit EMF radiation (Electromagnetic Fields). It is very harmful to human health. Smartwatch doesn't spread the EMF only; it has some other bad effects also.
If you use a smartwatch for a long time, you might face radiation-related symptoms. Nausea and headaches are very common problems caused by this device. Smartwatches can also leave a negative effect on sleep, memory, and other mood-related issues.
You might face insomnia using a smartwatch for a long time. It can reduce concentration and lower your productivity.
Using such a device before sleeping time can make you addicted to it.
if you don't sleep properly, it will affect your memory and other mode-related issues for sure. The blue light technology of a smartwatch makes the brain tough to shut down the eyes. That's why; it's the best solution to take intervals using a smartwatch instead of wearing this continuously for a long time.
Also, you should turn it off when you are taking a rest or going to sleep. You can save yourself from the negative and harmful effects of a smartwatch by following the steps properly.
Is It Possible to Replace a Phone with A Smartwatch?
No. It's not possible to replace a smartphone using a smartwatch. Because both devices come with different purposes of usage. You won't get the complete usage efficiency of a phone from a smartwatch. A phone comes with a larger display that makes the activities easier.
On the other hand, a smartwatch has a smaller display compared to a phone. You won't get everything from a phone to a watch. It will allow you to use very few features of a phone in a smartwatch.
Final Words
Smartwatches are the best companion to keep yourself updated whenever you are outside or at home. It will not only provide you with time and date updates but also provide information about several facts. You can know about your stepping, running, swimming information, heart rate monitoring, blood pressure update, sleep quality tracking, etc., using a smartwatch.
As these watches come with many features, the cost of these watches is a little bit high. Though it's tough to get smartwatches at a low price, we researched well to make this possible for you. After studying long, we have found the eight best smartwatches under $50. You will get many conveniences from these without spending much money. You can buy the best low-budget smartwatch following the reviews mentioned above.
As an Amazon Associate, I earn from qualifying purchases.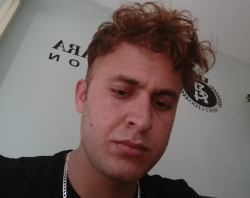 Latest posts by Nick Rolloson
(see all)