11 Best Watches for Hiking in 2023 | For Every Budget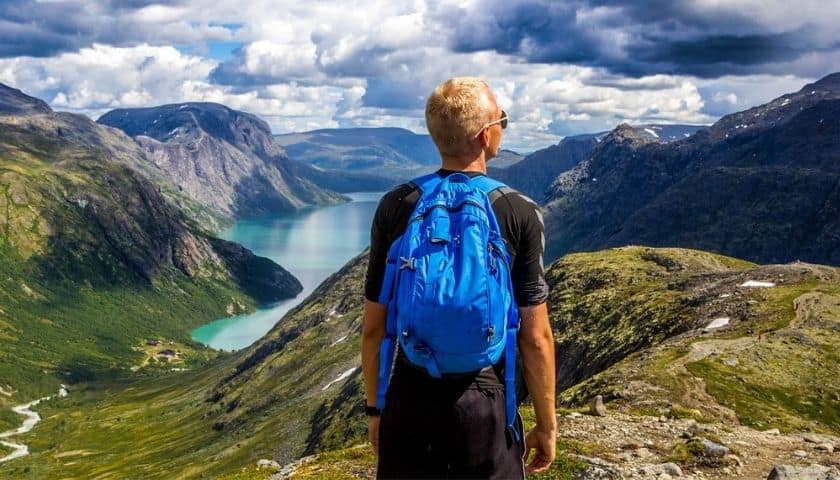 As an Amazon Associate, I earn from qualifying purchases.
While you are hiking, any ordinary watch cannot help you to get what you need. You need something that will notify you about altitude, location, air pressure, sunrise/sunset times, etc. Also, if you are hiking in a different region, you might need a dual time zone.
Keeping every hiking necessity in mind, we have picked out the 11 best Hiking watches that you will find super useful during your hiking time.
Our picked watches can help you in your navigation, planning, and weather prediction alongside showing you the time. GPS facility and longer battery time are also considered while choosing the watches for you.
11 Best Hiking Watches – Our Detailed Review
Without any further ado, let's get right into it to see what you will get out of the watches that we have picked today. Let's have a look at the best outdoor hiking watches for your greater convenience!
11 Best Hiking Watches – Sneak Peek Of The Best Features
Best For Athletes: Germin Fenix 7X Solar
Best for Tracking: Apple Watch Series 8
Best Versatile & Classic Hiking Watch: Suunto Core
Best For Style: Garmin 010-02064-00 Instinct Outdoor Watch
Best For Outdoor Activities: SUUNTO Traverse
Best Affordable Hiking Watch: Garmin Fenix 6 Pro
Best For Durability: Apple Watch Series 7
Best For Small Wrists: Timex x Mossy Oak Expedition
Best With Advanced Technology: Timex Men's Expedition Scout 40
Best For Running: Suunto 9 Baro & Peak
Best Solar Hiking Watch: Casio Men's Pro Trek PRW-3500T-7CR
11 Best Hiking Watches
Let's take a look at our 3 top picks
Last updated on November 28, 2023 2:07 pm
1. Garmin Fenix 7X Solar – Best for Athletes
Since Garmin has brought about premium wearables, the latest Fenix 7 is not indifferent. Garmin Fenix 7X Solar is a great watch for fitness-oriented users and hardcore enthusiasts.
The watch delivers a wide range of monitoring data related to your outdoor activities. The most worthy feature is the long-lasting life of the watch. It can run up to 10 to 14 days without any difficulty.
Specifications
Screen Size: 1.4"
Connectivity Technology: GPS
Human Interface Input: Touchscreen, Buttons
Supported Application: Fitness Tracker, Sleep Monitor, Multisport Tracker, Distance Tracking, Elevation Tracker
Compatible Devices: Smartphone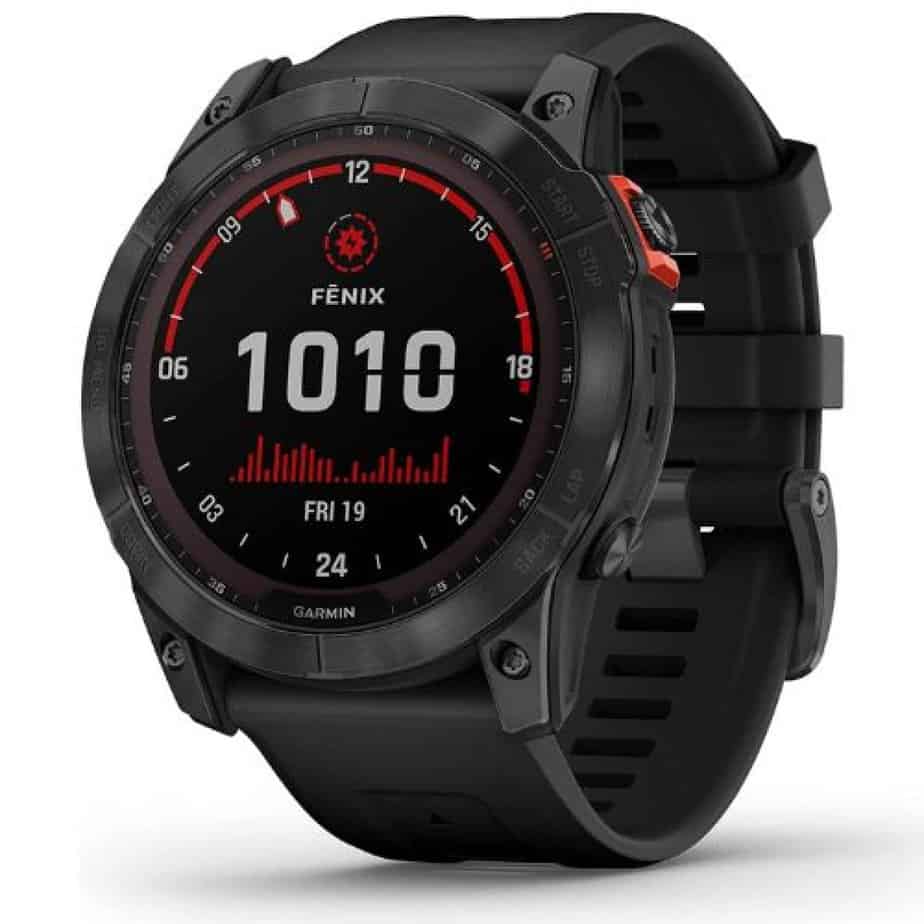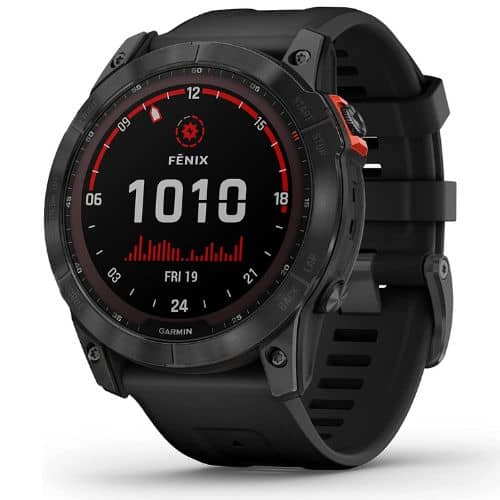 Key Features
1.4" display
New Ultratough athletic design
30+ built-in sports apps
24/7 wrist-based heart rate monitoring
Excellent Tracking Feature
Take your exercising, sports, and cycling activities to the next level by wearing the Garmin Fenix 7X Solar. This watch can track your real-time stamina, advanced performance metrics, and training status efficiently. Also, it gives accurate data on 24/7 wrist-based heart rate, stress, and sleep tracking.
Extended Battery Life
The battery is solar-powered, allowing you to go longer between charges. Moreover, when it is dark, the incorporated LED flashlight helps keep your going. Impressively, up to 28 days while indoors or up to 37 days with solar charging.
Pros
Long battery life
Integrated Led flashlight
Super sensitive touchscreen
Supports many sports activities
Made of titanium material
Cons
Doesn't support Voice Assistant
2. Best for Tracking: Apple Watch Series 8
Among the most sought-after new releases is Apple's Watch Series 8. This watch is ideal for use on expeditions of all kinds, whether mountaineering, trekking, or something else entirely. Although it is smaller and more lightweight, this watch can withstand rigorous usage.
Specifications
OS: watchOS 9.0
Processor: Dual Core S8 processor
Style: GPS + Cellular
Material: Glass front, ceramic/sapphire crystal back, stainless steel frame
Display Type: Retina OLED
Display Size: 45 mm
Sound: Loudspeaker with no headphone jack
Battery: Li-Ion 308 mAh. Up to 36 hours in Low Power Mode
Water Resistance: WR50 rating up to a depth of 50 meters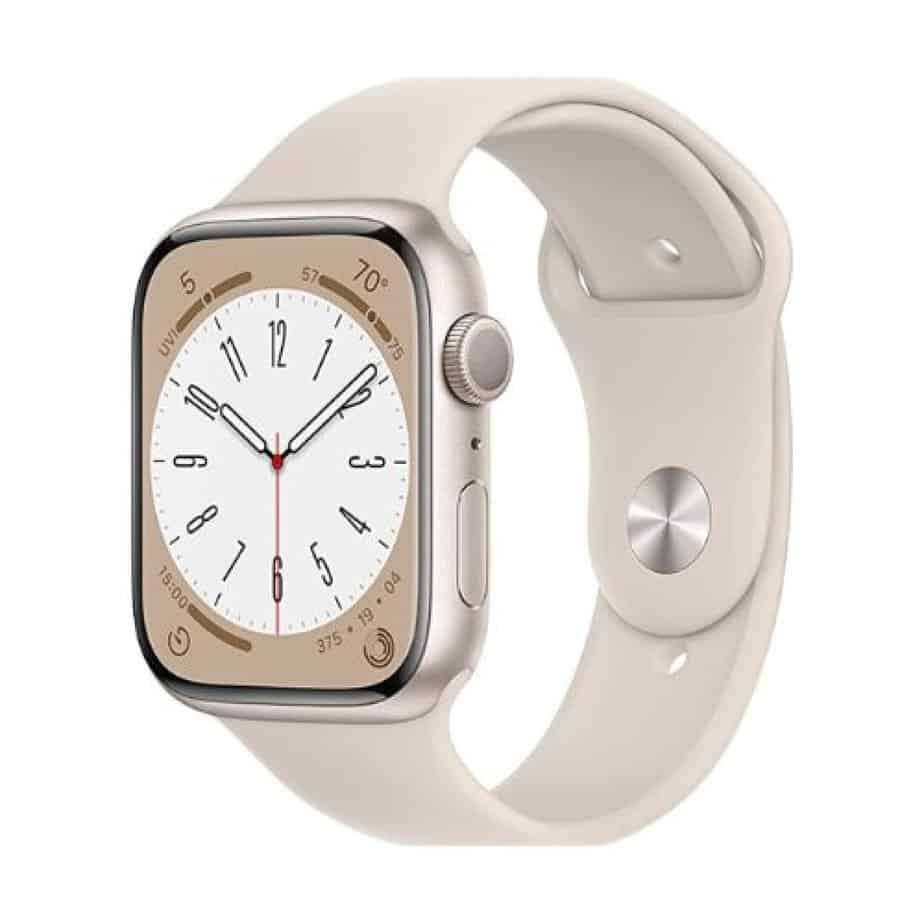 Ultimate Workout Tracker
This watch can record all of your vital statistics when you're out on a hike, run, bike, swim, climb, or mountain bicycling. Among its many helpful health-tracking tools is a blood-oxygen-monitoring function. In addition, it always warns you if your heart rate is abnormal.
Workouts on your Apple Watch Series 8 are better than ever thanks to the updated Workout application. Workout Views have been updated to provide you additional information to keep you motivated, such as your heart rate zones and your own personal intervals.
Robust Display
The stunning, bezel-less, Always-On display is very resilient owing to the same advancements that went into making it. It is resistant to breaking because to its large front crystal, sturdy shape, & flat base.
Detects Fall and Crash
The Apple Watch Series 8 has the ability to detect a big fall and contact emergency personnel if the wearer becomes motionless.
Plus, it works best with the Workout application. Crash Detection can immediately contact urgent responders, give them your position, and alert your emergency contacts in the event of an accident.
Pros
Clear front glass that won't crack easily
A wristwatch with built-in speakers
The battery is being charged rapidly
It works well with Apple products
Enhanced, more spacious visuals
Cons
Only compatible with iPhone
Unavailability of 3rd party watch faces
3. SUUNTO Core – Best Versatile & Classic Hiking Watch
SUUNTO Core is an excellent outdoor watch that comes with some great functions. The watch features an altimeter and barometer functions that work precisely.
It shows various data in nice graph form and you can quickly understand with the easy-to-read interface. The watch is waterproof with the ability for snorkeling and shallow diving.
Specifications
Weight: 3.2 Ounces
Watch face Diameter: 49.1 mm
GPS: No
Water Resistance: 30 m
Material: Metal and Fabric
Sport Type: Hiking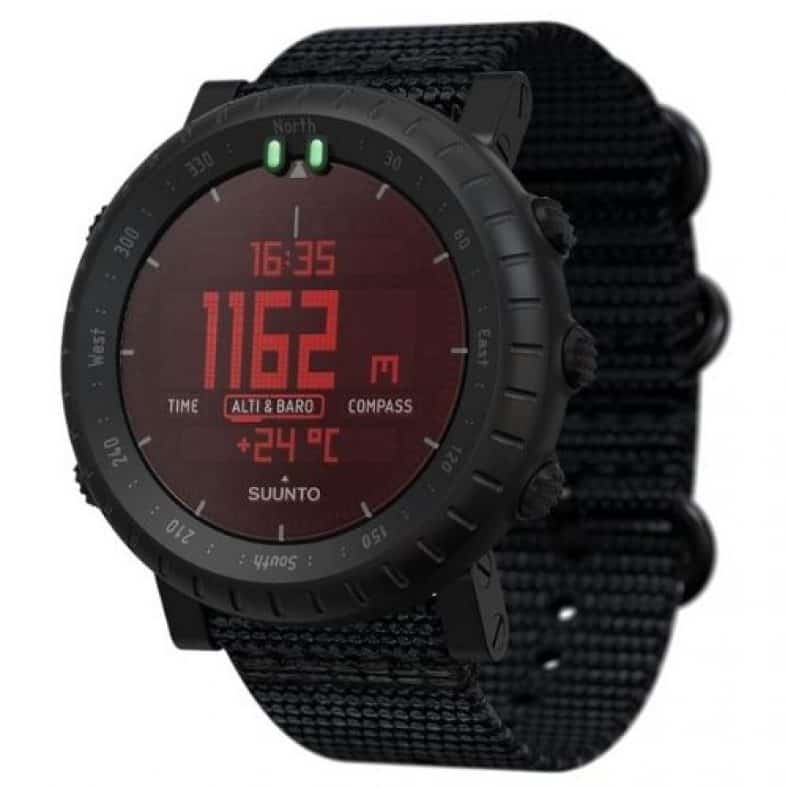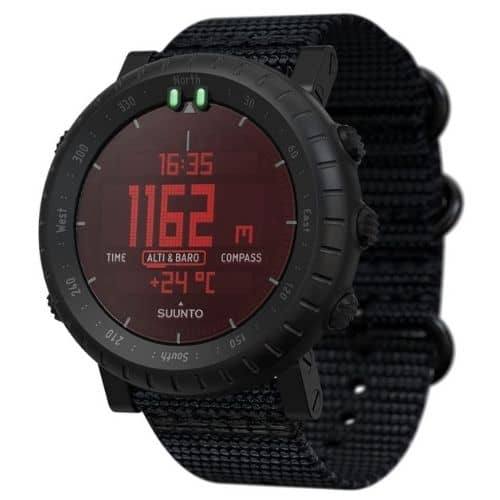 Key features
Helps you to record your sessions
Comes with smart weather tracking sensors
Comes with a stylish yet neutral design
Perfectly suitable for adventurous people
Explore around
We know how hard it is to find a watch that can be your companion while going on an adventurous trip. Since you need a watch that not only has strong and heavy-duty construction but also is comfy and all-day wearable. The watches have robust construction which makes these watches comfortable yet durable.
The night vision goggle-friendly red backlight allows you to keep it up with your adventurous trips at night, such a convenient feature. Say bye-bye to those classic unpredictable weather issues while traveling since this watch brings you all kinds of facilities that help to track the weather including an altimeter, barometer, compass, etc.
Versatile & Classic
If we begin with the looks of this watch we doubt if we would stop. The elegant yet neutral design of this watch is everything we could desire for. To be classic, this watch features military time too.
However, fishing, hunting, running, hiking, and walking everything's possible with this watch on since it can easily deal with pressure, heat, cold, shock, drop, freeze, rain, humidity, dust, and whatnot. Isn't that the most sophisticated watch ever? Actually, it works as your confidence when you go out to explore.
Heavy duty
Since we're calling it a heavy-duty watch you already have understood that the watch is made with great quality materials and has the strongest construction ever. The timer function and accuracy level make everything fall right into place.
Also, the larger display of this watch makes it easier to lead. The battery life performance of this watch is the greatest convenience we must tell you.
Pros
Easy to read
Sophisticated
Great for rough usage
Durable
Cons
Comes with no color variant
Read In-depth Review: Suunto Core
4. Garmin 010-02064-00 Instinct Outdoor Watch – Best For Style
Garmin Instinct outdoor watch is a robust smartwatch that is crafted according to military specifications. This is the reason the watch can withstand harsh and tough weather conditions.
This rugged watch is relatively lightweight than others. The great news is that it has a waterproof rating of up to 10 ATM so you can easily walk in rainy and snowy weather and explore more.
Specifications
Screen Size: 1.27"
Special Feature: GPS
Compatible Devices: Smartphone
Age Range: Adult
Style: Instinct
Scanner Resolution: 128 X 128 pixels
Supported Application: Phone
Wireless Communication Standard: Bluetooth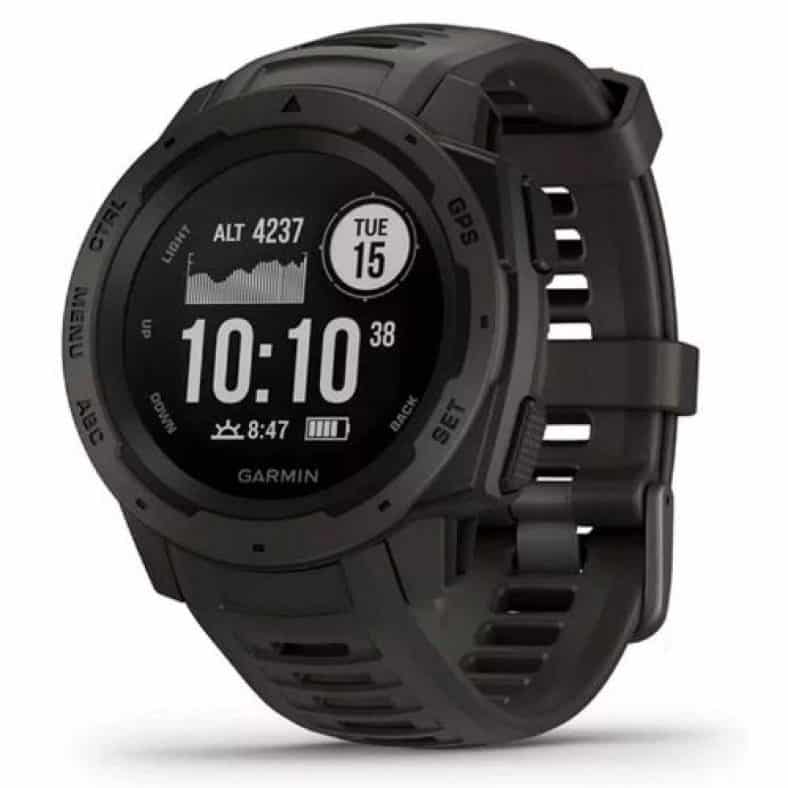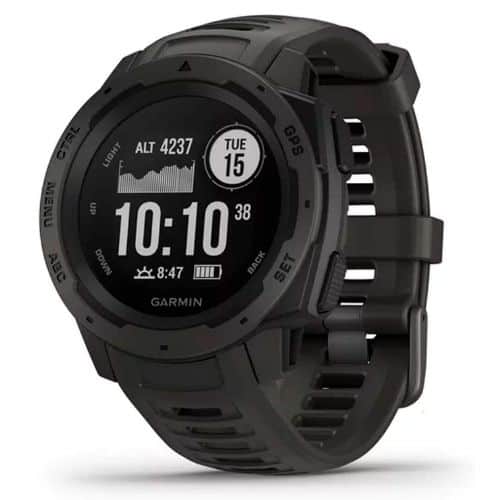 Key features
Capable of monitoring your heart rate, activity, and stress
Comes with multiple global network satellite systems
Garmin online fitness community is connected
Staying connected with smart notifications is possible with this watch
Incredibly versatile
If we start talking about the versatility of this watch, we think we won't be able to stop. This watch offers so many versatile features including GPS, GLONASS, and Galileo which lets you track any road quickly and easily. Especially when you're on an adventurous trip, this watch will save you at every step.
This watch can work in GPS mode for up to 16 hours, isn't that incredible? Biking, running, hiking everything becomes easier with the monitoring and training features of this watch.
Perfect companion
The larger and more beautiful display of this watch is easy to read, even in sunlight. This watch allows you to stay connected with all of your smart devices and get smart notifications. So when you're on a trip you don't have to carry all of your devices while going on a trip.
The design of this watch is neutral and goes with every outfit. A neutral design has been given to reach this aim.
Comfy & durable
We know you want a watch that can provide you with comfort. That's exactly why we suggest this watch to you since the strap of this watch is made with materials which are high quality, gentle to your skin, and durable. However, it is all-day-wearable and will never disappoint you no matter how roughly you use that watch.
Pros
Battery life
Smart touch screen
Durable
Comfortable
Cons
Related Post: Garmin Instinct Solar Review
5. SUUNTO Traverse – Best for Outdoor Activities
SUUNTO Traverse is the ultimate GPS watch that you are looking for on your next hiking trip. It is a GPS-enabled altimeter watch that accurately provides climb and descent metrics.
Moreover, you can access several fitness training features. The build quality and waterproof rating are also impressive for outdoor usage. However, the watch doesn't perform well in battery life.
Specifications
GPS: Yes
Dimension: 1.97" X 1.97" X 0.65"
Battery Type: Lithium-Ion
Battery Life: Up to 100 hours
Water Resistance: 100 m
Bezel: Stainless Steel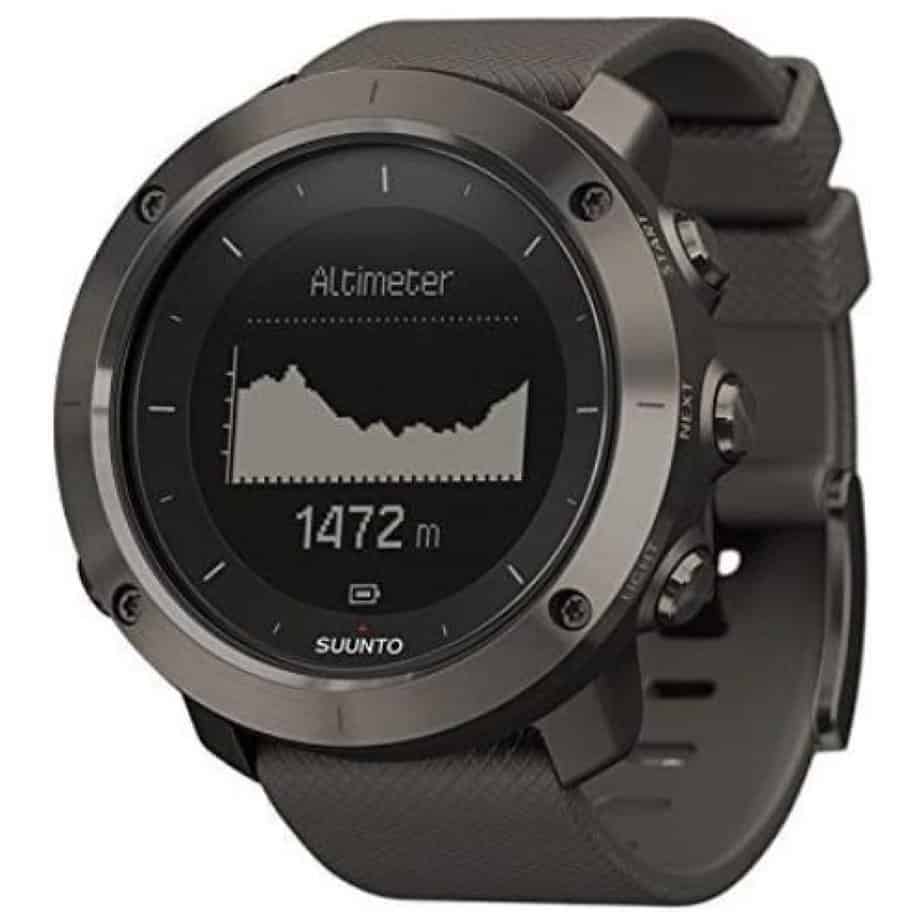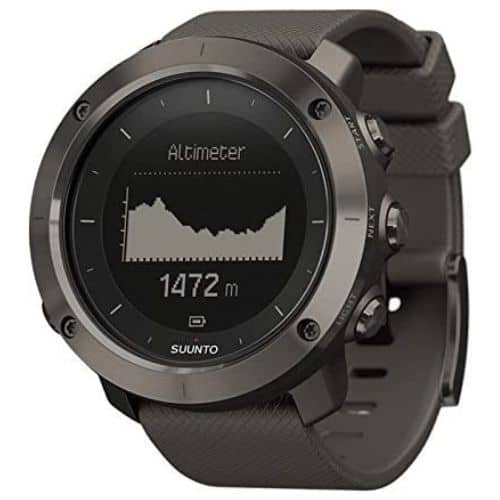 Key Features
Compass for tracking route
Sunrise-sunset times
It receives mobile notifications
Storm alarm
Great for Outdoor Activities
The SUUNTO Traverse is the ultimate watch for outdoor activities. This is a GPS-based altimeter watch, offering great climb and descent metrics. It comes with a smart design and extraordinary features that will truly satisfy all outdoorsmen. You will be able to track log data, and routes and monitor fitness with the help of this watch.
Rugged Construction
This is a designed, hand-built, and ruggedly constructed watch, resisting water pressure up to 100 m quite efficiently. The recessed screen is protected by the stainless steel bezel, confirming the durability of the watch. Overall, it feels lightweight on the wrist.
Pros
GPS-enabled
Decent accuracy
Great graphics
Fitness tracker
Built-in flashlight mode
Cons
6. Garmin Fenix 6 Pro – Best Affordable Hiking Watch
Garmin Fenix 6 Pro is one of the most popular multi-sport smartwatches among hikers. Because it includes the latest adventure tracking functions that are required for every outdoorsy person.
Moreover, GPS-based mapping makes your outdoor activity easier. Fenix 6 has a slim, lightweight, and stylish appearance too.
Specifications
Screen Size: 1.3"
Human Interface Input: Dial
Display Type: LCD
Dimension: 1.85" (L) X 1.85" (W) X 0.58" (H)
Compatible Devices: Smartphone
Connectivity Technology: Bluetooth, ANT+, Wi-Fi
Map Type: Worldwide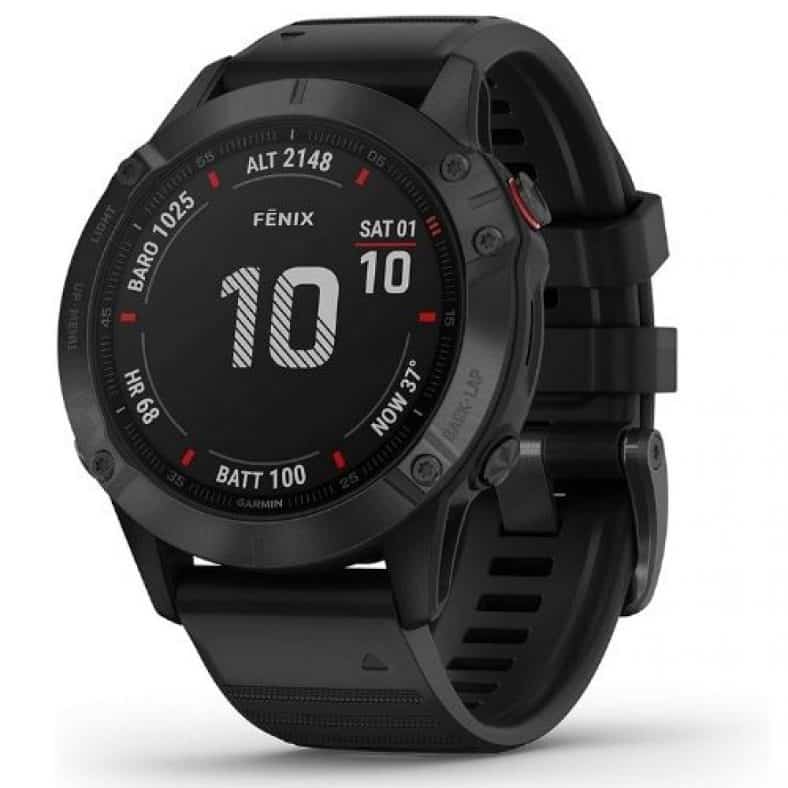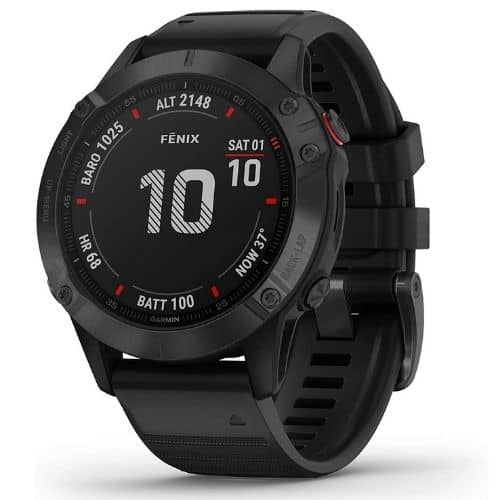 Key features
Features customizable power manager modes
Track with GPS, outdoor sensors, topo maps, etc
Presents skip maps for over 2000 resorts around the whole world
Comes with a sunlight-readable display with bezels in stainless steel
Sophisticated design
Garmin is here with a watch that can fulfill all your needs with the touch of its amazing features. To begin with, we should mention its sunlight-readable display with bezels in stainless steel coated with titanium or diamond-like carbon, making the watch incredibly gorgeous.
The larger display of this watch is absolute bliss. It's designed in a way that it can be considered to be the best choice for all-day wearability. How convenient, right?
Ultra-smart features
Garmin wishes you a warm day along with their watch. The features this watch brings are definitely gonna blow your mind. The watch comes with some exciting features like advanced sleep monitoring, altitude acclimation at high elevations, advanced training features, and much more.
Controlling your outside activities, and tracking roads, and destinations are a lot easier when you rely on this watch. It allows you to explore around the world with preloaded topo maps, and ski maps for more than ski resorts around the whole world.
Features GPS, GLONASS, and Galileo support offer built-in sensors for a 3-axis compass, gyroscope, and barometric altimeter.
Ready to go
The watch doesn't stop there with smart features, the larger display with elegant design, comfy yet classy straps, and neutral design of this watch make everyone fall for this watch with every sight.
Depending on the neutral design we can say that this watch goes with every outfit. Additionally, the accuracy level, battery performance, and features for fitness activities are always there for you.
Pros
Reliable design
Comfortable wearability
Strong construction
Excellent battery performance
Cons
Features are a little complex to deal with
Read Next: Best review of Garmin Fenix 5x Plus
7. Apple Watch Series 7 – Best for Durability
The latest Apple Watch Series 7 is one of the most popular flagships. Whether you are climbing, hiking, or on any other adventure trip, this watch will be your best companion.
It has a thinner and slimmer profile but the watch is durable enough to use in extreme conditions. Further, the long battery life is also satisfying for a lengthy adventure trip.
Specifications
Screen Size: 45 mm
GPS: True
Water Resistance: 50 m
Wireless Carrier: Unlocked for All Carriers
Connectivity Technology: USB-C
Compatible Devices: Smartphone
Special Feature: Activity Tracker, Heart Rate Monitor, Sleep Monitor, Blood Oxygen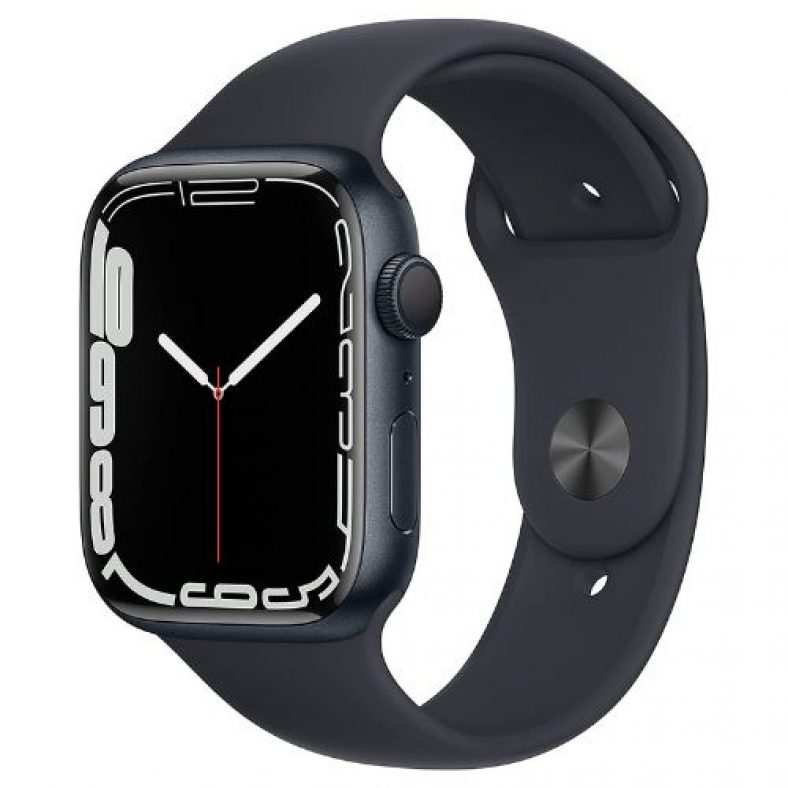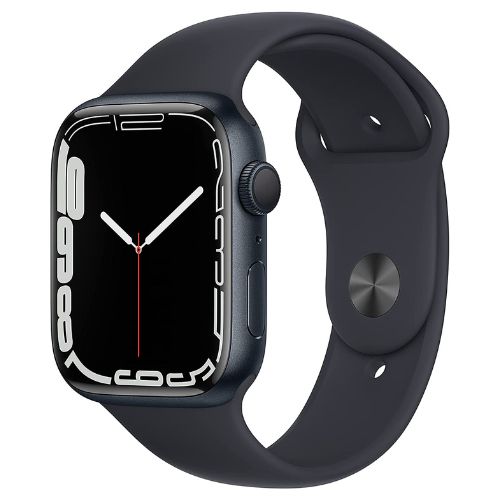 Key Features
LTPO OLED display
Call and text without your phone
Gives heart rate notification when hiking
Track your sleep
Measure Workout Accurately
Whether you are hiking, running, cycling, swimming, lifting, mountain biking, or doing other workouts, this watch accurately tracks every health data. It features powerful health innovations like options to measure your oxygen level in the blood. More importantly, if you have an irregular heart rate, it notifies you without fail.
Larger Display and Robust Built
Always retina-on larger display is easy to read and use. Additionally, it is built to be tough and doesn't crack when an accidental fall happens. The watch resists dust and comes with a swim-proof feature.
Pros
Crack-resistant front crystal
Music right from your wrist
Fast charging
Compatible with Apple devices
Larger display
Cons
Read In-depth Review: Apple Watch Series 7
8. Timex x Mossy Oak Expedition – Best For Small Wrists
Though Timex x Mossy Oak Expedition is not feature-riched, it is suitable for normal usage. For its robust build quality, we prefer the watch for hiking. It is also comfortable to wear. However, the watch has a 100m waterproof rating making it suitable for swimming.
Specifications
Backlight: Yes
Item weight: 22.68 Grams
Battery Life: 10 years
Water Resistance: 100 m
Glass: Scratch-resistance Mineral
Dimension: 7.5" X 1.3" X 0.4"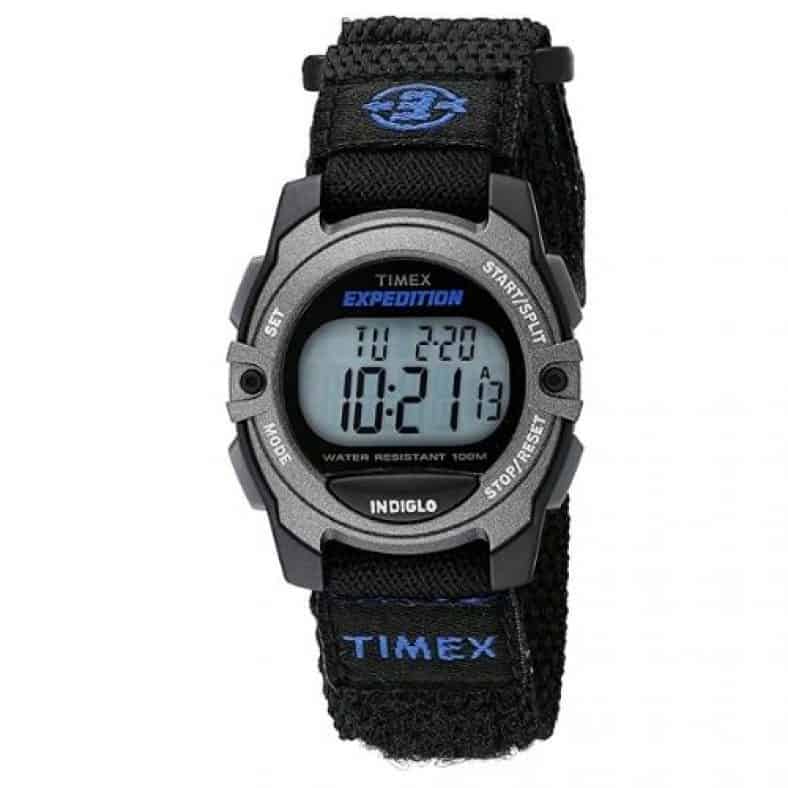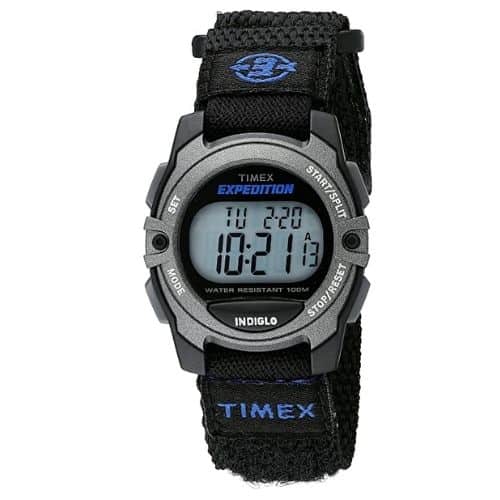 Key features
Features 100-hour chronograph with lap
Lets you set daily, weekday, or weekend alarms
Water-resistant to 100m underwater
Comfortable and durable strap
Tolerates rough usage
Our favorite watch happens to allow you to use this watch roughly, regularly, on adventurous trips and where not. Because of the water resistance of this watch, this watch is suitable for snorkeling as well as swimming. But not diving.
However, the durable yet comfortable strap of this watch makes it comfortable for wearing all day long. The fabric strap will fit up to a 7-inch wrist circumference.
Smart functions
The 100-hour chronograph on the lap of this watch is pure bliss. 3 different kinds of alarms can be set on this watch, daily, weekday, or weekend alarms. That's not it, you can get them with 5-minute backup, 24 hours military time mode, 2 time zones, and whatnot.
The display of this watch comes with a black 33-millimeter resin case with an acrylic lens.
Versatile
The watch doesn't show you just the time. In its large dial you can get to know the month, day, and date calendar altogether. You also get a 24-hour countdown timer. The classic look of this watch is what we love. It's a great watch with heavy-duty performance, strong construction, and reliable battery life performance.
Pros
Built-in light
Water-resistant
Great looks
Perfect accuracy
Cons
9. Timex Men's Expedition Scout 40 – Best Advanced Technology
Timex Men's Expedition Scout 40 is a simple yet stylish watch for hikers. It has an attractive round dial and stuffy build quality. While going on an adventurous trip, the watch will be a great addition for you. The affordable price tag is another plus point for you.
Specifications
Item weight: 2.24 Ounces
Backlight: Yes
Battery Life: 5 years
Water Resistance: 50 m
Glass: Scratch-resistance Mineral
Dimension: 2.68" X 5.12" X 3.07"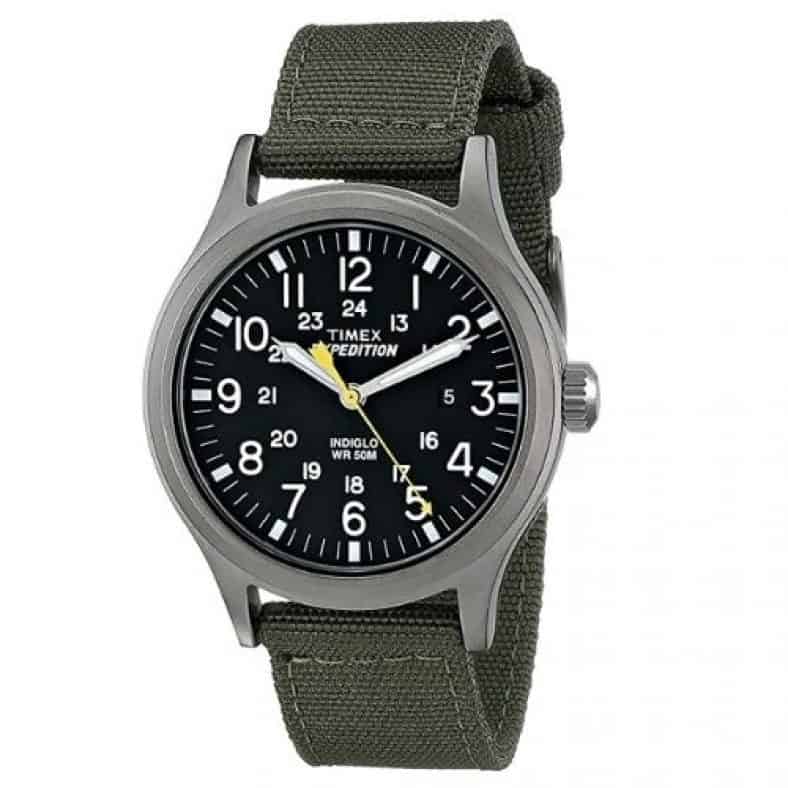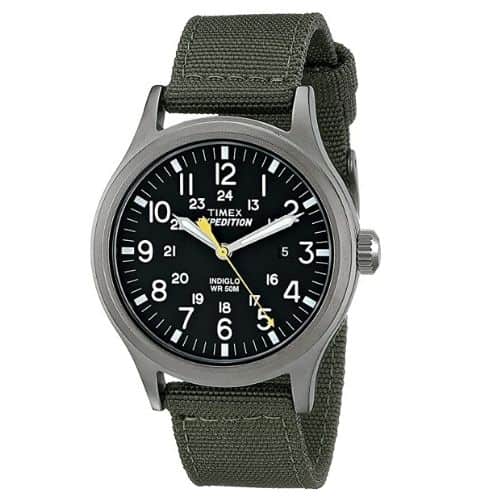 Key features
Comes with an adjustable green 20mm nylon strap
The display is large and the dial looks very nice
The dial comes with a gray 40mm brass case
Water-resistant up to 50m underwater
Incredible dial
People ask why this watch is so popular. Let us tell you what the fuss is all about. Undoubtedly the dial of this watch attracts everyone the most. It's a Black dial which is large and looks really great.
It comes along with a Gray 40mm brass case with mineral glass crystal. It's an Indiglo light-up watch dial, how thoughtful, right? So it's usable in night mode too.
Comfortable and wearable
This watch is all-day-wearable. It comes with an adjustable 20mm nylon strap which is green and fits up to 8-inch wrist circumference. That strap is comfy and doesn't hurt your wrist. The lightweight of this watch makes it comfortable in an efficient way. You will get a scratch-resistant strap too, isn't it amazing?
Advanced technology
The watch holds not only time but also date, calendar, features a timer, and many other advanced technologies which are loved by all undoubtedly. You will also get full Arabic numerals. The watch is absolutely suitable for going on adventurous trips, even for swimming due to the water resistance this watch.
Pros
Smart functions
Easy to read
Water-resistant
Durable
Cons
Not quite budget-friendly
10. SUUNTO 9 Baro – Best For Running And Hiking
Suunto 9 is the most beautiful-looking outdoor sports watch. The stylish appearance is very impressive and solid. SUUNTO 9 Baro is great for hikers as there you will have over 80 tracking modes, key environmental sensors, altimeter, compass, and much more. So you can easily find your way and hike or ride with ease.
Specifications
Special Feature: Time Display, Sleep Monitor, GPS, Heart Rate Monitor
Compatible Devices: Smartphone
Age Range: Adult
Style: Titanium
Connectivity Technology: GPS
Case Material: Glass Fiber reinforced polyamide
Supported Application: Sleep Monitor, GPS, Heart Rate Monitor
Wireless Communication: Standard Bluetooth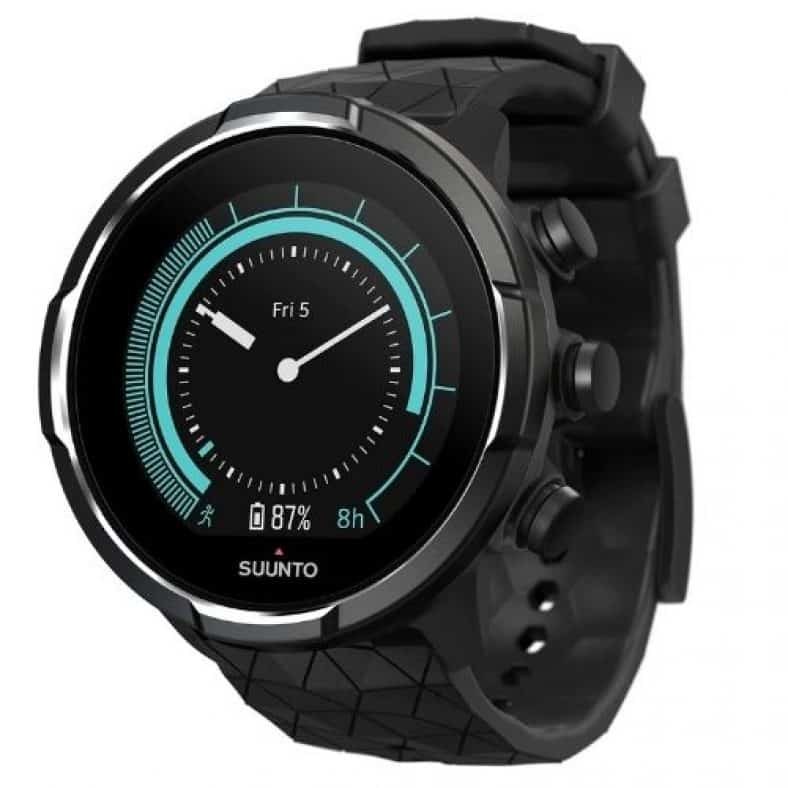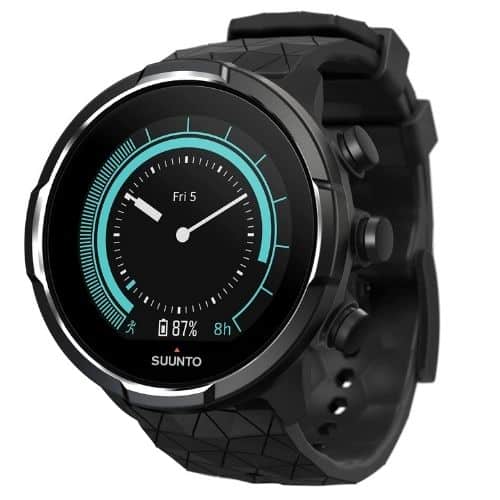 Key features
Perfectly suitable for professional athletes
Can be used for up to 120 hours of continuous exercise tracking
Running, hiking, cycling, swimming, triathlon, trekking, fitness, climbing everything becomes easier with this watch
The watch is durable and waterproof
Built to last
We believe you need something which can be your companion for the longest. The watch is made in a way that you can use it for training, racing, and extreme adventures. You can have it always ready to tolerate the toughest usage.
The material of this watch is made with heavy-duty and hence durable. Enjoy running, hiking, cycling, and whatnot
Stay connected
You can connect this watch to any of the apps and devices and get all the smart notifications. The watch literally delivers up to 120 hours of continuous exercise tracking with GPS. It keeps you giving notifications even when you're 100m underwater since the watch is water-resistant.
Sophisticated design
The design of this watch is really impressive. As it is made of ultra-durable materials, you can use it for a long period. The watch can help you track your sports, daily activity, and sleep for helping you to keep up with life, training as well as recover a proper balance.
It's a heavy-duty watch that includes heritage craftsmanship, relentless accuracy, and pioneering at the same time.
Pros
Perfect accuracy
Easy to use
Affordable
Durable
Cons
Can't be used for snorkeling
11. Casio Men's Pro Trek PRW-3500T-7CR – Best Solar Hiking
Casio Men's Pro Trek is a new collection that comes with basic time-telling features. Though you can find many fresh functions. That's why the watch becomes popular among outdoors enthusiasts and active professionals.
Specifications
Item Shape: Round
Case Material: Resin
Case Diameter: 5.6 cm
Case Thickness: 15 mm
Bezel Material: Stainless Steel
Item Weight: 5.92 oz.
Water Resistance: 200 Meter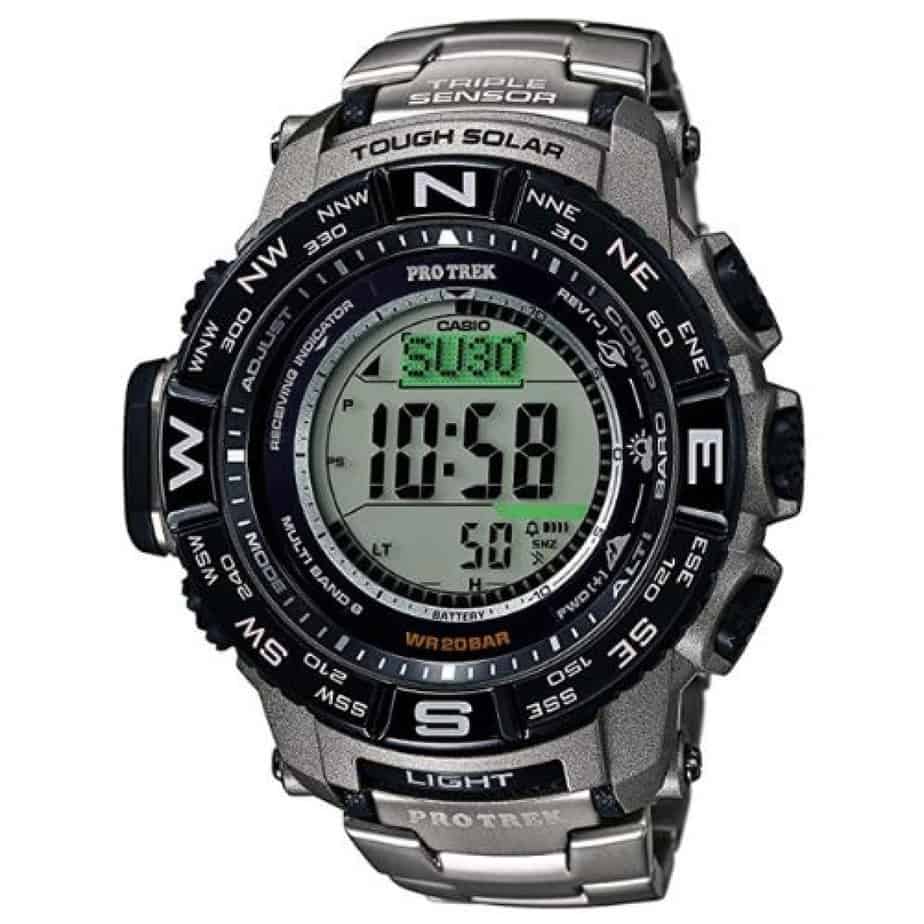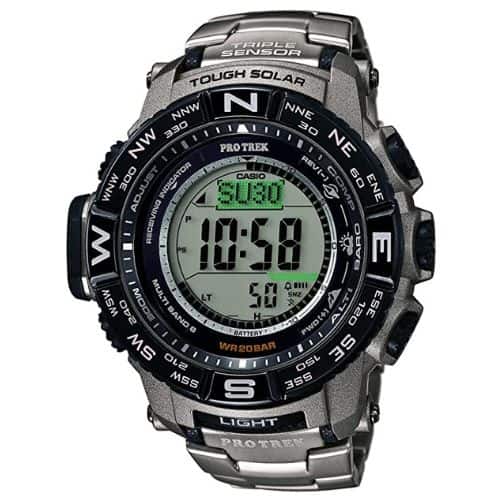 Key features
Solar-powered reliable watch
Made with high-quality stainless steel
Includes a variety of helpful sensors
Strongly water-resistant to 200m underwater
Impressive features
This incredible watch offers you many sensors including an altimeter, barometer, thermometer, and digital compass to help you in every sphere of your life. This watch shows you time, date, and calendar at the same time with its fascinating advanced technologies and larger dial.
Heavy-duty construction
This watch is made with high-quality materials which makes this watch the strongest and most durable watch ever. So now you can go on adventurous trips like running, hiking, cycling, and swimming.
This watch is so strong that it's especially suitable for athletes, and swimmers since it's water-resistant to 200m underwater, hikers, and so on.
Elegant design
We love how this watch can make you look great every time. The watch goes with every outfit. It comes with a color variant that allows you to never go out of style. However the technologies and advanced functions this watch is worth a great price, still it comes at a very reasonable price.
Pros
Strongly water resistant
Smart functions
Affordable
Durable
Cons
Read Next: How to Adjust Casio Watch Time Analog
What Should I Look For In A Hiking Watch?
You can't just go and pick any random watch to go hiking. Therefore, you need to give more attention while picking up a hiking watch because there are specific things that you will need to be present in your watch. We have figured out some of the most important features below:
Battery Life
While you are going hiking, the priority should be to keep in check after every few whiles. If the watch does not come with good battery life, it will die in times of emergency. Therefore, there will be no use of such a watch if it can't serve you in times of need.
If you got a rechargeable watch, make sure that the battery power is extended enough to last a long time. But if the watch is powered by external batteries, it's better to keep extra batteries with you to use in times of emergency.
Watches that come with GPS tend to drain the battery faster. Considering that, you have to keep a portable charger with you so that you don't fall prey to situations in the middle of hiking.
Water-resistance
We can't tell when it's going to rain. When you are traveling to an unknown region, you can't really predict the weather beforehand. If it rains and the watch is not waterproof, you will fall into great trouble. That's why picking up a water-resistant watch is beneficial even if it costs more.
On that note, you have to remember the capacity of water resistance of the watch. Some watches are water-resistant up to 30 meters and others can protect water for up to 300 meters. So depending on your hiking or dive, you need to pick the watch accordingly.
Comfort in wearing
Hiking is already an adventurous step to do and on top of that if your accessories make you uncomfortable; you can't really enjoy moving. That's why the watch's band needs to be comfortable while you're hiking. Pick a watch that has such materials that won't irritate your skin and wrist.
Soft and breathable materials should be your priority. Also, buy a watch that doesn't make your wrists sweaty. Another point to consider is to pick something that doesn't weigh much. Overweight watches can feel like a burden while you are hiking.
Smart operations
Digital watches with touch screens are more on-trend now. But you should put more attention to your comfort in using the watch than the trend. So, depending on your need, consider a watch that has a touchscreen or buttons.
Digital watches with touchscreens are easier to navigate. But these become hard to use during rain because water can irritate you from being able to select things on the screen. Besides, during winter, it becomes hard to use the watch wearing gloves because you can't touch the screen without taking the gloves off.
In this case, button watches can be more beneficial during hiking. These are easier to navigate for some people and wetness or cold won't impact the usability like it will a touchscreen watch.
Music
The ability to play music using Bluetooth connectivity is a common feature on some hiking watches. If you are a music lover, you might want to have this feature on your watch.
GPS
This is a vital requirement that you should have. A GPS can help to get directions while hiking. This feature is necessary especially when you are going on a hike in an unknown region. You can record and save information about your hikes which helps to track the distance in a better way.
Read Next: Best Garmin GPS Watches for Cycling
Altimeter
If your watch has altimeters, it can track the altitude of your hike to locate your exact position while hiking. If you choose a watch with barometric altimeters, it will help to measure air pressure.
Watches with barometers also tell you your estimated elevation and detect upcoming weather. You can tell about the weather and know if you should continue hiking or not.
Read Next: Best ABC (Altimeter, Barometer, Compass) Watches
Frequently Asked Questions (FAQs)
Which is the best watch for hiking?
We prefer to say that when you are looking for the best watch to wear during hiking, you should go for Garmin watches. They have quite a good range of hiking watches and you can expect good quality in their hiking watches. However, if you keep the considerations in your mind, then any brand will work like the best one.
Are GPS watches good for hiking?
Yes, GPS watches can do wonders while you are hiking. They can track your location and record your movement. As a result, if you are in a new area, you won't get lost in the woods.
GPS watches can be very useful during hiking, but these watches have cons too. These watches tend to drain the batteries faster. So you need to keep that fact in your mind for better security.
Wrapping Up
We are done sharing our suggestions about the best hiking watches with you. By now you can already see that we have put a lot of effort into picking the right options for you and reviewing those. As always, we have self-tested the watches and then we have suggested those to you.
If you are planning to go hiking, you need to keep a few considerations in mind while choosing your watch. When you want to have a trouble-free adventure, the given considerations will save you from any kind of trouble. So check the considerations and match the features with your personal requirements to have the best outcome from your watch.
As an Amazon Associate, I earn from qualifying purchases.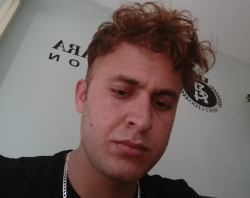 Latest posts by Nick Rolloson
(see all)