8 Best Smartwatches for Cycling with High-Tech Features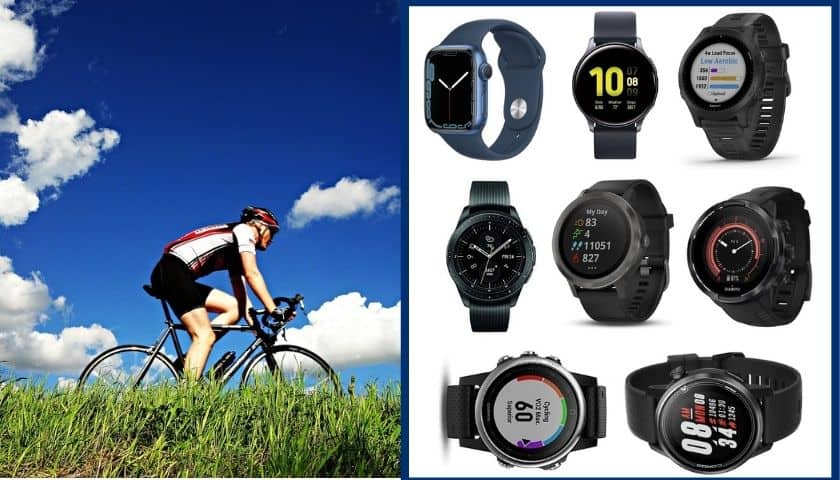 As an Amazon Associate, I earn from qualifying purchases.
Having the best smartwatches for cycling is a must-have fitness tracking device for serious cyclists. The days are gone by using fitness trackers since smartwatches can now smartly track all the fitness conditions.
Over the past few years, cycling smartwatches have been drastically updated. Today's timers provide 100% accurate tracking data. These data help you improve your performance in cycling and undeniably let you remain fit.
While you can get confused in picking the suitable smartwatch for your cycling. We reviewed top-selling watches for your ease. So, let's jump onto the list right away.
8 Best Smartwatches for Cycling Review 2022
Searching and finding top-quality cycling smartwatches is a complex challenge indeed. You would drain all your energy just in understanding the features and forget to analyze them.
Thanks to our team of experts who put in the effort and picked these smartwatches you will never regret having for cycling. Come, let's take a look at what we have in our suggestions.
Our top picks: At a glance
Best-Value Multisport Apple Watch: Apple Watch Series 7 GPS
Best for GPS Tracking: SAMSUNG Galaxy Watch Active 2
Best for Triathletes: Garmin Forerunner 945
Best for Build Quality: Samsung Galaxy Watch
Best for Easy Tracking: Garmin Vívoactive 3
Best for Accuracy: Suunto 9 Multisport GPS Watch
Best for Female: Garmin Fenix 5S
Best for Advanced Features: Coros APEX Premium Multisport GPS Watch
8 Best Smartwatches for Cycling
1. Best-Value Multisport Apple Watch: Apple Watch Series 7 GPS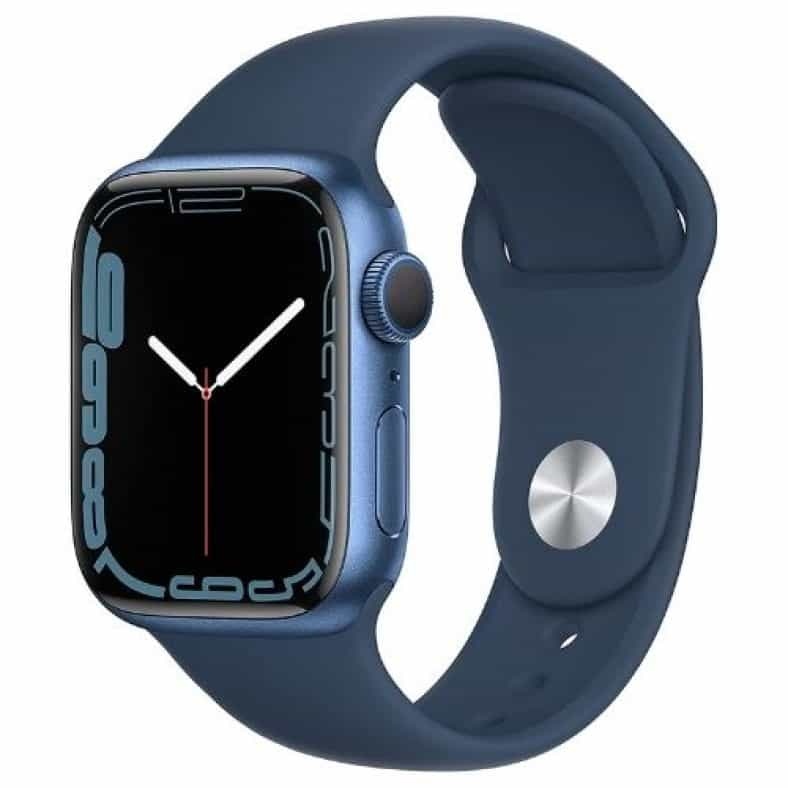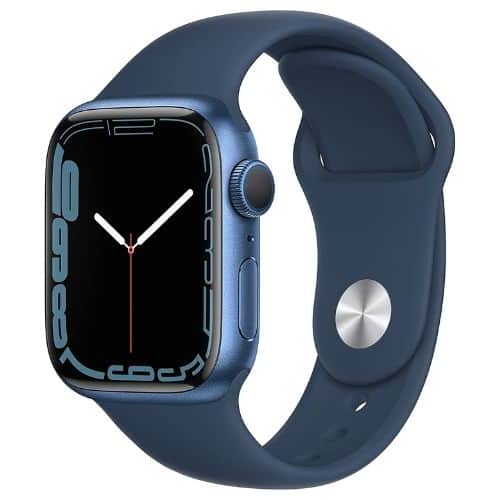 This is the latest version of the Apple watch series. It got an incremental update from the older Apple Watch 6. There aren't many differences between the Apple watch 6 and 7 except the extended battery life, enlarged display, and slimmer bezels.
Still, it is claimed to be the most usable smartwatch. Because those are not the only factors for the series 7's popularity, it has more specialties. Let's discuss them one by one.
Stylish Design
Its design has similarities with Apple watch SE or watch 6, yet some things made this particular model look better than the older ones. The frame is slightly more prominent, and the display got 20% bigger. The slightly rounded corners give it a perfectly stylish appearance.
Outstanding Display
The watch has more screens now with a more prominent display. It seems like the timepiece is morphing into a tiny iPhone to wear on your wrist, which is truly remarkable. The display with thinner borders but a larger screen increases your readability.
The curved screen makes it easier to read from any angle since the edges are visible from all sides. It looks brighter than all the other Apple watches and thus allows you to see better through the screen.
Multiple Sports Tracking
We loved its adventure-specific traits. It's an accurate choice to use for multiple sports activities. It has different sensors that can automatically detect if you are riding a bike or not.
It includes an 'Outdoor Cycle' option in the fitness tracking, which will work pretty well in recording your cycling exercise. However, it cannot provide accurate results, but the approximate results it shows are pretty correct. Hence, it's genuinely appreciated for this particular feature.
Fast Charging
Indeed, the battery life has not been upgraded in series 7, but the batteries are made more substantial to be charged faster. It is claimed that it can get charged 33% faster than a watch 6.
Improved Robustness
The smartwatch has gotten more robust from the outer parts too. It is now dust and waterproof, meaning you can dive in the swimming pool wearing it and swim without worrying about damages. The top glass has been hardened to ensure the watch's chance of scratches or breaks is reduced.
Pros
Bigger screen
Brighter display
QWERTY keyboard
Charges faster
Better Durability
Cons
Why Should You Buy It?
It's the same as watch 6, but for those looking for a larger display with a more transparent screen for better readability, the watch 7 is the right pick.
Plus, it looks more attractive, offering prettier face watches. The fitness tracking is impressive, and cyclists will have no issues operating it to record their outdoor activities.
2. Best for GPS Tracking: SAMSUNG Galaxy Watch Active 2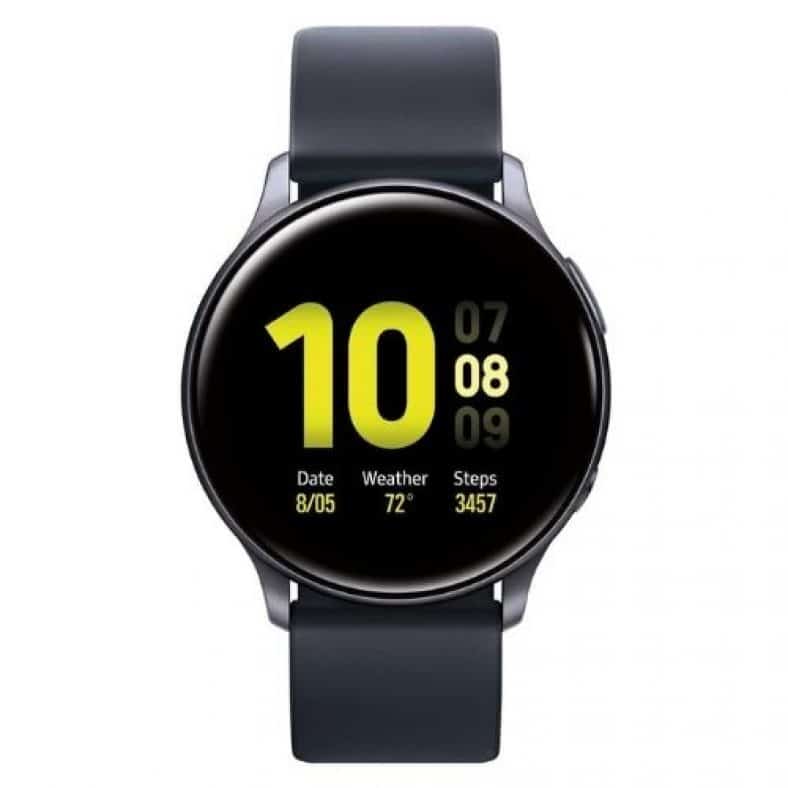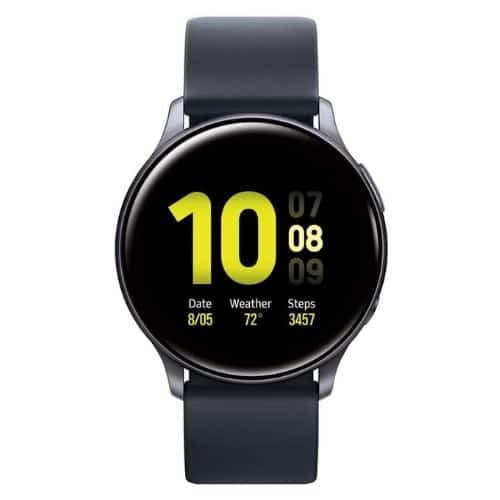 The Galaxy Watch Active 2 does not have many differences from its predecessor, yet it's good enough to compare its performance with most other smartwatches in the market.
It's a sleek timepiece with built-in advanced exercise tracking, sleep monitoring, ECG sensor, and more fitness trackers to ensure your physical conditions get better with it.
Its updated version supports trip detection VO2 Max readings and running metrics. So if you already own one, make sure to update it soon.
Great Music Storage
Whether or not you have your Android with you, listening to your favorite music will never be a hassle now. It comes with a vast 4GB storage just to let you download songs. Plus, without the internet, you can listen to Spotify playbacks offline.
Attractive Looking
For many users, it's the best-looking timepiece they've ever worn. It's because of the traditional design with a round display. It gives a classy vibe with the leather band. It goes well with any outfit like party or office wear.
Comfortable
It's lightweight enough, making it a great option to keep wearing all day long. The leather band fits nice on average size wrists. It doesn't slide around when working out or does not cause itches to one's skin.
Well GPS-Cycling Tracking
This specific smartwatch is not the best for GPS-cycling tracking out there, yet it's a good option. The multiple built-in sensors can record and show real-time data. Its auto workout detection system allows you to set targets and keeps alerting you to achieve your goals quicker.
Various Apps
People who like smartwatches with various apps will love using this wristwatch. It provides a wide range of applications that can help you make payments, contains GPS tracking, Twitter support, watching YouTube videos, and more.
Pros
The battery life is good
Tracks workouts automatically
Allows using offline Spotify
It has a delicate design
Works with both Android and iOS
Cons
Sleep tracking needs updating
Why Should You Buy It?
Samsung Galaxy Watch Active 2 proves that it can soon catch up with Apple watches. Longer battery life, big-name applications, and significant health features made it a popular choice amongst smartwatch users.
3. Best for Triathletes: Garmin Forerunner 945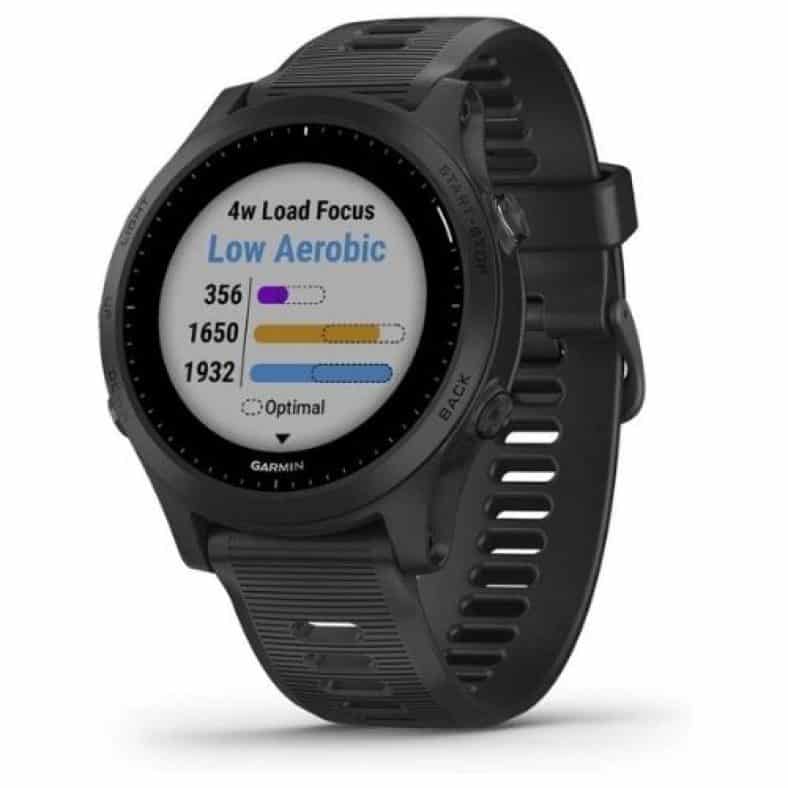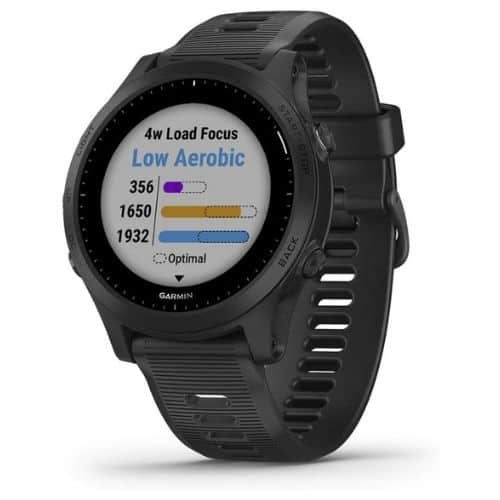 The Garmin Forerunner 945 is an ideal smartwatch, according to many. It's light, has several useful features, is well constructed, and has an outstanding battery that lasts longer.
It is, however, remarkably similar to the Forerunner 745. Still, there are quite a few differences as well. The best part of this watch is it has additional outdoorsy features.
Excellent Build Quality
The wristwatch body is entirely made of plastic, yet it does not feel or look cheap. All the components are working harmoniously. The case has been made stronger using fiber-reinforced polymer.
To add more robustness to its screen, it has given Corning Gorilla Glass DX. The transflective display, 240 × 240 pixels, is sunlight-visible and makes your eyes feel better when looking at the screen.
User-friendly Interface
Its friendly user interface made it gain more customers. Its computer systems interact outstandingly with the user. The side buttons and the options controlled with touch work smoothly with one click and touch.
All the necessary fitness tracking tools and essential task-completing options are organized well. You can easily find what you are looking for and operate.
Sports Focused
It's one of the best sports-focused smartwatches you can find in the present. Ride the bike, let it pick your location, tape all your activity data. It can quickly acquire GPS to inform you of sunrise/sunset time. Its incredible mapping features allow you to go cycling any time you like since the map can work without the internet.
High GPS Battery Life
The exciting fact about this watch is it has a GPS battery that is powerful enough to provide you with 36 hours of service. But when always listening to music, the battery life drops down to 10 hours.
With smartwatch mode, it can last up to 2 weeks. It takes to get fully charged around 75 minutes, only that we think it is much faster than several other timepieces.
Easy to Use
Talking about the various applications, it's a little hard to find out how some of the apps work. However, operating it is pretty straightforward.
Pros
Extended battery life
Straightforward user interface
Provides offline music
Rates heartbeat with accuracy
Offline map
Cons
Why Should You Buy It?
This particular smartwatch provides everything a sincere cyclist needs. You may not use all its features, but if your focus is cycling and high-level training, you must pick it.
4. Best for Build Quality: Samsung Galaxy Watch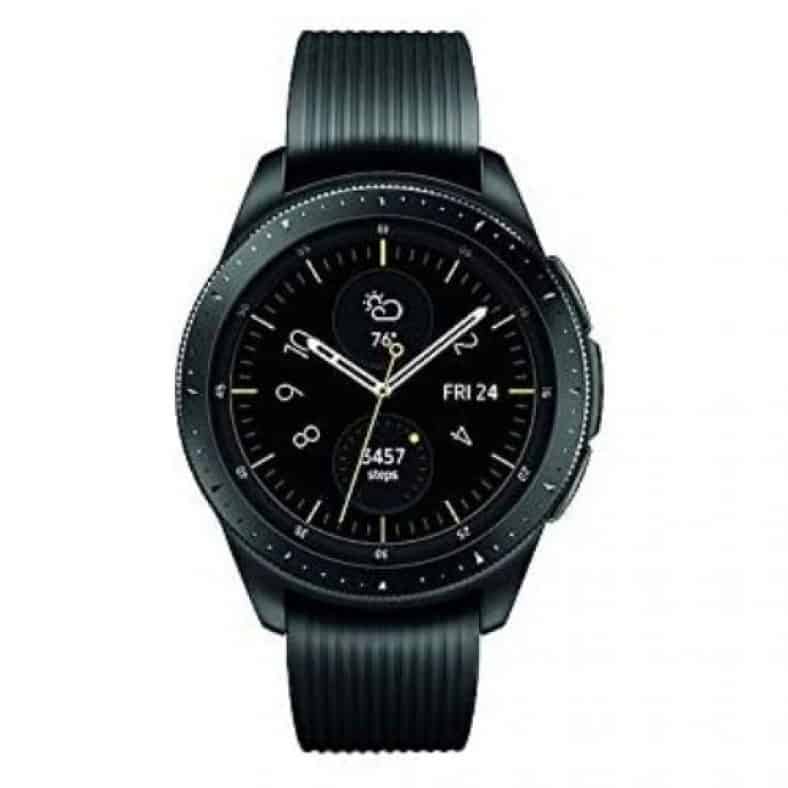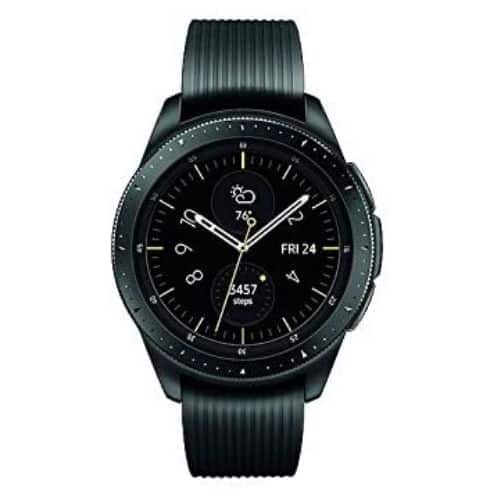 Samsung Galaxy Watch is, of course, not the newest, but it's still one of the most processed smartwatches out in the market. It has all the essential features you would need.
It's worth considering since some of its features make it a competitive wristwatch. It can even rival Apple watches. So, you must give it a try but before that, let's check what makes it worth the buy.
Natural Appearance
Unlike the Apple watches, the Galaxy watch looks more natural. The metal body with a round-shaped display is the key to its realism. If you are searching for a more traditional-looking smartwatch, this is an excellent option.
Unlocked LTE
Thanks to its unlocked LTE feature, you are free of worrying about doing things through the wristwatch when your handset is not with you. It allows you to do important things like calling, texting, streaming music, and getting notifications. You can also enjoy shopping and grabbing lunch with the help of Samsung pay.
Well Construction
It's a pretty durable and heavy-duty timer. Samsung has picked military-grade materials to create it. The water resistance enables your swim activity mode. This timepiece can take on water splashes, spills, and unexpected heavy raindrops.
There is no chance for your watch display to get scratches over it since the Corning Gorilla Glass DX+ is always working as the scratch protector.
Powerful Hardware
Although it's the first-ever smartwatch created by Samsung, they didn't fail to give it robust hardware. Both the LTE and Bluetooth version of the 4th generation dual-core Galaxy watch 1.15GHz chipset. The timepiece also has built-in 4GB storage, making its operation speed swift enough.
Satisfactory Training Tracker
While it works pretty well in tracking, it falls near the modern GPS cycling wristwatches. Still, the training tracker records your cycling tasks and provides approximately correct data after analyzing, which is satisfactory.
Pros
Excellent software interface
Four-day long battery life
Provides useful apps
Great watch for fitness enthusiasts
Rotating bezel
Cons
It takes pretty long to get a full charge
Why Should You Buy It?
Any product made for the first time is given more effort to make it a perfect item. The same goes for this intelligent wearable. It looks more attractive with that naturalism and offers extraordinary fitness-tracking abilities.
5. Best for Easy Tracking: Garmin Vívoactive 3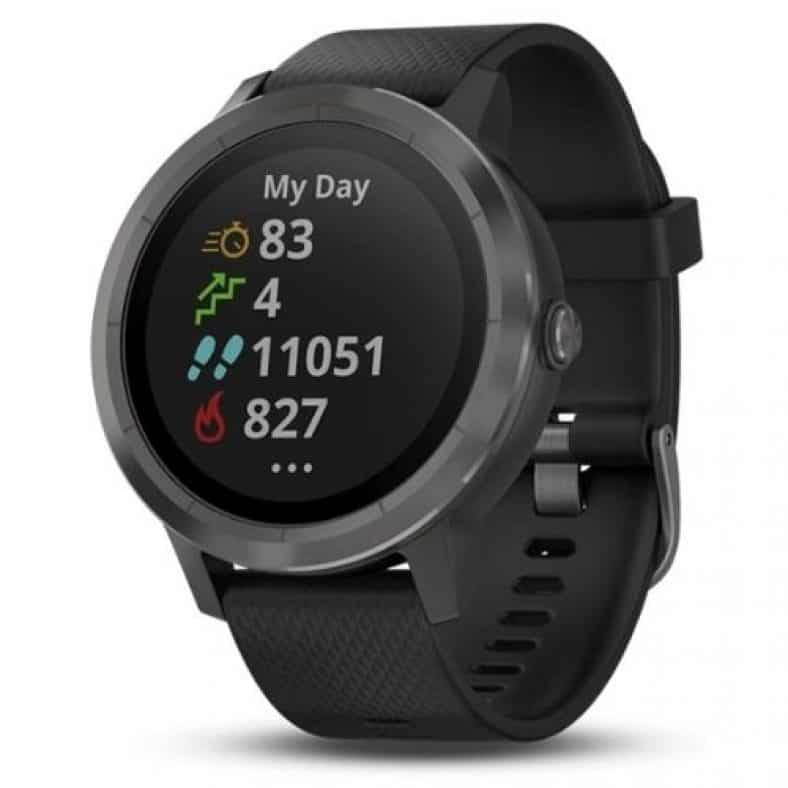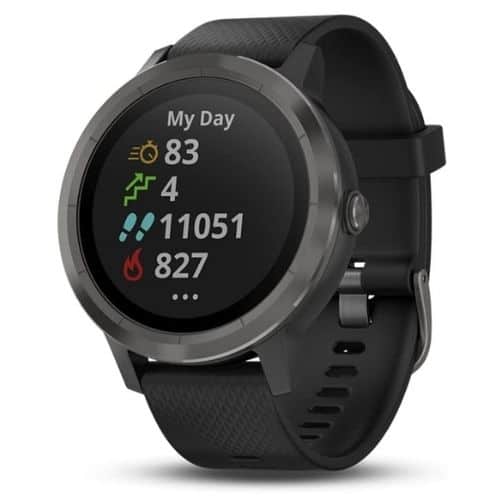 Garmin Vívoactive 3 smartwatch mainly focuses on fitness; however, it also has several valuable features. While it works amazingly in tracking fitness, its appearance is not like a bulky workout tracker but a stylish timepiece.
This wristwatch is exceptional for high-end sports modes with a GPS. It's not just a watch for the users but a unique wearable gadget.
Record Cycling Easily
It's easier to record your cycling exercise with just a few steps. First, you need to press the watch button positioned at the side. Second, select the "bike" found in the workout options. Third, again press the button to start the recording.
Fourth, ride on your bicycle. Fifth, when you are done cycling, press the side button once again to finish recording. You can even save the recorded activities and later share them with other Vivoactive 3 users.
Convenient Wearing
This watch is our favorite for not only having multiple sports modes but also for being comfy. It's lightweight overall, and the strap is adjustable. It means whether you have a thin or thick wrist, the smartwatch will fit well.
Health Tracker
Except for the outdoor fitness tracking, it will take care of your health when you are inside your house. It has all the essential health condition checkers like a thermometer, heart-rate monitor, and accelerometer. It has other useful features like a barometric altimeter and compass related to location tracking.
Garmin Pay
This feature is handy, but only if the credit cards or banks support it. With its help, you can pay for things you buy.
Superb Battery Life
This watch actually outdoes its competitors when it comes to battery service. One charge can keep your watch alive for at most 6 days straight, which is impressive.
Here's a fact, though, if you use it more than usual, then the battery will drown out sooner. What is more exciting is if you use the GPS every day for an hour or two, it still should last for four days.
Pros
Monitors heart-rate 24/7
It feels light on the wrist
Adjusts well on any size wrists
Has water resistance
Has smartphone features
Cons
Why Should You Buy It?
This is an incredible smartwatch for those who focus more on staying active and have a toned body. The design is not impressive at all so, if the design is subjective to you, get your hands over it.
6. Best for Accuracy: Suunto 9 Multisport GPS Watch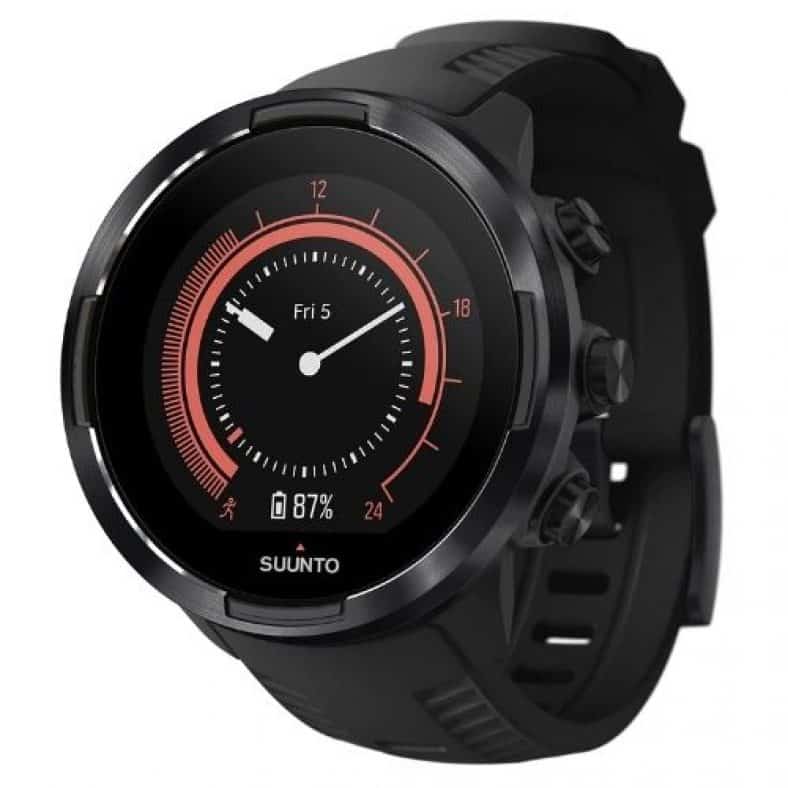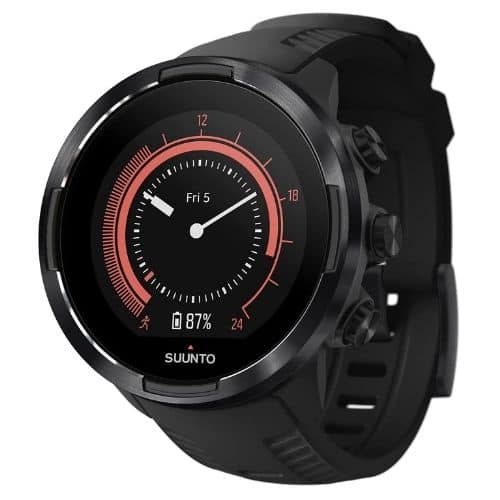 If you like smartwatches with high tolerance and adventure sports, then unlike many brands out there, Suunto will fulfill all your tracking requirements.
It has been made more robust and rugged for its multi-sport attribute. It is created especially to battle the large outdoors. The number of its attractive traits is many. Let's find out what we're reading further.
Relevant Cycling Stats
The cycling stats given by default seems to be more relevant. It will not only record your cycling tasks but, at the same time, will rate the heartbeats. The additional speed sensor will also inform you how fast you can do cycling; however, it will only work when you have the Bluetooth turned on.
Tracks Other Physical Activities Well
It's not that you should pick it for its sporty features; it can even track other physical activities very well. How many steps you have walked, and how many calories you have burnt.
It also allows you to set your customized step and calorie-burning goals. It will show you a chart every week to see your overall health performance in between the week.
Practical Apps
Suunto has its new applications that are swifter to sync. Thanks to the updated applications, the previous apps used to cause the timepiece to freeze, but they never push it to get freezes or lags.
They provide excellent services. According to some users, the diary section and nifty route planner apps do a great job dealing with and presenting your daily activities.
Fair Battery Life
When you use the ultra mode, the chances are the battery will get drained within 15 to 20 hours. The fact is, you might never need to use the ultra mode. All you need is usual health tracking and fitness tracking when working out. In such a case, the battery gives a fair service of working 25 hours without intervals.
Bigger Screen
The bigger the screen, the better you can read. Its 50mm display seems so large that you will see all the information on the screen in just a glance.
Pros
Hard-wearing smartwatch
Has powerful training modes
A perfect pick for professional athletes
Lighter and comfy wearable
Connects with a large app community
Cons
The menus are hard to understand
Why Should You Buy It?
It's a massive wearable with a vast list of various sports and huge battery life. You can pick this one for any sport like running, cycling, swimming, and even for stand-up paddling.
7. Best for Female: Garmin Fenix 5S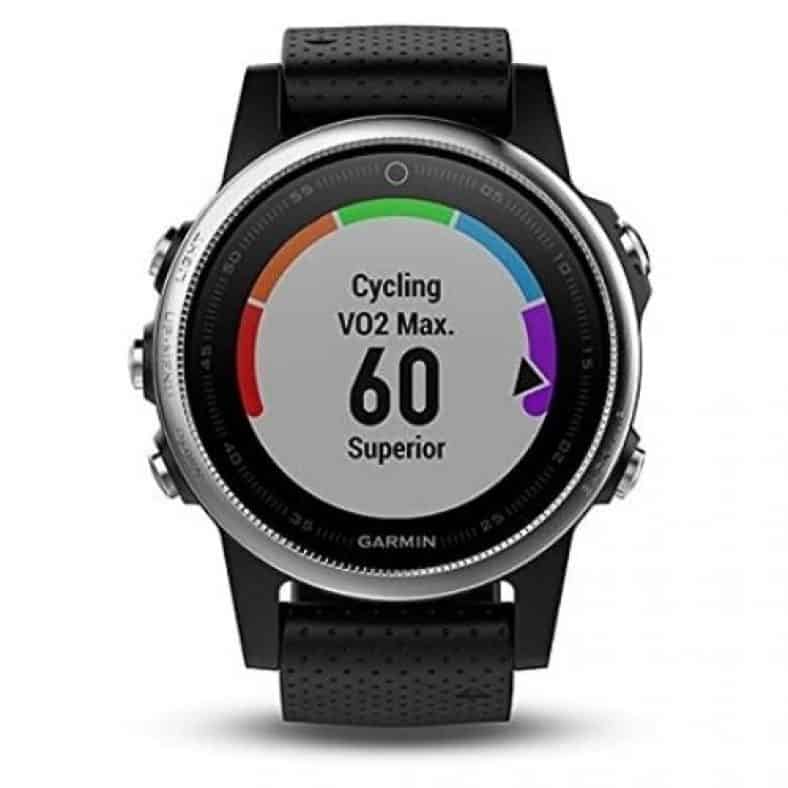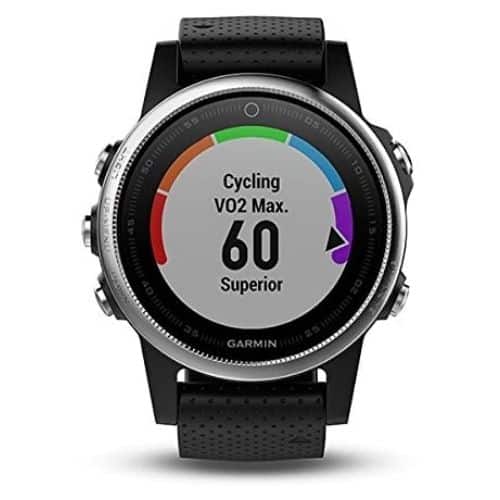 Garmin made the Fenix 5S more approachable by shrinking it a little. This has an accurate design that fits women the best. It will work like both a workout tracking and safety-providing partner for a serious outdoor female. Since it has a more women-like watch-like outline, any lady with a thinner or average wrist will find it comfortable to wear.
Pretty Looking
A woman must like how it looks. Because it has all those sporty vibes throughout the pattern, the slimmer and smaller display makes it look prettier for women's wrists.
Different Watch Faces
The more watch faces your wearable has, the more it will look versatile. You can change and set watch faces anytime you like. Depending on what you are wearing, you can find a suitable display. Each watch face looks different from one another and thus gives your watch a new kind of view over the screen.
High-Quality Outdoor Sensor for Cycling
For a female cyclist searching for the perfect smartwatch which can provide you accurate cycling tracking, you will find no other option as good as this one. Thanks to its GLONASS satellite reception and high-tech GPS. Your locations will be automatically tracked when cycling. It will show you maps and record your cycling well.
Smart Features
When doing outdoor workouts, don't touch your handset. Let your watch handle things on behalf of your phone, including accepting calls for you, sending texts, and so on.
Feels Light
Since women are the targeted customers for this particular wristwatch, the manufacturer ensured it reduced weight. Only 2.24 ounces make no difference in the feeling of it wearing or not wearing.
Pros
Best multi-sport smart wearable for women
Provides proper cycling and other fitness tracking data
Full-size performance
Sleek and beautiful design
It feels feathery on the wrists
Cons
The temperature sensor can't show accurate information
Why Should You Buy It?
It's pretty rare for women to find the proper smartwatch for them. Among a small range of timepieces made particularly for women, it's one of the best picks packed with all a woman's dreams to have in her smart wearable.
8. Best for Advanced Features: Coros APEX Premium Multisport GPS Watch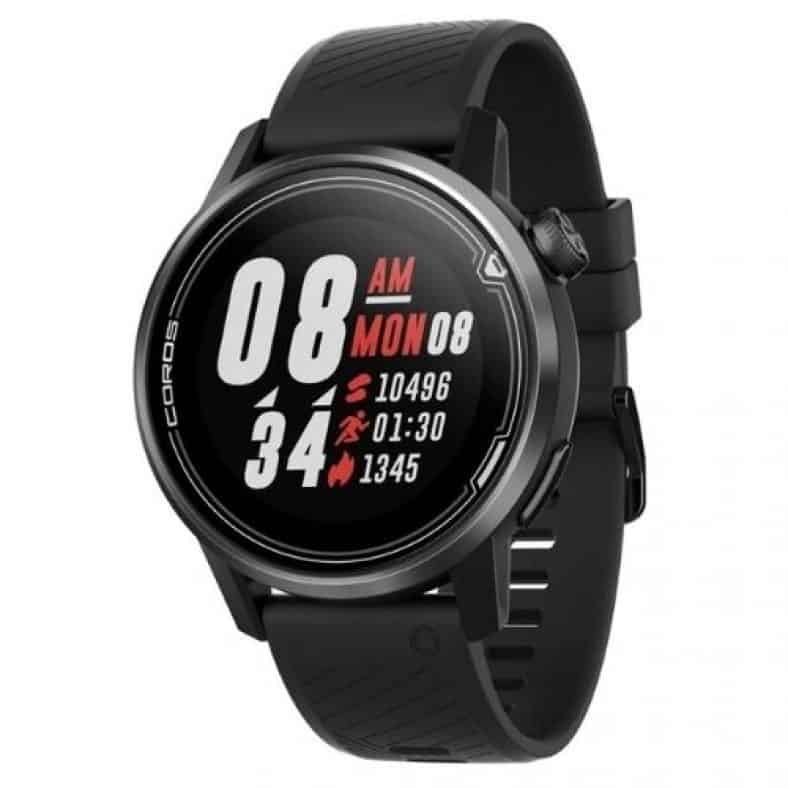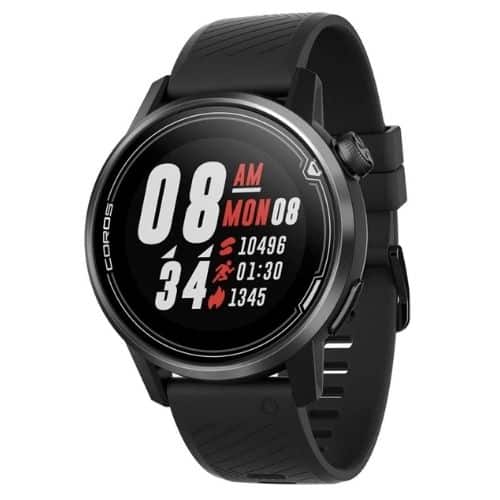 Endurance athletes who prioritize great deals over the design or battery it's a breath of purified air. It lacks preloaded layered maps, yet it has to offer you all the essential features you ask for.
The fabulous battery, trackback, trail map, and sensors are added to measure everything, including your physical internal plus external conditions.
Customize Training
It features Training and Strength modes that allow you to build complex workouts by yourself. By creating a circuit featuring more than 200 pre-loaded exercises, you can also download featured activities from the official website of Coros.
High-grade Heart Monitoring
The heart-rate monitor of this specific timepiece is indeed high in quality and accurate in gathering data. It will show you the heartbeat rates and will alert you about your heart's conditions.
Good Cycling Recording Sensor
We picked this as one of the best smartwatches for cycling for a reason. The ANT+ system is an advanced technology that provides accuracy in recording bicycle riding activities. Fortunately, it has Bluetooth, GPS with significant signals, and ANT+ connectivity.
Smart Recover Alerts
Avoid any internal damage with your smartwatch because the AI measures your remaining energy after every training. It will show over the display an estimated time within when your body will get its stamina back.
Maximize Battery Life
We liked how the battery administration interface lets the users control the remaining battery percentage. It even alerts you about the aspects that are drowning its energy.
Pros
Gives you storm alerts
Shows you the proper time of sunrise and sunset
Offers a well-optimized tracking ability
Helps to stay hydrated by notifying about taking nutritious foods
The navigation tracking keeps you safe by providing pre-loaded routes
Cons
Why Should You Buy It?
It's rare to get a smartwatch that is best for both cycling and longer battery life, and this is one such item. When it's on the intelligent mode, with just 2 times of charging a month, it can keep working on your wrist perfectly.
Buying Guide for Finding the right Smartwatches for Cycling
The smartwatches that cyclists need are a little different than the regular demanding smartwatches. Such timepieces have more advanced GPS and sport activity trackers that analyze data well to provide accurate results. Some things you should always keep in mind before finding yourself the right Smartwatch for Cycling. Let's get to know them from the following.
Powerful GPS
A compelling GPS is a must in sporty smartwatches. Since your primary goal is tracking cycling, the built-in GPS will continue to follow your distance while showing you your exact locations through the map.
Bluetooth Compatibility
It means your wristwatch is capable of using data from external sensors such as power meters or cadence. It also means your standalone watch has an alternative to GPS. Hence, your timepiece will not rely on your smart handset for tracking tasks.
Other Health Trackers
We can't say a smartwatch for cycling is good enough if it lacks the basic health trackers like heart-rate monitor sleep and stress level measurements. Get such a watch that will keep monitoring your heartbeats even when you are cycling.
3rd Party Apps
Not all intelligent wearables need to have essential training tools. This is where third-party apps come to help you offer different training apps. However, many don't support this feature, so you should pick the ones supporting third-party apps.
Convenience
Since you will buy the watch for outdoor uses, it must feel convenient on your wrist. Try finding and selecting a timepiece with an ergonomic fit. It should have replaceable straps and most necessarily a high-quality one to keep your skin safe from itchings.
Robust Body
An outdoor smartwatch must have a strong body. Remember it will include more different sports modes and not only cycling. You can run, swim, go to the gym and do more heavy-duty exercises wearing the same timepiece. So, it should have dust, scratch, and water resistance.
Clear Display
Many may ignore the fact that the display of a multiple sports smartwatch is essential. Since the wearable gadget will continue to provide updates regarding your fitness tasks, a crystal clear display works effectively in this case. The more visible your display, the simpler it is to read data through the screen.
Lengthier Battery
Different functions like GPS, sleep and heart monitoring, ANT+, and Bluetooth are all working together in a sportive watch. Therefore, your watch must have a sturdy battery that will not power down itself before you reach the finish line.
Why Need a Smartwatch for Cycling?
Smartwatches are usually used to keep health tracks or to handle official matters faster when the phone is not around. It's sad how people avoid the fact that modern-day smart wearables are turning into valuable gadgets.
Why do you think that most smartwatches have multiple-sport modes? Of course, because they actually work and work pretty well. The more updated timepieces are more likely to work as a natural fitness tracker.
Several wristwatches fail to provide accurate data and analyzed results, but it's also true that there are watches perfectly tracking fitness, including walking, running, cycling, swimming, doing yoga, etc.
These wearables will not fail to accurately track your cycling workouts since they have compelling built-in GPS with access to even offline maps. Some even have the capacity to follow your heart rate while you are riding your bicycle.
These days expert athletes use sportive smartwatches, especially cyclists. According to them, it's possible to get relevant stats for cycling through some smart wearables where you will see complete data on the distance you have crossed, the time you have taken, the speed, and the number of your burnt calories.
Smartwatches vs. Fitness Trackers: Which One Is Better for Cycling?
When the matter is about tracking fitness, we can see a massive competition between smartwatches and fitness trackers. In this case, we can say both the wearables are pretty good in providing approximately correct data; however, some factors make smartwatches better than fitness trackers for cycling.
For example, many fitness tracking gadgets will only serve you with the recording of you doing multiple sports. Still, it will fail to provide you with intelligent features like accepting calls, sending emails, giving contactless bills, and so on. It can, of course, provide you with almost good fitness data, but that a smartwatch can also do.
Here what matters more is your budget; if your budget is great, you must go for a smartwatch instead. While having a low budget and the only demand is fitness tracking, you can get the wearables that only record the workouts.
If you ask for our personal opinion on which one you should pick for cycling, we would say a smartwatch. Because nowadays, professional cyclists don't depend on fitness trackers but smartwatches with the best activity trackers, including bicycle riding.
Frequently Asked Questions (FAQs)
Can you use the Garmin forerunner for cycling?
The Garmin forerunner has various options that give better performance in tracking your cycling workouts than most other smartwatches. The best picks are Garmin forerunner 945, 745, or 55 models. It has the essential functions you need for tracking cycling.
Are Smartwatches suitable for cycling?
There's a misconception among many that smartwatches are not a good option for cycling. But the fact is some smartwatches work better in tracking cycling than fitness trackers. Several watches come with ANT+ connectivity, designed primarily for cycling.
What is GPS in a smartwatch?
The complete form of GPS is the "Global Positioning System." This technology can track one's location. It's a handy option for monitoring fitness and providing location safety. This is why most outdoorsy timepieces have a built-in high-end GPS.
Is the Galaxy watch suitable for cycling?
Galaxy watch comes with diverse applications and features in which fitness tracking is one of the best. It is suitable for cycling because it has Strava compatibility and an advanced GPS.
Can I leave my phone at home and use my smartwatch?
It's possible to use your smartwatch functions when you do not have your phone with you. This can happen with only a special kind of smartwatch with LTE connectivity. So, if you want to enjoy this excellent service from your watch, make sure to pick the item with unlocked LTE.
Closing Remarks
If you are looking for a cycling smartwatch, you have all the fantastic pieces in our recommendations. These are undoubtedly the best smartwatch for cycling with all the modernized tracking features.
Most of these watches performed pretty well in measuring sleep and heart rates. Hence, without hesitation, you can pick one of them as your caring partner.
As an Amazon Associate, I earn from qualifying purchases.