12 Best smartwatches For Swimming | Track Your Fitness in the Water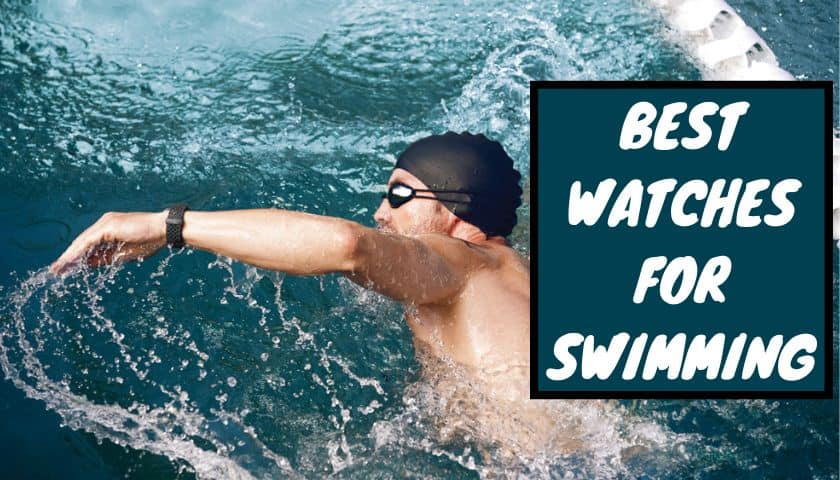 As an Amazon Associate, I earn from qualifying purchases.
Watch is a device used for time-keeping since the ancient era. But the look, model, and work have not always been the same for the watch variants. Though their common task is time-keeping, the inventors have modified watches to make them capable of doing additional work.
Now there are specialized watches for each section of usage. Swimming is no different, and there is a vast collection of swimming watches on the market. But finding the perfect one that fulfills your demand is quite a challenging task. To reduce your tension, we have made a list of the 12 best watches for swimming that might help you.
12 Best Waterproof Watches For Swimming 2023 Reviews
The swimming watches come with almost all the technological advancements. These watches are digitized with the addition of several excellent and useful features. The swimming watches need to be waterproof, but all the waterproof watches are not qualified to use as swimming watches.
Swimming watches are entirely different sections, and here is the in-depth discussion about the best 12 watches for swimming.
Our top picks: At a glance
Best for Tracking: Apple Watch Series 8
Best Galaxy watch for Swimming: SAMSUNG Galaxy Watch Active 2
Best for Active People: Garmin Fenix 7X Solar
Best overall: Garmin Swim 2
Best Solar-Powered Watch: Garmin Fenix 6X Pro Solar
Best for Built-In GPS: Garmin Forerunner 935
Best Dedicated Analog Watch: Timex Ironman Classic 30
Best for Indoor-Outdoor Sports: POLAR Unite Waterproof Fitness Watch
Best for Design: Fitbit Versa 2
Best for Lightweight: COROS PACE 2
Best for Women's: Timex Women's Ironman Transit
Best for Water Resistance: Momentum's Unisex M1 Splash Watch
Best Watches for Swimming
Let's first take a look at our Editor's Picks
Last updated on June 3, 2023 10:57 pm
1. Best for Tracking: Apple Watch Series 8
The Newest Apple Watch Series 8 is the greatest option for swimmers since it is water resistant to 50 meters. There is a wide array of cool features on this timepiece. Battery life is up to 36 hours on a big square screen.
Specifications
OS: watchOS 9.0
Processor: Dual Core S8 processor
Style: GPS + Cellular
Material: Glass front, ceramic/sapphire crystal back, stainless steel frame
Display Type: Retina OLED
Display Size: 41mm/45 mm
Sound: Loudspeaker with no headphone jack
Battery: Li-Ion 308 mAh. Up to 36 hours in Low Power Mode
Water Resistance: WR50 rating up to a depth of 50 meters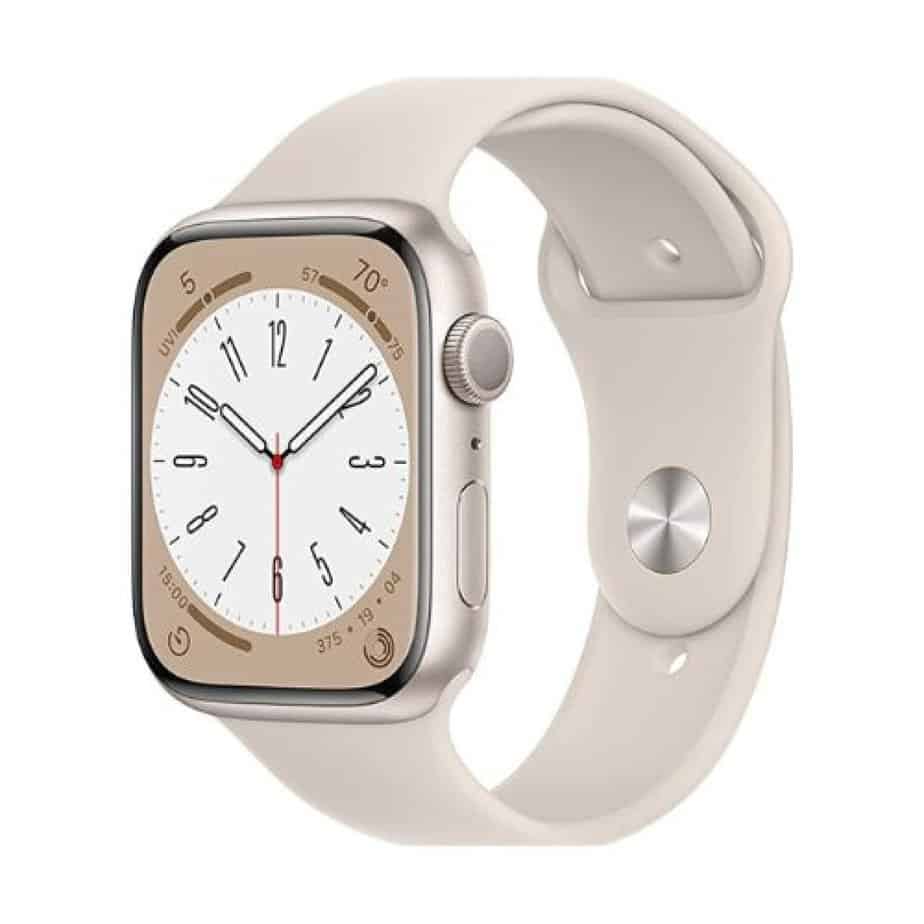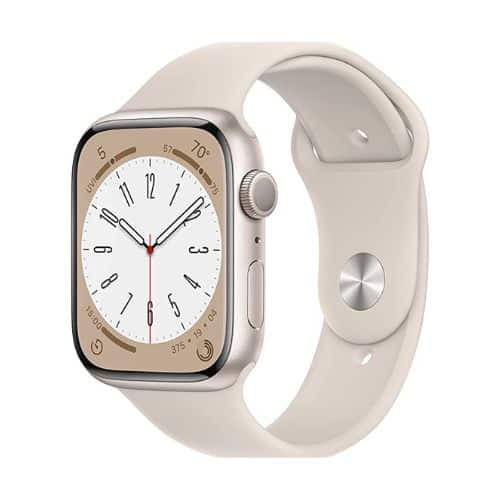 Dimensions and Specifications
Apple's latest wristwatch, the Series 8, is the best option for swimmers in need of a sophisticated timepiece. The watch face is 45 millimeters square, and the case is 10.7 millimeters thick.
There's plenty of room for plenty of data thanks to its 32GB storage space. You may set it up for use with your cellular data or GPS and it's interoperable with iOS devices.
Swim Proof Feature
Apple's latest Series 8 Watch is WR50 certified, meaning it can survive water pressure up to 50 meters. Your smartwatch will be safe from perspiration, rain, and other moisture hazards. Apple also boasts that the Series 8 Watch can be worn while swimming.
Nevertheless, there are a few variables that you should consider. Apple warns its smartwatch users that it is only suitable for usage in calm, shallow water, such as that found in a swimming pool or the sea.
Scuba diving, water skiing, and other high-velocity water sports are not recommended when wearing the watch, nor is wearing it in other conditions.
Other Incredible Features
Your amazing health ally that you can't live without just got stronger. High-tech sensors provide information that improves your awareness of your body and its health.
In the case of a serious accident or fall, Crash Detection & Fall Detection can immediately contact emergency services. Pressing the Emergency SOS button instantly contacts help.
Pros
Swimwear that can withstand the wet conditions of a freshwater pool.
Technology for evaluating one's health
Accurate GPS tracking
Outstanding appearance
Superior durability
Cons
Battery depletes quickly
Limited Temperature sensor
2. SAMSUNG Galaxy Watch Active 2 – Best for Swimming
The next watch we have on your list is the Galaxy Watch Active 2 from Samsung. It is a futuristic smartwatch dedicated to using water activities.
Specifications
Watch Compatibility: Android, WiFi, OS
Chipset Setting: 9110, 1.15GHz CA53 dual-core
Storage: 768 MB with 4GB ROM
Battery Life: 30 mAh
Waterproofing Capacity: 50 m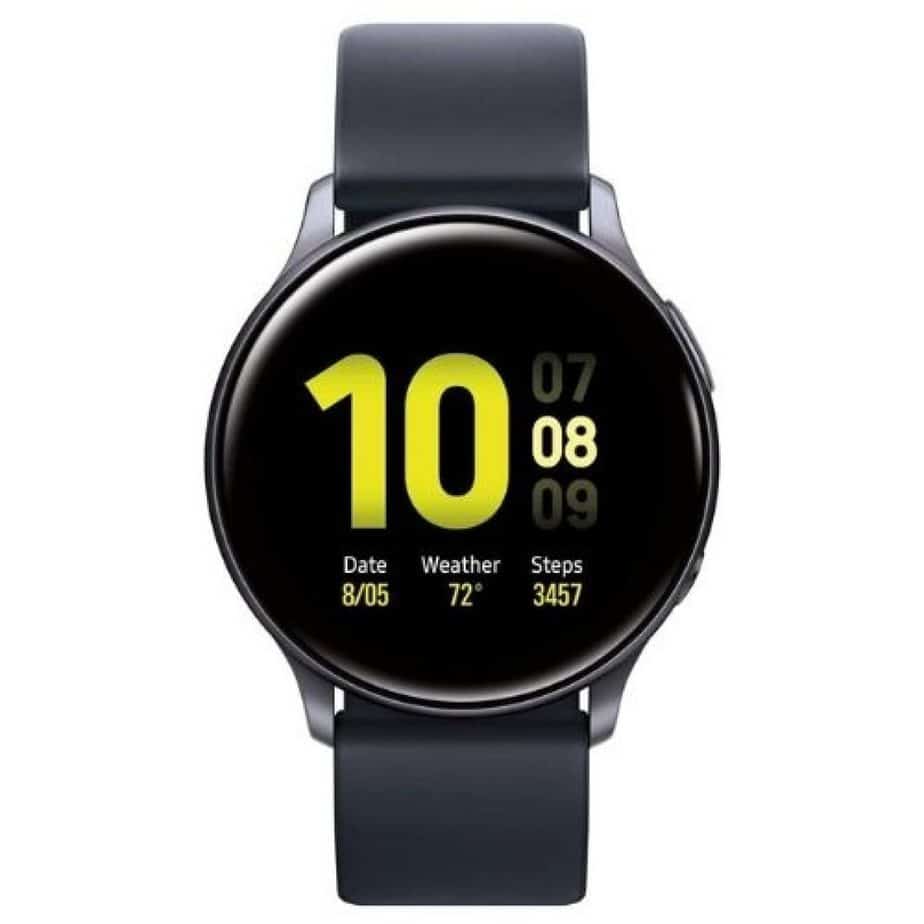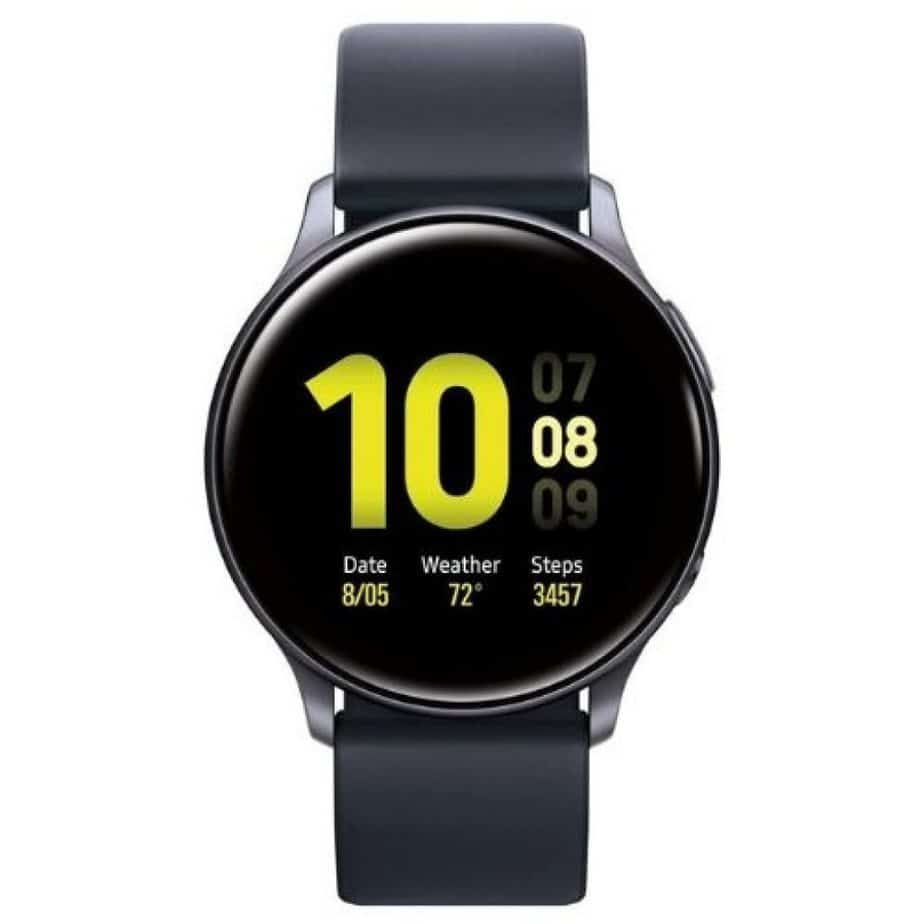 Design and Dimension
There are barely any smartwatches available with such a sleek design as the Galaxy Watch Active 2. This fantastic timepiece comes in black color on both screen and band. The watchband is 40mm long, and the touchscreen is also quite large. Moreover, because of the 360 x 360 Super AMOLED display, all content on the screen will be clearly visible.
With 1.57 x 1.57 x 0.43 inches of dimension and 2.4 Ounces of weight, it will never feel heavy underwater. Moreover, the screen bezel is highly durable as it is made from sturdy aluminum and stainless steel.
Features
This Galaxy Watch Active 2 is compatible with all Android running devices along with Samsung devices. It has a unique wireless connectivity feature via Bluetooth and Wi-Fi. You will find the OS of its own in this smartwatch as it runs on Tizen Os. The chipset in this device is also top-class, and it is Exynos 9110, 1.15GHz CA53 Dual-Core Chipset.
Advanced Swimming Features
In this swimming-friendly time wear, the RAM is 768MB, and the ROM is 4GB. As a result, the sensors of the watch store all the data after collecting through your swimming activities. Moreover, it has the 5 ATM + IP68 waterproofing certification. That means the watch can face the pressure of going 50 meters underwater.
The GPS location monitoring system will help you to get the data of distance, pace, and stroke after swimming. It also helps to know whether you are progressing on swimming or collecting the data on calorie burning. You can also check your heart rate difference before and after swimming with this swimming dedicated smartwatch.
The sleep tracking technology in this watch helps to achieve your perfect sleeping time. You can use this specialized swimming time-wear in your day-to-day life as well.
Battery Life
For running this smart time wear, there will be a 340 mAh LR44 battery. You can fully charge the battery within a quick time by the charging cable provided in the packaging box. On a single charge, this SAMSUNG Galaxy Watch Active 2 runs for at least five days.
Pros
Sleep tracking technology
Heart Rate Monitor with GPS
Long-lasting battery
5 ATM + IP68 waterproofing certification
Data collection of distance, pace, and stroke after swimming
Cons
Not compatible with all devices
Read In-depth Review: Samsung Galaxy Watch Active 2
3. Best for Active People: Garmin Fenix 7X Solar
The Garmin Fenix 7X Solar is a life saver for swimmers, runners, hikers, etc. It is comfortable to wear and looks great especially with the customizable watch faces. This timer has pretty everything that are necessary for an active person.
Specification
Screen Size: 1.4"
Compatible Devices: Smartphone
Special Feature: Backcountry Ski; XC Ski Dynamics; Surf-Ready Features; MTB Dynamics; HIIT Workouts; Daily Workout Suggestions
Wireless Communication Technology: Bluetooth, Wi-Fi
Connectivity technologies: GPS
Device Interface-Primary: Touchscreen, Buttons
GPS: GPS Enabled
Battery Type: Lithium Ion
Battery Life: 28 Days in Smartwatch Mode, 89 Hours in GPS Mode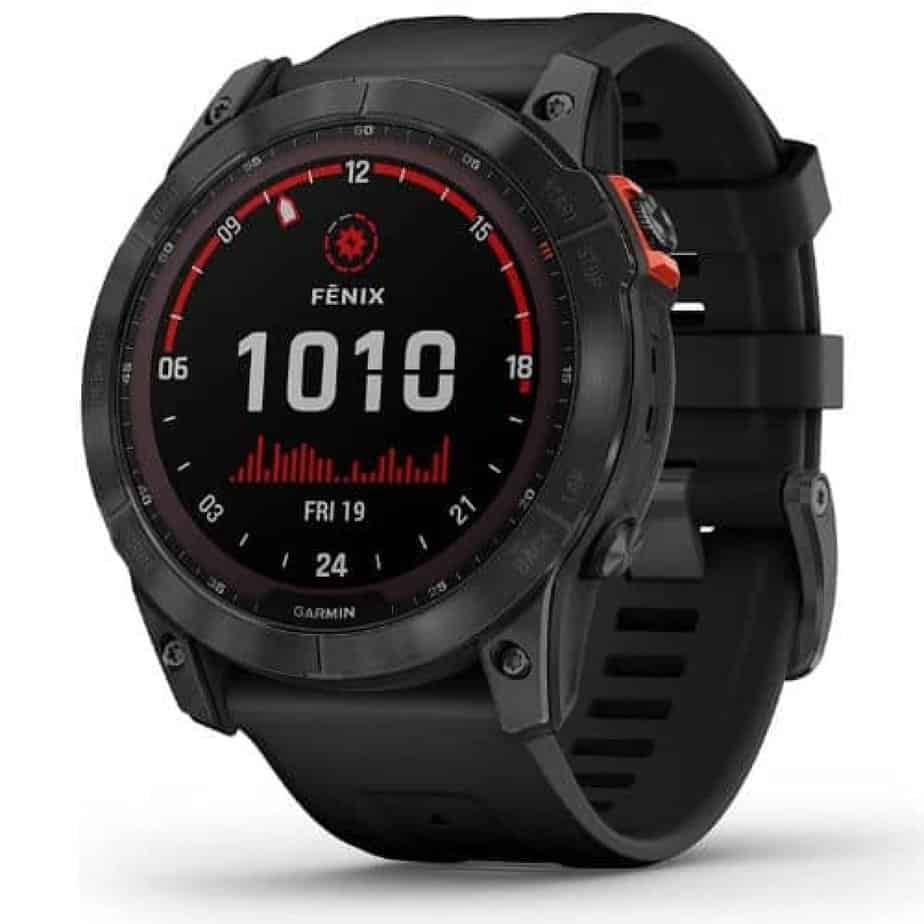 Outstanding Fitness Tracking
It lets you take the training session to the next level by tracking real-time stamina. The timer will also give you training status, helping you in making necessary modifications of your training session. Many customers liked its stamina score feature.
Sleep Score
Your sleep score is also tracked by this timer. More importantly, it tracks your sleep time just after you get in the bed. The timepiece knows the difference between sleep and awake. So, it precisely calculates the sleep score.
Incredible Battery Life
Battery life of this smartwatch is simply unbeatable. It includes a lithium ion battery that gets charged by sunlight. You will love to know that its battery life is 28 days in smartwatch mode at indoor.
While, in GPS mode, the watch will give you 89 hours of service when indoor. It means, you will never go out of battery.
You will hardly find this much battery life in other smartwatches of its price.
Trusted Button Controls
You can control the timepiece taking assistance from the included side buttons and touchscreen. The buttons are trusted and perform efficiently regardless of the environment.
On the other hand, the responsive touchscreen is pretty quick. You can conveniently access to different apps and functions.
Exclusive Design
One of the biggest selling point of this smartwatch is the ultra-tough athletic design having large 1.4" display. This long-running solar powered watch includes GPS feature that gives you the best possible route when hiking, running or walking.
Besides, it has incorporated LED flashlight, helping you see the time and fitness data in lower light conditions without hassle.
Pros
24X7 health and wellness monitoring
Pre-loaded activity profile for swimming, running, hiking, walking, etc.
Improved battery life of 28 days in smartwatch mode
Quick and responsive touchscreen
Customizable watch faces
Cons
Sometimes, it provides unusual fitness recommendations
The buttons are a bit squishy
4. Garmin Swim 2 – Best overall
The Garmin Swim 2 is a great watch produced by the Garmin brand for dedicated swimming usage. You will see a fantastic combination of construction, design, and technology in this timepiece. Now, let's provide you an in-detail overview of this amazing swimming time wear.
Specifications
Weight: 1.28 ounces
Resolution: 208×208 pixels
Battery Life: Up to 7 days in smartwatch mode
Connectivity: Wi-Fi, GPS
Battery Type: Lithium polymer battery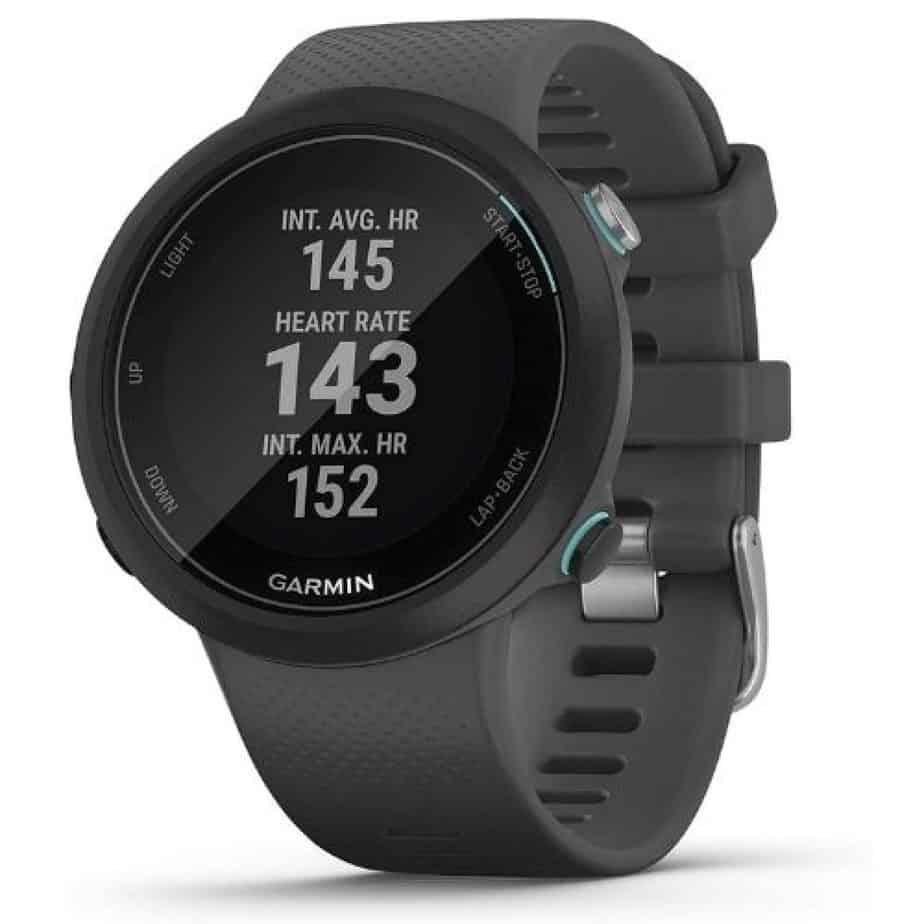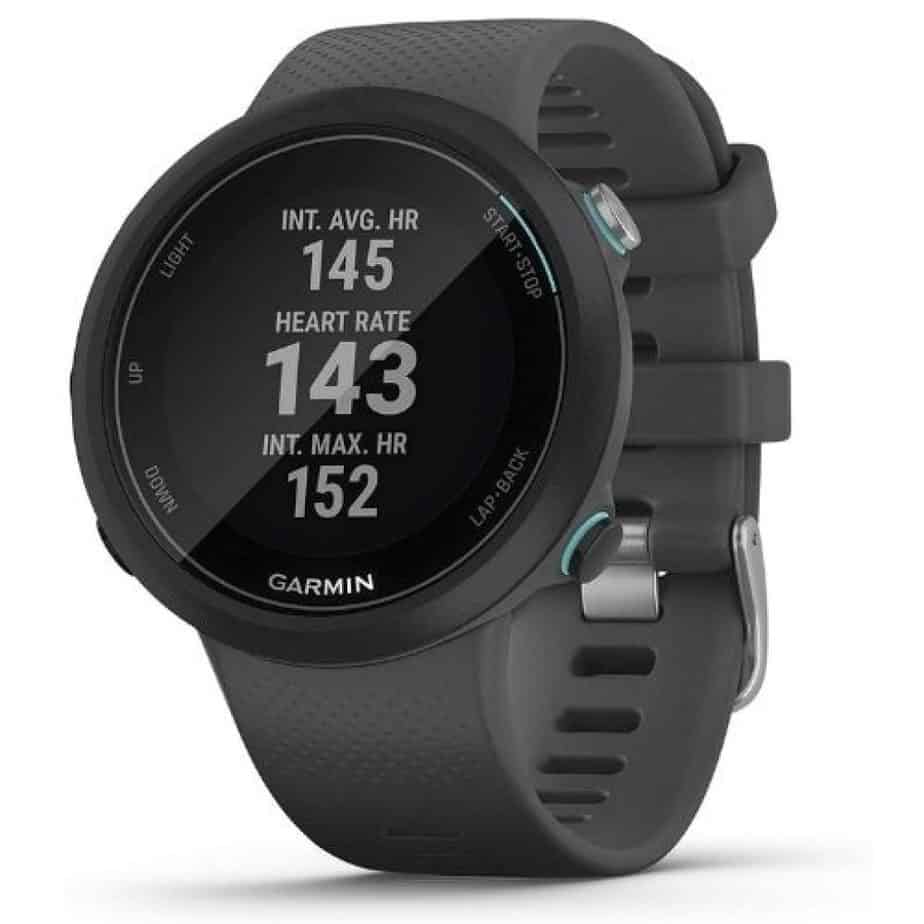 Design and Dimension
The Garmin Swim 2 is a smartwatch dedicated to swimming usage and made with high-quality silicon. You can use it in a swimming pool or open water because of the waterproof capability. In addition, it has a soft and smooth band that is also made with silicon. Both the watch body and the band come in gray slate color, which looks catchy.
The dimension of 7 x 3 x 5 inches and weight of 1.28 Ounces has a 1.04 Inches screen. This unisex adult swimming time-wear has a display resolution of 208 x 208 pixels. This watch's slim and lightweight body has been designed to provide you a tip advantage in the water.
Features
The Garmin Swim 2 is full of many valuable features starting with the waterproof capability. It has a GPS location system along with the Heart Rate Monitoring feature for tracking your fitness. You can connect this swimming watch with your Android or iPhone via Bluetooth, even if you are in the water.
No matter where you are swimming, this Garmin Swim 2 will measure the anaerobic threshold speed. With the help of it, you can track your swimming data and analyze them for further progress. You can use this watch as a fitness tracker to do step counting and measure calorie burn.
Advanced Swim Features
You can monitor your heart rate underwater, and it also has the dedicated "Pool Swim" mode. In this mode, while you are in the pool, the watch will record data like distance, pace, stroke, and count. You will also get the "Open Water Swim" mode to record those data while swimming in lakes, rivers, or oceans.
Packaging and Battery Life
The swim-watch comes with excellent packaging with the charger and data cable included. You will see some documentation as well. A Lithium Polymer battery is required for operating this watch, which will also be included. On a single charge, you can use this watch for at least seven days in basic smartwatch mode.
While the GPS and heart rate monitoring mode is on, you will get service from it for up to 13 hours. In pool mode or open water mode, it will serve at least 72 hours.
Pros
Sleek design with a lightweight body
Soft and smooth band
Long-lasting battery life
Dedicated swim modes for pool water and open water
GPS and Heart Rate Monitoring
Both Android and iPhone compatibility
Cons
The screen may seem a bit small
Read Next: The Best Garmin Watches for Cycling
5. Garmin Fenix 6X Pro Solar – Best Solar Powered Watch
Now we have another swimming-friendly smartwatch on our list of the best, and let's see the reasons why Garmin Fenix 6X Pro Solar is on the list:
Specifications
Weight: 2.88 ounces
Resolution: 280×280 pixels
Connectivity: Bluetooth
Storage: 32 GB
Battery Life: 21 days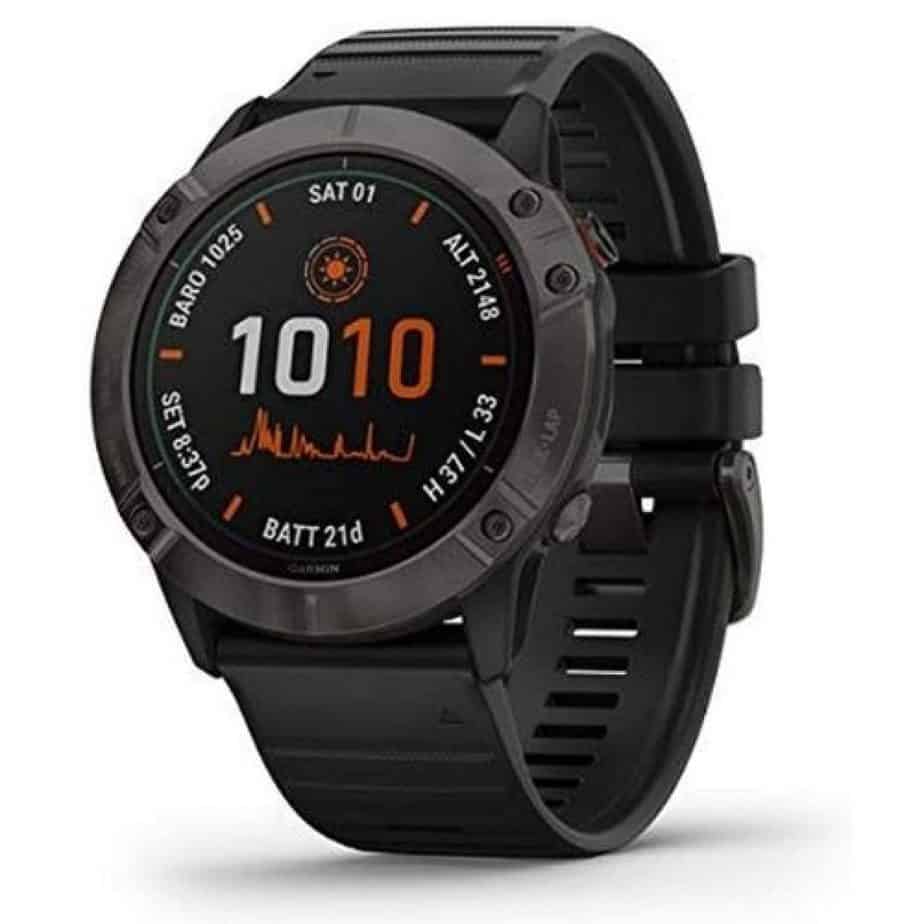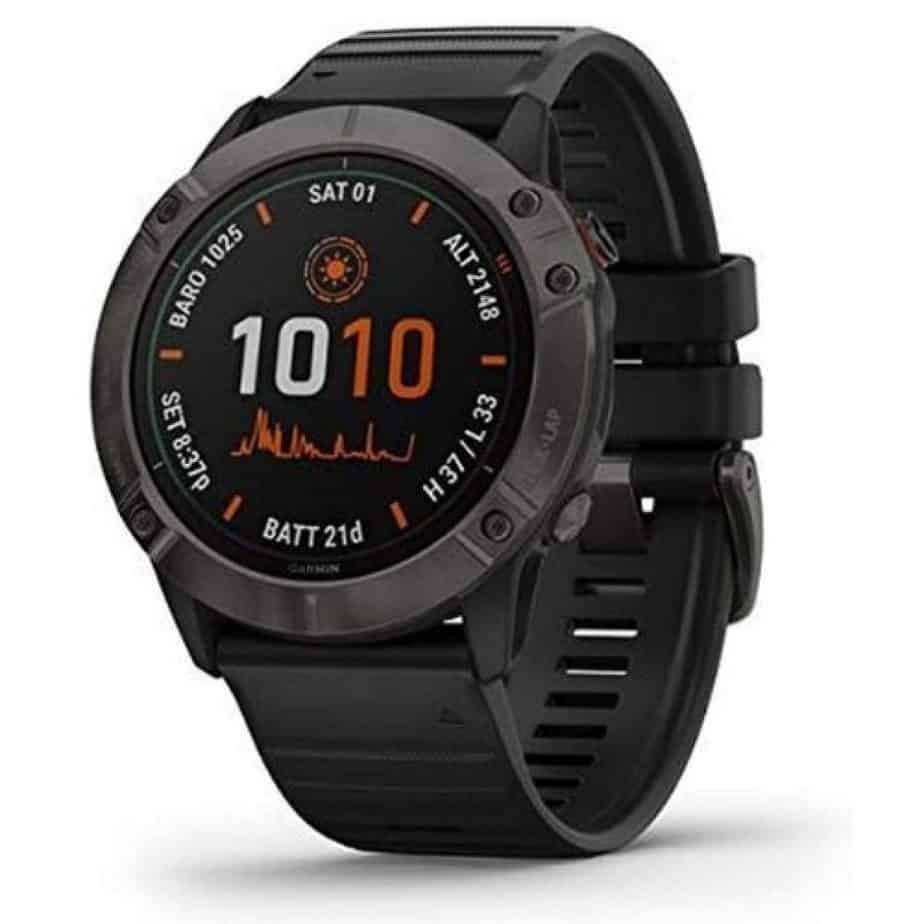 Design and Dimension
Like most swimming watches, this 6X Pro Solar from the Fenix series is sleek. This smartwatch has an average screen size of 1.4 inches with a powerful LCD. The display has a resolution of 280 x 280 pixels with buttons in the body for the human interface. Though it looks slim, it is a bit sturdy with 2.88 Ounces of weight.
It provides an excellent in-hand feeling because of the all-around watch dimension of 2.01 x 2.01 x 0.59 inches.
Features
This smartwatch from Garmin is a special one as it runs on the Proprietary OS. It has 32 GB of internal memory, which keeps all the data of your daily activities. Because of the presence of ANT+ and Bluetooth Smart sensors, it can be connected to other devices via Bluetooth and Wi-Fi.
This Garmin Fenix 6X Pro Solar has a worldwide mapping system for providing an enhanced user experience.
Swimming-Friendly Features
The Fenix 6X Pro Solar is a Solar Powered Multisport GPS Watch full of swimming-friendly features. Because of the worldwide mapping technology, you can get an all-around idea of the pools about their depth, dimension, and temperature.
Two thousand worldwide ski resorts and multiple global navigation satellite systems are available in this watch helps in this case.
The feature of Heart Rate Monitoring and Pulse Ox always tracks your health while you swim. It keeps a record of your swimming data that will help you with your performance enhancement. The 3-axis compass, gyroscope, and barometric altimeter also play vital roles while you swim either in open water or in the pool.
You can also enjoy music, and get calls, messages, and notifications while chilling in the pool. The waterproofing capability of up to 50 meters underwater will come in handy in this matter.
Battery Life
To operate this swimming-friendly smartwatch, a Lithium Polymer battery is required. On a single charge while on normal mode, it can survive up to 21 days and an additional three days with solar backup. If you enable the GPS mode, the charge will last approximately 15 hours and an extra one hour with solar backup.
Pros
Additional solar backup
Presence of Heart Rate Monitor and Pulse Ox
Availability of 3-axis compass, gyroscope, and barometric altimeter
Collection of more than 2,000 worldwide ski resorts maps via GPS
Powerful LCD
Cons
Not enough battery backup on GPS mode
Read Next: Garmin Fenix 5x Plus Review
6. Garmin Forerunner 935 – Best for Built-In GPS
Garmin Forerunner 935 is the greatest deal for swimmers. It has some additional features and a wide display to watch from anywhere. Most importantly, Garmin comes with a monitoring system. For this, you can track and check your fitness through the display of the watch. Here you also find,
Specifications
Weight: 49 gm
Human Interface Type: Button
Connectivity: Wi-Fi
Battery Life: 15 days
Charging Systems: Cable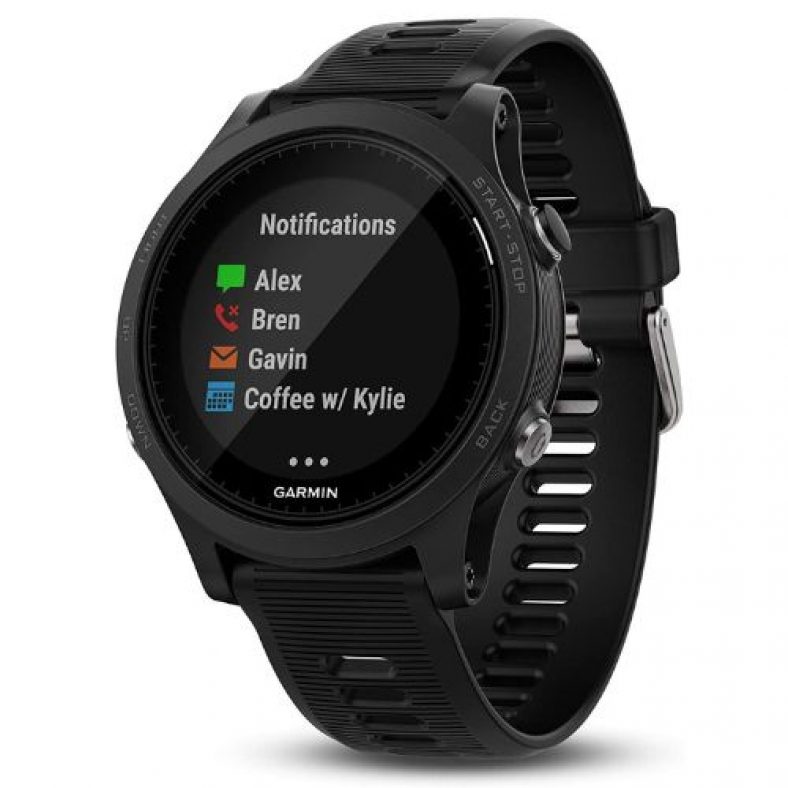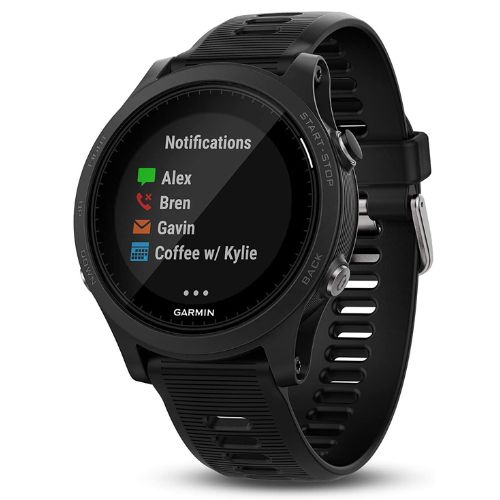 Compact Design & Display
First, the watch has durable glass made with plastic. It has a 1.2 inches display with 0.5×1.8×2.1 inch dimensions. Also, the clock comes with a worldwide map, it has 15+ days of battery life. The watch is manufactured with an LCD-type display.
Compatible For Multiple Sports
Since this timer has access to premium members of many clubs and sports, you can complete any segment. This 935 forerunner will let you send live feedback during the workout times. From swimming to the gym, Garmin's forerunner will give a wide opportunity to fulfill every segment fruitfully.
Additional Features
As it comes to think of the basic trainers, you will get here some additional features, including heart rate counting systems. It also provides dynamics for running, jumping, swimming, and hiking.
Pros
A unique heart rate tracker
Comfortable
Premium GPS runner
Smartphone compatibility
Durable
Cons
The live tracking system that comes with this didn't work properly
Read Next: A Full of Review Garmin Forerunner 45
7. Timex Ironman Classic 30 – Best Dedicated Analog Watch
The next watch on our list is not a smartwatch but rated highly for use in swimming purposes. Timex Ironman Classic 30 is a classic sport watch that you can use for snorkeling and swimming.
Specifications
Weight: 1.44 ounces
Diameter: 38 mm
Case Thickness: 12.73 mm
Battery Life: 10 years
Waterproofing Capability: 100 m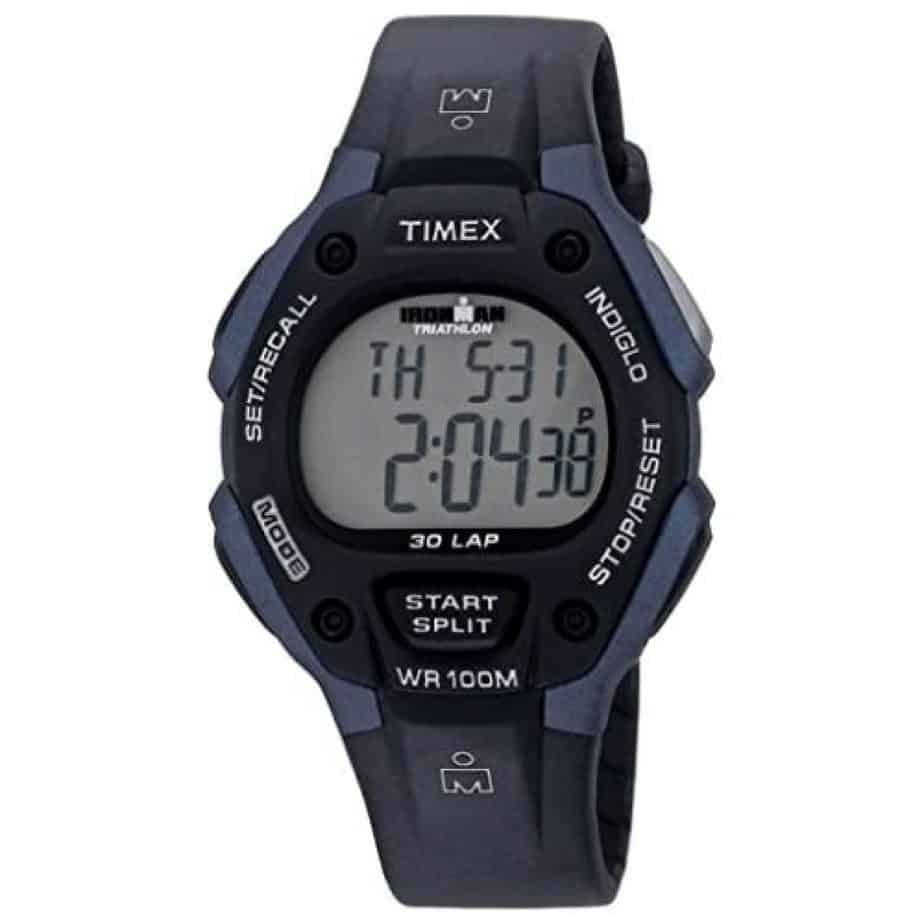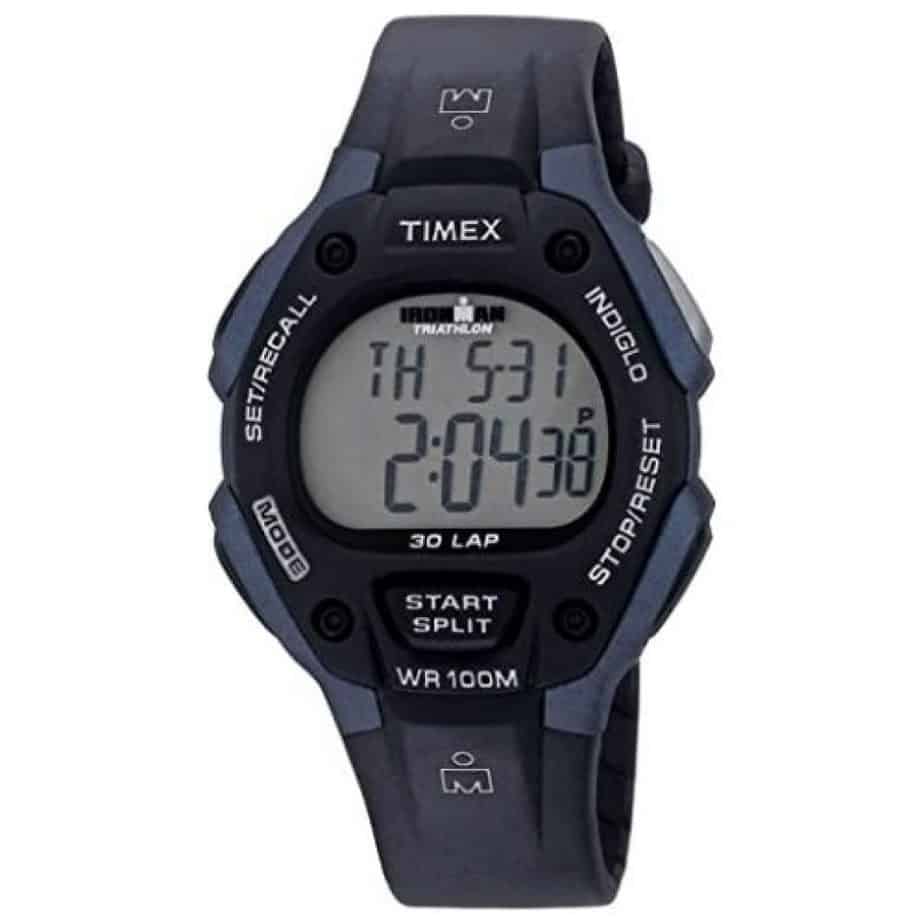 Design and Dimension
The watch we have now is from the Ironman series of Timex, and it is a classical sports time-keeping device. Though it looks sturdy, it has only 1.44 Ounces weight with 6 x 6 x 6 inches of overall dimension. It is an adult men's wear for use in various water activities.
You will get a vintage vibe while swimming wearing it because of its 100-hour chronograph with the 99-lap counter feature. It comes in two colors, and those are black and dark blue, with an adjustable black 16mm resin strap. It has a digital display with a stationary bezel function with a 38mm case diameter and 12.73mm case thickness.
Setting Up
Though it is a manual swimming watch, it has high demand in the market. Time setting up is relatively easy as you just need to pull the stem out and rotate it for time correction. Following the time zone and actual time, you need to set it up.
Features
In this swimming dedicated watch, you will have the 24-hour military time mode with the presence of the Quartz movement. In addition, this watch will allow you to set the time of two different time zones for your favor. You will also get the day, date, and month calendar system in this fantastic manual watch from Timex.
Because of the gray display, the fonts of time are clearly visible even outdoors.
Swimming-Friendly Features
The fast 5-button access to 100-lap stopwatch memory helps you know the proper swimming timing at any fixed distance. You will also get the customizable alarm and interval timers in this watch, which will favor swimming.
As the resin case with acrylic lens present in this watch, it remains waterproof even under 100m of water. So, you can do a lot of water activities wearing this swimming-friendly time-keeping device.
Battery Life
This vintage swimming-dedicated time-wear from the Ironman classic series requires a Lithium Metal battery to operate. You will get up to ten years of battery life from this specialized swimming watch.
Pros
Up to 100-meter waterproofing capability
The guarantee of at least ten years of battery usage
24-hour countdown timer with day, date & month calendar
Manual set up with two different time zones
100-hour chronograph feature with 30-lap memory
Cons
Lack of instruction about how to operate the watch
8. POLAR Unite Waterproof Fitness Watch – Best for Indoor-Outdoor Sports
If you're looking for the best indoor-outdoor swimming watch, POLAR Unite Waterproof Fitness Watch is the one. Polar is well-known and continues to provide both indoor-outdoor sports. It comes with advanced wrist monitoring systems, good GPS tracking, and many more.
Specifications
Weight: 2 ounce
Wire Connectivity: Wi-Fi, GPS
Map Type: Worldwide
Music Controls: Bluetooth, Spotify
Sport Type: Multiple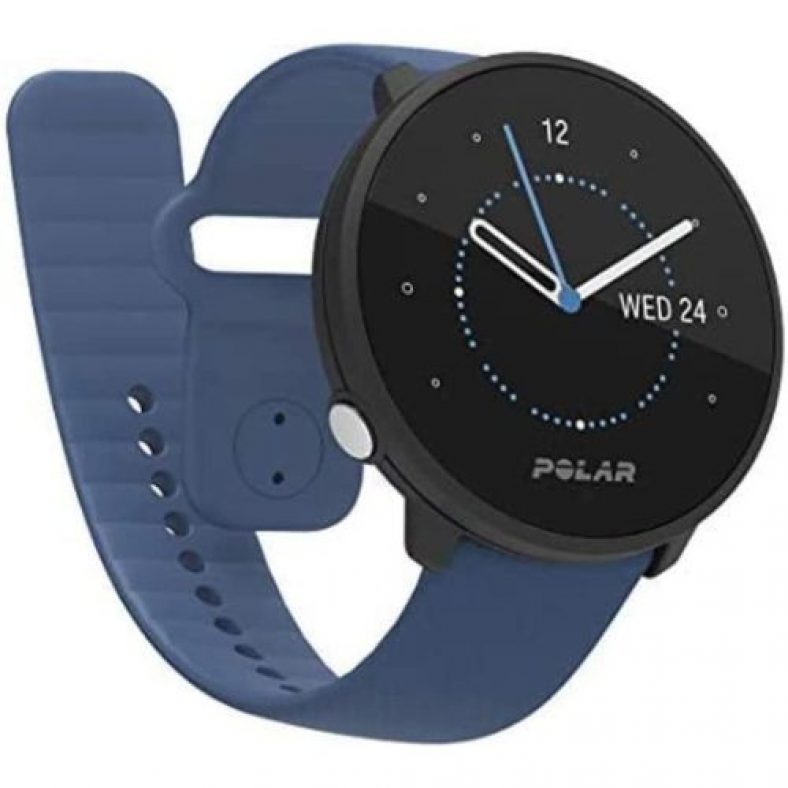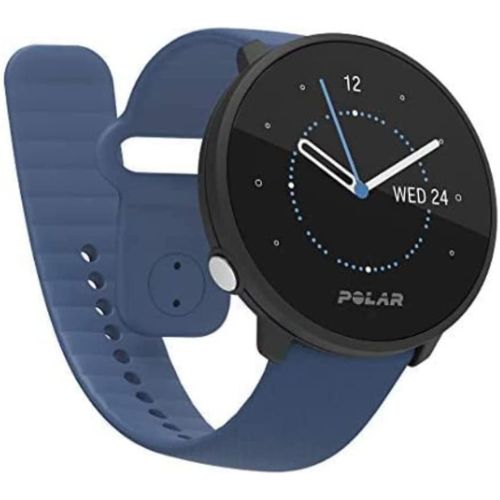 Design & Display Fittings
The polar waterproof watch has a wide oval-shaped head with a stylish wristband. The watch display is 1.22 in size, along with eight unique, fashionable colors. Polar unite dimensional size is around 1.71-0.41 inches. The battery life of this watch is also beneficial for busy schedule maintainers, which is about 20-25 days. It has a one-button type touchscreen, easy to operate.
Night Recovery Management
Polar unite has a night recovery system that makes it more compatible than other watches. The night recharge system will inform you how well you recover from stress, and also track your heart rates. Although, a night recharge is crucial to help you make optimal choices for the next day.
Multiple Sports Community Tracking
This watch allows communication with multiple sports communities including Nike, Adidas, Starve, Endomondo, etc.
Pros
A great fitness tracker
Fashionable
Perfect for all sports & games
well-built in GPS connected
Adaptable & good sleep tracker
Cons
The battery drains very swiftly
9. Fitbit Versa 2 – Best for Design
Fitbit Versa 2 is the second smartwatch of the Versa Series from the brand. This swimming dedicated watch is filled with so many features and technologies. The reasons why the Fitbit Versa 2 watch is on the list of the best are:
Specifications
Weight: 0.16 ounces
Dimensions: 1.56×1.59×0.47 inches
Screen Size: 1.34 inches
Battery Life: 72 hours
Water Capabilities: 150 feet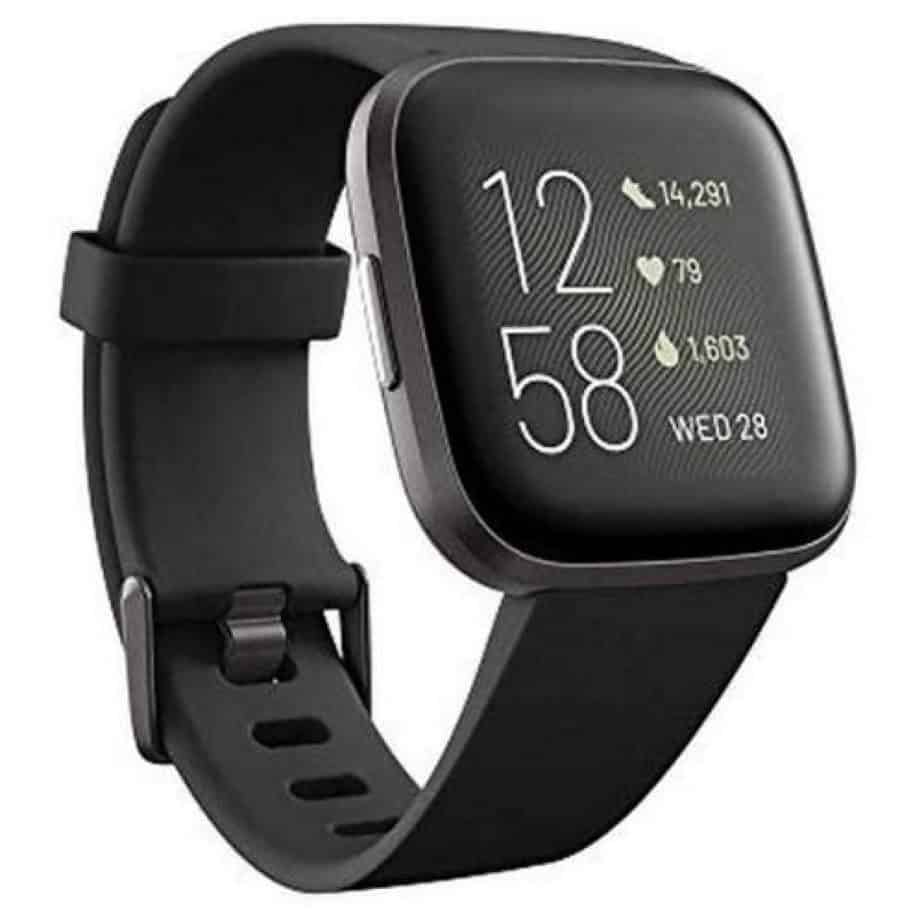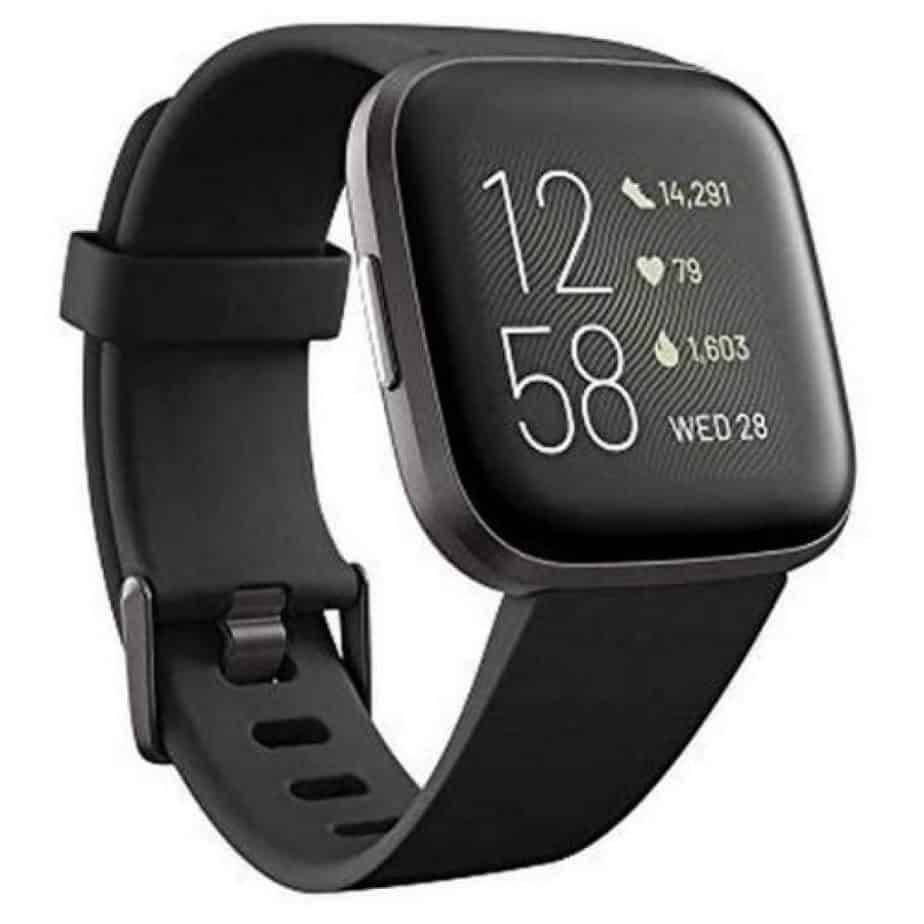 Design and Dimension
It deserves to be your swimming companion in both pool and open water with a slim design and lightweight body. You won't feel like wearing anything on your wrist because of the 1.56 x 1.59 x 0.47 inches dimension and 0.16 Ounces weight.
The watch body is available in two colors, and they are black and carbon, along with a 1.34 inches screen. But the band of this watch only comes in black color. On that average-sized screen, the display has a higher resolution with clear outdoor visibility under sunlight.
Features
This smart time wear from Fitbit has the built-in sleep and weather monitoring capability. Though it runs on Android Operating System, it is only compatible with 200 plus leading android and iOS devices. It has a voice assistant system as well in the form of Alexa.
You can use your voice command for performing any watch-related task with the help of it. Because of a large storage option, this swimming time-wear from Fitbit will preserve your swimming data.
In addition, this swimming-friendly smartwatch of the Versa series is waterproof up to 150 feet underwater.
Advanced Swimming Features
Because of the presence of GPS in this smartwatch, you can have data collection of distance, pace, and stroke. Before going in for swimming, you can check the weather update with this intelligent time-keeping device. By measuring your heart rate and blood pressure, it can suggest to you how much time you need to swim.
This smartwatch from Fitbit also suggests to you how many calories you have burned by swimming. At the same time, it also shows the number of calories you still need to burn for staying fit. Based on a graphical overview, the watch can give you an approximate idea about the depth of the pool.
It is also possible to check your heart rate difference outside water and underwater. You will get app notifications, calls, and messages from being underwater when the watch is connected to your phone. So, this useful smart time-keeping device can serve you well in your day-to-day life, along with being a specialized swimming smartwatch.
Battery Life
This Versa 2 smartwatch from Fitbit will last at least six days in normal mode on a single charge. When all the sensors are on, you will get a battery backup for up to 72 hours.
Pros
24×7 Heart Rate Monitoring with sleep tracking
GPS tracker system
Long-lasting battery backup
You will receive phone calls, texts, and notifications while in the water
Weather update checking
Cons
Not compatible with all devices
Read Next: Best Fitbit Smartwatch Reviews
10. COROS PACE 2 – Best for Lightweight
COROS PACE 2 is a slim feast watch that could be your next choice for hassle-free swimming. A swimmer didn't like any heavy watches, in that case, this is the best fit. Along with its lightweight design, it has long battery life and a health tracking system. Let's discuss some more about this watch.
Specifications
Weight: 29 g
Mounting Types: Wrist Movement
Display Type: On memory LCD
Voice Assistant: Yes
Battery Life: 30 hours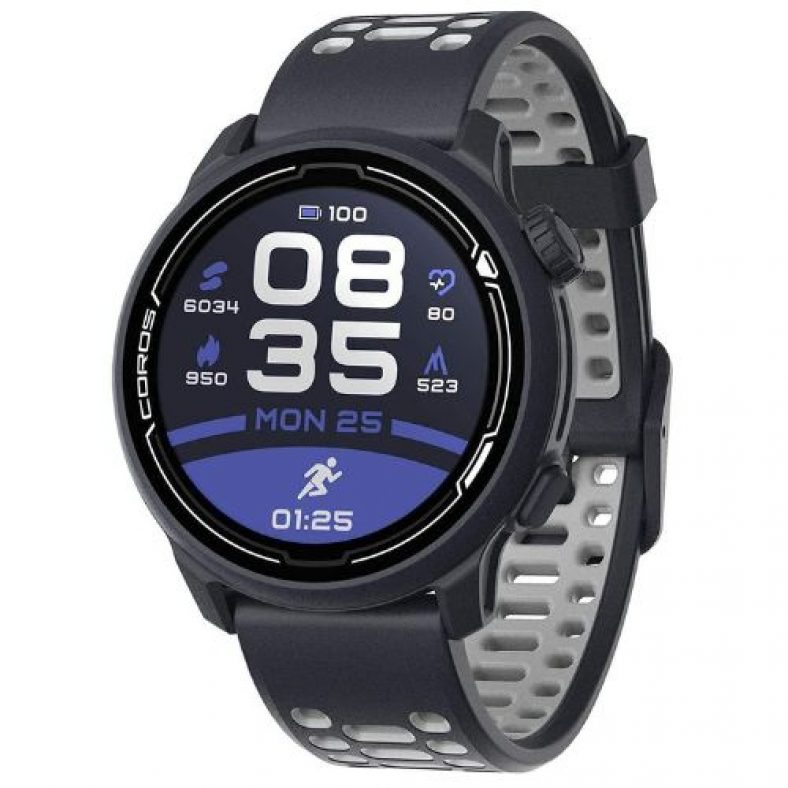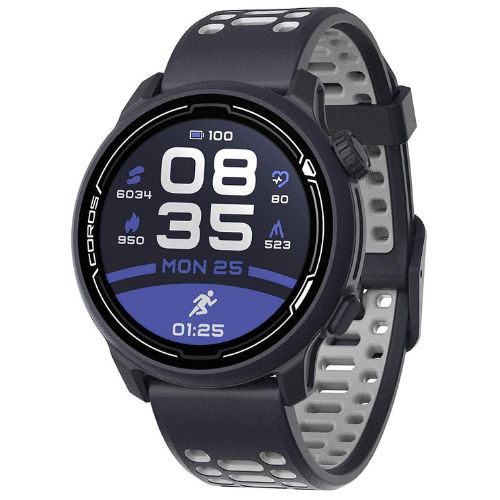 Design & Watch Dimensions
The Coros pace-2 comes with larger dimensions and a unique design. It has five different colors wrapped with nylon straps. The watch is neither too weighty nor too light, but comfortable to carry during high jumps or plank. It has a long and widespread display with a one-button application. For this, give a command to this watch to require seconds or a minute. Its overall dimensions are around 10.5-0.6 inches.
Race Predictor
This white silicon timer is a good race predictor and your sports coach. It's because this digital watch has strong tracking power to trace your workout performance. No matter whether you're training for the 10k-50K miles marathon distance, its high-quality GPS will easily detect you from anywhere.
Pros
Breathable wristbands
Waterproof & Sweatproof
Easy to read
Wallet-friendly
Suitable for multiple sports, gym & workouts
Cons
The watch's GPS is quite slow
11. Timex Women's Ironman Transit – Best for Women
The swimming-friendly watch we have now is specially made for women's use. Timex Women's Ironman Transit is from the Ironman series of the Timex brand. So now, let's provide you with an overview of those areas for which it made it to the list of the best.
Specifications
Diameter: 33 mm
Weight: 27.22 gm
Material: Plastic
Watch Strap Width: 12 mm
Battery Life: 10 years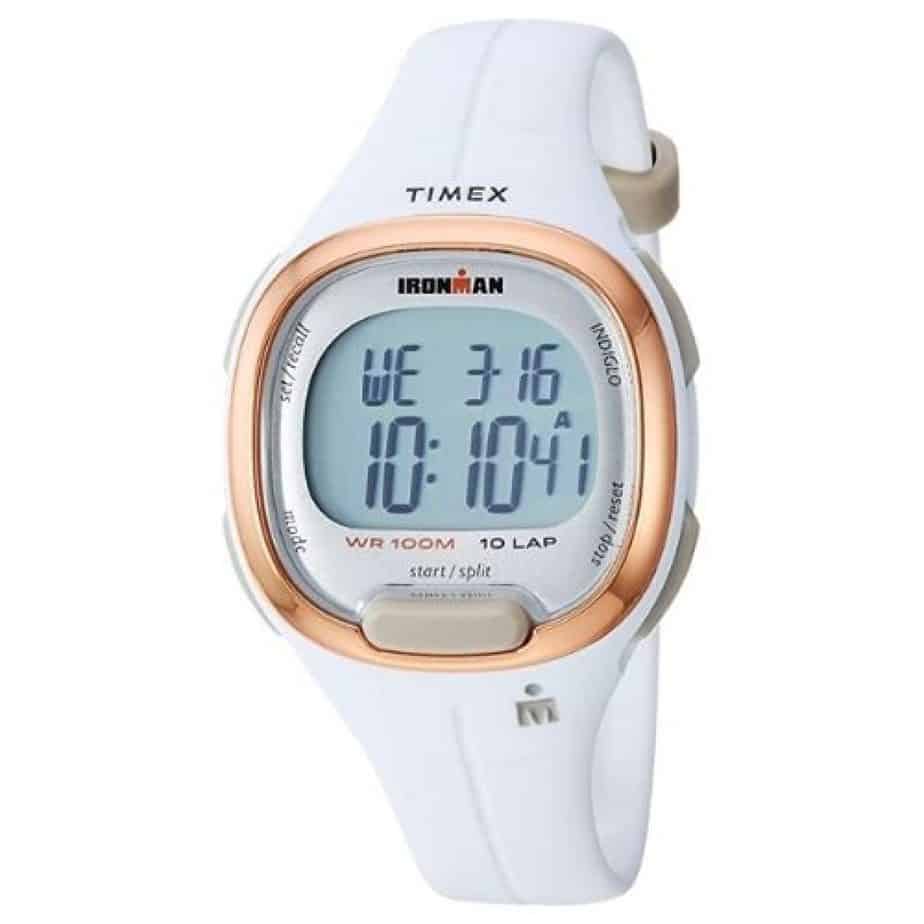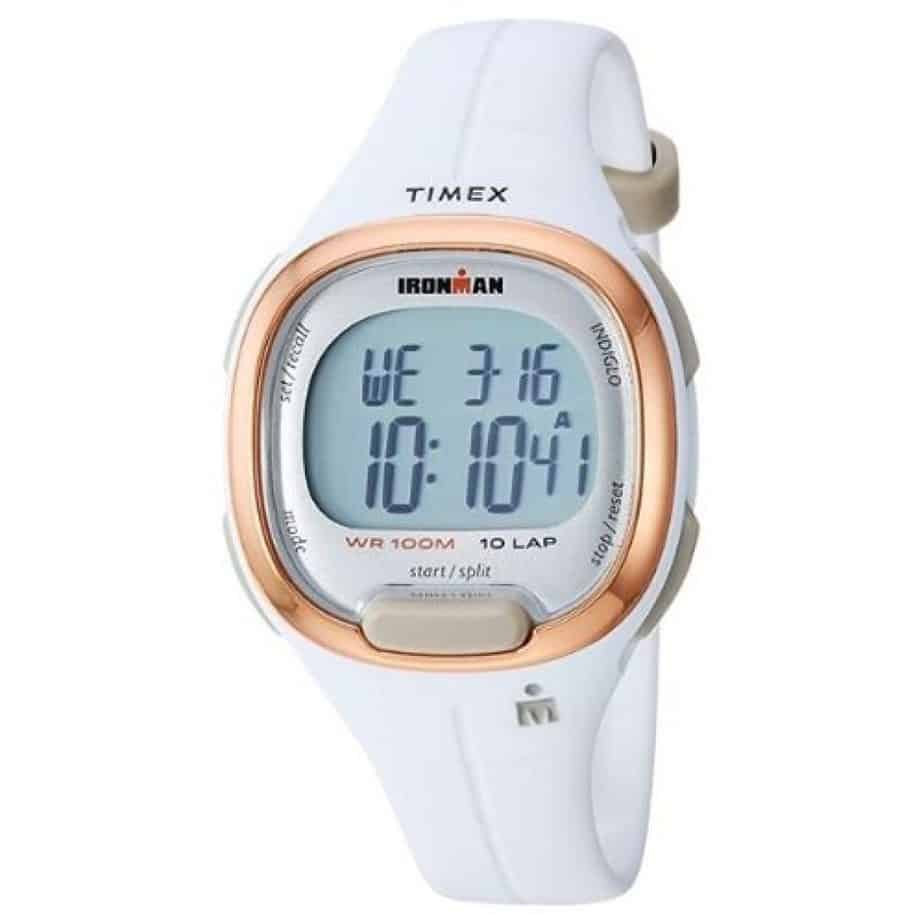 Design and Dimension
The watch we have now is a manual watch for women's usage. With the white watch body and strap color, it looks quite mesmerizing. Around the display, there is a rose gold-tone which took the look of this watch to a whole new level. The shape of the display is square-roundish with Resin case material.
The thickness of this Resin case is 11mm along with 33mm in diameter. In this watch, the band color is white, which is made of plastic with a width of 12mm. This women's wrist-wear is pretty lightweight as it weighs only 27.22 grams.
Features
Timex Women's Ironman Transit comes with a digital display with gray time-telling fonts in the middle. The display visibility of this watch is quite good in outdoor sunlight. It has an acrylic dial window material clasp-type buckle with a stationary bezel function.
It has a special lighting feature in the display, along with having the day, date, and month type calendar. Because of the athletic silhouettes, you will get a sporty vibe while swimming wearing this time-wear.
Swimming-Friendly Features
The adjustable 12 mm resin strap provides snug fitting while swimming. You will get a 100-hour chronograph with 10-lap memory and Quartz-type movement, which are really helpful in swimming. The countdown timer and stopwatch show the accurate time you take to swim any specific distance.
It is water-resistant up to 100-meter underwater, which helps you for diving, snorkeling, swimming, and other water activities.
Battery Backup
This women's wrist-wear runs with the power of a Lithium Metal battery. Like the other watches from the Ironman series of the Timex brand, the battery of this watch lasts for almost ten years.
Pros
Mesmerizing white and rose gold color combination in the watch body
Indigo backlight with a durable Resin strap
Water-resistant up to 100-meter underwater
100-hour chronograph with 10-lap memory
Two different time zones with the Japanese Quartz type movement
Cons
It might provide a cheap feeling
12. Momentum's Unisex M1 Splash Watch – Best for Water Resistance
Now we have an analog unisex swimming-dedicated watch from the Momentum brand. The reasons why Momentum's Unisex M1 Splash is on the list of the best swimming watches are:
Specifications
Watch Material: Snug Buckle
Watch Movement: Quartz movement
Clock Setting Option: Two
Thickness: 11 mm
Battery Life: 5 years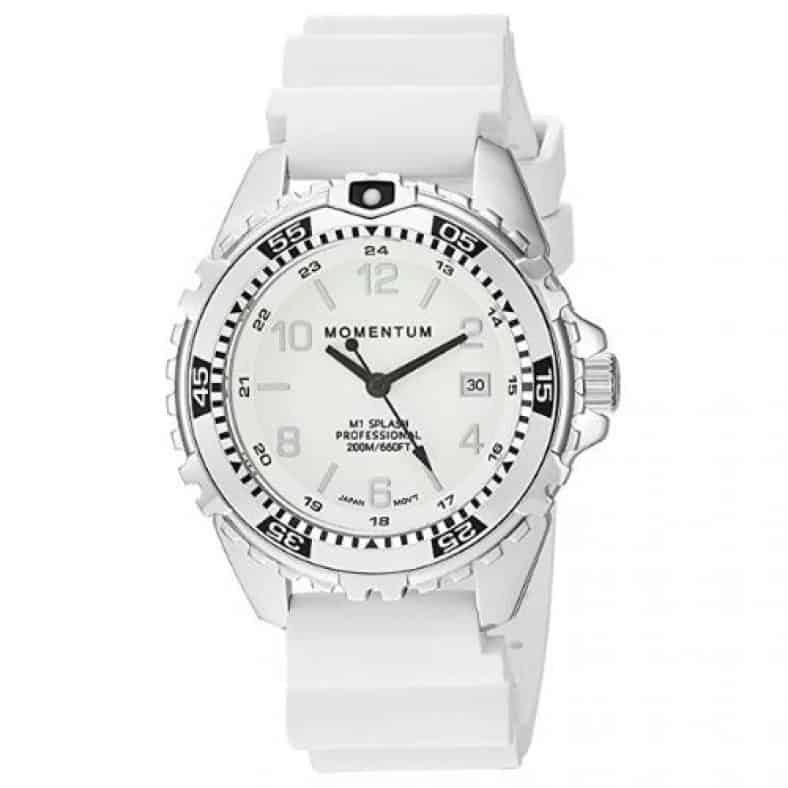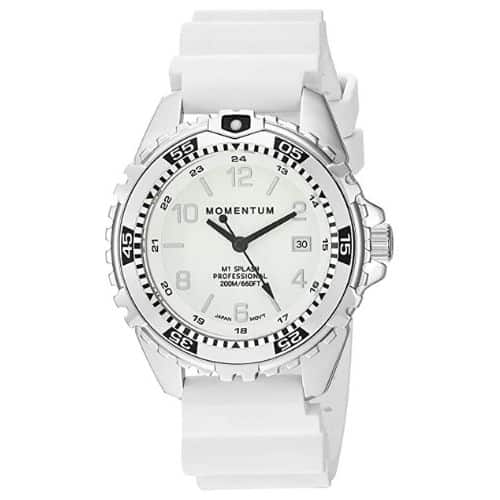 Design and Dimension
This M1 splash from Momentum is well-known all around the world for its catchy design. The case of this watch is made from stainless steel with 40mm diameter and 11mm thickness. In this watch, the dial color is white with mineral dial window material. The shape of this unisex momentum analog time-wear is roundish.
It has a 38mm rubber band, which is white in color and has 17mm thickness. This attractive watch has a buckle-type clasp and an analog-type display. It can be your perfect time-keeping companion while you go swimming.
Features
On the display, this watch has a date window that you can use as a calendar. Snug buckle closure has made it a tough competitor to be in your collection as your swimming companion. This watch has the availability of the Japanese Quartz Movement. You can operate this watch both in 12-hour and 24-hour format.
It is also possible to set the time of two different time zones in this watch for perfection. In this swimming-dedicated watch, you will find the 100-hour chronograph with a 10-lap memory feature as well.
Swimming-Friendly Features
The Splash M1 from Momentum has the best waterproof capability as it can operate while being 660 feet underwater. This feature opens up the opportunity for you to scuba dive, snorkel, and swim wearing the timepiece. Using the stopwatch, you can see how much time you need to cover any fixed distance through swimming.
You can also presume how much time you need to swim or stay in the water. Three different alarm setting options present in this watch will help you maintain your swimming schedule.
Battery Life
The estimated battery life of this watch is three to five years. As an analog watch, you won't have to charge it either with electricity or solar power. After three to five years, you may have to change the lithium metal battery of this watch, but the watch will still operate.
Pros
Three different alarm setting options
Customized stopwatch with two different time zones
Waterproof up to 660 feet underwater
100-hour chronograph with 10-lap memory
The Japanese Quartz movement with both 12-hour and 24-hour format
Cons
The battery is not standard
Things to Consider While Buying the Best Watch for Swimming
Why do you want a swimming watch? When you know the answer to this question, it will become effortless to choose a watch. What you want in your watch and how you are going to use it will make it easy for you to narrow down the list.
If you want to improve your swimming skills day by day, you'll need a watch with advanced swimming features. But knowing the time during a swim can be done using a simple water-resistant watch.
Lap Counting/ Length Tracking
When buying a special watch for swimming, a must-have feature of this watch is the capability to count the swum length or lap. You can apply this feature when swimming in a pool. Lap counting allows you to know how many lengths you have swum that day, and most of us forget about this counting while swimming. As it is tough to remember, the watch will do it for you.
When you have the lap counting data, you can compare this and improve your performance. Also, you will get data about each lap you have swum. So you can see which one was the fastest, and you can improve over time using this data. But without the feature, it will be difficult.
Additional Swimming Features
Some features that are proven to be convenient in swimming and if your watch contains these that would be beneficial-
Split timer– It measures how much time you took for every stroke, and that helps to improve your stroke timing.
Stroke detection– Some watches can detect strokes like the rate of every stroke, whether it was fast, slow, or optimum, and you can swim accordingly.
GPS
It is easy to track swimming activity while swimming in a pool. But if you are swimming in an open space, that would be hard to track without a watch with GPS. So, make sure your watch has GPS if you swim in open spaces.
Connectivity
Most swimming watches have the ability to connect with different watches, and it is important as you may have to store and share your swim data. That data can help you improve your performance.
Choose a watch that can be connected with the various apps so that you can share data with others and discuss it. It will also let you know how much you have improved over time and how good you are doing.
Water-resistant
Without water-resistance certification, it is not possible to swim wearing that watch. Therefore, the watch you bought for swimming must come with a water-resistant accreditation, and it is one of the crucial features of swimming watches.
As the watch will be in physical content with the water so it must be capable of tolerating the water pressure, or else it is no good. So go for a watch that has the proper water-resistant capability, and manages it well.
You can determine if the watch is good or not by seeing the depth rating of the watch. Watches that can withstand water up to 10ATM/100m/330feet are suitable for swimming but not for diving. So if you do both swimming and diving, you have to consider a watch with a more depth rating. But only for swimming that depth rating is considered ideal.
If you want a diving watch go for a watch with a depth rating of more than 200meter. A watch that has 30 meters of water pressure resisting capability can not withstand that much pressure. That value is theoretical, so you have to consider a more depth rating. You cannot try a watch with its face depth rating value.
Durability
The lifespan of a watch is determined by the quality of the material used and its durability. Swimming is an outstanding sport, but at the same time, it is brutal and harsh. So, which watch you choose must have the capability to hold against the tough and harsh conditions.
You may also wear the watch outside the poll while working out in the gym or running or for similar activities. Of course, the timepiece has to be durable. Many watches come with resin and long-lasting rubber, which make those durable enough for swimming.
What Are the Benefits of Swimming Watches?
It may seem to you that a swimming watch is nothing but an ordinary watch with better water-resistance capability. But that is not completely true as a swimming watch can do many exciting things. Some are-
Track length
Swimming watches come with a length tracking system that counts the length you have swum. So if you are someone who loses length counts every time, this feature is a handy one for you.
The length by Length Data
The watch has the ability to differentiate the length of lap data. So you can easily know which length you have swum fastest and which one is the slowest.
Technique Monitoring
Some high-end watches come with the feature of monitoring your swim technique. So in simple words, it can tell you which strokes you have done were optimum, slow, or too fast.
Share Your Swim Data
You can analyze and share your swim data with others using these watches. It allows you to compare data with other swimmers, and that will help you to perform better and gain confidence.
How to Know How Water-resistant a Watch is?
The water-resistant capability of a watch can be stated in many different ways. By seeing these statements, one can easily determine how water-resistant the watch is. These statements are easily on the box or package of the watch. These are-
IP Rating
Most probably, we have heard about this one. IP rating stands for Ingress protection rating, and this rating is measured by The international Electrotechnical commission. This rating measures the water-resistant capability of electronic devices such as watches, mobile phones, etc.
You'll see that the IP rating starts with the Two letters IP itself and is followed by two digits. The first digit of the IP rating represents the capability of resisting dust. If the device does not have a dust resistance capability, you may see an x placed after IP like IPx7.
The second digit is for the water-resistant capability. Here the higher number means a higher capability of water tolerance. If a watch with an IPx4 rating can tolerate less water than a watch with IPx7. So for swimming, you should go with a timepiece that has a rating of more than IPx7.
ATM
The full form of ATM is Atmospheric pressure. So it shows you much water pressure can a watch handle. For example, 1 ATM is equal to 10 meters. So if the watch has a water tolerance level of 5ATM, it means it can handle water that creates 5 atmospheric pressure or is water-resistant up to 50 meters.
BAR
BAR and ATM are basically the same things, and they measure the capability of tolerating water pressure. Mostly this BAR unit is used in Europe, and it says the same thing the ATM unit says. So 4 BAR water resistance means 40meter water-resistant.
Depth Rating
Some watches simply state their depth rating using feet or meters units like 30m or 100ft. Again, though, you do not believe in this number blindly. These numbers are just theoretical measurements. For example, you'll not swim under 30 meters of water, but you cannot we=swim wearing a watch that comes with 30-meter water resistance capability.
So for intense swimming or diving, you need a special type of timepiece that is made especially for this task. You need watches that have more than 500 meters of water-resistant capability for water diving. See this depth rating.
30m – 50m: Light contact with water, such as rain or hand washing
50m – 100m: Suitable for light swimming.
100m – 200m: Suitable for swimming.
200m – 500m: Suitable for watersports.
500m+: Deepwater diving
How Can I Clean My Watch After Swimming?
Many modern smartwatches are specially designed for water activities like swimming, diving, and showering. But when we do water activities, many impurities from the water can get to the smartwatch, and that can be precipitated as dirt on the sensor of the watch if dirt builds up on watch's sensor. The data you'll get from the watch will not be as accurate as it used to be. You can easily prevent such a scenario toa arising if you clean the watch after swimming.
You have to clean the watch before the dirt or slat from the pool dries up and this is a very important thing to follow. Follow these below-mentioned steps to clean the watch properly.
Step-1: Remove the watch from your wrist and run fresh and cold water on the sensor port of the watch.
Step-2: Now, take a soft bristle toothbrush. Use this toothbrush to clean dirt and debris away from the watch's charger contact point and over the sensors. While cleaning the watch, you must not put any object into the sensor to make it clean. Also, you should not use canned air. If you blow air to the sensor for cleaning, it can harm its performance. So, abide by these safety measures.
Step-3: Shake and that will remove excess water from the watch. Keep it steady and allow some time to dry.
Frequently Asked Question (FAQ)
Can I swim wearing a fitness tracker?
If your fitness tracker comes with some necessary features in swimming watches, it can be used while swimming. The first and most important thing is it has to be capable of withstanding water for a long time. See if the tracker has a water-resistant certification or not. If it has it, you can swim wearing the tracker.
What features are most common in swimming watches?
All swim watches are capable of calculating the distance you have swum and the time it looks. Basically, these watches can easily calculate the time and distance of your activity. In addition, some advanced swimming watches can track your swimming length, measure stroke rate, and many more that help you to improve your performance.
Can smartwatches be wearable while swimming?
Modern smartwatches mostly come with water-resistant certification. So it can easily handle a dip in the pool. Though you can swim wearing these watches, the result you'll get from a special swimming watch will improve your performance that you'll never get on an ordinary watch.
Final Words
Watches are the must-wear device for humans to get a proper idea about time and date. Using watches while swimming is also beneficial for achieving perfection. Professional swimmers use both smart and analog watches for achieving perfection in their swimming timing.
Whether you are a professional swimmer or a common person, using the perfect watches is always beneficial. That's why we have gathered the list of the 12 best watches for swimming which will serve you the best.
As an Amazon Associate, I earn from qualifying purchases.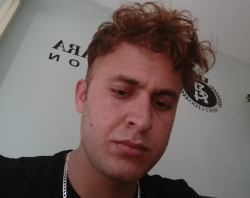 Latest posts by Nick Rolloson
(see all)