Fitbit Versa 2 Review | Best Guider For Fitness & Swimming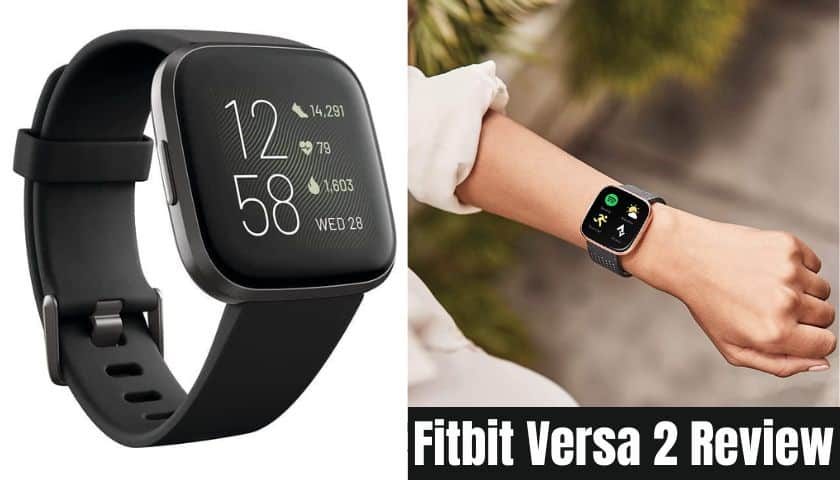 As an Amazon Associate, I earn from qualifying purchases.
The Fitbit Versa 2 is a great smartwatch from Fitbit which can be a grueling competitor of Apple and Samsung.
It has a great battery life, advanced fitness, sleep tracking features, charging capabilities, and many handfuls of features.
Overall, this watch is a great pleasure for swimmers, fitness guides, and adventurous people. Furthermore, we found some crucial improvements from the Fitbit versa 2 review which make it indifferent from its competitive rivals.
Fitbit Versa 2 Review – All The Prominence In Details
The Fitbit Versa 2 is a fresh and great watch for people who're looking to buy a timer to track their swimming during the day with some bonus modes.
Before purchasing any swimming watches, it is important that the watch case, materials, and water resistance are all durable, solid, and up to the mark. In this perspective, the Fitbit V2 has all those actions with some advanced thoughtful traits.
However, this timer has incredible battery life, fantastic apps, a trouble-free step counter, heart rate monitors, and built-in Amazon Alexa to get quick notifications on Instagram, Facebook, WhatsApp, Gmail, etc.
All of these free functions are narrated below but let us get a quick overview of the packages and specifications of these wonderful timepieces.
Specifications & Dimensions
Connectivity: Wi-Fi, Bluetooth 4.0
Operating System: Fitbit OS
Watch Material: Aerospace-grade aluminum case, housing, and buckle made of anodized aluminum, 3-display corning gorilla glass
Compatible Phone Model: Apple iPhone 6 plus
Screen Size: 1.34 inches
Compatible Devices: Smartphone
Display resolution: 300 pixels × 300 pixels
Screen Display: AMOLED full
Special Features: Always On Display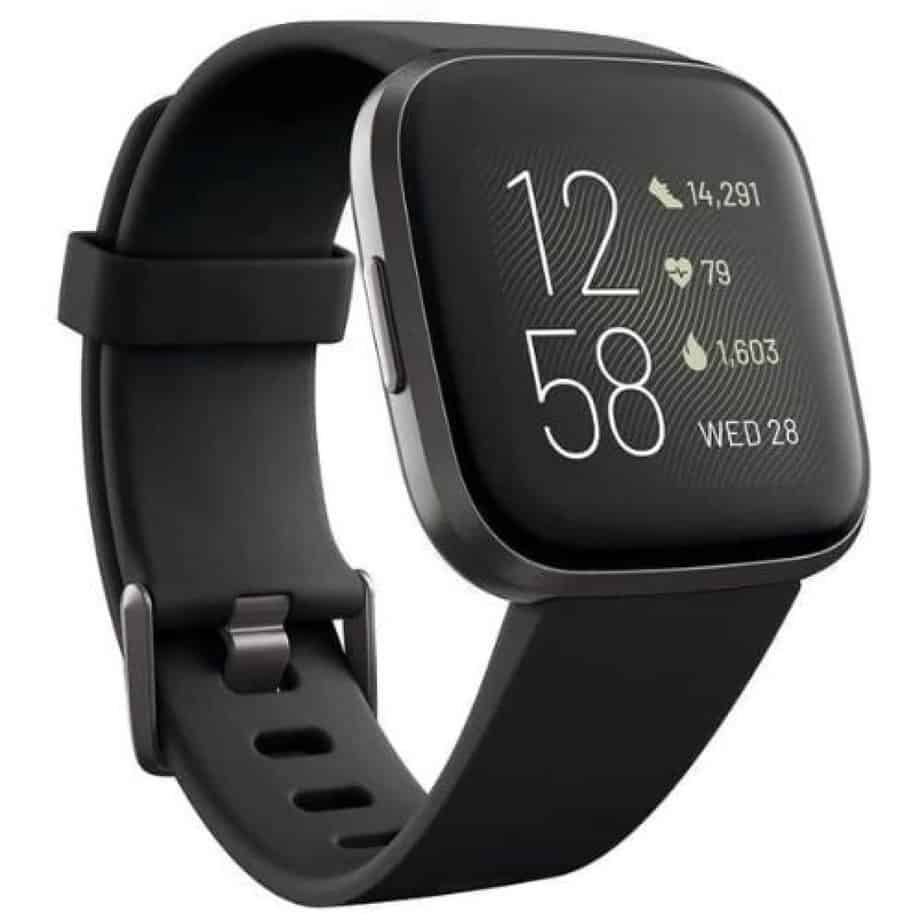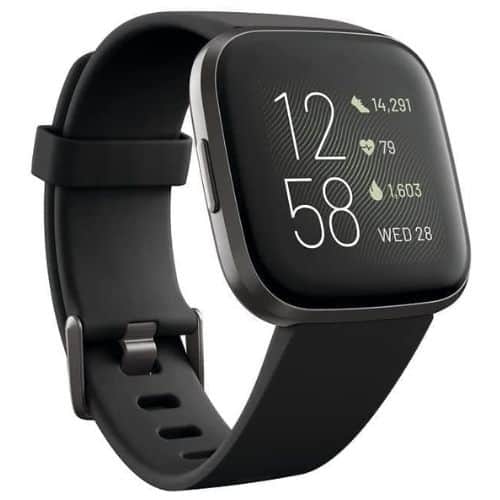 What Comes In The Box?
While unboxing the ultimate Fitbit V2 packages, you will find stylish, sliver polished edges and a small wristwatch with separate straps. Along with this, you will also get a portable charging cable with a charging case.
The charging case that comes with this watch is really appreciated since it looks so adorable and can be stored anywhere. Lastly, you will get the user manuals and the instructions textbook with this watch.
Watch Design & Thickness
The Fitbit V2 comes with the usual design, but you will find some different things here. The design of this timer is so modest and comes with new vibes. Of course, you definitely love the smooth texture of the display.
It has a sleek square face with gentle golden round edges. We like the unobtrusive buttons around the watch that really look so dashing.
If talking about the watch dimensions, this watch is 12 mm thicker than the Fitbit's other predecessors.
The same things you will find in the width and length of this timer which are around 1.56 mm to 1.59 mm in both length and width. It also feels too light (0.16 ounces) to carry, which is better than the previous watch series of the Fitbit.
Wider & Clear AMOLED Display
Another fantastic thing about this timer is the AMOLED display. When compared to regular LCD watches, AMOLED consumes less battery power, providing you with vivid picture quality.
Not only this, AMOLED watches are proven to render faster motion responses.
Comfortable, Exchangeable & Waterproof Wrist Straps
The Versa 2 watch has very comfortable straps and is less sensitive to the skin even if you are diving in water all day long. Besides this, Fitbit watches are really comfortable to wear since they are made either with flexible elastomer material or silicone.
There are thousands of versa 2 watch straps available on their websites, and all of them are swimming proof. That means those straps have 50 m water resistance.
Again, Fitbit watches usually come with an easy-to-use interface that allows it to be simply attached or connected to the straps swiftly.
Battery Life
Like most of the Fitbit hand watches, this versa 2 also has an incredibly long battery life. At a single-day charge, this watch can stay six days or more. We think this is far better compared to other watches that offer a battery life of just 18 hours.
You can take a rest each night to relax not worrying about forgetting to charge the watch.
The battery of this timer is built in a lithium polymer battery, so you can easily charge the timer with the USB-based charging dock. The watch takes only 1-2 hours to fully charge.
But you may now wonder, how does Versa 2 accomplish such an extended battery life? Well, the answer is pretty simple.
There are so many factors working in this regard which are helpful to improve the battery life. Among them, using saving mode and turning off the Always on display are the common ways to increase versa 2 battery longevity.
Interesting & Useful Features
Since we have finished discussing all the general and boring specifications of this timer, let's talk about some interesting and useful features of this watch.
Breath & Oxygen Rate Monitoring
This watch has interesting breath and oxygen rate monitoring features. You can divide it into three including breathing rate features, guided breathing sessions, and SPO2.
Breath tracking systems work at night to improve your sleep conditions, and it also collects data for future use.
Meanwhile, stress management features guide you to get relief from stress, and it also guides you by taking a 2-3-minute session.
Finally, the important feature called SPO2 can track the levels of oxygen in your blood. We think it is really important to ensure that your lungs are receiving good flow.
Also, one can easily detect that the body is operated by the proper oxygen levels.
Accurate GPS Monitoring
With the help of this timer, it is now possible for you to catch the location from anywhere. This timepiece allows the Fitbit apps to run via a real-time pace and a map.
Again, this also supports all-day activity tracking, which means you won't need to worry about starting a workout every time. You can even see the workout improvements through the preloaded data.
Quick Responding Notification Alert
There is no doubt that this watch has many thoughtful features. But if you ask me what's the best then we must say the quick notification alert.
You can send a quick reply or also see the notifications on social media on this small timer screen. So, you won't miss any calls or important messages, especially when you're driving a car or riding on a motorcycle.
This watch will also send email notifications from Gmail. You can even receive calls by pairing this watch with a phone Bluetooth, and also it has a tiny microphone.
The watch display has great contrast, vivid colors, and excellent brightness
The alarm feature is very useful
It supports numerous exercise guides, training guides, and even 10-minute training cycles
The watch processor is very faster
The touch screen is super responsive
The Spotify app requires premium subscriptions
The text messaging feature of this timer only applicable to Android
Frequently Asked Questions (FAQs)
Should I Buy This Timer?
This watch has everything that made it a real competitor among the high-end watches. With this watch, one can easily realize how often they should go for a workout, when to relax, and also detect their heart conditions.
Meanwhile, it supports Amazon Alexa which makes this timepiece worthier for busy people to respond to an emergency call to pick up and send quick response SMS. So you should buy this to enjoy a lot of good things in one.
Can I Chat On WhatsApp Through This Timer?
The Fitbit V2 comes with a microphone and also supports voice commands functionality. Meanwhile, these two features are helpful to talk or give commands to the watch.
So, you can send voice messages on What's App during this time when it is an emergency.
What Are The Benefits Of Versa 2?
This Fitbit V2 offers a good deal of important health, gyms, and sleep tracking features at a time. From serious heart patients to teenage sleeping disorder problems, all can become beneficial by grabbing such timers.
Again, this timer supports active zone minutes, daily news information, weather notifications, and many more.
How Many Years Does A Versa 2 Last?
Generally, a Fitbit V2 can last more than a year. But it can expand if you maintain the watch with good care.
How Far Can A Phone Detect The Lost Fitbit V2?
Your phone can detect the lost Fitbit V2 from 75-100 feet away. This is an ideal distance for this timer to pair with your phone via Bluetooth.
It is really tough to decide which smartwatches are best fitted for you and fulfill all your expectations. In this situation, we can give you some relief by advising this timer.
It's not because this watch has excellent display quality, it's just for the decent behaviors it shows to all people of all ages. If you have a charging concern, Fitbit will cover these features.
If you're looking for a great resistance watch then this has 50 m water resistance. One thing we genuinely find from all the Fitbit versa 2 review is that this watch is extremely lightweight, has an excellent display and is a great motivation tool.
As an Amazon Associate, I earn from qualifying purchases.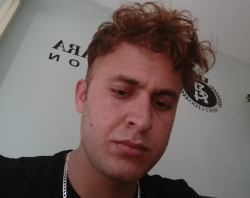 Latest posts by Nick Rolloson
(see all)