Timex Expedition Digital Chrono Alarm Timer 33mm Watch Review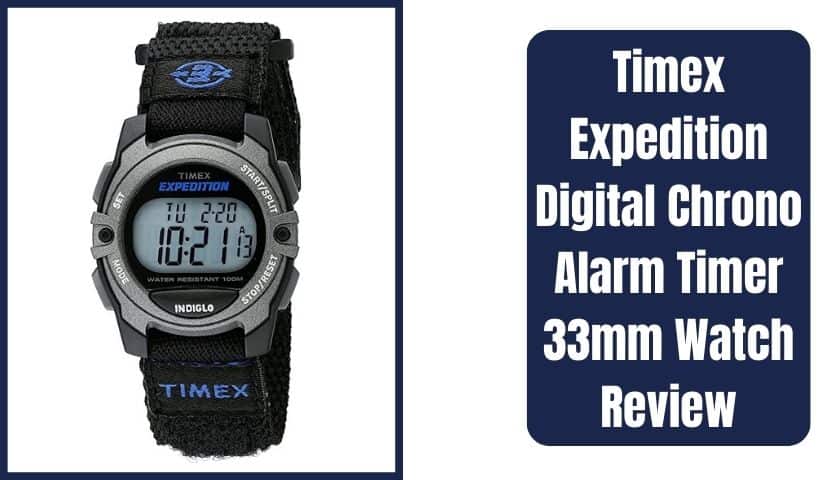 As an Amazon Associate, I earn from qualifying purchases.
The Timex Expedition Digital Chrono Alarm Timer 33mm Watch can give you company all along your journey, whether in groups or solo. This is a true adventure companion designed to withstand whatever life throws to it.
Moreover, chronograph functionality allows you to track your every personal data. The Timex Expedition Digital Chrono Alarm Timer 33mm Watch review will come in great assist in knowing more about this time-indicating device.
Timex Expedition Digital Chrono Alarm Timer 33mm Watch Review
The timepiece we have here is built to face outdoor difficulties. From an amazing strap to a rock-solid case, Timex Expedition Digital Chrono is capable of surviving the toughest landscape and weather with ease.
Now, you are going to buy this watch with the hope of wearing it in various situations. The tasks which can be performed by wearing this beast wristwear are usual day-to-day usage, hunting, climbing, trekking, hiking, backpacking, etc.
You will get amazing results after using it as your daily driver. Along with that, it will even accompany you in the toughest weather and landscape conditions because of its rugged body.
After wearing the Expedition Digital Chrono Alarm Timer 33mm Watch, you will feel like wearing a feather. This makes it the toughest contender for being your wrist companion outdoors and traveling.
Now it is time to learn about the key specifications of this fiercely-built watch. Right after that, the major facts about this time-telling device will also be discussed.
Key Specifications and Features
Dimension: 7.5 x 1.3 x 0.4 inches
Built Material and Case: Resin as bezel and case material along with Nylon band
Movement Type: Quartz
Display Type: Digital
Watch Dial: Indiglo light-up
Clasp Type: Velcro
Calendar: Day-Date-Month
Water Resistivity: 100 m
Battery and Battery Life: Lithium Metal Battery, up to 10 years of battery life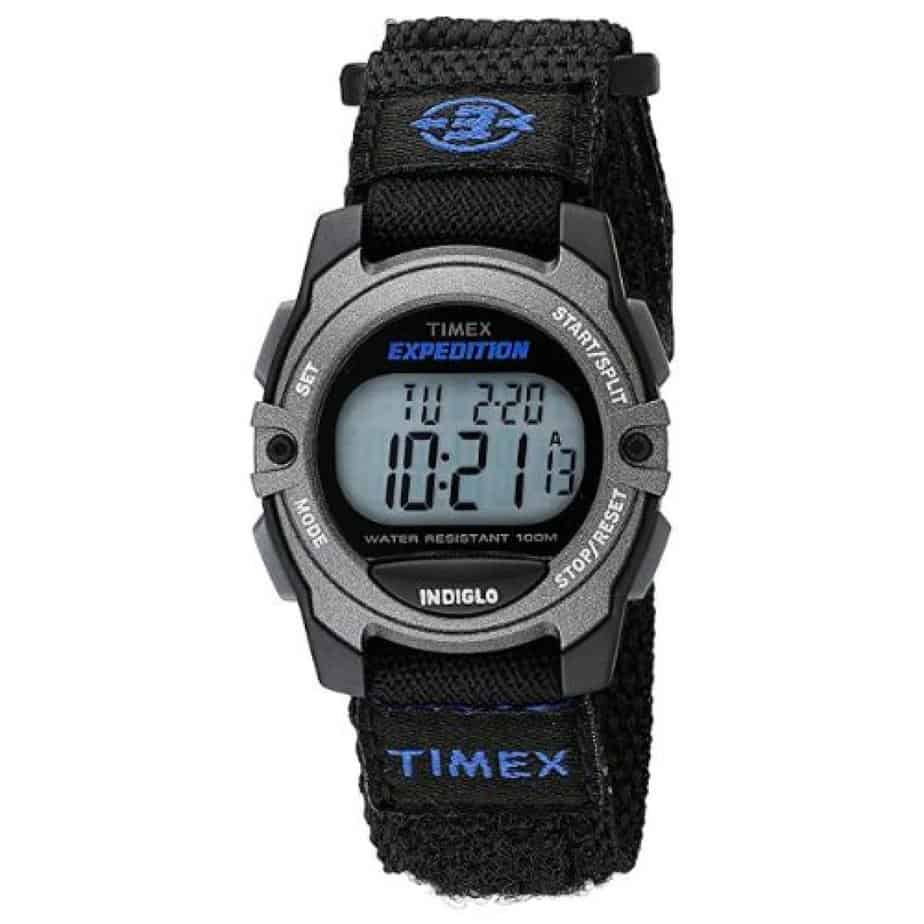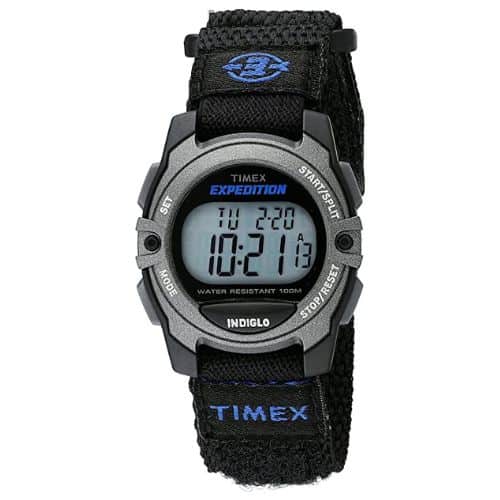 Design, Dimension, and Built Materials
This outdoor-friendly watch comes with an overall dimension of 7.5 x 1.3 x 0.4 inches. Its 22.68 g weight is nice and evenly distributed all along the body, which makes the hand feel better.
You will find a roundish display in this timepiece and it will be a digital display along with the acrylic dial window.
There is a unisex high-quality Nylon band in this watch which comes with the Velcro strapping system. Because of that, the watch can be nicely adjusted with your hand. In addition, you will find the presence of a bezel with a stationary function that is made of high-quality Resin.
In this beautiful and rugged watch, the case is also made from the same kind of Resin. The diameter of this case is 33 millimeters when it comes to 11 millimeters of thickness.
Because of all these built materials and the craftsmanship of Timex, the durability of this outdoor watch always remains high.
Timex has used scratch resistive mineral glass in the display to keep it safe from the impacts of the wild.
Chronographic Function
The chronographic function is probably the best addition to this rugged outdoor watch from Timex. This feature enables the stopwatch mode in this timepiece with which you will be benefitted in many ways. For example, you are trekking and want to complete the path within a fixed period.
That's when this stopwatch with a chronographic feature will come into the game. You can also use it in your daily life to set goals and complete them within the time you have set. This way, it will also be beneficial when performing tasks like rock climbing or swimming.
To provide you a tip of advantage in this matter, the watch comes with a 100-hour chronograph with lap and split times. In addition, you will also find a 24-hour countdown timer in this amazing wristwear from Timex.
Indiglo Back Light
In the typical watches, you might have faced difficulties in seeing time while traveling or trekking at night. But things have changed in this new era, as you start using the Timex Expedition Digital Chrono Alarm Timer 33mm Watch. Because it comes with the amazing Indiglo backlight technology.
It will allow you to see time on this watch during the nighttime without difficulties. As a result, you will be able to use it without any issues while trekking or traveling when there is a shortage of light. This revolutionary creation is a blessing to adventurous people worldwide.
Water and Dust Resistivity
During the traveling period, you won't always travel through nice and friendly landscapes. In most cases, you will face difficult terrains with either too much water or dust. For a large number of watches, it will be difficult to survive those tough conditions.
But this rugged adventure-friendly watch is above that league as it comes with both water and dust resistivity. Because of that, you can go on a tour in the vast watery areas without thinking about your watch being damaged.
It is capable of resisting water even after being 100 meters underwater.
So, you can swim or perform other water activities as well by wearing this durable and sturdy watch. The same goes for the desert areas because of the dust resistivity.
As a result, you will totally be able to focus on exploring all around without letting your mind be diverted into other things.
Read Next: Timex Women's Ironman Transit 33mm Watch In-Depth Review
Various Time Settings
You can easily set alarms to this based on the time you require. In this all-rounder timepiece, you will be able to select three different alarm periods in a day. It is also possible to set weekday or weekend alarms in this outdoor watch even if you are using it as your daily driver in normal life.
All those alarms also come with the five minutes backup system to make things even more precise for you. Along with all these, the alarms are easily customizable with the buttons given on each side.
You can also set two different time zones in it to stay up-to-date about another time zone as well apart from yours.
Why Timex Expedition Digital Chrono Alarm Timer 33mm Watch as Your Daily Companion
There are so many things that make this watch one of the toughest competitors to be your companion in the wild. After the discussion above, you still may have some confusion in your mind about purchasing it.
Now, let's go through some more crucial things about this amazing rugged outdoor watch:
1. Easy to Operate
It is one of the easiest watches to operate because of the total of four buttons given on both sides of it. You can easily change time to adjust it with your time zone and even change the time zone with those buttons.
Along with that, you can access a stopwatch or other various settings through those.
2. Battery and Battery Life
A lithium metal battery powers this fantastic timepiece. After purchasing, the battery will most probably be the sector in that you shouldn't even worry a bit. Because this battery provided along with the watch will serve you up to 10 years.
3. Durability and Longevity
As an outdoor watch, durability is the most desired factor of this wristwear. Because you will be roaming through the wild wearing it along with facing various tough and unknown situations.
Staying durable is the most important thing under those circumstances and luckily the watch comes with huge durability.
Because of its capability of being durable under almost every situation, its lifespan increases as well. So, you can remain entirely tension-free about the longevity of this watch as well.
Pros
The Indiglo backlight lets you see the contents of the watch even under the darkest night sky
Because of the high-quality built materials, it looks rugged and remains durable in the outdoors
With the adjustable hook and Velcro straps, it always fits perfectly in the owner's hand
Water resistivity up to 100 meters will keep you tension free while trekking or adventuring in the watery areas
A countdown timer with various customizable alarms will always keep you up-to-date without letting you be late
Cons
Lack of GPS
Limited sports features
Frequently Asked Questions (FAQs)
Can I use a stopwatch in this Timex Expedition Watch?
Yes, it is pretty much possible to use a stopwatch in the Timex Expedition Watch. Usage of this stopwatch feature became possible because of the presence of the fantastic chronographic technology.
In the analog chronographic watches, it was quite impossible to get to know the precise time taken for an event.
But now, as this watch comes with a digital display and chronographic feature, this precise time finding has become true.
How can I access and operate the watch when there is no light?
In this user-friendly outdoor watch, operating the watch during nighttime is the least-worrying issue. Because you will get the amazing Indiglo Backlight in it to make the display properly visible. Even under the darkest night sky, you can see all the display contents.
Is there any chance of this watch getting damaged if I use it while traveling through swampy places?
This Timex Expedition watch is capable of keeping itself safe in swampy lands or other watery areas. It became possible because of the water and dust resistivity this rugged watch possesses. It is capable of resisting water even after being underwater for about 30 minutes or so.
Final Verdict
As an outdoor watch, you will most possibly want something that can survive in every weather condition. The Timex Expedition Digital Chrono Alarm Timer 33mm Watch is such a device that it is more than capable of accompanying you in the toughest areas.
Therefore, it is one of the most deserving candidates for being your wrist companion during traveling.
If you use this watch for some days, you will definitely fall in love with this amazing time indicating machine. Hopefully, after going through the Timex Expedition Digital Chrono Alarm Timer 33mm Watch review, you will make a positive decision.
As an Amazon Associate, I earn from qualifying purchases.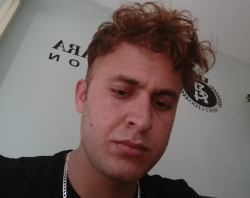 Latest posts by Nick Rolloson
(see all)