Garmin Fenix 7X Solar Review | An Ideal Timer For Hardcore Users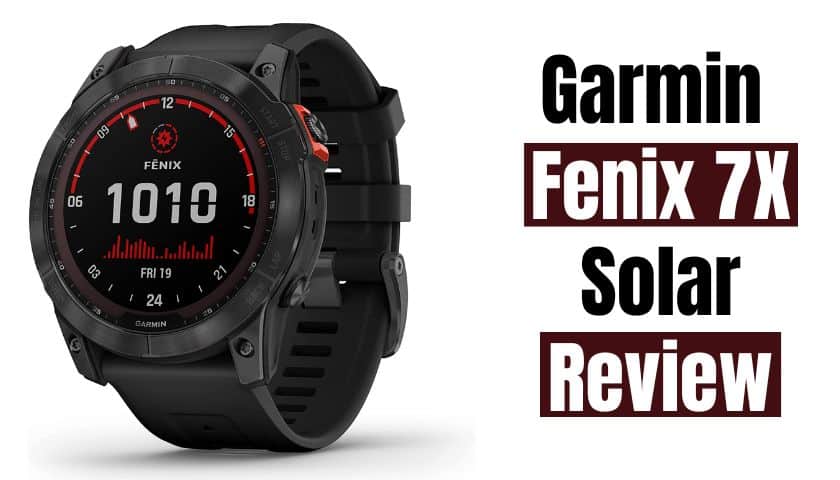 As an Amazon Associate, I earn from qualifying purchases.
Garmin Fenix 7x solar comes with multiple benefits that anyone likes. In simpler words, it is an ideal timer for hardcore users and those who like to wear a big fatty timer with solid built quality. This timer can provide all day long battery, comfortable wearing experience, transflective display, etc.
It is very popular among users for its simple usability and interface. Let us explore something more about this fascinating wristwatch through our Garmin Fenix 7x solar review.
Garmin Fenix 7x Solar Review – What Makes It So Sterling
When buying any timer, one may look for price or strap quality. This is such a common thing to find any timer that one needs.
But if you are thinking of buying Garmin Fenix 7x Solar, leave those common criteria in mind. It's because many users had already tried these timepieces, and they rated this watch positively.
We will reveal all the goodies about this watch later. Yet, let's have a birds-eye view of its specification and packaging.
Specs & Special Features
Watch Dimensions: 2.01 x 2.01 x 0.59 inches
Screen Size: 1.4 inches
Display Resolution: 280×280 pixels
Device Interface: Touch screen, buttons
Software: Garmin Connect & Garmin Express
Compatibility: iOS and Android
Battery performance: In smartwatch mode, up to 28 days
Memory size: 32 GB
Water resistance: 10 ATM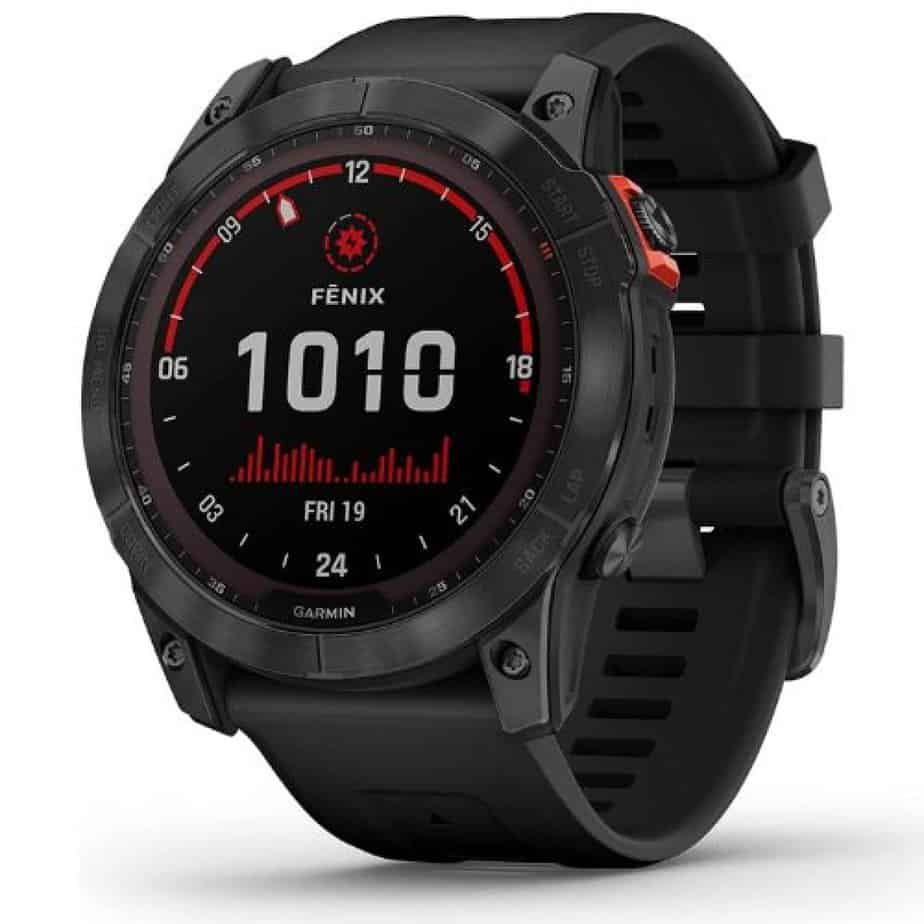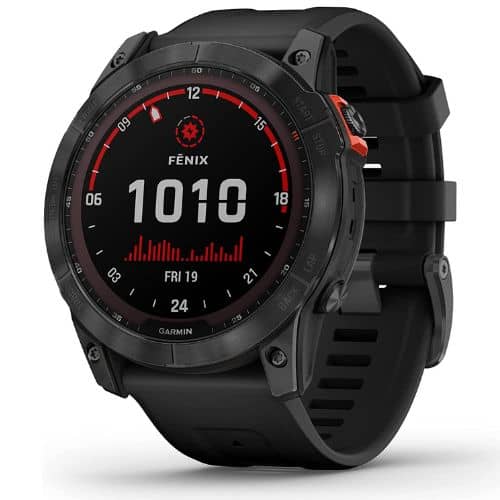 1. Design & Manufacturing Tenability
Compared to its previous model Fenix 6x, this timer has a big size with some welcome tweaks. You will get a 51 mm case well-engineered with a polymer case. Polymer is worth it for the lighter titanium, which prevents it from feeling heavy on your wrist.
In addition, this timer comes with unique design fronts named Power sapphire lens. These timepieces can give solar charging support and a more on-protective screen. With 280×280 resolution, viewers can easily read the time without the hassle of the sun's reflection.
2. Display Quality
This watch has touchscreen operations which have been very common on other sports watches for years. Also, one additional trait it has is five input buttons around the display. This interface will make the timer easier to use and run.
Talking about its display, this timer had a very moderate screen with clear sunlight visibility. Again, this watch comes with a transflective MIP, which means it would make your battery more efficient. However, the transflective screen is much easier to see in sunlight.
3. Optimal Performance
For the solar series watches, it is predictable that they can load up to 150000 lx a day. As a result, you will have at least 9 days of watch use. This Garmin solar timepiece comes with an indication of 10% of full intensity.
Besides this, the performance of other technical and fitness features of such watches is incredible in a word.
This watch is a beast for having GPS,
up to 57 hours in normal conditions and 73 hours with solar.
Again, all the satellite systems and multi-band quality of such timer is
36-41 hours in both normal and solar.
So, it's a valuable timepiece if you think in depth.
4. 16 GB International Map Storage
As advertised by the manufacturer, this watch is upgraded with initial access to a map. With 16 GB storage, this timer has free access to the whole Garmin Map international catalog.
The previous version of Garmin watches has only facilities on the continent. Now, it has been updated through the advance of international travel. But you have to make an additional fee for each country map settlement.
5. Other Up Ahead Features
This timer can remarkably be called the head of all smartwatches. It's because this watch is illustrated with so many interesting new features, including,
Stamina Assessment: It could predict what stamina one needs and what is lacking also needs improvement. In general, this watch has two distinct stamina indicators: current stamina estimator and long-term stamina predictor. Both work differently to build an accurate data plan for the wearer.
LED Flashlight: Now, it is easy to find the road in the hill tracks, jungles, or during hiking, even at night. Because this watch has LED flashlight functionality, you can go anywhere at any time you wish.
24/7 Wellness & Health Monitoring: These things will make you check your heart rate. With the Pulse Ox feature, one can get notified about stress, sleeping disorders, etc.
Many Outdoor Tracking Systems: This could be your best friend while on outdoor hiking or family trips because this timepiece is built with a 3-axis compass, gyroscope, and barometric altimeter. That means it can support Multi GNSS satellite systems which are essential to provide positioning and navigation services on a global or regional basis.
Pros
All the sensors of this timer work accurately
The soft, flexible wristband feels comfortable
Good display and nice transitional make the watch visible under low light
Support touchscreen for hassle-free scrolling
Extended memory storage capacity for downloading more apps
Cons
The golf maps often take up more storage spaces, which is a little annoying
Frequently Asked Questions (FAQs)
Is The Garmin Fenix Waterproof?
Garmin Fenix has a water rating of around 10 ATM. That means it can withstand a depth pressure of 100 m or 10 atmospheres below the water level.
Does Fenix 7x Have Wireless Charging?
Fenix 7x has excellent wireless charging capabilities. It supports a wireless charging standard which is usually known as Qi. To charge the device, you need to put it down on a charging pad.
Can Fenix 7x Measure Blood Pressure?
According to the manufacturer, the Fenix 7x is well-manufactured with rich sensors. It can be compatible with many health monitoring apps, including blood pressure. But here, you don't get the functionality of ECG reading like Apple watches.
Can You Answer Calls On Garmin Fenix?
One can easily receive calls on Garmin Fenix. This watch had a strong connection to the phone's network. To make a call and reject them together, a user needs to select received and the reply option to text someone else.
How Long Does Fenix 7x Take To Charge?
Fenix 7x takes 2.5 hours for charging via USB, and for hitting, it takes 50% more in an hour.
Final Thought
Lastly, this timer can compete with the latest edition of the Apple Watch Series. As we know from the Garmin Fenix 7x solar review that solar capabilities run it, this watch can ensure longer service during a busy schedule.
However, we say it's great and worth your money not for its higher solar energy but also for the several smart features, including fitness, excellent GPS, preload Maps benefits, and many more.
Again, the watch face is also great for legible displays and trouble-free scrolling. The lightweight designation of such wristwatches is suitable for all ages.
As an Amazon Associate, I earn from qualifying purchases.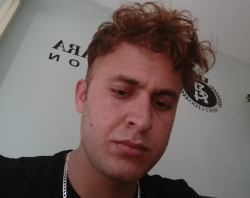 Latest posts by Nick Rolloson
(see all)