Garmin Swim 2 Watch Depth Review | Best for Swimmers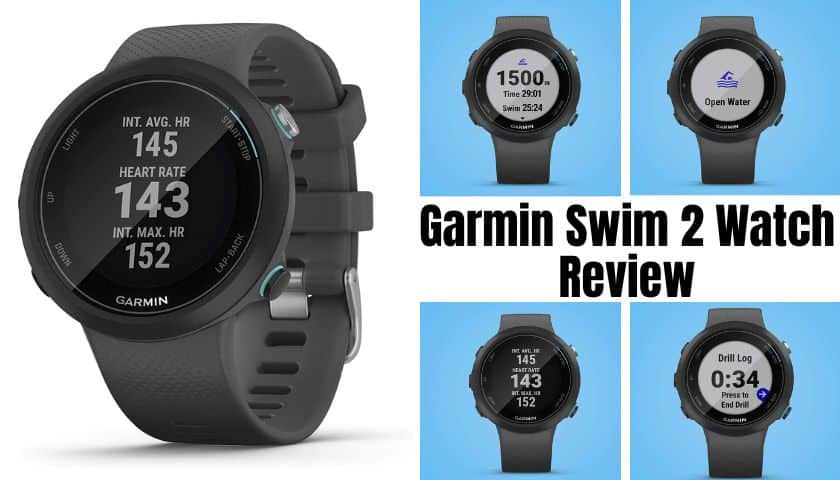 As an Amazon Associate, I earn from qualifying purchases.
The Garmin Swim 2 is unbeatable regarding underwater performance and features. This watch comes with multiple added features than its predecessors. You can use these features to improve your swimming performance. At the same time, the features are beneficial for multisport training and other sports.
If you are looking for a watch to track intervals in the pool, this timer will be an ideal choice for sure. Learn more of its features and benefits by reading this Garmin Swim 2 watch review.
Garmin Swim 2 Watch Review – What's Inside?
Do you want to be in the first lane of the swimming pool? The Garmin Swim 2 Watch includes several nifty features and metrics which are unavailable in other smartwatches. One of the best features is that it can track the user's heart rate underwater.
Technically, this timer supports 5 different sports: open water swim, pool swim, indoor cardio, bike, and run.
Specifications
Band Material Type: Silicone
Connectivity Technology: GPS
Wireless Communication Standard: Bluetooth
Shape: Round
Screen Size: 1.04"
Display Type: MIP LCD
Battery Life: 7 days
GPS: True
Special Feature: Up to 7 Days of Battery Life; Always-On Full-Color Chroma Display; Pool and Open Water Swim Modes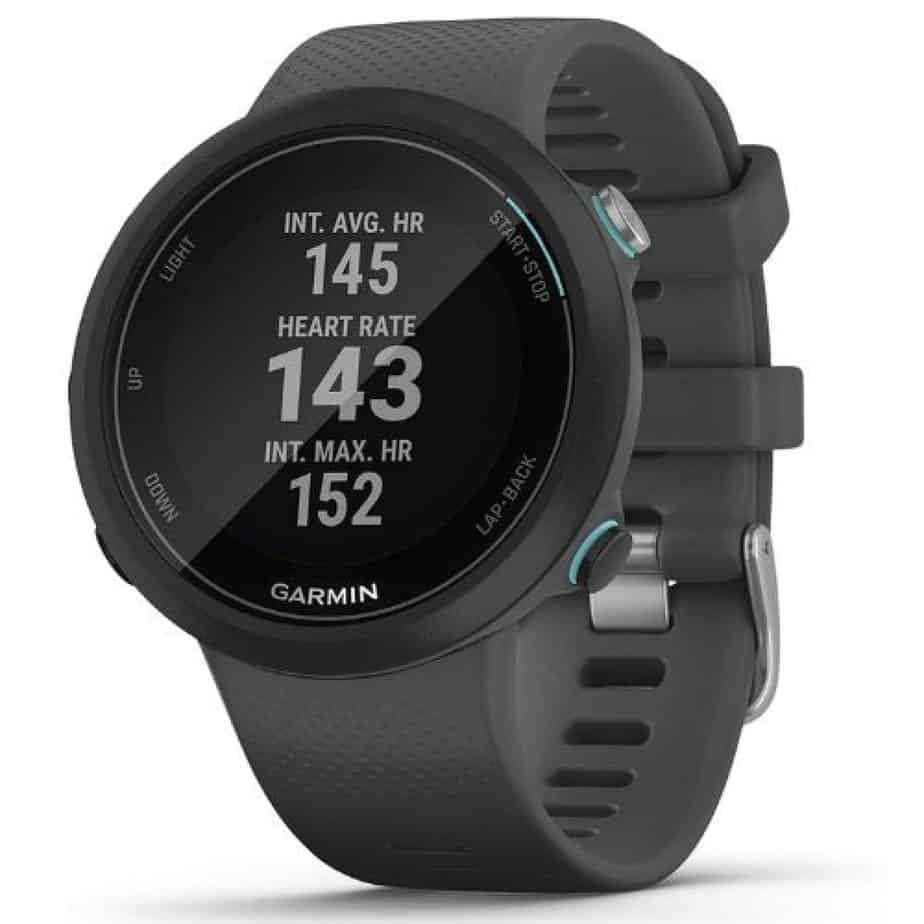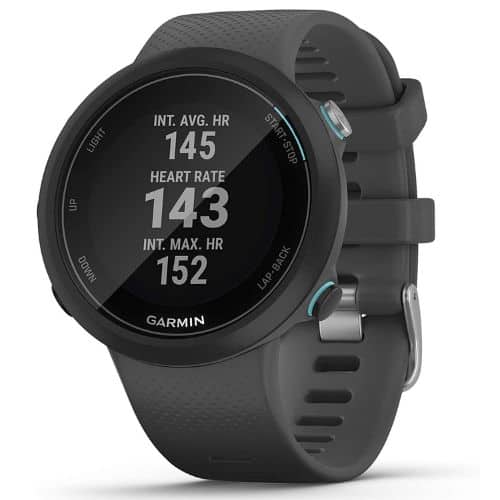 1. Design and Screen
At first glance, it looks similar to a typical Garmin timepiece. This watch is engineered to make your pool time productive. It measures 42mm across. Around the case, it has 5 buttons, and the display size is 1.04".
You might be thinking that the screen size is smaller than other smartwatches. However, a smaller size offers 2 benefits. First, the design becomes more unisex. Second, it weighs only 36 g, allowing you to swim without feeling obstruction.
Impressively, it has a transflective MIP display. This means light gets reflected from the screen, letting you read the watch easily when underwater. At the same time, this feature keeps power consumption less. Even the display is readable with slightly fogged goggles.
You need to use the buttons around the case to navigate into different functionalities. You might think the touchscreen feature would be better, but accessing data on the touchscreen with wet hands is difficult. In this case, you won't have any trouble using this timer in the water.
Its buttons are surprisingly chunky. Also, too responsive buttons are easy to press in the water. On the left-hand side of the timer, you will find up and down buttons to scroll through different widgets.
2. Swimming Features
Since it is a dedicated swimming smartwatch, it incorporates many useful features for your swim sessions. Undoubtedly, the performance of those features satisfies you. The timepiece has 2 swim profiles – open water swimming and pool swimming.
You will find pool swimming as a default activity when you press the top right button to turn the timer on. Then set the pool length, and you are ready to go. Happily, using GPS connectivity indoors is entirely unnecessary when you have this timer in hand.
For serious swimmers, design a well-structured swim session on your PC and synchronize the schedule to this watch.
You can have proper training in open water swims by using its GPS functionality. Whether in the ocean, river, or lake, its GPS tracks your location accurately and stores data such as speed, training effect, SWORF, swim strokes, etc. of your swimming.
It lets you learn average strokes and pace for specific distances. Thus, organizing your swim sessions becomes convenient.
Many swimmers praised the auto-reset feature of this timer. This feature is only workable when you are in the pool. The timer recognizes the breathing time of the swimming session; then, the session gets paused automatically. In this case, pressing the watch's pause button becomes unnecessary.
It may seem a simple feature. But auto reset is a beneficial and welcome addition, especially when controlling your breath under water.
As stated earlier, this timepiece will help you maintain your progress in the water. CSS or critical swim speed is an important metric to monitor your swimming speed. Remember, CSS doesn't monitor your data without getting tired. Also, the score will be calculated when you swim a minimum 400-meter distance.
3. HR Monitor
Paying attention to the heart rate (HR) is important when you are running, swimming or cycling. This timer will cover you by providing accurate heart rate data. Following the data, you can ease up yourself when HR gets too high. You can continue training at a consistent heart rate.
More importantly, you will not experience trouble while monitoring your heart rate underwater with this watch. All you need to do is, press the start button and start swimming, and your heart rate will be shown in the display along with the chosen data screen.
In order to deliver accurate data, the HR sensor is positioned on the back of the watch. The optical sensor shows its presence through a flashing green light. Now, you might be wondering about the accuracy of this type of sensor. In reality, the provided HR data is incredibly accurate.
Read Next: Garmin Vivomove HR In-Depth Review
4. Running & Cycling
This timepiece is well-known for tracking data on multisport activity. It can also cover your running and cycling sessions. Details and functionalities are pretty basic and show all the required data such as speed, distance covered, etc.
After pairing it through the Garmin Connect App, the provided data will be more than good enough for your next half marathon or triathlon training.
5. Battery Life
In smartwatch mode, the timer offers up to 7 days of battery life. Below, I shared the battery life in different modes,
GPS + Heart Rate Sensor Turned on: 13 hours
Overall, the battery life is pretty standard. Unless you participate in lots of swimming, cycling, and running activities, the smartwatch battery will last long for up to 7 days on a single charge.
Beyond its multisport capabilities, its wellness monitoring and fitness tracking features make it ideal for all-day wearing. It provides crucial insights into all-day stress so that a swimmer or user can take control of their overall health.
You can get maximum benefits from your training session by tracking the below information,
Steps
Body battery
Breathing status
The abovementioned insights are usable in swimming, cycling, running, or other fitness activities.
6. Other Features
Like all other premium-quality smartwatches, it also has a few basic smartwatch features. The features include,
Smartphone Notifications: Pair the timer with your smartphone and get notifications like incoming calls, messages, etc. Moreover, you can access your mobile contacts through the timepiece. Interestingly, you can choose whether you want all notifications or only calls, or only SMS.
Widget Accessing Feature: Accessing a few widgets is much more effortless with it. You can access the weather forecast, calendar, etc. Remove or reorder them whenever necessary according to your preference.
Sleep Tracking: Similar to all Garmin watches, it also offers sleep tracking. In fact, sleep tracking data is accurate.
Pros
Monitor your heart rate from the wrist as you swim
Record pace, distance, and more to make tracking progress easy
Built-in GPS tracks swim in lakes, oceans, and rivers
Has advanced features to log drills and exercises
Compatible with both Android and iOS
Cons
Heavy movement is required to let the watch know you woke up
GPS does glitch sometimes
Frequently Asked Question (FAQ)
Is the Garmin Swim 2 worth it?
Garmin Swim 2 is designed to track swim and other workouts. It is really worth a look. The timepiece has several health monitoring features, including step counting, heart rate monitoring, advanced sleep monitoring, relaxation reminders, etc.
This watch Battery life is also pretty good, which is up to 7 days in smartwatch mode. So, the Garmin Swim 2 is worth the price undoubtedly.
Is Garmin Swim 2 only for swimming?
No, this timer is not only for swimming but also supports 5 other sports: open water swim, pool swim, indoor cardio, bike, and run. Additionally, you can monitor your walking or hiking status by setting the smartwatch to the running function.
How do I connect my Garmin Swim 2 to Strava?
Connecting Garmin Swim 2 with Strava is pretty straightforward. You can effortlessly do it by following the below steps within a few minutes.
Important Note: Make sure the Strava app is installed on your smartphone. Also, the Strava account needs to be logged in.
Step 01: Tap on the Garmin Connect App
Step 02: Now, the app menu needs to be opened. For Android users, go to the top left and select. While for iOS users, tap on the "SELECT" option at the bottom right.
Step 03: Next, follow Settings > Connected Apps > Strava > Agree > Authorize
Aren't the steps easy to follow? The whole process may take several minutes to complete.
How deep can the Garmin Swim 2 go?
Garmin Swim 2 can withstand water pressure up to 5 ATM or 50 meters. Remember, this is flowing water pressure and corresponds to bathing or showering, washing hands, etc.
Last Words
You will become a faster and more efficient swimmer by wearing the Garmin Swim 2. Plenty of additional features will allow you to improve your swimming skills. This timer is useful inside and outside of the pool. Importantly, data and information are accurate and reliable.
This will be an outstanding option if you are a serious or professional swimmer. It is able to create and sync structured schedules of exercises, helping you take your fitness to the next level. After reading this Garmin Swim 2 watch review, hopefully, you understood that you could happily go into the open or pool water with it.
As an Amazon Associate, I earn from qualifying purchases.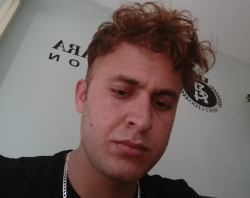 Latest posts by Nick Rolloson
(see all)