How to Use a Dive Watch| A Comprehensive Guide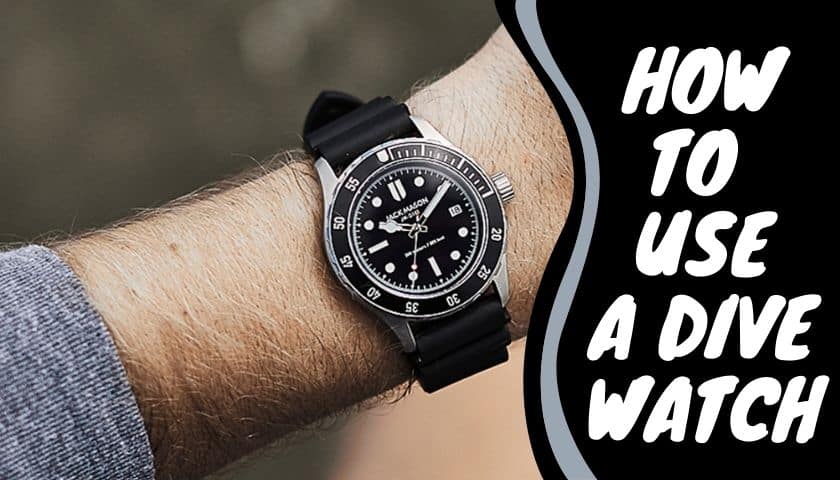 As an Amazon Associate, I earn from qualifying purchases.
Dive watches are a primary need that you should have before you go into dive. According to the use it has for us, they are very functional, and without knowing the exact way of operating it, you wouldn't get many results from this watch. Knowing how the bezel needs to be used and how you should go along with its controls will be the first step to using a dive watch correctly.
So if you are ever stuck on a problem of how to use a dive watch correctly, we have the answers for you, and here is how you can gain the maximum potential from this special watch.
What are the Basic Parts of a Dive Watch?
Features and mechanisms of dive watches vary from model to model. But the main focus of these timepieces is to ensure efficient and safe diving. For this, learning how to read dive watches is as important as learning how to use them. So, you can read these watches correctly when you become well-aware of the different parts of them.
The Case
The external shell of dive watches is known as the case. The responsibility of the watch case is to protect the internal components safe from damage, dust, dirt, etc. Generally, the case is made of robust and durable material so that the timepiece can withstand pressure. Maximum dive watches come with a 100m water-resistance feature.
The Band
This part is also known as the strap. It is attached to the timepiece case. Also, it allows you to wear the watch securely and snugly on the wrist. Different materials such as plastic, rubber, etc., are used to manufacture watch bands. Besides, the timepiece band should provide comfort when you wear dive watches. You will be unable to have an efficient dive with an uncomfortable watch band.
The Rotating Bezel
The rotating bezel is the main part of a dive watch. Due to this part, these watches are called dive watches. Every dive watch comes with a rotating bezel that rotates 0 – 60. It counts the minute you spend underwater.
You will find increment markers in the bezel, generally an increment of 5 or 10 minutes. The 1st 15 minutes will be marked in 1-minute increments. Thus, a diver will know when to stop decompression. At the same time, it will let you know how long you were underwater.
The Movement
For the functionality of a dive watch, it is powered by automatic movement or battery. When quartz is used to power it, the timepiece gets power from the battery. This way, the quartz gets electrified and resulting in secondhand ticks.
On the other hand, when you wear the timepiece, the automatic movement will wind the spring. Then, the spring distributes the restored energy to let the secondhand tick. Using a battery is unnecessary in automatic dive watches. For this, people prefer automatic watches over quartz dive watches.
The Illumination
This is a mandatory feature of a dive watch. Since lights are unavailable quite often underwater, dive watches should come with the luminous feature to track the time.
Most dive watches have illuminated numbers so that you don't face trouble tracking the time in low light conditions.
Water-Resistance
This is another mandatory feature of dive watches. If a watch meets all the mentioned above but doesn't have a water-resistance feature, it can't be considered a dive watch.
100m or 330 ft. should be the minimum water resistance of a dive watch.
How to Use a Dive Watch following a Correct Way
Now, you already got ideas about the different components and features of a dive watch; it is time to learn the using procedure.
The first step to use a dive watch is to learn how to use the bezel. As stated earlier, the bezel lets you know how much time you spend underwater. It means you have no other choice except to learn the setting process of the bezel to track the time accurately.
For this, the bezel needs to be set to ZERO. Next, it requires it to be aligned with the minute hand of the timepiece. Now, you will be able to track the time correctly.
Essential Factors to Know When Using a Dive Watch
Before you use a dive watch, some factors need to remember.
Learn the Control and Capacity of the Time Piece
Ask yourself the below questions to learn the control and capacity of your selected dive watch.
How deep can you dive with your wristwatch?
What is the highest water resistance of the watch?
"Safety first before pleasure" – you should remember this saying when you visit an online store or nearest shop to buy a dive watch.
Get the full features of your selected model. Sometimes, companies don't tell the drawbacks of the product. Dig deeper, read reviews, and when the features satisfy you, buy them.
Also, remember to choose a model with high water pressure resistance. At the same time, the timepiece should be made of durable materials to make it rust-proof.
Buy ISO Certified Dive Watch
Never buy a model that doesn't meet the ISO 645 regulations.
What does the regulation say?
"A dive watch should have an underwater resistance of 100m or 330 ft. or deeper."
It is not recommended to buy dive watches that fail the ISO standards test.
Learn How to use Dive Watch Bezel
By now, you have understood the responsibility of a dive watch bezel is to track and monitor a diver's time spent underwater.
Moreover, the modern dive watches bezel monitors Oxygen level and notifies the diver if it exceeds the required limit. One important thing is, before diving, if you touch the bezel accidentally, it will reset again. So, be cautious not to touch the bezel once you set it.
Now, let's look at the setup process of the bezel.
For example, the diver has a time limit of 30 minutes. Next, subtract it from 60 minutes.
(30-60) minutes = 30 minutes. This will help you to know the difference.
Then, set the bezel ring to ZERO. When the minute hand in the bezel ring reaches 30, it means 30 minutes have passed. Isn't it straightforward to understand?
Dive Watches Care and Maintenance
People often don't take proper care of the dive watches. These watches offer the best result when you ensure proper maintenance. Simultaneously, the lifespan of your dive watch will increase. Here are a few tips of dive watches care and maintenance for its optimum performance.
Whether you dive into the freshwater or swimming pool, don't forget to rinse the watch thoroughly after each dive.
When rinsing the timepiece, turn the bezel. This way, grit or other dirt will come out.
Never expose the watch to chemicals. Don't spray aerosol, solvents, or other chemicals. Your watch will damage because of this.
Avoid wearing dive watches when you are in a hot tub, Jacuzzi, or sauna. Since temperature plays a vital role in these processes, high or low temperatures may damage your watch. Take off the timepiece before you enter these places.
Dive watches are waterproof since they have rubber or plastic inside them. Over time, the quality of these gaskets gets reduced, affecting the watch's water-resistance feature. Manufacturers advise; you should inspect them every 18 – 36 months. Also, if you are a frequent diver, replace the gaskets annually.

Frequently Asked Question (FAQ)
Do divers actually use dive watches?
The truth is, anyone can dive underwater without dive watches. But divers use dive watches because these timepieces help them track and monitor the spent time underwater, track oxygen level, and many more to keep them safe underwater.
Can you wear a dive watch with a suit?
Dive watches are so versatile that you can wear them with a T-shirt and shorts. Every diving event has a dress code. If the dress code allows you to wear a dive watch with a suit, wear it; otherwise, you have to avoid the idea.
What makes a dive watch a dive watch?
You can call a dive watch a dive watch if it has the below characteristics
Water resistance to a minimum of 100m or 330 ft.
Illuminated numbers to ensure easy monitoring of the time underwater

Final Words
Learning the different components will not only assist you in knowing how to use a dive watch, but also you will be able to get the best out of this timepiece.
At the same time, if you maintain the watches following the right way, you will get many years of service from them.
Undoubtedly, we all want to get long-term service from our watches. Hopefully, you have gathered enough knowledge about dive watches after reading this article.
As an Amazon Associate, I earn from qualifying purchases.