Samsung Galaxy Watch 3 Review | Your Regular Fitness Tracker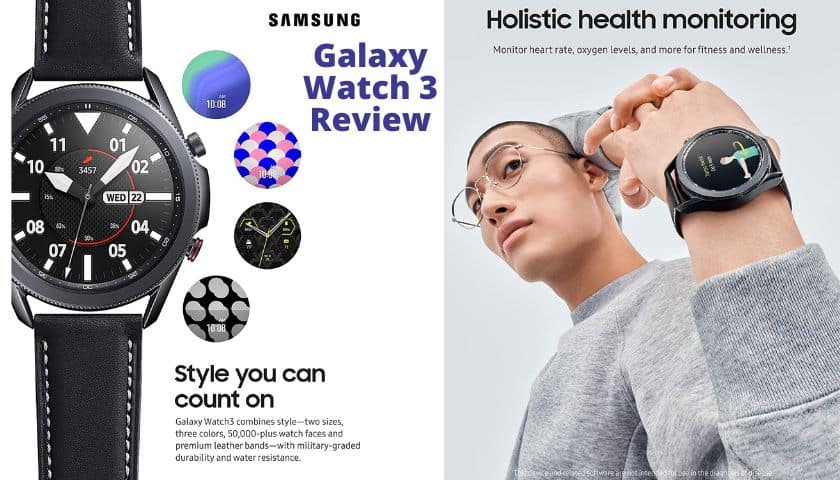 As an Amazon Associate, I earn from qualifying purchases.
Samsung Galaxy Watch 3 is the world's best timer-ahead of Apple due to its hardware. All the hardware and software used in the Samsung watch 3 are far better than ever. We like this watch for its big, round display and precision rotating bezel.
For this, app navigation on it becomes easier. Not just is the Samsung watch 3 good in appearance, yet it has some unique features that convince us to reveal them in front of you.
The Samsung Galaxy watch 3 reviews will ensure you don't miss out on any information.
Samsung Galaxy Watch 3 Review- What's Best in It?
One of the best things Samsung offers is its big screen. You may not like to wear a watch which is very disturbing to check. Meanwhile, we would like to mention that the Samsung Galaxy Watch 3-series has a big 45 mm screen. So it's quite easy for anyone to check them when needed.
This is the one feature that we discuss here as a demo. To know more about Samsung's Galaxy 3 watches features, glimpse below. However, before we go, do check its specification.
Specifications
Item Weight: 5.3 ounces
Built-In-Quality: Stainless steel Frame, Titanium Frame
Display: 360 x 360 Super AMOLED
OS: Tizen OS 5.5
Compatible Device: Smartphone
Water Resistance: 50 m
Resolution: 360×360 pixels
Battery Power: 340 mAh
Memory Storage: 1 GB RAM
Sensors: Accelerometer, Gyro, Heart rate, Barometer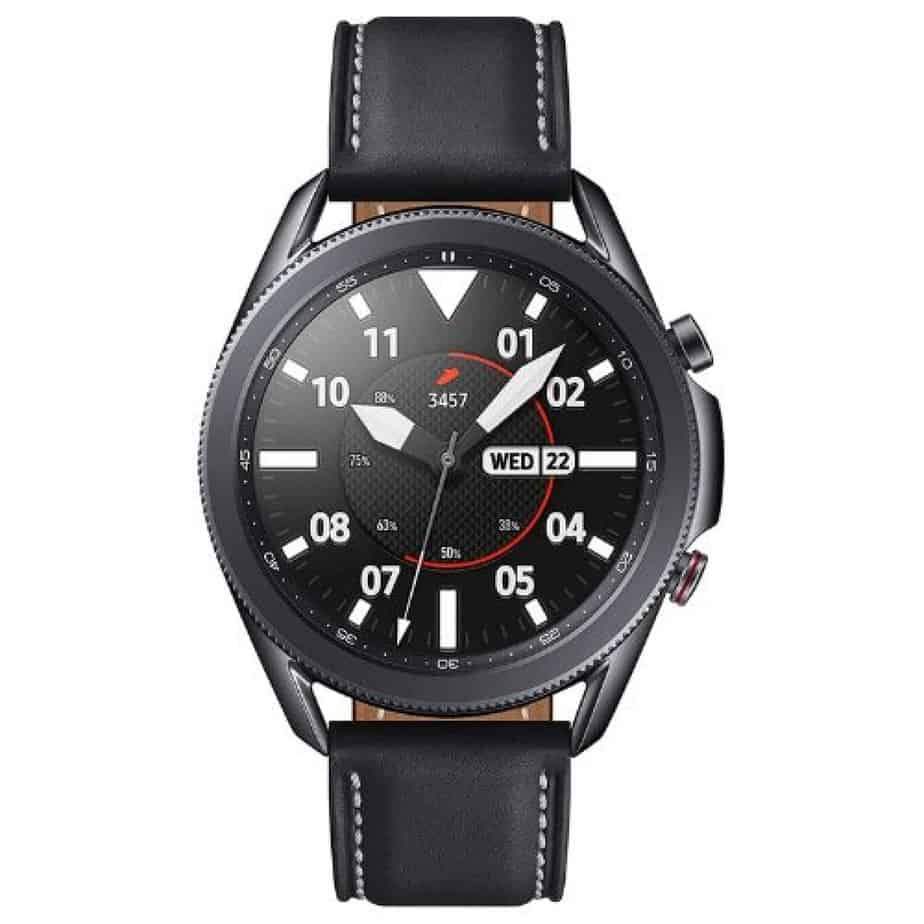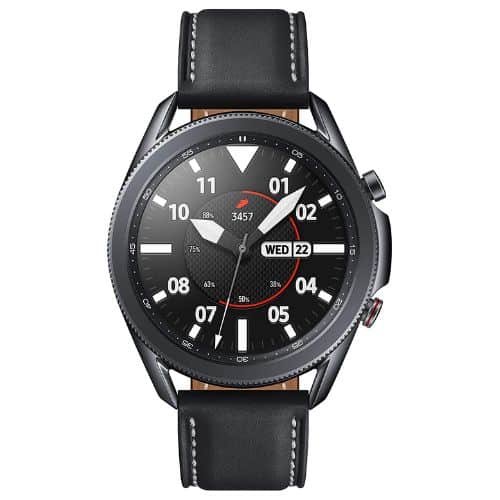 Here is more information in our total Samsung Galaxy Watch 3 review.
Design & Display Quality
In terms of physical appearance and display quality, Samsung Galaxy Watch 3 qualifies as a champ. Unfortunately, this Samsung series has a chunky design with a big bezel.
Despite its chunky looks, Samsung Galaxy 3's display might satisfy you. The display size in Samsung is so good and bigger to analyze any data.
Unlike its display quality, one might like its wrist size also. The average wrist size available in this watch is around 41-45 mm. The 45 mm is best fitted for healthy people.
Again, 41 mm is the last choice for people extremely concerned about size. Now, it's time to talk about the bezel that may give one more comfort. Yet the watch's rotating bezel is smaller but not difficult to use.
The display of such watches is very decent, including the 1.4-inch AMOLED. For this, we can say it would be a fantastic display. The watch quality is also very handy to catch in sunlight.
Outstanding Battery Life
The battery quality and performance of Samsung are outstanding. Here, a user gets all kinds of backups even in a low charging capacity. In addition, the run time of any app is far better than analog watches.
Tracking your regular sports performance, GPS enable-ness, etc., are also good here. Again, the Samsung Galaxy Watch 3 has less battery drainage, which may annoy anyone. For a five-mile run, its drainage is around 20% or less.
Genuine Leather Straps
The hand wrist may hurt you often if it is not fitted properly. Moreover, the wrist and strap quality also impacts the watch's durability.
Thankfully, Samsung Galaxy Watch 3 comes here with genuine leather. The strap material is also nice and comfortable. Leather straps are also safe for sensitive and allergic people, making it suitable for the elderly.
However, Samsung provides more options for choosing different straps for your watch. By selecting any of them, one could style the way one like.
The width of the wristwatch straps is also a good point. With 22 mm. straps, this sort of watch was more relaxing and joyful.
Fitness & Other Tracking Apps
Tracking fitness and other Android apps are easy here. A user will get 40 different types of sports profiles. So you can willingly choose different songs. But there are a few changes here. Thirty-three apps from 40 need to be selected manually here. In short, these Apps give you the best result every time.
Sleep Score Feature
The sleep scoring feature is a unique thing one may find in this new Samsung watch-3. Observing the sleeping depth of a person is the main focus of such a feature.
For example, if you're suffering from sleep apnea, it can be traced by a doctor. This feature is only to detect the total sleeping performance. So it can predict real solutions by observing the conditions.
Pros
The internal memory of this device is 8 GB
Support to stream music via Wi-Fi
50,000 plus watch faces
WPC-based wireless charging capacity
Made with a dual-core, 1.5 GHz processor
Cons
No blood pressure or blood O2 saturation
Competitor Review: Samsung Galaxy Watch 3 Vs 4
This section compares two devices with Samsung's before and after innovation. Many things in the Samsung Galaxy Watch 3 aren't bound to be accurate.
In comparison to both, the Samsung Galaxy Watch 4 has more features than the 3. But that doesn't mean this watch is better in every scenario.
One of the key differences between them is their screen. The galaxy watch 3 has the largest 1.4-inch display, but Samsung 4 has a smaller screen with a 1.2-inch display.
Another difference between them is software developmental functions. Samsung's watch 4 is updated from Tizen to Wear OS3 and one UL watch. So, Samsung Watch 4 is more reliable.
Galaxy watch series 3 has been rumored for its inability to provide an-accurate health records. For this reason, the new watch series 4 has become more popular.
This Galaxy 3 has excellent memory storage, including 1 GB of RAM with 8 GB, which works well. But its competitor has more than this storage, up to 1.5 GB of RAM and 16 GB of storage.
Frequently Asked Questions (FAQs)
Is Galaxy Watch 3 Still Worth Buying?
There are many things that the Galaxy Watch 3 offers that are still worth buying. It is manufactured with stunning hardware also with a variety of health-focused features.
The health monitor Apps of this watch may not be eligible to give accurate data all the time. But they aren't going to be worse at all. Along with these, Samsung Galaxy 3 has good battery life and a wider display.
Can I Make a Call Over Samsung Galaxy Watch 3?
Despite having all the unique functions, it is not worth making calls. No device can make calls if there is no built-in mic and speaker. Yet, Samsung's other watches have this kind of advantage.
Yet, the Samsung Galaxy Watch 3 can be run via voice command features instead of taking and rejecting voice calls.
How Far Can Samsung Galaxy Watch 3 Catch from Phone?
Samsung Galaxy Watch 3 can catch up anywhere from the phone. But the distance to catch the connectivity varies between cellphones and Wi-Fi. If your smartphone supports a Wi-Fi network, it can quickly run through this.
Because Wi-Fi networking systems have strong capabilities to catch the watch connections. You can also use the watch via the phone data plan or Bluetooth.
Can Samsung Galaxy Watch 3 Have Any Speaker?
Samsung Galaxy Watch 3 will have a Bluetooth speaker. One may not be able to make calls via this watch. But receiving calls and talking over these timepieces is easy here. Its speaker often looks like an Apple Watch.
Attaching another speaker with this wristwatch is to make its user comfortable. For this, picking up calls and rejecting them become handier.
How Do I Receive Calls Over This Watch?
You can receive calls over this watch by following some steps. To make a call, first, you need to find a button around the watch. Pick that button and hold it. When someone calls you, touch the icon and swipe right to answer.
For ending, touch the icon and swipe it left to reject the calls. Thus, one can easily receive calls and end them.
Final Wrap
Now that you know everything about this watch from Samsung Galaxy watch 3 reviews. Make your budget to have it. We must say the Samsung Galaxy is a premium watch inherited with everything.
One may not make calls, but it is worth buying for a precise rotating bezel. Apps like quick heart monitoring rates, sleep tracking, and tracking oxygen levels can be more accessible through these functions.
Another reason for buying this watch is its lower price than the Samsung 4. Users can enjoy the best processor and design with a very low budget. However, it could be the one if you plan to have home workouts because it simultaneously supports 120 types of home workouts.
As an Amazon Associate, I earn from qualifying purchases.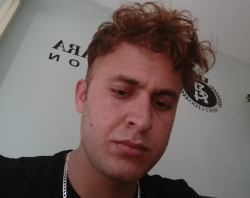 Latest posts by Nick Rolloson
(see all)