7 Best Smartwatches for elderly | Complete Buying Guide 2022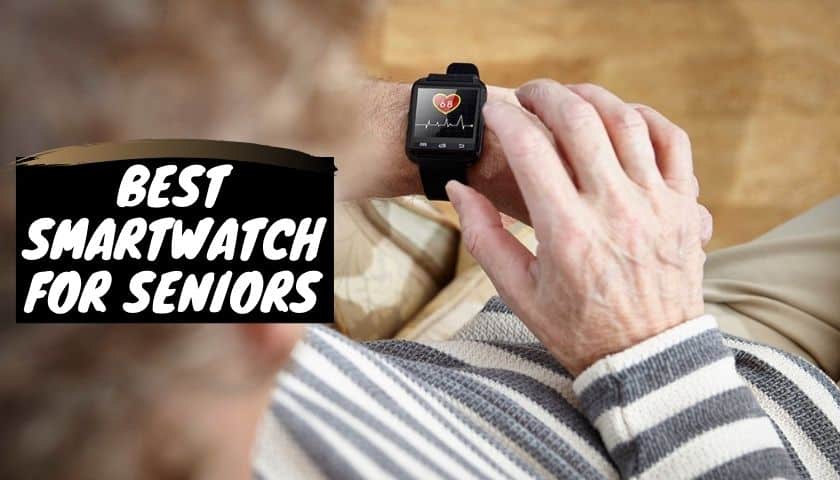 As an Amazon Associate, I earn from qualifying purchases.
Among many smart devices, smartwatches come with the potential that can improve the life of seniors. The features these watches offer are beneficial for seniors, yet some features need to be adopted according to the senior's needs. But most of the features are beneficial for the elderly and they can make their life easier. Smartwatches for seniors must come with health monitoring, navigation, emergency call features, and long-lasting battery life.
On the smartwatch market, there are various types of watches and not all of them are suitable for seniors as the watches come with different features and serve different needs. We have shortlisted some of the best watches with beneficial features for seniors on this post.
Is Smartwatch Suitable for Seniors?
For numerous reasons, a smartwatch for seniors is an attractive option. Since a smartwatch may also serve as a panic button, it can provide peace of mind. For the same intent, pendant alarms are available, but a Smartwatch is easier to recall to wear. Fall detection is available on more modern smartwatches, such as the Apple Watch Series 6. If no movement is detected for more than a minute, this sensor will inform the emergency contact.
Smartwatches provide attractive, easy-to-use features for elderly exercise enthusiasts to measure progress and overall health. A smartwatch, like a smartphone, maybe set up with alarms for critical events and appointments. Medication reminders and doctor's appointments are examples of such things. A smartwatch can help people with dementia to remember things. For instance, what day and year are we in?
Overall, smartwatches for seniors will be quite valuable if they are appropriately trained to utilize them.
7 Best Smartwatches for Seniors Reviews
If the features of smartwatches are used correctly, a smartwatch can be a good companion for the elderly. The fitness tracking and health tracking features will help them stay fit at the same time to let them know about their health. Let's have a look at some of the feature-rich and most-suited smartwatches for seniors.
Our top picks: At a glance
Best Smartwatches for Seniors
$32.29
$37.99
in stock
3 used from $29.71
as of May 19, 2022 3:33 pm
$42.49
$49.99
in stock
2 new from $42.49
as of May 19, 2022 3:33 pm
$49.99
in stock
3 new from $49.99
as of May 19, 2022 3:33 pm
$59.99
in stock
as of May 19, 2022 3:33 pm
$99.00
$149.00
in stock
as of May 19, 2022 3:33 pm
$190.50
$229.95
in stock
28 new from $179.95
as of May 19, 2022 3:33 pm
out of stock
as of May 19, 2022 3:33 pm
1. Best Overall: New Apple Watch Series 6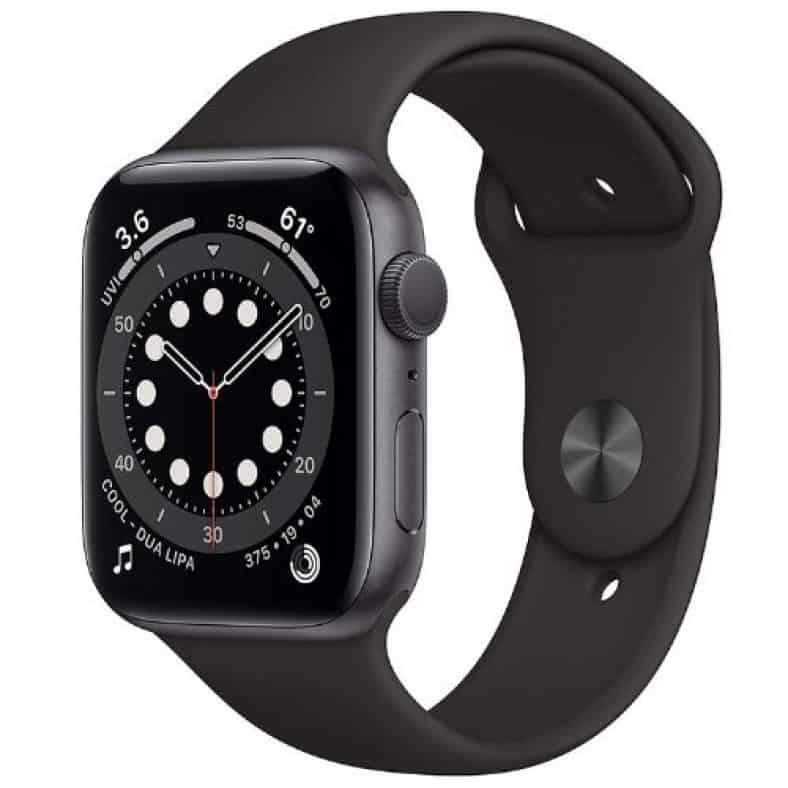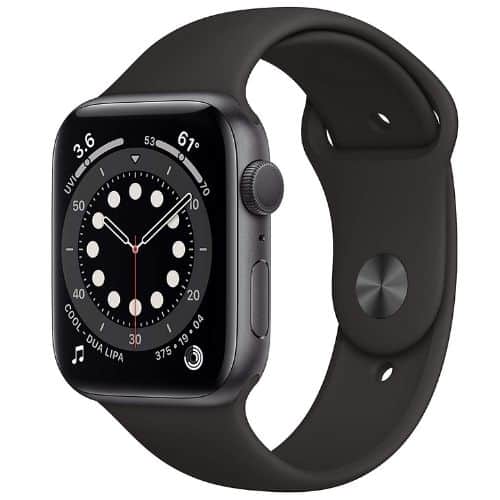 Health monitoring
Apple watch series 6 is a very feature-rich smartwatch and it comes with so many exciting features that will surely amaze you. These features are so handy and are capable of fulfilling all needs of even the most demanding seniors. All these features are beneficial from young people to seniors and all in between.
It features some incredible health monitoring features to help you stay fit. The watch is capable of measuring your blood pressure, blood oxygen saturation, and heart rate. You can perform an instant ECG just using this apple watch.
The watch helps a lot to stay fit by monitoring all aspects of your health. It will tell you to move if you stay steady for a longer time and that is a great feature for seniors to keep mobile. Also, if you are not walking enough, the watch will display how many steps you should walk more.
Fall detection
One of the most exciting features of this apple watch is it can detect hard falls. If the senior person falls on the ground the watch will automatically detect it and contact the emergency number if there is any medical emergency. This feature is highly beneficial.
Emergency calls
When it comes to contact in an emergency the Emergency SOS of apple watch comes in handy. It will immediately call 911 if you need any assistance. In case of a medical emergency, the feature will help you a lot to get attention.
Also, the Apple Watch has an adoption to create a medical id. Seeing this id, the doctor can immediately know if you have any medical condition or not. What you are allergic to and other information regarding your health.
Pros
Feature-rich
Capable of detecting falls
Can monitor sleep pattern and heart rate
Built-in GPS
turn-by-turn navigation system
Cons
2. Best for Navigation: Fitbit Versa 3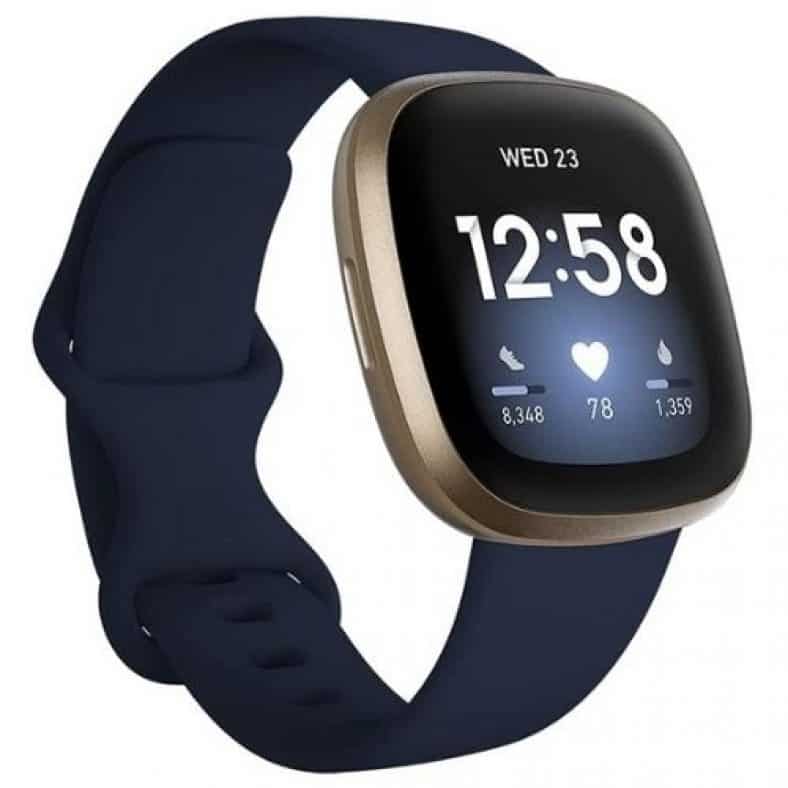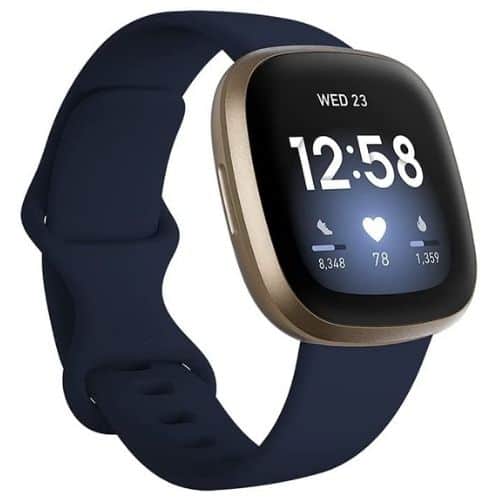 Heath monitoring
The Fitbit Versa 3 smartwatch got you covered from all sides. It can do so many exciting things that were hard to imagine some years one. You have a lot of technology accessible on your wrist and using those is child's play because it is used in a way that anyone can use with ease. The Health monitoring feature of the watch makes it a charming smartwatch.
The timepiece uses an advanced sensor to monitor your heart rate and that is an amazing feature for early. The elderly will be observed 24/7 and if it sees any irregularity it will instantly alert the wearer. Also, it can measure the blood level in blood which is really helpful for those who have respiratory conditions.
The watch can also calculate how many steps the senior has walked and how many calories he/she burnt in a day. If the senior is not walking enough it will also tell them to move and that can help to improve the health of the elderly.
Navigation
Navigation is one of the most important features of an elderly person as it can help in a lot of ways. It will show turn-by-turn directions to any place and if you set a pre-route the watch will guide the senior to that route. If the senior misses any steps the watch will instantly alert the person.
The map of the watch takes the navigation to another level and makes it very easy to navigate to any place you want. You just have to set the place and the watch will guide you to reach there, it is also very easy to use this feature and an early person can use this feature with ease.
Emergency call
The watch can pick up Bluetooth calls so when the watch is connected with a smartphone, it can pick up calls and assist in making you. In an emergency, you can easily call an emergency number using just the watch.
Pros
Built-in GPS
Turn by turn navigation
Heart rate tracking
Shows blood oxygen level
Can take calls
Cons
3. Best for Monitoring Fitness of Seniors: Donerton Smart Watch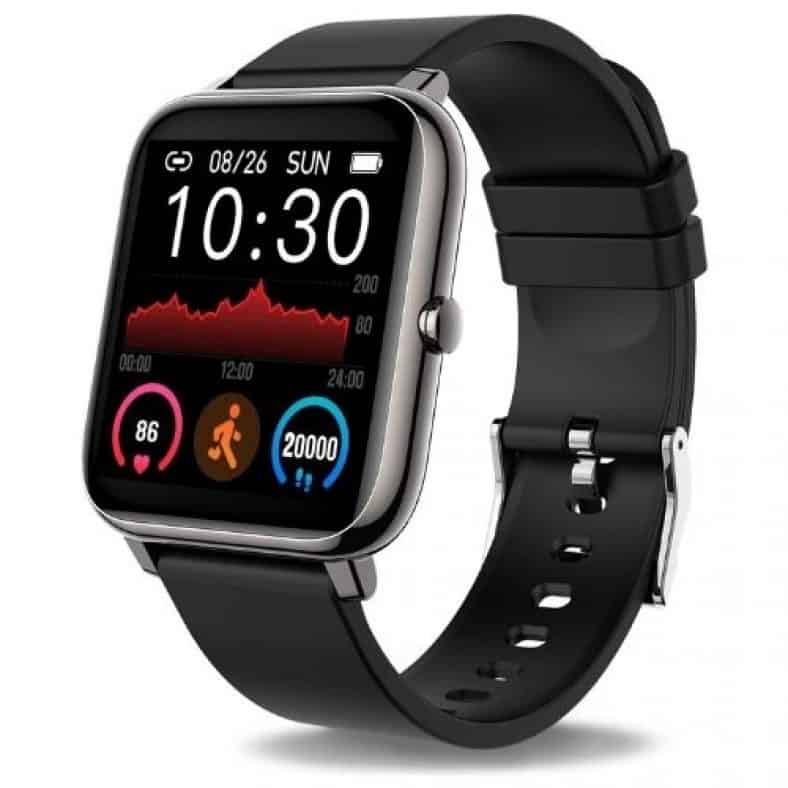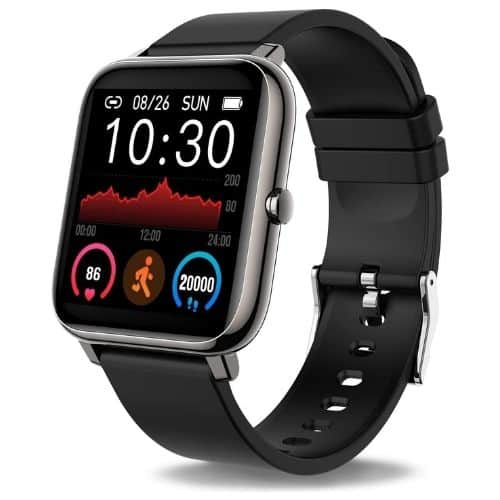 Heath monitoring
Donerton Smart Watch is most probably the most affordable timepiece on our list. You may think this way that as the watch comes with a low price tag the features it provides may be limited. but with this watch that is not happening, that watch comes with many exciting features that we often see on high-end smartwatches.
As a health care feature, the watch is capable of monitoring heart rate. It monitors heart rate 24/7 and for an elderly person, it is a much-needed feature. This feature gives a god about the senior person's health condition and using this data the person can easily improve s/he health as the day passes.
The watch is also capable of monitoring sleep quality. Overnight the watch monitors your sleeping pattern and analyzes it. Using the data, the watch lets you know if your sleeping quality and whether you need more sleep or not. So you can also improve sleep quality using this watch.
Navigation
The built-in GPS of the watch works like magic when it comes to navigation. The senior person can navigate around the city without any fear using the built-in GPS of this watch. It also shows turn-by-turn navigation so the person will never miss a turn and will reach home safely.
Those who are not capable of orienting the watch can be a perfect companion. You just have to set a route for the elderly person and the watch will continuously guide the person to reach the destination safely and using this feature is a child's play.
Water-resistant
Many sensors do not like to take off and on the watch, for them, this is a great choice as they do not have to even take it off while taking a shower. The watch is water-resistant and the senior person wears the watch without the need of taking it off now and then. It is wearable in any place.
Pros
Water-resistant
Built-in GPS
Workout tracking capabilities
Monitor heart rate and sleep quality
Can attend call
Cons
4. Best for the Battery Life: Dirrelo Smart Watch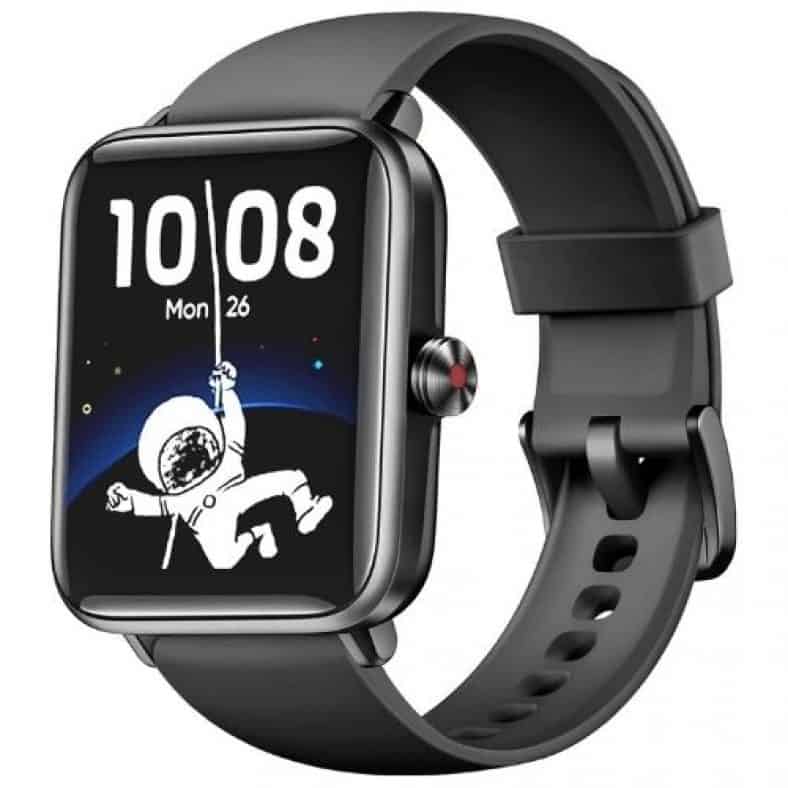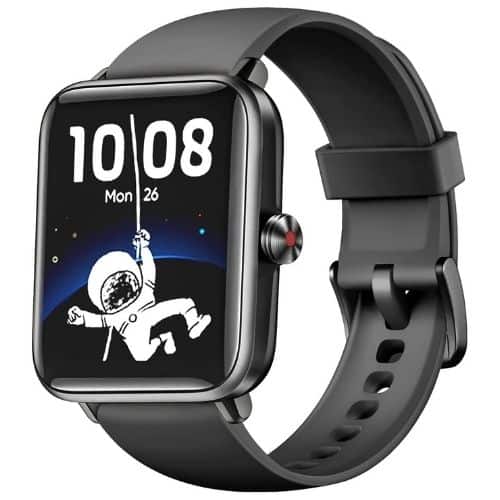 Health monitoring
Dirrelo Smart Watch comes with a touch screen and that makes the watch pretty easy to use. It also provides many watch faces to choose from so you can customize the watch as you want. The features of these watches are pretty handy for seniors and the most amazing features are their health care features.
The watch is capable of monitoring heart rate 24/7. So it will constantly monitor the senior's heart rate and will produce data to better understand the health condition. Using that data, it is possible to improve heart condition, so those who have heart conditions will be benefited from these features.
The watch can also track your sleep pattern and tracking it will let you know that you are sleeping enough or need more sleep. So you can also improve your sleeping condition as well. The seniors can also measure their blood oxygen level using this watch.
Navigation
The watch comes with an in-built GPS, which helps in navigation and tracking location. You can leave any destination and the watch will guide you to reach there safely by providing you turn-by-turn navigation. This feature makes it easy for seniors to move around in new cities.
Using this feature, you can also see how many miles you have traveled in a day. It also calculates how many steps you have walked and calorie burning. It will tell the elderly to move if they are not moving enough and to keep them motivated and inspired the watch alone is enough.
Battery life
The battery of this watch is long-lasting. You do not have to charge the watch every day, on a single charge the watch will provide service for more than 7 days. So you no longer have to worry about its battery life and you can use the watch with full freedom.
Pros
Water-resistant
Monitor heart rate
Can measure blood oxygen
Capable of sleep tracking
Long-lasting battery
Cons
5. Best for Sleep Tracking: Mingdaln Smart Watches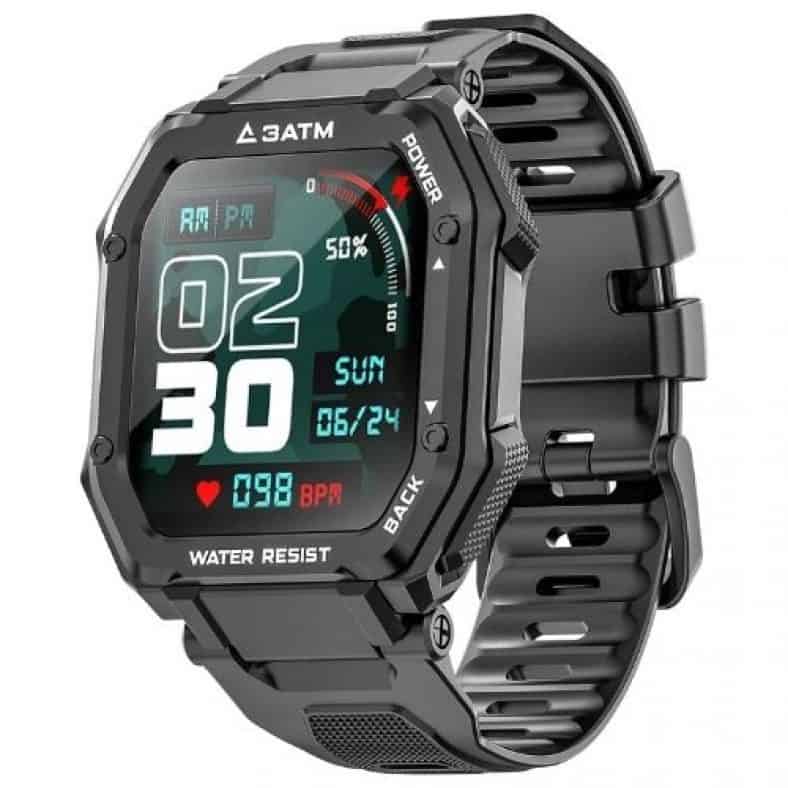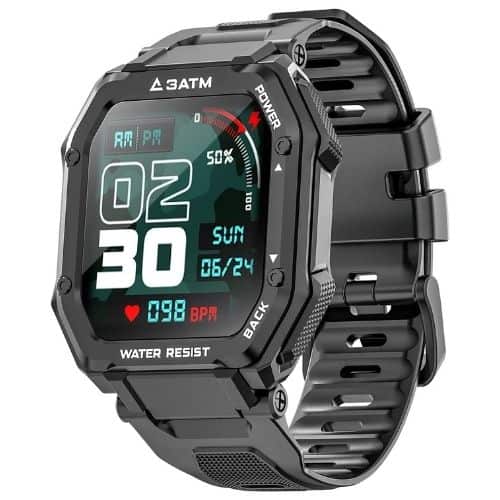 Health monitoring
At this part, we have a stylish-looking and sleek-design smartwatch that is capable of doing some wonders. It comes with features that will help you track your daily activities and stay fit. Some of its most important features are related to health monitoring and these are the much-needed features for the elderly.
Heart rate monitoring is crucial for senior people as many of them suffer from heart-related problems. The timepiece can continuously monitor the heart rate and let you know if it has seen any irregularity. That can help a lot in case of emergency and you can always keep track of your heart rate using this smartwatch.
It is also capable of tracking your sleep cycle. So tracking your sleep can tell whether you are having a sound sleep or not. It will also alert you if you are not sleeping enough. Following the watch instruction, you can easily sleep at the optimum quality. Also, the breathing reminder of this watch is an exciting feature to have.
Notifications
The watch cannot recess or make calls but it can alert you about all your notifications in one place. When you receive a call the watch will vibrate and let you know that you are receiving a call. You'll also get notified about the texts you are getting and you can see the preview on your watch's screen.
You can use this watch as a trigger to capture images. The camera will work as a shutter button and you can click images without touching your phone. The watch will also notify you about the weather forecast. Overall, this is a great watch for seniors and a great gift as well.
Battery life
The battery life of this watch is in a word amazing. You'll get 7 to 12 hours of battery life by just charging the watch for 2 hours. So the charging speed of this watch is also pretty fast. You no longer have to worry about charging the watch daily if you have this smartwatch on your wrist.
Pros
Water-resistant
Long-lasting battery
Tracks sleep
Heart rate monitoring
Can count steps
Cons
6. Best Value for the Money: Amazfit Bip S Lite Smartwatch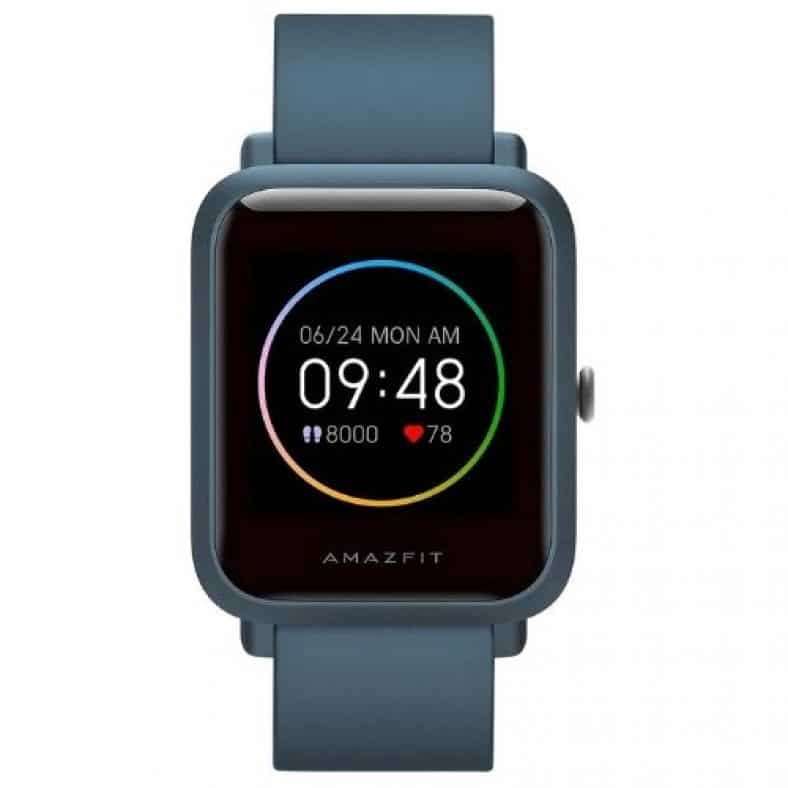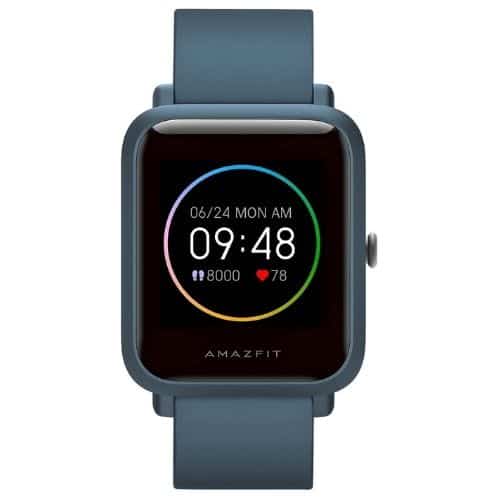 Health monitoring
Amazfit Bip S is a stylish-looking smartwatch with an always-on display. The display allows it to provide a long-lasting battery and it is bright enough to see even in bright sunlight. So with the display, you'll have no complaint and the smart timepiece offers highly accurate fitness tracking features.
The watch uses a highly advanced sensor for tracking heart rate so the result you get is more accurate than other watches. Using this data, it is possible to improve health conditions and you are getting all your health data in one place which is on your wrist. The watch sends you an alert when your heart rate is high and it also measures resting heart rate. This is an amazing feature for the elderly.
It can track your sleep as well. It tracks when you are waking up when you are in deep sleep and light sleep. And collects those data and gives you a sleep pattern. Using this pattering you see if you are having enough sleep or not.
Navigation
Amazfit Bip S is an amazing device for navigation. It has built-in GPS and that helps to navigate you here and there. You can use the GPS to go anywhere you want and it will assist you in doing so. The elderly will find it an amazing feature if they are moving to a new city.
Also, you can set a pre-route to the way home and the watch will guide the person to stay on that route. It will show turn-turn navigation to reach home safely. For those who face problem navigation, this is a helpful smart device.
Battery life
The battery life of this watch deserves a shout-out. While most smartwatches provide one-day battery life, this watch is capable of running for about a month on a single charge. As the display is always on and the software is optimized highly and that makes this watch better than others in case of battery life.
Pros
Water-resistant
Longer battery life
always-on display
Heart rate monitoring
Sleep monitoring
Cons
7. Best for Monitoring Heart Rate: CoCo Bluetooth Smartwatch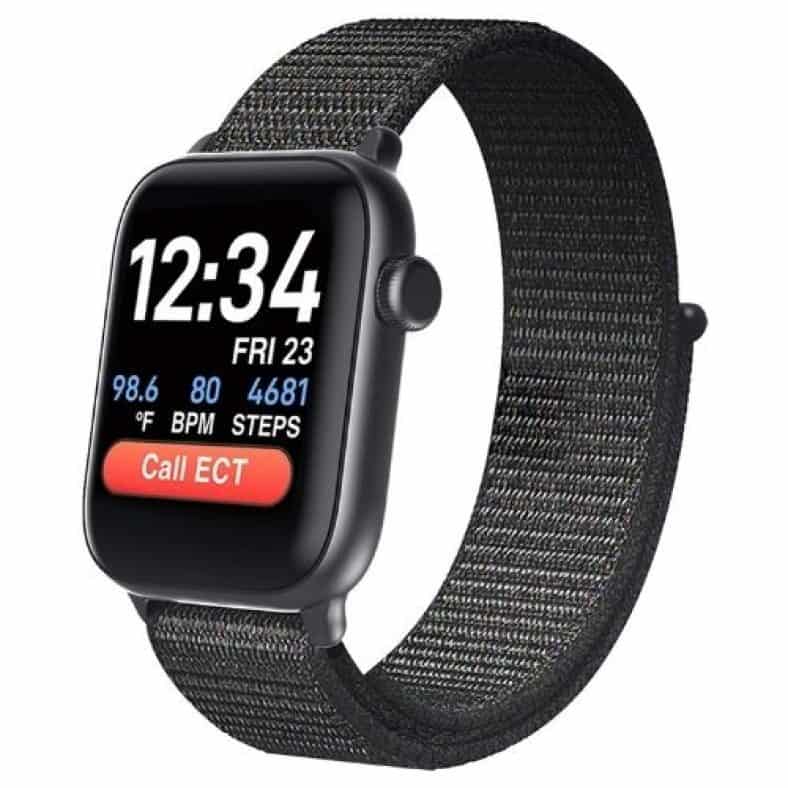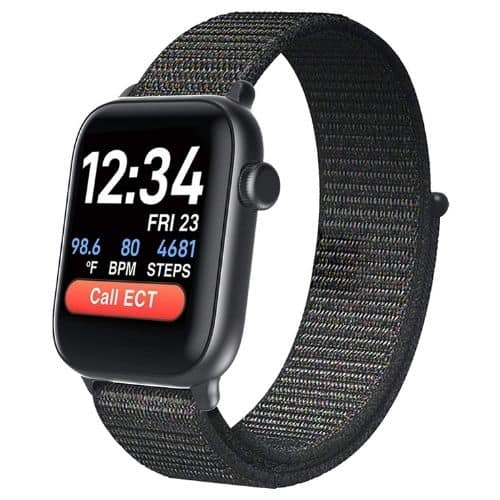 Health monitoring
CoCo Bluetooth Smartwatch is a specially made smartwatch for seniors and the features of the watch are kept in a way that it favors senior users more than others. The features of the watch are easy to use and all of these are very beneficial for seniors. The health monitoring system of the watch is especially unique and better than many smartwatches.
The watch can measure your body temperature. So you can easily measure body heat and instantly know whether you have a fever or not. Also, it is capable of monitoring heart rate 24/7 and gives you the data. The feature gives you a better understanding of your health and helps to improve your health.
It can measure blood oxygen levels instantly. The senior person can check blood oxygen level if he/she is suffering from any respiratory system problem and the result they will get will be very accurate. It also tracks your sleep and makes a pattern. So you got all your health features covered with this watch.
Navigation
This watch makes navigation simpler than ever for senior people. Its built-in GPS will let you freely move whenever you want without the fear of getting lost. It has a turn-by-turn navigation system which comes in handy when going to an unknown location.
The watch also features Geofencing. Using this feature, you can set a route for the senior person and the watch will guide the elderly to the route and if the person does not come back under a certain timeframe it will also give an alert to the caregiver or family member. But for using this feature you have to purchase a premium subscription.
Emergency call
CoCo Bluetooth Smartwatch comes with a dedicated button for making emergency calls. The senior just has to press the button in case of any emergency and the watch will contact the preset number instantly.
Pros
Water-resistant
Heart rate monitoring
Can measure body temperature and blood oxygen level
Built-in GPS
Emergency call button
Cons
Need to buy a premium subscription separately
Things to Consider While Buying Smartwatches for Seniors
Most seniors are not that much into tech, but smartwatches come with some features that may be proven beneficial for them. So while buying a watch for a senior person, there are some features that you should consider for getting the most from the watch.
Health Monitoring
Almost every smartwatch comes with some features regarding health monitoring, which can monitor some vital signs of that person who is wearing it. The most common is a heart rate sensor that can instantly tell the wearer about the person's heart rhythm.
An accelerometer is also very common in smartwatches nowadays, which tells the wearer to move if the person rhymes steady for a long time. That feature is amazing to keep the senior mobile. It will help to improve health. Also, blood pressure measuring, sleep tracking, and blood oxygen saturation are some beneficial health monitoring features.
Emergency Calls
Some devices can be used to make emergency calls, and those devices are quite essential for seniors. But most seniors feel they do not need it. Some do not like to wear a device to make emergency calls or forget to wear the device.
This device pressing the emergency button will call a preset number or service center in case of an emergency. But carrying a separate device only for this task is not such a good idea. Here, an attractive and sleek-looking smartwatch can be an extremely good alternative.
If the senior person forgets to wear the emergency button, the person can wear a smartwatch all the time. For being water-resistant, there is no need to remove the watch while taking a shower. That gives full freedom of wearing it anywhere the person wants. In addition, it is possible to manually trigger an emergency call to the family member or care center or a caregiver.
Some watches are capable of understanding emergencies and making calls all by themselves. For example, the Apple Watch can detect falls and calls to the preset emergency number all by itself, which is an essential feature for seniors. Also, if the watch has GPS, it can send the location of the senior to the family member.
Watches that support Sim Cards can be used to make calls while the senior is away from home. Using the GPS, it is possible to track the persons' location, and if the person wants s/he can easily make a call to whomever the person wants.
GPS and Navigation
For seniors who have loose orientation capabilities, GPS is the most necessary feature. Using the GPS, a smartwatch can show turn-by-turn navigation to any distance. So, using this feature, the person can navigate easily from one place to another. Almost all smartwatches have this feature, and it will help you to reach your destination very easily.
One of the most imprint features of smartwatches for seniors is Geofencing. You can take a route, and if seniors miss that route, the watch will notify and show you the right way. It also will send a text to the emergency contact if the senior does not go back within a certain time. So this is an exciting and beneficial feature to have for seniors.
Staying Fit and Healthy
One of the most important reasons behind smartwatches getting famous was that they work as personal trainers no matter wherever you go. So whether you are an active young age person or a health-conscious senior smartwatch, you will be the perfect trainer to help you keep fit.
The watch will let you know how many steps you have walked today on its screen. Using the data, you can see your activities. Also, if you are walking enough, the watch will tell you how many steps you should walk more. To ensure the seniors are keeping themselves as fit as possible smartwatch will help a lot.
You can also see how many calories you have burnt during your activities, and it is a great feature for seniors to keep them motivated to stay fit. The timepiece is also capable of keeping track of your sleep. You just have to connect it with a smartphone, and you'll be amazed to see its healthcare features.
Fall Detection
Falls detection is a newly introduced technology in smartwatches. What this does is when it detects fall, it gives the wearer one minute to dismiss the alarm. If the wearer does not dismiss the alarm, the watch will contact the medical emergency number. It is an essential feature for the elderly as this can be very useful in some situations.
Pros and Cons of Smartwatches for Elderly
In a research published in 2019, the NCBI.NLM.NIH looked into the benefits and drawbacks of smartwatches for seniors. The researchers wanted to see if a smartwatch might enhance patient-reported outcomes (PROs), including emotion, discomfort, and exhaustion. The organization discovered the following information:
A full review of smartwatch technology among seniors does not appear to exist.
When it came to new technologies, seniors showed less self-confidence and more nervousness. The smartwatch, on the other hand, becomes more familiar as it resembles a conventional watch.
To conquer the technological obstacles, seniors wanted a straightforward interface, technical help, and clear directions.
Because of the tiny size of the watch display and the reduced motor resolution and coordination that can develop as people age, the touchscreen interaction was occasionally tricky to operate for seniors.
Future elements, such as the opportunity to keep their medical provider "in the loop" through a healthcare professional platform or electronic medical records integration, were also of importance to the seniors who participated in the study.
Smartwatches are beneficial to senior citizens, according to the conclusions of this study. They have numerous characteristics that attract the aging population; however, understanding how to operate them may be difficult at first.
However, doctors and healthcare practitioners do not have time to evaluate smartwatch surveillance, which is another obstacle to adopting smartwatches. Although the watches can measure and assess heart health and detect the heart's electrical pattern (electrocardiogram or ECG), they collect a massive quantity of data that can be challenging to go through.
Doctors may sometimes require more information than a smartwatch can offer to make an accurate diagnosis. While specialists may not be able to digest this knowledge efficiently, an average person may find it enlightening and beneficial in everyday life.
What is the Potential of Smartwatch for Seniors?
A senior may or may not be aware of some functions of a smartwatch. It is critical to understand these features to make the most of them. Here are some benefits that a smartwatch may provide for the elderly.
Some of the user's physiological indicators are monitored by the latest smartwatches on the market. Some include an incorporated heart rate monitor and accelerometer that detects motion deficiency and reminds users to exercise often. This is an ideal method for seniors to stay active. Wirelessly connecting additional devices to the smartwatch makes it quite possible to measure blood pressure, stress, blood sugar levels, and weight.
Alert Button or Emergency Calls
Seniors frequently wear a wearable panic button, which is generally a band or a necklace. The button transmits an emergency alert to a specialist help center when you push it. On the other hand, some elders despise the idea of wearing panic buttons or neglect to do so. A stylish, sleek, and appealing smartwatch might be a fantastic option for the elderly who do not like the sight of these buttons.
The elderly do not have to take off their watches when showering if they frequently miss wearing the buttons as most of them are water-resistant. The senior can personally activate an emergency call while wearing the watch. Better yet, some of these gadgets will autonomously detect falls and send an alarm to the relevant family member, caretaker, or emergency assistance center.
Independent smartwatches with a dedicated SIM card will also allow you to make calls while you're not at home. Moreover, the user's geolocation may be sent to the caretaker or service center through GPS.
Navigation and GPS Tracking
Almost every smartwatch on the market now has step-by-step navigation, which allows you to specify a specific destination, and the watch will give you directions on how to get there. This feature is analogous to navigating in a car. It might be beneficial to older citizens who have lost their sense of direction.
Geofencing is also an intriguing aspect. When an older person leaves a predefined safe zone (such as their house), the watch will immediately notify them and assist them in returning home if necessary. An alarm is issued to the guardian or a family member if the user is unable to arrive home within a specific time limit.
A smartwatch for elders is a quick and straightforward method to communicate with kin or close relatives. When it comes to attempting to reach or contact family members, the seniors should face any problems as long as they learn how to operate the smartwatch's main features.
Originally, a smartwatch had been regarded for acting as a personal coach on the move. Staying active and healthy is vital in many aspects of life. Wearing a smartwatch informs you how many steps you've done each day and recommends how many more you should take, whether you're a young, energetic gym enthusiast or a health-conscious senior. This is extremely crucial for seniors who want to preserve their physical health.
While conducting daily tasks, the watch may also tell you how many calories you've burned. It can keep the seniors committed and encouraged to maintain their fitness. A smartwatch may also be used to track sleep. When linked with an app, the watch can track and monitor sleep patterns throughout the night.
Control Hearing Assistance
A remote control allows the operator to adjust the volume and audio stream on advanced hearing aids. A wristwatch might offer a pleasant experience since it does not stereotype the senior. The 'remote control' (application on the watch) is always within grasp as long as the elderly are wearing it.
From infrared cameras to pressure-sensitive flooring, there are devices available to detect falls and immediately call for help. On the other hand, these technologies are either unreliable, costly, or difficult to install in existing structures. Fall detectors that are worn on the body, such as a waist strap or a bracelet, are also available.
Falls are detected, and misleading alarms are dismissed using smartwatches. The user can be notified when a fall has been spotted and given one minute to disregard it. In the event of a failure to respond, the watch will issue a medical alert and contact emergency personnel.
New functions devoted to the elderly will continue being incorporated in the future smartwatch models as wearable technology evolves.
Smartwatches, which can inform the user through tactile feedback might be an alternative for seniors with hearing loss. Tactile feedback is simple to perceive, especially on the wrist. This means fewer calls, texts, reminders, and other communications will go unnoticed. This also eliminates the need for the senior to increase the volume on their smartphone to unbearable levels.
Seniors with poor vision or shaky hands may be able to utilize the gadget using voice control. However, the technology's applicability is complicated. The following are three instances of challenges: (1) issues with detection, particularly in noisy situations; (2) users may not want to be heard; and (3) users must learn words to utilize them effectively.
Apart from these essential characteristics of smartwatches for the elderly, there are other smartwatch features that the elderly or others may find helpful. These features include the ability to listen to music or podcasts, a long battery life, and the ability to preview notifications when linked to a smartphone, among many others.
Frequently Asked Question (FAQ)
Are smartwatches suitable for the elderly?
As we become older, we all want to preserve our independence. Smartwatches may assist by tracking mobility, heart rate, contacting emergency medical assistance, and even automatically notifying loved ones if you fall.
Are Cheap Smartwatches safe?
Wearables that use WIFI, Bluetooth, or 4G, like smartphones, radiate rays and must meet FCC safety regulations. Smartwatches, Smartphones, and other wireless gadgets produce radiation, although it is insufficiently energetic to change DNA.
Is purchasing a Smartwatch worth it?
Yes, it is without a doubt. It is worth it simply for the health advantages. All you need to know to get one is that you'll be healthier and that you'll be able to find another incentive to hold your Phone down.
Do you need Mobile Connection for fall detection?
Is it necessary to have a cellular or Wi-Fi connection for fall detection to work? Fall detection necessitates access to your Phone and the fact that it is close enough to contact through Bluetooth.
Do Smartwatches need data plans?
A smartwatch is a smart device that works in conjunction with your smartphone. You can link your smartwatch to your smartphone through Bluetooth or Wi-Fi, depending on the model, so it doesn't require its own data package.
Final Words
Heart rate monitoring, blood pressure, and blood oxygen level measuring capabilities are must-have health tracker features in smartwatches for seniors. The seniors will benefit from the features and these features will help them to improve their health.
The smartwatch will show data on its screen and using this data it is possible to improve health conditions over time. Fall detection and Geofencing are also great features to have in a watch. In this article, we have reviewed some of the best smartwatches for seniors and these watches will do their best to improve senior's health and will help the person every day.
As an Amazon Associate, I earn from qualifying purchases.