SUUNTO Traverse Review | Best for Outdoor Enthusiasts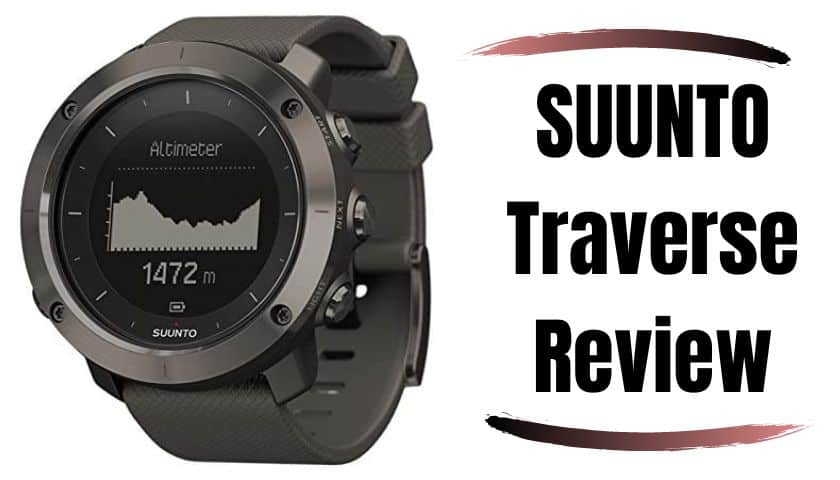 As an Amazon Associate, I earn from qualifying purchases.
As an outdoor enthusiast, you must stay for a long period doing things like traveling, hiking, or other activities. While doing so, carrying a smartwatch will keep the monotony away along with assisting you in various ways. In that case, the SUUNTO Traverse is just the timepiece you need which is built for adventure-loving people.
It is well-known for providing almost all the functionality of a conventional GPS unit you may require under any circumstances. Along with that, it won't bother you and leave your hand free while you are trekking or climbing.
Now, the in-detail SUUNTO Traverse review will describe why this timepiece deserves to be your daily driver.
SUUNTO Traverse Review – Basic Information to Gather
The time wear we have here is one of the best of its kind that you can get in the market right now. Outdoor enthusiastic features like GPS, compass, and barometer are given into it for an advantage during adventures. Another fantastic thing you will get from this timepiece is the activity tracking system.
SUUNTO Traverse is versatile and suitable for your usage such as usual day-to-day use, climbing, mountaineering, walking, hiking, trekking, backpacking, and hunting.
It will always stay up to the mark while serving as your daily companion. It is also filled with many more amazing, unique, and user-friendly features, which we will briefly discuss in the latter section.
Now, it is time to learn about some key specifications and features of this smartwatch from SUUNTO.
Then we will also discuss the box contents along with some necessary points which make this watch one of its kind.
Key Specifications and Features
GPS: GLONASS Tracking and Navigation
Weight: 80 g
Connectivity: Bluetooth and GPS
Built Material and Case: Stainless Steel Bezel, Mineral Crystal Glass, and Composite Case
Measurements: 50 x 50 x 16.5 mm / 1.97 x 1.97 x 0.65 "
Clock Face: Digital
Water Resistivity: 100 m
Compatibility: iOS and Android
Battery Life: 14–15 days in time mode and 10-100 hours in GPS mode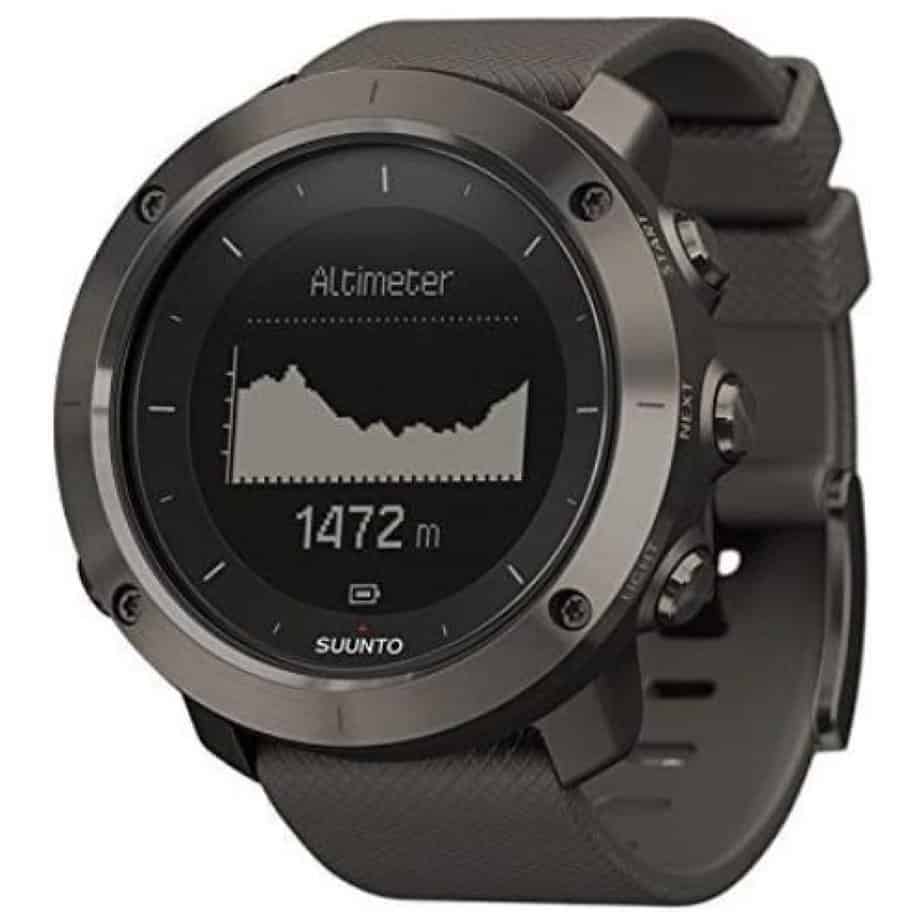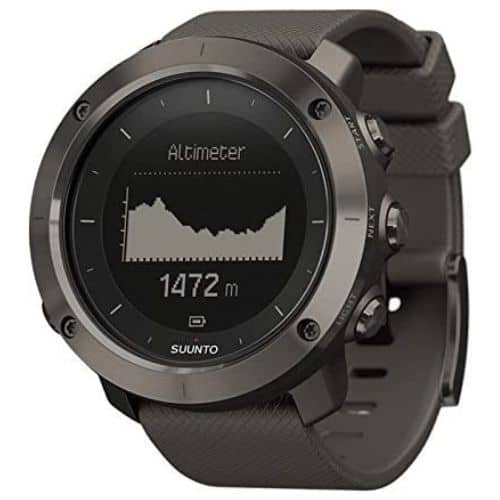 The Box Contents
SUUNTO kept the packaging of their SUUNTO Traverse quite simple. As you open the box, you will find the wrapped smartwatch along with the original USB charging cable.
There will be some official stuff too in the package like the warranty card user manual. You must keep the warranty card safe to preserve it for further use if required.
On the other hand, the user manual will assist you in setting up the watch in the beginning and introduce you to the features.
Design, Measurement, and Built Materials
It is a rugged smartwatch that is built to deal with tough outside conditions. The overall dimension of this timepiece is 50 x 50 x 16.5 mm or 1.97 x 1.97 x 0.65 inches.
You will get a tough display in this adventuristic device that is built with crystal glass, and the display resolution is 320 x 320 pixels.
The overall built materials of this watch are amazingly tough to deal with the tough hunting and trekking terrains. All the impacts coming from the outside will be absorbed by the stainless-steel bezel around the watch.
Along with that, the composite case is also presented in it for further protection of this device.
Weather Trend, Daylight, and Altitude Measurement
The barometer is there to keep you up to date with the weather situations while you are in the unknown and challenging territory. During that period, this feature comes in great assistance by predicting the changes in weather.
Even if there is a sudden storm coming, it will notify you to find shelter quickly.
You will find the information about the sunrise and sunset times. With the help of it, you will be able to divide your routine along with the available daylight hours. It will also come in great assistance when the daylight is gone and darkness sets in.
By accessing the backlight in flashlight mode, you can find the necessary information.
There is also a function for keeping in touch with the distance you have covered or the progress you have made. That is because of the altimeter and compass which will keep sending you the distance and altitude statistics. It is also capable of re-tracking the steps you have completed by using the breadcrumb trail.
Save and Relive the Adventurous Moments
Before you begin your trip for the known or unknown, just upload the possible routes to this SUUNTO Traverse. Then, with the help of the GPS GLONASS location tracking system, you will be able to enjoy your trip to unknown terrain.
After you are done traveling, climbing, hiking, or trekking, there is another fantastic facility you can enjoy after returning to the base or home. All the adventures you have been through on that trip of yours will be recorded in this smart time-keeping device.
Then you can transfer all the available data to your iOS or Android-supported phone wirelessly through the SUUNTO Movescount App. After doing so, you can turn your adventurous trip into a film with the help of visual tracking on maps and data metrics.
GPS Navigation and GLONASS
The location tracking accuracy is one of the most amazing things in this smart timepiece. Even if the territory is unknown to you, you can get the 3D map appearing on the watch when you enter the location name.
That's how you can stay on track even if you are in the most formidable mountain or desert area.
All these are possible because of the pinpoint accuracy of the GPS navigation and GLONASS tracking system.
Battery
In this smart time-telling device, there is a rechargeable lithium-ion battery to provide the necessary power. Once fully charged, that battery will support you up to two weeks or 14-15 days while in normal time mode. The battery life is 10–100 hours when on the GPS mode.
More Reasons to Choose the SUUNTO Traverse as Your Daily Companion
The smartwatch we are talking about is mainly built for adventurous and travel enthusiastic people. But it is also a fantastic watch to wear in your day-to-day working life. The sections above are the significant features of the SUUNTO Traverse.
Now we will be talking about some reasons which are also crucial to help you make things clear about this wristwear:
Easy to Use
The watch is easy to use because of the five physical buttons present on the two sides of the watch body. You can simply access any of the functions with those buttons. Because of the smooth interface and operating system, accessing various functions will become even easier for you.
Connecting the watch with your phone is also pretty simple through Bluetooth and GPS. Customizable watch settings will allow you to customize the watch in the way you want.
Keeps Track of your Daily Activities
Even after being an adventure-friendly watch, it is highly capable of being your daily driver. With the help of GPS timekeeping and automatic DST adjustment, you will always be on time on every necessary occasion.
You can also keep records of the steps you have completed and how many calories are burned like the typical fitness watch.
It also comes with a heart rate monitoring system and blood pressure measuring capability to keep your health in check.
Durability and Longevity
From the watch display to the side bezels and case, all the materials are top-notch. That's what made this watch look rugged and solid. As a result, it can easily survive the harshest weather conditions you will go through while traveling, trekking, or hiking.
It is also a water-resistive up to 100 m underwater, which will let you wear it in every weather situation. This durable wrist piece will keep supporting you in stinky weather conditions. If you preserve this watch properly after everyday usage, it will serve you for a long.
Pros
It keeps serving the owner regardless of weather conditions because of its high durability
The GPS and GLONASS navigation and tracking system always keep the bearer of the watch on the right track
As the watch is lightweight, you won't feel like wearing anything while traveling, hiking, climbing, or swimming
The weather monitoring system will warn and notify you to find a shelter whenever there is a storm coming
Distance Altitude measuring system to keep you conscious of the unknown terrains
Cons
A bit less battery backup
Limited sports features
Frequently Asked Questions (FAQs)
Is the tracking system of the SUUNTO Traverses accurate enough?
This watch supports GPS navigation and tracking along with the GLONASS mapping system. Both these navigating systems are highly accurate on every known and unknown terrain. In addition, these navigation and tracking systems are pinpoint and accurate in almost every situation.
Even in difficult and highly unknown mountain areas, the navigation system will assist you in staying on track.
Does this SUUNTO Traverse outdoor watch come with health monitoring functions?
The SUUNTO Traverse comes with most of the health monitoring sensors. It is capable of monitoring your heart rate and blood pressure. You will also be able to check and keep records of your daily steps count and calories burned.
So, even after being a travel-friendly watch, most health monitoring features are present in it.
Can I wear this smartwatch while traveling in the rainy season?
Whatever the weather condition or landscape of the area, you can wear this smartwatch without any doubt. It is highly durable, along with being water resistive up to 100 meters underwater. So, the rainy season won't do any damage to your smart timekeeper.
Read Next: SUUNTO 9 Baro Full Review

Final Verdict
If you are a travel freak, a suitable smartwatch can make your trips even easier and more comfortable. The SUUNTO Traverse is such a watch that you should keep in your collection because of the bunch of features it offers. Whether climbing, trekking, hiking, or hunting, this is a tough competitor to make its place on your wrist.
The SUUNTO Traverse Review will assist you in knowing in detail about this adventure-friendly watch. You won't even feel like there is anything on your wrist while wearing this during your adventurous trips.
As an Amazon Associate, I earn from qualifying purchases.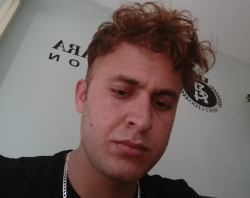 Latest posts by Nick Rolloson
(see all)