Why are Swiss watches so expensive | Let's Find Out The Truth!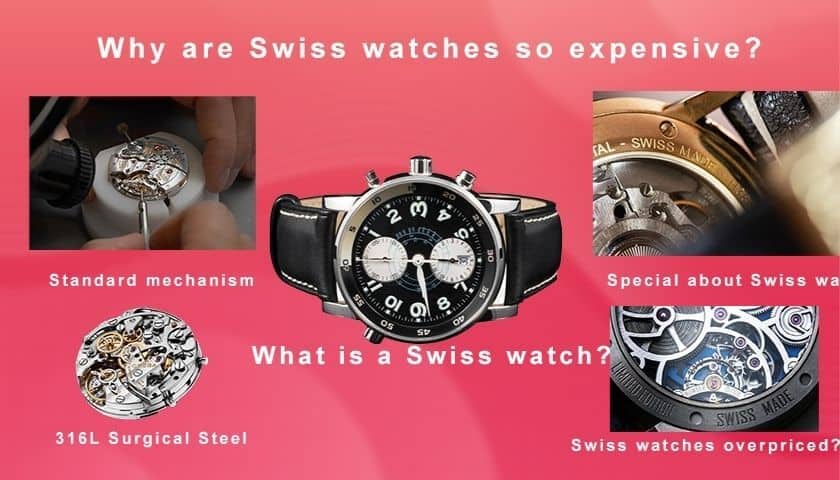 As an Amazon Associate, I earn from qualifying purchases.
When you are searching for excellence and superior design, Swiss watches will take that first place on all. Newly manufactured movements for a watch are something that takes more time and labor. And also, these designs must have to be in a perfect manner to be high quality. So that is where the expensive products come.
These products are becoming expensive due to their high quality, high qualified materials, and unique designs. This product's manufacturer uses the finest materials to design those, and their market is highly demanding. Although there is a high demand, swims watches always provide less production to increase their prices gradually.
What is a Swiss watch
These products are manufactured in Switzerland. So their origin land in Switzerland. There is a mark or a label indicates in every Switzerland product to prove that they are Swiss made. Either those products can be manufactured in this country or sometimes assembling.
The primary explanation for this question is its name. But this procedure will not be a simple thing as you think. When a product has a label on this country, it doesn't indicate that's origin is 100% from this country. It says something like high quality. When a product has this name, it has a high-quality standard from the Swiss Trademark.
Read Next: How Do Quartz Watches Work
History of Swiss watches
The first invention for the portable clock is by Germany. Switzerland has no more extended history for the watchmaking industry, but it has a reputation. Reputation goes to being a neutral one during all conflict ages from the European continent. Most of the French Huguenots had to face so many problems and violations from their mother country. So they had to settle down their companies in Switzerland.
It has a favorable industry and a society in Switzerland to be stable for all the watchmakers. Most of these developers moved to Geneva city. So having the advantage of the skilled watchmakers made Switzerland shine bright from the industry. Especially for the watchmaking industry. So the rest of the time has remained as the history of this magnificent production.
What is so special about Swiss watches
These products are far more superior to the other products available in the market; they are so desirable. So there is a special place for this band in the market. So what makes them so special? It has several reasons behind it. Let's identify them one by one.
Victorinox Swiss Army Men's I.N.O.X.
out of stock
as of July 6, 2022 5:00 am
These products are becoming superior and better quality by their standards. Producers of this item highly maintain an excellent standard for these products, which makes sharp their quality. There are metal gears that are used in this product, and I know that they are all handmade items. So you can use this brand for your life until your death.
Every component in this product consists of link pins and plastic parts. They are not likely to do other things, and there is no happening compare to them.
Every product of this brand is using 316L surgical steel as its component. These components are high-grade ones, and the strong metallurgical steels are the best. They are highly resistant to any corrosives and have an origin of industrial and biological as well. It means that these products have a law possibility on tarnish. So you can wear them without any doubt.
Remember that this brand is treating everyone commonly, and even people who have allergies to them can also wear this product without any allergy reactions.
This brand has a face of sapphire crystal. So it becomes so unique due to that. Sapphire crystals are materials that have high hardness, and it results in the watch being resistant to scratch. These products are not scratching in many situations. You can keep a key with this watch without any far, and it doesn't go to scratch even a bit.
Most of the nonstandard Swiss watches are using cheaper mineral crystals, and they are very soft. So it makes the watch have less durability. So what you are paying here is taking a value. That makes this product so much unique.
Why are Swiss watches expensive
The main reason to become so much expensive is their slow production to the highest demand. This brand is only producing fewer products compared to the demand it gets. They have a high demand. But they are only releasing a few. So their prices are gradually increasing. And also, the price of this brand is becoming high due to its high-quality components.
As this brand is only using rich materials for making their product, their prices also automatically increasing. Always top quality components are coming at a high price. However, all these reasons know that this brand is a luxurious watch. So they are created for a high price, and they are prepared to pay that extreme price.
Are Swiss watches overpriced
We can't name these products as overpriced. This brand is rich with a product range, and all of them are including a price range. There is an entry-level model, and it will expand to high standards luxurious items as well. So it covers the total price range of a watch.
Sometimes a person can see these price ranges as high. But it has numerous justified reasons behind it. Basically, due to the high standard mechanism, quality components, crafts, and the advanced type of complications, it has a reasonable price.
Are Swiss watches worth the money
These products are a design of the exact requirements of a person. So it has been a general dominant for industry-related watches for decades. So you will have a question that is it worth this money. Yes. They do.
These products are not just simple products, and they have the world's most qualified products used inside of them. You can't buy these features and this kind of quality from another product. So they are worth your money because of their excellent features.
When we talk about the movements and style, these products are in a front line among other brands, and it has some significant innovations within them. If you are wearing one of these brands, you will have the best technological and stylish time price with yourself. It is something technologically advanced with styles. So these products are worth the money.
Are Swiss watches overrated
Most people tend to think that this product is highly overrated. But that is not something to be more worry about, and he is one of the few luxurious items that providing excellence for the customers. As we said earlier, these products are high standard and most qualified, and it has a right to be overrated because no other brand is providing a little thing to do by this brand.
People's opinions are going with this brand as overrated. But it doesn't precisely say that these products have poor quality or the craftsmanship within them. Yes, these products have more advertisements as well as over-purchasing. But it doesn't say that these are poor ones.
Frequently Asked Questions (FAQ)
Question 1: Are Swiss-made watches cheaper in Switzerland?
Answer: Yes. They do provide some cheaper products for the customers. So if you are a person who is seeking Swiss quality with a more reasonable amount, you better buy them in Switzerland. The majority of the luxurious watches are making in Switzerland, so they are becoming relatively low in their prices because the origin has in there with them.
Question 2: How long do Swiss watches last?
Answer: It will stay up to 5 years after usage. Having a lifetime of about five years is a pretty good point, and the owner's manual of this product will give you the recommendations related to manufacturing.
Question 3: Is it cheaper to buy watches in Switzerland?
Answer: Yes, they do. Because most of the luxury watches originate within Switzerland's county, this country is one of the best countries to buy the cheapest luxurious watch for sure. So no matter what, Switzerland will always give you the best options to choose the cheapest one in advance. But surely with the good qualities.
Conclusion
Swiss Watches are relatively in a higher price range than most of the usual watch brands. But it always has reasonable reasons for it, and no other product is providing a single thing they do. This becomes so expensive due to their superior technics, materials and the less supply to the market. But this brand is a lifetime usage. So it is worthy of buying, and it will be with your life forever.
As an Amazon Associate, I earn from qualifying purchases.