Why Does My Fossil Smart Watch Battery Die So Fast | Explained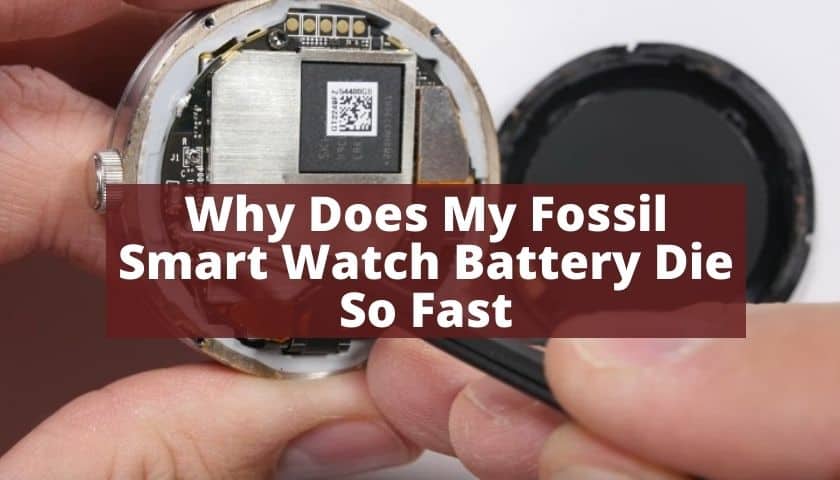 As an Amazon Associate, I earn from qualifying purchases.
If you're facing battery life issues regarding your fossil smart watch then let us tell you that you're not the only one. There are a lot of people who are going through the exact same situation. A few possible reasons may cause the fast battery draining issue in your fossil smartwatch.
We have given thought to the issue and found out the reasons behind this problem. So if you ask: why does my fossil smart watch battery die so fast, keep reading forward to know exactly what's the issue and how to fix it!
Why Does My Fossil Smart Watch Battery Die So Fast?
There are a few reasons which may work behind your battery draining faster. So let's introduce you to the reasons why a battery may drown faster.
One of the most common reasons why your battery may drown faster is the AOD mode being turned on. Always On Display mode causes more and more battery drowning. To find out if that's the reason why your battery's drowning faster you need to go to the settings of your Fossil smartwatch and then display to see if the AOD mode toggled right or left. If right, then switches that to left.
Auto brightness being turned off will cause more battery life loss since that means maximizing your brightness sometimes which isn't a good thing for the battery life of your fossil smartwatch.
Unnecessary apps or a particular app may cause faster battery drowning. Some apps include viruses too.
All of the notifications being turned on will lead your watch to be turned on more often. And it needs no explanation that this occurrence will cause faster battery drowning. If your watch's AOD mode is turned on along with then that would cause even more battery drowning hence.
The special watch features such as animation, interactive activities, attractive displays can also be the reason for your watch's faster battery drowning since they use a lot more battery than the regular watch faces ever do.
How Can I Make My Fossil Smart Watch Battery Last Longer?
Making your fossil smartwatches go long has been your dream since forever, hasn't it? Well, that dream won't remain incomplete anymore since we've got your back. To maximize the battery life of your smartwatch you need to go through some ways. Let's dig in and go through the ways-
1. Turn off Always on-screen mode
Rather than always showing the time, you can set the watch in a setting that would turn the screen off while not using it.
For that start with swiping down from the top of the screen
Go to the Settings>Display
At the bottom of the screen, tap the Always-on screen to turn it on or off.
2. Watch faces
Different watches feature different watch faces, some come with animations or interactive abilities, watches along with those faces end up using up more battery life than regular watches. So this could be a valid reason why your fossil smartwatch is using so much battery. So try regular watch faces if the special ones aren't too important.
3. Lower the screen brightness
The brighter your set the screen brightness, the more battery will be drowned. So to save up battery life you need to minimize the brightness level.
4. Unnecessary notifications
Turn off the notifications you don't wanna get. Because unnecessary notifications will turn on the screen more often and eventually lead you to more battery draining.
Tips To Improve Battery Performance On Your Fossil Watch
To get the best use out of your Fossil smartwatch you really have to work on the battery life-saving thing. To increase the battery life of your smartwatch you need to follow some regulations. We know it's difficult to get all the tips for making your battery performance better organized. But here we're again to help you with the whole deal. Keep reading to get all the tips!
The first tip from us is to turn the AOD mode off. Always on display mode makes your battery drown real quick which is never good. So go to settings from your fossil smartwatch and then display. Scroll down and you will find the AOD mode toggled right. Toggle that to the left side and you will be done.
You must know that maximizing the brightness level will lead you to a fossil smartwatch battery which won't last long. That's why don't forget to turn the auto-brightness mode, in that way, there would be no inappropriate use of brightness.
Another tip for you would be avoiding unnecessary apps and notifications. Uninstall the apps you don't need. Especially that one which you think causes more battery life drowning.
Consider turning off unnecessary messages as well. Unnecessary messages cause a lot of battery drowning which isn't appreciable.
Can You Replace The Battery In A Fossil Smart Watch?
Every fossil smartwatch includes a fossil smartwatch app. That app will notify you every time your battery's running low. Now the question is what are you gonna do when you get notified.
Well, sadly, there's no other way other than changing the battery but gladly there is a reliable way of getting a better battery that will impact the performance of your watch.
You can either go with a new coin cell lithium battery or a CR2430 battery. You can search online and find out which one's gonna be good enough for you.
But let us tell you that both work absolutely fine to make your watch run long but meanwhile you have to use the watch properly following the ways of making the fossil smartwatch battery last longer.
Replacing or changing the fossil smartwatch battery is pretty easier than you thought. You can do that at home easily by watching YouTube videos. But if you're feeling insecure then it's always appropriate to go to a professional. You can also stop by the nearest Fossil customer care service.
Frequently Asked Questions (FAQs)
How to improve the battery life of my fossil smartwatch?
The first step to improve the battery life of your fossil smartwatch is to keep the display turned off while not using it. You can also save your smartwatch's battery by keeping the brightness low most of the time, deleting unnecessary apps, and by turning off unnecessary notifications.
What is the ideal lifespan of a fossil smartwatch's battery?
The ideal lifespan of a fossil smartwatch is about five months to a year. However, this period may vary from watch to watch due to the quality and brand differentiation. If you get a high-quality fossil smartwatch for yourself, then your watch is most likely to last a little bit longer than the rest.
Is it okay to replace the battery of a fossil smartwatch?
Yes, it is okay to replace the battery of a fossil smartwatch as long as the replaced battery is a coin cell lithium one. You need to replace the battery in a year or two to keep the watch safe and sound. You'll know when to change the battery as you would get the notification of your battery running slow.
How to avoid wasting power in a fossil smartwatch?
To avoid power draining, you need to turn off the connection alert option and other power-consuming features in your watch. Then, turn the display off when you're not using the watch. If this still keeps going on, then try keeping your device unpaired after every usage.
What to do if the watch doesn't get charged properly?
Not getting charged properly can be caused by the charger, or by dust. Check out the charger at first and make sure that the space between the charger and the device is not blocked by anything. Try cleaning the charging place of the device carefully. If it still doesn't get charged, then try changing the power source.
The Takeaway
We hope that you have the answer to your question: why does my fossil smartwatch battery die so fast. As said above, there can be a lot of reasons behind this issue. Regardless of what's causing the drainage, you can always make a solution to the problem as we have shared a few of those already.
If you want to make the battery last longer than it usually does, try following our tips. Reducing the background usage of unnecessary apps and even uninstalling those can help you a lot to get the perfect battery life out of the watch. Overall, if you remain a little bit conscious, your experience will be pleasant for sure.
As an Amazon Associate, I earn from qualifying purchases.