SIM Cards for Smart Watches: Do You Need One?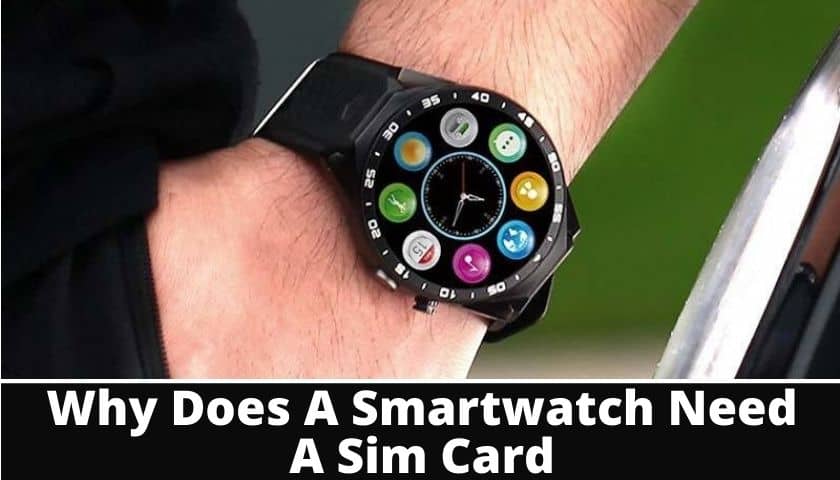 As an Amazon Associate, I earn from qualifying purchases.
Oftentimes, you will see that your smartwatch has an empty slot for the sim card. Now if you are wondering why does a smartwatch need a sim card, we have got it all figured out for you.
Apparently, in most of the smartwatches, you will have the option to use a sim card in it. If the user wants to make calls or send texts through the watch, the sim card is necessary for that. Otherwise, if you don't want to use the sim card, you can choose not to. But how's that?
Why Does A Smartwatch Need A Sim Card?
Not every smartwatch needs a sim card. But if your smartwatch needs a smartwatch, you can make calls, text other people, and use apps when you don't have access to your phone.
But nowadays most smartwatches do not require a sim card. Instead, they use the eSim facility to let you use the cellular network when you need to.
Your smartwatch can still work with or without a sim card. So it depends on you whether you choose to use a sim card or not. However, even though modern smartwatches like Apple do not come with sim card slots to use if your smartwatch has the feature to use a sim card, you can expect to have some advantages. Such as:
You can stay connected to the cellular network without your phone
You can use apps like Whatsapp or Viber
And you can use apps that require an internet connection
You can make calls through the smartcard
You can send SMS through the watch
Can I Use My Smartphone Sim Card In My Smartwatch?
It depends on the smartwatch type. If you have a smartwatch that supports the sim card of your phone and has a similar sim slot, you can definitely use your phone's sim card in it. But bands like Apple, Samsung, or Xiaomi do not provide the feature to use a sim card in your smartwatch, so you won't be able to use your sim in these watches.
Can You Use A Smartwatch Without a Sim Card?
Well, brands like Apple, Samsung do not have the option to use a sim card on the smartwatch. Therefore, you can connect the smartwatch to your phone and do everything using the watch.
As long as your watch is connected to the phone, it doesn't really require a sim card. But if you want to make phone calls, text other people using the smartwatch without connecting it to your phone, you will need a sim card for that.
A smartwatch can do everything except for using cellular data, make phone calls, and text without a sim card. However, as people use smartwatches mainly to make their daily tasks easier and connect their phones to them, using a sim card is not that important in our opinion.
Is It A Smartwatch With Sim Support Worth Buying?
This answer actually depends on every individual. You have to pay extra service charges for your connection every month. Now if you want to make calls and send texts through the smartwatch without needing to reach out to your phone, it might be worth spending.
Many people buy smartwatches with sim card features for their kids as they don't want to give the child a smartphone yet. In that case, buying a smartwatch with a sim feature can be beneficial and worth the additional cost.
Also, while you are out for your gym or exercise, the smartwatch with a sim card can save your efforts to reach your phone when you have to call someone.
A smartwatch with LTE is not required for everyone. If you want to carry your smartphone and still want to make calls, SMS, etc., you can go for a smartwatch. Even if you forget your phone at home in a hurry, it won't be a big deal.
Frequently Asked Questions (FAQ)
Where do I get a sim card for my smartwatch?
If you have a smartwatch where you can use a sim card, you can find plenty of options for your sim on Amazon. Make sure that the sim is usable in your local area. If your smartwatch supports your phone's sim, you can use that in it as well.
How to activate the smartwatch with a SIM card?
In this case, you have to contact the service provider to activate the sim card. They might have an app or website to make your sim card connectivity ready to go. You can also contact your smartwatch customer care support if you feel any further issues.
Does it cost money to use Sim on a smartwatch?
Using a sim in your smartwatch means you have to activate the LTE services. These services cost on average 10 dollars per month.
Does a Samsung watch need a SIM card?
Most Samsung watches do not require a sim card. These smartwatches do not even come with a sim card slot to use. However, The Galaxy Watch has an embedded SIM card with it that you cannot remove. You can use that for calling and other purposes without reaching your phone.
Wrapping Up
We have tried to share every bit of information in this regard. A sim card in the smartwatch is not that necessary as long as you have your phone with you. But for some people, it can be essential.
Therefore, if you have strong reasons behind getting a smartwatch with a sim card, you can go for it. But make sure that you are aware of the monthly charges and also ensure that your local network connection supports the sim card connectivity.
Overall, it can be a good investment if you want to have the extra advantages. Otherwise, smartwatches without sim cards will be good to use as well.
As an Amazon Associate, I earn from qualifying purchases.