Apple Watch SE Depth Review | Best Fitness Tracker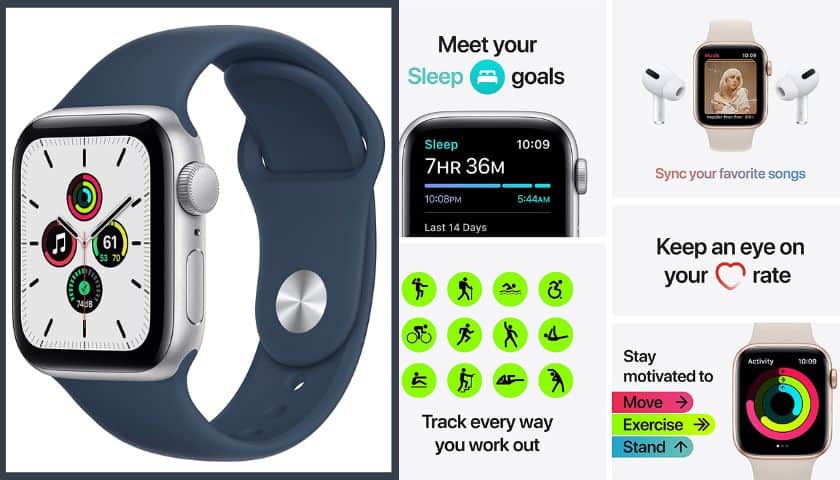 As an Amazon Associate, I earn from qualifying purchases.
The Apple Watch SE has a wide range of useful features, including a larger display, noise monitoring, fitness tracking, international emergency calling, etc. If you want a good fitness tracker, it will surely be a great deal. In fact, this timer performs as a motivating health device.
Useful watch faces, rich notifications, etc., are other useful features that increase its popularity over other smartwatches. The SE has so many corners for creating appeal. Overall, Apple Watch SE combines the latest features and greatest design available at an affordable price range.
Read Apple Watch SE review and learn more about what this timer offers.
Apple Watch SE Review | Is It Worth the Price?
Apple Watch SE includes several fitness and health features, making it worth the price. It is a cheaper option that is more fitness tracker than a smartwatch. There is a plethora of features to help you work out to keep yourself fit as per your age. 
Take a look at the specifications before reading the in-depth review.
Watch Specifications
Screen Size: 40 mm
Case Material: Aluminum
Band Material Type: Fluoroelastomer
GPS: True
Processor: 64-bit Dual-Core S5 Processor
Capacity: 32 GB
Operating System: WatchOS
Special Feature: Sleep Monitor, Activity Tracker, Voice Control, GPS, Heart Rate Monitor
Connectivity Technology: USB-C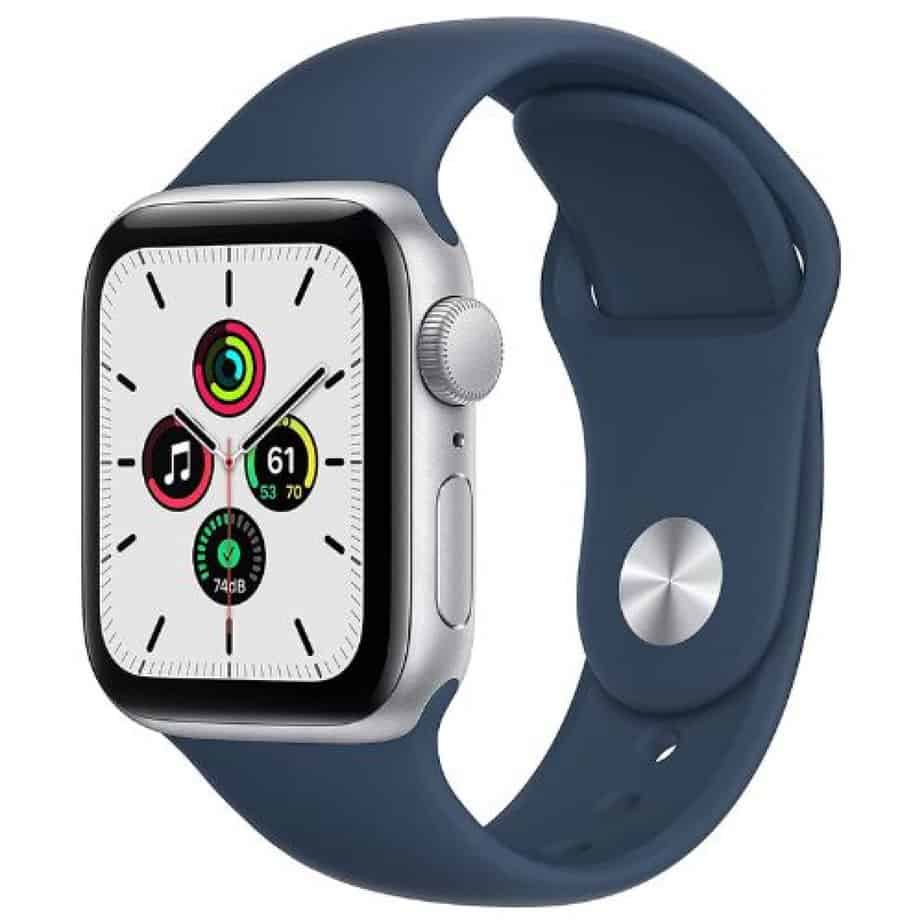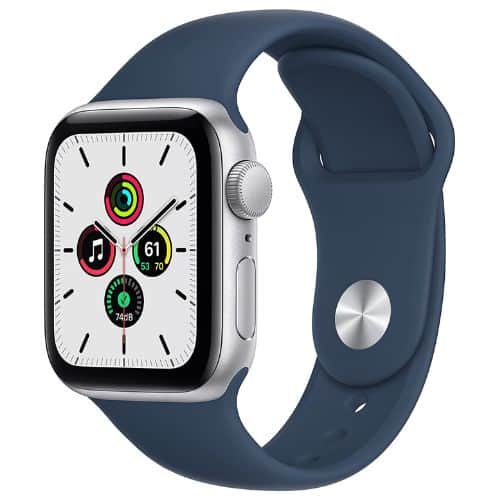 Screen and Design
Apple introduces a new style in this timepiece: an edge-to-edge screen and round-shaped edges. The design is basically pretty similar to its ancestors.
Due to the edge-to-edge design, the screen becomes 30% larger than other timers. While the body of the smartwatch is not considerably larger. The resolution of the screen is 324 X 394. More importantly, it comes with an OLED display, giving you a clear and comfortably visible screen even under sunlight.
Its case is made of aluminum, and its sleek finish gives it an eye-catchy look. Moreover, the dial is covered with toughened Ion-X glass which is basically available in expensive models.
The glass is tough enough to withstand severe impact and knocks. This means the timer will barely damage if it falls accidentally or comes in contact with hard impacts.
The back of the watch that touches your wrist is made from a blend of ceramic and sapphire. Thus, the watch becomes comfortable and hypoallergenic. So, you will hardly experience allergic or uncomfortable feelings wearing it for an extended period.
Its build and design quality will give you a feel that you are getting a high-grade smartwatch at an affordable price.
Solo Loops
Another impressive feature of this timepiece is the "solo loops." It is an elastic band that lacks a clasp. This band stretches conveniently to fit around any wrist size.
If you spend several hours typing at your desk, it will not press your wrist to let you feel discomfort like traditional watches. The solo loop is thinner enough that eliminates discomfort issues completely.
However, make sure to buy the right size to avoid further complications.
Set Up and Usability
According to many customers, "It Just Works." The setup process is pretty straightforward; you won't have to spend much time. More importantly, the setting up mechanism can be done within the first flicks. The reason is that every function is clearly intuitive and signposted.
All the apps are seen in a grid view that can easily be changed to a list view according to your preference. You will surely be delighted with all its features.
The watch face is incredibly fancy. Through the screen, you can conveniently learn heart rate, battery life, solar cycles, etc. The touchscreen is extremely responsive and speedy, allowing you to scroll to different apps and functions without hassle.
You can also navigate the apps using the Digital Crown of the smartwatch. Overall, it performs well under the fingers.
You will love that this timer permits you to control the music playing on your phone. First, you will need to synchronize the watch with your phone. Then the music controlling feature will pop up automatically on the watch.
If you don't prefer to pick up your phone to change the track, simply use your smartwatch.
Features and Performance
As stated earlier, it is a feature-packed timer which is really helpful.
It seems pretty accurate if you want to track your heart rate or monitor your blood oxygen level. This means it comes with high-level health monitoring features. It lets you know different health data to improve your health.
You can easily track the variance of sleep. Simultaneously, it will help you monitor a variety of sports, including running, hiking, high-intensity interval training, dance and, to name a few.
Again, the device gives you the benefit of receiving calls without reaching your phone. Moreover, this smartwatch will get notifications of your phone messages and replies easily.
32 GB Storage
The smartwatch features a large storage option of 32 GB. Fill it up with your all favorite music and enjoy them when training, running, walking, or hiking.
Most importantly, you can subscribe to the Music service from Apple, letting you download music effortlessly. This way, carrying your phone is entirely unnecessary to enjoy music.
WatchOS
This timepiece uses WatchOS software which is a big success for Apple. This operating system will let you use a wide range of apps on the wristwatch.
WatchOS is a user-friendly system that makes usability easy. On the side of the watch, there is a Digital Crown control system. This little wheel makes swiping on the screen unnecessarily and makes usability effortless. This kind of feature is unavailable in other smartwatches.
The operating system monitors activity tracking pretty well. If you walk for 10 minutes without a break, the watch will ask for your permission whether it will track your activity or not.
Battery Life and Charging Time
Similar to Apple Watch 3 and 6, this timer will deliver a single charge of 18 hours (smartwatch mode) of battery service. It means you will need to put it in to recharge every day. In comparison, it offers a little less battery service when you listen to music or use GPS.
One of the noticeable features is the charging time. The smartwatch takes only 90 minutes to fully charge from 0% to 100%. Find the below chart of battery life according to your usage.
| | |
| --- | --- |
| Usage | Battery Life (Hours) |
| Music from Phone | 10 |
| Talk | 1.5 |
| GPS Workout | 6 |
| Charging Time | 1.5 |
Read Also: Apple Watch Series 7 In-Depth Review
Other Features and Benefits
Siri: The watch has built-in Siri – Apple's virtual assistant. In order to activate this feature, all you need to do is, say, "Hello Siri." Then Siri will do the rest of what you ask from it. This feature eliminates the requirement of tapping on the screen to navigate different apps. Siri is an excellent feature for replying to messages and setting a timer.
Water Resistant: The water resistance rating of this timer is 50 meters. Also, it meets or exceeds ISO Standard 22810:2010. As a result, you can use it for shallow-water activities like swimming in an ocean or pool.
Crack Resistance: It comes with an incredible crack resistance feature. So, in the case of an accidental fall, the watch will remain completely damage-free. This increases the durability of the watch.
Emergency SOS: Happily, Apple Watch SE lets you send Emergency SOS without cellular. However, to benefit from this feature, it is important to keep your phone nearby. If your smartphone is not available nearby, ensure the smartwatch is connected to Wi-Fi, and setting up the Wi-Fi calling is a must.
Irregular Rhythm Notification: This feature will be useful if you are diagnosed with atrial fibrillation. It will notify when it tracks irregular rhythm. Hence, it is beneficial for people of 22 years.
Hand Washing Guide: Impressively, it includes a hand washing guide which is helpful during this post-Covid-19 time. When you start washing your hand, the timer will gently buzz, letting you know it begins timing. Once 20 seconds are finished, you will be notified with a second buzz.
Sleep Tracking: Taking your sleep through this timer is excellently accurate. It monitors your sleep precisely to help you get the right amount of sleep according to your age.
Pros
The screen is dust resistant, giving a shiny look for several years
Its speaker is 50% louder than other smartwatches
The requirement of a cable is unnecessary as it features USB-C magnetic charging option
The watch casing is scratch-free
Thanks to a more modern chipset that ensures good battery life
Cons
Lacks always-on display
Daily charging can be annoying for some users
Frequently Asked Questions (FAQs)
Is the Apple Watch SE worth buying?
Many customers believe Apple Watch SE is a good value for the money and want to track different data while doing immense fitness training.
How far can the Apple Watch SE be from the iPhone?
The average Bluetooth range of the Apple Watch SE is 10 meters. When you need to connect this timer with your iPhone through Bluetooth, the distance between the iPhone and smartwatch has to be 10 meters.
Can you make calls on Apple Watch SE?
Yes, follow the below steps.
Tap on the Phone app from the SE watch
Select contact
Scroll the Digital Crown
Select the contact with which you want to make a call. Then tap the phone button.
Finally, tap the calling option
Read More:
Final Notes
You will never ask questions about this timer's features and benefits. All major components are included in this Apple watch, and all work quite accurately. Pin-sharp haptics, excellent battery life, nice notifications, good sleep tracking, and other health monitoring features make it a solid fitness tracking timer.
I will surely recommend this Apple watch for its faster processor and future-proof features, which are unavailable in other timepieces in its price range. Hopefully, after reading this Apple Watch SE review, you can easily make a buying decision
As an Amazon Associate, I earn from qualifying purchases.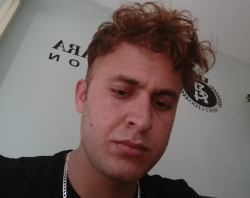 Latest posts by Nick Rolloson
(see all)