Garmin Fenix 6 Pro Review 2022 | Best for Outdoor Use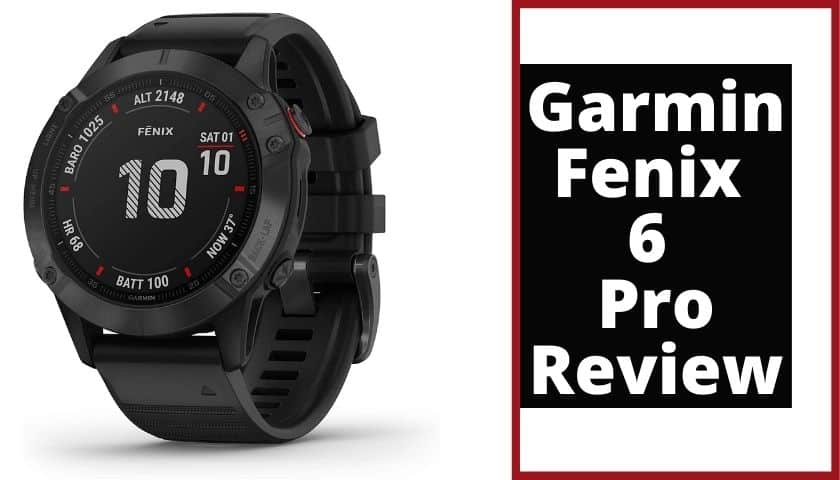 As an Amazon Associate, I earn from qualifying purchases.
Garmin Fenix 6 Pro is a must-have watch for outdoor use. Because it's mega-rugged, looks stylish, and provides numerous features. It's one of the overall best-performing smartwatches for a person who is looking for helpful fitness-tracking features in a smartwatch.
It does offer not only casual attributes but also hardcore factors. Unless it's used, no one would understand how great it can serve while being a budget-friendly item. In this Garmin Fenix 6 Pro review, we will share each essential detail of the watch you need to know.
Garmin Fenix 6 Pro Review in 2023
Garmin Fenix 6 Pro is a super classy smartwatch with high-end performance. Its top-notch storage, lengthy battery life, and accuracy are the factors that made it more reliable.
It also looks pretty cool; however, the design makes it bulkier. Well, it's not possible to explain how great it is in just a few words. Hence, we will mention its special features in broad detail. So, let's dive in.
Garmin Fenix 6 Pro
6 new from $499.99
11 used from $259.99
Free shipping
as of November 27, 2023 2:15 pm
Stunning Design and Build
First and foremost, this fantastic wristwatch comes with a stunning design and build quality. It is available in a heavier and much more substantial design.
So, what makes it heavier and more substantial? The watch features a 1.3 Inches screen that is 18% bigger than the previous model. Its casing is crafted with premium quality stainless steel which makes it more durable.
The bezel is available in stainless steel as well as diamond-coated carbon steel. It's a rugged watch face that will not be scratched or cracked any time soon. The band of this watch is made with durable as well as premium quality silicone.
This watch band also provides excellent comfort to wear longer. However, cinching the watch securely for smaller wrists is difficult.
Read Next Version: Garmin Fenix 7X Solar Watch Review
Excellent GPS Function
This high-performing contender has exceptional accuracy in terms of GPS, which is to be anticipated by a competitor with this level of ability. GPS, oxygen saturation, heart rate, and every function provide excellently accurate data.
GPS signal is received swiftly, and there is no chance of any problems with it losing the signal. You can keep track of your exercise sessions with pinpoint accuracy.
The device has onboard memory for storing and retrieving map information. The maps are of exceptional quality, and they are easy to navigate. The hiking pathways, and some tiny forest trails, are presented and kept on the watch, as well as various sites of interest.
Activity and Sleep Tracking
The Fenix 6 Pro isn't intended for daily activity monitoring, but it does it well. You can monitor your steps, activity minutes, active calories, as well as floors climbed.
One of the watch's features is Garmin's Body Battery, which rates your total energy resources out of 100 depending on factors such as heart rate. A low grade may indicate that you should take a rest day anyway.
You can also track your sleep and monitor your oxygen saturation levels during the night. If you're at altitude as well as testing your acclimatization, it is indeed difficult to tell how effective this could be.
Although its sleep monitoring is inherently inaccurate in that it labels times of extreme stillness as light sleep.
Advanced training
A new PacePro function, which is a sophisticated system, is also included in Fenix 6 Pro. It will enable you to define your goal pace or race time, as well as build a race pace plan.
It's a continuous system that takes gradient into consideration as well as indicates whether you're ahead of schedule. It can also be used with turn-by-turn navigating and mapping, allowing you to switch between displays on the watch.
You may pick a time duration or speed objective select to race a positive or even a negative split. PacePro designs your race strategy with goal timings for each and every kilometer with that data.
During the race, users get primary data, including target split time, exact split time, remaining distance, and how far from the target pace he is for the whole race.
Great battery life
Battery life is one of the considerable things to purchasing any watch, especially a smartwatch. The more battery life a watch provides, the more days you can use it continuously.
The incredible thing about the Fenix 6 pro smartwatch is that it features a longer battery life. According to the manufacturer of this watch, its battery will last up to 14 days.
That means you can use this watch for up to 14 days continuously in smartwatch mode with fitness tracking as well as heart monitoring functions activated.
According to the real-time users, this value is reasonably accurate. However, if you use other functions like GPS, Play music longer, the battery life will decrease.
Outstanding Performance
So now is the question, how well does this watch perform? Does this watch beat its price tag? According to this review, you may define how this watch performs.
The Fenix 6 Pro is a high-performing and highly functional smartwatch. Each and every function of this wristwatch is excellently functional as well as accurate.
Moreover, the watch comes with 100 meters of water-resistant capability. This feature makes the timepiece perfect as well as suitable to use for swimming, showering as well as other water sports.
Its heart rate monitor, GPS, Activity tracking, Sleep monitoring, and every function is stunning. Although it is an expensive watch, overall, it meets the value for money.
Pros
It has a durable as well as comfortable design
It comes with a set of stunning features and function
All the features are highly functional and accurate
It features 100 meters of water-resistant capacity
The wristwatch offers longer battery life excellently
Overall performance meets the value for money
Cons
This watch is a bit bigger as well as heavier
The Garmin Fenix 6 Pro is one of the elite, as well as feature-rich GPS watches available. It's a tank-like shape that's heavier and thicker. With more music storage and longer battery life, this one is a great choice for those that need it all. This watch is best for mountain sports, ultra-distances, and navigation.
Frequently Asked Questions (FAQs)
Is it worth getting a Garmin Fenix 6?
Garmin Fenix 6 is worth investing in, especially if you are searching for a timepiece that will let you enjoy its benefits for longer. It's primarily popular for being one of the best watches for running. It's also considered a tremendous outdoor watch.
What is the difference between Fenix 6 and 6 Pro?
The key differences between these two watches are two. The first difference is that the Fenix 6 Pro is more durable than the Fenix 6. The titanium straps and bezel make it a heavy-duty watch. The other dissimilarity is while Fenix 6 doesn't come with the WIFI facility, Fenix 6 Pro does.
Which Fenix 6 is the best?
Fenix 6 series watches are an outstanding collection. Hence, people get confused regarding which one to pick. The answer would be the one that impresses you the most considering every factor.
But if you still want to know an expert suggestion, it would be the Fenix 6S because it feels most comfortable to wear and serves you 24 hours straight after a charge each day.
How long will a Garmin Fenix 6 last?
If you use the Garmin Fenix 6 in the smartwatch mode only, the manufacturer claims it will last 14 days if charged once. If you are always using the GPS, it can survive for up to 36 hours. And if you use it in max battery GPS mode, it will last for 72 hours.
Does the Fenix 6 Pro have Sapphire?
Sapphire is a crystal lens that is a premium material used to create high-grade smartwatches. It's mainly scratch-resistant. The Fenix 6 Pro has Sapphire, which means it is scratch resistant.
What is the difference between Garmin Fenix 6 Pro and solar?
The models have a significant difference which is their batteries. The battery of the Fenix 6 Pro is the usual one, but the Solar's battery is more powerful and can be charged using solar power.
Closing Remarks
We hope our Garmin Fenix 6 Pro review was a big help to you. It's truly one of our favorites for its looks, durability, performance, and features. We believe you will love it too after using it.
For people who are serious about having good health and so searching for a smartwatch that can help them become good runners, this should be your pick. Besides, it's worth the penny because all its attributes are valuable.
As an Amazon Associate, I earn from qualifying purchases.