Bulova Precisionist Chronograph Watch Review In Detail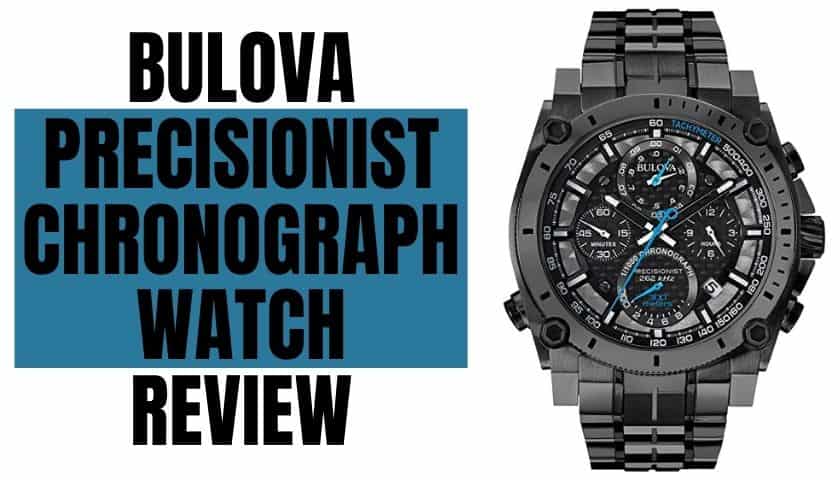 As an Amazon Associate, I earn from qualifying purchases.
Looking for a bold look with your watch? Well, you can get it from a Bulova precisionist chronograph. Among thousands of choices of men's watches, if you are searching for both classy and elegant looks in one place, you cannot help but lean on this watch.
There are several strong reasons behind our fascination with this watch. From the look to the quality and longevity, everything is impressive. But we won't let you rely on all these sweet talks. Rather, we have dissected all the reasons why you should rely on this watch depending on our self-tested reviews.
So, without any further ado, let's get started and know everything that this watch has to offer you!
Bulova Precisionist Chronograph Watch Review – What To Expect?
Key Qualities:
Features a date window between 4 and 5 o'clock positions which lets you know the date anytime you want.
You get four chronograph functions with this watch which makes this watch super-efficient.
The grey stainless steel bracelet comes with a classic black dial which looks striking.
Includes 17.9 mm stainless steel case along with a mineral dial window- best visibility of quality.
Offers Japanese Quartz movement which brings easy and comfortable wearability.
Along with the Japanese Quartz movement, it features Bulova's proprietary three-prong quartz crystal Precisionist movement.
The movement features come with a vibrational frequency of 262kHz.
Comes with an analog display which makes reading time easier and makes the watch look amazing.
For the secured fitting, you get a fold-over clasp that features double push-button safety.
The band is made with stainless steel which ensures that the watch will look like a new one even after using it for years.
Features water resistance to 300 m (984 ft) underwater so no risk in sudden rains or storms.
Offers excellent accuracy, durability, and multifunctional features at a very reasonable price.
Comes with strong construction which makes this perfect for regular basis usage.
Bulova Precisionist Chronograph Stainless Steel Watch
5 new from $566.99
Free shipping
as of November 28, 2023 9:26 am
Bulova Precisionist Chronograph Men's Watch Review By Self-testing
We would like to introduce you to self-tested results now. Here we are going to share a few amazing reasons why you should pick this wonderful watch:
Strong Construction
Men always want a watch that can mainly offer durability and regular usability. In that case, nothing will feed your desire more perfectly than Bulova Precisionist Chronograph Men's Watch. Want to know the reason? It has got the strongest construction ever. The watch features a 17.9 mm to 44mm stainless steel case which is pretty amazing.
The case's height and width are 43 mm and 46 mm respectively. However, the watch is so strong that even if you make it fall often, it will cause you minimal trouble. This is probably a piece of good news for people who tend to be clumsy. No more awkwardness guaranteed!
The stainless steel the watch is made with has got an amazing finish with gunmetal grey ion-plated. Therefore you can wear it years after years regularly and the watch will still look like a new one and will offer you the best performance ever.
Multifunctional Features
You will be surprised to see the features this amazing watch offers. Every feature is useful and makes this watch more efficient. You can get four chronograph functions, a date window, and much more with your purchase.
Did you know that while most of the watches are accurate to 15 seconds a month, Bulova Precisionist watches are accurate to 10 seconds a year? Isn't that tremendous?
Besides you get a vibration frequency of 262.144 kilohertz (kHz) which is produced by the Precisionist's unique three-prong crystal. That is absolutely 8 times better than regular two-pong crystals. This feature isn't available on any other watch in the whole world now.
On the other hand, you are getting a luminous hour and minute hands, luminous markers, a calendar, an analog display, and everything you can desire from a watch.
Comfort & Security
The watch offers great wearability since it includes Japanese Quartz movement and Bulova's proprietary three-prong quartz crystal Precisionist movement at the same time. The stainless steel band comes with no sharp edges, so it's comfortable to wear.
Additionally, the watch offers a secured fitting with a fold-over clasp which features a double push-button safety feature and a great safety lock. The bottom line is you are getting the most secured fitting from the most comfortable watch here.
Smart Design
The looks of the watch will make you crazy about it at very first sight. The grey bracelet comes with a black dial, we can't even describe how stunning that combination looks. On top of that, the colors are so classy, elegant, and bold at the same time. The watch will go with literally every outfit. To be honest it is the looks of this watch that executed most of our appreciation.
The analog display of the watch gives the watch a smart look. Moreover, the design is age-appropriate. Both teens and adults can wear this watch and look amazing. If you want something trendy yet classy to make yourself or your loved ones look amazing then trust us here and get this watch without any further thinking.
Exceedingly Water-Resistant
Did you ever expect your watch to offer water resistance 300 m underwater? That's what you get with Bulova Precisionist. You can walk in the rain, go under your pool, under the ocean with the watch on without any hesitation and you will face no trouble as well. You can't get this much water resistance from any other watch, even not the expensive luxury ones.
Why Should You Pick This?
We don't want you to roam around back and forth to find a classy watch where Bulova Precisionist is offering you such a wonderful watch. Here are some reasons which make picking this watch a great idea.
Versatility
We can't pass a moment not praising how amazingly versatile this watch is. It offers so many features that just blow our minds. Especially the analog display and feature four chronograph functions made this watch our favorite.
Moreover, Bulova's proprietary three-prong quartz crystal is awesome with the 262kHz vibration frequency. On the other hand, you get a date window with this watch as well.
Accuracy
While other expensive regular watches offer 15 seconds of accuracy a month, it offers 10 seconds of accuracy a year, isn't that just priceless? Well, that's what makes this watch so renowned.
Protection
It needs no further explanation that this watch is master at providing you with the highest protection. You get great water resistance, secure fit, strong construction, and whatnot. Especially the fact that it is water-resistant 300 m underwater has impressed us the most.
Wearability
With its Japanese Quartz movement and Bulova's proprietary three-prong quartz crystal Precisionist movement makes this watch is super easy and comfortable to wear. The stainless steel band is a plus point here also.
Affordable
After offering all those high-functional features, reliable durability, and a stunning look, Bulova Precisionist is still offering you a great deal with this watch since it comes at a very affordable price.
Frequently Asked Questions (FAQs)
How good are Bulova Precisionist watches?
With all the features of them, we can assure you that they are the best. They offer you 8 times greater vibration than a standard quartz watch which gives you the perfect level of accuracy. Moreover, the looks of their watches are so good. The watches go with every outfit. Looking stunning becomes much easier with those incredible watches.
How much does a Bulova Precisionist cost?
The amazing watches from Bulova Precisionist will cost you around $1000 surprisingly. Do you know that their most amazing Bulova Precisionist Chronograph Men's Watch comes at just $825? That is the most stunning watch ever. That means you get to save a lot of money if you go with Bulova Precisionist instead of going with the regular expensive brands.
Where are Bulova Precisionist watches made?
Although the headquarters of American brand Bulova Precisionist is located in New York, it doesn't mean that all of their watches are manufactured there. You will be amazed to know that their watches are made in Japan, Switzerland, and Hong Kong as well.
Do Bulova Precisionist watches fade?
Obviously not. Bulova Precisionist watches are the most durable watches ever. If you want a watch to use on a regular basis, then nothing can be better for you than Bulova Precisionist watches. The color of them never fades away and looks classy and stunning even after using them for years.
Do Bulova Precisionist watches offer great accuracy?
Yes, they are capable of offering you excellent levels of accuracy actually. They offer you eight times better accuracy than any other brand. While watches from other brands are accurate to 15 seconds a month, the watches from Bulova Precisionist are accurate to 10 seconds a year. Their Bulova's proprietary three-prong quartz crystal movement offers greater vibration.
Wrapping Up
We are on the edge with reviewing the Bulova precisionist chronograph watch. By now, maybe you have got the fact that why we have spoken so passionately about its service earlier. It deserves every bit of appreciation because it is built that way.
From durability to classiness, you can get everything in one place. So who is not willing enough to get this wonderful beauty whilst getting everything in a single purchase? That's why follow our direction and don't be a fool to lose this incredible timepiece. It got everything that you desire from a watch.
Therefore, rematch your requirements and just go for it! Good luck!
As an Amazon Associate, I earn from qualifying purchases.