Casio G-Shock GWM5610-1 Review | Best Solar-Powered Watch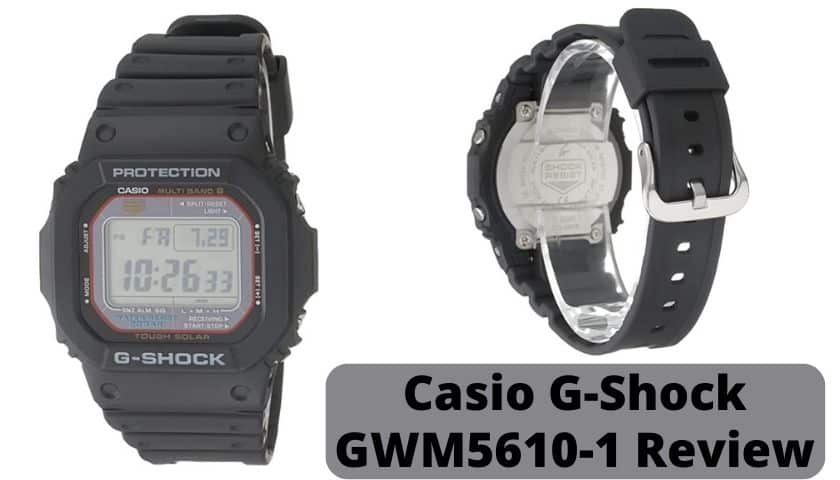 As an Amazon Associate, I earn from qualifying purchases.
The Casio G-Shock GWM56010-1 is a feature-packed watch, enabling you to wear it wherever you want. In terms of style and size, it is almost perfect. It comes with a truly classic design, is extremely affordable, and offers outstanding value for the money.
All the basic G-Shock functionalities are available in the timer. It is water-resistant up to 200 meters, letting you swim or do other outdoor activities without worry. With several functions, you can do almost anything wearing this watch.
Continue reading this Casio G-Shock GWM5610-1 review to learn more.
Casio G-Shock GWM5610-1 Review – What it Offers?
Many customers consider Casio G-Shock GWM5610-1 is one of the best outdoor watches for the money. Its weight, size, and weight still attract buyers to this day. This timer is ideal for people with smaller wrists or those who don't like bigger watches.
Let's look at the specifications before heading to an in-depth review.
Specifications
Case Size: 43.2 X 12.7 mm
Water-resistance: 220m / 660ft.
Band and Case Material: Resin
Movement: Quartz
Case Back: Stainless Steel
Crystal: Mineral Glass
Dial: Positive LCD dial
Battery: Tough Solar-powered
Approx. Battery: 10 months (Normal Use), 26 months (Stored)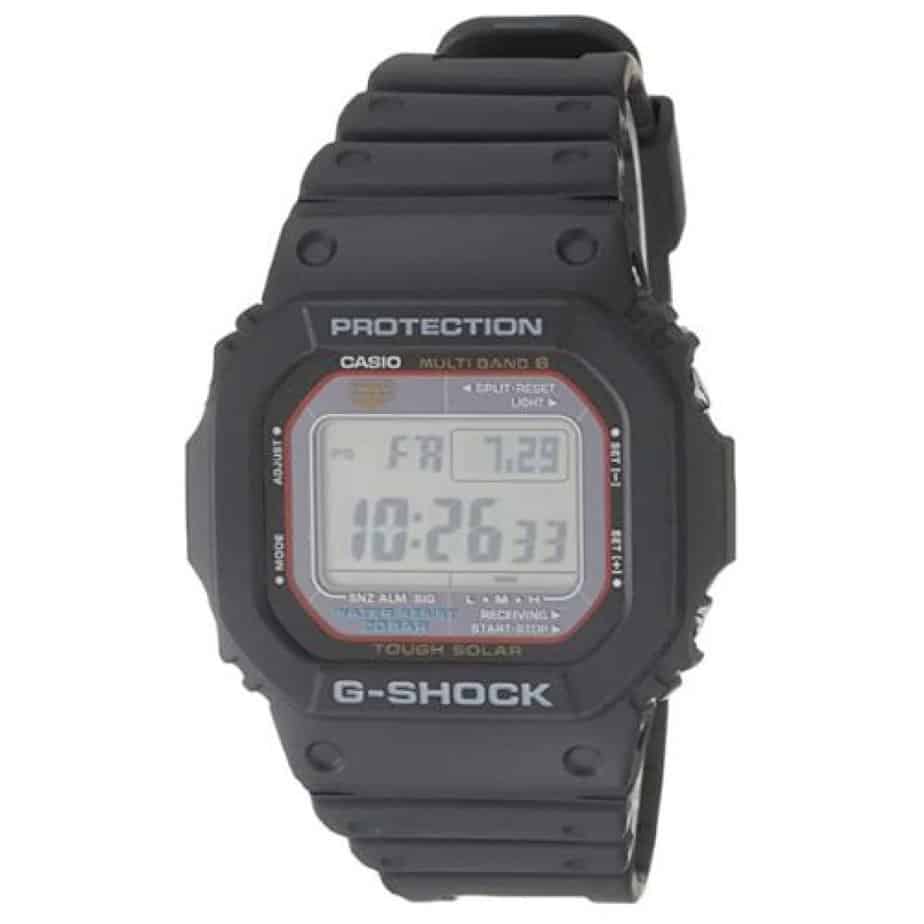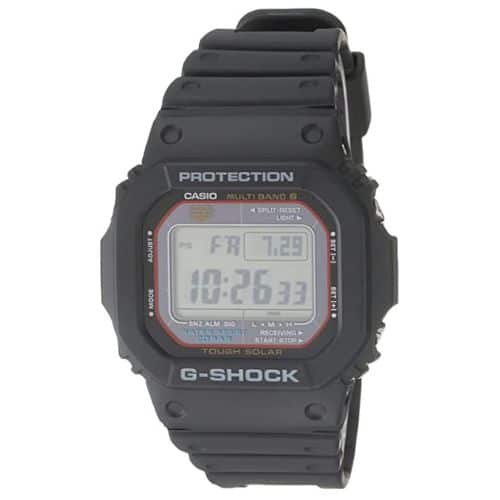 Design
The design is similar to the first G-Shock introduced in the 1980s: the DW-5000. In fact, you will barely find its shape, case, and overall look dissimilarities.
However, it consists of several upgraded functionalities and features from its ancestors. The shape of the case is square. This shape is a hallmark of G-Shock watches. It measures 46.7 X 43.2 X 12.7 mm (HXWXD) and will fit almost any wrist.
It's a small wrists smartwatch. For its small size, it sits perfectly well on wrists. This watch is also not big enough and lightweight that you will hardly feel its weight in hand.
Dial
Its dial is a little bit tricky. The outer dial is positioned between the bezel and module. On the other hand, the inner dial is the part of everything that shows all data and information.
The uncluttered and sober inner dial gives a simple look that many electronic watches have. The simple appearance makes reading the different indications like daylight saving time, radio-controlled timekeeping, tone off, auto illumination, and power saving are extremely effortless.
While the outer dial is filled with inscriptions. If you closely look between the red line and bezel, you will find a fine gilt-colored square pattern over the black background. A solar panel is placed between the module and the red line to recharge the battery.
The solar panel will appear with a nice lilac, light purple color, or completely black based on how the light hits the dial.
If you prefer a cluttered dial, this timer will perfectly fit you.
Case and Bezel
The case and bezel of the watch come with a typical G-Shock style. Both are made of resin. While other watches case and bezels of its style are engineered with plastic which cracks over time when they come in contact with dry air or higher temperatures.
Happily, because of the resin case and bezel, this wristwatch is crack-free. Moreover, the thickness of the case is thin enough: 12.5mm.
Its bezel is also standard like all other G-Shock watches. The watch resists impact effectively during accidental falls. This type of protection is unavailable in other wristwatches, ensuring the watch's durability.
Another feature that really makes this device different is its case shape. This timer is a member of the square series.
In fact, the shape is rectangular with cut-off edges, and many supporters are out there for this shape. The shape matches perfectly with different outfits and styles.
The overall look becomes much more appealing due to the 4 buttons of the watch. Navigating through different functionalities will become easier with these buttons.
The watch looks smart, and you can hardly get any better than this at an affordable price.
Underneath the Watch
Stainless steel is used in the back of the watch and is held in place, taking assistance from 4 screws. This design is found in all G-Shock watches. Due to these features, its water resistance is 200m.
Also, sweat can't damage the internal parts of the stainless steel back. Typical watch information is labeled on the back of the watch. The back of the watch is particularly covered by the "flaps" of the straps.
Buckle and Strap
Resin is used to make the strap. The resin quality is soft and flexible. It becomes more relaxed the more you wear it.
The strap consists of 13 holes. As a result, anybody can wear it without hassle. Even a wrist of 6" will leave 3 spare holes. It confirms that the strap has plenty of space.
In addition, it has a pretty long bottom part. The bottom part will stick out at the watch case's top for wearers with a small wrist.
Impressively, the buckle is too plain. Its finish is the same as the buttons. However, the buckle shape is pretty awkward for such a watch. But it is perfect enough at its responsibility.
Comfortability
Like all other electronic watches, it is also comfortable on the hand. The reason is that this G-Shock timer is lightweight and thin. Moreover, for its smaller size, it feels comfy. Whether you wear it on the forearm or in any other area, you will feel comfortable wearing it for a whole day.
When it comes to weight, this piece will never add extra weight to your wrist. You will forget that you have worn something on the wrist within a few hours of wearing it.
Screen
Since the Casio G-Shock GWM5610-1 is designed with an LCD screen, like all other digital watches, the screen has printed information about what each button does and other information such as water resistance.
The solar panel that generates power when exposed to the sun for the battery surrounds the screen. One of the biggest benefits of the watch is that the replacement of the battery is unnecessary for its solar-powered feature. The redline around the screen gives it a sporty look.
Durability
One of the biggest selling points of this timer is its durability. Tough case, waterproof, and lightweight characteristics suit all outdoor activities. The flexible, soft, and strong strap stick to hands pretty comfortably.
Other Exclusive Features
600ft. Water Resistance: This much water resistance is barely found in other electronic watches. It means that washing hands, swimming, and diving will never be a problem.
An Electroluminescent Backlight: Reading the time under dark or low light conditions will be easy with the help of its great feature called electroluminescent backlight. You can activate this feature by pushing the top right button.
Moreover, tilting the watch towards your face will also activate the backlight. This watch will provide 1.5s of light automatically during the night, which is equivalent to a smartwatch.
World Time Function: Through this function, you will be able to know the accurate time in 48 cities and 29 time zones. You might be wondering why 29 zones! The reason is that the timer also considers a "half time zone," which is available in Adelaide, Delhi, Tehran, etc.
Sleep Mode: If solar charging is not enough for you, use sleep mode or power save mode. You can also shut down the screen when the timepiece is not used to save more power.
One of the impressive features is that it will show you time for a straight 10 months without power save mode. This means you can remain worry-free about the power outage of the device.
Multi-band 6: It is a radio synchronization feature, allowing the timer to receive signals from different radio towers surrounding you. The movement of most quartz watches changes roughly +/- 15 seconds/month.
This means you will have the most accurate watch. The watch's accuracy is so excellent that you can use it to set the time of your other watches and home appliances.
Pros
Vibration-resistant and shock-resistant feature increases durability
Stainless steel case back protects internal parts from water and sweat
Programmed calendar from 2000 to 2099
It shows 48 cities' time and time zones of 29 cities
Comfortable to wear for a whole day with a soft and flexible black resin strap
Cons
Sometimes, pressing the buttons are hard
The backlight stays on for a short time
Frequently Asked Questions (FAQs)
Is the Casio G-Shock GWM5610-1 worth the price?
Everything is strategically laid out in this watch. The screen is easy to read. Its case and screen look solid. Moreover, its multi-band features make it reliable and convenient. The tough solar feature ensures the recharging of the battery.
In addition, alarms and stopwatches perform as expected. Overall, it is worth the price timepiece.
Does solar power last forever?
Yes, the timer will run indefinitely when you recharge it taking assistance from sunlight. These watches can last forever and show accurate time.
How many time zones does this watch have?
This watch has 48 cities and 29 time zones. Just your main one is displayed in timekeeping mode. You can change the mode to world time to refer to others.
Final Wrap
The above discussion makes it easy to say; that the GWM5610-1 is an immensely excellent watch. The design is mostly unchanged from its ancestors and has become a truly classic watch.
Its smaller design feels comfortable, the solar-powered battery shows time forever, and replacing the battery is truly unnecessary. A soft and flexible resin-constructed strap fits on any wrist, making it ideal for pretty everyone.
After reading this Casio G-Shock GWM5610-1 review, I believe it will serve you well for decades to come if you take good care of it.
As an Amazon Associate, I earn from qualifying purchases.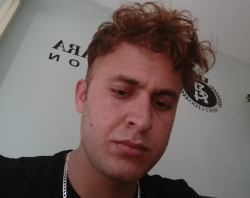 Latest posts by Nick Rolloson
(see all)