Casio Pro Trek PRW 3500T 7CR Review | What It'll Have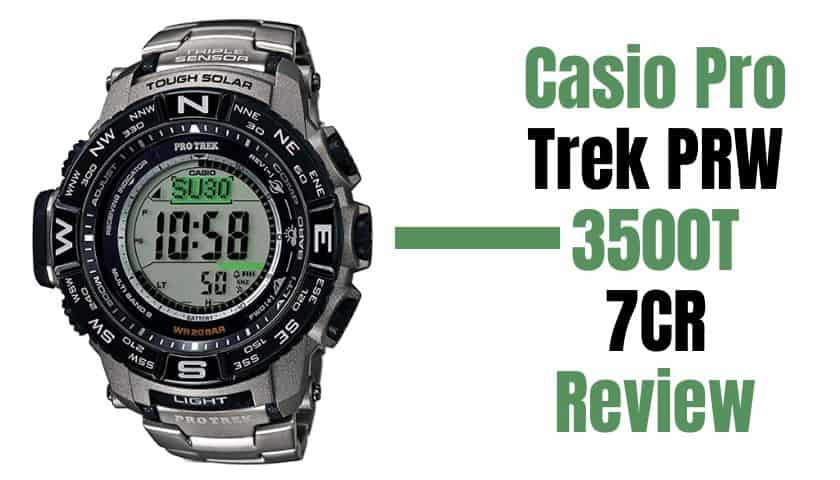 As an Amazon Associate, I earn from qualifying purchases.
This Casio pro trek PRW 3500T is more than a smartwatch with exclusive features. It is inherited with formidable solar power and 3-sensor technology. That means this timer is life-saving as well as its navigational features are more accurate and to the point.
Again, it has 100×2 water resistance which is just mind-blowing. We think this is quite enough for the mountaineers and the professional swimmers who have to spend most of their time on water or camping. These timepieces support 31 world times and a 1/10 second stopwatch measuring range.
We researched this watch by studying the Casio pro trek PRW 3500T 7CR review and added what we found in detail below.
Casio Pro Trek PRW 3500T 7CR Watch Review
Casio Pro Trek PRW 3500T 7CR is a stylish fitness and mountain wristwatch from Casio. And you know, Casio is a famous brand of Japanese electronics.
So, don't worry about the watch's durability and longevity. The main features of this wristwatch are a compass, barometer, temperature, and altimeter.
Since it has arrived with so many identical traits and advantages, we break them down later before we want to give you a short brief about the specs and packages.
Case & Bezel Material: Resin/ stainless steel, titanium
Band Width: 26 mm
Case Thickness: 15 mm
Clasp: It has a push-button fold-over clasp for safety
Bezel Function: Unidirectional
Calendar: Day-Date-Month
Unique Feature: Second hand
Display Type: Digital
Water Resistance Depth: 660 feet
Watch Movement: Quartz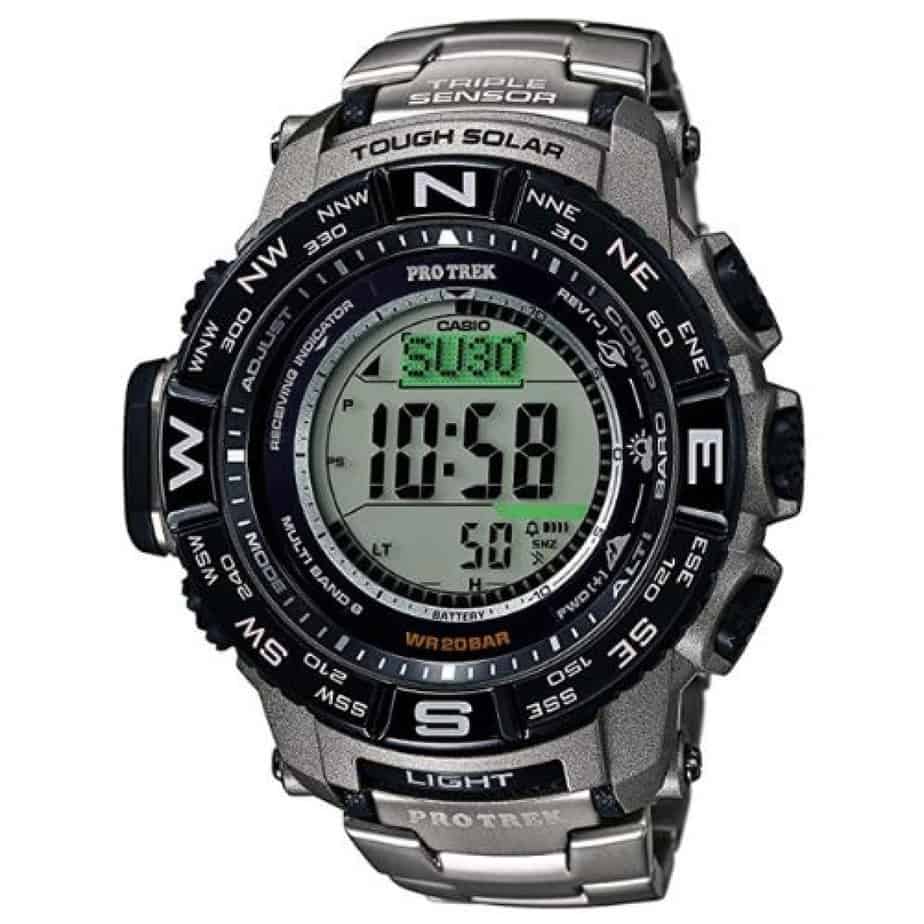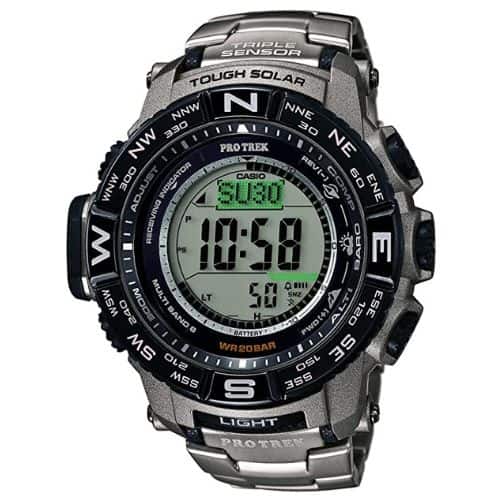 What Comes in The Box?
This ultimate Casio pro trek 3500T-7CR comes with a medium size box. It will carry a titanium band Casio 3500T-7CR watch, user manuals, and the feature descriptions.
The feature descriptions include all the terms and conditions to charge the device properly with some warnings and limitations.
Design & Material Analysis
Watch like a Casio pro trek PRW is quite different in its overall looks, functions, and appearance. Physically, this watch is 1.97 – 1.97 inches and is very light to carry. It's only up to 5.92 ounces which is not an enormous weight.
The wrist and case size is also appropriate and matched to the watch face. The case of this watch is 5.6 c.m, and the thickness is around 15 mm.
For material, here you find different variations for both case and bezel. The case material of this wristwatch is made with resin or stainless steel.
The watch band is also made with titanium band, a solid band with a double-lock, 1-fold, and 3-fold clasp. In brief, this hand timer band and the cover are-
Comfortable to wear for resin straps
Suitable for swimming due to leakage-free, rust-free stainless steel bands
Case and strap material durable, solid, that lasts up to one year or more
The display is easy to observe for perfect size and LED illumination
Solar Powered Battery Life & Trouble-free Charging Capabilities
This watch is a solid material of solar series watches because it will allow you to charge by connecting with the sun. We like the integrated solar panel system used here to catch the sunlight and UV light to recharge the watch's battery.
For this, a user won't need to carry a charging cable to charge the watch every 2-3 days. You won't need to delay your time by setting this watch during an emergency.
Pro Trek Version 3 Triple Sensor & Multi-functional Activity Tracking
This watch has an advantageous sensor named pro trek version 3. Correspondingly, this combines altimeter, thermometer, and digital compasses.
Besides this, the V3 compass is also very accurate compared to other multisport watches' GPS readings. In fact, this is precise in this function.
Again, this watch also has an altitude feature necessary for adventure mountaineers and mariners. It's because they provide exact data about what those people expected.
The altimeter can track the height from the sea or give you the minimum hints of how long you've climbed over the mountains. So this watch is a great relief for those who love to travel and for the mariners, sailors, and climbers.
Again, this watch barometer function gives you both a reading of barometric pressure and a graphic that tracks the timing while climbing over something.
In addition, the tracking graphic of these timepieces is excellent for quickly checking the weather trends. The temperature reading is accurate within 10 degrees.
+/-11 Accurate Degrees Compass Function
As insisted by its reviewers, the compass function of Casio pro-PRW3500T-7 is only accurate to +/-11 degrees. But sometimes, it varies while this watch is tested against a military-grade lensatic compass.
In a military-grade lensatic compass, this timer display showed azimuth directions quite different from lensatic compasses. Overall, this watch would be helpful as a backup compass to trace general rules.
1/10 Stopwatch Measuring Range
Casio Pro trek is also suitable for having a 1/10 second stopwatch measuring scope. It's an excellent feature for adventure junkies. Elapsed timing modes can measure step counter systems.
And it supports the split time, which is far better than the traditional watches. However, the 24 hours countdown start time setting range of this timer is fantastic due to the 1-day timing increments.
For this, one can easily measure their traveling or training time per day with less difficulty.
In shorter meaning, this watch has a 1-second countdown range up to 1 minute to 24 hours. And this timepiece follows a similar quality measuring amplitude to the digital clocks, for instance, 999:59'59.9″.
200 Meter Water Resistance
Casio pro trek is the top smartwatch for diving. Because it has water resistance up to 200 meters. And you know, 200-meter water resistance is worthy for those who are very professional and must attend heavy projects under the sea.
Using this hand timer, one can be submerged up to a maximum depth of 200 m. Yet the manufacturer claimed that this watch has more water depth, around 660 feet.
So if you're a diver or used to swimming regularly, it is highly suggested to use this sensor-type watch, such as the Protrek 3500T-7CR.
31 World Time Zones
It is now easy to trace 31 world time zones by this timer which is appreciated. So, you can check the time of any country, no matter whether you're living in China, Sweden or Maldives.
Since it has an affinity to track 48 cities, one can also check out the city name on their watch display. It also allows you daylight saving on/off mode.
Multi-Alarm Systems
Setting the alarm on this timer is a unique feature, especially for tight schedule maintainers. Again, if you want to wake up early in the morning, pick this timepiece for scheduling your regular daily activities.
This watch has an incredible battery that lasts for 7 months on a single full charge
The durability of this wristwatch is unbelievable, and it won't get crackly or damaged even in a block of heavy ice or stones
Suitable and a solid type of watch for mountain climbers, sailors, and adventure warriors
It comes with an accurate measuring extent of three wide sensors, including a barometer, altimeter, and compass
The auto LED display illumination makes it easy to observe wet environments and nighttime operations
Due to the absence of quick-release strap bands, wearing such a watch is a bit annoying for smaller wrist people
The casting quality of the watch case (titanium) is inappropriate and tends to be scratchy
Frequently Asked Questions (FAQs)
Is Casio Pro Trek PRW 7CR Tough to Observe?
Reading such Casio pro trek PRW is easy to read, observe, and even worthy of using for outdoor activities. It's because this watch comes with LED display illuminations.
Can I Swim or Take Shower with This Casio Pro Trek 7CR Watch?
Since this is a watch with 200-meter water resistance, one can quickly wear this during swimming time. And 200-meter resistance is also suitable for diving or submerging in water depth.
How to Set Up The Casio Pro Trek 7CR Watch?
Pull out the crown to set up the Casio pro trek 7CR, then press D. Now, rotate the crown to change the hour settings. Then, you have to press the "B" to adjust the year settings. Thus, one can easily set up the Casio pro trek 7CR 3500T watch.
What Does PS Mean Casio Pro Trek 3500T 7CR Watch?
PS means power saving mode attached to the Casio pro trek 3500T 7CR watch. It works to turn off the display light automatically after 60-70 minutes of inactivity. Since it is one kind of sleep mode, the other functions of this timer will remain active.
What Does Altimeter Do on Casio ProTrek 3500T 7CR Watch & How Accurate It Is?
The altimeter is a watch feature that detects changes in elevation and pressure caused by weather patterns. In this timer, the altimeter is reasonably accurate and has a reasonable interval of 5 meters or 20 feet, so the reading is much more precise here.
This Casio watch is a perfect timer for many perspectives. It has an extensive display to detect; observing such a watch is relatively easy. The timing widgets and numbers are accurate and come with essential features like a compass, barometer, temperature, and altimeter.
Although, as we find from the Casio pro trek PRW 3500T 7CR review, this timer temperature reading is entirely accurate. Besides this, the compass and barometer are pretty precise as well.
Again, this timepiece is also worthy of LED backlight and water ratings. To sum up, this timer comes with 200-meter water resistance, so it's definitely adjuvant for adventure lovers.
As an Amazon Associate, I earn from qualifying purchases.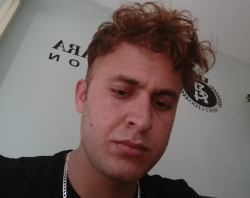 Latest posts by Nick Rolloson
(see all)