Fossil Gen 6 Smartwatch Review | Why Is It Different?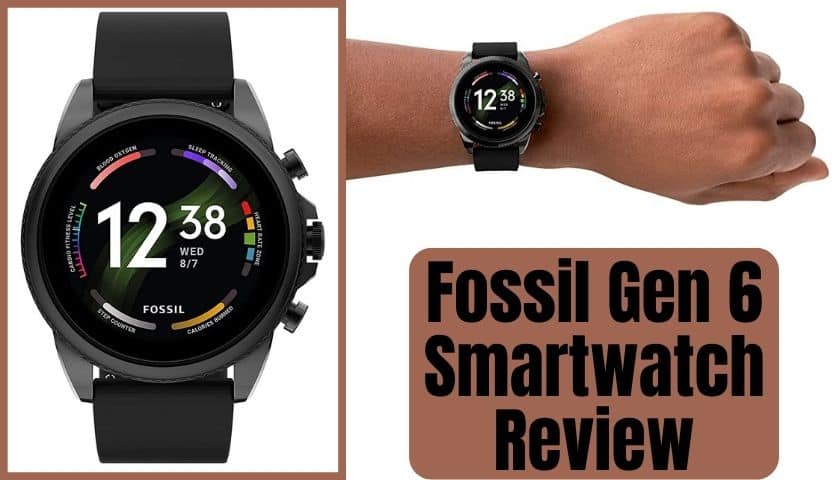 As an Amazon Associate, I earn from qualifying purchases.
The Fossil Gen 6 is an excellent smartwatch with Android and IOS operating systems. The sleek design and impressive AMOLED display make it one of the most luxurious watches. Fossils claim that it runs 30% faster speeds than earlier versions. Moreover, you can switch between the apps smoothly.
Gen 6 with Google helps you make the most of your time. Manage daily tasks, plan your day more efficiently, or get answers through this smartwatch. What other features make it different from other smartwatches?
Let's read this Fossil Gen 6 review to learn more about its characteristics and benefits.
Fossil Gen 6 Review – What is Inside?
Fossil Gen 6 comes with multiple advances from its rivals. All its features are used daily to meet your requirements. Faster charging, charging rings, an upgraded operating system, customizable dials, stylish straps, etc., makes it a great watch.
Before heading to an in-depth discussion of its features, let's look at the specifications first.
Specifications
Screen Size: 44 mm
Case Material: Stainless Steel
Band Material Type: Silicone
Display Type: Digital
Movement: Connected
Operating System: Android, iOS
Connectivity Technology: USB, GPS
Wireless Communication Standard: Bluetooth
Water Resistant Depth: 30 Meters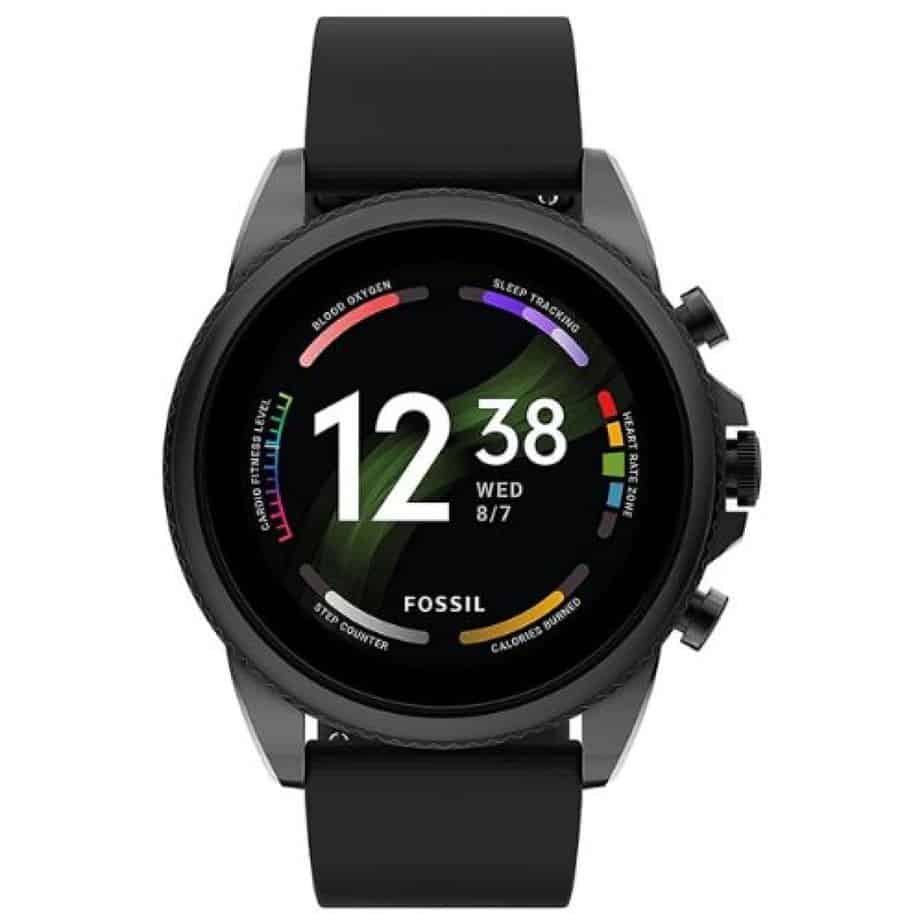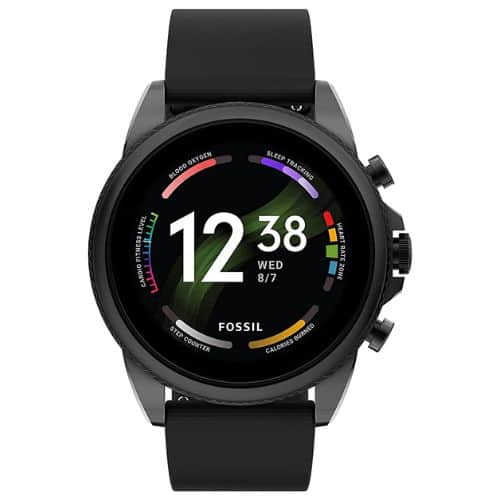 Design and Display
Its design is pretty similar to the earlier models, but everything is upgraded inside the timer. On the watch's right side are a dial and 2 metal posts. Moreover, on the bezel's base, it has a small ridge, making it visually appealing.
Stainless steel is used to build the body of the smartwatch, while the display uses Gorilla glass. The display offers a rich and bright view. More importantly, you can clearly see the watch's face from different angles.
You will love to know that side impacts can't damage the timer due to the metal posts on the right side. Beyond the dial guards, you will find 2 buttons. The top button allows you to launch the Fossil Wellness App, while the other button turns the Google Pay app on.
Interestingly, you can customize the buttons according to your preference to open any other apps on the phone.
A small budget is also available underneath the timer. It is surrounded using a pair of metal charging rings. The ring ensures free rotating of the magnetic charging puck, guaranteeing flexible charging. Additionally, it performs perfectly for many days.
With its lightweight nature, it feels comfortable on the hand. The buttons are strategically positioned so that you can control the watch as per your requirement. It is convenient on the hand during long workout sessions.
Fitness and Health Features
Although it is specifically designed for daily use, you can also use it as a fitness watch. It tracks running and works out data quite accurately. The health software has all the basic features needed to keep you fit.
It features a Cardiogram app that measures heart rate and shows it through a chart. The timer also includes a blood oxygen tracking tile which can be found when you swipe the home screen to the left.
Whether you are doing an indoor or outdoor workout, it will track information with the help of a workout tile.
However, most users love its built-in Google Fit app that accurately tracks different health metrics and exercises. It also has Fit Workout and other apps to monitor your sleep, meditative breathing, and fitness goals. Overall, it will perform as your fitness companion.
Processor and Connectivity
This wristwatch is powered by the Snapdragon 4100+ process. It is engineered with 1GB RAM with storage of 8GB. The specification is excellent for running many apps and storing music and other functionalities without trouble.
Happily, its Snapdragon 4100+ process never crashed. At the same time, the user interface is always fluid and snappy.
In terms of connectivity, the timepiece supports GPS, Bluetooth, and Wi-Fi. The watch is designed with several apps such as an ambient light meter, altimeter, IR presence sensor, compass, accelerometer, blood oxygen sensor, and heart rate sensor.
Impressively, it allows you to use Google Assistant with the help of a microphone and speaker. This feature is beneficial while receiving and making calls. However, I use this feature when I am in a crowded place or walking or running.
Data Accuracy
Providing accurate data is an important feature of this watch since you can access many apps. Setting up the Google Fit app is pretty effortless in this watch to shows the sleep data, calories burned, blood oxygen saturation, etc.
Compared to other smartwatches, I received pretty accurate data from it. It will give you pinpoint accuracy, especially when running or walking.
Although this is not a medical device, its data can help you make an exercise plan to keep fit. However, I recommend you consult a doctor before finalizing your fitness plan.
The result of sleep tracking is also incomparable with other smartwatches in its price range. This device will get sleep quality insights and daily/weekly, and monthly accurate sleep hours.
Easy Controlling
After buying the device, the first thing that you need to do is set up the device. If you want to change the watch's face, do it effortlessly by simply pressing the screen. The timer consists of 10 preloaded native customizable watch faces.
If required, the watch allows you to download more watch faces from the Google Play Store. I suggest you stop the always-on watch face functionality as it drains the battery faster.
Operating Google Assistant is also simple. All you need to do is press and hold down the crown, then get the benefits of Google Assistant.
The left home screen switch will take you to pinned tiles where Amazon Alexa, smartphone access, a timer tracking 20-second hand washing, etc., are available. The quick setting menu will appear when you swipe down on the face of the watch.
In addition, controlling the brightness options, Theater mode, Do Not Disturb mode, silent mode, and airplane mode is also pretty easy. Overall, all the apps and functionalities appear smoothly and are better organized for easy control.
Battery Life
Fossil claims that its battery life is 24 hours. However, if you constantly run different apps and the display remains always-on mode, you will need to put the watch into charge before the end of the day.
I recommend you stop the always-on display mode to save the charge. Also, it would be best to run the required app only instead of using all apps together.
The charging time of this watch is simply unbeatable. According to Fossil, it takes only 30 minutes to get charged from 0% – 80%. This means a full charge will complete before 60 minutes.
All you need to do is magnetically place the charger on the back of the timer, and charging will start automatically.
Pros
It offers a full set of features compatible with Android and iOS
Fantastic display with crisp detail, making it suitable for different apps
Classic, stylish and smart-looking timepiece great for daily use
3 ATM swim-proof design perfect to be used for multiple outdoor activities
Easy to make and receive calls
Cons
Someone may feel cumbersome to put the watch into a charger every day
Too short screen time
Frequently Asked Questions (FAQs)
Is it worth buying Fossil Gen 6?
Fossil Gen 6 features a lot of specs, making it worth the price. It is good enough for running apps and storing music. Moreover, it consists of a Snapdragon 4100+ processor and a fluid user interface.
The apps never crashed when working. In addition, its supported connectivity technology is Wi-Fi, Bluetooth 5.0, and GPS.
Is the Fossil Gen 6 waterproof?
Fossil claims that this timepiece is water resistant, with a maximum of 3 ATM. It will withstand water pressure and provide accurate data up to 100 ft.
How accurate is the Fossil Gen 6?
Fossil Gen 6 has a reputation for counting the step accurately with each walk. Moreover, it tracks elevation changes precisely. Heart rate data also match with other standard smartwatches. The timer also has a SpO2 sensor to track your blood oxygen level.
What is the difference between Fossil Gen 5 and Gen 6?
Fossil Gen 6 performance is 30% better than the Fossil Gen 5. The app loading time of Gen 6 is faster than Gen 5. Moreover, power consumption and battery life are much better than Gen 6's earlier ancestors. Fossil Gen 6 comes with solid hardware packs, offering great performance.
How do you talk to a Fossil Gen 6 watch?
Making a call is so effortless with this timer. Here are the steps,
Step 01: Press long the "Google Assistant" button or say "OK, Google"
Step 02: Say "Call" with a contact name. For instance, "Call Ryan."
Step 03: Tap Hang Up in order to end the call
Final Words
Fossil-engineered the Gen 6 smartwatch with some nice hardware. With all the required features, this device is really a good watch. Speaking of fitness, it includes a basic heart rate monitor, SpO2, standard step counting, sleep tracking, workout functions, etc.
This will be a deal breaker if you are looking for a smartwatch that is more on the traditional side. Hopefully, this Fossil Gen 6 review will help you make a precise decision.
As an Amazon Associate, I earn from qualifying purchases.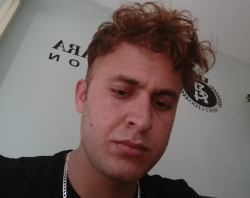 Latest posts by Nick Rolloson
(see all)