Garmin Tactix Delta Solar | Your Personal Fitness Trainer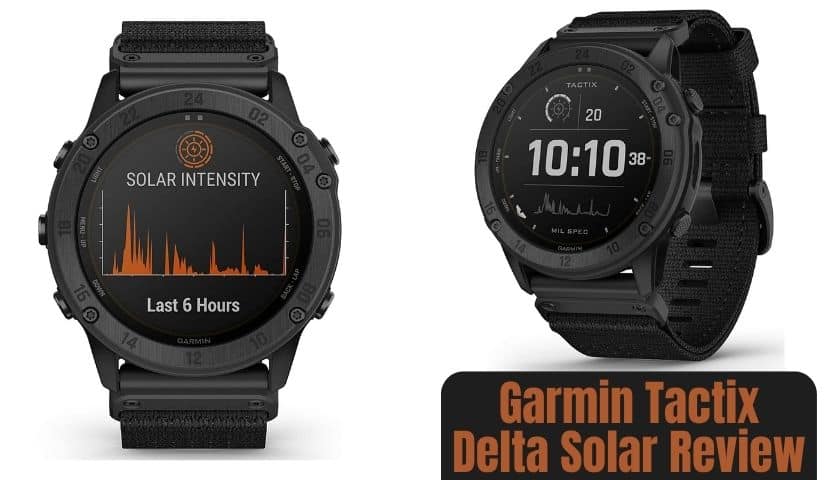 As an Amazon Associate, I earn from qualifying purchases.
Garmin has used new technology named solar-powered in the Garmin Tactix Delta Solar. This smartwatch uses solar technology with improved tactical and military performance tracking characteristics. It is impressively popular among professionals and adventurers.
This timer promises to give the wearers an enjoyable and memorable outdoor experience. Highly-practical features, sleek design, etc., are sure to meet all your needs.
Let's read more about the features and benefits of this watch through this Garmin Tactix Delta Solar review.
Garmin Tactix Delta Solar Review
Tracking performance metrics for a wide range of outdoor activities, navigation, and mapping are some of the excellent features of this smartwatch.
Its solar charging lens confirms battery longevity, making it ideal for camping and hiking. It also received a high score in fitness rating.
Thanks to all its features, Garmin Tactix Delta Solar is one of the best dependable tactical smartwatches in its range.
Specifications
Screen Size: 1.4"
Product Measurement: 1.97" X 1.57" X 1.18"
Mounting Type: Wrist Mount
Device Interface (Primary): Buttons
Screen Resolution: 280 X 280 Pixel
Map Type: North America
Battery Life: Up to 21 Days
Special Feature: Wireless
Connectivity Technology: Bluetooth, ANT+, Wi-Fi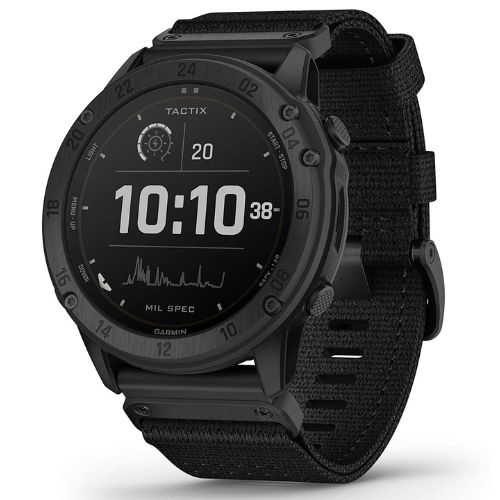 Design and Build
Many customers praised the design and build of this watch. First, its bezel has been engraved 24-hour time. Another nice touch is the universal time indicator on the watch face, allowing you to know 2 time zones at the same time.
Diamond-like carbon-coated steel bezel, a sapphire crystal lens, and a fiber-reinforced polymer case give it an appealing look.
Simultaneously, it becomes much more durable and weighs only 97 g. which is less heavy than other smartwatches. You will barely feel comfortable after wearing it day and night.
More importantly, watch bands can easily be replaced whenever necessary according to your preference with Garmin's QuickFit watch band.
Straightforward Dial
The dial design is pretty simple and classy. It comes with extremely practical buttons. As a result, you can easily navigate through different functions. Its LED display is also clear and legible reading. The screen is convenient in bright outdoors.
Additionally, the LED display features anti-reflective characteristics, eliminating any type of light glares without a problem. This means you can see the dial from any angle. Moreover, reading the dial on a hot, humid, and bright sunny day will never be difficult.
Watch Strap
One of the best features of the timer is the watch strap. It includes a black nylon strap, giving it an aesthetic look. Due to the nylon straps, this timepiece stays on your hands for a whole day.
As stated earlier, the strap can be replaced easily if you are not a nylon fan. Replace the strap with the Garmin's QuickFit silicone straps. Silicone is completely waterproof, allowing the wearer to do different outdoor activities such as scuba diving and swimming.
Activity Tracking and Accuracy
You can't raise any question regarding its accuracy. Sleep tracking, calorie intake data, heart rate, etc. Are incredibly accurate. More importantly, its accuracy is consistent forever. Even sunset and weather measurement data are well-aligned with the best possible information.
Another important note is that GPS rarely gets affected while doing any activities. You will get a precise picture of your exercise time through its consistent data.
User Interface
It features 5 buttons, allowing you to customize the display screen and control everything you need. Toggling between the screens is also quick. Most importantly, the button responds quickly when you press the buttons.
Another best thing about the watch is that the interface is entirely customizable. You can customize the display and select and choose features according to your preference.
Finding any fault in this timer Is extremely hard. Garmin Tactix Delta Solar is the leader of the market when the discussion comes to usability.
Excellent Connectivity
Another worth-mentioning feature of the watch is the Android and iOS connectivity. Connecting to many iOS devices like iPads, iPhones, etc., is easy.
Moreover, connecting your smartphone and other Android devices is so simple. More importantly, you can connect the device to Wi-Fi without hassle.
Simultaneously, the device synchronizes all your information wirelessly. This means the requirement for cables is unnecessary.
With the help of its connectivity feature, it allows you to answer and make calls. Another notable feature is it helps you locate your smartphone if you don't find it accidentally. Even the call control feature lets you mute or rejects the calls if necessary.
You will also love to know that the timer vibrates or makes a noise when you receive a call or message.
Read Also: Garmin Swim 2 Watch Depth Review
Other Features and Benefits
Solar Charging Lens: This timepiece is equipped with a power glass lens material, covering the watch's screen. It is an upgraded panel that increases the lens's ultraviolet absorbing ability and transfers the power to the battery. The solar charging mechanism allows you to limit the charging time.
Heart Rate Mechanism: Several smartwatches are available in the market that monitors heart rate. Happily, this timer's HR data is unbeatable. This smart technology synchronizes perfectly with your HR through your wrist, and the data is displayed on the screen for convenient monitoring.
GPS Functionality: Amazingly, its GPS feature impresses most customers. GPS features named distance run, pace, walk, customizable intervals, etc., function perfectly during your run.
Pace Pro Characteristics: Adaptive training plan is an excellent feature of most Garmin smartwatches, and this timer is also no exception. It is able to perform as your training coach. Taking assistance from its convenient coaching, you can take your fitness to the next level. In fact, this timepiece will help you achieve your training goal.
Battery Booster: You will love to know that its battery life lasts for extended periods in-between charges. The battery life of the timer is 21 days with a single charge in smartwatch mode. This feature will let you remain worry-free when you are getting ready to go out for a run.
Upgraded Satellite Connectivity: The timer connects to all available satellites efficiently and quickly. Also, Bluetooth connectivity allows you to share your training data with others.
Customizable Workouts: It is well-known for the user's training guide. The smartwatch includes convenient coaching technology to let you keep fit.
Night Vision Capability: This feature allows you to see the screen easily while wearing night vision goggles. It is a handy feature when you are riding a motorcycle at night wearing a helmet.
Jumpmaster Mode: Permitting you to measure the altitude during skydiving. You can also navigate to the point of interest when you are in the air. This way, the timer is an ideal choice for skydivers. Also, this feature makes it suitable for any airborne action sports.
Kill Switch: This timer is an exceptional feature that is hardly found in other smartwatches. The watch wipes all information and data in 10 seconds. This feature lets you delete important data if you ever need to hide any information from intruders. More importantly, it turns the wireless connection off so that you don't receive any unwanted notifications during the worst possible time.
Pros
Up to 24 days of battery life in smartwatch mode and even longer with customizable power manager
Easily read the display at all times with night vision Goggle compatibility
If security becomes an issue, the kill switch wipes the device's memory
Calculate high-altitude release points and navigate to your objective once you have jumped
Tracks sleep, running and walking distance and steps taken accurately
Cons
Watch temperature has an error of 10°
The watch is a little heavy
Frequently Asked Questions (FAQs)
Is the Garmin Tactix Delta Solar worth it?
This timepiece comes with so many features that you will barely find in other smartwatches in its price range. Durability, functionality, accurate information, fitness coaching, etc., ensure that you will get a timer that is value for money.
Moreover, the battery lasts a maximum of 21 days with a single charge.
Does Garmin Tactix Delta Solar have a temperature sensor?
Yes, this wristwatch features a temperature sensor. The feature monitoring temperature changes are effortless and help you measure exertion levels to avoid hyperthermia.
Is the Garmin Tactix Delta Solar waterproof?
This wristwatch is built to resist rough terrain efficiently. It is engineered in such a way to meet the U.S. military of ruggedness. The water resistance of this timer is a maximum of 10 ATM.
Is this watch good for fitness tracking?
Undoubtedly, it is extremely good for fitness tracking. You can accurately track and monitor your heart rate, elevation, speed, walking and running distance, etc.
Last Words
Undoubtedly, the Garmin Tactix Delta Solar is an extremely reliable watch. This is especially beneficial if you are in the military. Impressively practical features, sleek design, easy navigation between the functions, etc., are a few excellent characteristics of this timer.
Overall, this amazingly capable outdoor timer will always give you accurate data. It is made of durable, long-lasting materials to give you long-term service. Insane numbers of outstanding features and long battery life meet a wearer's needs.
I believe this Garmin Tactix Delta Solar review shares enough information, helping you make a precise buying decision.
As an Amazon Associate, I earn from qualifying purchases.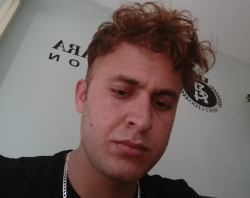 Latest posts by Nick Rolloson
(see all)