COLMI Smartwatch Review | Best For Android iOS Phones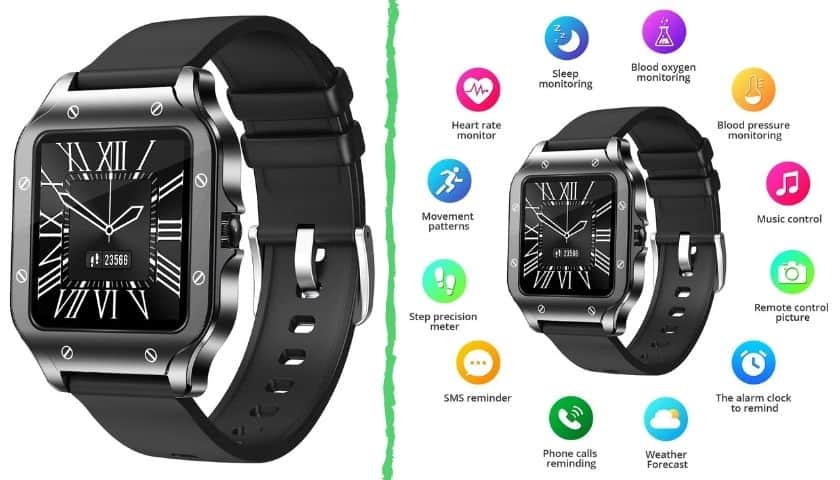 As an Amazon Associate, I earn from qualifying purchases.
A smartwatch is a device that you can use for versatile use. It can let you know the time and date and monitor the heart rate and sleep quality, calorie-burning information, step counter, etc. Just connect your smartwatch to the phone to get all of these.
COLMI is a tremendously intelligent watch manufacturer company. The COLMI 8 Smartwatch is a great invention of this company. It comes with a lot of features that will help you in many ways. You may ask about the reason to buy this product. All of your hesitations will be clear if you know the watch briefly.
COLMI Smart Watch Features
The COLMI smartwatch comes with tons of features that will wonder you. These features have made this watch much more attractive and unique. Let's know about the features briefly.
COLMI Smart Watch: Design
Material
The frame of this watch is made of metal. Stainless steel is used to make the frame which is durable enough. It also contains premium quality fitness straps. 121mm long strap is easily detachable. The band is a Soft Silica band.
Color
The color of this watch is so beautiful that it makes this eye-catchy. You will find this in Black and Gold color.
Full Touch Screen
You will get much efficiency from this watch due to its 1.4 inches HD display. The display will blow you away to know the time, date, the number of calories burned, steps you have traveled, etc.
You can also view the message notification on this display easily. If you feel a problem viewing the display, adjust the brightness as you want. You can easily adjust the brightness.
Versatile OS
This superb watch is easily compatible with the Android and iOS operating systems. But remember, your operating system version should be above 4.4 in Android and 9.0 in the case of iOS. Using this device, you can easily keep updated yourself from phone calls or SMS to social media and email notifications. This watch easily fits with iPhone, LG, Xiaomi, Samsung, OnePlus, etc. smartphones.
Battery
Like other watches, this smartwatch also needs a battery to operate. A 170mAh battery needs to run this watch.
Weight
Weight is a crucial fact for a watch. This watch is very much lightweight to wear. It weighs 96 grams only including its silicone strap.
COLMI Smart Watch: Healthcare Tracking
24/7 Monitoring and Tracking
This smartwatch can monitor your heart rate automatically. And it provides real-time results. Besides, it tracks the sleep quality to provide a proper analysis of it. As a result, you can quickly know whether you were in deep sleep or in light sleep and the time of wake up. Therefore, you can promptly develop yourself to lead a healthier life.
The watch contains an IP67 fitness tracker, which is water-resistant. That's why; you can do your daily work quickly by wearing this smartwatch. Even you can do all the wet jobs, including hand washing.
Fitness Tracking
It can also track your fitness records easily with accurate output. You will easily monitor the data of steps, distance, and several calories burned, etc. The watch will provide you with the data on a daily, weekly, and monthly basis. You can set up your target here and control the exercise rhythm easily.
Remote Camera Control
The watch easily connects with the phone using Bluetooth technology. That's why; you can use this as camera control. You can capture photos or record any beautiful moment easily without touching your phone.
Automatic Sleep Tracking
We already mentioned that it works as a great sleep tracker. It doesn't track the sleep quality only. Also, you can wake from the vibration alarm of this phone. You can start a lovely new day without disturbing other family members using this watch.
Heart Rate Monitoring Sensor
A PPG sensor comes installed in this smartwatch. The sensor provides an accurate heart rate. Everybody knows that a healthy heart can help to lead a healthy life. Using this watch, you can adjust the workout rhythm and keep yourself healthy.
COLMI Smart Watch: Additional Features
Smart Notifications
This smartwatch can be your practical partner easily. If you receive any message or call on your phone, this watch will vibrate to notify you even if your phone is not in the handy situation. Overall, it will help you to keep updated yourself all the time.
Music Go with You
It's so tough to find a music hater. You can easily control the music player of your phone from this watch. You can use the wireless earphone or the speaker of the watch to listen to music.
Sedentary Reminder
You can easily keep yourself updated about your movement due to its passive reminder function. This watch can help you appropriately on reducing fatigue and increase productivity.
What Should You Remember?
You can read the received SMS only on this smartwatch. But there is no option to reply to the SMS or make any call.
COLMI Smart Watch: PROS & CONS
Pros
Premium quality full touch screen
Operating system versatility
Easy to connect
Multiple sensors
healthcare tracking
Smart notifications
Cons
Cannot make a call or reply SMS
Read next: Garmin Vivomove Luxe Review
Frequently Asked Questions (FAQ)
How do I connect my COLMI watch?
It's effortless to connect a COLMI watch with a phone. Let's learn how to tie a watch step by step.
Step-1: Power on the watch
Step-2: Find out the "Sports+" app from the app store and install it on phone
Step-3: Turn on "Bluetooth" of your smartphone
Step-4: Now open the previously installed "Sports+" app
Step-5: Turn on the Bluetooth on the smartwatch
Step-6: Connect the watch via Bluetooth
How do I reset my COLMI smartwatch?
You can easily reset your COLMI smartwatch. Here are the steps:
Step-1: Press the power button of the smartwatch. Hold this for a few seconds
Step-2: Wipe the screen and open the "Menu."
Step-3: Scroll down and find out More option then tap on it
Step-4: Then, scroll down to find out the Reset option, tap on that.
Step-5: Now, tap on the "Yes" option. It will confirm to start the "Reset" process.
After completing the whole process, wait for a few moments and let the resetting process be complete.
Can you answer calls on the smartwatch?
It depends on the smartphone you are using. If your watch supports calling, then you can easily make and pick up calls from the wrist. Just keep your phone connected with the watch via Bluetooth.
Final Words
Smartwatches come with the latest technologies that can make life and timekeeping easier. It can provide you with the best output of time, date, heart rate, other health monitoring, listening to music, texting, and calling, etc. The COLMI is a renowned smartwatch manufacturer company. You can use their product to get the best output for their features.
Due to a lot of features, it can help you in many ways. It is one of the greatest smartwatches available in the market. After long research, we are sharing the best information about this smartwatch for you. We hope you will learn well about the product from this COLMI Smart Watch Review.
As an Amazon Associate, I earn from qualifying purchases.