Mobvoi TicWatch Pro 4G/LTE Smartwatch Review | A Smartwatch For Everything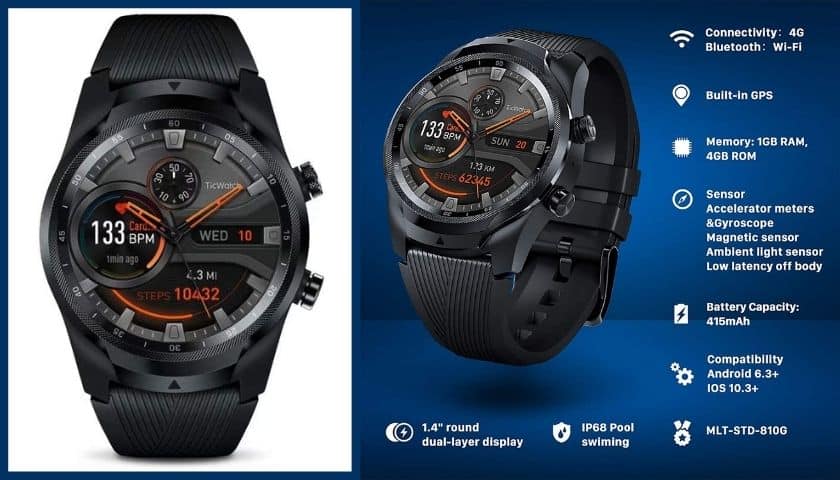 As an Amazon Associate, I earn from qualifying purchases.
Ticwatch Pro is the brand's first smartwatch that comes with cellular 4G connectivity which is a great step for the Android smartwatch. Moreover, it is also the major selling point of this watch. That's why it is called one of the best smartwatches out there.
In this article, you can boost all the features and specs of the Ticwatch Pro 4G LTE version. Though the core features of this Ticwatch Pro are pretty much the same as its predecessor, still here we can find out if the watch is actually worth it or not. So stick with us till the end.
Ticwatch Pro 4G LTE Review: The Cheapest Cellular Smartwatch
It is great that Ticwatch Pro runs with Google OS. That means whether you have iOS or Android, you can run this smartwatch. It connects via Bluetooth and provides flawless connectivity. Below you can explore all the other features of this smartwatch.
TicWatch Pro 4G Specifications
Watch Size: 1.77 x 1.77 x 0.5 inches
Weight: 2.43 ounces
Screen size: 1.4" AMOLED
Resolution: 400 x 400 pixels
Watch case: Corning glass 3 with stainless steel bezel
Strap: 22mm Silicon
Memory: 1GB RAM & 4GB ROM
Connectivity: Cellular
Battery: 415mAh
IP rating: IP68
Compatibility: Android & iOS
1. Design
Ticwatch Pro has a 45mm diameter and looks pretty cool for large-wrist people. The design offers a classy appearance and comfortable wear. The watch chassis is made of polyamide and glass fiber formula with stainless steel bezels.
The rear has an aluminum cover. It seems the whole build of the watch is a little bit chunky and bulky. However, the weight is satisfying while wearing it on the wrist.
There are silicon straps instead of leather options or other hybrids. But the silicon strap is a better option for those who treat the watch as a fitness tracker. Altogether, the build quality is robust and the watch is certified by US Military Standard 810G.
So this smartwatch is suitable for extreme conditions and climate. Two metal buttons are placed on the right side of the Ticwatch. The top button looks like a crown but it does not rotate through the menu.
2. Display
Ticwatch Pro comes with an innovative 1.4" dual-layer round display with a resolution of 400 x 400 pixels. It has an AMOLED panel that ensures a crisp, vibrant, and bright view even on sunny summer days.
The dual-layer display is a great way to save battery power. The watch has an Always ON display function but the secondary FSTN panel is excellent when you want to use it for basic usage.
It shows the time, date, step count, and heart rate indicator. You can see this transparent screen when you set the Essential mode, then less battery power will be used.
When the smart mode is activated, this LCD panel disappears. Somehow, it is less useful when you use smart features. Moreover, there is no backlit. So you need to turn on the smart mode in a dark environment.
3. LTE Connectivity
This is the headline of all the features which is great news at the same time. LTE connectivity means it allows you to make and receive calls, stream favorite music, check notifications, download apps, and so on without your smartphone.
Thanks to its built-in speakers and microphone to make and receive calls, they are water-resistant. There is an SOS feature enabled with a location-sharing facility. However, all the LTE functions work pretty well. Like you will have much clarity while making a call.
You can receive messages and other notifications on your watch, you may take a little bit of time to get used to it. Also, you can download numerous watch faces from the Google play store and stream music anytime anywhere. LTE snappily connects and offers an issue-free experience.
4. Fitness features
Ticwatch Pro has amazing fitness and health tracking features that are very useful in daily life. Like many wearable watches, Ticwatch Pro doesn't stick with Google fit. It has its own tracking app TicHealth which is more extensive than those apps found on Fitbit or Garmin watches.
The TicExercise function connects with the watch's bottom button by default but you can reset it. The button supports six workout presets including running, walking, cycling, swimming, etc. since the watch has an IP68 rating, so you can go for pool swinging but not advisable to submerge underwater.
The watch has built-in GPS but it tracked your activity with its updated AI-powered TicMotion technology. It tracks the selected workouts like runs and walks. However, it takes a few minutes to activate after you start your workout.
The improved TicPulse is a better function to monitor your heart rate. It effectively measures heartbeat and shows all the data for up to seven days.
The great news is this feature works even in the essential mode. So you will always get accurate results on the watch. You can see all the data on your phone using the Mobvoi Phone App.
In the end, TicHealth is the most comprehensive fitness platform. Mobvoi really makes an important move to provide essential data.
5. Battery Life
Ticwatch Pro has a 415 mAh battery that provides satisfying usage. In its two-layered display, you can set one of these two modes: Essential Mode or Smart Mode. You can preserve lots of battery power by combining these two modes. The Essential Mode helps to maximize the battery's endurance.
Mobvoi claims, if you use just the Essential Mode, the watch will go up to 30 days. Actually, it really works, after using a whole day with Essential Mode, the watch barely drained five percent of the battery. Still, only the LCD display gives a feel that you are having an old Casio digital watch.
Or if you stick with the Smart Mode, the watch can manage over two days of usage. In Smart Mode, the LCD displays the effect when the watch is idle.
Moreover, the watch goes into Essential Mode automatically when the battery goes to a critically low level. But here still, the heart rate monitoring feature is active.
With the Always-On display, the watch provides 1.5 days. The LTE connectivity also impacts the battery life slightly. There is a great relief that recharging the battery is a breeze. You will get a magnetic charger that fits into any regular USB plug. It relatively takes two hours to get fully charged.
Pros
Durable build
Comfortable wearing straps
Bright and vivid display
Dual-layer display for an improved experience
Accurate heart rate monitoring
Fitness tracking features are useful
Extended battery life
Snappier performance
Cons
Older Wear OS
Bulky design
Related review: Ticwatch E3 Smartwatch Review
Frequently Asked Questions (FAQs)
Is Ticwatch Pro worth it?
Ticwatch Pro is one of the best LTE smartwatches now. It is an all-rounder. The watch features a vivid display, durable build, quick performance, fitness tracking, built-in GPS, and a heart monitoring sensor. All the data of this smartwatch is quite accurate and beneficial. So the watch is worth your money.
Is the LTE feature useful in a smartwatch?
Yes, the LTE feature is useful for those who don't want to carry a smartphone all the time. With LTE connectivity, one can make and receive calls, massage, and get notifications.
So it is a great option to carry cellular connectivity with your wrist. While doing a workout or gyming, you can easily receive calls without bringing your smartphone. You can also stream music, and download apps on your watch.
Is Ticwatch Pro waterproof?
Ticwatch Pro 4G LTE has an IP68 waterproof rating. It is suitable for pool swimming activities but not for diving. It won't work under deep water. So it will be better to make a normal usage. However, you can track your swimming activity with your watch using the Tichealth function.
What is a dual-layer display in Ticwatch Pro?
The brand includes a new innovative display in this watch which is the dual-layer display. The first layer is the AMOLED touchscreen display for smart navigation. Another one is an LED panel for only shows time and date. You can set the watch to both Smart mode and Essential mode.
The Essential mode is great to extend the battery life of the watch. After setting the smartwatch in Smart Mode, you can navigate all the features. When the screen is idle, it automatically goes into the Essential mode and saves battery power.
Final Words
Ticwatch Pro 4G LTE is the best smartwatch at this price point. It feels a breeze while operating the watch. The features and specs all are top-notch in this watch. You can smoothly get through menus, apps, and other fitness features.
Moreover, the LTE version lets you call, message, and receive other notifications without your smartphone.
This watch is beneficial in all ways. The extended battery life lets you navigate the watch for a longer time without any hassle. If you buy this watch, it will serve you great value.
As an Amazon Associate, I earn from qualifying purchases.