Fitbit Versa 3 Review | What Premium Things You'll Get From Here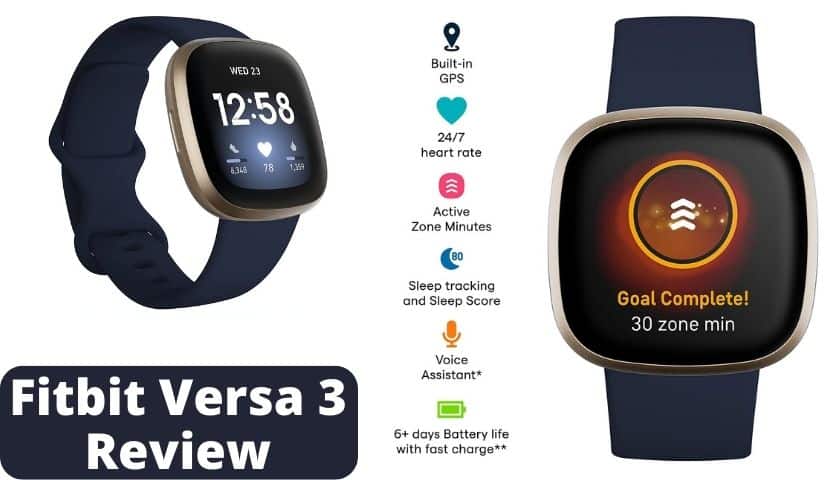 As an Amazon Associate, I earn from qualifying purchases.
Fitbit Versa 3 is the best choice for its users for the eye-catchy looks. Unlike the other model, it also adds so many meaningful features here. A person feels comfortable wearing such a compact and relaxing wristwatch-like Fitbit 3.
Like its predecessors, the timepiece also includes the fastest GPS connectivity with this timer. However, some more traits persist in this new timepiece.
All of these features, benefits, and everything will be shared in our Fitbit Versa 3 review. So you won't miss any of them.
Fitbit Versa 3 Depth Review
Fitbit Versa 3 has an excellent and extreme design that offers spanking hardware. Meanwhile, it is still the very cheapest option among the users. Many of its users are advised to prefer this watch only when a person is an Android user.
Moreover, it comes with many successful apps that can run on iOS, Android, and Windows 10.
Specs & Dimensions
Item weight: 0.71 ounces
Max Battery Life: 6+ days
Display Quality: AMOLED
Item Dimensions: 1.59 x 1.59 x 0.49 inches
On-board GPS support: Yes
Display Resolution: 336×336 pixels
Charging Time: 12 minutes
Case Material: Aluminum
Compatible Devices: Smartphone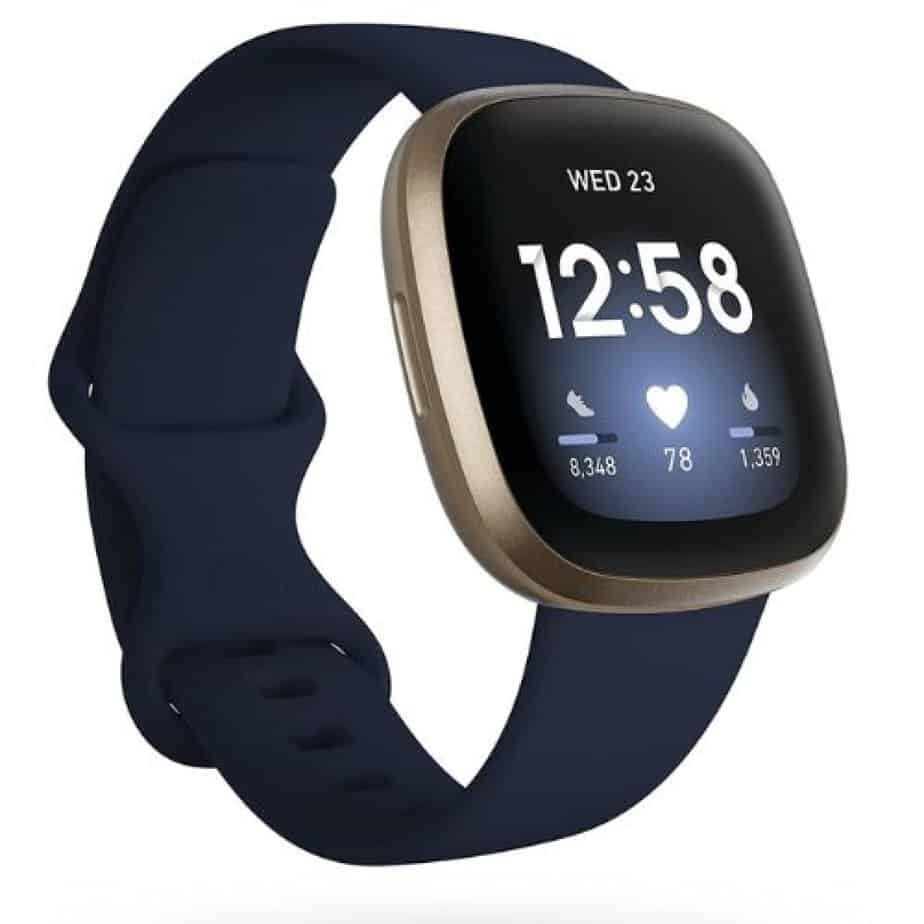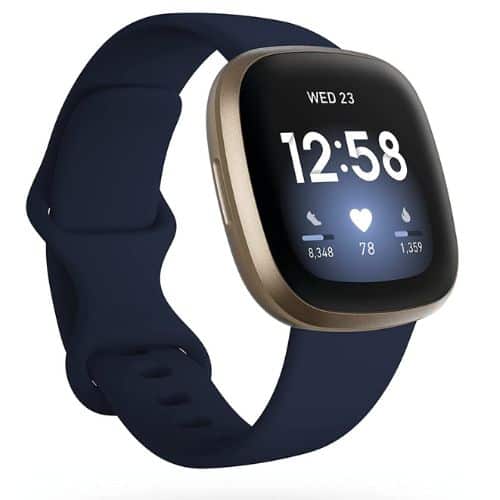 Good Design & Comfortable Wrist
A smartwatch must have a clear appearance with a comfortable wrist. It has covered all of these norms. With a solid and chic case, it often looks stylish and classy. Due to the fantastic looks and soft design, people admired these timepieces the most.
Instead of using the stainless steel wristband like others, the manufacturer chose aluminum for this model. For the glass material, you will find here Gorilla glass 3. So it's less scratchy and clear to observe.
The watch has 8535 meters' maximum altitude according to the specs. Although its strap is silicon, wearing such a wrist timer won't be painful anymore. You can wear this all day long, even to finish house chores.
Virtual Home Button Response
Despite the mechanical buttons, the timepiece uses a squeezing gesture to manipulate the timer. As a result, it often allows you to squeeze a case to activate the apps or make calls. It is worth mentioning, that the engineering skills applied there are also admirable.
Another interesting thing about its interface is that it has well-executed controls. So, a person can swipe the pop-up quickly and respond earlier. In a word, everything is arranged on these timepieces in a tidy manner.
Excellent Heart Rate Monitor
The smartwatch depends on optical sensors necessary to check the wearer's pulse. This function can only produce an accurate heart rate while the user isn't stressed or excited.
For instance, below, we added a simple test result of its wearer. A person here combined his regular workouts.
Showing the result comparing the sigma chest straps.
| | | |
| --- | --- | --- |
| Exercise Name | Pulse Rate (Fitbit Versa 3) | Pulse (Sigma Chest Strap) |
| Plyo push-ups | 115 | 165 |
| Side plank crunches | 144 | 153 |
| Gym ball crunches | 155 | 155 |
| Medicine Ball Reverse Roll | 145 | 160 |
| Lateral single-leg jumps | 140 | 140 |
Great GPS Connectivity
Fitbit Versa 3's standout upgrade is onboard GPS. Great GPS connectivity, which is far better than its predecessor Fitbit Versa 2.
The onboard GPS system will track your location accurately during your exercise period or traveling or on the go. The watch is also worthy of showing records during the exercise period.
Battery Back Up to 1-Weeks
Perhaps, the watch isn't as smart as the other smartwatches like Samsung, Apple, and Garmin. But its battery backup is appreciated. Is it possible to get 1 week's battery charging capacity with this timer?
However, it has a decent battery life and fast charging functionality. As the manufacturer claims, it can stay up to 6-7 days for full charging.
Easily Interchangeable Wrist Bands
Based on user feedback, its wristbands will not last forever. Happily, the wristband won't be so expensive to replace.
However, it has a comfortable wrist strap. It sits nicely on the wrist and won't feel too tight or itchy.
Pros
Provide a very long battery
Good Spotify controls
Built-in GPS
Gives accurate heart rate monitoring data
Easy to read even in direct sunlight
Cons
Unlocking advanced features require a premium Fitbit subscription
Small app library
Competitor Review: Fitbit Versa 3 Vs. Fitbit Sense
Fitbit versa 3 and Fitbit sense are the same brands, but their characteristics may not be similar either. For example, they differ in quality, resolution, battery longevity, and ergonomic designation.
Making such watches is appreciated. Yet both Fitbit sense and Versa are made with stainless steel materials. Under a shade of soft curves with a square dial, the Fitbit versa 3 looks more aesthetic than the Sense. But Fitbit's sense of body language also makes sense for the colorful bands and dials.
In terms of case size and dimensions, Fitbit versa 3 is bound to be choosier here. With 40.48 mm width and 12.35 mm length, versa 3 is slightly thicker, which is quite similar to the Sense.
Since both the Fitbit sense and the Versa 3 have some equal quality. But their health tracking norms aren't the same. For example, you can call Fitbit Sense a health tracker or doctor. In that case, one can expect more than the Fitbit Versa 3.
Frequently Asked Questions (FAQs)
How Much Does a Versa 3 Weigh?
The watch case of the smartwatch often relies on the sensors and the chipsets. So the more lightweight they have, the less weight it feels. However, the average weight of versa 3 is around 28.5 gm.
So it is easy to wear and manage. Again, it has 0.49" thick slips, so it often feels light and handy to the wearer.
How Big Is the Fitbit Versa 3?
The smartwatch isn't as big as its other brands, including Sense, and versa 2. But this watch has a 1.58″ display quality with 336×336 pixels. Again, its dimension is also greater than the other predecessors. Its case is 40.48 mm in width and 12.35 mm in length.
Are Fitbit Versa 3 Watches Waterproof?
Versa 3 watches are often worth buying for their water resistance. Since those watches had 50 m capabilities, one can enjoy swimming, taking a bath on the beach, or even going out for kicks. In brief, it has highly supportive sensors that make it compatible with shallow water.
Can Fitbit Versa 3 Make Calls?
One can easily make calls with the watches if they pair to an iPhone or Android. In this sense, the Fitbit Versa 3 can let users make calls or even reject incoming calls. But this function is available for Android, iOS, and Windows 10 users.
Is The Fitbit Versa 3 Better Than the Fitbit Versa 2?
In most cases, the versa 3 is much worthier than the versa 2. Considering their resolution, Fitbit 2 has 300×300 pixels, whereas 3 comes with 336×336 solutions.
Again, Fitbit versa 2 didn't support any third-party apps except Fitbit. But versa 3 has good GPS connectivity to get access from other Apps. Versa has a wide display quality, making it better than the Fitbit 2.
Final Thought
The Fitbit Versa 3 is the most reliable device for tracking sports and fitness. Hope, we are capable of informing all the things from this ultimate Fitbit versa 3 review.
Moreover, it is the one that has an affordable price tag. So you can buy this even on a meager budget. Another finest thing is the built-in speaker and microphones. As a result, making calls and rejecting them simultaneously become handy.
Lastly, if you want to know our opinion, we must say you should lean towards this smartwatch. Not because of its GPS accuracy but also for its many efficient features.
As an Amazon Associate, I earn from qualifying purchases.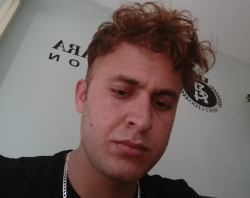 Latest posts by Nick Rolloson
(see all)