Fossil Charter Hybrid Smartwatch HR | A Great Travel Companion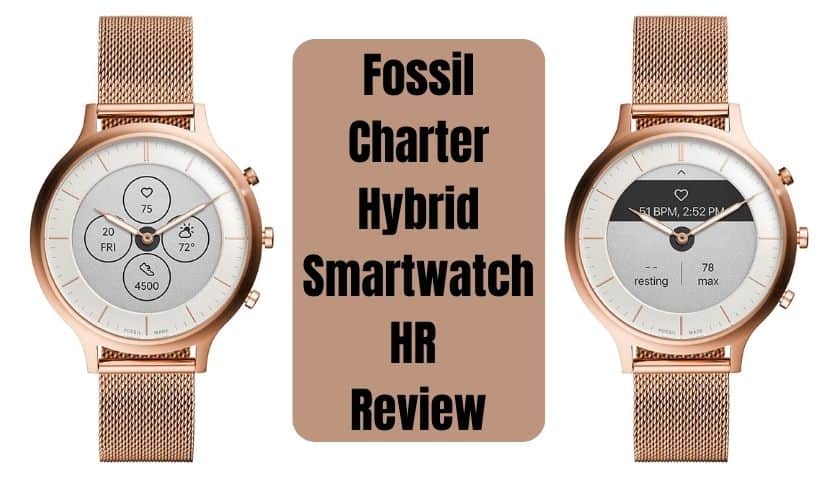 As an Amazon Associate, I earn from qualifying purchases.
The Fossil Charter Hybrid Smartwatch HR is a hybrid option for women, having cherry-picked feature sets. An always-on read-out display is a huge leap for this timer, appealing to most users. For those women looking for a hybrid, it will be a deal breaker.
In fact, it can do more than original hybrids. Visible smart features, sharp display, long-lasting battery, etc, make it more than a smartwatch. This timepiece is almost perfect.
Continue reading this Fossil Charter Hybrid Smartwatch HR review to learn more.
Fossil Charter Hybrid Smartwatch HR Review – What It Has?
Fossil Charter Hybrid Smartwatch HR is specifically designed for women. It fits well and has side buttons to navigate within different functionalities. Shared health data is pretty accurate, allowing you to care for your health. Moreover, the overall look is better than other Fossil smartwatches in its price range.
Specifications
Weight: 2.54 oz.
Special Features: Time Display, Calendaring, Notifications, Heart Rate Monitor, Sleep Monitor, Pedometer
Case Diameter: 42mm
Case Thickness: 13mm
Band Width: 16mm
Water Resistant Depth: 50 meters
Movement: Hybrid
Operating System: Android
Connectivity Technology: USB
Compatible Devices: Smartphone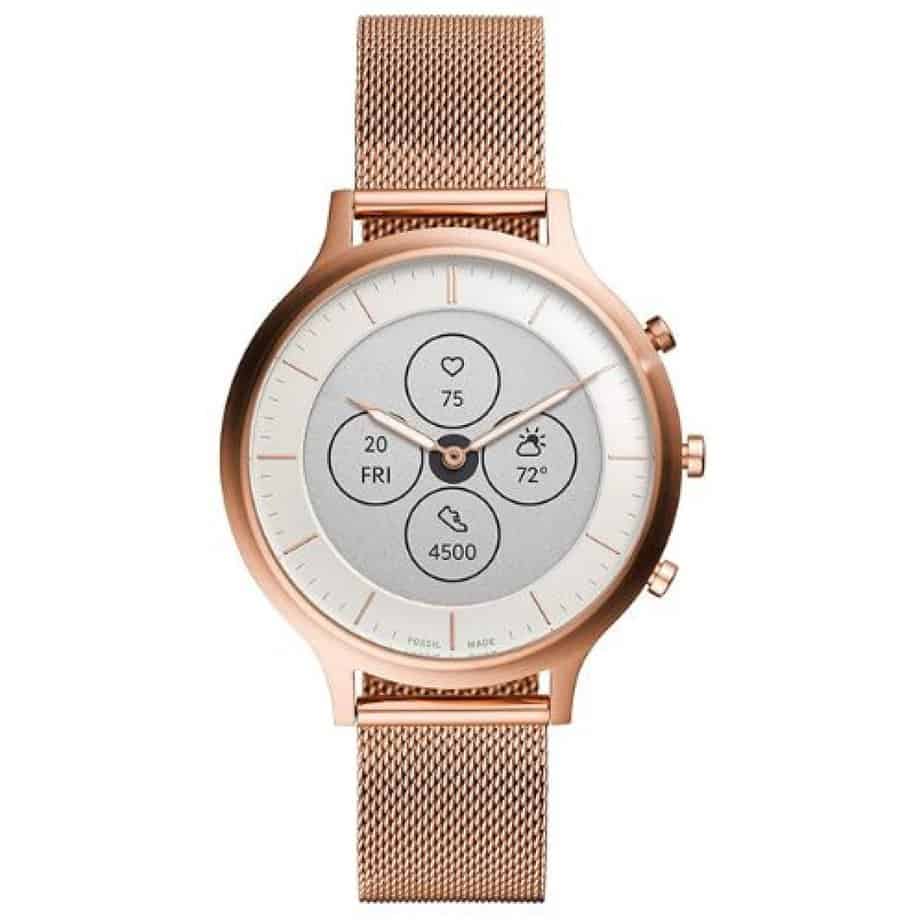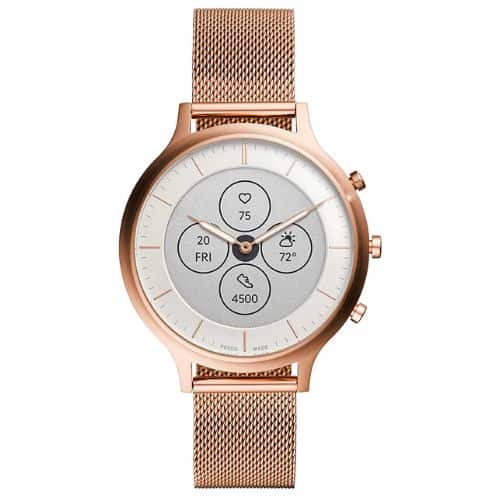 Design
Looking at the design, you will consider whether it is a hybrid or analog! It is well-designed with durable materials; all sides have robust lugs and a comfortable band.
One of the significant factors of this smartwatch is its look which is quite similar to an analog watch. Its backplate has a heart rate sensor that kicks in at regular intervals for tracking your pulse.
While other smartwatches are difficult recommendations for fashion-conscious people. But this watch is suitable for fashion geeks for its elegant look. Many customers are satisfied with its eye-catchy design.
Polished Look
The mesh strap is made of stainless steel, and its watch face is so polished that you will surely be satisfied. It is elegant, refined, and stylish and gives a perfect look in all situations.
Traditional watch hands and dials are the unique features of this timer. In the middle of the cutout, Fossil introduced an always-on read-out display. However, the display doesn't feature a touch screen. You need to use the manual buttons on the watch's right side.
You can navigate up, select, and down using the physical buttons. Moreover, other functionalities can also be done when nothing is selected from the Menu. Set the wellness stats taking assistance from the top button. The middle and bottom buttons will let you set the weather and track your workouts.
Read-out Display
You can learn different information at a time through the always-on read-out display. Customize the display with the help of the Fossil Hybrid App. It can show the below information,
Day and date
A second-time zone
Weather
Calories burned
Chance of rain
Steps
Active minutes
Battery life
Interestingly, the Fossil Hybrid app will allow you to create presets. Based on your activity, switching between the presets is a breeze.
Moreover, its background is customizable as well. In the background, you can use a photo or any patterns according to your choice.
Activating the display light is pretty amazing. All you need to do is a double tap on the face of the watch, and the light will get activated to help see the time in a dark environment.
Basic Fitness Tracking
Many users love the heart rate monitor features of the smartwatch. This feature is much more accurate compared to other watches in its price range named Fossil Q Gen 4,
Although this hybrid watch is not designed to track your fitness level, its functionalities are much more efficient. When exercising, it will also give you data on calories burned. Also, the sleep tracker is another worth-mentioning feature.
This feature will let you know exactly when you fall asleep in the night or during a flight, the specific moment you woke up, etc.
Amazingly, setting the watch to send alerts during your inactivity is simple. This feature is especially beneficial during your quarantine.
Battery Life
Carrying so many devices with their charger cable is so troublesome when traveling. Thanks to its battery life, making your packing as easy as possible.
Fossil stated that the battery will last for at least 2 weeks. In reality, it lasts a whole month! So, even if you forget to carry your charging cable on the trip, it will be perfectly fine.
I found 2 reasons for its long battery life.
The always-on read-out display doesn't consume much power, similar to other smartwatches
It gives only the required notifications
On the other hand, most hybrid timers give all sorts of notifications regardless of their necessity.
Smartphone Notifications
This smartwatch is compatible with smartphones. Like all other hybrid smartwatches, you can receive phone calls and other smartphone notifications. Don't think your other functionalities get distracted when it receives notifications from the phone. In fact, your productivity during exercising will never get distracted.
Additionally, you can communicate with your family and friends through messages, Instagram Direct and WhatsApp without trouble.
Fast Charging Time
You won't have to spend several hours getting 100% charged in this smartwatch. It takes a little more than 60 minutes to get fully charged.
In the first 30 minutes, it gets 60% – 65% charge. Then the balance 35% – 40% takes 40 – 45 minutes. With 100% charge and full activity, the smartwatch will give you at least 3 weeks of service.
However, whether 3 – 4 weeks of battery life is enough for you entirely depends on your usage.
Additional Features
Automatic Time Zone: If traveling outside the country or other states, the smartwatch will adjust the time zone automatically. So, you don't need to ask anyone to set the time zone.
Set an Alarm: If you are having trouble attending your classroom or essential meeting, set the alarm in this timer. You will barely miss your important class and mandatory meetings. Also, you can go for work-outs in the morning to keep yourself fit.
Music Control: Many people love listening to music when exercising. This smartwatch will let you enjoy your exercise time since you can control the music according to your preference. Also, when you are at the campsite or returning home, enjoy your leisure time listening to your favorite music.
Second Time Zone: Do you need to know another time zone when on the trip? This timepiece will help you do so.
Ring Your Phone: Don't know where you kept your smartphone? Take assistance from this smartwatch. Use it to find your phone, setting an audible alarm in it.
Swappable Straps: If you ever need to replace the straps after a few years, do it happily. It comes with a replaceable mesh band and can replace any standard 18mm watch strap. It would be best to buy the band from Fossil.
Pros
Reliable 3-week battery life
See weather updates to make your trip safe
The heart rate sensor works with both Android and iPhone
Tracks your fitness activities accurately
Easy to connect with the Fossil Hybrid app
Cons
Non-adjustable display brightness
A temporary fog spot appears inside the glass for a few hours
Frequently Asked Question (FAQ)
Is Fossil Charter Hybrid Smartwatch HR heart rate accurate?
Fossil smartwatches give accurate heart rate results; this timer is also no exception. This smartwatch's data accuracy is similar to the Apple watch.
Is Fossil Charter HR waterproof?
This watch's waterproof rating is 3ATM. This means you can swim with it without hassle. However, the smartwatch doesn't track swimming as an activity.
Is Fossil Charter HR smartwatch worth it?
The great feature of Fossil Charter HR is its long battery life and doesn't require frequent charging. Also, it has a subtle look to give you a stylish appearance. Its screen is also elegant, allowing you to wear it on any occasion.
Final Words
This is truly a hybrid smartwatch; the best part is the classic analog and digital smartwatch. If you are looking for a hybrid smartwatch with excellent features, analog display, and classic look and feel, this will undoubtedly be a deal breaker.
Fossil Hybrid app is also helpful that gets paired with it easily and tracks your sleep record, steps, etc. Even you can easily synchronize the watch with messages, Email, and WhatsApp. In fact, it will be your great companion on offices, trips, and other lands. Battery life is also great, similar to other expensive smartwatches.
Hopefully, this Fossil Charter Hybrid Smartwatch HR review will help you make a precise buying decision. Overall, it is not only a beautiful watch but also gives you many options to personalize the displays based on your requirements.
As an Amazon Associate, I earn from qualifying purchases.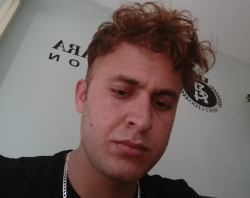 Latest posts by Nick Rolloson
(see all)