SUUNTO 9 Baro Review | Best For Athletes & Long Battery Life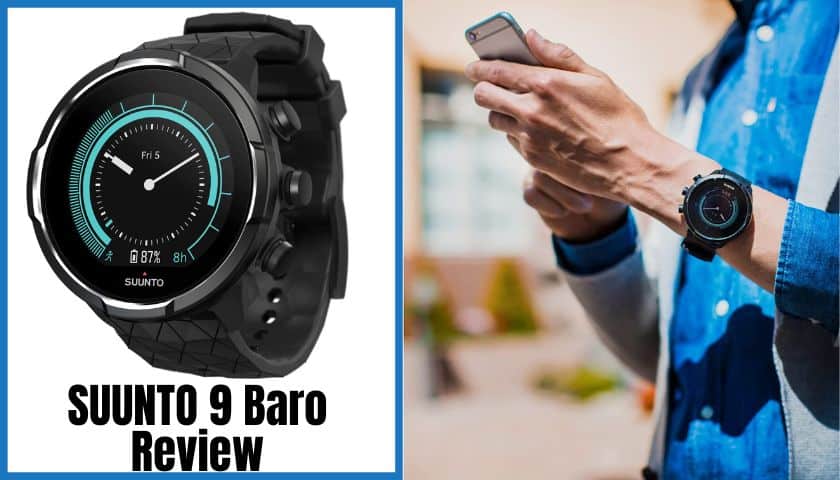 As an Amazon Associate, I earn from qualifying purchases.
Suunto 9 Baro is an utmost wristwatch with a decent design and superior features. We like this watch for its excellent design, unique custom-built, solid wrist straps, and for working as a significant relief for the addicted ultra-runners. The watch looks slick into the bargain and is worthy for indoor swimming to weight lifting.
Suunto is also worthy for the people who get bored with their regular timepieces. This is a new timepiece for those looking to buy anything that gives much pleasure to do adventures traveling, cycling, and running.
Besides this, another leading fact is that this watch is better than Suunto's previous wrist models. You may now ask, how does this watch compare to the rest of the best outdoor timers? Well, finish reading this Suunto 9 Baro review to get a clear answer to this question.
Suunto 9 Baro Review – What It'll Bring To You
If we discuss this timer more deeply, we must examine its enormous features. Suunto 9 Baro has uncountable features and sports tracking functions, which is incredible in one word. It is designed for everything which can not be measured.
The rugged and durable GPS traits that come with this timer benefit athletes. This watch also has a natural, ultimate battery life and barometer.
This timepiece is a game changer for novice workout planners who have recently started their diet plans. Anyway, Suunto's conveniences will be discussed below one after one.
Let's check out the specifications and the things that come with the slim-fit packaging of this hand watch.
Specifications & Case Size
Watch Face Material: Sapphire Crystal
Battery Life: 120 hours in training mode; it can increase and vary on activity tracking & mobile notification mode, which stays up to 7 days
Watch Face Diameter: 50 mm
Display Size: 1.34″
Strap Material: Silicon
Case Material: Glass fiber reinforced polyamide
Connectivity: GPS
Operating system: Wear OS
Water Resistance: 100 m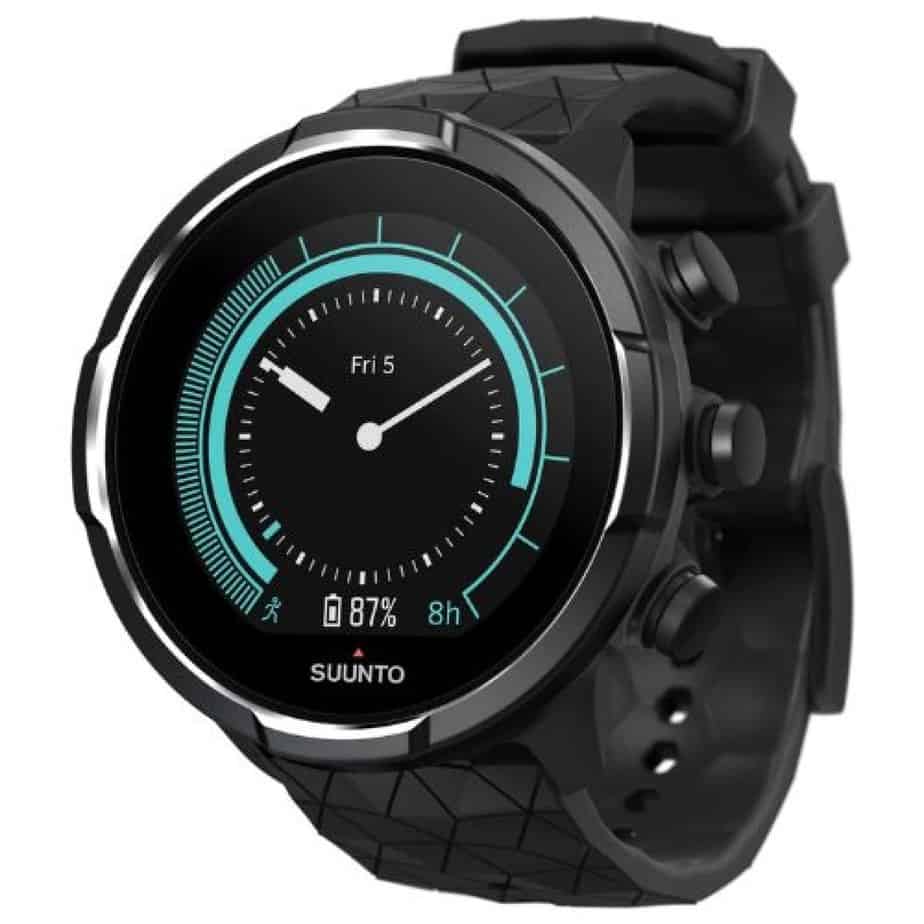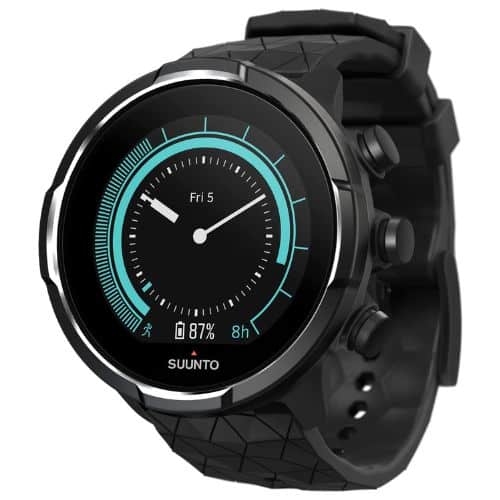 What Comes In The Box?
The Suunto Baro packaging is adorable, and all the accessories are well-packed. A small box of these timepieces contained a Suunto 9B black wristwatch, a charging cable, a quick guidebook, and a warranty leaflet.
You can also use two or more different size straps since it supports quick-release amenities like other smartwatches.
Size, Design, Weight & Materials
Watch design and material are crucial considerations when purchasing any timepiece. Many folks are very concerned about the watch's durability. If you're one of them, then it will be the unique timepieces that you can buy blindly.
Talking about the design Suunto uses and keeps the usual schemes you found from its other rivals. The watch face is sharply round and wide to read without wearing any glass.
Next comes the watch case size and dimensions. The size of this timer is middle, and the strap fittings are excellent for any wrist. It won't feel so tight or itchy since they come with silicone.
With 2″ inches to 2″ inches dimensions, it feels too lightweight on your wrist, which only weighs up to 0.58 pounds.
The bezel of this timer also gets changes contained to grade 5 titanium. This watch has a very matte finish, and the Suunto brings a bit of change here by attaching an anti-fingering coating.
Again, the lenses used on the watch face are also from other durable elements of sapphire.
Suunto's Special Updated Software
Suunto works much better to fetch something different on this new model timepiece. The manufacturer not only brought the changes to the watch material but also tried to use advanced software systems here.
Extended battery life and route navigation are two main functions of this watch that surprise you. The update also comes with official navigation for detecting paragliding activities.
170h Or More Extended Battery Life
As claimed by its manufacturer, Suunto has capabilities to give you 170h or more extended battery life. This is the one software update worthy of a big thumbs up.
The battery can stay up to 7 days on normal activities tracking and mobile notifications mode. And on Training mode will vary from 25h, 50h, 120-170h.
Besides, it supports changing battery mode by turning on or off functions. This watch provides different charging capabilities when performing other workouts or competitions. Here's a preview of the different modes we collect from the user reviews.
Performance mode: Up to 25 hours
Endurance mode: Up to 50 hours
Ultra mode: Up to 120 hours
Support "Suunto App"
You can now enjoy the Suunto App by pairing it with these timepieces to track all the adventurer activities. It will support and follow the long-term trends, including sleep and step monitoring.
Suunto Baro is also helpful in sharing your most significant achievements and connecting them with others in the app community.
You can also connect the watch to keep you on top of the daily business like call alerts, messages, social media notifications, etc.
Activity Tracking
Now come back to its activity tracking. Not all types of smartwatches have such tracking activities as this one offers. This watch can do more than a calorimeter or any smartphone.
You can follow your daily steps, calories, calorie burn rate, and heart rate during daily activities.
These timepieces didn't stop only giving you a short chart of your overall body functions. You can then get review and recovery advice from this tiny black hand timer.
Outdoor Functions
Suunto is also worthy of use for GPS tracking and navigation. It has well-functioning satellite systems, including GPS, Glonass, Galileo, Qzss, and BEIDOU. These features are built into this timer to track where you go out for adventures.
But there is a significant difference between the two. GPS is suitable for tracking usual areas, whereas Glonass and Galileo are worthy in both mountainous and urban areas. For navigation, this timer also supports-
waypoint and visual route navigation
zoom levels in navigation
auto zoom based on route shape
breadcrumb trail in real time
route planning with altitude profile
outdoor maps by satellite, terrain, and topography on the web
Heatmaps to browse and navigate during exercises
Estimated time of arrival
GPS track analysis
Snap to route, etc.
24/7 Heart Rate Monitoring Set Up
Another feature that attracts us the most is its 24/7 heart rate sensor. The watch back has 3 solid sensors, which flickered while you're wearing this on your wrist. And your heart rate records per hour will be shown on the watch display. The descriptions of such timepieces are accurate and to the point.
Wait, this watch supports heart rate belt compatibility connected via Bluetooth intelligent belts. It can track heart rate in beats per minute. These timepieces can also contribute to heartbeat records while swimming, running, or driving.
Multisports & Sport Modes
Suunto Baro is a prominent watch that can be used to track multisport activities. One can use this watch to train themselves properly by turning on the sports mode.
This watch has a bright, clean, and clear display to read the time properly
It has plenty of activity options and variations of intensities for activities one can choose
It contains a fantastic battery life
The strap band is long enough to wear anywhere
Great for giving reviews on the daily challenges like running, training, cycling, and many more outdoor activities
Cons
This timepiece's interface is a bit slow
Observing timing at night by this timer is cumbersome for the dark blue color
Read Also: SUUNTO Traverse Depth Review
Frequently Asked Questions (FAQs)
Does Suunto Baro Have Maps?
Suunto Baro usually comes with an accurate map which is fantastic for sorting out off-trial situations. The navigation of this timer is quite functional, so it could quickly go anywhere without fear of being loose.
Does Suunto Baro Support Pulse Oximeters?
Suunto Baro supports pulse oximeters, barometric altimeters, and cardio workouts. So anyone can use this watch to detect the oxygen saturation of the blood and the pulse rate.
Suunto bar is also able to collect GPS data on swimming activity as this watch supports swimming in freestyle, backstroke, and butterfly swimming modes, so you can easily swim using this timer.
Again, this watch contains the water ratings of 10 ATM, which means it can reduce depth pressure at levels up to 100 m to 330 feet.
Can You Listen to Music With Suunto Baro?
You can enjoy music with this timer since it supports all kinds of musical apps, podcasts, music players, etc.
Suunto Baro usually comes with a comprehensive 320×300 pixels display quality. You can operate this timer with the touch screen scrolled systems. Again, this watch has five pressing buttons around the bezels, making it easy to use during an emergency.
Read More: SUUNTO 7 Smartwatch Review
Suunto Baro should be on your favorite watch list since it is manufactured with Suunto's unique fused track algorithm. It can combine GPS and motion sensor data to improve one's workout activities. This watch allows you to enjoy extensive battery life, which is just incredible.
Sunoco Baro is the best-selling watch for the sturdier and solid designation. We learned from Suunto 9 Baro review that it is an ideal timepiece for the main GPS chipset provided by SIRF to Sony.
Lastly, it would be a top-timer for anyone who is very comfortable with a lightweight design and looking for some beneficiary functions.
As an Amazon Associate, I earn from qualifying purchases.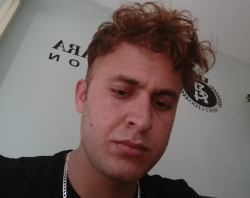 Latest posts by Nick Rolloson
(see all)