TicWatch E3 Smartwatch | Best Wear OS For Android Lovers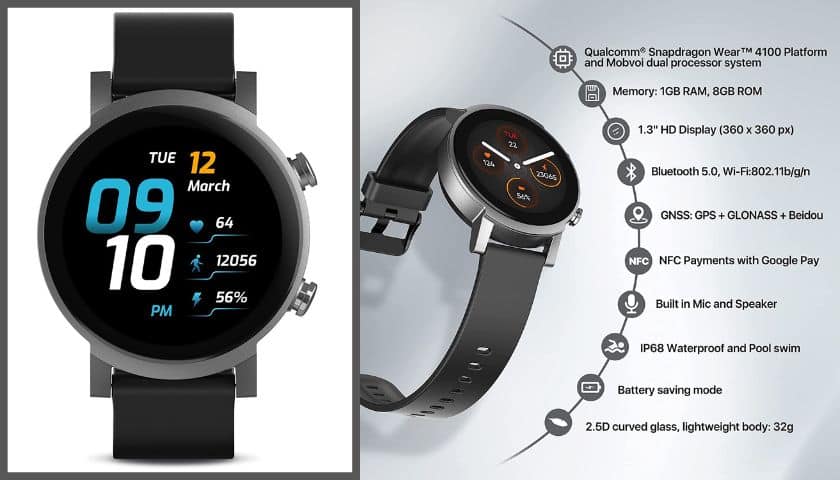 As an Amazon Associate, I earn from qualifying purchases.
TicWatch E3 smartwatch is combined with Mobvoi Tic pods earphones as well as the home treadmills to give better services than its previous wristwatches. We call it best for the outstanding snapdragon features, including 1G ram and 8 GB Rom.
The Tic E3 intelligent timepieces should be your easiest purchasing decision at a low price because it covers all the features you must make when buying a smartwatch.
Frankly speaking, this watch should be your best pick for the snapdragon 4100 platform processor. Only a few smartwatches are guaranteed to receive Wear OS 3, the next generation of Google's smartwatch operating system.
However, if you're curious about this watch, continue to read TicWatch E3 smartwatch review.
TicWatch E3 Smartwatch

Review | What Exclusive Features It Has
We genuinely prefer the watch, free from all kinds of juggling. Do you know what we mean? Yes, we are talking about battery life.
This TicWatch E3 Wear OS has good battery life; it probably stays up more than you expected. But this is not as annoying as other wristwatches for the essential mode kicks. Fundamental mode kicks automatically and starts charging your watch when it drops about 5-10%.
Unlike these features, this watch supports NFC payments and a microphone great for calling and sending voice messages through Google voice assistant. We set up all the modes of this hand timer below; before that, let us look at the dimensions, screen size, and packaging.
Specification & Watch Dimensions
Screen Size: 1.3 inches
GNSS: GPS + GLONASS + Beidou
Band Material: Silicon
Sensors: Accelerometer, HD PPG heart rate sensor, SpO2, Low latency off-body sensor, etc.
Memory: RAM is 1 GB, and ROM is 8 GB
Screen: 2.5D glass
Battery Capacity: 380mAh
Watch Operating System: Wear OS by Google
Connectivity: Bluetooth 5.0, Wi-Fi:802.11b/g/n
Wrist Watch Design & Materials
For wristwatch design, Tic E3 has an improved screen which can be significantly brighter and look great. It has a refined design with a shed of circular 44 mm polycarbonate and glass fiber housing.
Physically, this timer is 44 mm in length and 12.6 mm in width; this timer's weight (32gm) also feels so light to carry.
The included silicon strap added extra benefits; it's a Pro-type watch for people with skinny wristbands. We also like this timer's sportier watch design; the chunky bezel surrounding it made the screen wider.
It has a large black ring around the timer's face. You may enjoy pushing the flexible buttons around the watch face too. With a 1.3-inch LCD, this watch is fully protected by a 2.5D glass cover, making it easier to understand.
So, in brief, this watch is-
Awe-inspiring screen to see the numbers even in heavy sunlight
Comfortable and easy to fit on more extensive to smaller hand wrist
Lightweight to carry anywhere and matched to wear in any suits
It offers a clear display for legible texts, notifications, and pre-recording data
IP68 Rating For Anxiety-Free Swimming
Whether working on a ship tanker or being a professional sailor, you do not consider yourself accident-prone. There is a strong chance that the water rating (ATM) is high on your checklist when purchasing a new smartwatch.
Fortunately, Tic E3 manufacturers have picked up on this need, so this one comes with an awful IP68 rating.
Do you want to know what this term means? Mainly, the IP68 rating is more than the traditional water resistance available on ordinary wristwatches.
For more clarity, IP ratings refer to ingress protection, which has been used to seal the destructive impacts of electrical enclosures and fight against their encroachment.
So, this smartwatch can resist the most common damage found in smartphones or other electronic devices.
Excellent Software Quality & Performance
As we discovered above, this Tic E3 runs on snapdragon wear 4100 chips along with Mobvoi's exclusive dual-processor operating systems; it is free from mechanical deformation.
The Snapdragon processor has also become very popular in smartphones or Android systems, known as the best gaming processor. So you can ensure that this watch's performance is fast and responsive.
Another good news for the Android user's who bought this watch is its Google Wear OS 2.3 functions.
And you know, having Google integration in smartwatches means you can use all sorts of third-party apps like Google Maps, Google Assistant, Google Pay, NFC payments, etc., available on the play store. So for performance, here you'll get,
Widespread app application
Clutter-free and user-friendly watch interface
All the apps run very fast and are responsive
100+ Upgraded Professional Workout Modes
Tic E3 has another best function called professional workout mode. Most of the users of this timer like this mode because it can keep track of your real-time fitness and health data.
This watch has more than 100 upgraded professional workouts, from boat kayaking to mountain climbing.
Moreover, this timer plays a significant role in performing many outdoor activities like indoor cycling, Pilates, and HIT (high interval training). You need to search for Tic Exercise and Tic health for more workout modes on the Google Play Store.
Read More: Ticwatch Pro 3 GPS Smart Watch Review
Support Both Texts & Call On Android, Including With Advanced Health & Fitness Detection
We must say this is the head of all smartwatches after the Apple, Samsung, and Garmin brands. This timer also has a built-in GPS with similar hardware quality to its competitive ancestors, but Mobvoi avoids using any dual display.
Since it has a speaker and microphone, one can easily interact with them to chat or call on social media paired with a cell phone.
But this function is only available for Android users, which we might say is quite ok. You know, nowadays, most people feel much more comfortable using Android.
However, let's talk back to its advanced health and fitness tracking capabilities. It also has an accurate altimeter, barometer, and the most potent 24-hour heart monitoring sensor.
So, this watch can also track all your body fitness like other smartwatches used to do, such as,
sleep tracking
stress monitoring
Blood oxygen saturation detection, etc
Eminent Battery Life with Battery Saving Screen
For the battery, Tic E3 played a different game here. This watch is packed with a 380mAh cell, so it can stay up to 2 days without charging, which is only acceptable for general usage.
If compared to its previous brands, this is pretty much good. It also offers a primary mode, which works here as a life savior to you.
Turning on this mode can push its longevity to around 7-days. Again, this timer comes with a magnetic POGO-pin charger, which can bring its life by charging immediately.
It has fantastic battery life, and you will get notifications all-day
The watch comes with IP68-rated swimming capacities, which are very preventive to save the screen from water damage
Comfortable to wear in any type of wrist size you have
The setup is friendly and quick; the screen looked pretty decent
Easy to send feedback to incoming calls and type messages via Google keyboard
The watch screen often looks like it could be scratchy easily
Its battery drained quickly while all the health and fitness tracking apps used altogether
Frequently Asked Questions (FAQs)
If you ask us to give you one worthy thing, we must say you should grab this for the processor. The snapdragon 4100 processors this watch has, which is quite rare to other similar type smartwatches. Again, all the running apps on this timer are faster and very responsive.
This watch has an IP68 waterproof rating. That means it is suitable for swimming in a pond at the sea beach and bathing on lampoons. Moreover, you can even wash dishes and get wet in the rain with this watch. This watch does not get damaged if your hands are very sweaty.
Can I Make a Call with This E3 Timer?
This wristwatch can easily make calls since it has a speaker and microphone. Meanwhile, this wristwatch supports Android pre-installed contact apps. So, it is now realizable for anyone to respond to incoming calls and make calls with this timer.
Generally, a watch E3 lasts for 2-3 days. Yet, if you use it only for general usage, it would be increased up to 2-30 days more on a single charge.
How Long Should You Charge This Wrist Timer?
Tic watch E3 takes at least 2 hours to charge. Only then can you use this device for 36 hours. Again, its charging capacity increased amazingly for the primary mode, which works as a backup when the battery is fully depleted.
Tic watch E3 is an exceptional hand timepiece for extended battery life; it's one of the best Wear OS watches with so many good things. The sleep tracking is much more accurate here if compared to the previous high-end rival Wear OS watch of Tic watch.
Moreover, it supports the high-profile robust suite of native Tic watch apps associated with Google. All this timer's fitness and tracking apps can be purchased through the NFC and Google Wallet to pay wirelessly.
This watch is excellent for its lackluster screen, 2.5D glass insisted by its best TicWatch E3 smartwatch reviewers.
This watch should be on your priority list for comfy straps, greater longevity, excellent processor, durable watch glass, and a more elegant outlook for regular wear.
As an Amazon Associate, I earn from qualifying purchases.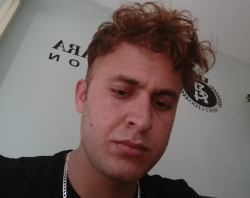 Latest posts by Nick Rolloson
(see all)