How to Connect Galaxy Watch to iPhone | 3 Simple Steps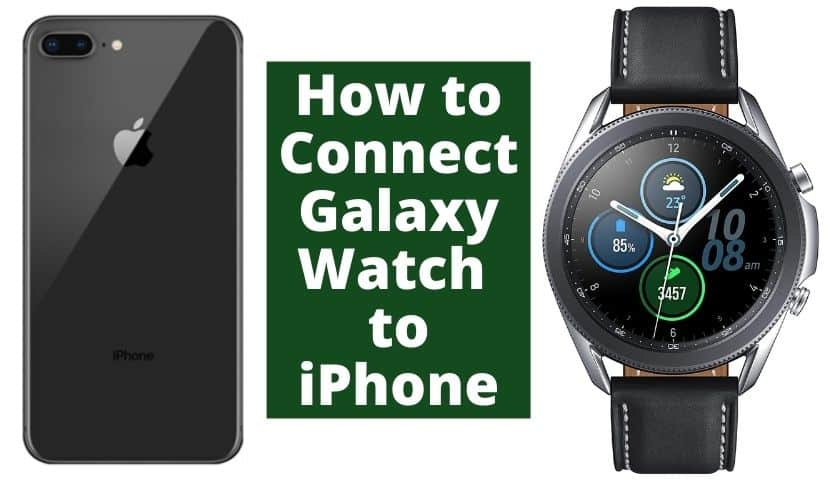 As an Amazon Associate, I earn from qualifying purchases.
Not all of us have the capacity to match all the things into one brand, and the items we have may come with multiple brands as well. Imagine you have a Galaxy watch that another has gifted you. And if you are an iPhone user, how the connection can be made to that phone.
By having the galaxy app, opening it, going to its gears, tapping ok, starting your journey, waiting until the pairing happens, pairing up, and reviewing up are the simple steps to do so.
If you know the exact solutions to the problem of how to connect the Galaxy Watch to the iPhone, you now have your best opportunity to experience all the best features. So here is how.
How to Connect A Galaxy Watch to An iPhone
Pair the Galaxy watch with any iOS phone following these 3 effortless steps. Go through the steps one by one to have no trouble in the process.
Step 1. Download Galaxy App
For connecting your Galaxy watch with an iPhone, you must have the Galaxy wearable application. So, go to the iOS store and start downloading the app. When you are done downloading, install the app into your iPhone set.
Step 2. Pair up
Open the installed app on your device. Press over Start the Journey and choose Galaxy Watch. It will scan for your Galaxy Watch, and after finding it, it will ask you to connect—tap Connect. A pairing request will pop up on your iPhone screen, tao over the "Pair" option.
Step 3. Review
Review, then press on Agree and tap on Done. You will find your Galaxy Watch is connected to your iOS phone through the app. If you face issues like not getting Galaxy Watch on the iPhone screen when scanning, check the Bluetooth option in the watch and turn it on. After the pair, you can watch the tutorial instructions or skip them.
Compatibility of Galaxy Watch with iPhone
There's a common misconception that an iPhone needs an Apple watch. Smartwatches for Android like the Samsung Galaxy Watch don't have compatibility with iOS phones. But the truth is, you can use a Galaxy watch with both an Android and an iPhone. If you are an iPhone user and want to purchase a Galaxy watch, know how compatible the Galaxy watch is for an iPhone. You can enjoy the following features.
1. Fully Supports Calling
When your device is successfully paired with your phone, you now have the freedom to receive and make calls via your watch. You need to keep in mind the only necessary thing is keeping your Galaxy watch connected with your handset via Bluetooth. The timepiece will show 2 options with the same name; you should add both the networks with Bluetooth.
2. Partially Supports Texting
When the watch is connected with an iPhone, the texting option vanishes. It means the texts that usually come in your sim card will not appear on the galaxy wristwatch display. However, social media text applications like WhatsApp, Line, etc., will notify you about messages. Unfortunately, you can only check them and can't reply.
3. Somewhat Supports Email
It's a bit disappointing that you will not receive emails sent to your mail-id. The email application also vanishes when the wristwatch and iOS are connected. However, from different email applications, you will get push notifications. After getting notified about your emails, you can reply to them using your iPhone.
4. Partly Supports Third-party Messaging Apps
Third-party messaging apps such as WhatsApp are not very useful to use through your Galaxy Watch with iPhone. It's because it can only send you notifications about getting texts and calls on WhatsApp. If you want to use the app, switch to your phone and answer WhatsApp texts and calls from your iOS.
5. Fully Supports Notifications
You can depend on your Galaxy watch paired with an iPhone when it's about receiving notifications. It will send you notifications from every application seamlessly. Native and third-party app notifications will always flash on your watch screen.
6. Supports Sleep Tracking
While Apple Watches lack a built-in sleep tracker, Samsung Galaxy wins in this. The sleep tracking app will automatically record your sleeping, meaning you don't need to set bedtimes or targets. It can recognize both deep sleep and rapid eye movement.
7. Exclusively Supports Heart-rate Monitor
Like the sleep tracking app, it has a standalone heart-rate monitor. This app can work pretty well with any iPhone, and with the help of the Samsung Health app, you can see details about your heart rate from your phone.
8. Completely Supports Fitness Tracking
Galaxy watch will impress you with its wide range of workout presets. It offers over 30 various exercises presets. You can check your daily health conditions after working out using the Samsung Health app.
9. Partly Supports App Store
The Galaxy watch fails to satisfy its iPhone users when supporting all apps. You can use only a fixed number of applications like WhatsApp, health app, exercise app, etc. Some essential apps like camera apps are not found or supported by the Galaxy watch for the iOS version.
10. Somewhat Supports Bixby/Siri
Samsung Galaxy Watch supports Bixby perfectly since the company makes this personal assistant. But when it comes to Siri, an issue appears. Making calls with Siri will not be a problem, but when you search for something, it will tell you to check your iPhone to see the results.
11. Exclusively Supports Find My Device
If you have put your iPhone somewhere and forget the place, your Galaxy watch will save you in such a case. It supports "find my device," meaning if you use this option, the timepiece will make a call to your iPhone and help you locate it.
12. Completely Supports Remote Control Option
This feature of the Samsung Galaxy Watch is unique. Unlike most other smartwatches, the Galaxy Watch is our favorite for having this useful feature. Pairing with Mac, you can utilize its PPT controller and use its touch screen as a mouse pad. It helps a lot when giving presentations.
Is a Galaxy Watch a Good Option for an iPhone?
Compatibility is a huge fact. Every buyer should double-check if the smartwatch they are buying for their iPhone is supported or not. A smartwatch having compatibility for both Android and iPhone is quite rare. Samsung Galaxy Watch is one of them.
Many iPhone users who never used smartwatches and buy Apple watches will never know how great a galaxy watch is as a smartwatch option. They will indeed face issues with messaging, but other useful features for health and functional works will perform with accuracy.
Besides, because health-related valuable features are built-in, the Galaxy Watch is popular too. Hence, if you are being misguided by your friends or anyone else regarding the Galaxy watch, trust us and not them. We can assure you that you will like using a Galaxy Watch with your iPhone, especially if that is bought for fitness tracking purposes.
Frequently Asked Questions (FAQs)
Why My Galaxy Watch is not Connecting to iPhone
When you are trying several times, and still your Galaxy Watch is not pairing with your iOS phone, it means you own Galaxy Watch 4. Sadly, Galaxy iOS wearable applications are not compatible with Galaxy watch 4.
The app that does the job of connecting will keep showing you that it recognizes your watch. It will only try to connect but fail each time and show you error messages. If it's not a Galaxy watch 4 and still failing to connect, it means you didn't turn the Bluetooth of your watch on.
Can Samsung Galaxy Watch connect to iPhone?
Except for the Samsung Galaxy Watch 4, older versions will connect to iPhone. The model watch 4 is not compatible with the iOS phone.
Is the Samsung Galaxy Watch 3 compatible with the iPhone?
It's possible to use Samsung Galaxy Watch 3 with iPhone. You can connect the watch and iPhone either using Bluetooth or an app. It not only connects well but also performs great. It's a good smartwatch choice for iPhone users.
Closing Remarks
Galaxy watches are famous for health tracking features. These work great in helping you with workouts. Besides, their unique design and long-lasting batteries make them more interesting than even iPhone users can't help but buy one.
However, many don't know how to connect Galaxy Watch to iPhone. For this reason, we are here with the solutions. Follow the 3 easy and little steps we mentioned and see how fast your watch connects with your phone.
As an Amazon Associate, I earn from qualifying purchases.