What Is A Hybrid Smartwatch & How Does It Work | The Best Guide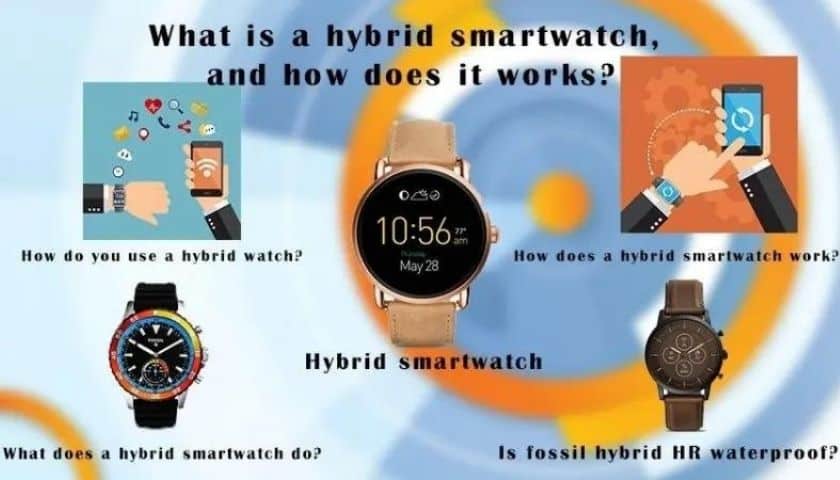 As an Amazon Associate, I earn from qualifying purchases.
A hybrid smartwatch can do more than just tell time. It incorporates technology from both watches and smartwatches, giving the user a more holistic experience.
The user can get the benefits of smartwatches without compromising the elegant look of traditional watches.
Hybrid watches are the fusion of digital and traditional time-telling methods providing users with a more comprehensive view of their day-to-day schedules.
They can be helpful for those who have a busy lifestyle, as they can see what's happening at different times, and they can track important meetings and appointments.
Scroll down to read more about the hybrid watch's meaning and how it works.
What Is A Hybrid Smartwatch?
A hybrid smartwatch is a gadget of innovative technology. It is a two-in-one watch if I define a hybrid smartwatch meaning.
The watch is loaded with smart features in a traditional watch design. These watches are perfect for the person who is part vintage soul, part tech junkie.
Actually, a hybrid watch brings a new twist for those who still prefer a classical look in the tech era. It is called a smartwatch. It still has many differences comparing today's smartwatches like Apple, Samsung, Fitbit, etc.
Before the digital world, all watches were mechanical, and the finest watchmaker's elegant craftsmanship impressed us. Some brands have made a strong position in this industry, like Rolex, Patek Philippe, and a few more names.
In the world of digitalization, these timepieces are still top-notch comparing other smartwatches. These hybrid watches are excellent inventions so that you don't miss the smart navigation in your classic watch.
Hybrid Smartwatch features
Hybrid smartwatches are a recent development and are still in development. They are watch devices that can be worn as a traditional watch or as a piece of wearable technology that can connect to other devices, such as smartphones. They can have different functions, including
Extended battery life is the most impressive feature of hybrid smartwatches. Unlike other smartwatches, it doesn't spend much energy to navigate, so it lasts for months with a single charge.
Battery life is superior to the regular smartwatch as a hybrid smartwatch doesn't have apps and doesn't drain the battery quickly. It only uses little energy to keep paired with smartphones through Bluetooth.
Because regular smartwatches need much power to light up the display all the time and ping notifications, a hybrid watch has a coin-cell battery, so it doesn't need to change frequently.
The advanced hybrid smartwatches offer comprehensive sports tracking that enhances the user experience. There are many built-in sensors that effectively track various types of sports. It will keep you updated while running, swimming, walking, and cycling.
All the tracked data you can access through your smartphone. Sports tracking features are helpful in monitoring how successful your effort in your exercise is.
The smart side of hybrid watches is that they can track your fitness activity and keep you healthy and fit. Many watches give a report about your daily steps, and count calories burned every day.
Some hybrid watches give reports about your heart rate and blood pressure conditions too. It is a great experience having hybrid watches for those who are conscious about their health and fitness.
Nowadays, having a hybrid smartwatch gives you an experience like smartwatches. The most impressive feature is that it gives you alerts when you need to check your phones. Knowing these notifications is something that many users love.
It gives notifications when you get emails, texts, or calls on your smartphone. Thus, there is no chance of ignoring important messages, and you can take immediate action.
Moreover, it just vibrates the wearer and notifies. So anyone around you won't feel any disturbance, especially when you are in important meetings.
Furthermore, hybrid smartwatches have other expected features like alarms, world time zones, GPS, and programable buttons. Like typical smartwatches, some watches also work as a remote shutter for music control and capturing photos.
How Does The Hybrid Smartwatch Work?
As I said earlier, the hybrid smartwatch combines both a mechanical watch and a smartwatch. The hybrid smartwatches have built-in Bluetooth connectivity that makes them separate from traditional watches.
The hybrid watches require to pair with your smartphones through this Bluetooth connectivity. There are potential apps that are compatible with iPhones and Android. You can make the settings through the apps and access the tracking data of your watch.
From the appearance, it doesn't like a piece of technology; it is as simple as a regular watch. Once the watch is paired to your phone, it will show its incredible functions.
Most hybrid watches don't have a touchscreen, but nowadays, you can see an LCD screen addition. You will have side buttons and crowns to navigate the watch. However, these watches are simple, eye-catchy, and suitable for daily life. 
Hybrid smartwatches VS. smartwatches
When buying a watch, you may confuse about whether you should choose a hybrid or a smartwatch. So there are differences between these timepieces:
Considering the beauty, hybrid smartwatches are the winner. The classic look of the watches is superior, according to most watch enthusiasts. Moreover, along with elegance, it comes with hidden technology.
If you compare battery life, then hybrid smartwatches have a longer life than smartwatches. So it is the best choice for those who try to charge their regular smartwatches daily. A hybrid smartwatch can run up to 6 months.
Talking about tech features, regular smartwatches have the most. They have a bunch of features and functions that make your life easier. Though hybrid watches have fewer functions yet they are helpful enough like a smartwatch.
Hybrid smartwatches are cheaper than regular smartwatches. Since they don't have complex technology like regular smartwatches, so they are less expensive.
Frequently Asked Questions (FAQs) 
What is the difference between a smartwatch and a hybrid watch?
A touchscreen is a major difference between a smartwatch and a hybrid watch. Smartwatches have a bright, vivid, and responsive touchscreen for easy navigation.
Do hybrid watches need batteries?
Of course, hybrid watches require batteries. They use cell-ion batteries rather than Li-ion batteries. As a result, the hybrid watch's battery lasts longer.
Are hybrid smartwatches worth it?
It depends on the user's preference. If you prefer an elegant look over a technology package, then the hybrid smartwatches will be worth it. Moreover, hybrid watches also have many functions, like smartwatches.
How long do hybrid smartwatches last?
As hybrid smartwatches have cell-ion batteries, it lasts longer than smartwatches. A hybrid watch can last up to 6 months or more with a single battery. Sometimes, it lasts for years.
Can you text on a hybrid watch?
No, you can't text on a hybrid watch as there is no input system in it. You only receive notifications of emails and calls. It only vibrates to alert you; that's it.
What is the best hybrid smartwatch?
There are many popular brands like Fossil, Garmin, Q Neely, etc. they are the best in this field.
How do you charge a hybrid smartwatch?
Since hybrid smartwatches don't have Li-ion batteries, you can not recharge them. You need to replace the battery once they are dead. If the watch is solar-powered, then you may don't need to replace it for a lifetime of the watch.
Wrapping up
Hybrid smartwatches are the best invention of modern technology. They are the ideal choice for most old-school lovers. Actually, the extraordinary design is the main selling point of these watches. The design is superior to smartwatches from Apple and Samsung.
But here comes the twist, you can enjoy smart features in your traditional-looking watch. It is the best solution that allows you to enjoy both worlds.
With the analog design, it combines smart features like activity tracking, notifications, sleep monitoring, health data, and much more.
As an Amazon Associate, I earn from qualifying purchases.