Popglory Smartwatch Review । Your Best Health Analyzing Gadget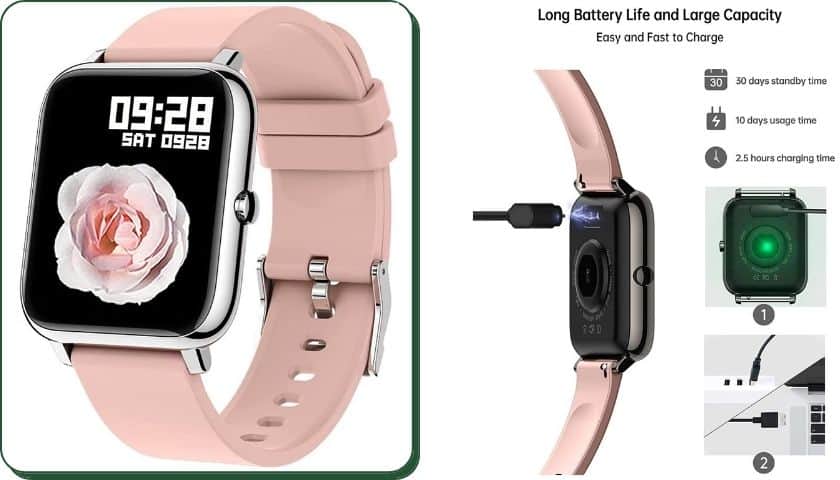 As an Amazon Associate, I earn from qualifying purchases.
Nowadays, the smartwatch has become an excellent and handy health analysis tool. Most smartwatch users especially praised these features. You can not expect such benefits from other wearable products like this.
If you also want to carry out a real health and fitness tracker, then the Popglory smartwatch is the best selection. Its vogue has been rising due to its great performance in the low-price range. It is recommended if you are a health fanatic. In this Popglory smartwatch review, we will provide you with detailed information on its performance.
Popglory Smartwatch Review
Specifications
Model: P22
Dimensions: 10.83 x 3.58 x 0.67 inches
Weight: 3.84 ounces
Battery: 1 Lithium Polymer battery
OS: iOS and Android
Popglory Smartwatch
2 new from $29.99
Free shipping
as of October 1, 2023 7:08 pm
Popglory's P22 is the most popular wearable under $50. It is a slim, stylish watch that will complete your look. Its unique design and different band colors are suitable for both men and women. You won't buy a smartwatch for just telling the time, you expect endless approaches, and this addition won't disappoint you despite being a low-budget device. There is a wealth of information. Below we provide the insights after reviewing this smartwatch.
1. Design
After getting the box, you may don't have an enjoyable feeling as the box looks like a cheap type of product. But you will love what the inside is. The look is absolutely gorgeous. It is a rectangular shape, just identical to the Apple watch. The body is made of metal with a silver finish on the edges.
Despite having a metal body, the watch is fairly light and comfortable that you have ever had on your wrist. The weight is only 43 g. There are silicon rubber straps and they are very comfortable. The straps collection is also beautiful and premium. The band choices are perfect for both males and females. The side button is handy to power on and off the watch.
2. Display
Popglory includes a 1.3-inch TFT color display. It is a touch-enabled screen with a resolution of 240×240 pixels. The watch has thick bezels that impact the watch design. The edge-to-edge screen looks more stylish and modern.
You can set the brightness in 5 selections. The brightness level setting allows you to customize the brightness according to your weather condition. The highest brightness setting is ample to see on sunny days. Further, the responsiveness of the watch is appreciable and works within your touch.
The button works well to wake up the display or you can use the lift to wake mode to check the watch. The lift to wake mode turns the face in one or two seconds. However, you won't get the On-Display option which may disappoint you. After turning on the watch face, it stays on for 5 seconds before timing out, you can customize it though.
3. Exclusive Wallpapers
The watch has amazing collections of watch faces and it has more than 100 different watch faces. you can easily switch it from one to another. There is no option to change widgets but the default face seems easy to detect the time and other fitness goals. Using the HeroBandlll you can customize the clock faces. However, you can create your own watch faces and bring it to the screen for a better interactive experience.
4. Health Monitoring Features
The Health monitoring feature is very popular in the Popglory smartwatch. By adopting advanced sensors, the watch perfectly detects blood pressure, blood oxygen, and heart rate. Most users are satisfied with the precise result of heart rate and blood oxygen. You may find differences while measuring blood pressure.
These sensors always work and you can instantly see it on the main menu. Just you need to enable the continuous heart rate monitoring option. This option tracks regular measurements and alerts you when the heart rate goes high or too low.
5. Fitness Companion
There are 7 sport modes to record your all-day activities. You will find walking, running, cycling, football, badminton, skipping rope, and basketball modes. Also, the watch can count steps, distance, sleep status, burned calories, etc. Fitness monitoring is useful to analyze your daily activities. You can maintain a healthy condition to live a better life.
6. Waterproof
The watch has an IP67 waterproof rating that tells it can survive underwater up to 1 meter. So you can wear it during swimming, showering or on rainy days. You don't have trouble securing it from the wet. Moreover, the screen is shattered-resistant and can protect the watch screen from minor falls. You should be careful about it though.
7. Perfect Personal Partner
Popglory smartwatch can be your best partner. After connecting with your phone, it will be your handy companion like your smartphone. It has wider compatibility and you can connect the watch with your phone if it is iOS 9.0, android 4.4, and above smartphones.
You can stay connected with your phone calls, text messages, and other social app notifications like Facebook, Twitter, WhatsApp, etc. To get notifications, you need to use the companion app and turn on the notification settings.
The watch notifies you when you get any calls and tells you who it is. It only notifies you, but you can not receive it without a microphone or speaker. You have to bring your phone out to receive the call. You can decline the call if it is spam or you don't want to receive it.
8. Watch Interface
The watch contains an improved operating system. The interface is basic and you can quickly understand how to get information. There is no difficulty in understanding. With an easy interface and single button, you can easily access most features in 2 or 3 taps.
Swiping down takes you in the quick setting menu like many android phones and swiping up brings you to the main menu. Sweeping left and right help you to access different health and fitness features. You can know the statistics of how you are performing against the selected targets.
9. Battery life
Being a budget-friendly smartwatch, the battery performance is quite impressive. It has only a 180 mAh battery capacity and still provides long life. The battery life lasts up to 10 days with basic usage that is very satisfying. Moreover, 30+ standby time also is spectacular. The long battery life helps you to keep organized and productive all day long. There is a magnetic charger included to charge it up faster.
10. HeroBandIII app
The brand's official app is the HeroBandIII app and it is available on both Android and iPhone. With the app, you can easily navigate your smartwatch. All the settings in the app are clear to understand.
All the health and fitness tracking data keep stored in the app. You can view it from the app. You can see all the status of your activity on this tiny screen. So the app is useful to get the activity information and set a goal.
Additional Features
Camera remote to take pictures by shaking your hand.
Media control allows you to play, pause, skip, back, and forward the music. It is a useful feature during a workout.
Navigate the weather forecast option by swiping down from the top. You need to add your location in the app to see the weather condition. You can know the weather conditions for the next few days in your area.
Find my phone feature is also there to ring your phone if you misplace it somewhere.
A handy torch feature is included that makes the screen bright white. Though it works like a torchlight, it shines when you are in the dark and enlightens your path.
Pros
Attractive design
Lightweight and durable body
Vivid and bright screen
7 sports modes
Precisely measure heart rate, blood oxygen, and blood pressure
Long battery life
Includes useful and essential features
Easy to navigate both the watch and app
Cons
The blood pressure measurement may differ from than actual
Frequently Asked Questions (FAQ)
How to measure the heart rate or blood oxygen level properly?
Ensure you wear the watch not too tightly or loose and there is no interruption due to contact with your skin. Then start the motion. You can see a red light on the watch interface and find out the result.
How to set up the watch correctly?
After getting the watch, you need to connect the watch with your mobile phone. Ensure that your smartphone is enabled with Bluetooth 4 or more. Then download the HeroBandIII app on your smartphone. In the app, you can find every setting and there is no complexity to access all the functions.
Is Popglory Smartwatch accurately measuring heart rate?
The watch has advanced sensors to track heart rate, blood pressure, and other activities. The result of these health features is nearly accurate. But sometimes you may have different opinions than actual ones. The brand also said the health information is not perfect for medical cases. It is just for general purposes and to track your daily health conditions.
Is the Popglory smartwatch waterproof?
The watch has an IP67 waterproof rating that can be submerged into water up to 1 meter. So it is waterproof allowing you to perform water-related tasks.
Verdict
Popglory is the best smartwatch at this price range as it tells the time, tracks your activity progress, provides health data, and much more. The watch has great value and most importantly, you will feel encouraged to stay active and healthy.
As an Amazon Associate, I earn from qualifying purchases.