Top 12 Smartwatch with Long Battery Life in 2023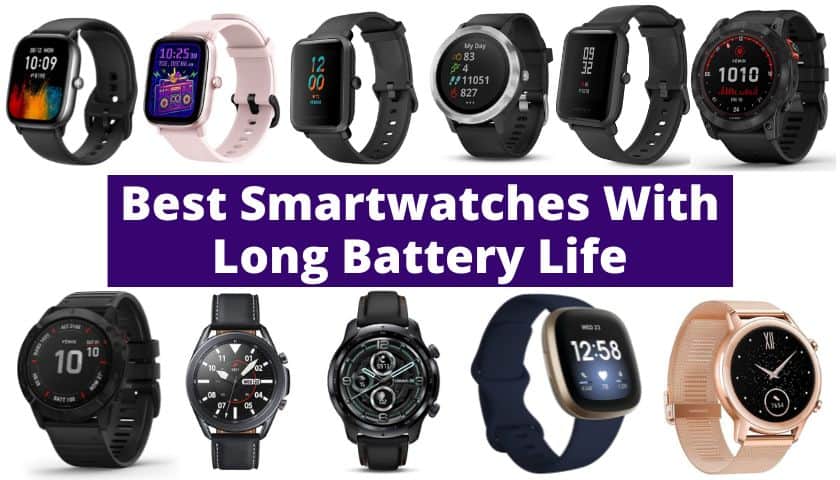 As an Amazon Associate, I earn from qualifying purchases.
Smartwatch offers you ease of use by providing exceptional functionality. Many smartwatch users think these watches work like smartphone extensions. It means these allow you to do pretty smartphone stuff right on your watch like receiving calls, controlling music, showing notifications, tracking fitness, monitoring health, and so on.
Such watches, of course, require long-lasting batteries to ensure the features are working uninterruptedly. It's a big challenge to find the best smartwatch for battery life from so many options in the market.
In this guide, we have reviewed the best watches in the current market. We researched the unlimited smartwatch and chose the best watches with the longest battery life in 2023.
Top 12 Watches With Longest Battery Life
We have picked 12 smartwatches you will never regret having for world-class battery life. The lasting battery is not the only factor we considered but more. Let's check them out.
Our top picks: At a glance
Best for Fitness and Battery: Amazfit GTS 4 Mini
Best Battery Booster Solar Panels: Garmin Fenix 7X Sapphire Solar
Best for Functionality: TicWatch Pro 3
Best for Health and Fitness: Amazfit GTR 3
Best for Tracking: Apple Watch Series 8
Best for Comfortable Wear: Amazfit GTS 2 Mini Smart Watch
Best Power-consumer: Amazfit Bip S Fitness Smartwatch
Best for High Performance: SAMSUNG Galaxy Watch 3
Best for Health Trackers: Garmin Fenix 6X Pro GPS Watch
Best for Accuracy: Garmin Vivoactive 3
Best for Workouts: Fitbit Versa 3 Health & Fitness Smartwatch
Best for Appearance: Honor MagicWatch 2 Smartwatch
Best 12 Long Battery Life Smartwatch
Let's take a look at our top picks first:
Last updated on November 27, 2023 3:51 am
1. Amazfit GTS 4 Mini – Battery Life Up to 15 Days
Amazfit GTS 4 Mini is a wonderful wristwatch for its long-lasting battery quality. Yet, it has snatched its user's heart for its wearable portfolio, wide compact design, high profile GPS tracking and 5ATM water resistance, and many more features.
Connectivity: Bluetooth
Wireless Communication Technology: Bluetooth
Special Features: Universal
Other Display Features: Wireless
Display Type: AMOLED
Display Resolution: 336×384 pixels
Battery Life: 15 days on typical use, 45 days on battery saver mode
Water Depth: 50 m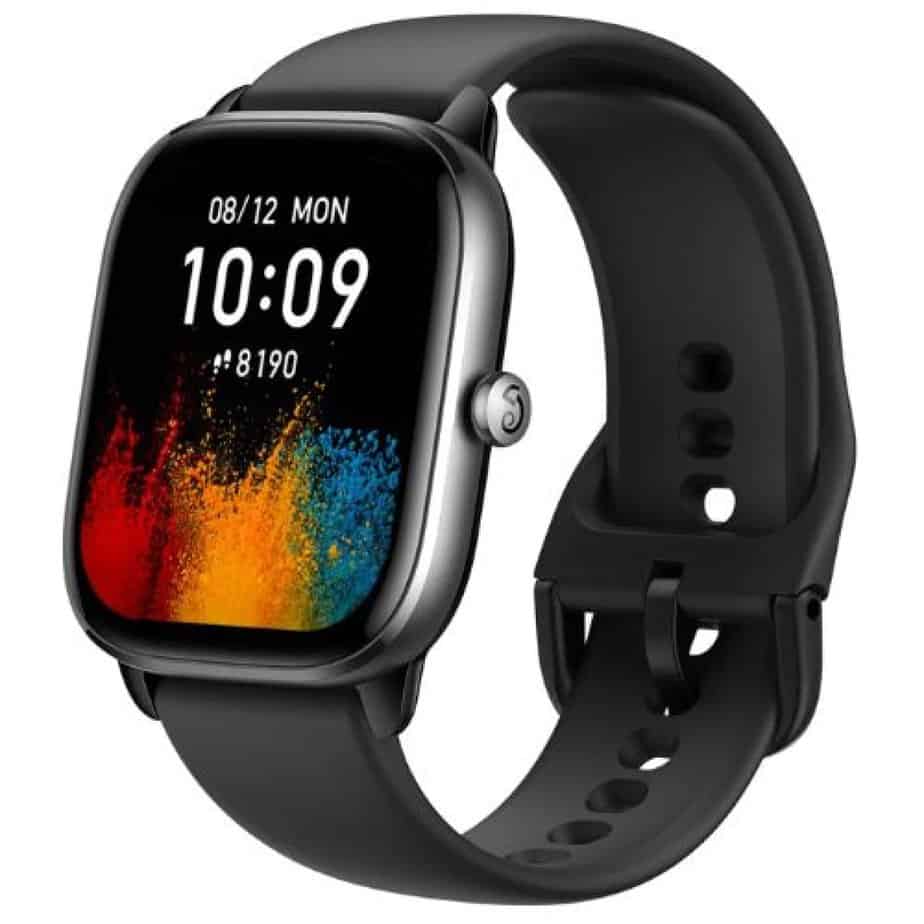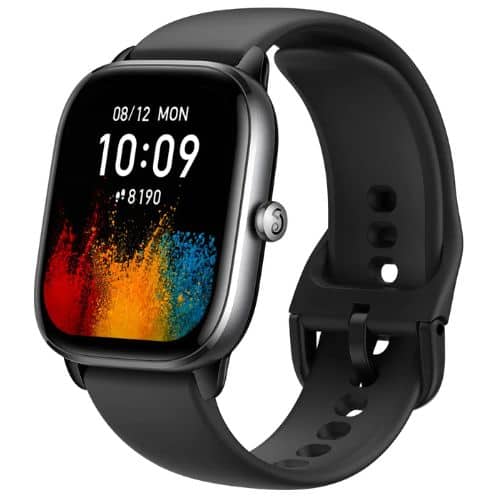 Ultra Slim & Light-weight Design
This smartwatch is designed with an ultra slimming design with a 19.1 weight. It feels too light and stylish on hand. The thickness of this timer is also not so weighty, around 9.15 mm.
Skin-friendly silicone straps allow wearing this timepiece all day long. This watch is durable and looks great for the metal rim with an elegant metal frame.
Smart Al Type Assistant
Amazfit GTS 4 is suitable to use in all types of necessary activities which a normal individual would like to do. With this watch, you can instantly make calls, ask questions, translate scripts, set alarms or timers, and check the weather.
5 Satellite Positioning Systems
It comes with more clarity to improve your workout performance. The watch is manufactured with a unique 5 satellite positioning system that uses circularly polarized antenna technology to track your every move.
Amazfit GTS is considerably better than other wristwatches for detecting health situations. The unique health information algorithm will provide 100% accurate data. You can even customize your health evaluation here also.
A user will find more pleasure using this watch for its long battery life. It will stay up to 15 days for regular usage, extending up to 45 days on the battery-saving mode on a single charge.
Excellent display offering clear view
Good construction materials for durability
Have 120+ sports modes
Built with Smart Ai assistant to make your life easy
Optimal battery life for5 days
Unnoticeable alarm sound
GPS is unsuitable for capturing distance walk
You should grab this watch for its awesome battery life. Apart from this, one can enjoy swims, accurate health, and sport monitoring features here.
2. Garmin Fenix 7X Sapphire Solar – Battery Life Up to 37 Days
If you are looking for an inexpensive watch with a long-lasting battery and useful features, the Garmin Fenix 7X Sapphire Solar is for you.
Lens: Power Glass
Case: Fiber-reinforced polymer with metal rear cover
Strap: Silicone
Physical Size: 2.01 × 2.01 × 0.59 inches
Display Size: 35.56mm
Display Type: Sunlight visible
Display Resolution: 280 × 280 pixels
Weight: 96 gram
Battery Life: Up to 28 days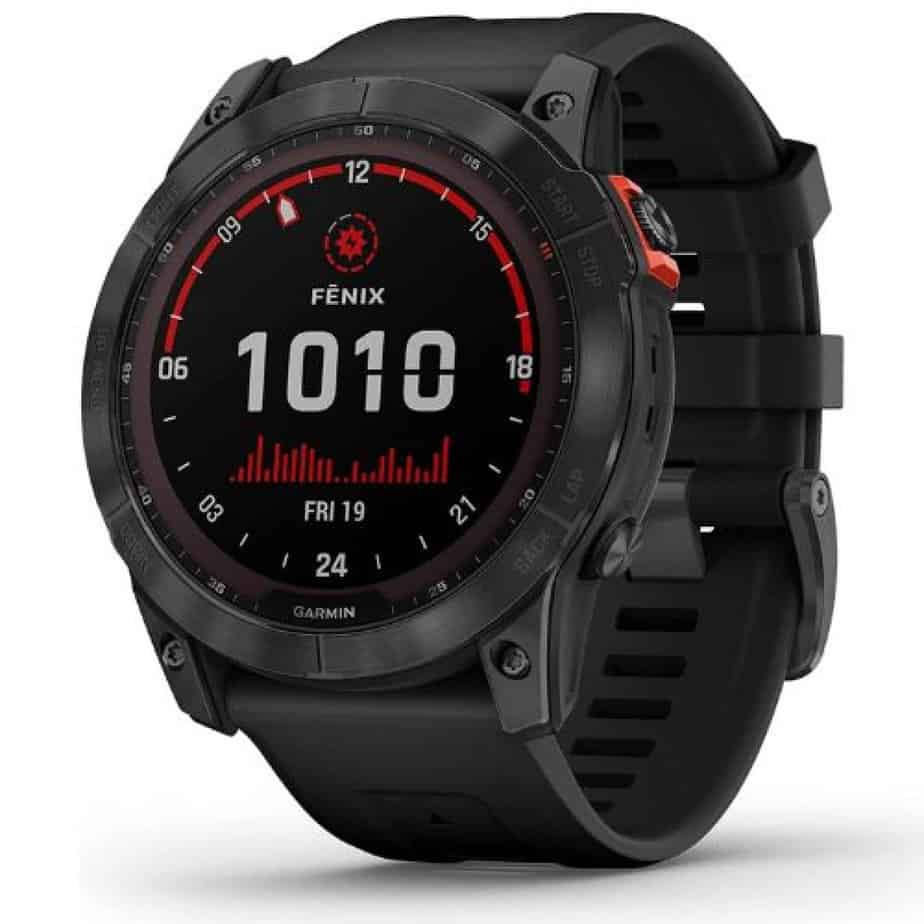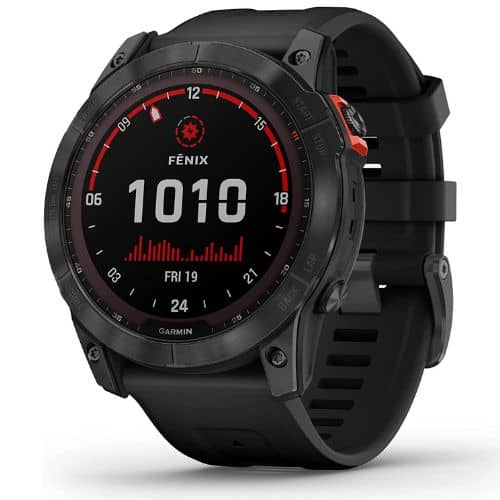 Charge once and enjoy the service for 37 days with smartwatch mode turned on. Without this mode, it will last 28 days with less work. With 24/7 GPS tracking and satellite systems, it will work for 77 hours.
Pros
Solid build
Can download fitness and applications
Outstanding data management
Cons
Why Should You Buy It?
The reason to buy this timepiece is that you are getting a longer battery watch at an affordable price.
Read Next: Top Garmin watches for cycling
3. TicWatch Pro 3 – Battery Life Up to 45 days
TicWatch Pro 3 smartwatch is our favorite for giving outstanding battery life performance. It promised to perform faster and higher and at the same time save battery life.
The operating system has been made more straightforward for the users. You need to touch the display or press the button to activate the smart mode.
Specifications
Lens: Corning Gorilla Glass 3
Case: Stainless
Strap: Silicone
Physical Size: 4.69 × 4.69 × 3.15 inches
Display Size: 35mm
Display Type: Retina
Display Resolution: 454 × 454 pixels
Weight: 41 grams
Battery Life: Up to 45 days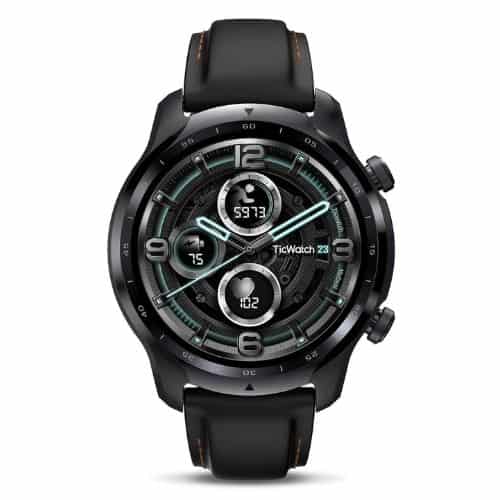 Enhanced Battery Life
It doesn't only show the time but also displays the battery level. The battery can keep your watch alive for 3 to 45 days, depending on how you are using it. The auto power-saving mode automatically turns on when the battery percentage is detected under 5%.
Full Functional Utilization
It's rare to find smartwatches that let you use the special google services and apps like Google Play, Google Maps, Google Assistance, and Google Fit. Lucky us, TicWatch Pro 3 GPS allows us to use all these amazing Google Play applications and Services.
The more exciting features are managing tasks, tracking workouts, controlling music, setting reminders, getting notifications, etc. It even lets you customize the watch face.
Uninterrupted Tracking
When a smart wearable can keep updating the health tracking information without interruptions, the chances are high to get accurate data. Its basic mode has been enhanced to ensure your heart rate and sleep are monitored well. Also, it informs you about your approximate distance walked.
Excellent Workout Modes
Working out makes our health conditions even better. However, we fail to do our daily workouts without reminders and track how hard we worked out.
The great news is this timepiece will allow you to do 100+ workouts you didn't know existed. It will track all your exercises and remind you to do them daily. You can get new and more workout modes by updating the sports mode controlling apps in Google Play.
Dust and Waterproof
Now you can swim wearing it. It has both dust and water resistance. The watch will have no damage at all when used under shallow waters.
Pros
4100+ Dual System Platform ensures super performance
Tons of valuable features
Tough exterior
Dust and water resistance
Dual display
Cons
The GPS signal loading takes a bit of time
Why Should You Buy It?
The watch looks and feels premium while not being an expensive product. The updated casing made using nylon and stainless steel makes it a durable choice.
4. Amazfit GTR 3 – Battery Life Up To 21 Days
The Amazfit GTR 3 is a super-detailed smartwatch featuring several feature to please you. It has a large screen which is extremely responsive to touch. Its wide range of features are available in different meus.
This timer comes with perfect size, lightweight and equipped with 2 crowns for accessing the menus or functions.
Specification
Screen Size: 1.39"
Special Feature: Wireless, Travel
Compatible Devices: Smartphone
Operating System: iOS, Android
Battery Life: 21 Days (Smartwatch Mode)
Battery Type: Lithium Polymer
Display Technology: AMOLED
Device Interface-Primary: Touchscreen
Wireless Communication Technology: Bluetooth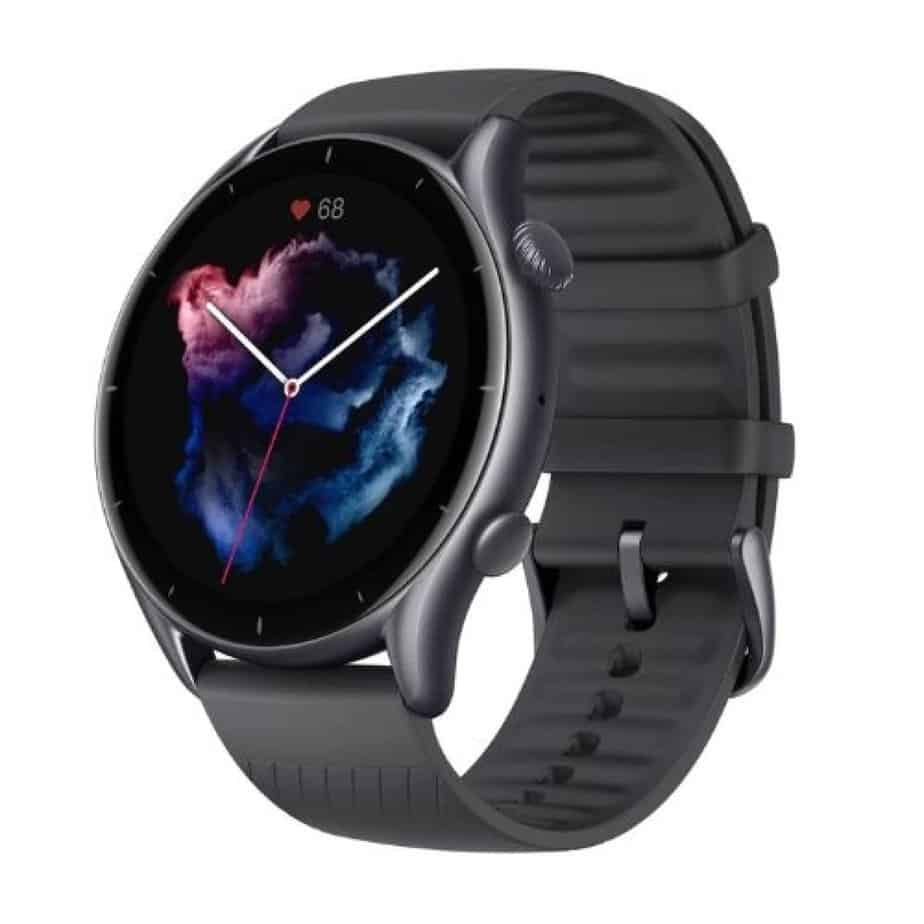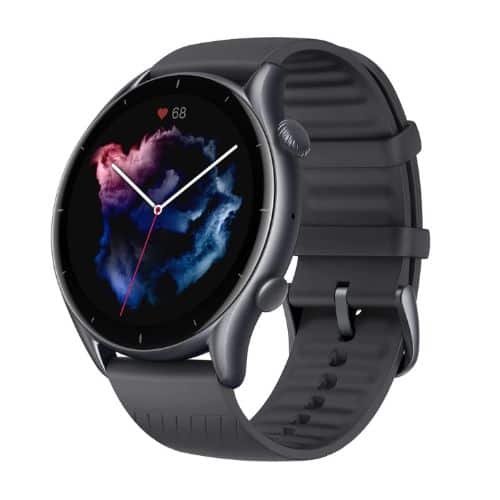 Ultra-long Battery Life
This timer comes with incredible battery life which will last long for several days. The functions are assembled in the slim and lightweight body. The watch maintains a refined elegance in its lightweight and classic looking design.
You will get 21 days of battery service in smartwatch mode from it per single charge. Such battery life is beneficial when you are in a campsite.
Also, it reduces the requirement of putting the smartwatch into charging frequently. Furthermore, it takes only 2 hours to get fully charged from 0% to 100%.
Monitor Different Health Data
Although it is not a health device, but its captured health and fitness data is pretty accurate and precise. You might be wondering what health data it can measure? Let's read the next sections.
It lets you become more active in your daily life by capturing heart rate for 24X7. Even, it monitors your heart rate when swimming because it comes with 5 ATM water resistant feature. As a result, it becomes a suitable choice among athletes and professional swimmers.
Also, it gives you blood saturation, sleep time, daytime naps, breathing quality, etc. In addition, tracking stress level is another important feature, helping you minimize stress level to give you a sound sleep.
Vibrant Watch Faces
Amazingly, it features more than 100 different watch faces. Interestingly, all these watch faces are compatible with the always-on display. Even, it allows you to upload your own photo to set in the watch face. Visual clarity of its large 1.39" screen is crisp and clear.
Moreover, the AMOLED display is easy to read regardless of the light conditions.
Pros
Built-in Alexa and Voice assistant for easy controlling of the device
Monitors different health metrics 24X7
Constructed with premium-quality materials, ensuring durability
Integrated with powerful battery that lasts 21 days in smartwatch mode
Features a barometer altimeter to help keep an eye on the altitude and air pressure
Cons
Less storage option
Little bit big dial
Why Should You Buy It?
Undoubtedly, this smartwatch feels premium with many important features. GPS is accurate and Zepp app helps you make and answer phone calls. You can reply messages too with the help of the app. Besides, its built-in microphone and speaker performs perfectly. Overall, it is worth the price.
5. Apple Watch Series 8 – Battery Life Up to 36 Hours
Although there are plenty of great smartwatches on the market, Apple's watches are the best there are for many people, especially those who also use iPhones. The Series 8 is the latest and greatest standard Apple Watch, for sure, but the upgrades are minimal on the previous model.
Specifications
OS: watchOS 9.0
Processor: Dual Core S8 processor
Style: GPS + Cellular
Material: Glass front, ceramic/sapphire crystal back, stainless steel frame
Display Type: Retina OLED
Display Size: 41mm/45 mm
Sound: Loudspeaker with no headphone jack
Battery: Li-Ion 308 mAh. Up to 36 hours in Low Power Mode
Water Resistance: WR50 rating up to a depth of 50 meters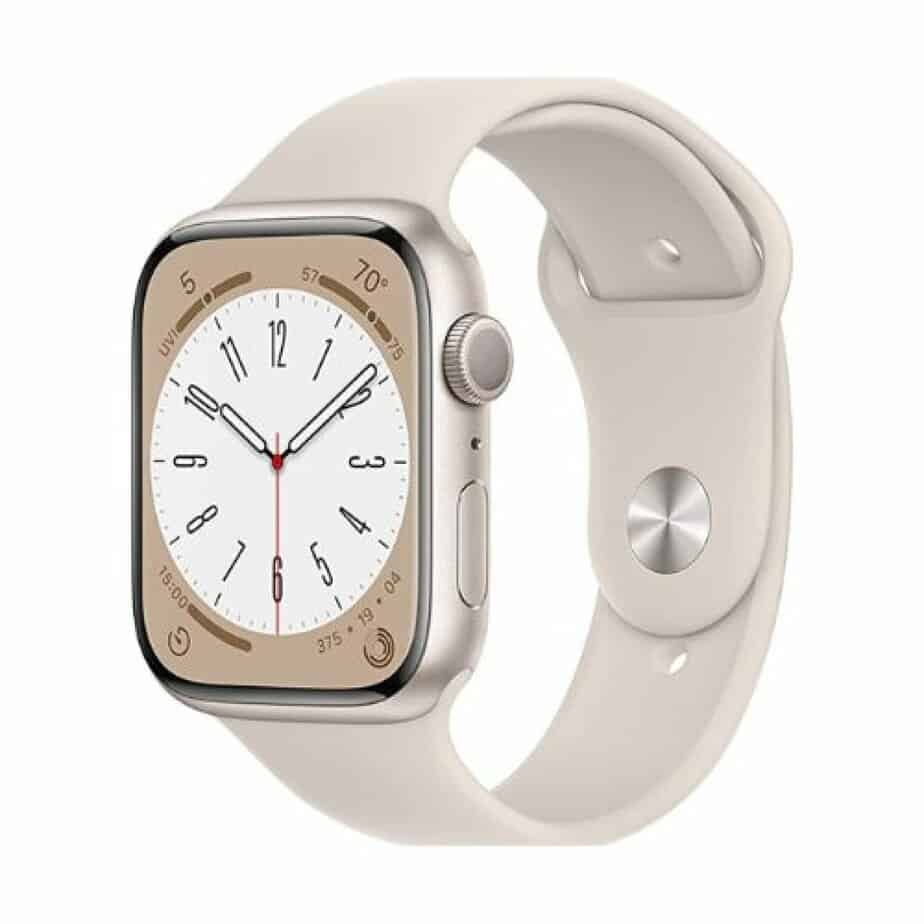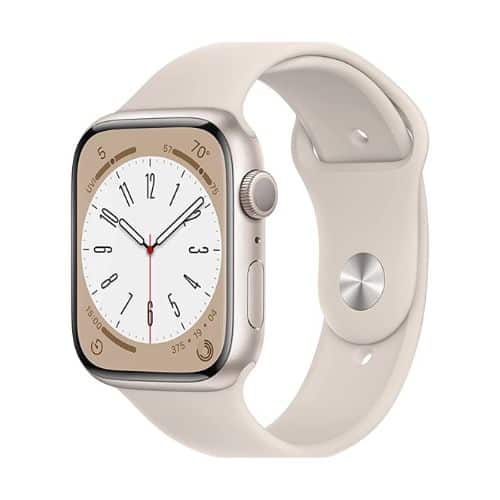 Design and Built
The display on the Apple Watch 8 seems to flow over the device's sides, as well as the device's other rounded corners and smooth finish make it a pleasure to look at while on the wrist. It can't easily break because of its thick front crystal, strong architecture, and flat foundation.
Amazing Workout Companion
The updated Workout app for Apple Watch has you equipped no matter what kind of exercise you're into, whether it squats, spins, strides, or anything else.
Moreover, new Workout Views will provide you with access to additional in-depth information, such as your Heart Rate Zones & your own personal pauses, at a glimpse to keep you motivated and in the zone.
Adjust your training's work and rest periods as needed. Get notifications for your speed, heart rate, rhythm, and strength. It takes the form you give it. Ultimately, it molds you.
Battery Life
An Apple Watch will be enjoyable to use since there are so many functions to learn and experiment with. An average charge may keep you going for up to 18 hours, and in low power mode, that number can increase to 36.
Pros
Low-power mode extends battery life significantly
Capable of making and receiving phone calls and sending and receiving text messages
Download any application you want from the App Store
Captivating design
Health and fitness trackers
Cons
Battery depletes quickly
Limited Temperature sensor
6. Amazfit GTS 2 Mini – Battery Life Up to 14 days
The Amazfit GTS 2 Mini is the smaller version of GTS 2 and GTS 2e in the GTS series with less well-equipped equipment. The process has been slimmed down.
However, it's still counted as a great item for beginners who want a traditional smartwatch with an all-inclusive fitness tracker. It can very well track and show you key metrics, a built-in GPS, and a heart-rate monitor. While having a traditional appearance, it can still look pretty smart on your wrist.
Specifications
Lens: Tempered glass
Case: Silicone
Strap: Silicone
Physical Size: 1.59 × 1.4 × 0.41 inches
Display Size: 39mm
Display Type: AMOLED
Display Resolution: 354 × 306 pixels
Weight: 19.5 grams
Battery Life: Up to 14 days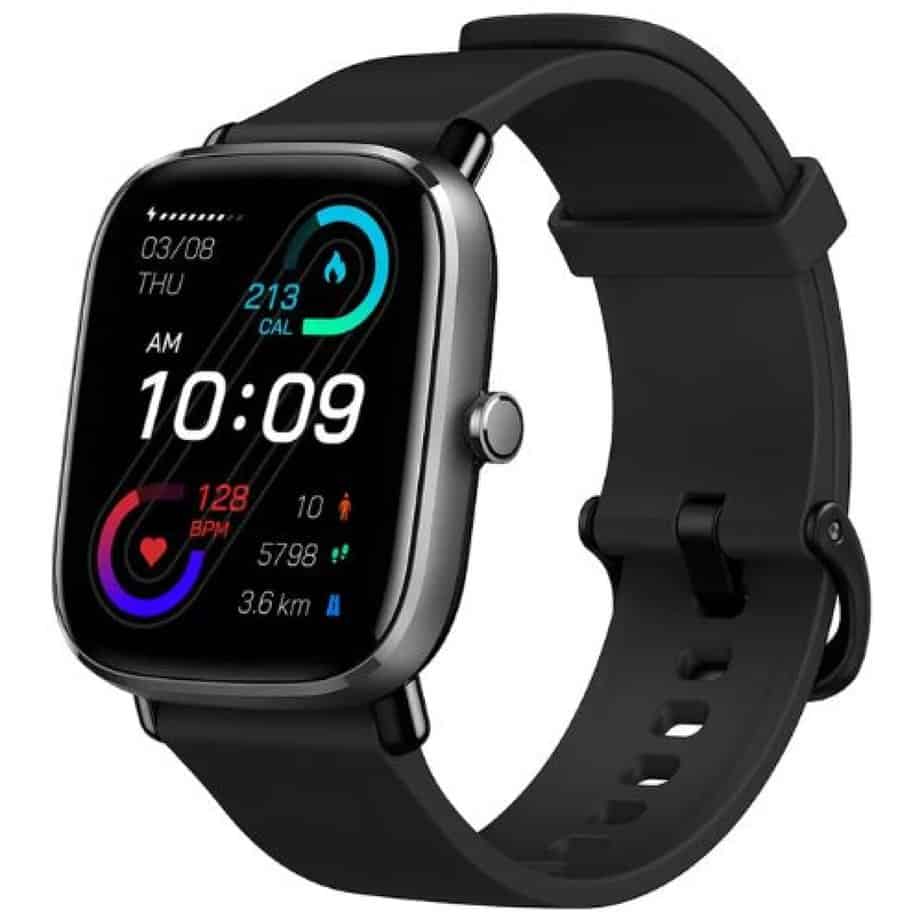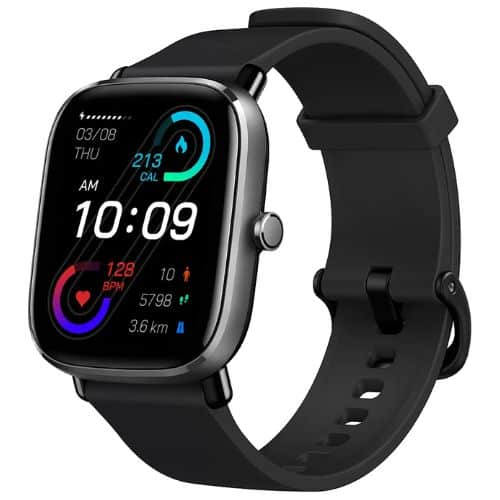 Exclusive Battery
It is claimed to work from seven to fourteen days depending on how many features you use, with the powerful 220 mAh battery. However, the always-on display and health tracking system working in the background serve for a day or two.
Always-on Screen
It can show you complete data on your health every day by tracking your blood saturation, sleep, stress level, monitoring heart rate, and more. It also continues to count how many steps you have walked and how many calories you have burnt while informing you of how many kilometers you have walked. All these important notifications are shown on display and are upgraded every second.
Comfortable Design
The outer look of this timepiece might not look good enough like the GTS 2 and 2e; its design has another purpose. The motive is to provide comfort to its users. For this reason, it's made slim fit. People who have dainty wrists or are skinnier will feel comfortable wearing them.
Premium Looking Screen
The 2.5D glass over the display adds an additional dash of premium sensation to it. The borderless outline increases the capacity of readability. The AMOLED screen lets you enjoy the watch view by providing you with incredible clarity.
Tracks Well
The tracking features of this wristwatch are impressive. It doesn't lack the essential health tracking features, making it a value for money item.
The health assessment built-in system and PAI make sure to present you with everyday health data, including heart-rate monitoring, sleep, and stress level measuring, tracking your blood saturation level, and burning calories.
Pros
Delicate design and safe to use
High-grade, bright screen
24/7 solid health tracking
Useful Pomodoro tracker
Convenient to wear
Cons
Lacks auto-fitness tracking
Why Should You Buy It?
Beginner smartwatch users should try it since it looks stylish, plus the interface is straightforward to understand and operate. The comfy wearable will never stop providing you with important notifications and information if given a charge every day.
Related Post: Best Amazfit Smartwatches Review
7. Amazfit Bip S – Battery Life Up to 40 days
The Amazfit Bip S can outfox several smartwatches compared to the battery life. We are not saying it's the best overall, but of course, it's the longest-running battery owner.
The Amazfit BIP S third variant can give out basic smartwatch tasks. There are more than just fundamental attributes. Let's find out its standout features.
Specifications
Lens: Corning Gorilla Glass v3
Case: High-grade plastic
Strap: Silicone
Physical Size: 1.65 × 1.38 × 0.44 inches
Display Size: 32mm
Display Type: TFT
Display Resolution: 176 × 176
Weight: 31 grams
Battery Life: Up to 40 days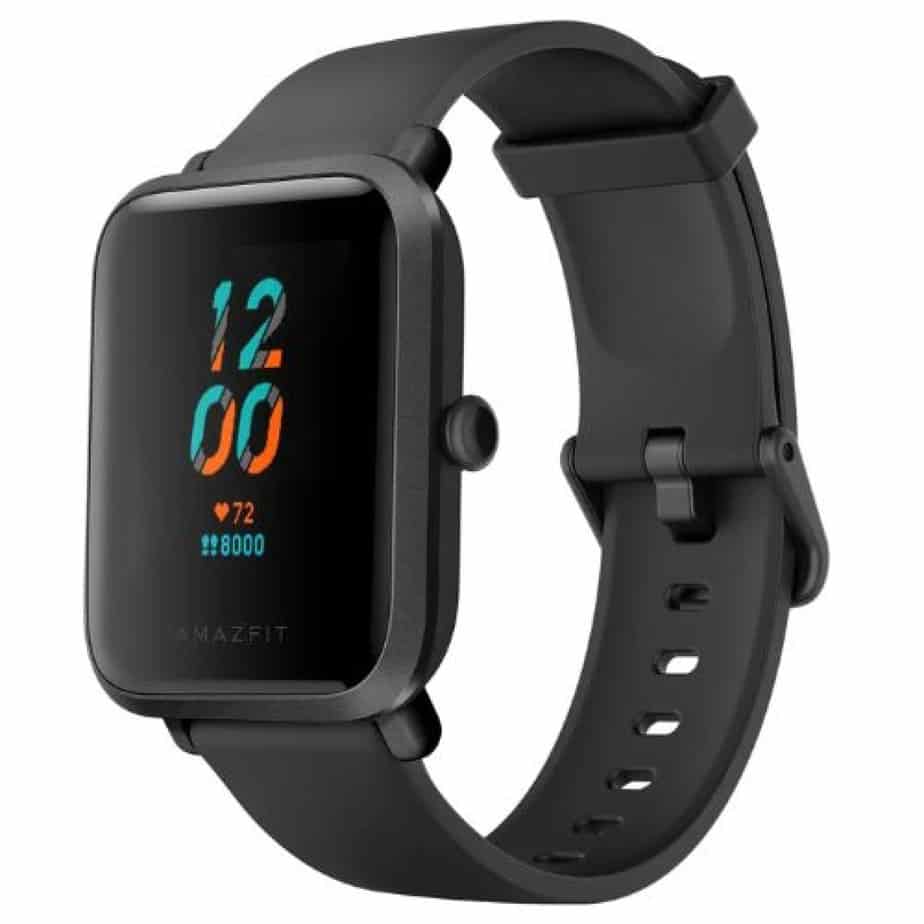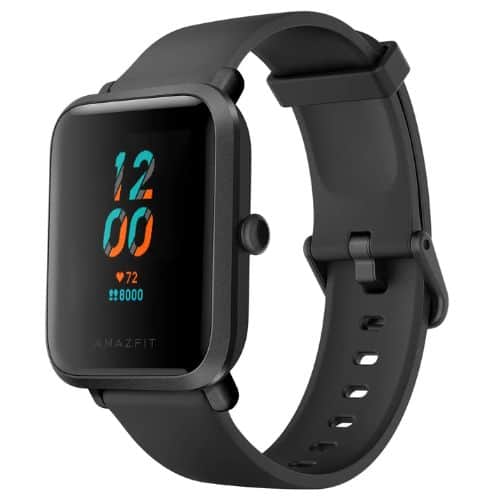 Extended Battery Life
While offering you mediocre smart attributes and spotty connectivity, the watch goes long to deliver you well. This wristwatch can hit a 40 days lengthy battery lifespan.
Better Outline
The best part of this timepiece is the carbon copy of the Bip original. It appears to be a plastic watch with a lighter frame and thicker bezel. It may not seem the most eye-catchy, but the outline is made especially to give more comfort. Besides, it looks practical and premium.
Improved Health Tracking
Believe it or not, Amazfit BIP S has taken over Amazfit BIP with a better fitness tracking system. Better metrics and more workouts are added. Including swimming, weights, and yoga, it has the capacity to record 10 various activities.
Powerful Display
Why are we calling its display powerful? The answer is it can consume less power but give you clearer views. The 1.28″ transflective display gives superb outdoor visibility. No matter how bright the sunlight gets, it will always make the display look clearer to you.
Valuable Softwares
It comes with different apps allowing you to enjoy the services smoothly. The Amazfit Android app has all the necessary software you need.
Pros
Lightweight for convenient wearing
Can withstand 5ATM water
Pretty accurate GPS
Superb battery perform
Greatness in details
Cons
Notification replies are not quick enough.
Why Should You Buy It?
You can get it for its overall good performance. It does a great job of getting most things correct at an affordable price range. For a greater battery life experience, get your hands on it.
Read Next: A complete review of the Amazfit T-Rex smartwatch
8. SAMSUNG Galaxy Watch 3 – Battery Life Up to one day
The SAMSUNG Galaxy Watch 3 looks satisfying, and it gives satisfactory performance. It doesn't have much difference compared to many other smart wearables out there, yet it has excellent features delivering their jobs well to win a place in your heart.
Specifications
Lens: Corning Gorilla Glass DX
Case: Stainless Steel
Strap: Nylon
Physical Size: 4.57 × 4.21 × 4.21 inches
Display Size: 45mm
Display Type: Super AMOLED
Display Resolution: 360 × 360
Weight: 48.2 grams
Battery Life: Up to one day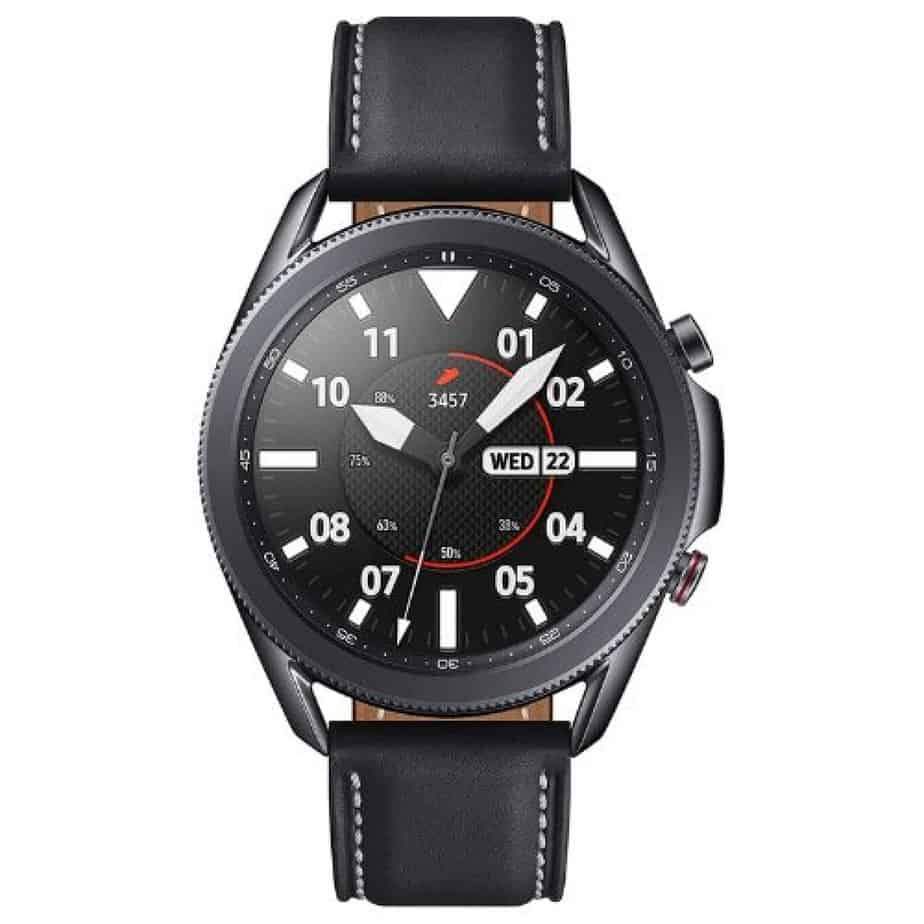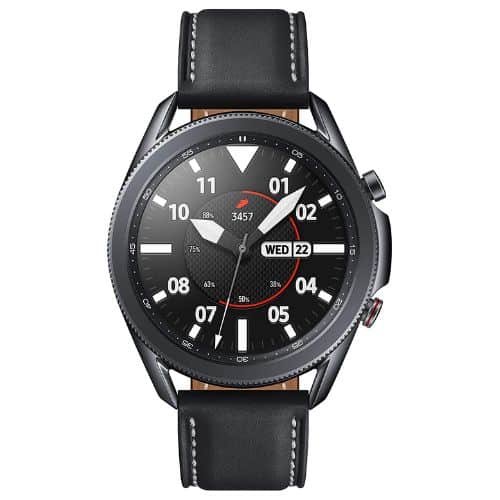 Outstanding Battery Performance
The lifespan of its battery is quite surprising. At such an affordable price, it provides you with a ton of features while giving you the chance to enjoy them the whole day by changing once you can utilize its functions all day long.
Bigger Display
This specific watch is slightly lighter and smaller than the galaxy timepiece. But you shouldn't think its display is small. It will look pretty big for a person with an average size wrist. The 45mm display will appear on your wrist with perfection while improving your reading capacity.
High Performance
Thanks to Samsung, they made scrolling and swiping easier with the fast interface. The speed is increased by adding an additional 1 GB of RAM. It's smooth to operate with a large space worth 8 GB where you can directly save music. Samsung apps are loaded more quicker. You can download and use third-party apps if necessary, but the watch will load them a bit slower.
Upgraded Health Tracker
Samsung has made this timepiece more lifestyle-oriented. The upgraded health tracker can record 40 sports profiles, from swimming to running to exercises for better cardio condition. You need to track 33 activities manually, and the rest of the 7 will be tracked automatically.
Manual tracking shows more accurate data than auto-tracking. But it doesn't make it unworthy because the primary fitness tracking, meaning heart rate and sleep monitoring, are measured pretty well.
Incredible Connectivity
It's rare to find a smartwatch that allows you to stream music, make calls or send texts when your phone is not with you. Fortunately, Samsung's LTE connectivity made it possible.
You need to pair the watch with your Samsung Galaxy handset, and through the wireless connection, you can take the mentioned services in the absence of your phone.
Pros
Slimmer design for comfort in wearing
Well ECG readings
User-friendly interface
Swift performs
The rotating bezel is easy to control
Cons
Software selection is dire
Why Should You Buy It?
If you are looking for a better smartwatch experience in Samsung Galaxy smartwatches, this is the one you can pick. The top-notch spec, along with the dazzling outline, will make you fall for it even more. The premium quality specs allow it to give a smoother performance.
Read Next: Samsung Galaxy Watch 3 vs Apple Watch 6
9. Garmin Fenix 6X Pro – Battery Life Up to 21 Days
The Garmin Fenix 6X Pro is another popular watch among smartwatch users for providing a long battery service. It is also a best-value multisport GPS watch.
Specifications
Lens: Corning Gorilla Glass DX
Case: Fiber-reinforced polymer
Strap: Silicone
Physical Size: 2.01 × 2.01 × 0.59 inches
Display Size: 35.56mm
Display Type: Sunlight-visible
Display Resolution: 280 × 280 pixels
Weight: 93 grams
Battery Life: Up to 21 days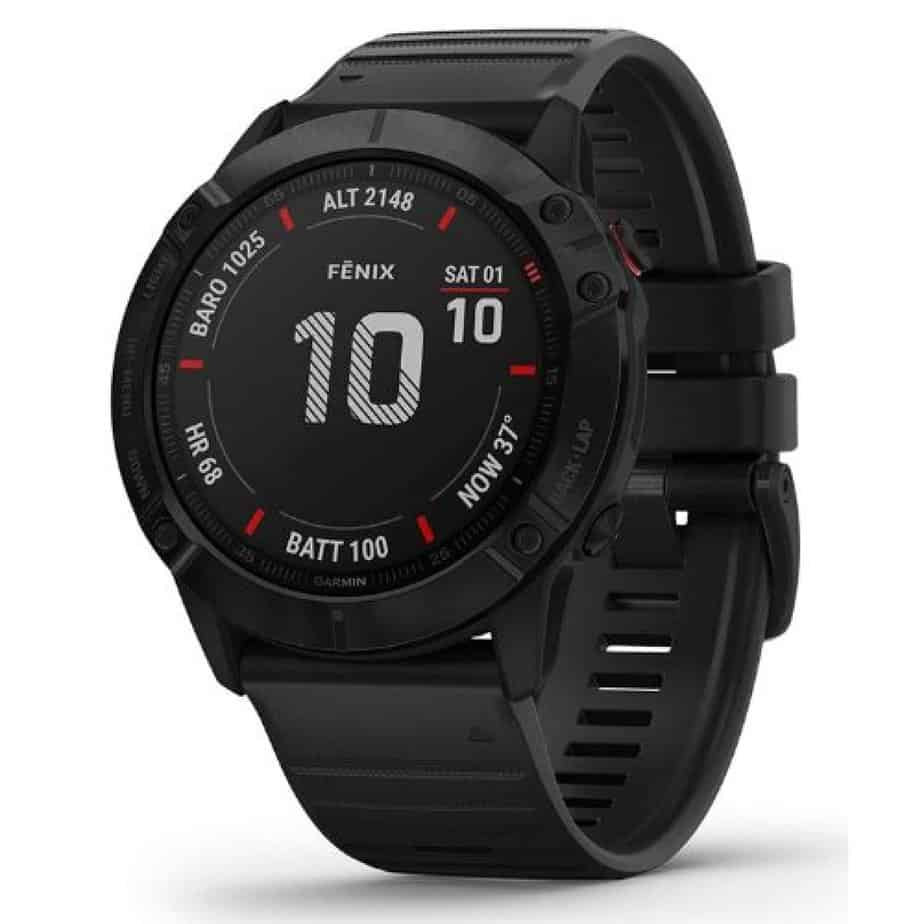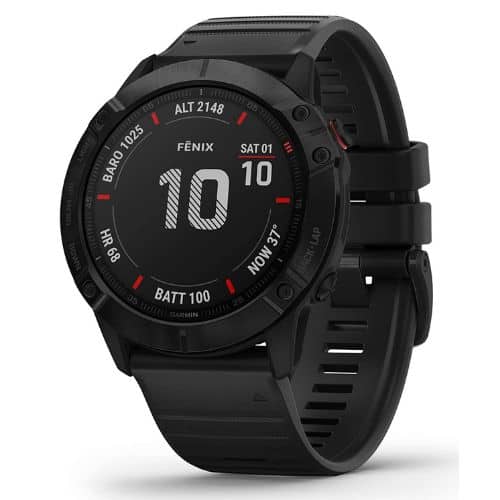 You have heard it right; it can run for 21 days if you don't use extra features. It's pretty impressive. However, when using some applications in the background like fitness tracking, heart monitoring, etc., it will not run for more than 2 to 3 days.
Pros
Top-class training analysis
Supports Spotify
Outstanding GPS tracking
Cons
Why Should You Buy It?
If you prefer nothing else but battery life and workout tracking, you will not find an alternative to this wristwatch.
Read Next: A Complete Review Of Garmin Vivomove Luxe
10. Garmin Vivoactive 3 – Battery Life Up to 7 Days
The trendy Garmin Vivoactive 3 is mainly a multi-sport wristwatch. It's a fitness wearable one can wear the whole day to get notified about everything related to exercise and health conditions. It can manage all your day-to-day tasks like contactless payment, stress measurements, and more.
Although it lacks some special attributes such as calculating distance, cadence, and pace, it's worth buying basic smartwatch functionality.
Specifications
Lens: Tempered glass
Case: Silicone
Strap: Silicone
Physical Size: 1.7 × 1.7 × 0.46 inches
Display Size: 30mm
Display Type: Transflective LCD
Display Resolution: 240 × 240 pixels
Weight: 39 grams
Battery Life: Up to 7 days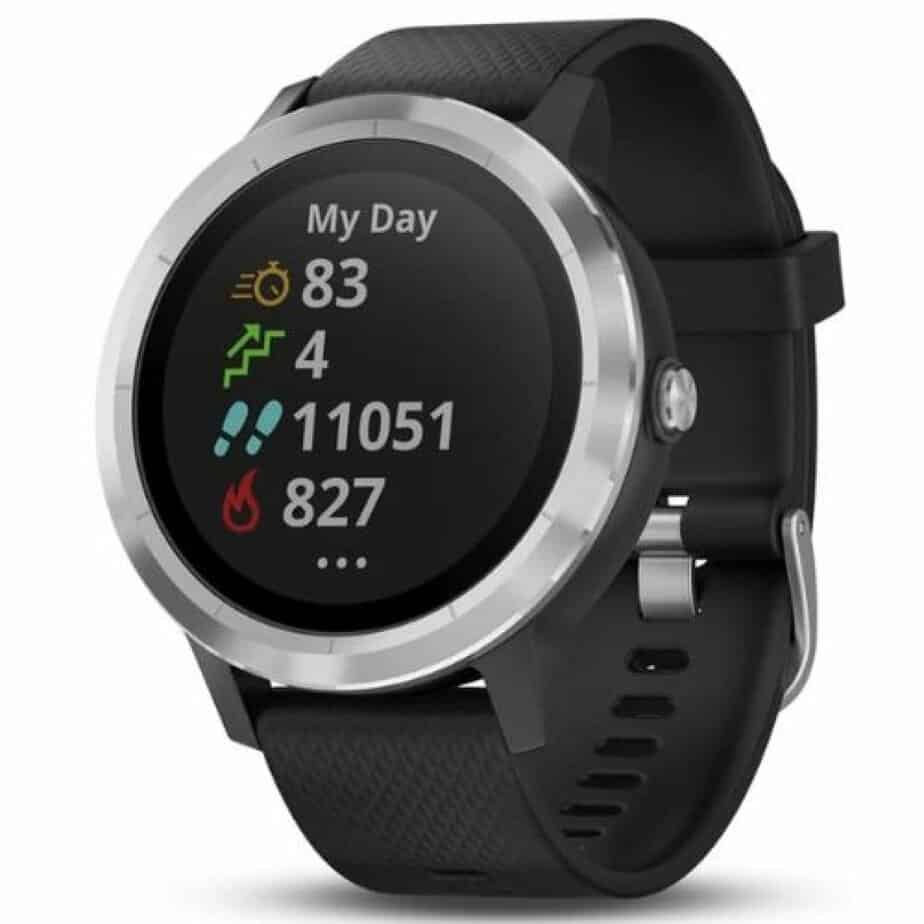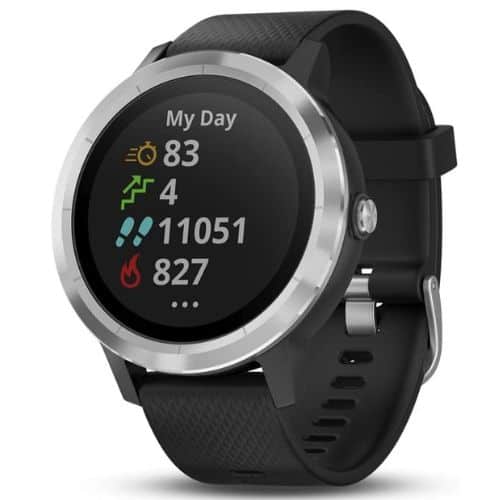 Compelling Battery
It comes with a USB charger you can snap into its back securely. When all the necessary applications are working behind the clock, it can continue delivering for 13 hours. But when the smart mode is on with the GPS running, it can last up to 7 days.
Great Accuracy
Showing accurate data is a must for a smartwatch to prove its worth. Purchasing a timepiece that promised to inform you about your health conditions and not delivering the correct data is really upsetting. We know you don't want to get your hands on something like that.
This is why we are here with this outstanding piece. We were surprised at how accurate this wristwatch is. It may not give 100% correct data, but the accuracy ratio is over 90 percent.
Different Sport Modes
Staying active and improving your health with it will become easier. Over 15 preloaded sports are waiting for you. It will log up to any sports you choose to perform. Just hit on the options you like, such as yoga, bike ride, golf course, swimming, etc.
It will track all the activity details with the GPS tracking system. It doesn't even require a phone connection, making it your perfect playmate.
Share & Compete System
It becomes more interesting when you have people to compete with. The more competitive you become, the more it's easy for you to bring betterment to your health. It will allow you to share the sports activities by syncing.
It will store the data and share it with people in its community. Join challenges and encourage yourself and others to make the health-improving journey more thriving.
Mighty Screen
Feel free to wear it and go for activities outside. Whether the weather is too shiny or rainy, its Chroma display will show you things perfectly. The durable Gorilla glass ensures no scratch appears on it. Moreover, it has a side swipe graphical interface to help you scroll quickly and navigate swiftly.
Pros
Subtle, round stylish appearance
Tracks a variety of activities well
Excellent heart-rate monitor
Good GPS
Comfortable wearable
Cons
Fails to choose the software that gets alerts
Why Should You Buy It?
It provides smart notifications pretty well. The sports tracking and GPS are almost accurate. It lets you experience the system of onboard payment.
Read Next: Garmin Venu vs Vivoactive 4 watch Review
11.

Fitbit Versa 3

– Battery Life Up to 6 days
One of the best smartwatches of Fitbit's is the Versa 3. The features are made more health-focused and premium. The primary purpose of the watch is to provide you with fitness information by tracking them. It does more by receiving your emails and calls.
Specifications
Lens: Corning Gorilla glass 3
Case: TPU
Strap: Plastic Fibers
Physical Size: 1.59 × 1.59 × 0.49 inches
Display Size: 40mm
Display Type: AMOLED
Display Resolution: 336 × 336 pixels
Weight: 40 grams
Battery Life: Up to 6 days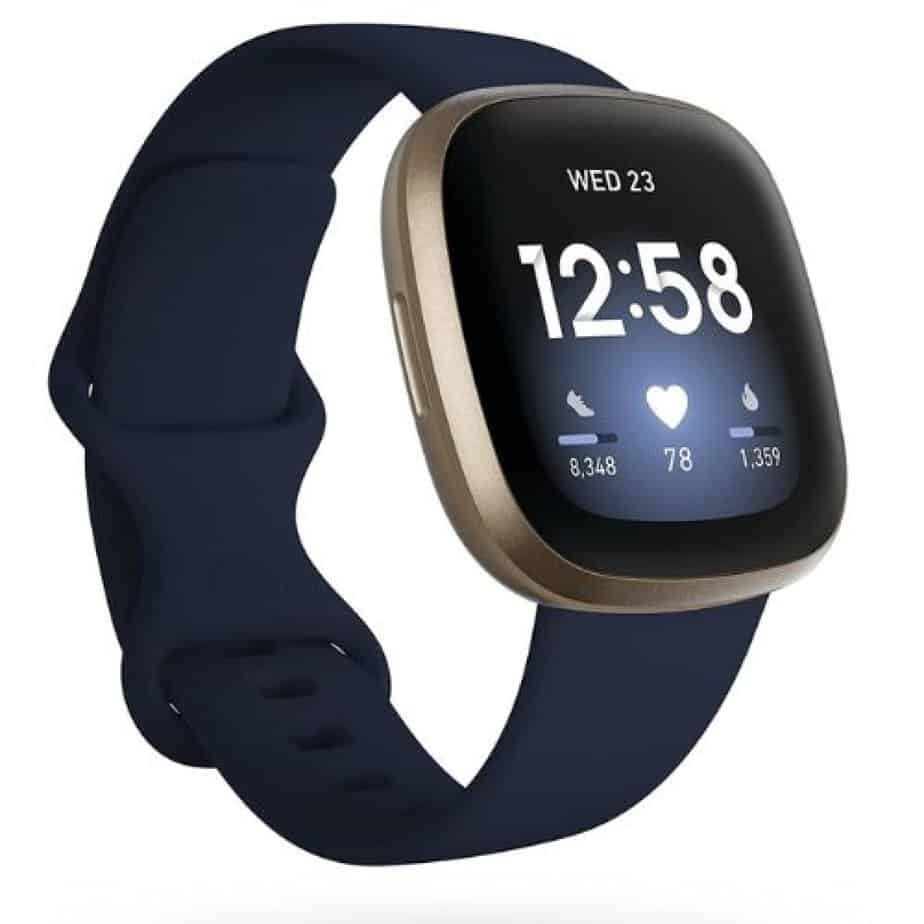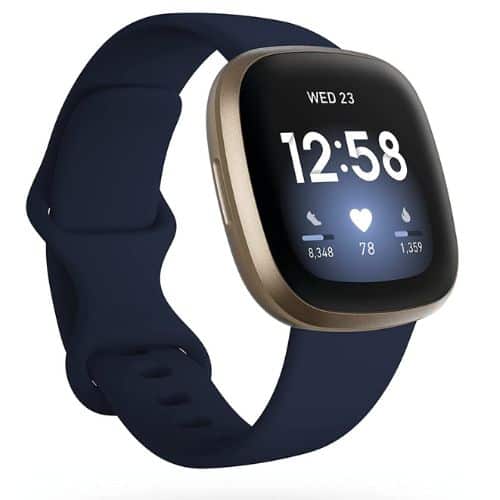 Enhanced All-around Design
The Versa 3 has a similar metal frame and square shape body to the Versa 2. However, the larger AMOLED screen and slimmer bezels make it a better pick. The crisp, bright display allows you to read the watch nicely. The screen is always on to update the quick time and fitness data.
Be more fashionable with it by downloading a ton of watch faces from the third-party app from the app store. Everything is satisfying except for one issue; it lags slightly when swiping and loading applications and displaying information.
Practical Training Tools
The Fitbit never compromises fitness tracking, measuring calories, heart rate, steps, and distance. It covered well all the essential basic training tools. It can track indoor-outdoor activities over 20 like swimming, running, etc. The auto-work detection system works pretty well for a few exercises. It can measure your effort level and display it using heart-rate data.
Additional Health Data
It's not just a fitness tracker but more than that. It monitors other health aspects such as SpO2, skin temperature, and breathing rate to create an overall broader health picture of yours. If you become the Fitbit premium subscriber, it will offer you advanced sleep analysis.
Increased Battery Activity
It's not the smartest watch on the market. However, it did defeat many wristwatches by winning the competition on battery activity. It can fire on all cylinders track workouts, sleep using GPS with the all-time on display, and still serve for straight 3 days.
Great Functions
With a good performance in providing significant fitness tracking, you can enjoy the necessary smart features like Alexa, Google Assistance, getting quick news, controlling a smart home, and setting reminders. Turn on the Bluetooth option to answer important email calls, store them, and play music whenever you like.
Pros
The battery can survive up to six days, depending on your usage
Always-on bright display
Onboard GPS
Advanced sleep monitoring
Onboard GPS
Cons
It depends heavily on smartphone applications.
Why Should You Buy It?
Pick this to enjoy a premium battery presentation. It's a happy and fantastic medium of fitness tracking and health features. It does deliver a lot from what it promises.
Read Next: Fitbit Sense Advanced Smartwatch Review
12. Honor MagicWatch 2 -Battery Life Up to 6 days
Honor MagicWatch 2 is no less than a popular smartwatch. It offers you all the primary training tools and a high-grade health tracker. What we liked about this timepiece is it looks classy yet works smart.
Specifications
Lens: Tempered glass
Case: TPU
Strap: Stainless steel
Physical Size: 4.88 × 4.8 × 3.5 inches
Display Size: 35mm
Display Type: OLED
Display Resolution: 454 × 454 pixels
Weight: 35 grams
Battery Life: Up to 14 days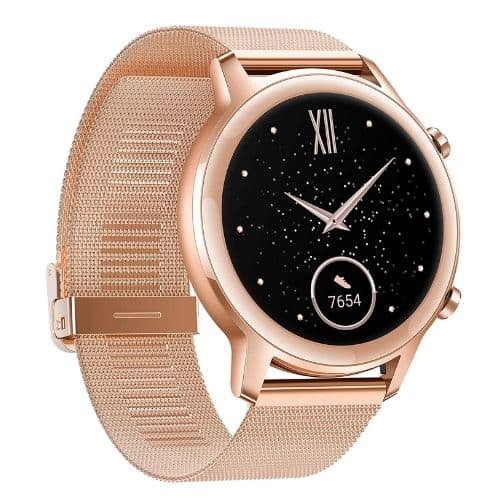 Enlarged Screen
It comes with a 1.20 large enough screen. Honor has increased not only the display size but also the resolution. The 390×390 pixels give you the experience of high-class resolution making the contents look more pretty and vivid.
The screen is bigger, yet it fits fine on the wrist. Such a large screen makes the information look rich and comprehensive. It also feels pleasant to wear.
Accurate Monitoring
This smart wearable can give you information regarding your health with accuracy. It's because of the high optical sensor made for the new generation. Plus, it consumes comparatively lower power to log up to fitness tracking than other smartwatches. It will record every little workout data and movement.
High-quality Battery
The Honor has used a high-quality battery to ensure you get the most out of your wristwatch. The battery is so powerful that it gives a different performance in various modes. The battery can survive 14 days on daily use mode and 20 days on basic watch mode. After it is charged full, the GPS can work for 30 hours.
Charming Appearance
The charming appearance is another fantastic feature you must count on to pick it. For wearing convenience, it comes with mesh links which add to your appeal.
The sleek round display containing a roman number and stones as other clock numbers increases its view's richness. The sparkles spread over the watch display provide premium vibes to it and your costume.
Fast Charging
The timepiece comes with a round charger which you need to connect to the back of the wristwatch face. It comparably charges faster than many smartwatches you can find in the market-leading products.
Pros
The battery gets charged faster
Provides different eye-catchy watch faces
The battery survives longer
Diverse health monitoring
Bigger screen with more comfort
Cons
Why Should You Buy It?
If you want a simpler-looking watch with all the fascinating features of a smartwatch, this is what you are looking for. Its two battery usage modes make it a better option for better battery life.
Things to Consider When Buying the Best Smartwatch for Battery Life?
When buying a smartwatch, you need to think like a smart person. You should search for a product that comes up to scratch: compatibility, looks, hardware, features, and more. For this reason, you have to do a little research and understand which product fulfills all the requirements before spending cash mindlessly on an item that might give up serving you in the long run.
However, fortunately, we made things easier for you by doing the heavy lifting by reviewing some market-leading smartwatches. This way, you are saved from doing boring research. The following factors were considered when we were researching the best smartwatches.
Brand
Products made by well-renowned brands will always provide you with the best service. Wise buyers stick to the popular brand smartwatches. It may seem like you have plenty of options to buy since there are various brands. Still, the chances are high that unpopular brand-made watches will put you in different problematic issues like display, connectivity problems, etc.
Hence, if you want your money to not go in vain, make sure to go for watches built well by famous brands.
Features
Before you are ready to buy a smartwatch, you should create a list and mention the features you are willing to have in your product. This will help you find your required watch soon since you know what you are looking for. These are some features you have to find in a smart wearable: heart, sleep, stress monitoring, cellular connectivity, applications compatibility, and water, and dust resistance.
Compatibility
It's a must to double-check if the smartwatch you have decided to purchase is consistent with your smartphone. Of course, you don't want to pick an item that cannot send you data about your daily activities into your handset. So, avoid buying an android smartwatch for your iPhone or an apple wearable for your android. They will not work together.
Design
Appearance is subjective; it's you who decides whether the smartwatch will look square-shaped or round. You need to focus more on how the display looks when working. Pick the one that goes perfect with any outfit wear and the product with various watch faces to download and apply.
Battery Life
Smartwatches with longer battery lives are everyone's first choice. It's not a watch displaying time only. Rather it shows numerous valuable things regarding our health and tasks. With so many features working together in the background, your battery can get drained sooner.
Fortunately, we have selected for you the wristwatches best for longer battery lives. These will keep serving their purposes in the long term and for an extended period like two days straight if given full charge.
Budget
Fix your budget before looking in the markets. A fixed budget can help you not only in finding your preferred product but also will stop you from wasting extra money. There are many costlier watches with additional features you might not need. We suggest not to spend extra on them. You should only purchase the item fulfilling your needs within your budget.
What are the Types of Battery Life Smartwatches?
The battery life smartwatch has 3 basic forms. We have explained each of the forms below. Let's read it out for a better understanding of smartwatches.
Fitness Tracker
The most functionality in a smartwatch is regarding fitness tracking. These, of course, show the time and date, but their primary motive is to give you important data about your health in order to keep you healthy. These smartwatches have smart reminders that help you do daily tasks that improve your health conditions.
Hybrid Smartwatch
The classic analog-style wristwatch with a turn is called a hybrid smartwatch. They lack screens, but with the help of Bluetooth, they can connect with your handset. Such a watch can notify you about things by vibrating or using an alarm.
They contain the most fantastic features like the smartwatch-like heart rate monitoring, showing how many steps you have walked, and more. You cannot change the watch faces, but that's not a problem if you get a pretty-looking timepiece.
Smartwatch
Smartwatches are high-tech watches with many powerful tools in it for various applications. While it keeps all your health tracking right, it also lets you listen to music, show maps through GPS, lets you attend to calls and texts, and offers you different sports modes.
What are the benefits of the best smartwatch for battery life?
Experts recommend smartwatches with longer battery life. But why should you consider the life of a smartwatch battery? It's because it can benefit you in a variety of ways. Let's find out what benefits you can evaluate from the best smartwatch for battery life.
Freedom to Use More
Since smart wearables have a lot of different features in them, we like to use most of them. It's a kind of human physiology. People like to utilize things at their level best. They like to keep the health tracker turned on all day for accurate data collection, while they like to get notified about things through the smartwatch.
With all these services provided, the timepiece needs a powerful battery inside it, giving it the ultimate power to continue working. Luckily, we found a top smartwatch popular for having long-living batteries.
These watches will allow you to use as many applications and features as you like while ensuring they will not drain easily. It gives you the complete freedom to use more of the features.
Serves More
If your smartwatch is capable enough to serve you at least for a day or two straight, know that the battery quality is excellent. High-grade batteries mean they will not get ruined sooner. So, you are out of danger of changing your timepiece battery early.
Less Hassle
Imagine you've gone somewhere for a one or two-day tour and forgot to bring the charger with you. If your smartwatch has a strong battery, you don't have to worry about such a situation. After getting a full charge, it will easily work for one or two days. It means you are free of hassle, like putting it in charge often.
Are Smartwatch Batteries Weak?
Smartwatches come with a variety of valuable features. It lets us operate numerous features, plus helps us keep our health on track. Since it can do pretty incredible things and is quite expensive, people expect its batteries to be strong enough to provide the service for at least or more. However, having such expectations is funny. The truth is smart batteries can serve from one to two days straight if being charged fully.
It's impossible to find a watch with many features while having such a long-life battery. Even the most expensive smartphone will fail to fulfill this kind of hope. Because of using several features every day, you and I make the batteries drain faster. It doesn't mean the smart batteries are weak; if fewer features are used, they can keep the watch on even over three days.
A smartwatch does a lot for you every day by notifying you about your mails and other tasks, tracking your heart rate and blood-oxygen rate, monitoring your sleep and stress levels, and so on. They cannot continue working for more than one or two days by taking care of such heavy-duty tasks.
So, you would be wasting your time and energy if you keep looking for a smartwatch capable of serving three days. Whether you buy a more expensive or less costly smartwatch, the more features you use, the faster the batteries drain.
Frequently Asked Questions (FAQs)
How long should a smartwatch battery last?
A smartwatch battery usually lasts no longer than one or two days. Some powerful batteries can make the wristwatch work for at most 3 days without interruptions.
Can smartwatch batteries be replaced?
Smartwatch batteries are replaced with new ones when the existing battery fails to work longer. Usually, your watch will show a notification on your screen mentioning the poor battery condition. That is the best time to throw away the old one and install a new one.
How do I extend the battery life on my smartwatch?
It's possible to extend the battery life of your smartwatch. You need to do a few things mentioned below. These things you can try to help your battery get longer life.
When you are not using the watch display, turn it off
Lower the level of brightness when using at home
Try out another watch face
Turn the unnecessary notifications off
Uninstall unused software
Turn on battery saving mode when not using it
Should I charge my smartwatch every night?
You can charge a smartwatch every night but make sure to put it in charge before you are asleep. Charge it until the 100% hits. If the watch is still kept in charge after getting fully charged, it will make the battery unstable resulting in faster battery aging.
Closing Remarks
We value your money and expectations, and for this reason, we searched for the best smartwatch for battery life. We have reviewed the top-rated timepieces, so remove any worries, and pick one from the suggestions above today.
As an Amazon Associate, I earn from qualifying purchases.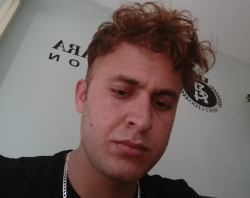 Latest posts by Nick Rolloson
(see all)