Tinwoo Smartwatch Review । A Stylish Wearable on Budget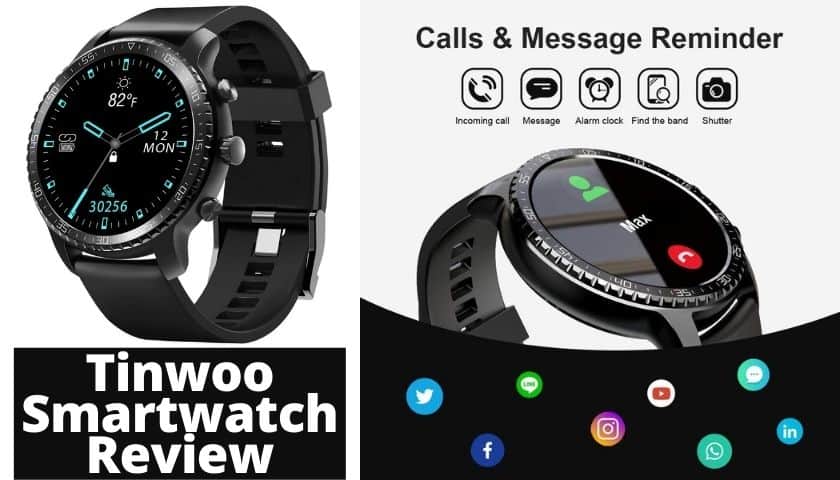 As an Amazon Associate, I earn from qualifying purchases.
If you only focus on a stylish and modern lifestyle, then you need a fashionable watch too. Your search ends here, Tinwoo comes with the latest smartwatch to improve your style of living. The hidden potential technologies in the watch will make your life ever-evolving.
Tinwoo smartwatch is one of the best smart devices in the market. But why should you buy it? That's why read the Tinwoo smartwatch review to get the reasons for buying it. We have pointed out the exciting features and benefits of this watch.
Tinwoo SmartWatch Review
Specifications
Model: T20W
Dimensions: 46 x 46 x 12.4mm
Weight: 62g
Screen: 1.3 inch
Resolution: 240 x 240 pixels
Waterproof: IP68
Battery: Li-polymer 300mAh
Bluetooth: BLE 4.2
Tinwoo smartwatch is a great wearable addition to men and women. The elegant design and look will smoothly match any outfit. There are many color schemes available to choose from. Talking about the price, it is adequate what you get. You will get all the essential features and much more. The ample features and functions are truly worthy of your every buck.
1. Design
Everyone desires a seamless design in their watches. Tinwoo smartwatch contains a unique design that will satisfy you in every aspect. It is a hybrid watch that is a combination of digital features in a classic format. After wearing it, you will feel a classic touch on your wrist.
The smartwatch incorporates a round metal frame with a TPU band. The whole body is ultra-thin, light, at the same time durable enough. It is only 62g, and you can wear it in your hand for a longer time. Moreover, the TPU bands are durable, smooth, assure comfort and irritation-free wear.
There are three-button on the right side to operate it. These buttons are functional and provide quick access. The first button is to turn on the power, the middle one to start and end the stopwatch, and the last one for switching between sports modes.
2. Display
Tinwoo T20W features a 1.3-inch round touchscreen in a slim chassis. The screen has 240 x 240 resolution for a clear, sharp, and vivid view. You can quickly check out detailed data on the screen. The brightness is ample to make it clearly visible during sunny days. The screen face also changes based on the lighting condition around you.
You can choose watch faces from 14 different options and match your outfit. The display quickly turns on when you raise your hand to check it and shows the data. This mode is great as you don't need to push the power button all the time to wake up your screen. You may have to hang back a few seconds but you will get used to it.
However, you can keep the On Display option for a better experience. The screen is made of premium Japanese AGC tempered glass that is super durable and prevents scratches.
3. Compatibility
Tinwoo smartwatch has a wide range of compatibility. It is suitable for Android 5.0, iOS 9.0, and above. Though you can not connect with a PC, laptop, or tablet, only connect with smartphones featuring Bluetooth 4.2 or more. You need to download the TINWOO app for further customization.
4. Calls And Messaging
After connecting with your smartphone, you can accept and hang up calls through your smartwatch. If you don't want to receive any call, you can reject it from your wrist. You can also read text messages and other notifications from Facebook, Twitter, Linked In, Instagram, WhatsApp. The smartwatch provides real-time messages and notifications. You can read the whole message on the watch screen. But there is a limitation, you can see only the last five messages.
5. Health Tracker
A smartwatch is incomplete without a health tracker. Tinwoo T20W won't disappoint you in this case. It features an advanced HRS3300 optical sensor to track your heart rate. Not only monitoring but also it notifies you when the heart rate is too high or low. Talking accuracy, the watch provides the most accurate result in real-time.
The sleeping monitoring feature is also here. Using the sensor, it tracks light and deep sleep then gives you insights the following day. Moreover, it can provide accurate activity data like step count, calories burned, distance cover, etc. For better observation, check out the TINWOO app where you can see the health data in visual charts and graphics.
6. Fitness Tracker
The fitness tracker is crucial for fitness fanatics. Thanks to Tinwoo smartwatch that comes with 8 different sports modes. It tracks outdoor activities such as walking, running, hiking, cycling, badminton, yoga, etc. You can set the goal in the smartwatch, and it will effectively track all the activities. Each sport mode has different metrics to customize the activity.
You can keep better track of your activities by connecting the watch with the phone's GPS. It tells the distance to cover, speed, and way of walking, running, or cycling. So you can better maintain your fitness with this functional watch.
7. Water-Resistant
The smartwatch has an IP68 waterproof rating making it perfect sports watch. It is fully waterproof and you can go swimming or any other water sport. But it is not recommended to go deep diving with the watch.
8. Battery Life
Tinwoo smartwatch offers a satisfying battery life. With normal usage, the watch works for 15 days on a single charge. However, the battery life depends on your usage. If you use the watch with full brightness and utilize the other features like GPS, music player, etc. the battery will serve fewer hours. Stand by time is 20 days.
There is a 300 mAh lithium polymer battery and you can charge the battery in two ways: wireless and magnetic charging port. Wireless charging at this price range is insane. However, you will only get the magnetic charging cable included in the box. Whether the charging variant you use, it will need at least 2 hours to charge fully.
9. TINWOO App
You need to download the Tinwoo app on your smartphone for further setting and customization. It is the official app available in both Play Store and App Store. Along with settings, this is a very useful app to get various types of data.
You can see the insights of your activity including steps, burned calories, and distance. See the heart rate condition in a chart or graph for better understanding. You can set your goal, alarm, reminder, and so on. Text message and phone calls alerts can be customized in this app.
10. Other Features
Music Control: Control the music on your phone with this watch. You can pause and change the music directly from the watch.
Camera Control: Capture beautiful moments, selfies, or group photos on your phone by shaking your hand. This watch works as a remote for your phone's camera.
Dials: The watch has 15 different dial options, including sports and business styles. So you can set a potential dial according to your mood.
Find My Phone: It is an interesting feature of this smartwatch. If you miss your phone, the watch will be the rescue. The Find My Phone feature makes rings to your phone and you will easily find it. But if your phone is in vibration mode, then this feature will be useless.
Weather Forecast: The weather news is right on your watch. You can see the temperature and weather conditions with a forecast for more than ten days. Only scroll down, you will know what the weather will be like.
Pros
Classic and stylish look
Extended battery life
Wireless and magnetic changing facility
Health and fitness tracking
The waterproof feature makes it perfect for swimming
Easy to connect with the smartphone
Android and iOS compatibility
Bright display
Weather condition report
Cons
Many users have low battery life issues
Sometimes connection gets dropped
Frequently Asked Questions (FAQ)
How to pair Tinwoo smartwatch with a smartphone?
Tinwoo smartwatch can be connected with both Android and iOS smartphones. Only the smartphone should have Bluetooth 4.2 version or more. Switch on the Bluetooth in your phone and pair it up with the Tinwoo smartwatch. Isn't it that simple?
Is Tinwoo smartwatch waterproof?
Tinwoo smartwatch contains an IP68 waterproof rating. So this is truly a waterproof watch. You can swim with this watch and monitor your swimming activity. Moreover, you won't have any issues while doing water-related tasks.
How do I get Weather notifications in my Tinwoo smartwatch?
Go to the Tinwoo app then you should go to the settings and turn on the notifications for the apps which you wish to monitor on the watch. You can see the weather notifications on the setting. If it is turned off, make that on.
What is Tinwoo app?
Tinwoo app is the official app of the brand. To run the Tinwoo watch, you must download the Tinwoo app. With this app, you can make all the settings and set goals, reminders, etc. However, all the monitoring data of the watch is stored in this app. Here you can get detailed data on your health and activity.
Read Next: Full review of Ticwatch C2 Plus.
Final verdict
Tinwoo smartwatch is a great option for those who have a tight budget. It is very exciting that you will get many premium features and a stylish design at this price range. The watch has all the functions and benefits that you can expect.
The smartwatch includes a sharp bright display, precise health and fitness tracking sensor, music, camera control, waterproof, and much more. Whether you are a student, businessman, athletic, or any other profession, the watch is helpful in every way. So you should get this right now.
As an Amazon Associate, I earn from qualifying purchases.