What is a tank watch | A Thorough Explanation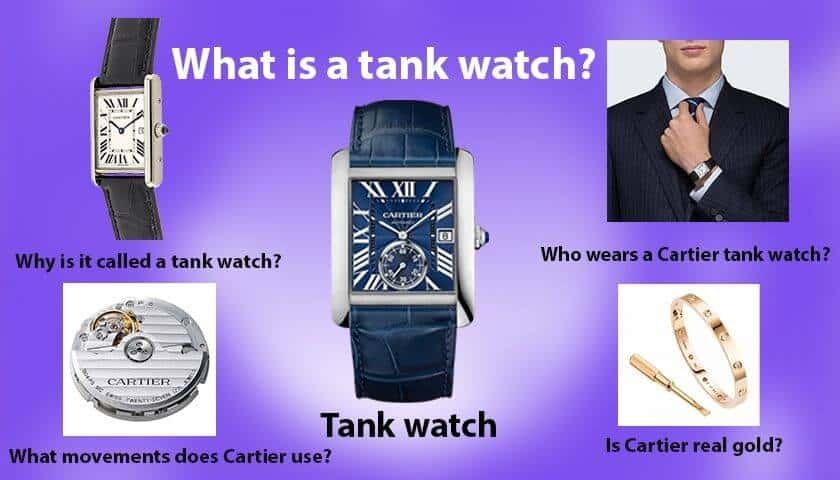 As an Amazon Associate, I earn from qualifying purchases.
The watch industry is changing according to the latest fashion trends and also with technology. People have different choices related to their perceptions, and a tank watch comes with those choices.
These are the trending items used by many royals and honored people, and this one will be a royal category for choice.
This device is something that comes with many famous films, TV series, and also with imitators. So it is a timepiece that engages with a lot of respective cultures, and it is holding its place in all smartwatches.
How is it possible, and what is precisely this Tank Watch? We are going to know everything about those briefly from here.
What is a tank watch?
This is a series of watches by Cartier's creations, and its original producer was Louis Cartier. This product has got its inspiration through the western Renault tanks originally was present to general John Pershing, who was in the American Expeditionary.
This device's design is extracted from a tank used on the First World War battlefield. This item has both square and rectangle shapes in it, and so far, it has released so many variations regarding the product designs.
It is included with a bold Roman number of dials and has a chapter ring of Chemin de fer.
Read Next: What is a Field Watch?
Why is it called a tank watch
As we mentioned earlier, this device is an extraction idea of a tank. So its name has come to the world because of a French Tank used in the First World War.
This device is paying homage to that Renault FT-17 French tank. This comes in two shapes and has some taking lines with its namesake.
There also included a leather strap in the product, and it always integrates with the design of the product. The leather strap is going through the case, and the most exciting part is this product's dials.
There are dials in this product in Roman numerals, and it will cover the dials of the product.
History of the Cartier Tank Watch
There was a celebration for the most iconic watch on the planet in 2017, and it was a huge celebration for all over the world's watch lovers. The manufacturer of This original product was in 1847, and its name was the Cartier.
This Cartier watch company's founder is Louis Francois Cartier, and he was a businessman related to jewels and watches. This Cartier Company has become the primary supplier for luxury and royalty items around the world.
The tank watch design is a concept of Louis Francois's grandson, whose name is Louis Cartier, and it was born in 1917. This design has already taken the military vehicle, which had the exact name of this product as their designing concept.
And anyone can clearly see the inspirations related to it. But this product was a primary design in military history. And when this device came to the market, the first model was given to General John Pershing, a leader in the First World War forces.
And this whole process was done as a celebration of winning over the powers of central areas.
There are six tank watches produces in 1919, and all of them scored into huge sales. This was a remarkable incident for Cartier's career, and it started to create many variations of watches by that instance.
There is no reaching for this device's production in those eras, and it didn't rise above 100. But now, this company has a mass production background, but the owners are following a traditional rule to stick to a fixed production number.
Cartier Company has a new ruling leader in it, and they already expanded their productions to mass production. But this product constantly remains a favorite accessory for the royale societies.
When this product first appeared in the market, the company presented several categories of this product: Tank Americaine, Tank Louis, and so on. But all of these designs had similar characteristics to the original product and maintained their unique design up to date.
Are Cartier tank watches good
This product is a complete visual expression of the honor and its excellent craftsmanship. They have a considerable reputation for their products, and Cartier producers are taking their duties to maintain their premium values for sure.
When someone wears this on their wrist, it makes that person into such royalty on their look. This product series is always associating with royalty and prestige, and they have some innovative technology and mastery of technology-related subjects on their brand.
This mastery is not something we see in any kind of latest product, and this brand name is investing in its reputation through its quality. You can wear this device as a luxury dress, and it is a jewel for all kings and queens. So obviously, it is going to be so good.
Who wears a Cartier tank watch
This brand is an elegant luxury product, so it is always associating with high-class royalties. There are so many examples from history who had to wear this as their brand.
And this watches' reputation is all coming with the royalty wear. This device has the biggest name in history, and as we said, this is design for kings and queens. So it wears for those equal classes.
Some of the famous people in history have worn this device as their primary jewel. We can take some names like Princess Diana, Tom Cruise, Michelle Obama, Lucy Liu, Mick Jagger, Princess Caroline of Monaco, and Kate Middleton, the Duchess of Cambridge.
A common trait among all of these characteristics is their high class and royalty. So literally, this is a device that is heavily a selection for every high-class royalty.
Among these all characters, some of the most recognizable ones are Princess Diana and Michelle Obama. Michelle Obama was the first lady of the former president of America, and she has made shock to even Cartier when she decides to wear it on her wrist.
And once Princess Diana has worn this product n an occasion and it was a gift from her father.
Princess Diana used this brand to give a present to her son, Prince William, and after her death, Prince William had a chance to pick one thing she used. He chooses to pick up princess Diana's Cartier Tank watch.
Frequently Asked Questions (FAQ)
Question 1: What is a Must de Cartier watch?
Answer: Must de Cartier watch is a tribute to Tank Louis Cartier, and it is the original. But this product has some different product variations and dial options in red, black, and even dark blue.
There are striped three-tone gold color products available too. This product can be known as the first mass production of watches from a scale like that.
Question 2: What movements does Cartier use?
Answer: They are using four in numbers outside movement suppliers for their product. Those four are Richemont's movement manufacturer valfleurier, Audemars Piguet Renaud and Papi, Eta and the jaeger-LeCoultre.
The first in Cartier's caliber for automatic is the 1904 MC, and it is from the above, and the below one is the Calibre de Cartier watch for men.
Question 3: How long is a Cartier watch warranty?
Answer: It can extend into eight years and more. These products have a warranty against any kind of manufacturing errors you can see within the first 24 months after you buy them.
This warranty period can extend into eight years by your registration happened in the Cartier Care extension.
Question 4: Is Cartier real gold?
Answer: This product uses the top-ranked materials for their production, and they do not use any kind low lower materials. You will see there are bracelets of love, and they are produced initially within 18k yellow or white with a pink gold combination.
And also, these devices are using 950 platinum as their production materials. And note that this manufacturer uses natural diamonds as well.
Question 5: Do Cartier watches hold value?
Answer: They are responsible for retaining their values. These several conditions will go by their worth for the pre-owned market rather than their value first in their purchasing.
This specific brand is onto expanding with no expense when creating these watches. Some of these products also included unbelievable prices.
Question 6: What is the most expensive Cartier watch?
Answer: The most expensive Cartier watch is the Cartier Secret Phoenix watch. It costs around 2.76 million dollars on average. The reason for being such expensive is this product is made out of pure 18-karat white old within it. And all of them are shaped like a phoenix that is spreading its wings.
Conclusion
Tank Watch is a product that always comes with a high end, and it is suitable for royalties. Several icons have worn this product in history, and obviously, we can name it luxurious dress wear.
Although this is an honor for a first world war tank, nowadays, this watch has taken the market from its incredible innovations and its mastery features. So the tank watch is a high-end selection.
As an Amazon Associate, I earn from qualifying purchases.