What is the dial on a watch | A Simple Explanation
As an Amazon Associate, I earn from qualifying purchases.
Many of us may don't know about the watch dial. Not only this, do you know about different parts of watch? Well, if you do not know, then not to worry, we are here only for your help.
People get confused about parts because of their small size. Do you know a horologe comes with more than a hundred parts? Get Surprised? These are only some basics parts.
In this article, we will give detailed information about these parts and dials. This simple guide will help you to understand different parts of the timepiece. It will also help you when you are choosing your next watch.
Let's understand dial in watches…
Read Next: How to Remove Watch Crown
Five Different & Important Parts of watch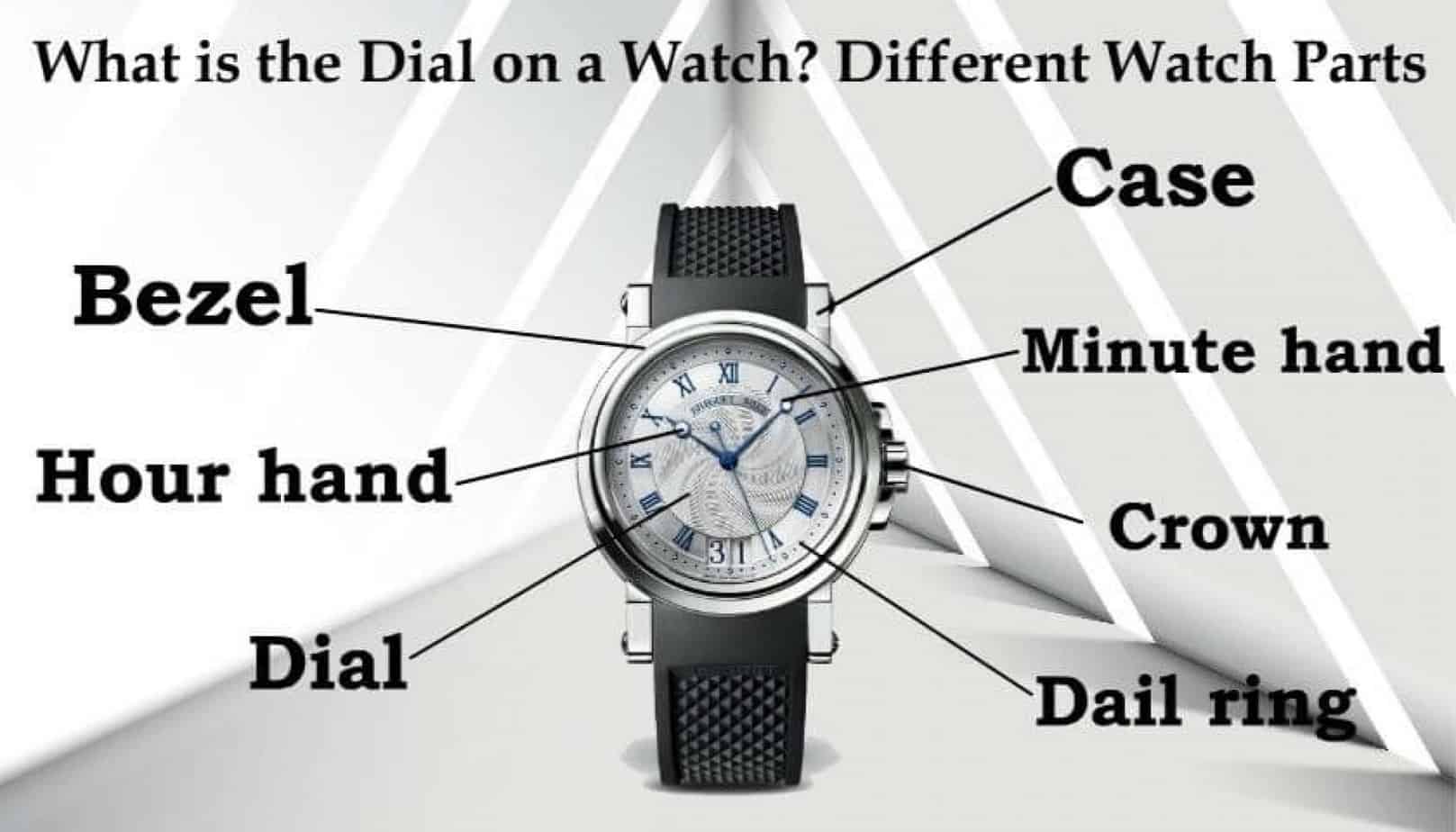 1. Watch Dials Explained
The watch dial is a part of your timepiece that displays the time. In a watch, you will see a numerical display, and hands in a traditional wristwatch are dials. The clock faces are available in different colors and designs.
Some multifunction timepiece comes with three dials that saw date, day, and month as well. The dial is the first part that we look at when buying a new timekeeper. There are some common types of clock face as well. How many types of watch dial? Are they different or similar? Okay, wait. We will answer all your questions.
Let's have a look at them.
Watch Dial Types
California is an old and traditional type of timepiece face. There are roman numbers on top and Arabic symbols below in the horologe. California is also known as Cali in short. You will see dash sign instead of 3, 6, and 9 numbers. There is also a triangle in the place of 12 o'clock.
Enamel is also a traditional type of watch dial that started in the 13th century. The enamel is a soft glass made with silica, red lead, and soda. The manufacturer converts this glass into liquid form and mixes it with the metal.
After this process, it will result in different colors depending on the material mixed with the soft clock face. The enamel dials are commonly available in gray, green, and red colors.
There are also sub-types of enamel. Some common sub-types are cloisonné, grande few, champlevé, flinque, and grisaille.
In gilt type dials, the brand name, horologe name, minute makers, and symbols are thinly covered with gold leaf or gold paint. This type of timepieces seems expensive and premium because of the gold paint.
You can take Rolex Submariner as an example. This is an old model of 1954. The gold paint makes the timepiece more beautiful and stylish.
The guilloche is a handcrafted pattern by different engraving machines like straight-line engines, rose engines, and brocading machines. It is also called as engine-turned or guilloche dials.
But, the handcrafted guilloche clock faces are used in a few timepieces. Most brands use new technical innovations and machines for guilloche dials. You can check Hamilton H32515155 to get an idea about this type of clock faces.
Skeleton type is the most confusing and complicated because of its intricate movements. The skeleton dials come with transplant material like glass or crystal. This type allows you to see the intricate movements of the timepiece.
The skeleton-type is mostly used in mechanical timepieces. The Invicta specialty is a perfect example of a skeleton clock face.
Crosshair was a popular clock face design in mid-century horologes like Omega Seamaster Deville. In the crosshair type timepiece, you will see a horizontal and a vertical line crossing at the middle of the timepiece.
But, the line and length will be different according to the model. In some timekeepers, lines are extended to the edge of the clock face, and some are shorter.
The linen timepieces look like using a cloth dial. But, it is a textured clock facemade with different patterns that look similar to the material. It has dozens of small horizontal and vertical hatch marks.
Usually, these types of dials are available in lighter colors like white and cream. You can check Rolex Datejust to understand linen. This is only one model that comes with this unique linen.
As its name suggests, the meteorite timepiece is made of thin polished slices of meteorite. Meteorite timepiece will always be different. Because of individual cutting and polishing of various meteorites so its design cannot be the same.
The meteorite is mostly used in triple calendar horologes like Jaeger-LeCoultre, Rolex, and Jaquet Droz.
Tapisserie is a unique type of clock face. The tapisserie is designed with a tool pantograph. Tapisserie is mostly similar to the guilloche that we talk earlier. You will see small squares on the dial that is separated by thin channels. The pantograph engraves these squares on the timepiece.
This process may take 20 to 50 minutes. Audemars Piguet royal oak is a perfect example of a Tapisserie timepiece.
As its name indicates, the porcelain dials are made of porcelain. The porcelain type timepieces are also difficult to make. You will a few models of porcelain timepieces in the market. It contains a small amount of clay and mostly available in white color.
2. Bezels
Bezels are the top ring around the crystal. Some timepieces come with stationary bezels, and some come with rotating bezels. Every horologe has a thin rounded ring around the crystal that is called a bezel.
Bezels are not for decoration, it is designed for any specific reason and use. There are different types of bezels paired with a particular function. The first rotating bezel was put on a Rolex timepiece. We will discuss the most common types of bezels.
Types of Watch Bezels
The tachymeter is a fixed bezel. This type of bezel is used to measure speed according to the time and fixed distance. You will see this tachymeter bezel in a sports timepiece. To measure perfect speed, make sure the stopwatch has been reset.
Then start and stop the timepiece according to the distance and check the scale to know your speed. This watch is useful in any race lasting up to 60 seconds. You will also find the tachymeter in a chronograph timepiece.
Let me give you an example. If you are participating in a bike race and cover two miles in sixty seconds then with this matrices you can find your speed on a tachymeter bezel.
As you are expecting, the compass bezels are used to identify the right directions. If you are a travel enthusiast or anything like, then the compass bezel is useful for you. The compass bezel is neither magnetic nor electric.
The compass bezel comes with a feature that indicates north, south, east, and west directions. Because the compass bezel is only under the sun you should some common things. You should know sunrise in the east and sets in the west.
The GMT Bezels are also known as world time bezel. If you are a traveler and love to travel to a different country then GMT bezel is useful. The GMT bezel allows you to see two different time zones at once.
There is a 24-hours time scale on the GMT rotating Bezels. The timepiece comes with a GMT bezel, and hand will indicate your home time, and the dial will indicate the local time of the country you are currently on.
Just imagine you are in India for traveling, and you want to check the time of Ireland, your home country, then you can use GMT Bezel and Hand. If you want to check Local Indian time, then you can check the dial that is set according to India.
The countdown bezels are useful to cycles, bikers, and racers. The countdown bezel is like a stopwatch. We can also compare the countdown bezel to the count-up bezel. But there are two differences. First is the countdown bezel starts from 60 down to 0.
The second difference is the countdown bezels can rotate in both directions clockwise and anti-clockwise. Just set the number you need to countdown from on the bezel with the current time.
The plain bezel is a simple bezel around the crystal. It does not contain any function or made for any specific use. The plain bezel is only designed for decoration and it's a fixed bezel.
3. Hour markers
The hour markers are a necessary part of any timepiece. Without an hour marker sit is hard to check the time in a traditional timekeeper. The hour markers are labels and stickers of numbers that indicate the time. The smartest timepiece uses Arabic and Roman symbols to indicate time. However, there are also different types of hour markers.
Let's check out…
Types of hour markers
The Arabic numbers are the most common symbol of hour markers. The Arabic numbers appear in timepieces in different forms. Some timepieces have Arabic numbers after each symbol.
Mostly Arabic numbers are used in three, six, nine, and twelve o'clock positions. Some watches are designed with only one Arabic number in place of 12 o'clock. However, some timepiece comes with all Arabic number symbols to indicate time.
The round indexes are always paired with the baton, arrow, and triangular indexes. It is easy to make the symbol for the timepiece manufacturer. They only have to do is to use the luminous substance for optimal visibility at night and other conditions.
The round Indexes are mostly used in sports and tool models. You can check Rolex Submariner and Omega Seamaster to get an idea.
The Roman Numbers are also a common symbol, and roman numbers are specially used to make your timepiece more stylish and unique. The roman symbols are combination letters of Latin alphabets.
Roman numbers are also used in place of three, six, nine, and 12 o'clock positions like Arabic numbers. However, mostly timepiece that uses roman symbols comes with all roman number symbols to indicate time.
4. Watch Movement
We can say the watch movement is the heart or brain of a timepiece. Watch movement gives power to the timekeeper to run. The watch movement is also known as calibre. The watch movement is the most necessary part of a timepiece.
There are also some types of the watch movement. The quartz movement and mechanical movement are the most common type.
Types of Watch Movement
The quartz movement is less expensive than the mechanical movement. The quartz movement is powered by a battery that sends an electric current through a small quartz crystal. Then the crystal will create vibration, and the timepiece hand starts moving. You also have to manage the quartz movement by changing the battery.
In the mechanical movement, the timepiece uses energy from the wound to get power. There should be springs that transfer energy to start timepiece hand movements or ticking. The mechanical movement requires no management.
You do not need to change the batteries frequently as it uses wound for power. The lifetime of a timepiece with mechanical movement is longer than the quartz timepiece.
5. Watch Hands
The watch hands are one of the most necessary parts of a timepiece. The hands are used to indicate time. There are a total of three hands for hours, minutes, and seconds. The shorter hand is for an hour, the medium is for minutes, and the small one is for seconds.
There are different designs for hands, but it depends on the brand. The most common style of hands is arrow hand use in most timepieces. Mercedes and snowflake hands are also used in many timekeepers.
Timepieces come with all three hands, but some timekeepers only come with two hands. The timekeepers like chronograph come with more than three hands for additional functions such as date, day, and month.
Final Verdict
As we talk, there are more than a hundred parts in a timepiece. But, we have discussed the five most important parts of a timekeeper. Also, we have only added ten dials for the watch, but there are many types of dials.
Some other parts such as pusher, lugs, crown, and crystal are also necessary to know. Keep yourself updated about these parts so you can maintain your smart timepiece easily.
As an Amazon Associate, I earn from qualifying purchases.