Why are Luminox Watches So Expensive | Get the Perfect Answer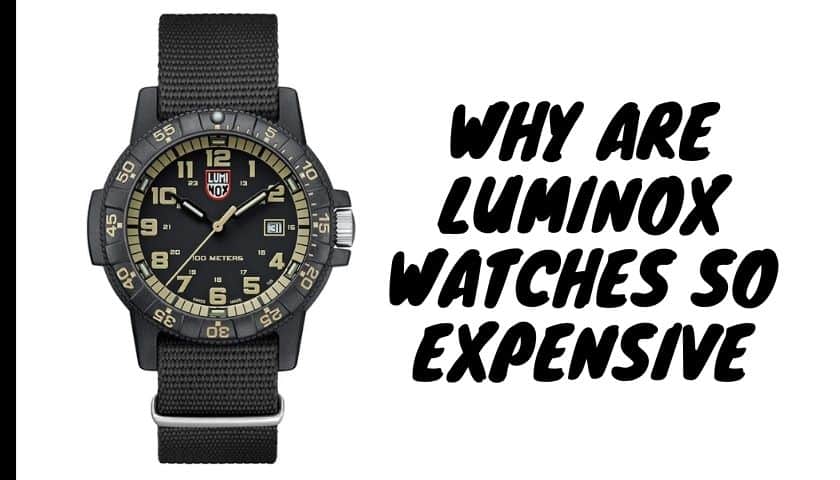 As an Amazon Associate, I earn from qualifying purchases.
The awkwardness and the fantastic features in the watch industry have been so many years around with time. So as time passes, we search items that last for every season. Then there is the brand called Luminox watches.
These are highly recommended ones for every outdoor enthusiast, medical practitioner, and so on. What makes them popular and unique is their lightest technology features.
Luminox brand is a timepiece that goes with every rough condition in the environment, and it is a top-standing brand. As we can see, their standards and conditions are visible to everyone, and it is fair to name it as a high-branded military-grade product. This has some military-grade timekeeping features, and what makes them so expensive? Let's find out.
History of Luminox watches
The brand name has the Latin meaning of light and night. This is an introduction that happened in 1989, and the founder was Barry Cohen, a veteran of the watch industry. The partnership between Barry and his friend Richard Timbo made a great effort to cut edged luminescence with higher readability than a single sports watch.
Cohen wanted to create a watch that has a feature to handle low lights with its settings. When both of them are launching this brand, they already referred to illumination technology as their high technology settings.
After the launch of this brand, they already had a partnership with US Navy SEALS and the other elite units. After three years passes by the launch, this brand was caught up to the officer's eyes in charge of US Navy SEALS in procurement. That officer was Nick North, and he discovered this in a trade show.
According to the Navy SEAL's development and evaluation officer research, Nick North wanted a watch that works in night visions. They have already tried many brands, but none of them hasn't worked for them as they wish. But these Luminox watches are the only ones that worked well for them.
This brand launched an Original Navy Seal watch in 1994 as Luminox 2001. This was a huge success, and it turns the brand to get calls from many elite units around the world. Some of those elite forces are Singapore Air Force, New York City Police, and the Israel Special Military Forces.
Where are Luminox watches made?
The headquarters of this brand is in California, San Rafael. But all of these items are Swiss-made ones. The reason is the Swiss watch brand called Mondaine has a fifty percent stake in this brand for themselves.
It happened in 2006, and this brand has caught around 30 countries from all over the world. These products contain tritium particles in it, and because of that, it has a wide range of luminescence. That is the most notable reason for this brand.
Why are Luminox watches so expensive?
There are three types of timepieces that have been built in this product series, and all of them are bearable for every kind of rough environment. Those three-time pieces are the sea, air, and land series.
As its name, the sea watch series is for the divers. So they look at the timepieces under the water too. These products will be notable for their reliability and are heavily used in aircraft without time errors.
The Air series of this brand is promoting durability and precision. It was a design for every air crafts, and it has excellent reliability states within it.
The last category is the land series. It collaborates with the military, law enforcement, SWAT teams, and other elite teams around the world. These are very good for every weather condition you face on the land, and it includes a night vision with them.
It doesn't matter you are in daylight or an extremely dark environment. You have no problems looking at your time with this watch.
These types of features are not usually coming with another watch with a whole package like this, which is why this brand becomes expensive. But don't worry. This will be an excellent investment you do in your entire life.
Is Luminox a good watch brand?
Yes. When we look at their overall performances and functions, we can't expect to gain them in one brand like this. A watch is something either comes for one feature fixed to a specific weather condition.
The ones you see around your everywhere don't fit with every weather condition you face in your whole life, so if you are searching for a product like that, this is the brand.
These are the products made for endurance in the most challenging environments. Suppose you are working in a job that engages in a field or an extreme kind of darker area. So there is none you can take to know the time this will be the only band.
So yeah. With the great performers and the features they offered to customers, this brand is a good watch brand.
Are Luminox watches worth the money?
These products have a 275 in minimum to maximum 1400 dollars in rough. There are vast technology and durability features hold by this watch, so we can recommend that their prices are reasonable.
This brand also has a light technology contains in it and it is the thing that makes this brand so much unique and popular.
There is no primary need to be in a military force or Navy SEAL to use this watch. If you are an outdoor person, it is your immediate need to wear a watch that fits with the weather conditions you face. So this is the brand that does the perfect job for you.
They are looking great on their look and also have an excellent beating match for every person.
Are Luminox watches any good?
They are suitable for every dark environment you go in and every harsh weather condition. There is no doubt about that. They make sure to keep good timekeeping within it, and anyone who wears it has no worries to endure its working process because this product can exist even in world war situations.
When looking at the technology and its durability, these are the best. Air, sea, and land are no more problems for this brand, and they are very effective in even the most demanding situations they face. So don't be afraid of dark places not to catch your time. This brand is always there to help you.
Are Luminox watches durable?
This brand is durable within three categories like Air, Sea, and land. If you are in any environment we mentioned, you have no worries. This brand is going to work super correctly in all of these weather conditions. That is witnessing the durability of this watch.
This brand is perfect in quality because of its tritium, and it makes it an ideal watch. This is an outside watch. Outside means that you can wear it for any tough place you see.
The original product used in the military and the military is not a place where you always deal with the soothing environment. So, of course, these are highly durable with their quality.
Are Luminox watches good quality?
The majority of the compounds that come in this brand are carbon, and they are highly rigid. It becomes so much resistant to scratches and makes you feel a lighter feeling in your hand. The Carbonax used in this watch is consisting of long bars of carbon or powder.
So it naturally becomes resistant to chemicals. That is why this brand is going neutral with every kind of temperature changes it faces.
So we can clearly say that this brand will not act with hash situations on its face, and it always becomes neutral for every rough thing. That happens due to t the brand quality of the materials. So yeah.
And also, the primary thing to become this watch as more quality is their luminosity. It is one of the great features this brand has, and it adds more value to the watch more than ever.
Frequently Asked Questions (FAQ)
Question 1: Is Luminox Swiss Made?
Answer: Although this brand belongs to the watchmaker in San Rafael, California, Swiss watches have a share of this company. So this brand is coming to the market as a Swiss-made product. These are very notable for having tritium insertions and long-term luminescence.
Question 2: How long do Luminox watches last?
Answer: When we count as roughly, this brand watch will last up between 3 to 4 years. It will be a general rule, but this will depend on the method you use the watch. If it is not carefully maintained and have no concerns, you will not benefit from this last period and know that it depends on its usage.
Question 3: Does Tag Heuer make Luminox?
Answer: No. Tag Heuer is a luxurious watch brand with various approaches on their models than the Luminox. Tag Heuer is original offers the sports industry from their productions while our brand provides durable ones for every purpose. So these two are entirely different brands.
Question 4: How long does a Luminox battery last?
Answer: It will last up to 2 to 3 years. It depends on your watch type and the dimensions, and also keep a note to your mind that battery life will depend on the energy your watch cost for each function of it.
Conclusion
As a person who is engaging in many outdoor activities, you must be searching for an item to last long. You can't use ordinary things like your watch because the investment you do for it will waste your working environment. So you are going to need an all-time durable and reliable timepiece. It will become expensive than usual but know that Luminox is a brand that comes with durability. So never be hesitant to invest as it is an excellent worth.
As an Amazon Associate, I earn from qualifying purchases.