Michael Kors Access Gen 5 Lexington Smartwatch Review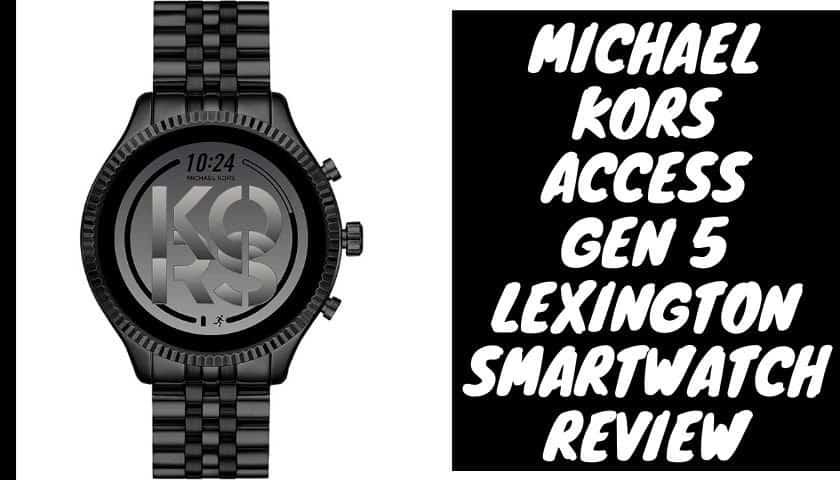 As an Amazon Associate, I earn from qualifying purchases.
Michael Kors is the most prominent luxury brand in the fashion industry. The brand joined the smartwatch industry in 2016, but the Lexington smartwatch is the first renowned debut in the market so far. This brand joined the industry using Fossil's smartwatch platform.
This smartwatch is the best choice for those who have aesthetics for their wearables. This is one of the most refined gadgets from a fashion brand. Talking about looks, it is gorgeous and the functionality is also satisfying. We will know more within this Michael Kors Access Gen 5 Lexington review.
Michael Kors Access Lexington Smartwatch Features
Lexington is a luxury piece of gadget that adds a stylish addition to your lifestyle. You will get all the functionality that you look for in the best smartwatch. This smartwatch is powered by Wear OS by Google. It is comparable with both Android 6.0+ and iOS 12.0+. If you love the classic touch in your wearable, then it will be the best addition to your style.
Design and Display
The smartwatch is available in many color schemes to match your flavor. The black color scheme looks super beautiful, expensive, and stylish. When you take on the watch in your hand, it will stand out far more than your expectation. There is also a band variation to choose from, but you need a specialist to adjust the straps. But it would be better if you visit a professional to adjust the straps. The unique design looks more gorgeous and stylish than the Apple Watch or others.
There is a 1.28-inch display with an AMOLED panel. The display has 416 x 416 resolution, which means 328 pixels per inch. So the screen is very sharp and you will be able to see the time at one glance. The watch has a rotating crown with an MK logo and two side buttons. It's a 44mm gold-tone stainless steel case that is weighty and suitable for your wrist.
Hardware
Lexington smartwatch has combined top-notch specs for a seamless experience. It is equipped with a Qualcomm Snapdragon to Wear 3100 chipset combining 1 GB of RAM and 8 GB of storage. According to the specs, most of the time, you will get satisfying speedy performance while scrolling through down the lists or opening – closing the apps. But sometimes, you may experience an odd stutter which is quite annoying.
You can talk with this smartwatch as it has a built-in speaker for those rare times when you can't take your mobile. The watch has 5 ATM water resistance capabilities for up to 30 meters. It survives in splashes of water or rainwater. But it would be better if you don't swim in the pool with the watch. There is also built-in GPS and heart-rate monitoring included in the watch.
Apps
This smartwatch has an exclusive app from Michael Kors Access. This app allows you to change the watch faces more conveniently and you will get a unique look than other standards Wear OS. So change the dial every day or every time as your mood call. Using the app, you can also set reminders, alarms, so that you won't miss any important event and you can make countdowns for a special occasion or party.
You can enjoy a mobile-like experience using it. You can add a payment method, make phone calls, install third-party apps, listen to music, videos, and so on. It is compatible to fulfill your daily needs.
Fitness tracking
The built-in GPS of this smartwatch can accurately measure your activity. If you are going jogging or running in the gym, the watch will tell you the exact measurement. In practice, you don't need to carry a bulk mobile as you will enjoy a lot of benefits with this watch. But there is still a drawback and the size may be a bit larger for exercise and your gym outfit.
Heart monitoring system
The smartwatch can tell a relatively exact heartbeat rate which is a bright point in this watch. You may find a couple of differences with the actual rate. But it is nothing a big issue as it is a wrist-based result.
You can measure your cardio fitness with this smartwatch. You can get a healthy life by monitoring every move. This watch allows you to set sleeping time and sleeping goals for an active morning.
Battery life
Lexington smartwatch gives a satisfying battery life which will really impress you. It can run multiple days with one charge. Though the battery life is much dependent on the usage, so it can be varied from person to person.
As the smartwatch has the latest processor of Snapdragon wear, it contains a lot of batter-tweaking options. However, according to Michael Kors reckons, the battery's standard battery life is 36 hours with mixed usage. Many users said that it goes for a full day as you walk around or consume multiple apps.
Still, you can stretch the battery life to another day using the tweak battery mode. But you can't spend a lot of time on other features. While you are using a smartwatch, you will get a flaky battery life that is reasonable enough to compromise. The battery life is quite decent with all the tracking features or other apps.
In the package, you will get a USB cable with magnetic snaps that can be attached to the rings on the watch case back. The charger quickly fills up the juice. The battery can charge up to 80% in 50 minutes which is pretty fast from the competitors.
Pros
Luxurious outlook.
Gorgeous design.
Sharp display.
Seamless performance.
Extended battery life.
Accurate tracking features.
Built-in speakers and microphones allow making calls.
Cons
Somewhat expensive price.
Straps adjustment is tricky and needs a professional.
Frequently Asked Questions (FAQ)
Which Michael Kors smartwatch is the best?
Micheal Kors Access Lexington Gen 5 is the best watch of this brand so far. So if you want a top-end smartwatch, this option will be great for you. Along with the stunning look, you will have massive functionality.
Can you call on Michael Kors Access Smartwatch?
Yes, you can. The Lexington smartwatch has built-in speakers and a microphone that allows you to make phone calls. These phone calls will come through Bluetooth, and you are able to talk using the same technology. Moreover, you can also text others and get all the social media notifications on this watch.
Is Michael Kors smartwatch waterproof?
Lexington smartwatch has a 5 ATM rating of water-resistant. So the smartwatch is fully waterproof, and you can swim in the pool. It can survive up to 30 meters of water.
Can I use the Michael Kors smartwatch with an iPhone?
Micheal Kors smartwatch is compatible with both Android and iOS. Though the watch has Google wear OS, you can still use it with an iPhone if the phone has a 12.0+ version.
Final words
Micheal Kors Lexington smartwatch is a truly luxurious wearable piece that you can add to your outfit. It contains high-end specs and functionality that make your life easy. You don't need to carry the bulk every time as you can accomplish almost any task using the watch. Moreover, the gorgeous look and fancy color suit on every wrist.
As an Amazon Associate, I earn from qualifying purchases.