Fossil Gen 5 Carlyle Review | Is it Worth Enough?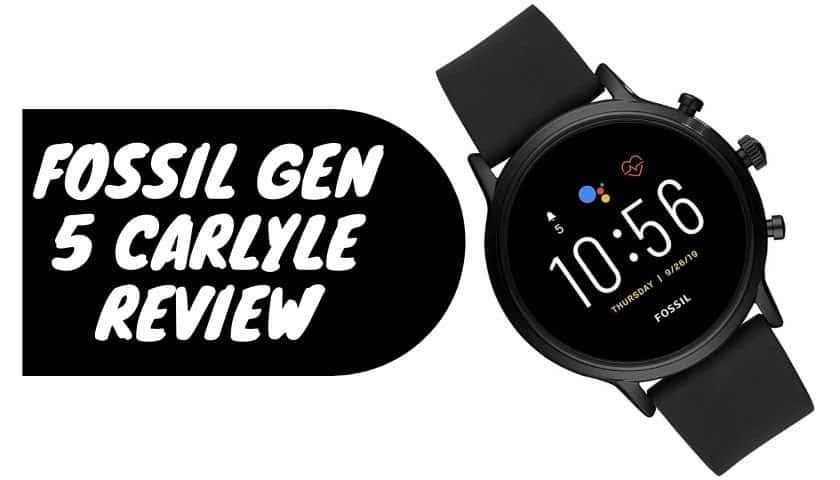 As an Amazon Associate, I earn from qualifying purchases.
Are you bored enough to use your regular ordinary watch and looking for a classy and elegant one with extraordinary features? Here is Fossil Gen 5 Carlyle, the most gorgeous and latest smartwatch with a stunning outlook.
Fossil watch will provide you with the time on the screen and offer you so many exciting features that will undoubtedly make you use it for a long time. Moreover, all the updated characteristics will make your life a lot easier.
Nowadays, using a smartwatch is turning into a trend. Why not choose the fantastic modern version of it with Fossil Gen 5 Carlyle and flaunt with it?
Fossil Gen 5 Carlyle Features
The properties that make it astonishing and exceptional are unique. Some excellent features of this extremely impressive smartwatch are attached below.
Fossil 44mm Gen 5 Carlyle Touchscreen Smart Watch
as of October 1, 2023 1:54 pm
Fossil Gen 5 Carlyle: Design
Material
This watch is made of very high-quality stainless steel and a silicone band which helps to maintain the quality standard. Also, the material increases sustainability.
Shape and Size
The watch has a very classy weel-shaped screen with a diameter of 1.28 inches. Additionally, the breadth of the case is about 44 millimeters with 12-millimeter depth. Along with this, the breadth of the band is 22 millimeters. The most exciting part is, you can replace the band of this smartwatch with any of the bands from Fossil.
Weight
The product is containing very little weight, which is only 3.5 ounces. The comforts of the lightweight give you another reason to take one.
Fossil Gen 5 Carlyle: Battery life
The watch has a high-power battery life that continues to more than 24 hours in the extended mood. Moreover, the percentage of the charge depends on the time of usage.
Contrariwise, it needs a very limited time to be charged. If you charge your Fossil Gen 5 Carlyle for only one hour, it will be around 80% which is almost fully charged. Hence, whenever you are in a hurry, you can charge your watch faster than anything.
Fossil Gen 5 Carlyle: Application
Using this smartwatch is quite spontaneous. You need to connect it with your everyday iPhone or even connect it with your Android. All the notifications will come to you with a glance of time, and you can view them with the smartphone.
Moreover, it has an extremely fashionable touch screen which makes the use way easier. You do not have to use your smartphone to check the notifications; instead, you can just touch the screen and get it immediately.
During any exercise or heavy workout, you need not carry your mobile phone to keep track of when the watch is on your wrist and connected to the smartphone.
Healthcare Tracker
Heart rate tracking
While using this device, your heart rate will be monitored with the help of google fit, and the result will be visible on the screen. By looking at that, you can easily get an alert about your instant body condition.
Sleep tracker
The device not only detects the history of your sleep but also informs you how sleepless or restless you are. Therefore, you can have the notion if you need some rest or not.
Moreover, it can also arrange a sleeping target which will be very beneficial to have a great sleep schedule.
Stress Tracker
Whenever you are having a busy day, look at your watch to know about your stress level. Sometimes it is more important to take care of your health than anything, which is much easier with this Fossil Gen 5 Carlyle.
Workout Tracker
Step Counter
With the help of this device, you can easily keep the updates of total steps. It will help you to do the calorie count within a very short period.
Most importantly, it can keep track of when it is in a long-distance from your mobile phone by GPS. Therefore, the days of holding your phone are over.
Special features
Swim Proof
This smartwatch is water-impermeable; therefore, you can easily swim with it, and water cannot destroy your favorite watch.
Smart Notification
Getting the notification by either calls or messages is in your hand now. Even you can make the call with your watch instantly. Whenever you do not have the chance to reach your mobile phone, just receive it with your enormously efficient watch.
App Storage
Installing almost a hundred apps is feasible by this device. For instance, listening to music, fitness tracking apps, stopwatch, etc. This device is giving around 8GB of space which is huge for a smartwatch. Besides, these apps may lead you to very routine life.
Upgraded Payment system
Contactless paying while buying your product is also possible. Where there is acceptance of payment over mobile, you can easily pay for your smartwatch with google pay. After all, you do not have any stress about the wallet anymore.
Pros
Gives an extremely elegant and fashionable look
Updates about health conditions
Secures with GPS tracking system
Comfortable listening with the speaker option
More space for apps installation
Extended battery service
Takes a very short period to be charged
Comfortable to wear for the slim design
Smart notification option
Easy connection to Bluetooth
Updates with dates by display calendar
Playable music
Cons
Screen brightness is comparatively less
Battery percentage reduces faster
Final Words
This review may help you to find out the most comfortable smartwatch with anomalous features. Alongside, there is no need to compare the quality and price as this one is giving you the grand service.
However, add some massive experiences with the other experiences of all the watches you have experienced till now. Taste the royalness with the highly attributed trendy smartwatch of your everyday life with Fossil Gen 5 Carlyle.
As an Amazon Associate, I earn from qualifying purchases.