Apple Watch Series 7 Review | What Can You Expect?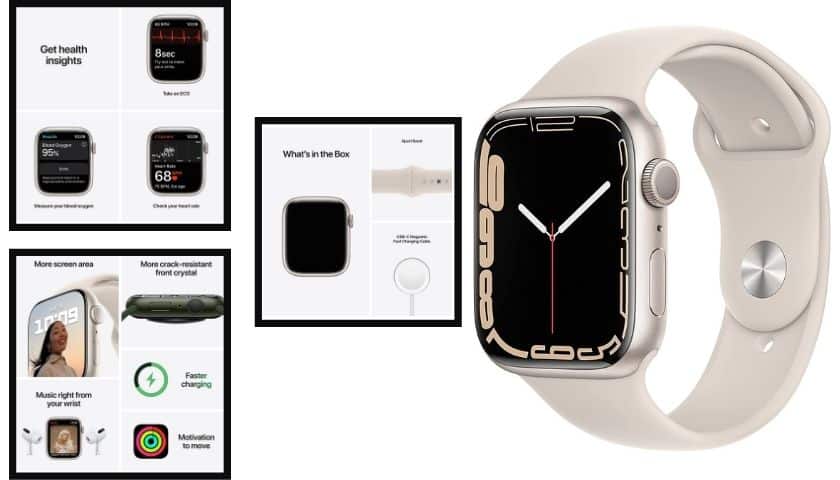 As an Amazon Associate, I earn from qualifying purchases.
Apple has made the watch series 7 magically improved with new functions and a 20% larger display. Not only that, the watch has other remarkable features that make this series more outstanding from all the previous series.
The Apple watch series 7 was available on October 15th, 2021. By now, it has gained vast popularity among all the Apple watches. If you are curious to buy one, you are in the right place because we are about to share our Apple Watch Series 7 review with our keen investigation.
So, what's so unique about this one? Let's figure that out together!
AppleWatch Series 7 Review – All the Upsides
Offers a 20% more screen area and 40% thinner borders than Series 6 and all the other previous series
Crack resistance, dust resistance including super functional swim-proof design
Cares about your healthy well-being with robust sensors
Able to do an ECG anytime, measures the blood oxygen, even your heart rate
Monitors your sleep and helps with maintaining the sleep-cycle
You can sync your favorite music, podcasts, and audiobooks from your iPhone
Apple Watch Series 7
1 used from $366.45

as of June 3, 2023 10:50 am
The Outside At A Glimpse
The Apple watch series 7 has a 45 mm screen with buttons to operate. You will also notice 40% thinner borders than other Apple watch series. It comes with an always-on display, so you won't have to raise your wrist to see the time.
The watch is covered with a slightly curved OLED display. However, it doesn't show that much different from the previous models in the outer look. But from specifications, you can expect a lot more to be unrevealed. So let's move forward to that!
More prominent display than previous models
The modern world craves larger displays, and Apple knows it very well. That's why, unlike previous models, they haven't used the same display in this series. Instead, Apple has introduced a 20% larger display in the 7 series.
As a result, you can have a vivid watch experience in more areas. Now viewing the essentials has been super easy. Besides, the display has 40% thinner borders. This series is built with a slightly curved OLED display.
The larger display makes it easier to use the keyboard with a big space. Now typing a message to your friends using the watch is not a problem anymore. Everything is super easy to use and see with this watch series due to the bigger display. Also, interactions have made it incredibly easy.
The bright and clear display is super durable and resists scratches and breakages better than the previous series. The supreme protection system makes this watch flexible to use outdoors.
Your fitness buddy
If you love Apple Watches specifically for fitness purposes, this is good news for you. The series 7 has vastly improved all the fitness features and made it the best fitness companion for you.
With features like sleep-monitoring, running, cycling, and swim-tracking meditation apps- it makes fitness a fun time for you.
Not only that, you will get three months of free Fitness+ once you buy the watch. Alongside this, it helps you to reach your sleep goals once you set them accordingly.
The perfect health tracker
For emergency purposes, this series works magnificently. It can track your heart rate and monitor the rate. Once it finds any irregularity in your heart rate, the watch will send instant notifications.
Not only that, but it also lets you have an ECG anywhere. You can get the benefits of blood oxygen monitoring which seems super smart and time-saving.
Always-on display
Before this series, you had to raise your wrist to see the time. But that ends right here. This watch comes with an always-on display which means no more raising wrists to have a look at the watch.
It also offers theater mode, which you can use when you don't want an always-on display. The theater mode will turn off the always-on display and let you have a regular watch experience.
Another feature that we must talk about here is the on-screen keyboard. It helps you to send a quick response while you are in a hurry.
Better GPS functionality
The watch 7 offers us a great surprise with better GPS tracking features. Now it has included impressive GPS sensors like GPS, Galileo, GLONASS, Beidou, and QZSS. You can expect to have a more reliable reading from the sensors than the previous models.
Mindfulness is a new addition
You might have noticed the Breathe app in previous models, but series 7 has renamed it into mindfulness and added a new feature called the relax mode in it. Those who are into meditation and grounding will find this addition super effective.
It will suggest different things that help a person to be calm and mindful. You can get to a meditative state using the watch. You can make the best use of the feature guided walk or meditation work during your daily stressful times.
Faster charging and good battery life
This watch has a faster charging option than the previous models. But the battery life is the same. You will get the same battery life of 18 hours from the watch series 7. However, the 33% faster charging makes up for it.
To charge the battery, you will get a magnetic charging cable. You can expect your watch to be fully charged within an hour. A tip for you would be to keep the always-on display off as it drains the battery faster. So unless you really need it, keeping it off will be an advantage.
Durability
You will get a stronger and more robust design from this watch. As a result, the built quality adds up to durability. The display is scratch-proof and less prone to breakage, as we previously mentioned.
Alongside, the IP6X dust-resistant works incredibly well in protecting the watch while you are on the road or on a beach. Thanks to the waterproof feature, you can use it while swimming in the ocean or in a pool. Also, you can go scuba diving, waterskiing, and even showering wearing a watch.
Storage
You will have the same storage capacity as the previous models, which is 32GB. However, it is considered enough for a watch to serve you. We didn't find any issue with the storage capacity.
Why should you buy an Apple watch series 7?
The Apple watch series offers a lot of new features that will meet your expectations from a smartwatch. First of all, unlike the previous versions, this series came with a 70% brighter display, even in always-on mode.
Even though Apple said that the watch is for indoor usage specifically, you can use it outdoors as well. The improved brightness will help you to see information like time and messages easily.
The battery life is the same as previous models, but you can maximize it by limiting the always-on display and keeping some features turned off. If you keep them always-on display turned off, the watch may last for even a day and a half.
However, in that case, limiting the usage of GPS while you are at home will expand the battery time as well.
An amazing fact is this is 33% faster than other models that take only 45 minutes to reach 80% battery from zero. Even with 8 minutes of charging, you can get 8 hours of sleep tracking, so no worries about the watch being dead while it's running low on battery.
The dust resistance is another good point about this watch. That means you can roam around on a beach or go hiking without the worry of your watch getting dust inside it. The crystal cover of the watch is about 50% thicker than the previous series- which adds up to the durability of this watch.
We must talk about the amazing outdoor activity detector sensors that it includes. It automatically detects workouts like cycling and monitors them. Another upside that you will get is the mindfulness feature that keeps your mental health just on point.
Why shouldn't you buy an Apple watch series 7?
If your main intention is the fitness feature, then any Apple Watch can help you. In the fitness area, Apple hasn't shown much of a change in this watch.
However, the improved version and other improved features like fast charging, and the wide display can convince you into getting this one. It will be worth purchasing if you want an upgrade on all sides except for the fitness area.
Read Next: Apple Watch Ultra vs Series 8
Frequently Asked Questions (FAQ)
Is the Series 7 worth it?
The main reason we think that series 7 is worth it is its durability. You get a thicker front crystal display that makes the watch stronger. The series 7 is more scratch and crack-resistant than any other watch. Moreover, it's water-resistant to 50m underwater. So it's totally worth the money.
What phone do you need for an Apple Watch Series 7?
If you use an iPhone 6s or more updated versions, with iOS 15 or later- you can use the Apple watch series 7. Other versions of the iPhone won't be supported with the Apple Series 7.
What does the I-watch 7 do?
The first interesting thing the watch does is make it easier to track your sleep, send texts from your wrist, estimate your heart and pulse rate, etc. The watch features a larger screen.
The watch charges itself real quick and the watch is of course very durable. I watch 7 is actually a heavy-duty watch with a lot of ultra-technological functions.
How long does Apple Watch Series 7 battery last?
Series 7 matches with the previous year's series 6. So the battery durability is about 36 hours. But you can expect a better battery life if you limit using the features that drain the battery. Like if you keep the always-on display turned off, you can save a lot of battery.
Does the Apple Watch Series 7 have a camera?
No, this series doesn't come with a built-in camera. However, if you want a camera, you can rely on it.
How big is the Apple Watch Series 7?
41 to 44mm mostly. Actually, two of the main changes the Apple Watch Series 7 has are a slightly larger case which is 41 to 44mm, and a larger display. It's 20% bigger than some previous series and 50% larger than series 3. This makes it different from other watches actually.
When did Apple Watch Series 7 come out?
At Apple's California Streaming special event on 14 September Apple revealed its Apple Watch Series 7. Along with the iPhone 13 models this watch was actually published. Now it's available at every Apple store along with other Apple devices.
Wrapping Up
We have already completed our Apple watch series 7 review with everything that you need to know. The series 7 is an incredible choice to grab if you compare it with all the previous watch series. However, if your only intention is to buy a watch for better fitness, this might not be a good choice for you.
Other than that, the watch series 7 is amazing and stands out of the crowd more than the previous series. The display will impress you with its brightness and wide accessibility. Overall, we suggest getting it without any second thought!
As an Amazon Associate, I earn from qualifying purchases.